Vegan options at Sonic are sparse and deeply depressing for those of us used to seeing plant-based Impossible burgers and Beyond burger options on the menu at many other fast food locations. Even the Sonic Drive-In veggie burger is not vegan. What the heck? Luckily, you do have a some fun summery drinks, slushes, and sides to choose from.
At least you can count on the potato products for vegan food options at Sonic. The french fries and tater tots are must-haves if you want any sort of satisfaction in your stomach. The kiddies might be a bit disappointed by their options, which are basically a bun with veggies, tots, fries, an applesauce, and a drink.
The best plan, if you can, is to visit only when you're searching for a quick sweet or salty snack. Let your eyes skim past the animal-based burgers and dairy-filled drinks and focus on the flavor of fries, lovely lemonades, sweet slushies, and portable pretzels. With patience and time, there might be more vegan options at Sonic in the future.
It's no surprise that Sonic is not exactly top of the list when it comes to vegan-friendly diner food. With Sonic veggie options at an all time low, they're not really luring us in with anything spectacular. But, if you find yourself with no other alternative than vegan food at Sonic, this is what you can do:
Pick The Pretzel – Order a pretzel with no butter and no cheese sauce. Choose any of the vegan-friendly dipping or condiment sauces listed below.
Construct Your Own Sandwich – Fill one of the bread options with as many sandwich toppings as you can. Slather with plant-based dipping sauces and off you go!
Fill Up On Fries & Tots – Will you be fueling up on fries or tasty tater tots this time? Either way, there are several saucy options to choose from besides plain ol' ketchup and mustard.
Imbibe A Fruity Beverage – Luckily, there are lots of bright beverages to order so make sure to go there thirsty. From fruity lemonades to super sweet slushies, there should be a flavor to fit everyone.
Choose A Sweet Or Savory Snack – Applesauce or Fritos corn chips are both up for grabs. If you're hoping for something healthier, select the applesauce. If the corn chips are calling to you, choose that salty, crunchy treat instead.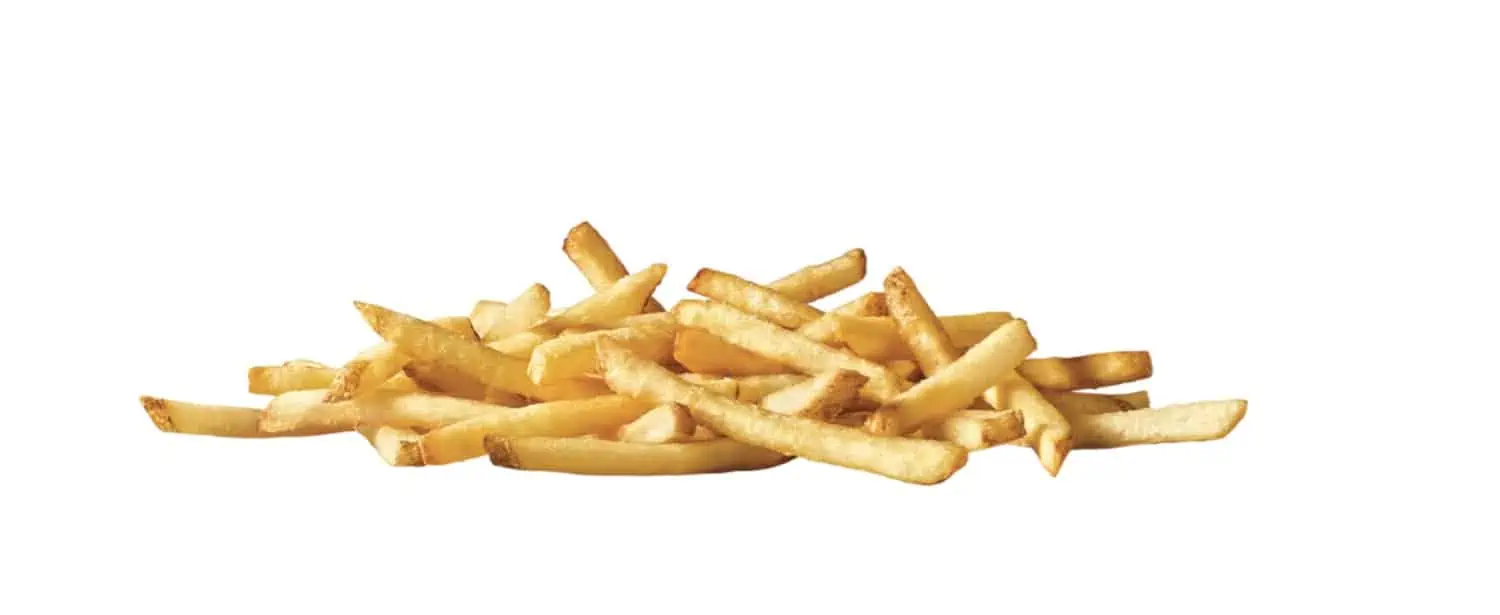 Does sonic have vegan options? If you were hoping for a Sonic veggie burger, you're out of luck. For some strange reason, the veggie burger contains dairy (why?!?) and is swiftly off the menu for us plant-powered folks. They do have some diner foods that are vegan-friendly, but the few they offer are not at all special. So, our answer must be a (very) unenthusiastic 'yes.'
Breads
All of the bread options listed (besides the hoagie bun and pretzel) vary from location to location and some might also include dairy, depending on the bakery. Make sure to ask before ordering. None of these breads are suitable for gluten-sensitive vegans.
Bagel
Hamburger Bun
Hoagie Bun
Hot Dog Bun
Pretzel (order with no butter or cheese sauce)
Tortilla
Condiment Packets
Peer at the plant-based packet list below and pour freely over your fries, tots, or veggie-filled sandwich. The sweet sauces might even be tasty on a pretzel or tortilla. Our tip is to be as creative as possible with these condiments. You can do it!
BBQ Sauce
Grape Jelly
Ketchup
Lemon Juice
Marinara
Mustard
Pepper
Salt
Strawberry Jam
Sugar
Sugar Substitute
Sweet & Sour Sauce
Sweet Relish
Syrup
Fried Foods & Sides
Because there aren't any separate fryers for animal-products and plant-based fried foods, it's a personal choice whether you feel okay eating these items. Asking at each location is an option, though. You may get lucky and find a Sonic that will make your crispy fries or tots in oil that's free of meat miasma.
Fries
Tater Tots
Soft Pretzel Twist (order with no butter or cheese sauce)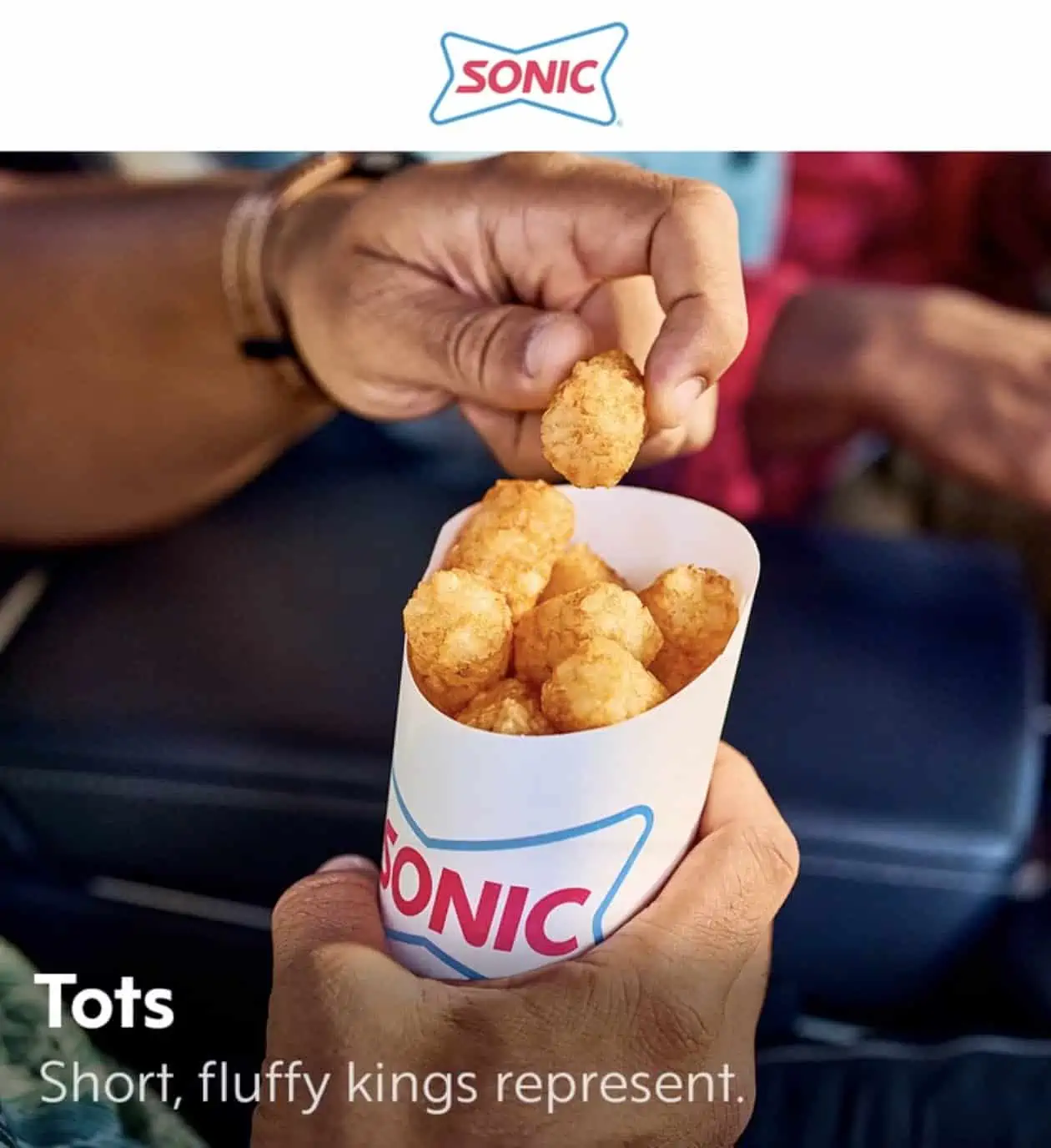 Sandwich Toppings
This is almost the best part of the Sonic vegan menu. If they agree to give you as many toppings as you wish, you could actually make a somewhat satisfying, appetizing sandwich out of these varied veggies.
Avocado
Dill Pickle Chips
Dill Pickle Spears
Fritos Corn Chips
Hatch Green Chilies
Jalapeños
Lettuce
Onion
Sauerkraut
Sport Peppers
Sweet Pickle Relish
Tomato
Sauces
Slather a sauce (or two!) on each side of a burger bun or on the inside of a tortilla before adding your veggie toppings. At least you'll have a hint of flavor, since you have to do without an actual vegan hamburger patty.
Buffalo
Celery Salt
Hickory BBQ
Ketchup
Mustard
Salt and Pepper Blend
Syrups and Flavor Add-Ins
All of these simple syrups can be added to any slush base for more flavor and fun.
Fresh Fruit – Lemon, Lime, Mint, and Strawberry
Regular Syrups – Blue Coconut, Blue Raspberry, Cherry, French Vanilla, and Grape
Sugar-Free Syrups – Blackberry, Diet Cherry, Mango, Peach, and Raspberry
Toppings for Sweets
Be brave and ask for a cup filled with fresh bananas. Then, top with any (or all!) of the garnishes listed below that strike your fancy. It won't beat banana nice cream, but it might come in as a close second. Especially if you added Oreos and a crunchy peanut butter or sweet strawberry topping!
Apple Slices
Banana
Lemon
Lime
Maraschino Cherries
Peanut Butter Topping
Strawberry Topping
Vegan Drinks
The vegan drinks at Sonic are pretty sweet, but keep in mind that it's only the liquid gulp-y beverages that are up for grabs. All of the creamy shakes are off-limits since there are no dairy-free milk choices on the menu. Good to know that the slush base is vegan, too.
All-Natural Lemonade
Fresh Brewed Iced Tea – Sweetened or Unsweetened
Green Mountain Hot Coffee – Without milk or cream
Signature Limades – Cherry, Cranberry, Diet Cherry, Diet Lime, Lime, and Strawberry
Slushes – Lemonade, Limeade, or with Syrups or Add-Ins.
Ocean Water
Soft Drinks – Coca-Cola Products
Note: The Cold Brew Iced Coffee and Hot Chocolate both contain dairy.
Whole Food Plant-Based Meal at Sonic
We challenged ourselves to come up with the healthiest vegan options at Sonic and it was a serious struggle! Here's a list of three flavorful creations that may not quite keep your belly full, but could be decent options for the desperate. Which one appeals to you most?
Zesty Salad – Ask for a container chock full of lettuce, onion, tomato, both kinds of peppers, avocado and lemon juice on the side. Mix the avocado with juice to make a salad dressing. Sprinkle with celery salt and pepper.
Sweet Tart Dessert – Request a cup (or more!) full of sliced bananas with lemons and limes on the side. Squeeze the citrus slices onto the bananas and enjoy a tangy tartness along with the sweet banana fruit. If available, applesauce or apple slices could also do the trick.
Basic Beverage – Order a hot or iced tea (or water) with lemon and/or lime on the side. Simple and refreshing.
Note: If you know you'll be going to Sonic ahead of time, think about bringing a cup of cooked beans in a container to add to the salad and some extra fresh (or dried fruit) and nuts to add to the banana dessert. Alternately, you could bring a simple, homemade tortilla to fill with all the veggies and avocado instead.
NOT Vegan at Sonic
Asian Sweet Chili Sauce – Surprisingly has milk as an ingredient (as well as soy, wheat, and gluten), according to their allergen page.
Blasts, Shakes, and Sundaes – All made with dairy with no dairy-free milk options.
Everyday Deals – None of the everyday deal menu items are vegan-friendly.
More Beverages – The Cold Brew Iced Coffee and Hot Chocolate both contain dairy.
Pickle-Os – These mini appetizers are made with dairy, so are not vegan.
Signature Sauce, Slaw and Tarter Sauce – All contain eggs.
When you get down to the nitty gritty on the Sonic allergen menu, you'll find a few interesting things.
The bun oil, fryer shortening, and liquid margarine that they use for cooking and preparing food are all accidentally vegan.
The only vegan dessert option at Sonic is applesauce. At some locations, apple slices are available.
Keep in mind that NERDS candy add-in is not vegan. Only the grape flavor is vegan-friendly (made without carmine, a dye made from insects) and this flavor is not the one used at Sonic locations.
FAQs About What's Vegan at Sonic
Are the Sonic french toast sticks vegan?
Sorry, nope! The french toast sticks include dairy, so they are not vegan.
Is the Sonic pretzel vegan?
Yes, the pretzel is vegan-friendly. Just make sure to substitute the side of cheese sauce for a different dairy-free sauce or condiment packet.
Are Sonic onion rings vegan?
The onion rings are a highly questionable vegan option. To be safe, we would say no. Even though their allergen page does not list them as having any milk, previous managers and employees of this diner claim that the rings are dipped in vanilla soft serve mix before frying––making them off limits for vegans. Sonic won't give a clear answer either way, so it would probably be best to avoid this menu item, just in case.
Is the Signature Sauce at Sonic vegan?
The signature sauce at Sonic is not vegan. It contains eggs as part of the main ingredients.
How to Use the Sonic Allergen Menu
Check out the Sonic's Allergen and Nutrition Information PDFs to make sure that you are purchasing a vegan-friendly item. They also share a helpful sodium guide for items that are a little bit lower sodium than other food options. The menu items offered at Sonic don't seem to change very often, but you may want to double check before you visit.
Browse the Sonic menu before ordering. You can print out their full menu page here.
If ordering from Sonic online or through a delivery service, make sure you clearly specify any substitutions you would like. If you're worried that your request may not be honored (or seen by the server at Sonic), it might be a better idea to go there directly to order.
Be careful when new and exciting seasonal products are offered at Sonic. Double-check the allergens and ingredients to make sure the item is vegan before purchasing.
Historic Moments in Vegan Sonic Burger History
Nothing as yet, but we're not giving up hope that they will join in the plant-based burger brigade and offer a Beyond Meat or Impossible Burger option. We'd even be satisfied (for now) with a simple veggie burger that's free of dairy and eggs. Let's wait and see!
Fascinating Facts About Sonic
The name of Sonic was created to give the fast food restaurant an aura of speediness of service.
Sonic Drive-In was originally a root beer-only stand.
One of the best selling menu items at Sonic are the Cherry Limeades.
At Sonic Beach in Florida, you can order beer, wine, and even champagne. These are the only locations that have this alcoholic option.
The most festive and fun drink combinations have actually been created by the employees themselves such as the Blue Hawaiian (Sprite with blue coconut flavoring and fresh pineapple) and the Strawberry Shortcake (Sprite with vanilla flavoring, sweet cream, and real strawberries).
Creating a Kinder and More Accessible Vegan Sonic Experience
Even though Sonic has not yet added any plant-based burgers, dairy-free desserts, or scrumptious shake options to their menu, we can still hope with all our might that our vegan voices will be heard. Because more and more burger joints are adding heavenly vegan hamburger options on the fast food front, we're pretty sure that Sonic will soon be mighty motivated to include at least one vegan cheese choice and maybe a speciality Sonic drive in veggie burger. Wouldn't it be fantastic if they added even a small section of their menu to plant-based, dairy-free deliciousness? In the meantime, we can always write to, call, or contact the managers of any location to make our requests.
Share your preferred Sonic veggie burger, dessert, or meal item wishlist on a Sonic vegan menu. Let us know on Facebook, Twitter, and Instagram!
Have you found any other vegan options at Sonic? Did you find something amazing that we missed? Let us know by tagging #worldofvegan and sharing your favorite vegan-at-sonic creations with all of us!
How To Order Vegan Burgers and Fries at Other Fast Food Chains
This sonic vegetarian menu article is not sponsored and we are in no way affiliated with Sonic. At the time of this article, the menu items mentioned above are vegan. Since restaurants constantly update their menus and add or take away items, please keep this in mind when ordering your food. There may be new vegan Sonic options that are not listed or items listed here as vegan, which are no longer vegan. Take care to double-check.