Did you know that you can easily make your own natural, cruelty-free, and vegan solid perfume? It's easy! With just three ingredients — candelilla wax, jojoba oil, and you favorite essential oils — you've got your own personal scent to savor or gift to friends. Who knows, maybe one day you'll even start your own Etsy shop!
The days of vegans being stereotyped as dirty hippies is long behind us. When in the past we may have had to rely on dried flowers to get freshened up, there are now endless options for keeping yourself smelling good.
Sunny Subramanian from Vegan Beauty Review is here to show you how with this DIY vegan solid perfume recipe from her new book The Compassionate Chick's Guide to DIY Beauty.
Verified Vegan Solid Perfume
Not all perfumes are created vegan! Aside from animal testing, some perfumes contain animal-derived ingredients such as musk (from deer), civet (from the African Civet), and ambergris (from sperm whales). With so many amazing plant-based fragrance options available, there is absolutely no need to use cruelly-derived animal products in perfume!
There are several vegan solid perfumes on the market that you can find find from popular brands.
Cruelty-Free Solid Perfume Brands
Which Essential Oils Should I Use?
For long-lasting fragrance, this recipe calls for essential oils. You're probably familiar with scents such as lavender and tea tree oil but there are many more options out there for freshening up your personal aroma.
Flower Power – If you'd like to evoke thoughts of wandering through a field of lilies or garden of roses as you go through your day, then floral might be just the right choice for you! Rose, geranium, ylang ylang, and lavender are just a few of the more popular types of floral essential oils.
Fresh and Fruity – If you're hoping to smell like a basket of strawberries or a bowl of oranges, well, you certainly can! Scents like orange, strawberry, mango, and cherry are available as essential oils. Just be careful when going outside in the summer otherwise you may attract some flying friends! You can also totally mix floral with fruity—imagine how good rose mixed with cherry could smell!
Epically Earthy – Does the smell of fresh mud immediately calm you down, no matter how much rushing around you may have had to do that day? Well, my friend, let me introduce you to pungent patchouli. A scent commonly associated with hippies and drum circles, it boasts properties of stress relief and can actually be used as an antifungal agent! If you find patchouli to be a bit strong, feel free to balance it out with a floral scent such as lily or perhaps even try cedar oil instead.
How Long Does Solid Perfume Last?
In terms of wear, solid perfume will last about 4-8 hours once applied to the skin and is meant to wear off during the day. When it comes to shelf life, solid perfume can last anywhere from 1-10 years, with 3-5 years often being the average lifespan.
And while solid perfume is an excellent way to stay smelling fresh while on the go, do consider that it can become more liquidy when left in the heat too long. If you find your perfume looking soupy, just stick it in the fridge to get it solid!
Give the Gift of Good Scents
One of the best things about making DIY perfume is that you have a go-to vegan gift idea to make for your friends and loved ones, depending on what they want to smell like! Perhaps your spouse can't get enough patchouli or your best friend is a lavender lover—this vegan perfume is the perfect way to express your adoration. You can even make a gift bag with some of your favorite vegan goodies to give to them!
2 teaspoons of candelilla wax, 10 mL
2 teaspoons of jojoba oil, 10 mL
40 to 50 drops of essential oil, s of your choice
Lip balm tin or tube
Place candelilla wax in a small metal or heatproof glass bowl (see Top tips, page 84). Pour enough water into a small saucepan to come about 1½ inches (4 cm) up the side; bring to a simmer. Place bowl on saucepan, making sure the bottom doesn't touch the water. Heat, stirring, for 5 to 10 minutes or until wax is melted and smooth.

Add jojoba oil and stir for 1 to 2 minutes or until well combined.

Stir in essential oil(s).

Immediately pour into lip balm tin. Let cool until solid.

Rub solid perfume on pulse points, such as wrists or neck.

Store at room temperature for up to 1 year.
With so many options for unique essential oil blends, you can cater your perfume to match your current mood or set a specific tone for the day. Two super-simple combos to try are peppermint and grapefruit, or lavender and orange.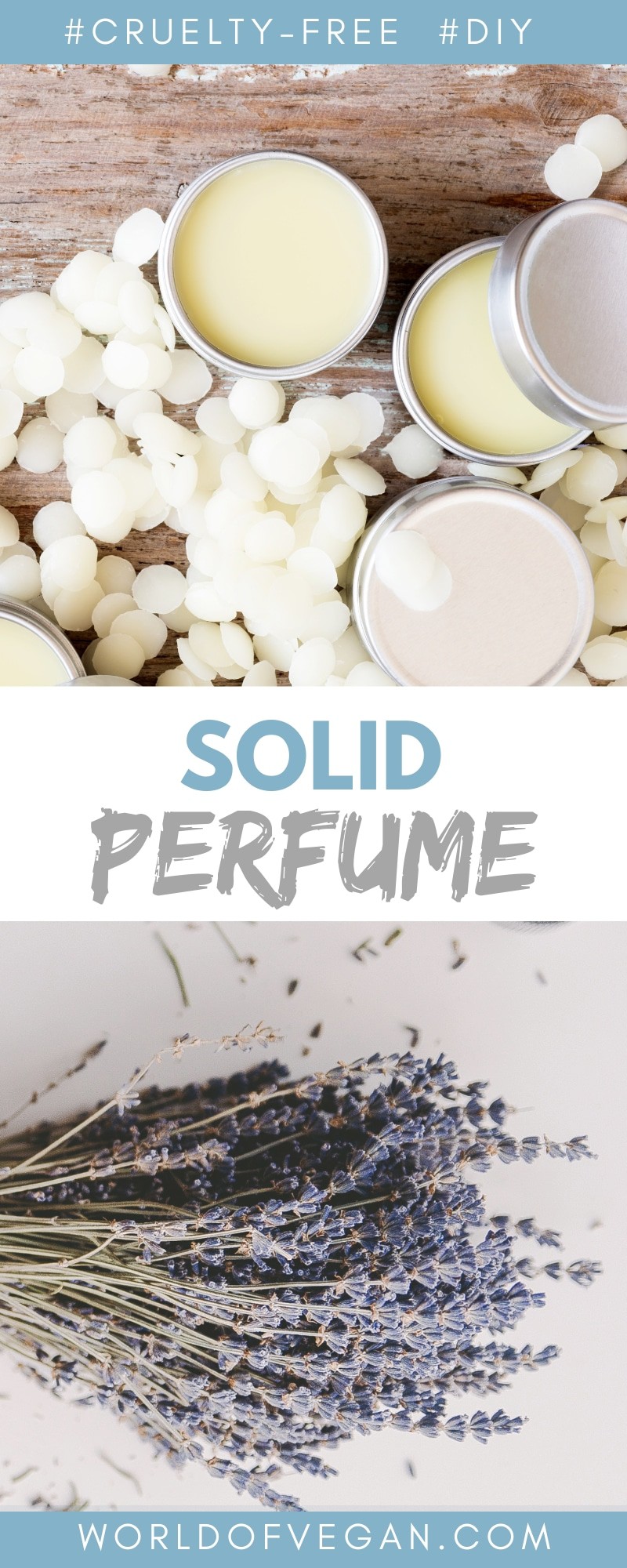 If you try this DIY Vegan Solid Perfume, let us know what you think by leaving a comment and rating below! Be sure to follow along on Pinterest, Instagram and Facebook for even more vegan recipe inspiration.
Vegan Gift Guides and More DIY Beauty to Explore:
Vegan solid perfume recipe courtesy of The Compassionate Chick's Guide to DIY Beauty by Sunny Subramanian & Chrystle Fiedler ©2016 RobertRose.ca Reprinted with publisher permission. Available where books are sold. Article written by Michelle Cehn and edited by Amanda Meth. This post may contain affiliate links which help keep the lights on here at World of Vegan.