Looking for the best vegan options at Chipotle? We're here to help you hack the vegan Chipotle menu and find the best burritos, tacos, bowls, and salads that are vegetarian, plant-based, dairy-free, and of course vegan. Is the rice vegan? What about the fajita veggies? What happened to the vegan chorizo? Is the Sofritas tofu available at all the locations? How can I order a Chipotle veggie bowl? We answer all these questions and more.
The tried and trusted vegan choice! You know that if you can find a Chipotle location (there are more than 2,500 of them across the U.S. and several abroad as well) you'll be able to enjoy a fantastic and filling meal. Whether the Chipotle you find is snuggled in a shopping plaza, mainstream at the mini-mall, or cozied on a corner lot, you can easily order vegan at Chipotle and satisfy your cravings on the go.
As a vegan at Chipotle, you can get a giant burrito loaded with rice, beans, lettuce, guacamole, tomatoes, onion, corn, salsa, and even Chipotle's special tofu sofritas. Not in the mood for a burrito? You can order a line of tacos, a burrito bowl, or a fully-loaded salad. Pair your main dish with a side of chips and guac (it's vegan!) and you've got yourself a hearty meal that is so filling there's a good chance you won't be able to finish it. Wrap your leftovers in foil and your order can last for a whole extra meal!
It's Easy Being Vegan at Chipotle
We love that there is less stress when ordering vegan at this mainstream Mexican-inspired grill because everything is made fresh at each location, and as long as you maneuver around the meat and choose to be cheese-less, you're pretty safe.
Did you know that Chipotle only uses 53 ingredients in all of the meals they make? That's pretty incredible! I counted 44 of the 53 ingredients to be vegan and only 9 were not. The non-vegan ingredients at Chipotle include beef, Monterey jack cheese, cheese cultures, chicken, cultured cream, honey, milk, pork and white cheddar. The short ingredient list is impressive and makes it easy to order almost anything on their menu made vegan.
How to Order Vegan at Chipotle
Here is the simplest way to order a vegan meal at Chipotle:
Choose a base: Burrito, Burrito Bowl, Salad, or Tacos
Pick all your toppings (see list below)
Decide if you'd like to add sides like chips, guac or both.
Choose a delightful drink, if you desire!
Burritos
Chipotle's burritos are made with a large, soft, warmed flour tortilla filled with any ingredient toppings you'd like (such as your choice of rice, beans, veggies, tofu, salsa, lettuce, and guacamole.)
Burrito Bowls
These are essentially burritos without the tortilla served up in a bowl. People may choose burrito bowls because they prefer eating with a fork or looking for a healthier, gluten-free, or lower-carb option.
Tacos
You can order single tacos or a full 3-taco meal served up in soft flour tortillas or crispy corn tortilla taco shells. Fill your tacos with all the vegan fixins (such as your choice of rice, beans, veggies, tofu, salsa, lettuce, and guacamole.)
Salads
Chipotle salads are similar to Burrito Bowls except they're on a bed of romaine lettuce instead of rice. You can load up all the toppings you'd like (such as beans, fajita veggies, sofritas tofu, corn, tomatoes, and salsa). In 2020 Chipotle rolled out a new option for salad lovers—their "Supergreens Lettuce Blend" which includes baby kale and baby spinach for a more diverse and nutrient-rich salad base. You can special-request this super greens mix instead of romaine in your salad.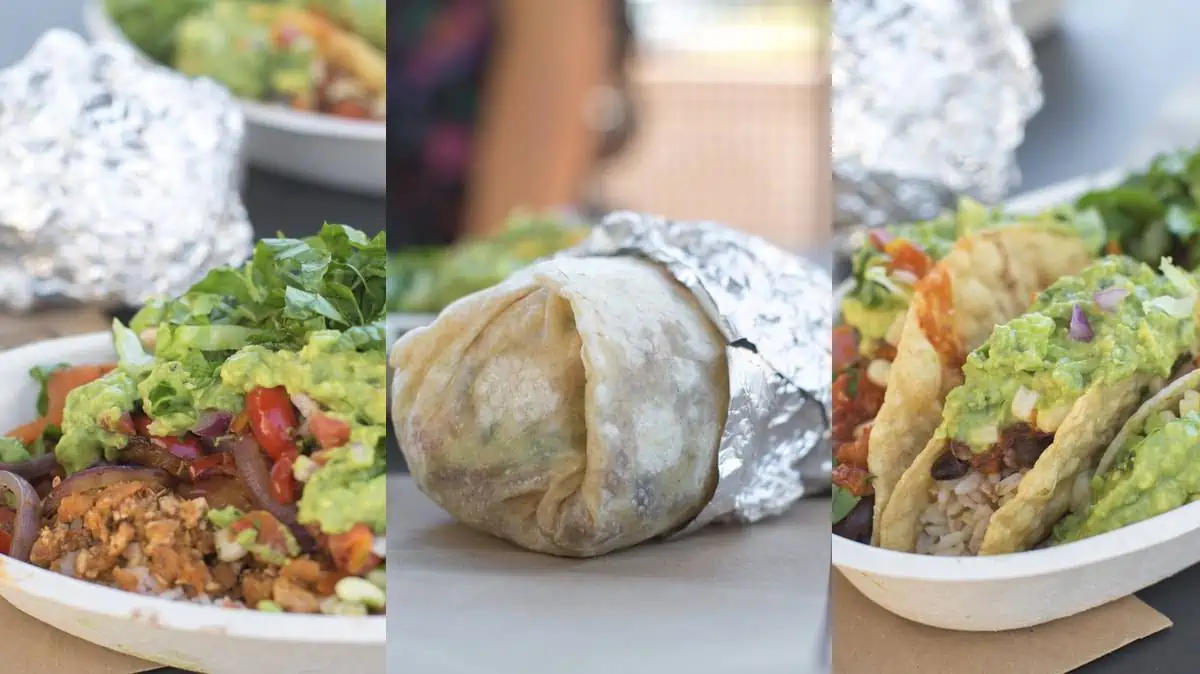 Vegan Options at Chipotle
Vegan Toppings & Sides (all listed are vegan-friendly)
Black Beans
Pinto Beans
Cilantro Lime White Rice
Brown Rice
Fajita Vegetables (sauteed bell peppers and onion)
Sofritas (braised tofu with poblano and chipotle peppers)
Guacamole
Romaine Lettuce
Supergreens Lettuce Blend
Roasted Chili-Corn Salsa
Fresh Tomato Salsa
Tomatillo Red Salsa
Green Chili Salsa
Tortilla Chips
Vegetarian Kids Meals
You can easily veganize Chipotle's kids meals by choosing the vegan options (rice, beans, etc.)
Any item listed above
The B-Y-O tacos with either crispy corn tortilla shells or the soft flour tortilla rounds
Vegan Drinks at Chipotle
There are many vegan drink offerings at Chipotle that are accidentally vegan, including (but not limited to):
Water
Sparkling water
Lemonade
Nantucket Nectars (all flavors)
IZZE fizzy drinks (all flavors)
Assorted sodas
If you'd like to see if the beer is vegan, check out our vegan alcohol guide and consult Barnivore's vegan beer directory.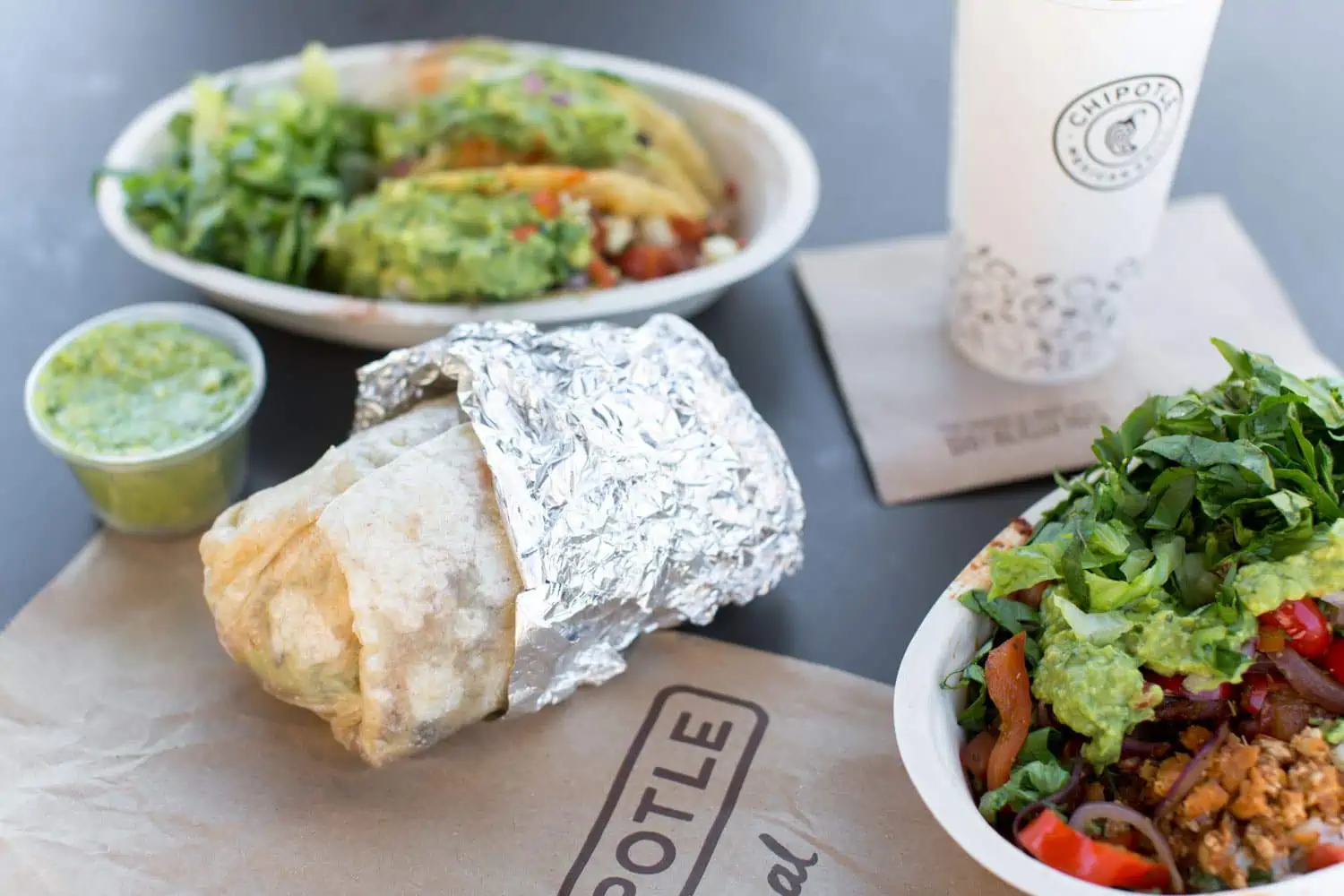 What Happened to the Vegan Chorizo at Chipotle?
Following the 2014 introduction of sofritas (Chipotle's first vegan protein option), a brand new menu item was introduced. In January, 2022 Chipotle launched a new spicy vegan chorizo made using pea protein (similar to the Beyond Burger), ancho chile and Chipotle peppers, tomato paste, garlic, smoked paprika, and extra virgin olive oil.
Sadly, the item is now off the menu, and we're uncertain if it will return.
This is a nice reminder of how impactful it can be to support these new vegan options at mainstream restaurants and fast food restaurants.
Helpful Hints When Ordering at Chipotle
Browse the restaurant's website before ordering. They have a very helpful nutrition calculator which allows you to not only see what is vegan (designated with a V+ in a green circle), but also which items contain gluten, soy, sulfites, or dairy.
Gluten-sensitive customers should avoid the flour tortillas, which contain wheat gluten. The corn tortillas are free of wheat.
Sulfite sensitive people should avoid the flour tortillas and the sofritas.
Be careful—the delicious Smoked Chipotle Salad Dressing is not vegan. Honey is one of the main ingredients, so instead switch to a savory salsa for your salad.
Consider ordering a large Lifestyle Bowl (available in Keto, Whole30, Paleo, Vegan, and Vegetarian) and save yourself a lot of hassle when you're hungry! The vegan version includes brown rice, black beans, sofritas, tomato salsa, corn salsa, and romaine lettuce. All set to go and no decisions are required!
New to Chipotle?
So was I! At first, I had no earthly idea of what to order and promptly panicked (to the embarrassment of my husband). There was an interval of frustration and confusion.
When I finally reached the register, I had safely ordered a super salad with lots of savory stuff on top. Cool. Not too bad. Nothing I couldn't handle. Okay, just pay.
You'll Quickly Become A Champion of Chipotle!
After sitting down and actually eating the food, I was nodding to myself with each bite. "Uh-huh. Yup. Good. Love the guac! Yes. The veggies are fresh! And the beans. Mmm…beans. Uh-huh."
From that moment on, I was converted—a Champion of Chipotle!
The more times I visited with my family or friends, the more I realized the vast number of vegan variations that I could come up with. Not only salads—but bursting bean filled burritos and temptingly taut tacos. Absurdly hot and crispy tortilla chips and the most glorious guacamole I'd ever tasted.
If you've never been to Chipotle, we encourage you to give it a try. While it's debatable whether Chipotle can qualify as vegan Mexican food, it is certainly Mexican-inspired and if you're hungry for a burrito, Chipotle has you covered. We hope this guide will make it easy to order so you can have a first experience you love.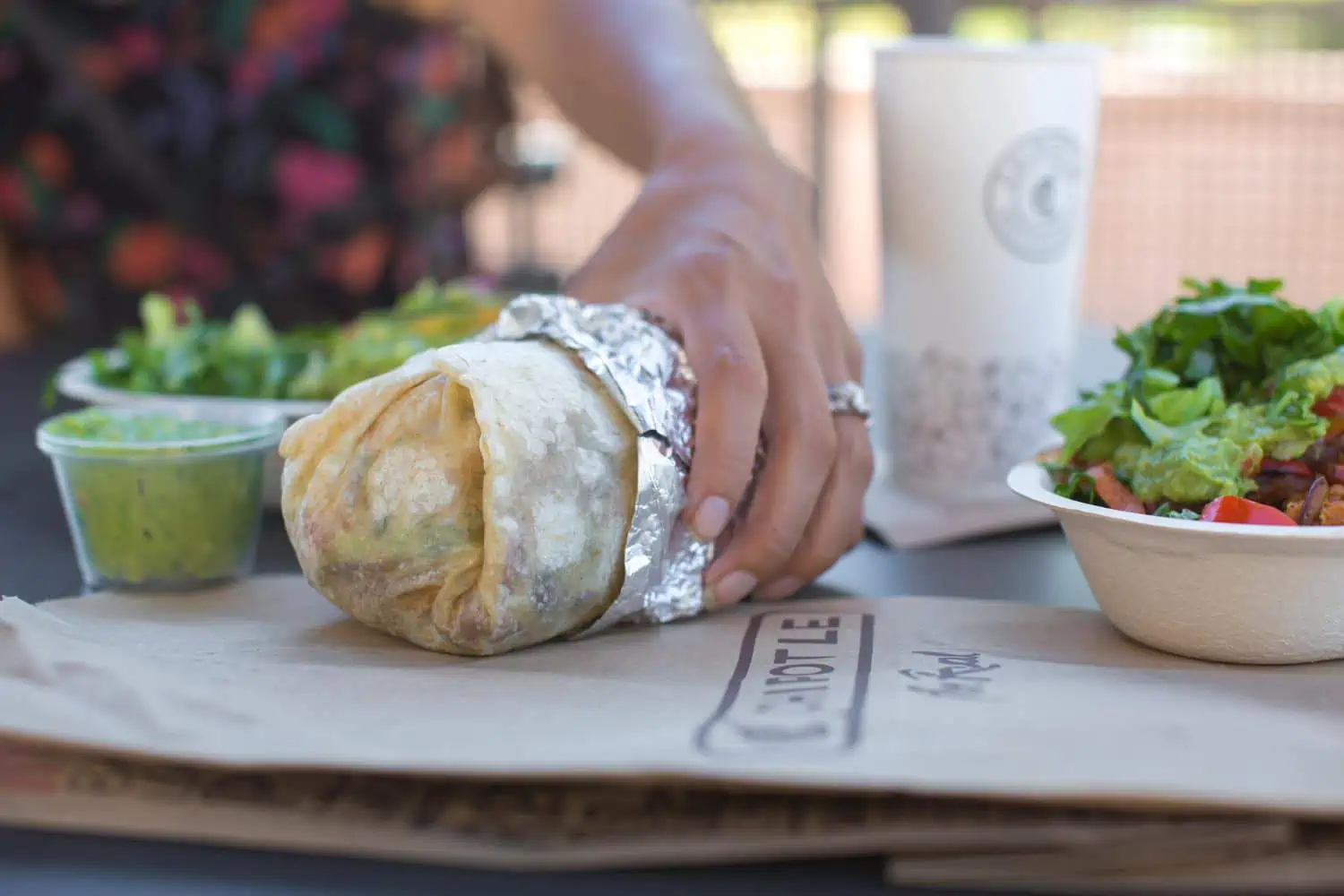 How to Order Vegan at Other Fast Food Chains
Don't miss our vegan fast food guide where you can see how to eat vegan at many mainstream restaurant chains and fast food spots. For example:
Have you found any other options to be veganizable? Did you find something amazing that we missed? Send us a message and let us know and tag #worldofvegan and @vegan on Instagram to share your favorite vegan at Chipotle creations with all of us!
Disclaimer: At the time of this article (last updated in 2022), all of the foods mentioned above are vegan. Since restaurants constantly update their menus, add or take away items, and reformulate menu items, please keep this in mind when ordering your food. There may be new items that are vegan and not listed above or items listed here as vegan, which are no longer vegan. Take care to double-check. Good luck!