When you're constantly on the go, the last thing you want to worry about is lunch. Whether it's a long day at work, school, or the beach, you need to fuel your adventures properly to make the most of them. Enter the vegan quinoa salad in a jar, a portable and nutrient-packed dish that will never let you down. With its vibrant colors, textural contrasts, and fresh flavors, it's no wonder this delicious, nutritious mason jar meal has captured the attention of healthy eaters across the globe.
The genius of the quinoa salad in a jar lies in its simplicity and versatility. Quinoa, everyone's favorite ancient grain, is the foundation that's earned its reputation as a nutritional powerhouse. Light and fluffy yet robust and satisfying, the subtly nutty flavor makes it an ideal canvas for a myriad of culinary combinations. Each jar is an edible masterpiece, brimming with fresh vegetables, hearty grains, protein-rich legumes, and zesty dressing.
Quinoa salad in a jar represents a convergence of convenience, health, and culinary ingenuity. Its harmonious blend of flavors coupled with its aesthetic appeal make it a true winner in the realm of healthy eating. Whether you're seeking a nutritious lunch option or a colorful addition to your picnic basket, embrace the quinoa salad in a jar as a delightful way to nourish your body and satisfy your taste buds.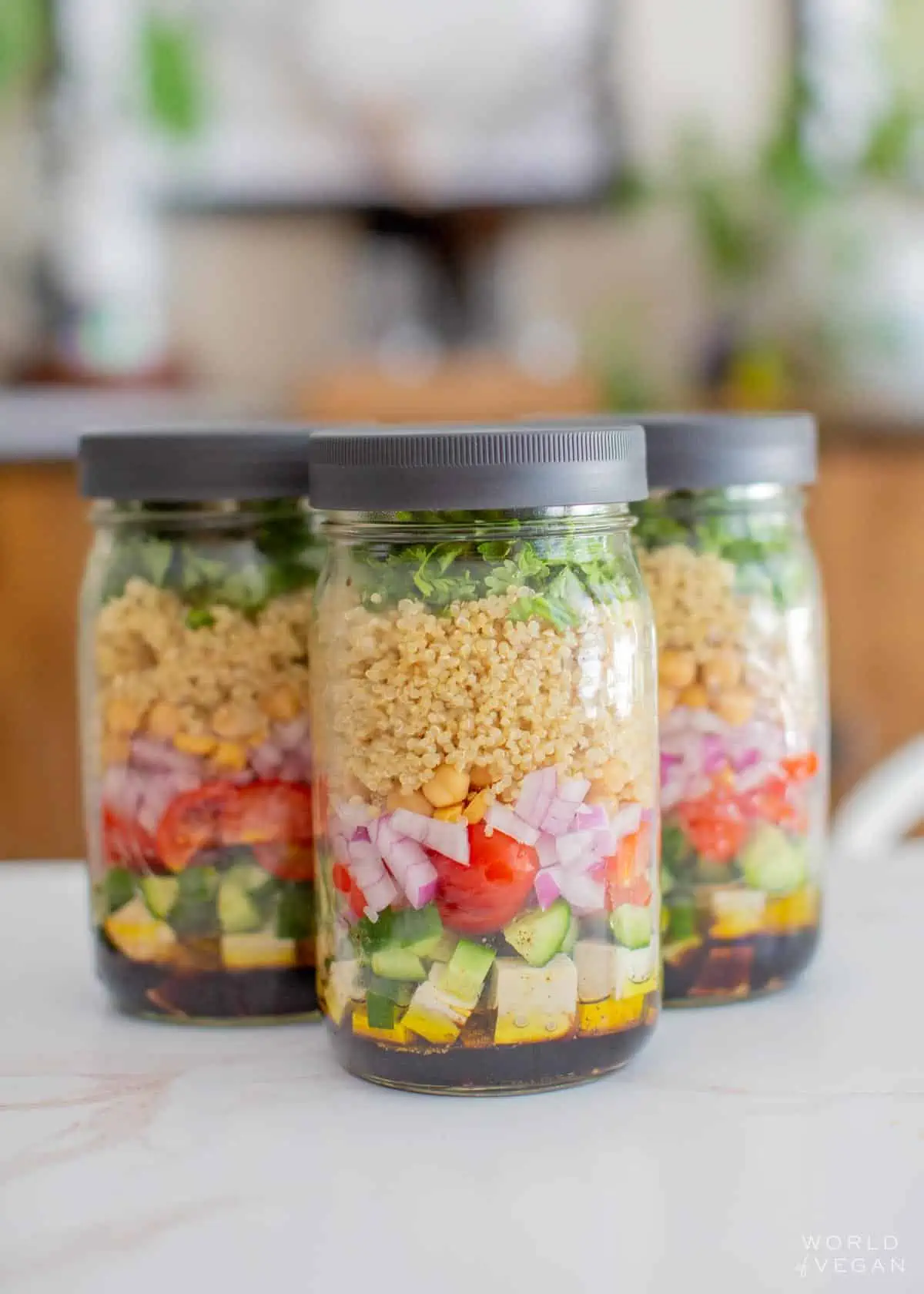 What Makes This The Best Vegan Quinoa Salad
Meal prep made easy. Assemble everything the night before or several days before eating so you're not pressed for time on an already busy schedule. Eliminate the need for last-minute meal preparations or unhealthy takeout options as a last resort.
Packed with protein. Between the chickpeas, tofu, and quinoa, you get 18 grams of high-quality plant protein per serving! That's MUCH tastier and more satisfying than a dry, chalky protein bar.
Grab-and-go goodness. Mason jar recipes are designed specifically to be portable, making this a perfect choice for those with busy lifestyles. Whether you're rushing to the office, heading to the gym, or embarking on an outdoor adventure, these jars of goodness are easily packed and ready to be enjoyed wherever you go.
Reduce waste. Reusable glass jars are so much better for the environment than extra plastic garbage! You can wash and refill it infinitely or recycle it when you're done.
Key Ingredients
Small details make a big difference when the recipe is so simple, which is why it pays to use the best quality possible. These are the basic staples to stock up on:
Olive oil: Peppery, grassy, and buttery, a good olive oil is essential in any kitchen. Now's the time to break out the good extra-virgin stuff since you'll really taste it here.
Balsamic vinegar: Add a splash of this rich, subtly sweet acidic rockstar to liven up the whole dish.
Tofu: Extra-firm or super firm are your best bets to approximate a texture similar to soft cheese like feta.
Cucumber, tomatoes, red onion: Don't forget the veggies! I love this blend that's refreshing, light, and summery.
Chickpeas: You'll need one can of chickpeas, which equals 1 ½ cups cooked, once drained.
Quinoa: White quinoa is most common, but red, black, or a mixture of all three work just as well, if you want to add more color and variety.
Swaps and Substitutions
The flavor possibilities are endless, as you can tailor the salad to your personal preferences and seasonal produce availability.
Whole grains: Quinoa isn't the only high fiber whole grain that's fit for the job here. Brown rice, farro, wheat berries, millet, amaranth, wild rice, or a blend of your favorites are all great alternatives.
Vinegar: Keep it tangy with a different acidic punch, like red wine vinegar, rice vinegar, sherry vinegar, apple cider vinegar, or coconut vinegar, just to name a few.
Beans: Chickpeas are always a hit, but there's always room for cooked black beans, kidney beans, lima beans, fava beans, white beans, lentils, and/or edamame, too.
Vegetables: Use this opportunity to clear out your crisper and use up anything you have on hand. A few top suggestions include red bell peppers, radishes, corn, shredded cabbage, steamed broccoli, snap peas, shredded carrots, olives, and more!
How To Cook Quinoa From Scratch
If you're in a rush, you can easily grab a shelf-stable pouch or frozen bag of cooked quinoa that's ready to go, but homemade will always be cheaper and fresher. Here's how you can whip up your own from dry whole grains.
In a saucepan, combine 1 part dry quinoa to 2 parts water or vegetable broth. Add a pinch of salt if desired. Cover, set over medium heat on the stove, and bring to a boil.
Once the liquid reaches a boil, reduce the heat to low and cover the saucepan with a lid. Simmer the quinoa for about 15 to 20 minutes or until all the liquid is absorbed. The quinoa should be tender but still slightly toothsome.
Remove the saucepan from the heat and let it sit, covered, for about 5 to 10 minutes. This allows the quinoa to fluff up and absorb any remaining moisture.
After resting, uncover the saucepan and fluff the quinoa with a fork, gently separating the grains. Your perfectly cooked quinoa is now ready to be enjoyed!
FAQs
How long will this quinoa chickpea salad keep?
Stored in the fridge and tightly sealed, this salad in a jar will keep for up to four days. To extend the shelf life further, keep the dressing in a separate container, and the components should last up to one week.
What if I don't have mason jars? Do I have to use glass containers?
You can use any airtight, reusable containers you like! As long as they don't leak, keep air and bacteria out, and won't break in transit, it's good to go.
Is quinoa salad better hot or cold?
This particular quinoa salad blend is designed to be enjoyed chilled or at room temperature. If it's a cold day out and you're craving a hot meal, though, you can always remove the lid and pop it in the microwave for 1 – 2 minutes, stirring thoroughly, until warmed all the way through. This hot version works best if you omit or replace the cucumbers with another, heartier vegetable.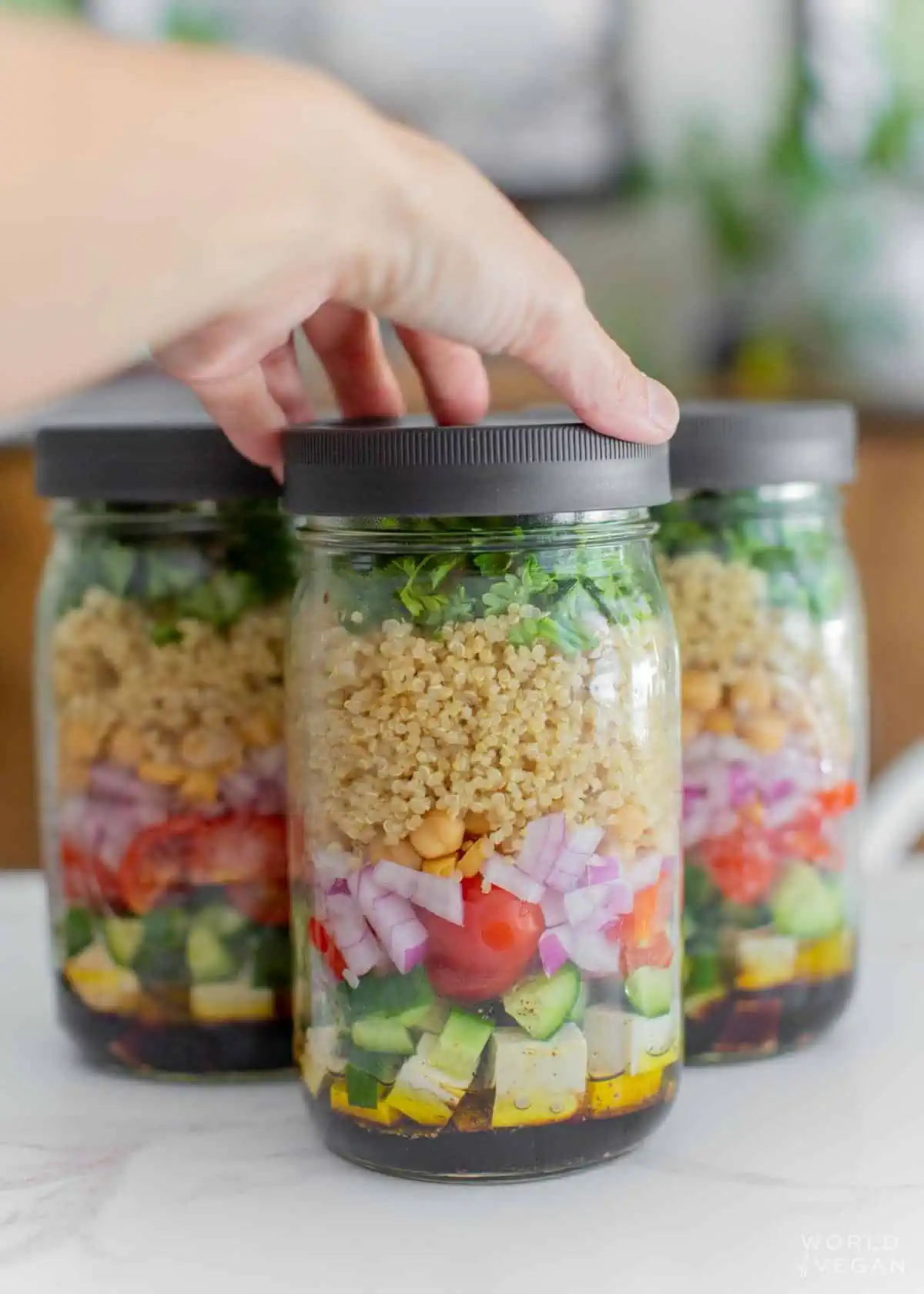 More Vegan Meal Prep Ideas
⅓ cup olive oil
Juice of one lemon
⅓ cup balsamic vinegar
½ teaspoon salt
½ teaspoon black pepper
1 block extra-firm or super-firm tofu, cubed
1 cup cucumber, diced
1 cup tomatoes, diced
1 small red onion, diced
1 can chickpeas, drained and rinsed
2 cups cooked quinoa
3 tablespoons sesame seeds
1 small bunch fresh parsley, chopped
Using three clean wide-mouth jars, add the olive oil, lemon juice, balsamic vinegar, salt, and black pepper, divided evenly among the three jars. Swirl the jars gently to mix or use a tall spoon to combine.

Next, layer in the ingredients to each jar in the following order: cubed tofu, diced cucumber, diced tomatoes, diced red onion, chickpeas, cooked quinoa, sesame seeds, and chopped parsley.

Secure the lids tightly on each jar and refrigerate until ready to serve. The salad can be stored in the refrigerator for up to 4 days.

When you're ready to enjoy, pour the contents of the jar into a large bowl and toss the ingredients to combine.
The dressing at the bottom of the jar will self-marinate the tofu, and the tofu, chickpeas, and quinoa all pack a filling protein punch! Be sure to use wide-mouth jars so they will be easy to clean!
Calories: 541kcal | Carbohydrates: 43g | Protein: 18g | Fat: 33g | Saturated Fat: 5g | Polyunsaturated Fat: 7g | Monounsaturated Fat: 20g | Sodium: 503mg | Potassium: 827mg | Fiber: 7g | Sugar: 10g | Vitamin A: 2056IU | Vitamin C: 36mg | Calcium: 195mg | Iron: 6mg