If you're wondering how to celebrate a vegan Rosh Hashanah, then you've come to the right place! This special holiday marks the Jewish New Year and the start of the Jewish High Holy Days, a ten-day period that ends with Yom Kippur—the holiest day of the Jewish year.
Rosh Hashanah offers Jewish people an opportunity to start their year anew and is marked with celebrations of life and renewal. A special prayer service is held at synagogue and a shofar—usually made from a ram's horn, so unfortunately not vegan—is blown to mark important parts of the service.
Food is a central component to the holiday. Sweet foods like apples are traditionally enjoyed with honey and desserts are plentiful. Sweet foods are eaten as a symbol of hope for a "sweet new year" and challah is braided into a round shape to represent the past years of Jewish history connecting together. We hope this vegan holiday guide helps you celebrate in a way that aligns with your values!
Vegan Apples and Honey
Honey from bees is off the table for most vegans, but that doesn't mean you need to pass on the sweet tradition of dipping apple slices! Instead of honey, why no try apples & agave for a sweet new year! Or get fancy with some apples and date syrup! There are lots of vegan honey alternatives you can use, including:
Agave Nectar (our favorite because it looks, feels, and tastes almost exactly like honey)
Date Syrup (this is also very similar to honey in that it's a thick viscous sweet syrup—but it's made from dates instead of bee vomit!)
Maple Syrup (because it's amazing with anything and everything)
Blackstrap Molasses (you'll get a healthy dose of iron with each dip)
Apple Honey (you can actually make honey from apples, and several brands have apple honey options on the market!)
Vegan Honey(Blenditup and The Single Origin's Vegan Un-Honey are just a few of the many options out there)
Vegan Rosh Hashanah Recipes
Food is one of the best parts of any holiday! On Rosh Hashanah, the cuisine is particularly enjoyable as sweet and rich foods help invite a fruitful and pleasant new year. Here are a few must-have recipes for having an intentional, nourishing, and restorative Rosh Hashanah.
1. Apples Abound
Apples are enjoyed on Rosh Hashanah as a way to ring in the year with as much sweetness as possible. This fantastic fruit also holds great signification in Jewish culture as being representative of God in ancient texts. Apples are usually dipped in honey during this holiday but instead of honey, we'd suggest agave nectar or one of these vegan honey alternatives!
But why stop there? Go for the gold(en apple) and bake up some delicious vegan apple strudels, apple walnut pastry purses, apple overnight oats, or even a classic apple pie! If you want to keep things simple but would like a unique spin on apples dipped in agave, our healthier vegan caramel apples may be just the thing.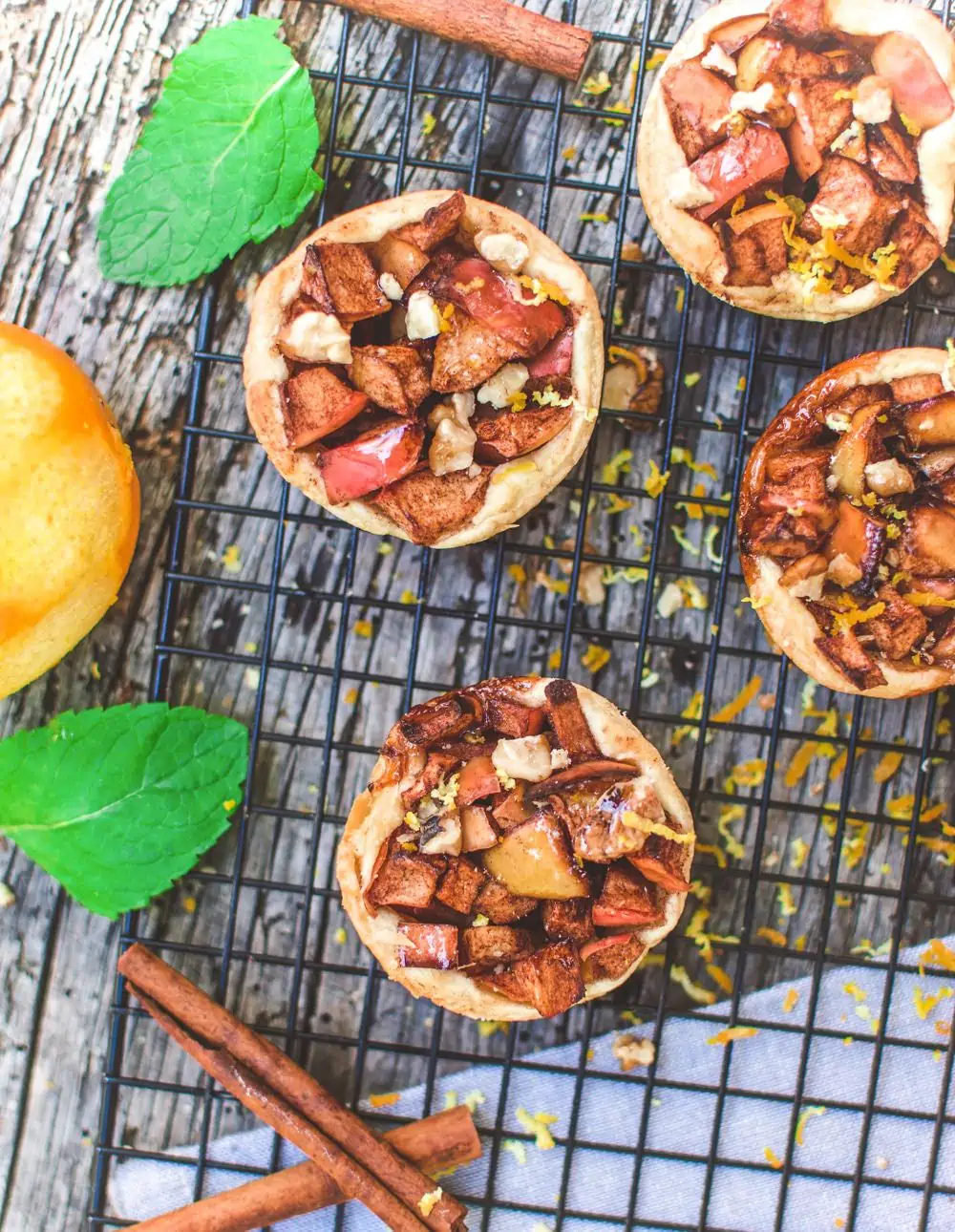 2. Challah Me Maybe
Challah is a special braided bread that has been a staple of Jewish cuisine for ages, most often consumed during ceremonial occasions or major Jewish holidays aside from Passover. It's traditionally made with eggs but can easily be veganized using an egg replacer such as flax seeds.
On Rosh Hashanah, rounded challah is often made instead of a braided challah. This reflects the completion of a circle—an old year coming to a close and a new one beginning. The Jewish Vegan has an excellent recipe for a vegan Rosh Hashanah challah that is both rounded and sweetly flavored with chopped apples and fall spices.
3. Soup's On
Soup is perfect for feeding large groups of people with a variety of invigorating flavors, ingredients, spices, and textures. Our chickpea noodle soup is perfect for both bringing in the new year and getting ready for the fall season with its rich array of ingredients! If you want to keep things a little sweeter, consider cooking up a pot of sweet potato soup instead!
4. Feel the Roast
Roasted root vegetables are an ideal Rosh Hashanah recipe. They're on the sweeter side of vegetables and are a quintessential fall dish. You can also really sweeten them up with a splash of maple syrup or agave. Feel free to add in some apples as well for a more dessert-like dish!
5. Classic Jewish Sides, Veganized!
Sometimes all you need for a great meal are a number of delicious side dishes. Wow your Jewish pals with veganized classics such as chopped liver and noodle kugel and top it off with a lovely coconut raisin rum tapioca pudding for dessert. Yum!
Make the Most of the Jewish New Year
Rosh Hashanah is a great time to reflect on the past year and reset for what's ahead. Sometimes it can be helpful to have a guide on what you'd specifically like to work on
Reflect and Reset – Write out favorite memories you made and future memories you'd like to have for the upcoming year. This can be done alone or with family/friends and is a great way to both reflect and set intentions. Maybe you met a sweet farm animal while volunteering at an animal sanctuary. Perhaps you'd like to spend more time with your Instant Pot this year. Regardless of what you hope to attain, it's helpful to gear up for the year ahead by thinking back on what made you happiest over the past year.
Make Sure to Take Care – Sometimes it's easy to get caught up in the day-to-day and forget to address some of our needs. Taking account of your needs can help you to feel better prepared for the future and de-stress. Whether you want to spend more time coloring as a way to relax or just want to simplify your life with more one-pot meals, you deserve to live your best life every day!
Try Something New – In addition to planning for future goals, the new year is a great time for thinking about fun new things you could try in the months ahead. That could be an activity such as zip lining, visiting a new place or even just trying an exciting recipe such as vegan snickers!
More Jewish Vegan Guides: