Are you craving Almond Joy bars? Who wouldn't! Remember those coconuty delicious treats we drooled over when we were little? You can actually find vegan candy bars very similar to Almond Joys made by the company Go Max Go (look for their Mahalo Bar). But if you can't get your paws on those, you can satisfy your sweet tooth cravings by making your own!
Rejoice because we have a fully vegan and healthier version of those for you to make at home. This recipe from the Clean Desserts cookbook will become your new best friend! Well, almost…
What Are Almond Joy Bars?
So what exactly are the classic almond joy bars made of? They are made with a sweet shredded coconut mixture and covered in chocolate ganache after placing a whole almond inside. What's not to like? The combination's just spectacular! Sweet, chewy, crunchy perfection.
The key step for these almond joy bars is to make the filling super compact. Don't overlook this step since it will make your bars feel like firm and bounty-like. Are you excited to make these yet?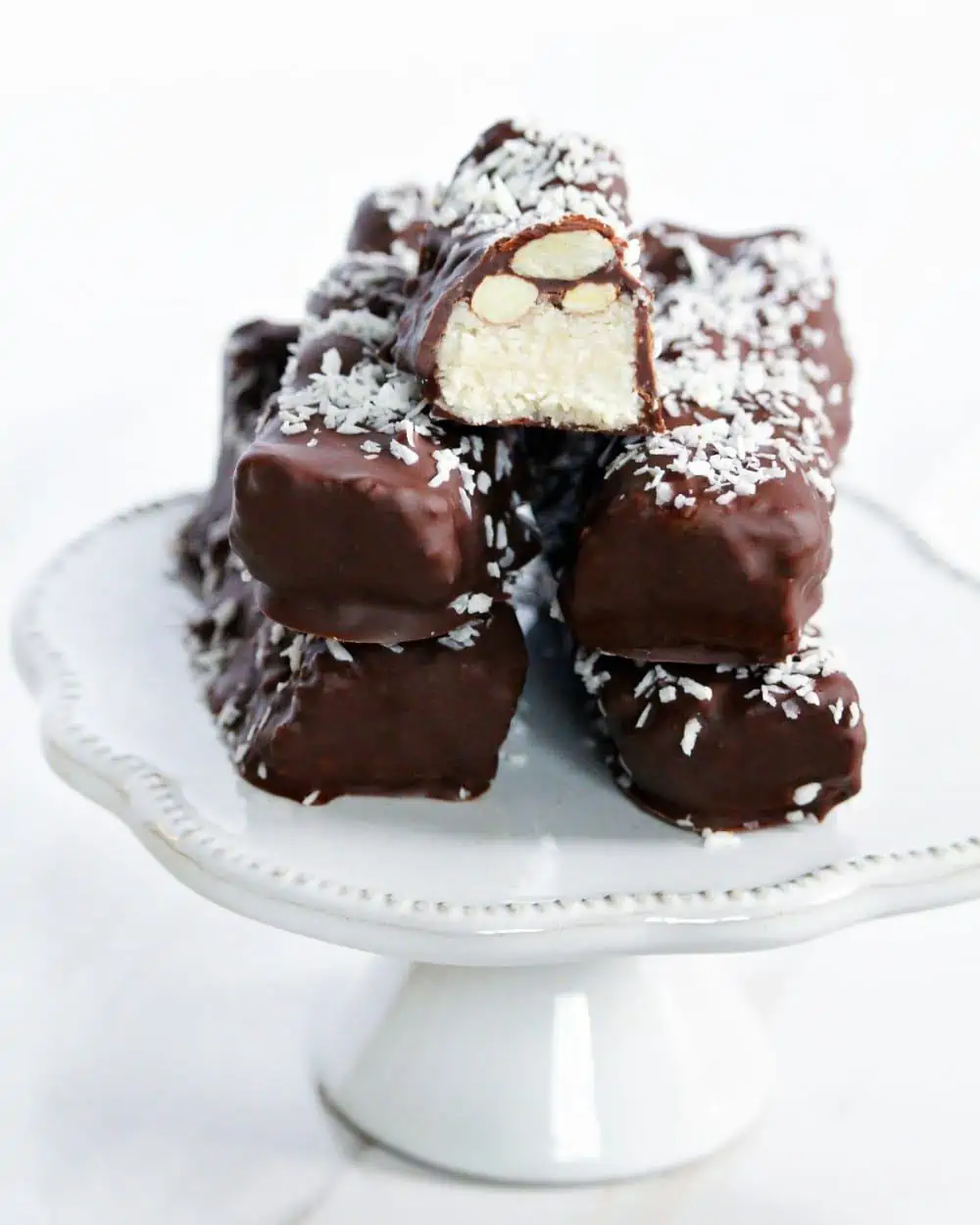 For the bars:
2½ cups unsweetened shredded coconut
¼ cup coconut oil
¼ cup maple syrup
1 teaspoon vanilla extract
⅛ teaspoon sea salt
For the chocolate coating:
1 cup semi-sweet mini chocolate chips
Prepare the bars:
Prepare a 9 × 5 loaf pan lined with parchment paper. Set aside.

Add all ingredients for the bars to a food processor and process until everything is well combined.

Transfer the mixture into the prepared loaf pan and spread it evenly on the bottom of the pan. Place an extra piece of parchment paper on top of the bar mixture and press it down very tight and compact.

Add the almond add-ins to the top of the bars, placing them side-by-side until they completely cover the top of the bars in 4 rows with 14 almonds in each row. (When you cut the bars vertically into 7 slices, each bar should have 2 vertical rows of almonds on each one or 8 almonds per bar.)

Press the almonds down so they are slightly embedded into the bar mixture.

Transfer the loaf pan to the freezer for approximately 60 minutes, or until the bars are firm.
Prepare the chocolate coating:
After the bars have firmed in the freezer, add all ingredients for the chocolate coating to a small saucepan and melt on lowest heat, stirring until it is completely melted and smooth, taking care to not let it burn. Set aside.
Assembly:
Prepare a cookie sheet lined with parchment paper. Set aside.

Remove the loaf pan from the freezer and cut into 7 full-size bars or 14 mini bars.

Dip each bar into the chocolate coating until the bars are completely covered on all sides; use a fork to flip them over and to allow the excess chocolate to drip off.

Place the bars onto the prepared cookie sheet and return to the freezer for approximately 30 minutes, or until the chocolate hardens.

Store in an air-tight container in the freezer or refrigerator until ready to serve, because the bars will get soft if left out at room temperature.
Calories: 505kcal | Carbohydrates: 33g | Protein: 6g | Fat: 43g | Saturated Fat: 31g | Polyunsaturated Fat: 2g | Monounsaturated Fat: 5g | Trans Fat: 0.001g | Sodium: 13mg | Potassium: 282mg | Fiber: 8g | Sugar: 22g | Vitamin A: 0.1IU | Vitamin C: 0.5mg | Calcium: 82mg | Iron: 3mg
Delicious Treat for Friends, Family, Kids & Beyond!
These bars are ideal for preparing with your little ones! Simple and few ingredients and quick to make. The best part is that they are way more natural than their original version, so it can be a fun treat to share with friends, family, kids, and beyond.
What better way to inspire children to choose healthier foods than to include them in the cooking process? Trust me, it works! It's not always convenient with our busy schedules but making time for it every now and then will make a big difference. Let them get their hands dirty and leave a bit of a mess on the counter! It's only a wipe off after.
About the Cookbook
This Clean Desserts book is a gem, especially for those of you who are gluten-free. It's full of amazingly delicious recipes that are all completely gluten-free. And want to know the best part? There's absolutely no baking! Can you believe that? Dreamy!
You'll find treasures like Caramel Pecan Oatcakes, crispy chocolate tahini bars, and mango chocolate cheesecake. Need I say more?
The author of this must-have book is Karielyn Tillman. She brought to life the fantastic blog "The Healthy Family & Home." This blog is full of amazing resources for those interested in plant-based clean eating. This author from New Orleans, Louisiana is hugely passionate, finding joy in preparing clean, non-processed foods. If you're looking for uber-healthy guilt-free indulgences, "Clean Desserts" is your book!  
Discover More Decadent Vegan Chocolate Recipes
Vegan almond joy bars recipe excerpted from Clean Desserts: Delicious No-Bake Vegan & Gluten-Free Cookies, Bars, Balls, and More. By Karielyn Tillman, with permission from Skyhorse Publishing, Inc. Copyright 2019 by Karielyn Tillman. Photographs by Karielyn Tillman. Please note that this article contains affiliate links that help support our work at World of Vegan!