Everyone's favorite treat just got even more fun. With a delicate dip into melted chocolate and a dusting of colorful sprinkles, Rice Krispies Treats can become a show-stopper at your next party, birthday celebration, or just because. These chocolate covered Rice Krispies Treats are tested and approved by kids, parents, grandparents, and pretty much everyone.
Plus, they're easy enough for kiddos to help make! If you're making these with kids, you can even put out a little "decoration station" so they can decorate them in their own fun ways. We share lots of ideas for that below!
Many thank to Sjaaks, makers of some of the best vegan chocolate around, for sponsoring this recipe. We used their vegan couverture chocolate blocks that melt beautifully and work great for anything dipped in chocolate. Cheers!
Why We Love These Rice Krispie's Treats
Where do we even begin? They're classic. They're chewy. And they're loved by kids, adults, grandparents, happy people, grumpy people—literally everyone! Plus, they're…
Fun Varieties & Creative Decorations
Think of your Rice Krispies Treats as a blank canvas, ready for your artistic design. We chose to dip ours in chocolate halfway and decorate them with colorful rainbow sprinkles. But the options for your treat decor are endless.
Star Ingredients
Crispy Rice Cereal
While these absolutely qualify as a perfected vegan version of "Rice Krispies Treats," Kellogg's Rice Krispies cereal technically isn't vegan. It contains Vitamin D3, which is sourced from animal lanolin.
Lucky for us, there are other brands that make crispy rice cereal that is totally vegan! Here are just a few:
If you can't find vegan Rice Krispies cereal, most of your favorite cereals will work in this recipe!
Dairy-Free Butter
This recipe calls for vegan butter, and you can use any plant-based brands! We have a vegan butter guide outlining all your options. Coconut oil will also work!
Vegan Marshmallows
Marshmallows are obviously an essential ingredient in Rice Krispies Treats, and as you may have already guessed, we have a guide to vegan marshmallows to help you find them! The most common store-bought brand is called Dandies, and they have traditional big marshmallows and mini marshmallows.
Dandies also comes out with fun seasonal marshmallow flavors for the holidays, like pumpkin spice for fall and peppermint marshmallows for the winter and Christmas. You can absolutely use the flavored marshmallows for a fun holiday spin on these classic treats!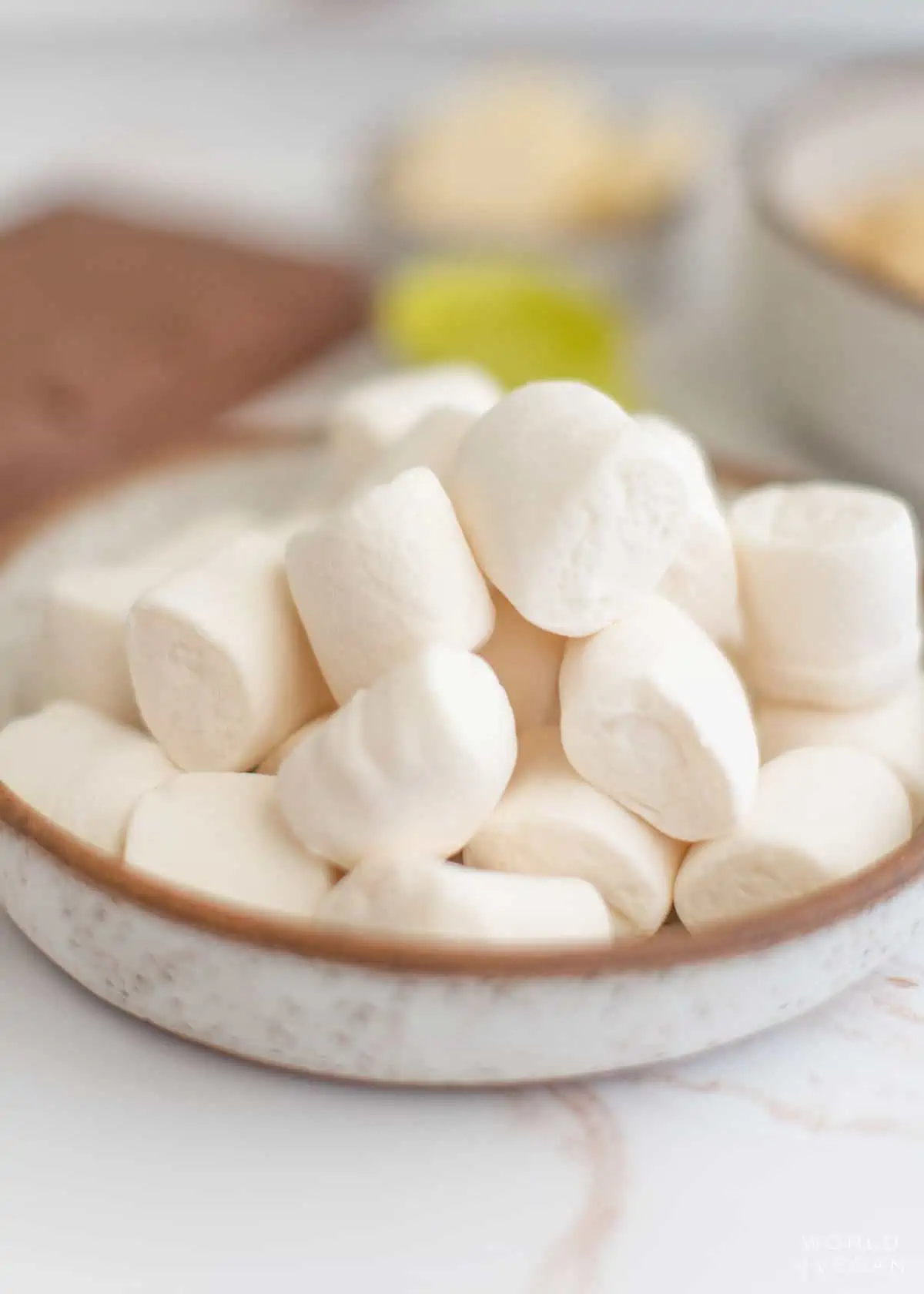 Dairy-Free Chocolate
We're leveling-up traditional Rice Krispies Treats by coating them in melted vegan chocolate.
You can use any vegan chocolate you'd like for this recipe—including chocolate chips and chocolate bars—but our favorite chocolates to use for this recipe are these couverture chocolate blocks from Sjaaks.
Sjaaks is a fully vegan chocolate company that makes really high-quality chocolate without dairy. Their couverture blocks are a new addition to their lineup and they're fantastic!
What is Couverture Chocolate?
Couverture chocolate contains a higher percentage of cocoa butter than other forms of chocolate, giving it more sheen, an extra creamy flavor, and that melt-in-your-mouth effect. It's great for making chocolate candy bars, vegan chocolate truffles or bonbons, glossy cakes, and anything dipped in chocolate.
Plus, the couverture blocks from Sjaaks come in four varieties: dark chocolate, "melk" (milk) chocolate, coconut milk chocolate, and even white chocolate. All of these will work in this recipe!
Vegan Sprinkles
Everything is better with sprinkles—right? You can decorate your treats however you'd like, but if you'd like to use sprinkles, just take care to find a vegan brand. Our Vegan Sprinkles Guide can show you the way.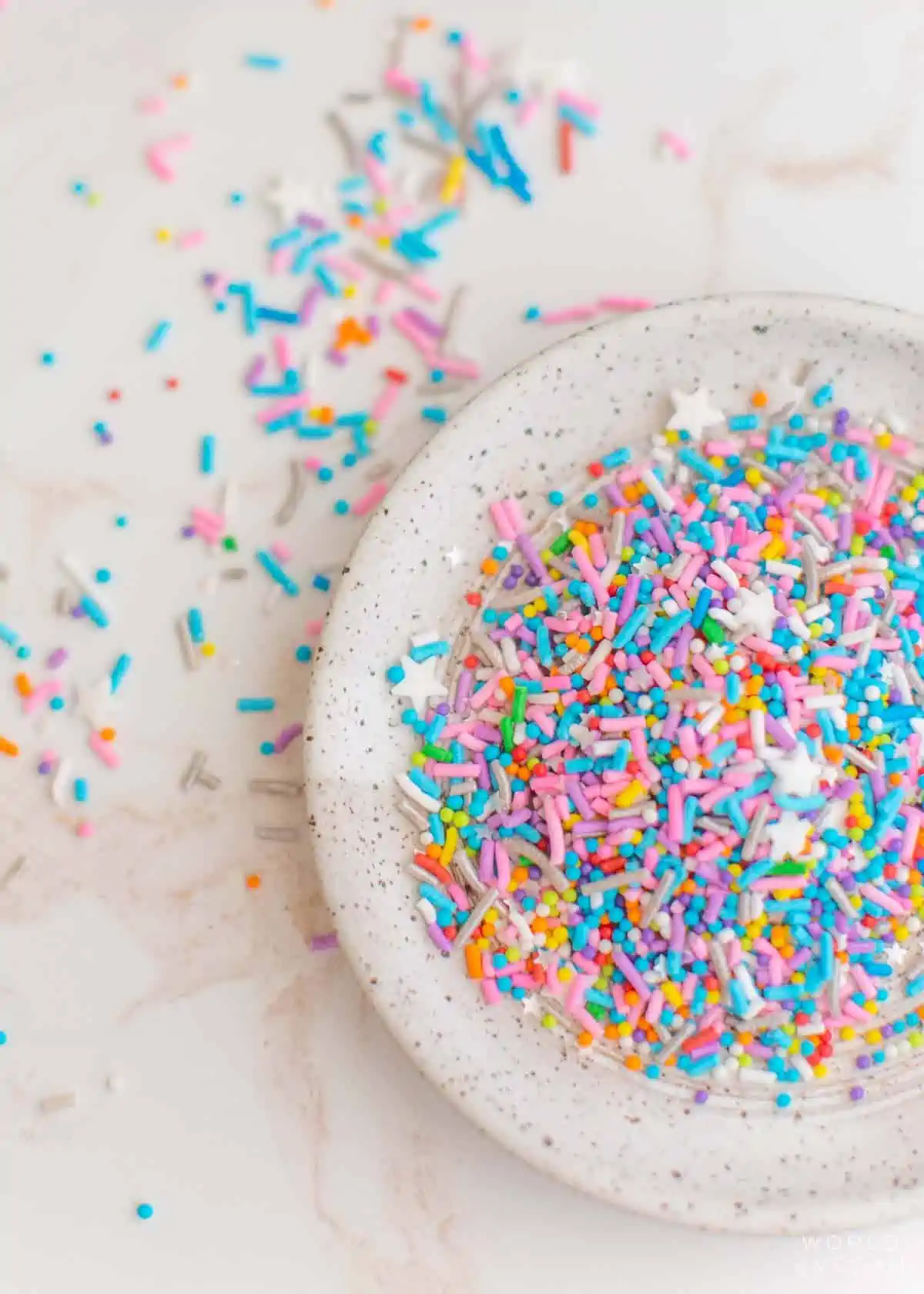 How to Make Perfect Chocolate Covered Rice Krispies Treats
Follow this step-by-step tutorial, and you'll have perfectly chewy treats in your kitchen in a snap!
Step 1. Get a large microwave safe bowl (such as a glass or Pyrex bowl). The bowl should be big enough to hold all the marshmallows and cereal together. Pour in the vegan marshmallows, dairy-free butter, and water.
Step 2. In the microwave, heat for 30 seconds at a time, stirring in between each session, until you achieve the light fluffy consistency pictured below.
If you don't have a microwave or would prefer to do this step using the stove, you can absolute do that! Simply place the ingredients (marshmallows, butter, and water) into a large pot over medium heat, and mix together until you get the same light fluffy consistency.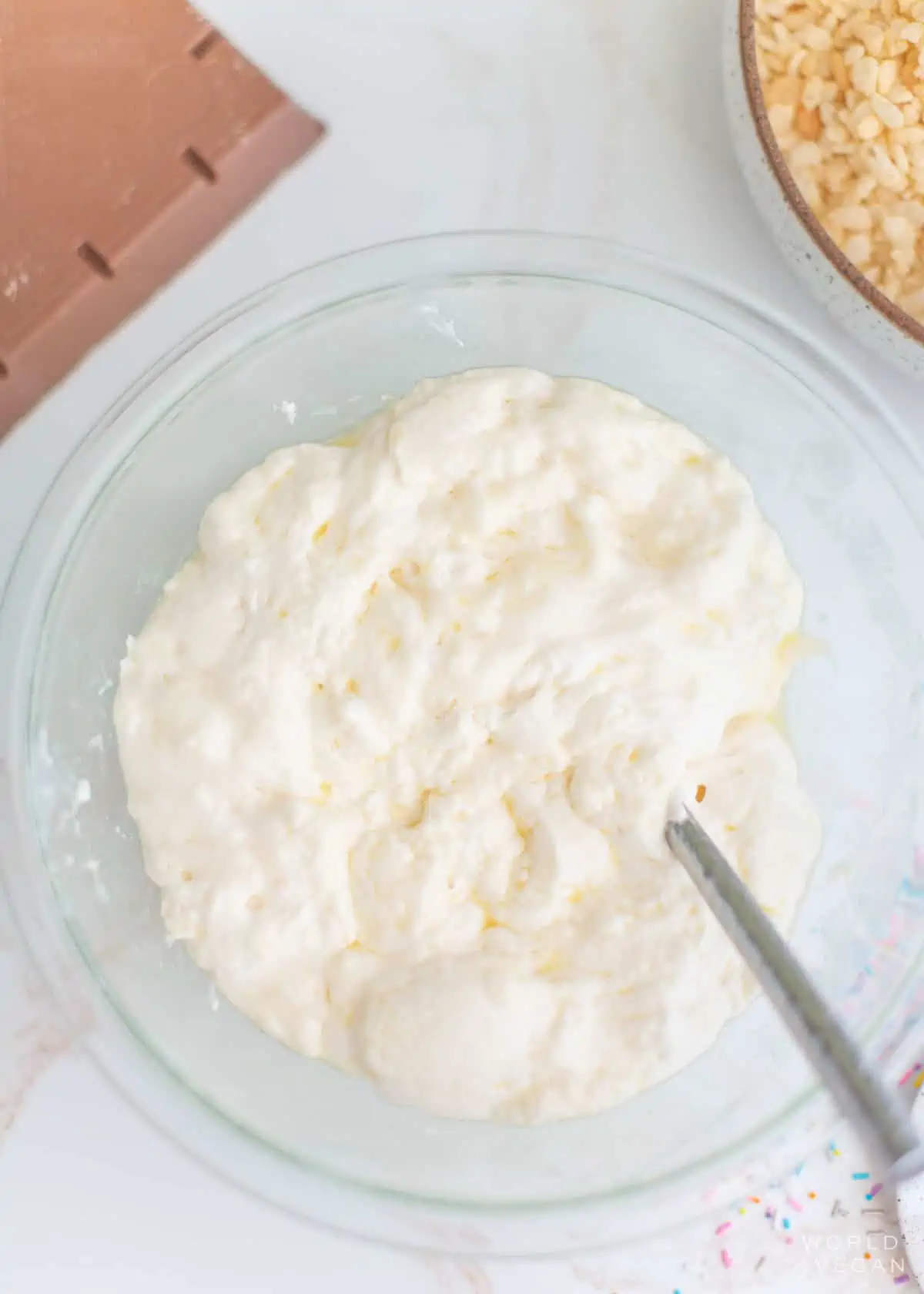 Step 3. As soon as the marshmallow mixture becomes light and fluffy and well combined, immediately add the four-and-a-half cups of crispy rice cereal. Mix everything together, being as gentle as you can—but also aggressive enough to coat the cereal completely and pretty evenly with marshmallow fluff.
If you'd like to add in any add-ins, now is the time! For instance, you can mix in sprinkles for a funfetti effect (great for birthdays).
Step 4. Lightly grease your 9 x 9 pan with vegan butter or vegetable oil or an oil spray. If you have a non-stick pan, greasing is not required. Dump the Rice Krispies Treats mixture into the pan and firmly press it down until the surface is flat and even.
A sheet of parchment paper can be helpful here. Cover the surface with parchment paper and use your hands to press and shape the treats. If you don't use enough pressure here, the Rice Krispies Treats may not hold together well, which is especially important if you'll be dipping them in chocolate.
Step 5. Place the pan in the freezer and allow the treats to chill for at least 15 minutes. This will help them solidify and will make them easier to cut.
Step 6. Cut the loaf into squares—or any shape you want. Use a sharp chef'd knife for this, and wipe the blade clean between every few cuts so you get clean cuts. You can also grease your knife (run butter or oil over the blade) to help it slide through and prevent the marshmallow from sticking to it. You will most likely end up with around 12-15 Rice Krispies Treats.
Stop here for regular Rice Krispie's Treats! Or continue on for the chocolate coated kind…
Step 7. Melt your chocolate. The best way to melt chocolate without risking burning it is with a double boiler. You can make your own double boiler by placing a smaller glass or metal bowl over a pot filled with water, so that the bottom of the bowl is resting in the top of the water. Or you can pick up one of these which makes it even easier.
If you'd rather use the microwave, you can do that too—just microwave in 20 second increments and be careful not to leave it in too long or the chocolate could seize at which point it will be unusable.
If using a block of chocolate, chop it into small pieces first so it will melt more easily.
Step 8. Dip your Rice Krispies Treats into the melted chocolate so that they are coated about half-way with chocolate. Move quickly or crispy rice cereal pieces may start falling off in the chocolate. Remove excess chocolate by swirling the treat above the bowl for a few seconds so the excess chocolate flies off.
If you'd like to create a full candy-bar effect, you can completely coat the treats with chocolate—just note that it's a messier process and you may need more chocolate. You can also do a simple chocolate drizzle effect using your spoon or a piping bag.
Step 9. Set them on a parchment paper lined baking cookie sheet.
Step 10. Before the chocolate sets, bedazzle your krispie treats with your favorite vegan sprinkles.
Want to go a more elegant route? You can also use chunky sea salt, or even edible gold flecks, shredded coconut, or slivered almonds. You can also skip the topping, and add a chocolate drizzle effect on top!
Place the pan in the fridge for 10 minutes or until the chocolate has fully set.
More Fantastic No-Bake Vegan Desserts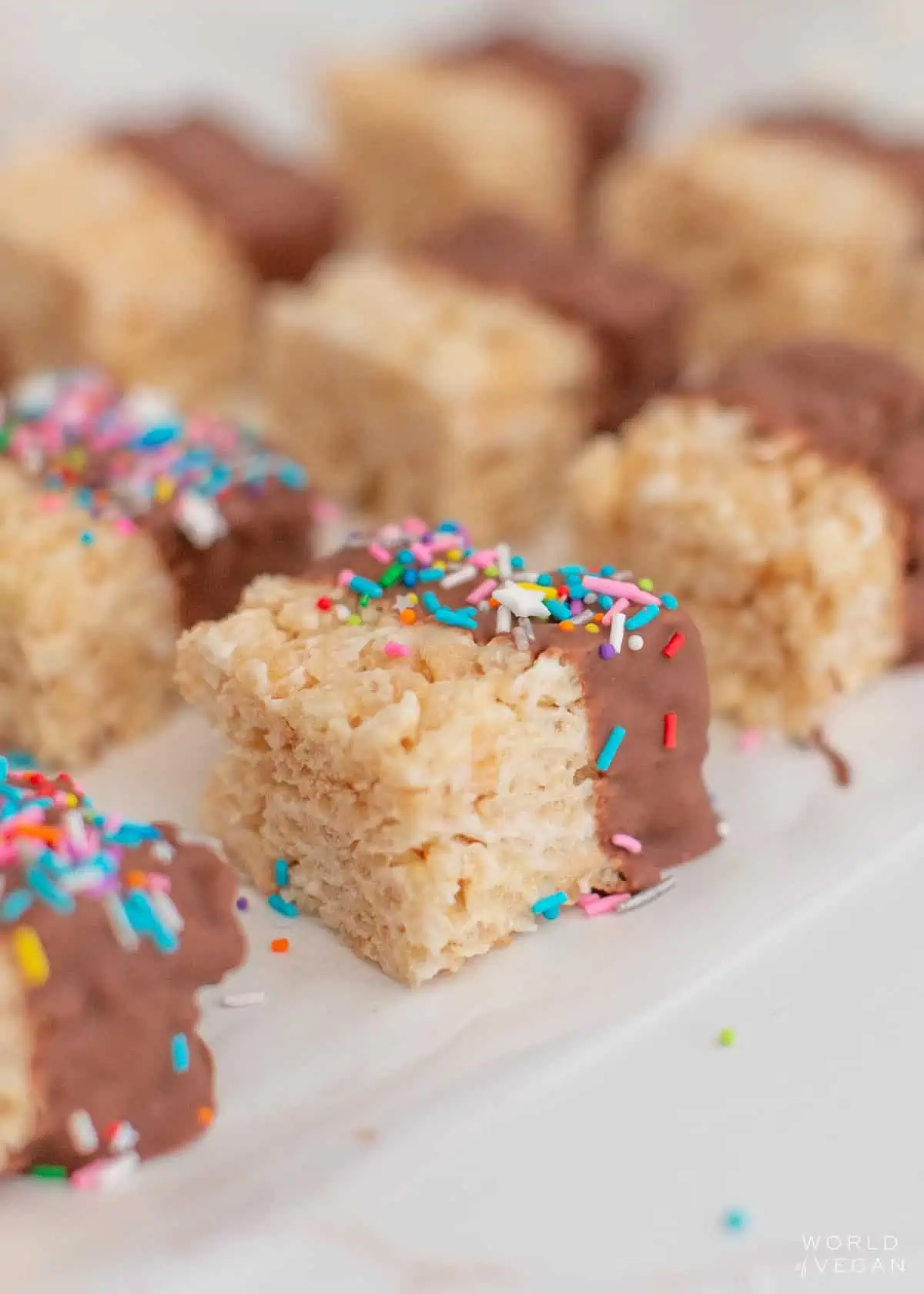 1 10-ounce bag vegan marshmallows, such as Dandies; mini or full-sized
4 tablespoons dairy-free butter
1 teaspoon water
4½ cups crispy rice cereal (or brown rice crisps), look for a brand that doesn't have Vitamin D3 in the ingredients—traditional Rice Krispies are made with animal-sourced D3.
6 ounces vegan chocolate, (dairy-free dark chocolate, milk chocolate, and white chocolate will all work great here—we used Sjaaks Couverture Melk Chocolate blocks)
1 tablespoon vegan sprinkles, (or chunky sea salt)
In a large microwave safe bowl, add the marshmallows, butter, and water. Microwave in 30-second increments, mixing between each, until the marshmallows pillow up and turn fluffy, and everything mostly mixes together. It's okay if some of the buttery oil isn't fully incorporated.

Add the crispy rice cereal and using a spatula or spoon, mix gently until the marshmallow fluff is completely (and evenly) incorporated.

Scoop the mixture into a 9 x 9 pan (lightly oiled or non-stick), and press down evenly into the pan using your spoon, spatula, parchment paper, or oiled hands. Place in freezer for at least 15 minutes to chill (for easier cutting), and then cut into squares or rectangles (or your desired Rice Krispies Treat shape). Set aside (or back in the fridge).

Using a double boiler, melt your chocolate until silky smooth and no chunks remain. (If using a couverture chocolate block like we did, first roughly chop into small pieces so your chocolate will melt easily.)

Line a baking sheet with parchment paper. Dip the Rice Krispies Treats in the melted chocolate to coat halfway, allow excess chocolate to drip off, place on the lined baking sheet, and dust with sprinkles. Repeat until all your treats are chocolate dipped and sprinkled, and then place in the fridge for 10 minutes, or until chocolate has hardened.
Calories: 119kcal | Carbohydrates: 15g | Protein: 1g | Fat: 7g | Saturated Fat: 3g | Polyunsaturated Fat: 1g | Monounsaturated Fat: 2g | Trans Fat: 1g | Sodium: 69mg | Potassium: 11mg | Fiber: 1g | Sugar: 7g | Vitamin A: 559IU | Vitamin C: 5mg | Calcium: 15mg | Iron: 3mg