Ella Mills recently launched her fourth and most comprehensive vegan cookbook, The Plant-Based Cookbook. Like her last three, the recipes are beautifully crafted and mainly gluten-free. These Peanut Butter Slices are no delicious exception!
From Small Blog to Big Brand!
Ella started with a small blog hoping to share some of her creations with others who might be struggling with health issues. Her readers have highly appreciated the fact that she has been so open about her health struggles and her focus on positivity and living life to the fullest is very contagious. She has managed to create an honest and beautiful brand in such a short period with three new products launching at the end of January. Plus, she has her own deli located in the beautiful London area Mayfair. So drop by if you're visiting or passing by!
As a side note: This has been the fastest-selling vegan cookbook of all time! So maybe this is enough reason to try these beautiful Peanut Butter Slices!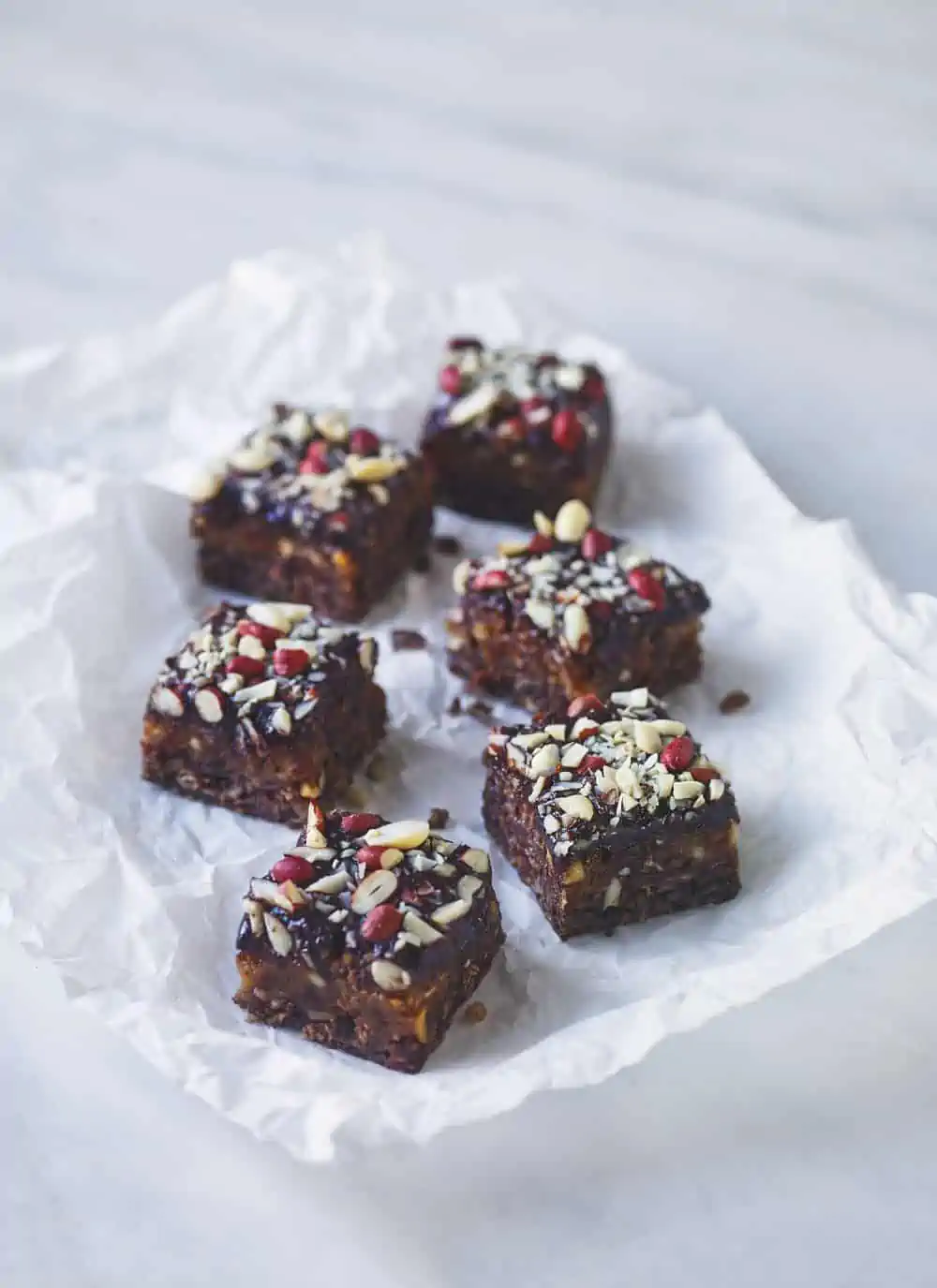 A Fancy but Simple Dessert
In my house, dessert is a must! My kids are continually chanting for it after a meal, so having quick, healthy options inside my fridge is something I strive for. Raw sweets have the reputation of being "fancy" or "too healthy," but I love them because they don't require any baking or very unusual ingredients (and you can always swap the ones you're missing).
Peanut butter is another necessity! I'm sure this is not only the case in my household but applies to most of you. It's full of protein and it keeps my little boys full with enough energy to get through their active day. After I pick them up from school, they are always ravenous, but it's usually too early for dinner, so nutrient-rich snacks are a good way to push through.
For the base
1 cup Medjool dates, pitted, (7 ounces)
¾ cup porridge oats, (2.6 ounces)
2 tablespoons cacao powder, or cocoa powder
1 cup flaked almonds, (3 ounces)
For the middle layer
⅔ cup Medjool dates, pitted, (5.3 ounces)
1 ½ cups smooth peanut butter, (12.3 ounces)
¼ cup coconut milk (from a carton), (1.7 fluid ounces)
For the top layer (can substitute melted dark chocolate)
⅓ cup maple syrup, (2.5 fluid ounces)
2 teaspoons cacao butter
2 tablespoons cacao powder
1 handful peanuts, roughly chopped
Line a 11 x 7 inches (29 x 18cm) baking tray with baking parchment.

Start by making the base. Place the dates in a food processor and pulse until a paste has formed.

Add the ground oats and cacao powder and pulse until well combined.

Finally, add the flaked almonds and give it a final pulse to mix them through.

Spread the mixture out in the prepared tray and leave in the fridge to set for 10–15 minutes, until firm.

Make the middle layer by placing the dates in a food processor and pulsing until a paste has formed. Add the peanut butter and coconut milk and pulse until smooth.

Spread the mixture over the base and leave to set in the fridge for 30 minutes.

Finally, make the topping by placing the maple syrup, cacao butter, and powder in a small pan over a low heat. Heat until the cacao butter has melted, around 5–10 minutes.

Pour the mixture over the peanut butter layer and use a spatula to spread it out evenly. Leave to set in the fridge for 1–2 hours, sprinkling a handful of chopped peanuts over the top after about 1 hour, when it is quite firm but before it has fully set.

When ready, lift the set mixture out the baking tray and cut into slices or squares.
If you don't like peanuts, you can use another nut butter for the middle layer—almond or cashew butter both work well.
Calories: 237kcal | Carbohydrates: 23g | Protein: 7g | Fat: 15g | Saturated Fat: 3g | Polyunsaturated Fat: 4g | Monounsaturated Fat: 8g | Trans Fat: 0.001g | Sodium: 99mg | Potassium: 303mg | Fiber: 3g | Sugar: 15g | Vitamin A: 40IU | Vitamin C: 0.001mg | Calcium: 47mg | Iron: 1mg
Gotta Love Nut Butter!
There's a whole world of nut spreads out there, and they are all full of nutrients. Peanut butter is a classic we adore but have you tried almond butter? It's so smooth and slightly sweet, hence it's perfect for a dessert like this. Cashew butter is another favorite because it's a bit more neutral. You can use it for many different recipes.
When it comes to peanut butter, try and find one that has the least ingredients. Peanuts and sea salt is best. It's a great way to get some healthy fats in and consume a little less butter.
Make Raw Simple
These slices do call for cacao butter, which can be hard to find, and is, to be honest, not much of a staple. So you can easily replace it by melting dark chocolate chips and using it as the top layer.
One funny-sounding ingredient shouldn't turn you off, and you can always swap it for what you have. In the case you want to add something to make it more of a show-off dessert, you could always serve it with this delicious Coconut Whipped Cream.
Raw can be a bit more tricky if you have a nut allergy, so you could try and swap the nuts used for the base for oats and dates instead. Mix equal parts of both in a food processor, and you'll have a delicious raw crust for a pie or a slice. Aso, instead of using nut spread you can give sunflower seed butter (or "sunbutter") a try and see how you like it.
So, next time you come across a raw dessert recipe don't feel intimidated! You'll only need a food processor and a few trips to your fridge or pantry. They are an excellent alternative for healthy cold snacks and can also serve as amazing, crowd-pleasing desserts for your dinner parties.
If you find it easier to watch step-by-step, we leave you with this recipe video!
More Delicious Raw Desserts:
Recipes are extracted from Deliciously Ella The Plant-Based Cookbook by Ella Mills, published by Hodder & Stoughton. Photographs by Nassima Rothacker © Hodder & Stoughton.