Chewy, colorful, cheerful little treats, gummy candies have captivated kids and adults for over a century. In any shape or fruity flavor, they're guaranteed to make you smile.
Considered by many as a school-safe sweet, they're gluten-free, nut-free, and fat-free, but there's more lurking on that label that isn't nearly so sweet. Do you really know what's going into your gummy candy?
Whether you're searching for vegan gummy bears, vegan gummy worms, vegan Halloween candies, or anything else, this guide has you covered.
A Brief History Of Gummy Candies
A relatively new food innovation, gummies as we know them have only been around since 1920. They can be traced back to a single person, Hans Riegl, in Bonn, Germany. He had a background in confectionary and was bored with the standard chewy taffies and hard candy lollipops. After much experimentation, bouncy gummy candies were born.
Bears were the very first shape, although they were originally called "dancing bears" before being bought by Haribo and re-branded. Haribo brought them to the US in 1982, while American company Trolli simultaneously launched gummy worms. Both were a hit with kids from the very start.
Are Gummies Vegan?
Conventional gummies are made with gelatin, which means they aren't even vegetarian, let alone vegan. Gelatin is a powdered thickener derived from ground bones, hooves, and ligaments, often from cows, horses, and pigs. Kosher gelatin is no better, typically sourced from fish instead.
"Natural" colors can sometimes pose a problem as well, since cochineal and carmine, traditionally used to make red pigment, come from crushed beetles.
Furthermore, some brands use beeswax to give the outside a shiny finish and prevent the pieces from sticking together.
What are Gelatin-Free Gummies Made From?
Fortunately, an increasing number of manufacturers are dropping animal products in favor of more accessible, cruelty-free formulas. These plant-based treats are more likely to use the following:
Pectin, a soluble fiber (polysaccharide) that's found in fruits, particularly apples and pears.
Agar, a jelly-like fiber derived from red algae seaweed.
Carrageenan, sometimes known as Irish Moss, is made from various parts of red seaweeds.
Cornstarch, tapioca starch, and potato starch are all common household thickeners made from pure carbohydrates without fiber.
Healthy Fruit-Based Gummy Options
Solely Whole Fruit Gummies
Solely has perfected the art of fruit chews with their 100% fruit and Vitamin C-packed gummies that are as delicious as they are nutritious. These are not just snacks; they're the superhero of lunchbox staples.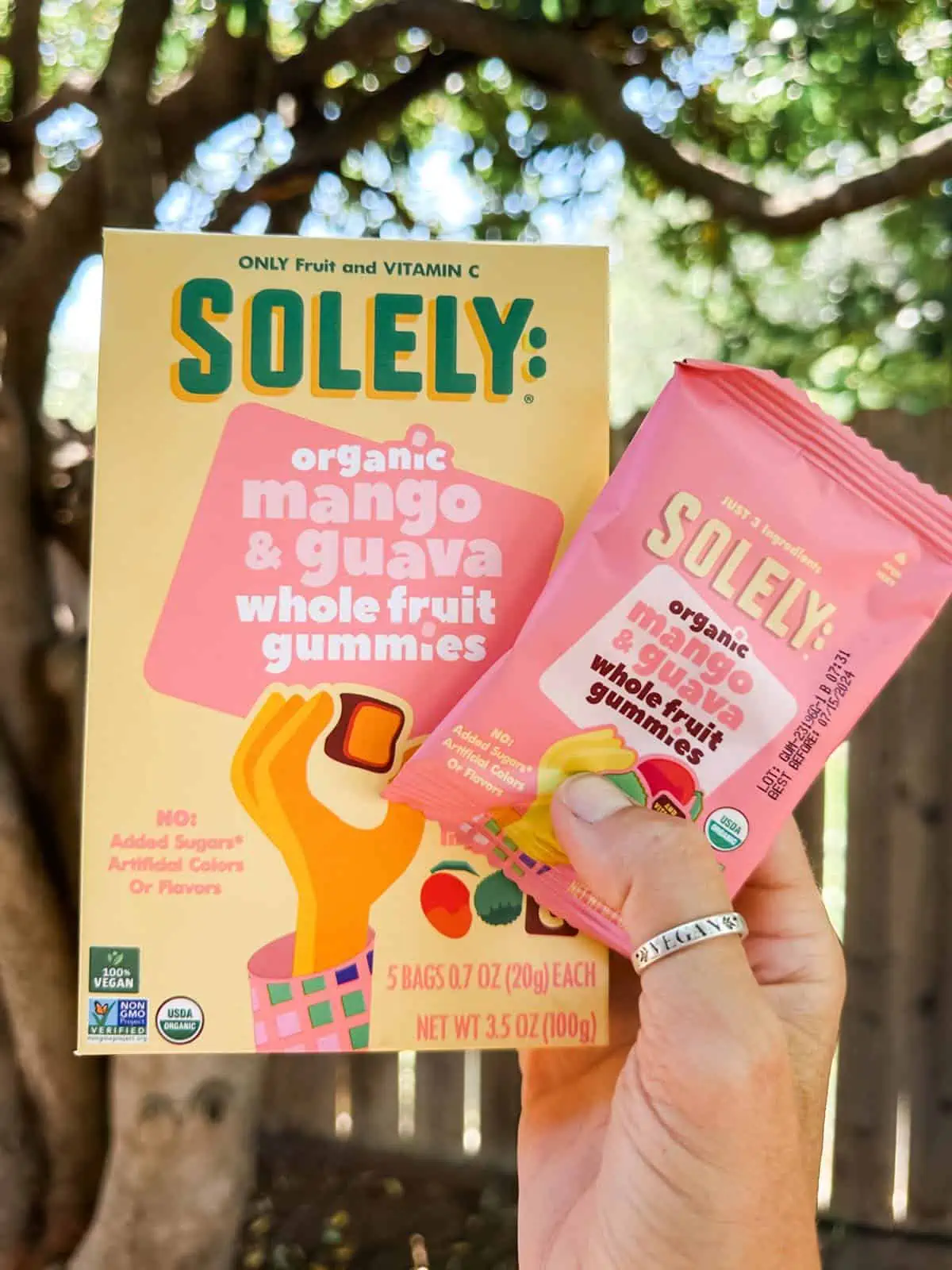 Bear Snacks Fruit Rolls: Nature's Sweetest Classroom Companions
These irresistibly cute fruit rolls, made solely from fruit, come with a bonus feature – collectible cards packed with intriguing animal facts. They're not just for lunch; they're a wild adventure in every bite.
Trader Joe's Fruit Leather Buttons: Healthy Snacking, Now in Button Form!
Trader Joe's has taken healthy fruit snacking to a new level of fun with their organic peel-off "buttons." These flat, round fruit leather pieces are so delightful that kids will be pulling them off thin paper like it's their favorite game.
Froot Thief Fruit Strings: Untangle the Fruity Fun!
Step aside, Fruit by the Foot. The Froot Thief brand is here with their outrageously playful nine-foot-long fruit strings! While they may not be on every shelf yet, you can be a fruity trailblazer by snagging a case on Amazon to support them in their deliciously daring journey.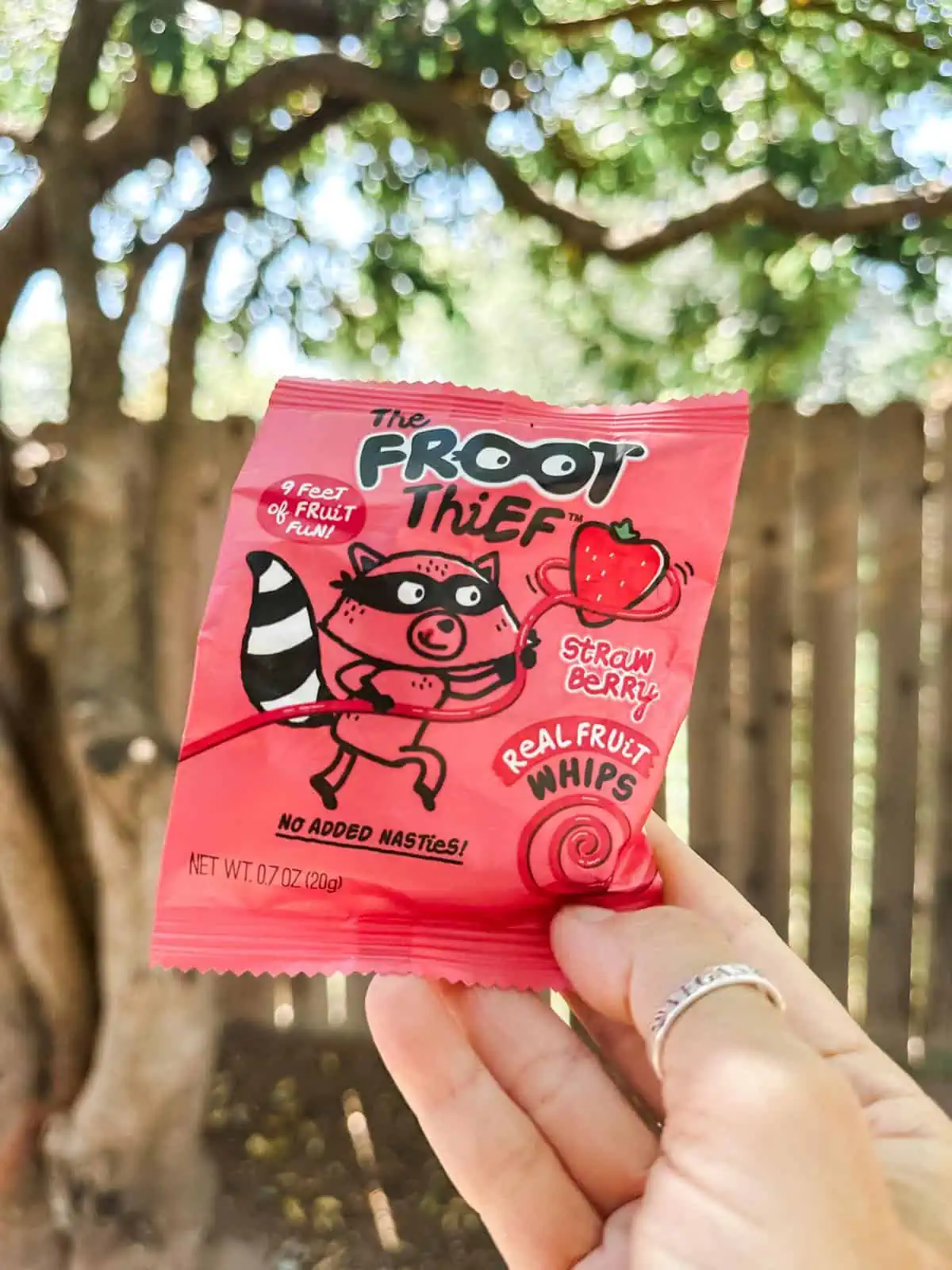 Fruit Leather: The Grocery Aisle's Sweet Revolution
The grocery and big box stores have caught onto the fruit leather fever, and the ingredients just keep getting better. Behold the colorful organic fruit leather from Target, your wallet's best friend when it comes to fruity, budget-friendly kids' snacks and treats.
Vegan Gummy Candy Brands
You'll feel like a literal kid in a candy shop when you see just how many options there are for vegan gummy brands. Always read the labels to confirm, since formulas are subject to change at any time.
Katjes is a legendary gummy brand that's been around for over a century. They whip up yummy treats with natural ingredients and without any gelatin or animal products, making them a go-to for vegans and vegetarians. With flavors ranging from fruity favorites like strawberry and raspberry to wacky picks like sauerkraut and beer, there's always a tasty adventure to be had with Katjes. They even have rainbow gummies!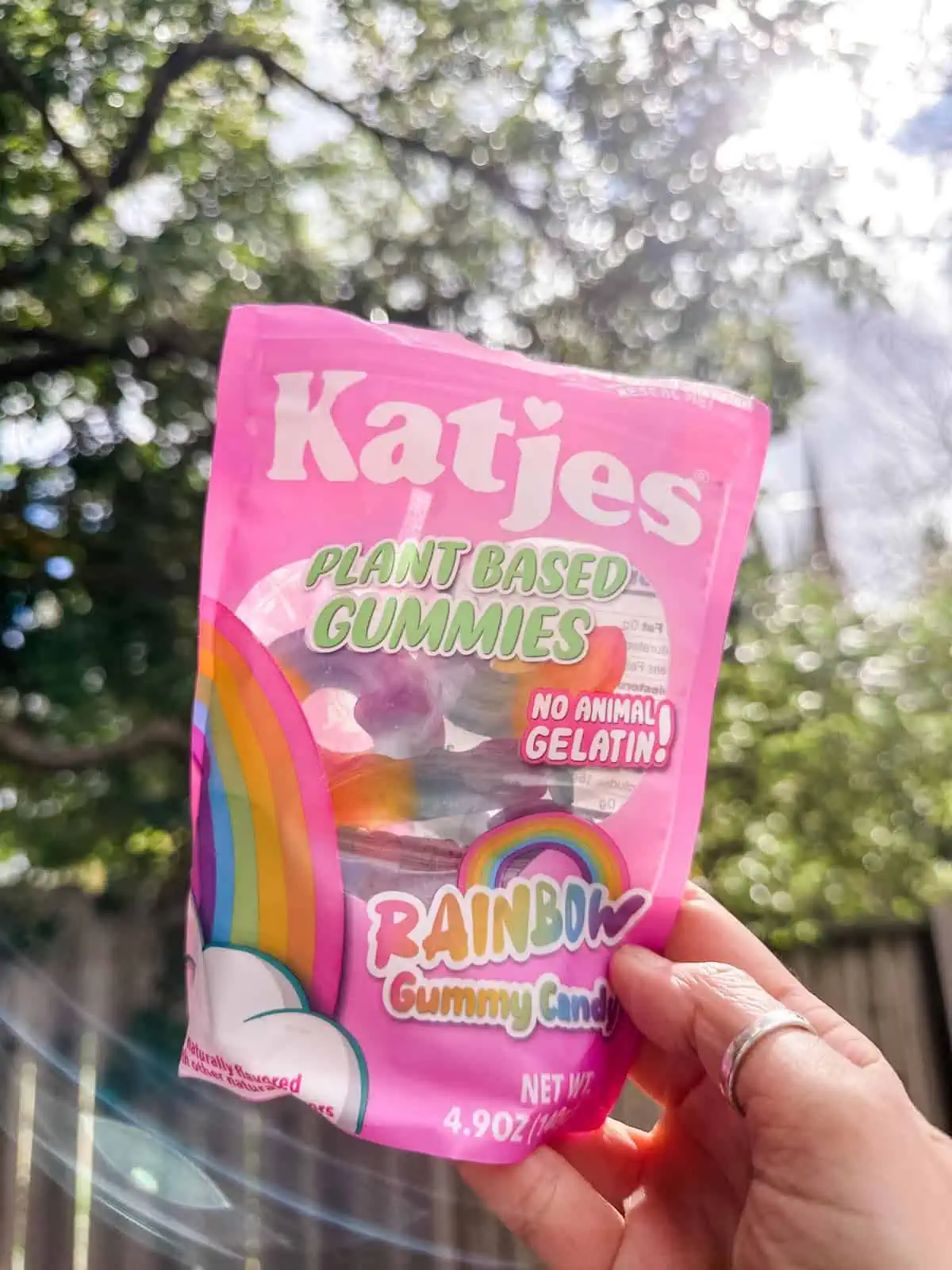 Annie's Bunny Fruit Snacks
Annie's Gummies, shaped like adorable bunnies, offer a playful twist on traditional gummy bears. Made with organic ingredients and a commitment to sustainability, these treats are not only fun to eat but also kind to the planet. Annie's takes pride in their delicious vegan gummy bunnies, proving that snacks can be both wholesome and joyful! They come in multiple flavors, including Summer Strawberry and Berry Patch.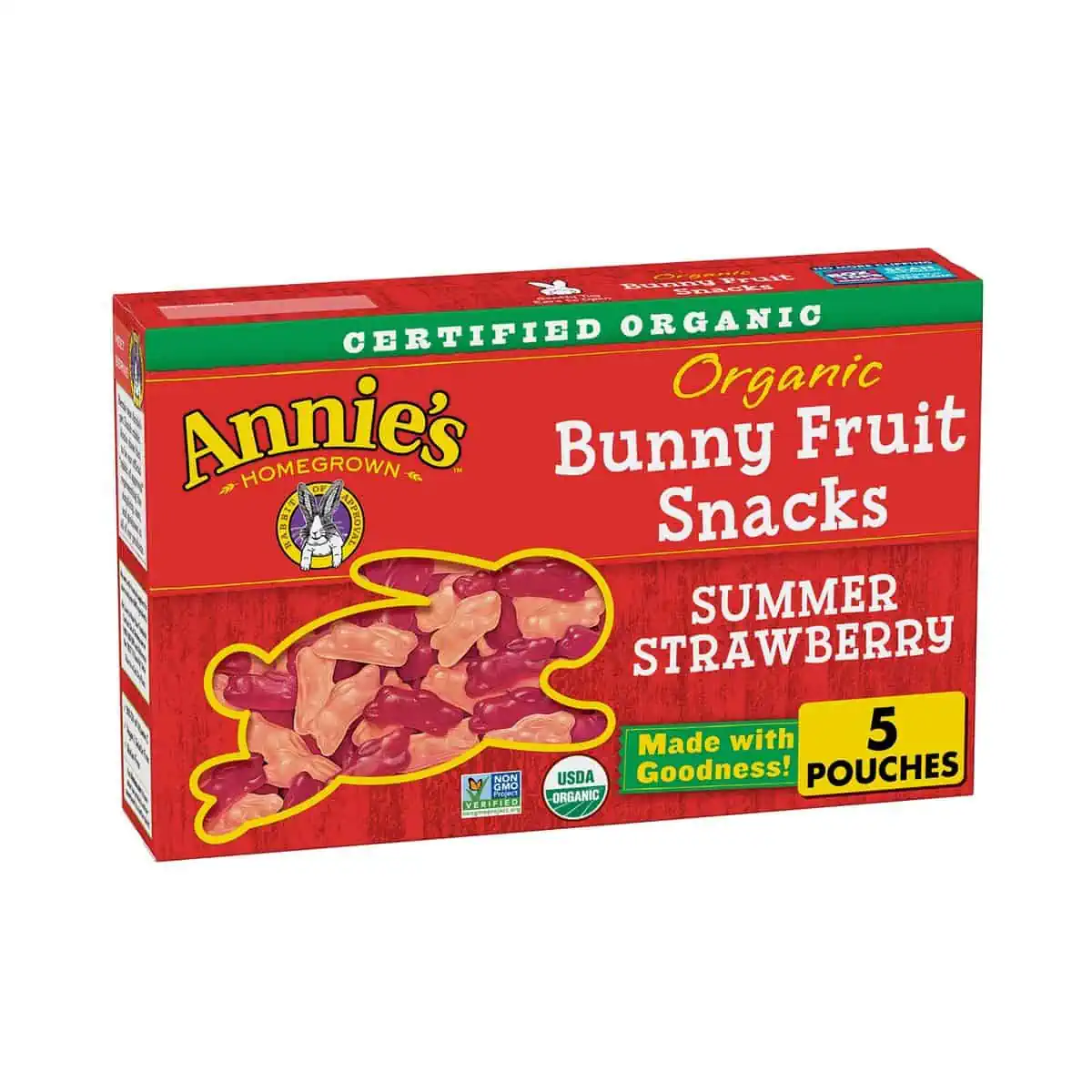 Better Bears
Better Bears prioritize taste and health in their vegan gummy creations. Crafted with natural ingredients and free from artificial additives, these bear-shaped treats are a guilt-free indulgence that appeals to both kids and adults.
The Gummy Project
The Gummy Project brings a creative twist to the world of vegan gummies. With a commitment to crafting plant-based sweets that benefit endangered keystone species like sharks and bees, this brand offers candy that really makes a difference.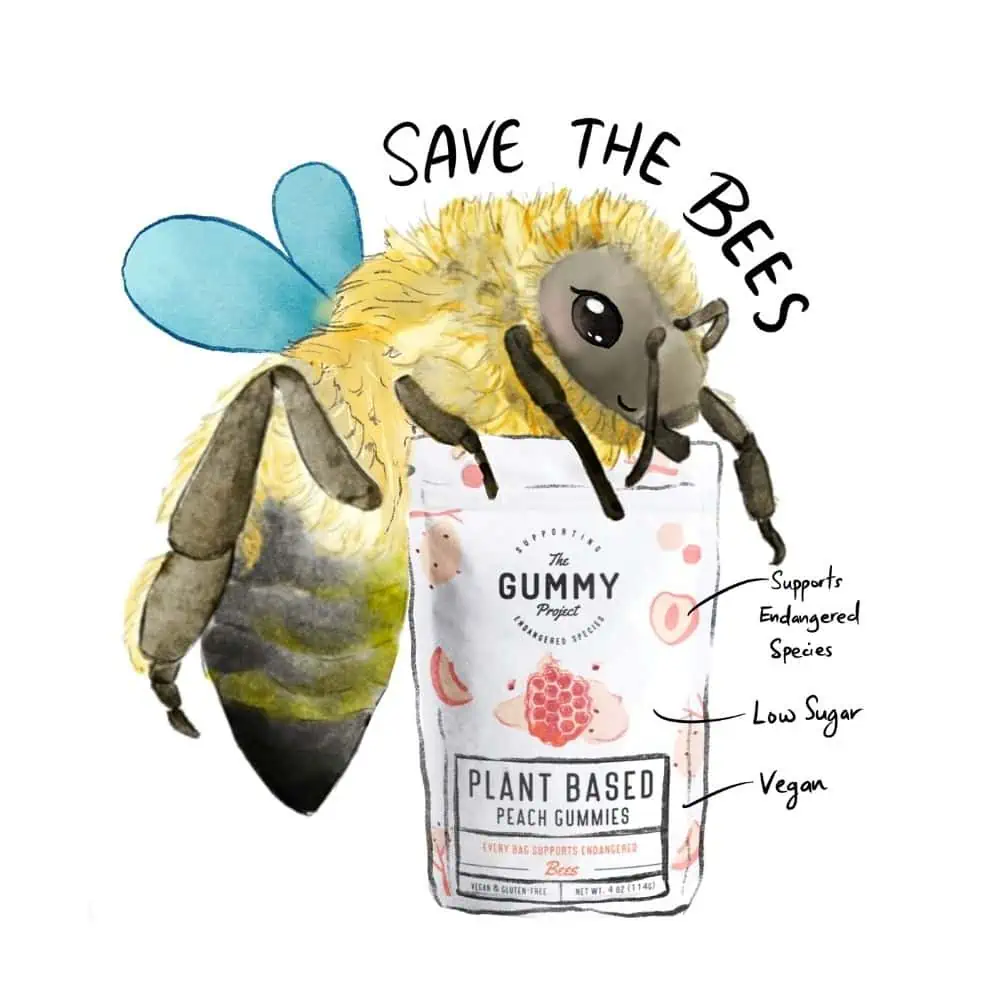 Proudly using only natural sweeteners and no artificial colors or flavors, Smart Sweets is an upgraded indulgence that kids and adults alike will love. Not all Smart Sweets products are vegan though, so shop carefully. Their Sweet Fish, Sour Blast Buddies, Peach Rings, Sourmelon Bites, Cola Gummies, Red Twists, Lollipops and Jolly Gems are all 100% plant-based and vegan-friendly.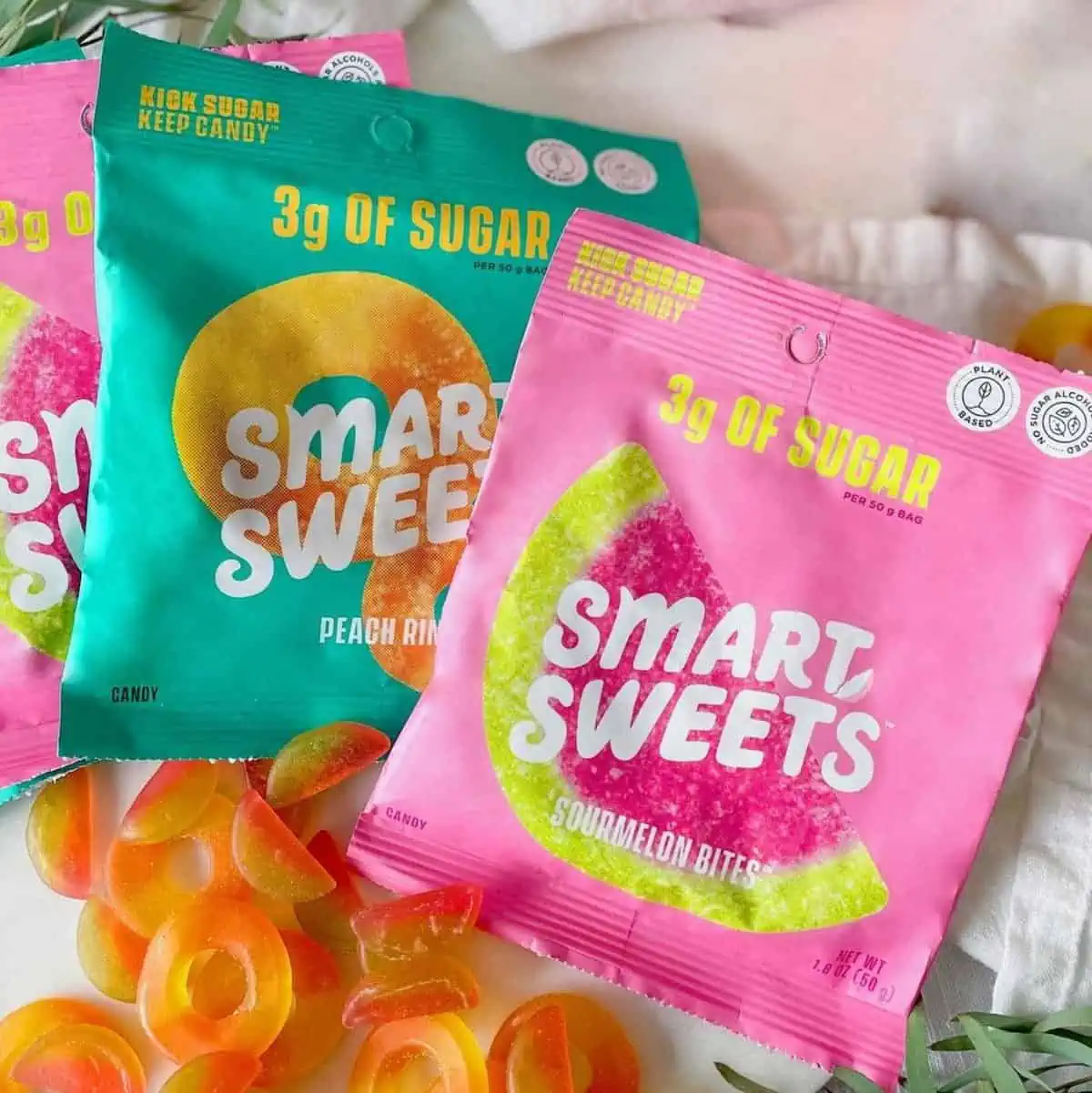 Dedicated to making cleaner candy with quality ingredients, these gourmet mixes are named for vibrant beach cities, such as Santa Monica, Malibu, and Venice Beach. When you need a sweet escape, consider these an affordable alternative to a vacation.
Previously known as Project 7, these organic treats are designed to be better-for-you candies. Keto-friendly, gluten-free, low-sugar, and completely vegan, everyone can indulge freely without compromising on flavor.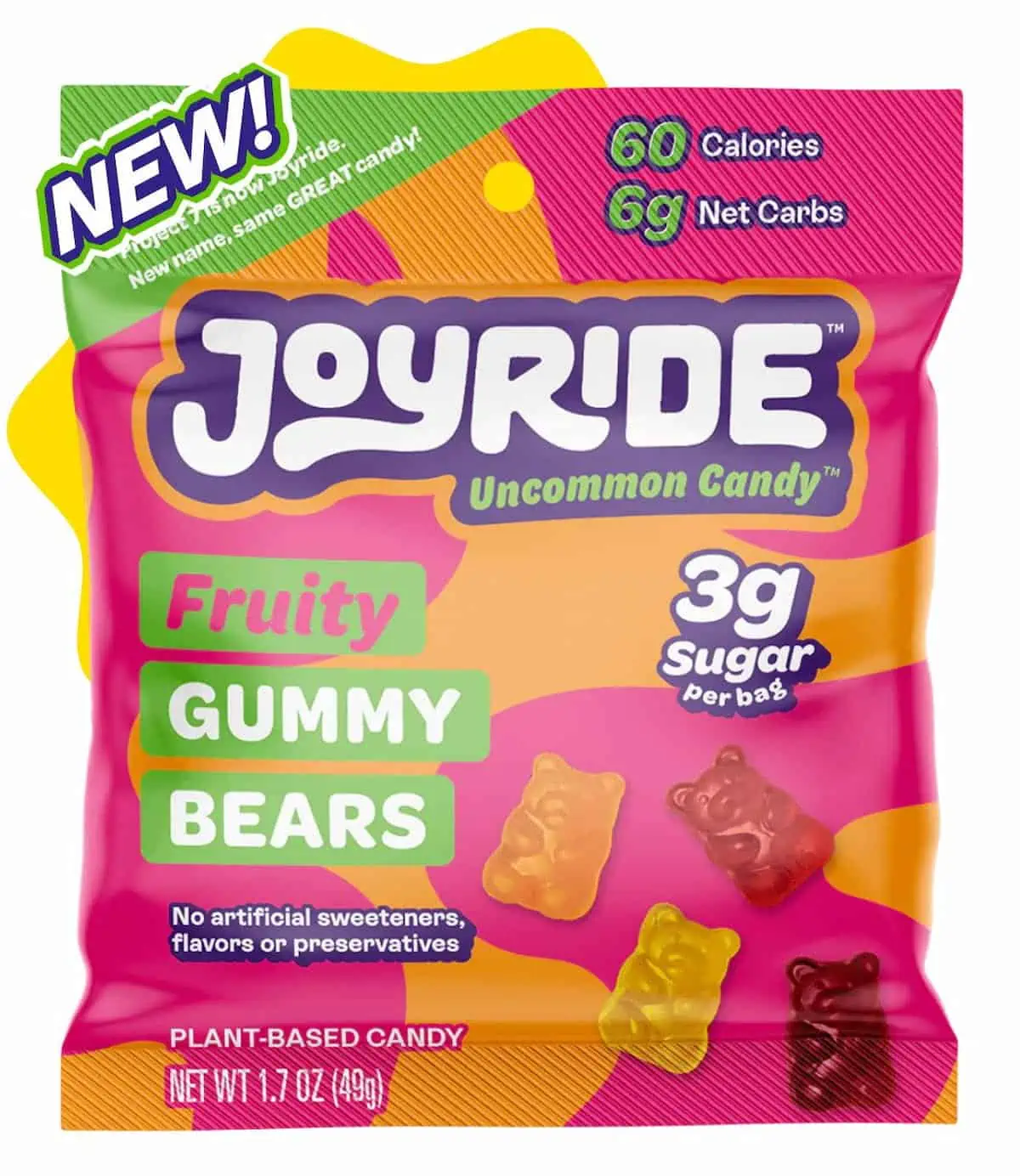 Organic fruit snacks in both original and tropical flavors are ideal for a quick pick-me-up. Be aware that the gummy bears, however, do contain gelatin and are not vegan.
Everything is organic and vegan at this candy shop! They have a variety of vegan gummy options including Gummy Fishies, Sour Gummy Worms, Watermelon Rings, Gummy Fruit Slices, Gummy Bears, and more! They ship all over the US and are sold in various shops and grocery stores in five states.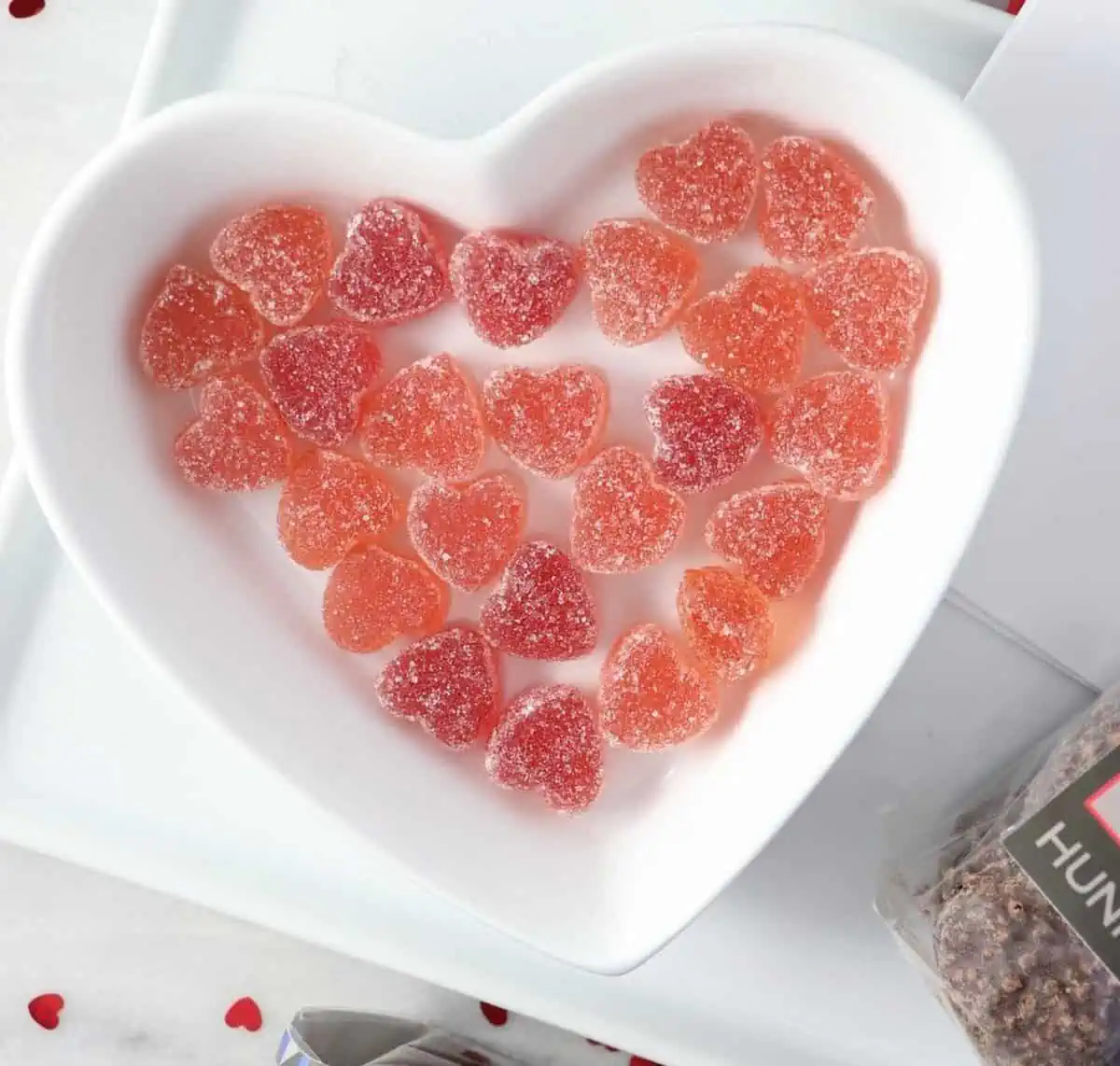 This "accidentally" vegan treat has been making mouthes pucker since the 1970s and is still one of the most widely available options for all your candy cravings.
Swedish Fish, a classic favorite, has evolved to cater to vegan candy lovers. These chewy, fish-shaped candies maintain their iconic flavor while adhering to vegan-friendly ingredients. A timeless choice for those seeking a burst of fruity goodness without any animal-derived components.
Dots
Dots, the multi-colored, chewy gummies that have delighted candy enthusiasts for generations, have embraced vegan-friendly formulations. With their vibrant colors and distinctive flavors, Dots offer a nostalgic snacking experience that's now accessible to those following a vegan lifestyle.
Jujubees + JujuFruits
JujuFruits and Jujubees are gummies that have stood the test of time. These classic treats, once made with gelatin, have now transitioned to vegan recipes without compromising their delicious taste. With a variety of fruity flavors to enjoy, these chewy candies continue to be a go-to option for a satisfying snack.
GinGins
GinGins take gummy candy to a flavorful new level with their ginger-infused delights. Perfect for those who appreciate a bit of zing, these vegan gummies offer a unique combination of chewiness and invigorating ginger spice.
Whether you're planning for campfire s'mores, mugs of winter hot cocoa, or you want to whip up a batch of rice crispy treats, you may need some vegan marshmallows.
Step into a world where traditional marshmallows have been reimagined, and made without gelatin! Brands like "Dandies" have redefined these fluffy delights, using innovative plant-based ingredients to recreate the iconic texture and taste we all adore.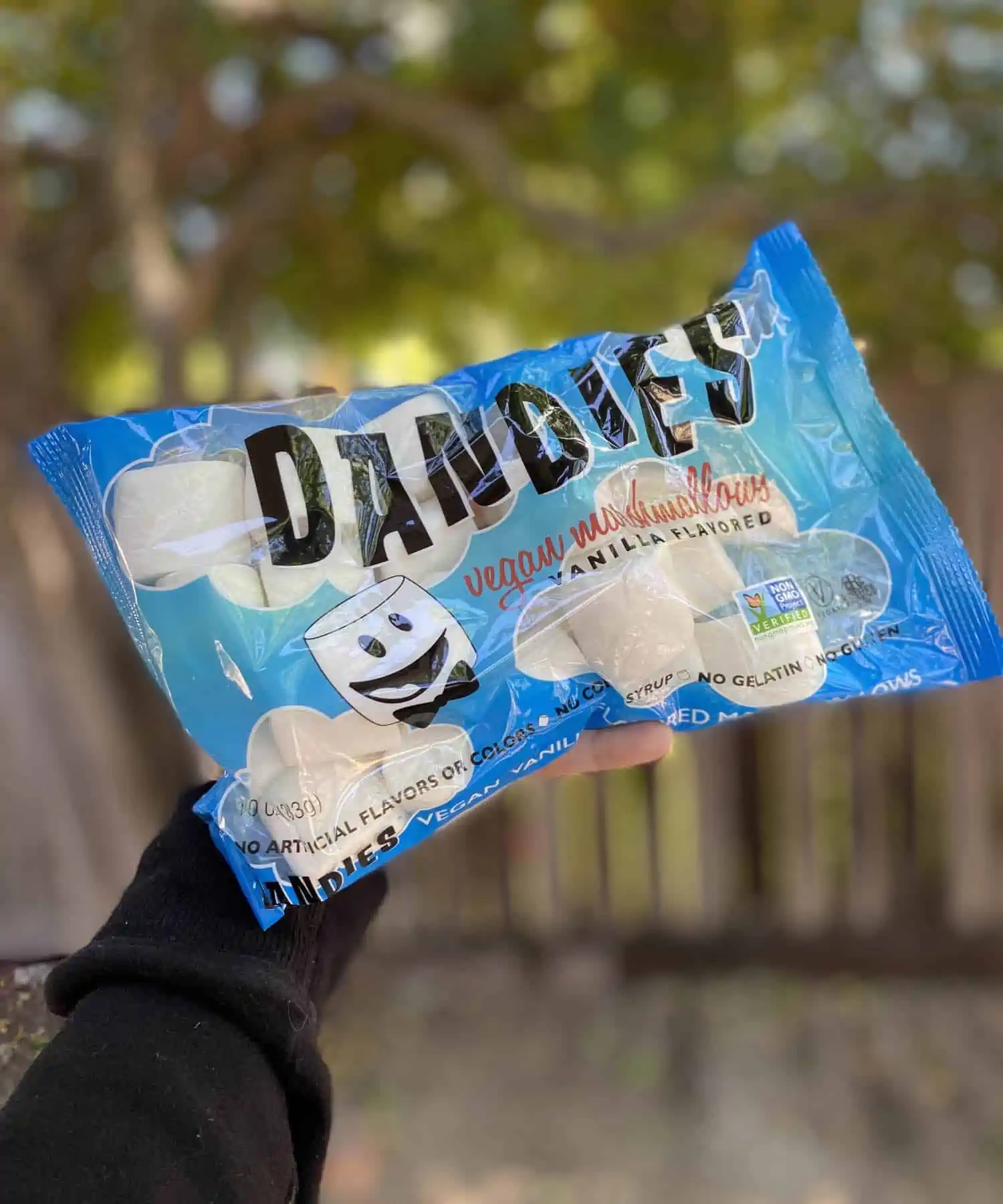 Vegan Vitamin Gummies
Anyone that struggles swallowing large pills will be thrilled with this sweet upgrade to their morning routine. Gummy vitamins are very popular for all your health needs, in a wide range of formulations and combinations.
FAQs
Are Motts gummies vegan?
Yes! Described as "fruit snacks" rather than traditional gummies, these treats based on real fruit and vegetable juices are 100% vegan! Best of all, they come in single serving packets that are perfect for tossing into lunchboxes or purses on the go.
Are Lifesaver Gummies vegan?
No, all Lifesaver Gummies contain gelatin and are therefore not vegan.
Can you tell me how to make vegan gummies?
There are loads of quick, simple vegan gummy recipes out there! Believe it or not, you can make vegan gummy bears with just three ingredients, vegan gummy worms from 100% juice, or vegan sour gummies that will make your mouth pucker.
Can you make gummy candies without silicone molds?
Making different shapes is half the fun, but you can always use a regular loaf pan or baking dish to pour the gummy candy into. Once it sets, use a sharp knife to cut it into square or any shape you desire.
How can you store vegan gummies?
The longer gummy candy sits, the harder and staler it will become. Exposure to air expedites this process, so you should always store gummies in airtight bags or jars in dark, cool places.
Can you make vodka-infused vegan gummies?
This is a fun party trick that's popular on TikTok, but unfortunately, plant-based gummy candies don't have the same properties. Vegan gummies are more likely to dissolve in the liquid, since they have less structural integrity than candies made with gelatin.
Remember, the journey to vegan-friendly gummy candy is paved with brands that prioritize both taste and ethical considerations. With choices like these, satisfying your sweet tooth doesn't mean compromising your values or your palate.