Are you tired of the same old smoothie routine? Why not mix things up with some grape smoothie inspiration! With their sweet and tangy flavor, grapes are the perfect addition to any smoothie recipe. Packed with essential vitamins, nutrients, and fiber, it's not only delicious but also incredibly healthy. This beautiful, dark purple smoothie is guaranteed to please with its creamy texture, healthy sweetness, and perfect, high-fiber punch.
Whether you prefer a classic grape smoothie or a more experimental blend, the possibilities are endless when it comes to customizing your drink. So why not grab a handful of grape globes and get ready to mix and match your way to smoothie heaven?
We heard through the grapevine that you're ready to blend a bunch, so let's get started!
Why This Smoothie is So Awesome
While we can't help but love the perfectly appealing purple color, there are many more reasons why this recipe is a must-make. If the usual fruit friends (like strawberry, mango, or pineapples) aren't your favorites, you'll find this a super substitute for your standard smoothie!
Super Quick and Easy. Grab the frozen fruit, add liquid, and you'll be sipping this grape smoothie in seconds!
Fiber-Filled and Satisfying. You'll be surprised at how much fiber this blended beverage can hold! If you drink this entire recipe yourself, it's a full 7 grams of plant-based fiber. Wow!
Great for On-The-Go. Not only is this a fast fruity recipe to prepare ahead of time, but all you need to do is blend and pour. Use an insulated container and your sweet smoothie will be cool and comfortable for a solid 2 hours or more.
Key Ingredients
Purple grape smoothies are nutritious, as well as incredibly delicious. This fruity concoction is packed with some of the best ingredients nature has to offer. Whether you're looking for a quick breakfast on the go or a refreshing midday snack, these incredible smoothie ingredients have got you covered for optimal health!
Red Grapes: Grapes are so great and an often overlooked fruit for smoothies. Frozen grapes are not only amazing for snacking on right out of the freezer (like mini popsicles!), but they truly add a texture and taste to a smoothie that you cannot find anywhere else. Grapes are also a good source of copper and vitamins B & K.
Bananas: The best foundation for all smoothies. They lend not only creaminess and fiber but also natural sweetness. (Check out this Banana Soft Serve if your belly is begging for more banana-based recipes!)
Blueberries: Blueberries add not only a deeper color, but also added antioxidants and fiber to this sensational smoothie. Save a few to garnish the top of the smoothie or, if you're boldly brave, pour the smoothie over a bowlful of blueberries for even more berry health benefits!
Plant-Based Milk: Any dairy-free milk you choose will make this recipe even more creamy. But, if you opt for soy, cashew, or oat, your odds are even better! If you like a sweeter smoothie, choose a sweetened plant milk over an unsweetened one.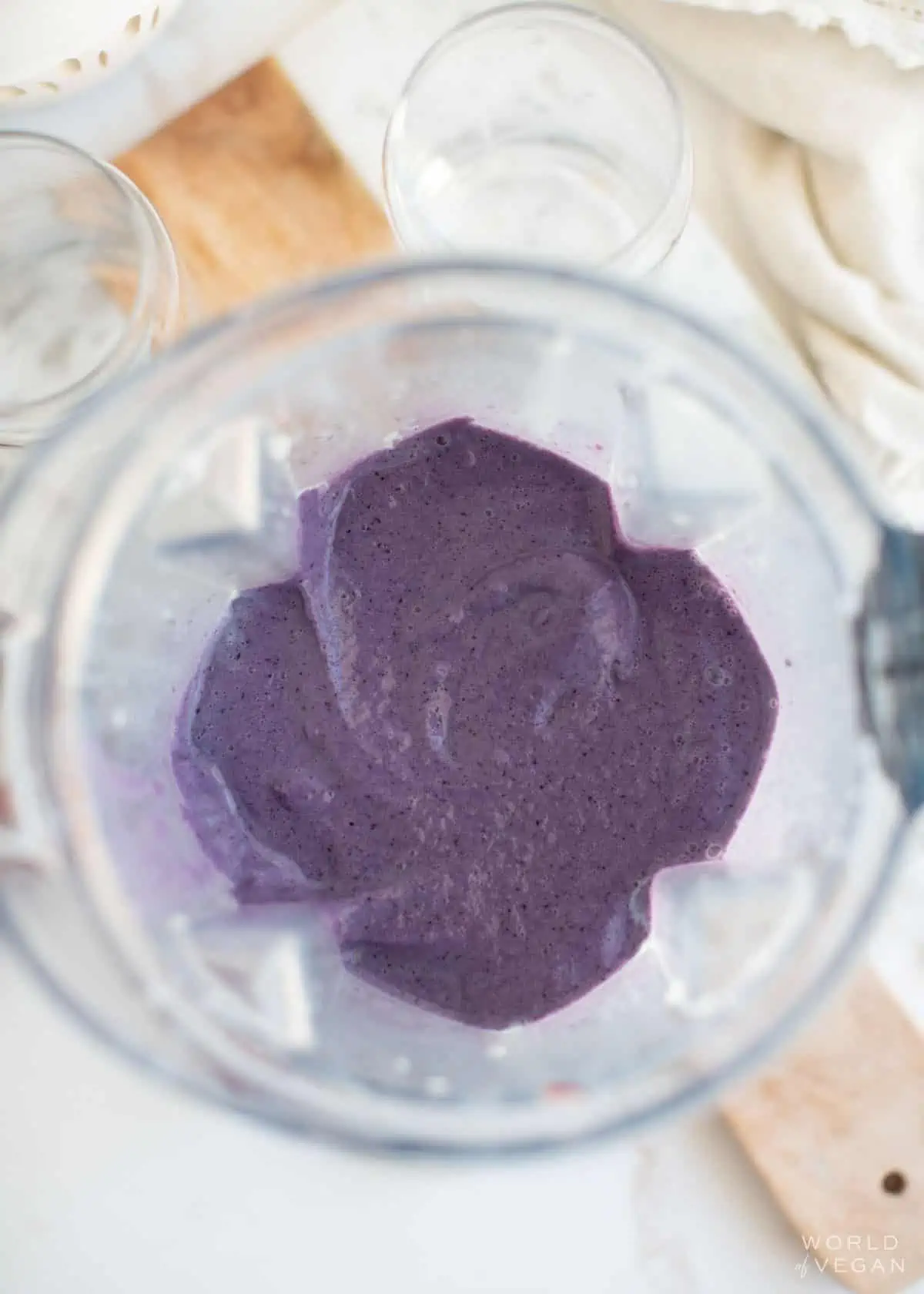 Great Grape Smoothie Suggestions
From simple swaps to creative combinations, elevate your grape smoothie experience to new heights. Whether you're looking for a vibrant breakfast option or a revitalizing afternoon snack, these serving ideas will add a burst of color, taste, and texture to this grape-ful recipe.
Whip It Up in White: If you're partial to white grape juice instead of purple, no problem! Just swap green grapes for the red and use white grape juice instead of dark. Make sure to replace the frozen blueberries with extra frozen green grapes, too. Delightful!
Create a Cool Cocktail (aka Champagne Slushie or Frozen Wine Smoothie): Use the same ingredients in the recipe below, but swap out the plant-based milk for either chilled champagne or wine. Serve immediately in gorgeous, frosty glasses and one or two frozen grapes dropped in (also helps to keep the drink at a refreshing temperature!)
Bring Out the Big Bowl: It's always fun to change the consistency of a recipe and this one is no exception! Decrease the liquid by about half and blend, using the tamper. You can also use a food processor to get a thicker texture. Top with temptingly thin grape slices, a sprinkling of fresh blueberries, crushed banana chips, chocolate chips, and chopped hazelnuts. If you have it, thin slices of candied lemon peel would be amazing!
How To Store Your Banana Grape Smoothie
Storing any remaining grape smoothie is a breeze! Although best enjoyed fresh from the blender, you can simply pour any leftovers into an insulated thermos and keep in the fridge or pour into an ice cube tray. Freeze and then blend up again (with a little bit of grape juice, dairy-free milk, or water) whenever you're ready. This fruit-filled beverage will last one day in the fridge or up to 2 weeks in the freezer.
FAQs
What is the protein in grapes?
A single cup of red grapes has a little over 1 gram of protein and 100 calories.
Is purple grape juice good for you?
Yes! 100% grape juice contains no fat, no cholesterol, is low in sodium and has a good amount of vitamin C, calcium, magnesium, phosphorus, and potassium. As well as high levels of antioxidants. As with most foods, eating fresh grapes is even better than drinking the juice for a higher fiber intake.
How can I make a grape smoothie without yogurt?
You're in luck! This grape smoothie recipe has absolutely no yogurt. It gets its creaminess from blended, ripe bananas and plant-based milk. If you like a very thick smoothie, use soy or canned coconut milk. Or, you can simply decrease the amount of dairy-free milk you add when blending.
More Fresh and Fruity Smoothies To Try
There you have it, our delicious blueberry grape smoothie recipe that will have you feeling energized and satisfied in no time! With its irresistible blend of fresh grapes and nutritious ingredients, this smoothie is a true powerhouse of flavor and health benefits. So next time you're in need of a quick and easy breakfast or a refreshing midday pick-me-up, why not give this recipe a try? We hope you enjoy it as much as we do, and don't forget to let us know how it turns out!
2 cups plant-based milk
1 cup frozen red or purple grapes
½ cup frozen blueberries
1 medium frozen banana
Add the milk, grapes, blueberries, and banana to the blender. Blend for 1 minute or until smooth and creamy.
For extra grape flavor, use 1 cup plant-based milk and 1 cup dark grape or white grape juice juice instead of 2 cups of plant-based milk.
Alternatively, you can use 1½ cups of frozen green grapes instead of the mixture of  blueberries/red grapes.
Calories: 161kcal | Carbohydrates: 33g | Protein: 3g | Fat: 3g | Saturated Fat: 0.1g | Polyunsaturated Fat: 2g | Monounsaturated Fat: 2g | Sodium: 327mg | Potassium: 384mg | Fiber: 4g | Sugar: 23g | Vitamin A: 108IU | Vitamin C: 11mg | Calcium: 313mg | Iron: 1mg