Feeling a little low or just can't get yourself going as easily in the morning? This immune-boosting recipe is vibrant, delicious, and super quick to make. You can't beat this mango pineapple smoothie for flavor and instant vitality—all without caffeine!
Give this antioxidant-packed smoothie recipe a single sip and you'll soon feel the difference. You'll be happy to know that just one 8 oz glass is brimming with vitamins A, B, and C, plus manganese and potassium. If you're ready to elevate your energy and infuse your mind and body with all the goodness that plant-based foods provide, let's get blending!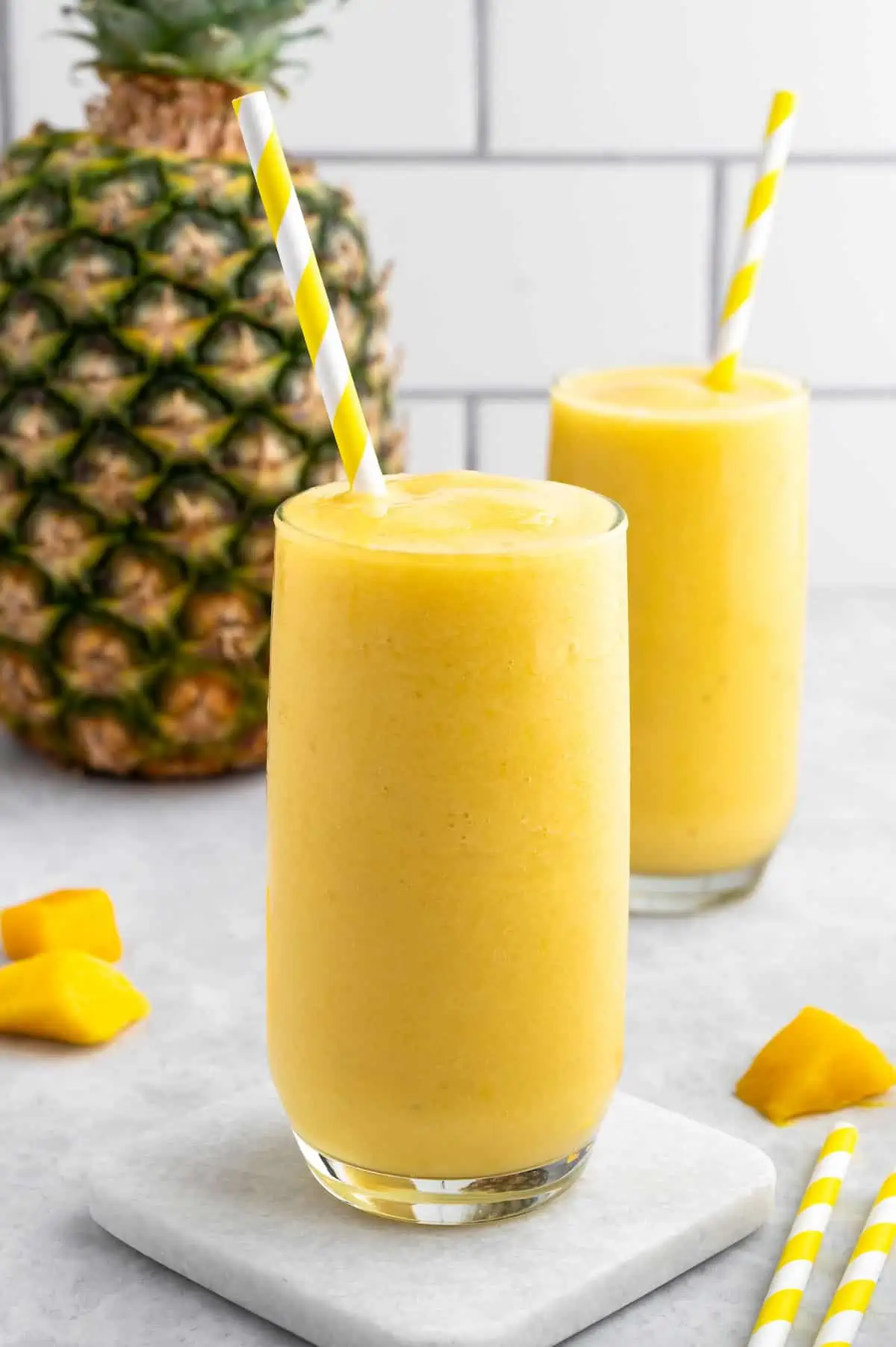 Why You Must Make this Pineapple Smoothie Recipe
Breakfast, lunch, or snack-time is the perfect time to make a pineapple smoothie! Only a few minutes is needed to mix up this mouthwatering thirst quencher. If you've never tried this sun-sational combination, you're truly in for a treat.
Fewer Than Four Ingredients. A few fruits, juice, and plant-based milk is all you need. Chances are you already have most of these in your fridge right now. Woo!
Incredibly Creamy and Delicious. Both bananas and mangos are well-known for creating an outstanding creamy consistency and, together, they're the best blending team.
Brings Back Summer. When you have a hankering for bright summer sunshine, beach days, and cool, refreshing beverages, you must whip up a batch of Mango Pineapple Smoothies! The tropical flavor will transport you to your favorite ocean oasis with a single sip.
Fast and Free. Not only can you make this recipe in only 5 quick minutes (or less!), it's free of dairy, gluten, artificial colors and flavors, and can be soy or nut-free if you use plant-based milks such as Pea, Hemp, Flax, Oat, Rice, or Quinoa.
Key Ingredients
Fruit is the ultimate ingredient for bumping up your nutrition. High in water, fiber, vitamins, and minerals, you can't beat these powerhouse foods for ramping up your health and wellness. These three fruits in particular give us what we need to stay alive and thrive.
Mangos: Not only does this bright and fibrous fruit incorporate extra creaminess to the smoothie, but it's usually easy to find frozen and gives a good boost of sweetness. High in vitamins A, C, K, and B-vitamins, too.
Pineapples: Adds just the right amount of tang to balance out the bananas and mangos. Both mangos and pineapple are rich in vitamin C. A good choice for helping to ramp up your digestive enzymes, too!
Bananas: Make sure that your bananas are ripe before freezing. When they've got brown spots, it's the best time to peel and freeze for future use. The browner, the better! If there's any greenish tint, you won't get that lovely sweet flavor for your smoothie.
Alluring Additions
This fresh and fruity smoothie recipe is quite appetizing on its own, but if you love add-ins or an extra scoop of superfoods, here are some excellent options:
Ground Flaxseeds or chia seeds for a boost of omega 3s and additional fiber.
Coconut Oil can add more richness and a subtle tropical flavor.
Dark Leafy Greens might change this recipe to a brilliant green color, but you'd get the additional benefit of even more fiber and tons of additional vitamins and minerals. Choose spinach or romaine leaves for a lighter flavor. Use kale, collard greens, or swiss chard for optimal nutrition, but with a slightly more bitter aftertaste.
Freeze-Dried Mango or Pineapple for those who love a bit of crunch and texture in their smoothie (or smoothie bowl). Sometimes, smoothies can seem a little too smooth, don't you agree? These colorful chunks are a fantastic choice because they really pack a lot of punch and flavor.
How To Make a Pineapple Smoothie
In only three steps and less than five minutes, you can have this mango pineapple banana smoothie in your hand and ready to slurp.
Step 1: Get out your blender.
It's best to have a high-speed blender for this recipe. Your smoothie will not only be smoother and creamier, but it will take a lot less time.
Step 2: Add liquids and fruit.
Make sure to add all of the liquids before the frozen fruit. If you're adding greens or other additions to this smoothie, remember to add them in before you add the frozen fruit.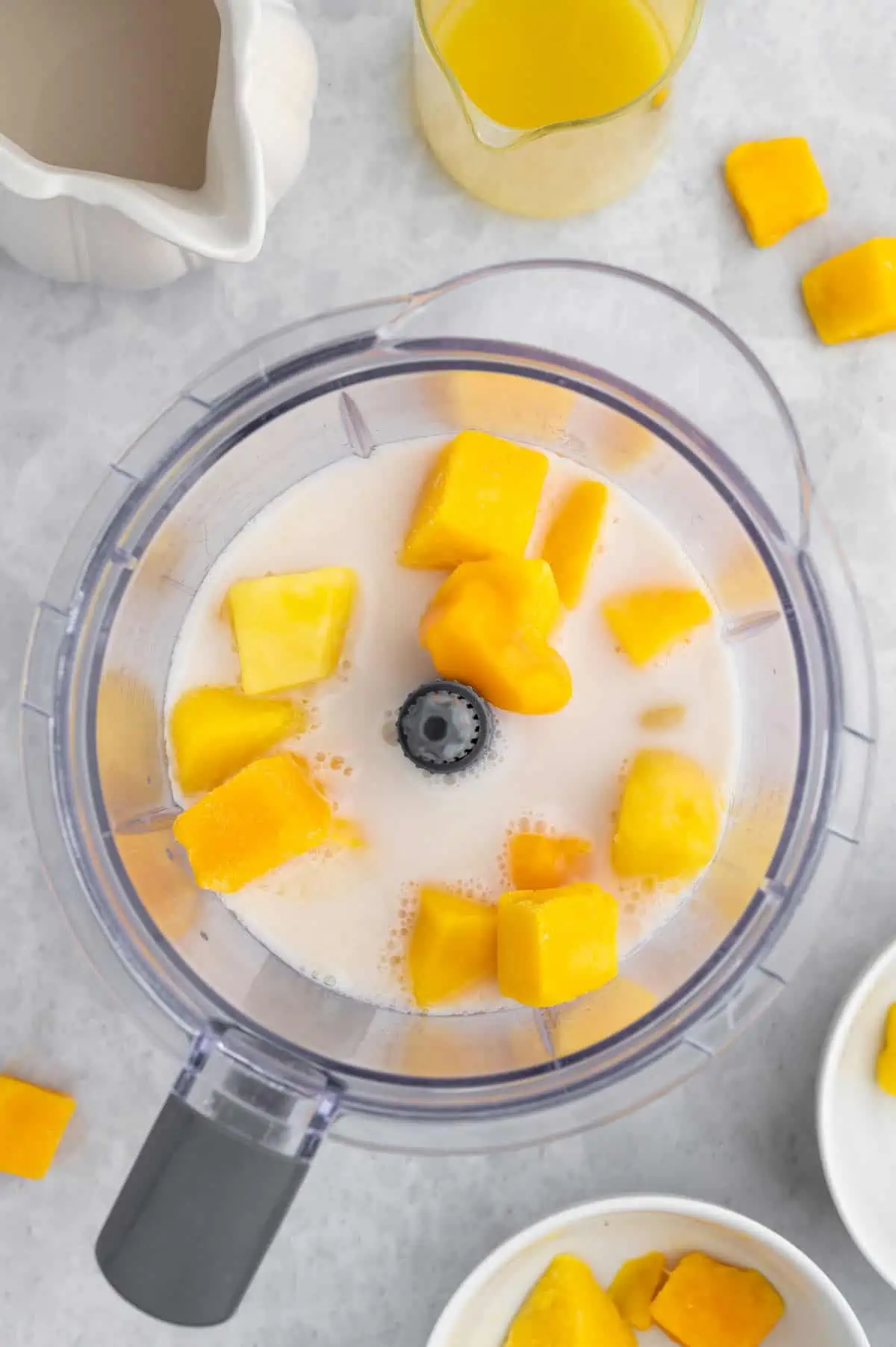 Step 3: Blend and enjoy!
Usually, it takes only 30 seconds (or at max, a minute) to create a super smooth consistency. Once it's ready, pour into 1-4 serving glasses. Or, if you're truly hungry, drink right out of the blender! (P.S. You'll also save on washing up…he he.)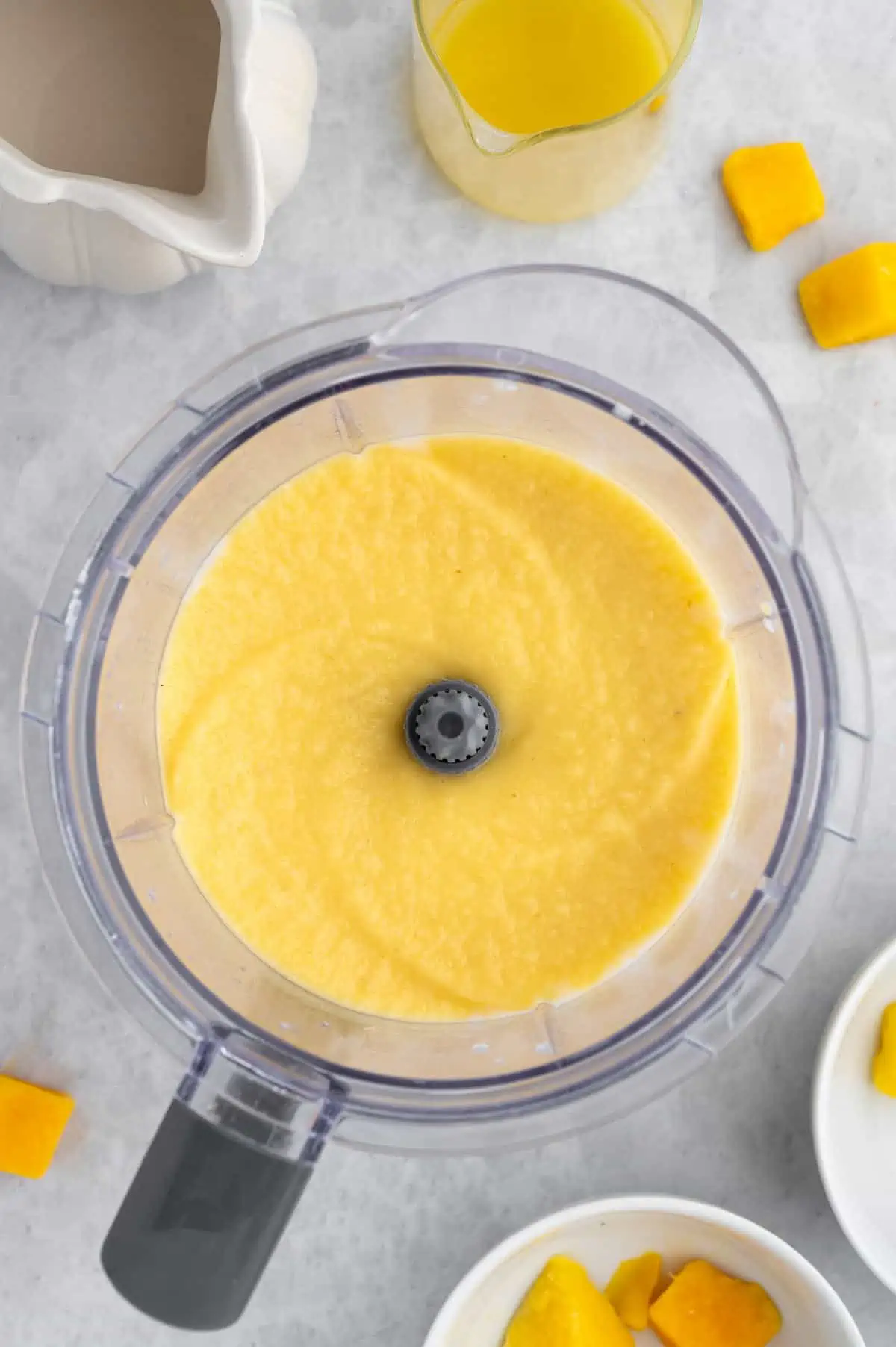 Pineapple Banana Smoothie Variations
Sweet & Tangy Smoothie Bowl: Reduce the plant milk by ½ cup to create a thicker consistency. Pour your smoothie into a bowl and garnish with pineapple tidbits (fresh or dried), thin strips of fresh mango, chia or hemp seeds, and a drizzle of almond or cashew butter.
How Do I Store Any Leftover Pineapple Mango Smoothie?
Smoothies are always best fresh. And this one is so good that there shouldn't be any leftovers! But if you need to save your smoothie, storing it is a breeze!
There are a couple of quick and easy options that will guarantee that the pineapple mango leftovers are still very tasty. Use either of these options for best post-smoothie results:
Use an Insulated Container
Just pour any extra smoothie into your favorite insulated container or water bottle. Cover and place in the fridge until ready to enjoy again. For an even better consistency, throw in a couple of frozen chunks of banana, pineapple, or mango with the smoothie and blend for just a few seconds.
Pour Into Ice Cube Trays
Grab an empty ice cube tray and fill with the smoothie leftovers. Place in the freezer until ready to use. When you're back in the smoothie-mood, pop out the smoothie cubes and place into the blender with a bit of extra plant-based milk. Blend until creamy and smooth.
Smoothie Swaps & Mango Pineapple Smoothie Recipe Q&A
Do I have to use frozen pineapple?
If you can't find any frozen pineapple, no problem! Make sure that your banana and mango are frozen and substitute 1 cup of fresh pineapple for the frozen. Just reduce the plant-based milk by ¼ cup so that the smoothie isn't too runny.
What can I do to make this smoothie a little sweeter?
Use sweetened, instead of unsweetened dairy-free milk. Feel free to add a tablespoon or two of agave or maple syrup to the smoothie, or a couple of soft, soaked pitted dates.
What fruits go well with mango and pineapple?
Both mango and pineapple are warm-weather, tropical fruits so they pair well with other fruits from the same climate. Choose fruits such as bananas, papaya, coconut, kiwi, and avocado to blend with pineapple and mangos.
Is pineapple and mango good for you?
Pineapples and mangos are both high in fiber and antioxidants. While mango contains more vitamin A, folate, and vitamin E, pineapples score better for manganese and vitamin C.
What is McDonald's mango pineapple smoothie made of?
Instead of opting for anything made at McDonald's (which will be full of chemicals and artificial flavors, while low in actual fruit content), we encourage you to give this mango pineapple smoothie recipe a try. It will not only be quick to make and very inexpensive, but our yummy smoothie will be packed with healthy ingredients such as fiber, water, vitamins, and minerals.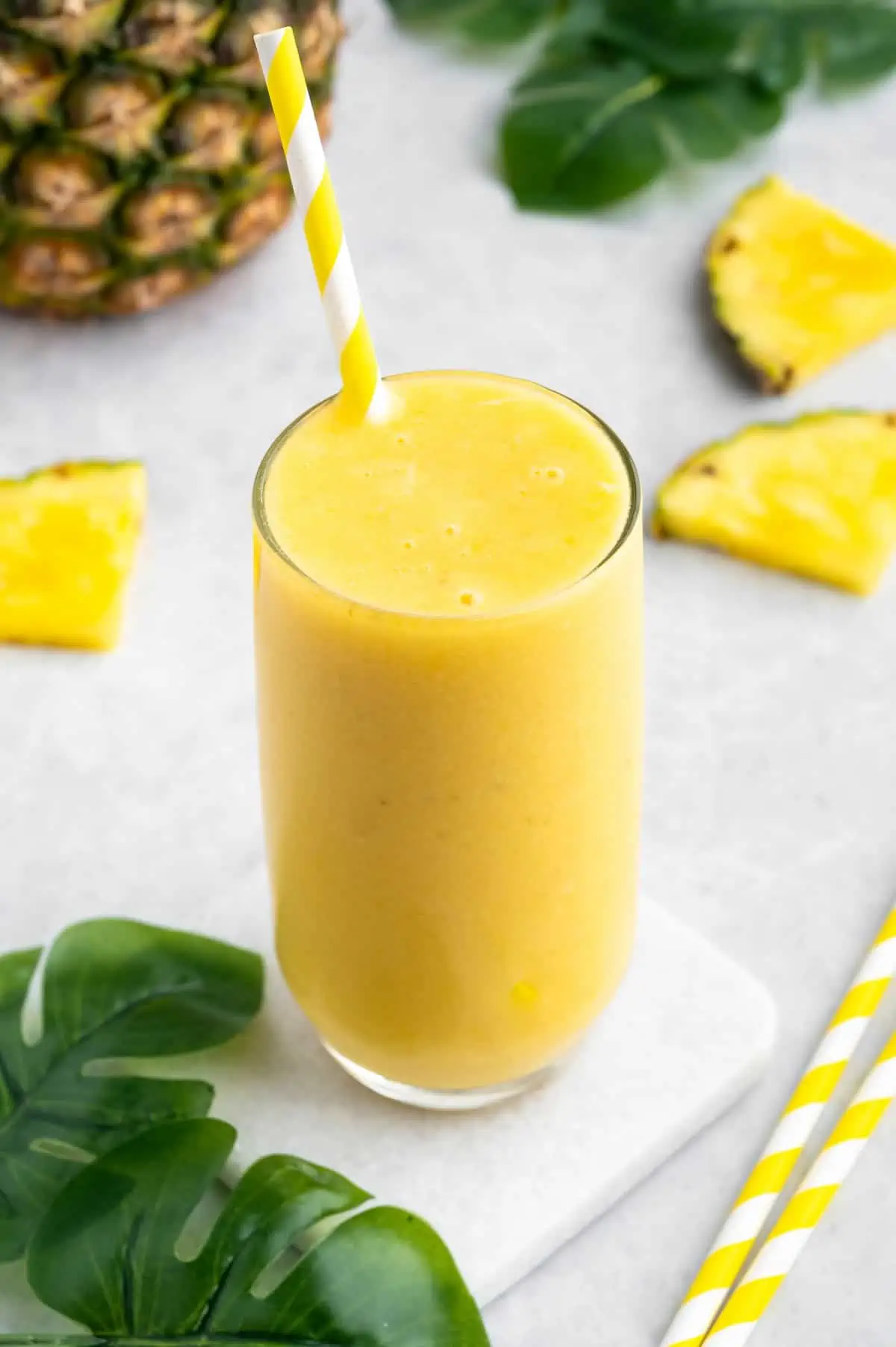 More Fruit-Filled Smoothie Recipes to Try
We love smoothies, and you can find a big collection of our favorite smoothie recipes here at World of Vegan! Here are a few top picks…
Servings 4 8 oz. servings
High Speed Blender

2-4 Serving Glasses
1 ½ cups pineapple juice, fresh or canned
1 cup unsweetened plant-based milk, we used almond milk
1 frozen banana, approximately one medium banana
1 cup frozen mango
1 cup frozen pineapple
fresh wedges of mango or pineapple, optional
Add the pineapple juice and plant-based milk to the blender.

Add the frozen banana, mango, and pineapple.

Blend for one minute or until smooth and creamy.

Pour the finished smoothie into (2) 16 oz. or (4) 8 oz. glasses. Garnish with fresh pineapple wedges and/or mango, if desired.
Personalize the ingredients to your liking and create your own ultimate smoothie! If you'd like the smoothie sweeter, use a sweetened plant-based milk or add a tablespoon or two of agave or maple syrup. If you prefer a thicker smoothie, add less dairy-free milk or more frozen fruit. 
Calories: 145kcal | Carbohydrates: 32g | Protein: 3g | Fat: 2g | Saturated Fat: 0.2g | Polyunsaturated Fat: 1g | Monounsaturated Fat: 0.3g | Sodium: 32mg | Potassium: 418mg | Fiber: 2g | Sugar: 24g | Vitamin A: 725IU | Vitamin C: 50mg | Calcium: 105mg | Iron: 1mg
If you try this tasty tropical vegan smoothie with mango and pineapple, let us know what you think by leaving a comment and rating below! Be sure to follow along on Pinterest, Instagram and Facebook for even more vegan recipe inspiration.
Photos by Amanda McGillicuddy for World of Vegan, all rights reserved.