If you turn to hot chocolate often—like me—welcome! You need this recipe in your life. In just a few minutes you can have a prepared vegan hot chocolate mix that brings your cozy beverage that much closer to you when the comfort craving strikes.
Make An At-Home Vegan Hot Cocoa Bar
If you want to have even more fun and create your own little at-home vegan hot cocoa station, you can have even more fun with this recipe. Get some vegan marshmallows and drop them in a jar. If the holidays are near, neatly place some candy canes in a festive mug. Pop a little jar of vanilla extract or peppermint extract by your hot cocoa bar for a winter-inspired flavor boost. Set out your favorite hot cocoa sipping mugs, and honey, you've got yourself a vegan hot cocoa bar!
If you want to get really crazy (I always do!) you can even order a sparkly sign for your hot cocoa bar. Has your home ever been this ready for the holidays?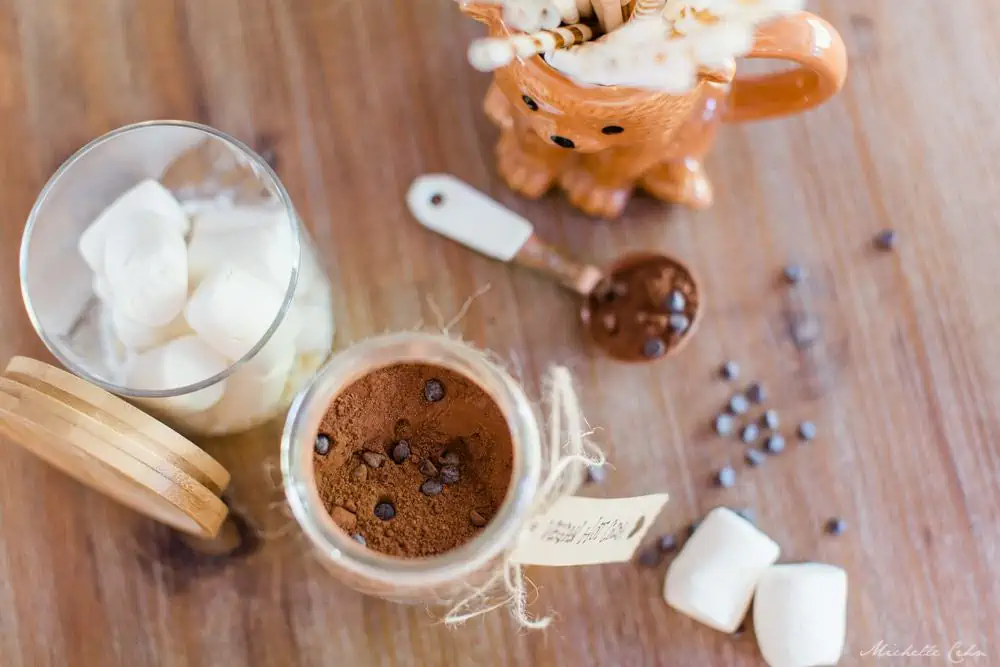 Just 4 Base Ingredients!
The best part about this hot cocoa mix? You just need four ingredients:
That's it! You can store it in a 16 ounce mason jar or any sealed container and it will last all season long.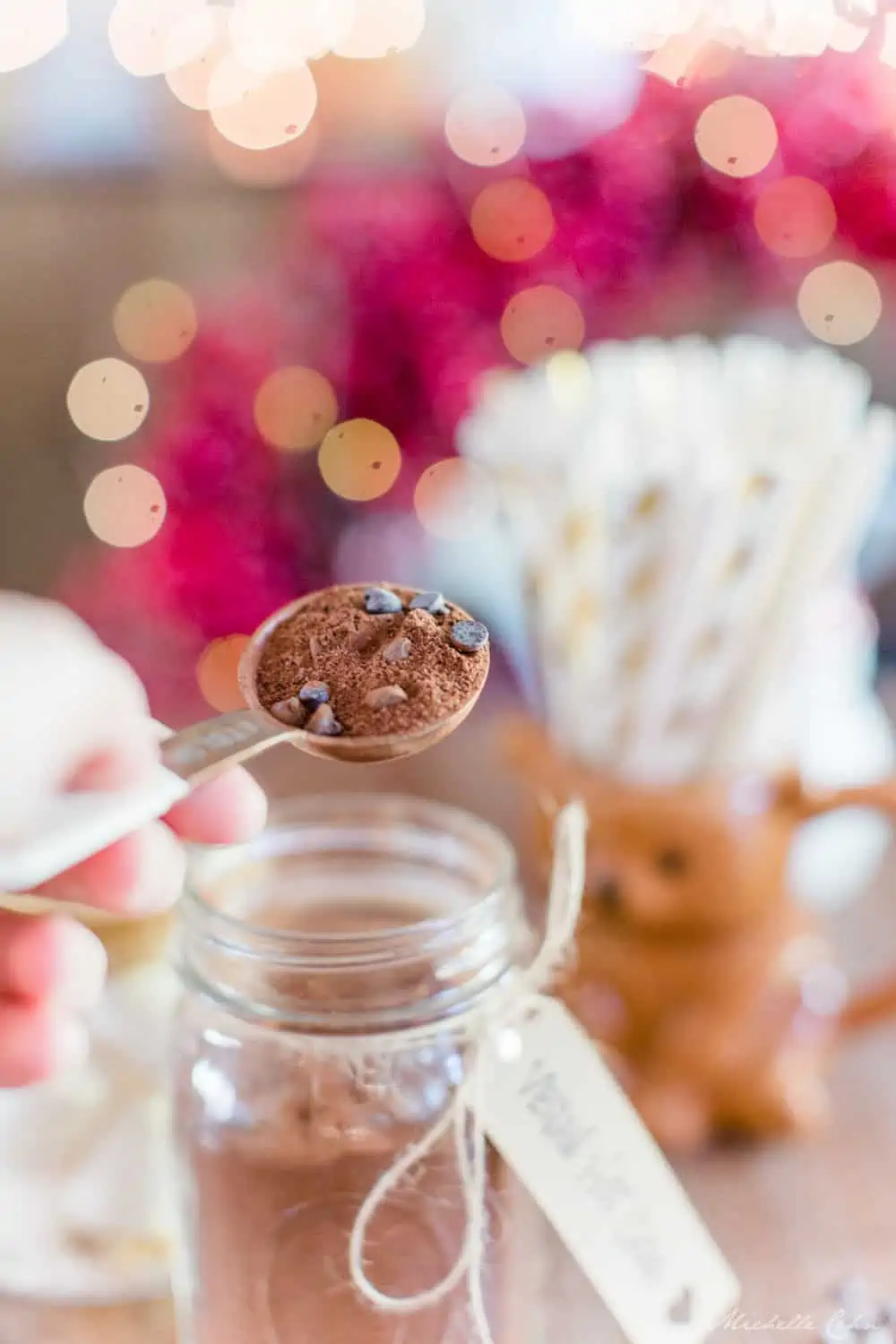 The Perfect DIY Holiday Gift!
Looking for a delightful vegan Christmas gift, stocking stuffer, Hanukkah gift, housewarming gift, hostess gift, or just want to pamper someone you love? A mason jar filled with chocolatey goodness and TLC is a surefire hit.
Stick some vegan marshmallows on the top of the jar and Package it up with some fancy vanilla extract and peppermint extract and handwritten cocoa-making instructions for an extra-special surprise. Your friend, neighbor, co-worker or loved one will think of you every time they sip on vegan hot cocoa throughout the season!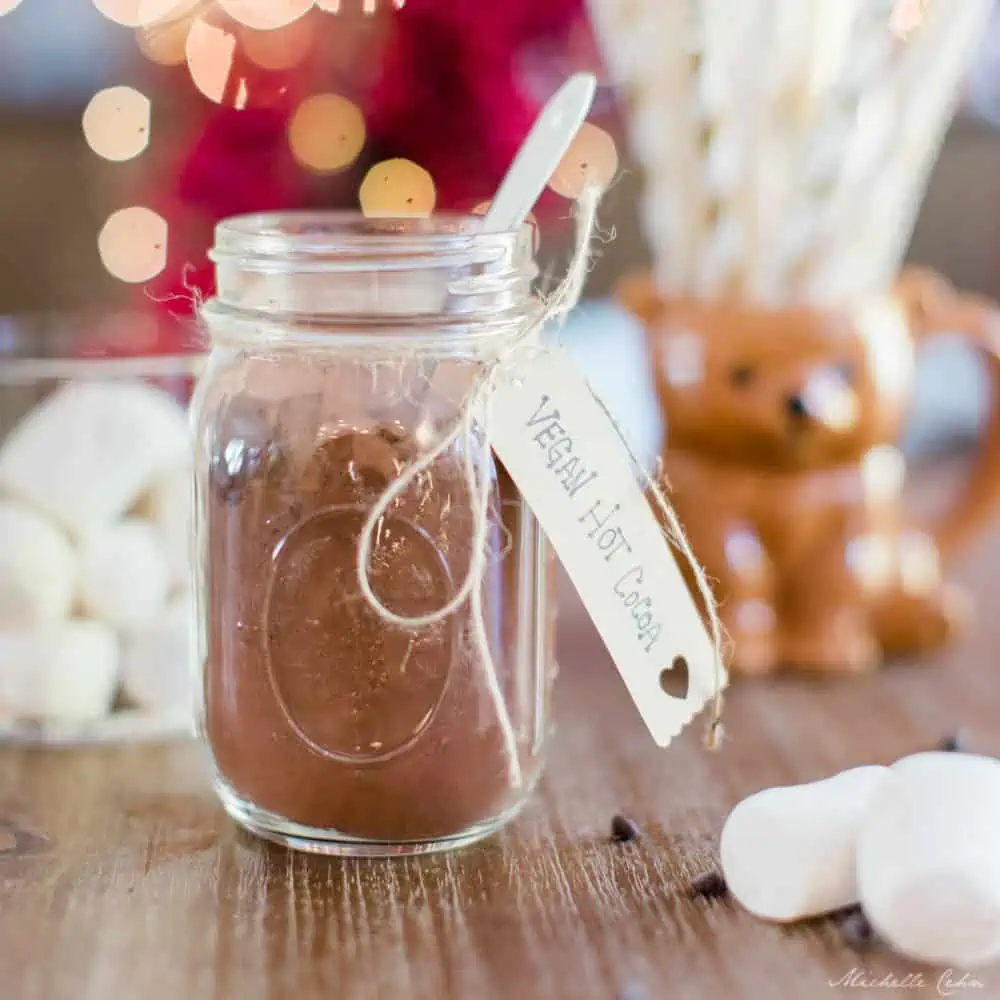 More Vegan Holiday Drink Recipes
¾ cups cocoa powder
½ cup granulated sugar
½ cup mini vegan chocolate chips, or finely chopped vegan chocolate
16 ounce mason jar, or similar sealed container
In a small mixing bowl, add the cocoa powder, sugar, and chocolate and mix until fully incorporated. Pour in the jar and seal tightly.

Attach a label that notes the recipe (3½ tablespoons of hot chocolate mix per 1 cup of soy milk).
Decorate as desired! For instance, you can tie a festive string around the jar and cut out some wrapping paper to attach to the lid of the jar.
Calories: 150kcal | Carbohydrates: 28g | Protein: 1g | Fat: 6g | Saturated Fat: 3g | Trans Fat: 0.03g | Sodium: 96mg | Potassium: 0.3mg | Fiber: 1g | Sugar: 25g | Vitamin A: 1IU | Calcium: 26mg | Iron: 1mg
This easy vegan hot chocolate mix recipe comes from the kitchen of Michelle Cehn, founder of World of Vegan. Article and vegan hot chocolate photos copyright of World of Vegan. Please note that this article contains affiliate links that support our work at World of Vegan. Vegan hot chocolate cheers!