Crockpot time is approaching and festive parties are not far away. Instead of feeling flustered when someone asks you to bring party food to share, say "Yes!" with confidence. Simply start the slow cooking process and we guarantee all will be well. You'll be showered with constant compliments as your crockpot is quickly emptied of rich, sweet, and saucy vegan bbq meatballs.
The satisfying combination of smoky, sweet, and savory flavors is what makes this recipe so special. These vegan holiday (or anytime!) meatballs offer a guilt-free way to satisfy your barbecue cravings without any animals getting involved. Are you ready to savor every bite of these delectable, snackable morsels?
Let's make some mouthwatering meatless bbq meatballs, friends!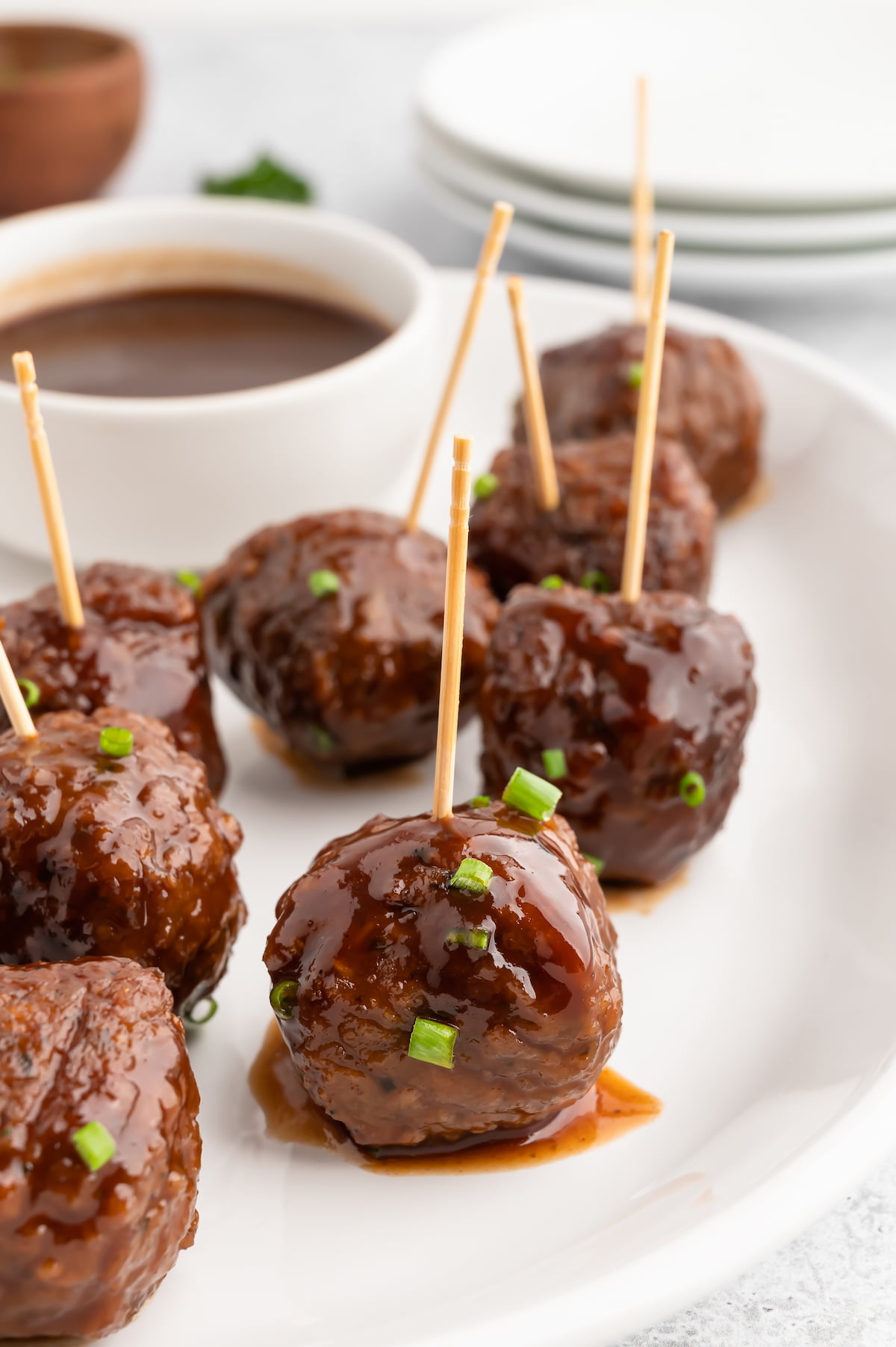 Why You'll Love These Holiday Grape Jelly and BBQ Sauce Meatballs
Why is this recipe so popular every single year? It might be because people absolutely love meatballs, but it's also due to the fact that this recipe is:
Quick and Easy: What could be simpler than throwing three ingredients into a crockpot? All you need is patience and a healthy appetite.
Only Four Ingredients: In a pinch, you can make this recipe with only three ingredients—meatballs, bbq (or just ketchup) and grape jelly. You probably have at least two of them in your pantry right now!
Sweet and Smoky: The combination of the sweet grape jelly and smoky barbecue sauce is out of this world! After the meatballs sit simmering in the sauce for a while, they have such a gorgeously glossy appearance—and taste even better than they look!
Appealing Appetizer or Satisfying Snack: You don't have to wait for a party to make these holiday grape jelly and bbq sauce meatballs. Get a batch going the morning before a busy day and come back home to the most heavenly prepared meal. Or, better yet, bring some in an insulated container and take with you while you run errands. They're so small and easily transportable.
Great for Leftovers: If you're lucky enough to have any leftovers, you can freeze them for later or use them to add to vegan meatball subs, chop up and add to a salad, or use in vegan kabobs!
Key Ingredients
To make these glossy vegan grape jelly meatballs, you only need a few ingredients. You can either use whatever you have on hand or go fancy! Choose the very best for each element for an even more celebratory flavor and style!
Vegan Meatballs: Already prepared meatless balls work the best in this recipe, but you can read more in the suggestions below. You don't have to stick to classic vegan meatballs for this recipe, though that is traditional. Feel free to use bean or grain-based version as as well.
BBQ Sauce: If you already have a favorite brand, you're all set. If not, choose a sauce that is more smoky or vinegar-y so that it balances out the sweetness of the jelly. We also have an out-of-this-world barbecue sauce recipe you won't want to miss!
Ketchup: A kitchen staple that is both slightly sweet and slightly sour. Any brand will do, even a bunch of packets from your kitchen drawer (if you have enough)!
Grape Jelly: Using grape jelly is what makes the color and texture of the meatballs so amazing. The dark purple color is perfect for creating a lovely deep and appetizing glaze. Equal amounts of both jelly and bbq/ketchup is the key to the incredible flavor.
How To Make BBQ Meatballs
There process to make these delicious vegan grape jelly and bbq meatballs couldn't be easier!
To start, combine grape jelly, barbecue sauce, and ketchup in a bowl.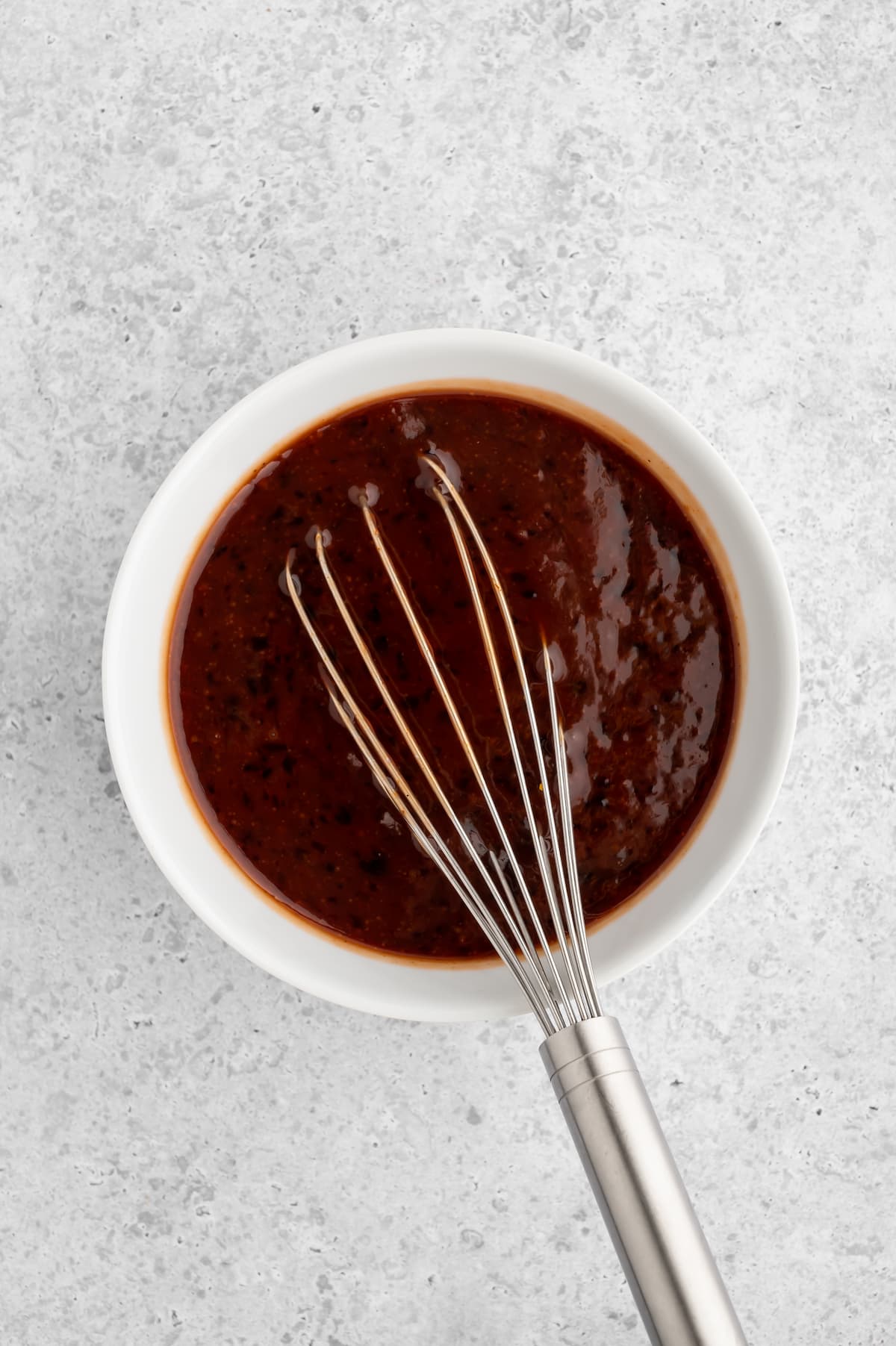 Place the meatballs into the slow cooker, then pour the sauce over them, and toss to coat evenly.
Cook on low for 6 hours or on high for 3 hours, then switch to the warm setting until it's time to serve.
Mouthwatering Meatball Suggestions
You may be wondering if it's best to make your own homemade vegan meatballs or use store-bought for this recipe. Our suggestion is to use store-bought. They'll keep their shape much better after simmering in the sauce for a few hours. Save your favorite plant-based meatball recipe for pastas and sandwiches, where they'll be the shining star.
Our favorite brands of vegan meatballs to use include:
Helpful Vegan Slow Cooker Meatball Tips and Tricks
The crockpot is such a handy and useful machine, especially if you don't have time to sit around the house all day. Using this efficient slow cooker gives you more time for errands, walks outdoors, and coffee with friends. Even if you often cook crockpot meals, here are a few tips and tricks to assure success:
Don't Lift the Lid – Although it's really very tempting to lift the lid to see how things are going, that's the last thing you should do. Foods in the crockpot do not need stirring. If you end up removing the lid for some reason, make sure to add 5 more minutes cooking time.
Pressure Cooker vs Slow Cooker – Both the Instant Pot and the crockpot cook foods for you instead of using the stovetop. But, the pressure cooker uses pressure and the slow cooker uses much longer time. With the Instant Pot, you can use the slow cooker option, especially for this recipe. But, read the directions carefully so that you're choosing the correct settings and time.
Opt for Oil – Barbecue sauce and ketchup both like to burn at the bottom of pans, so you may want to rub a little vegan butter or spray oil on the bottom and sides of the crockpot before adding the ingredients. Using the slow cooker reduces this risk (compared to a conventional pan), but if you've got an old machine, it may help with clean up.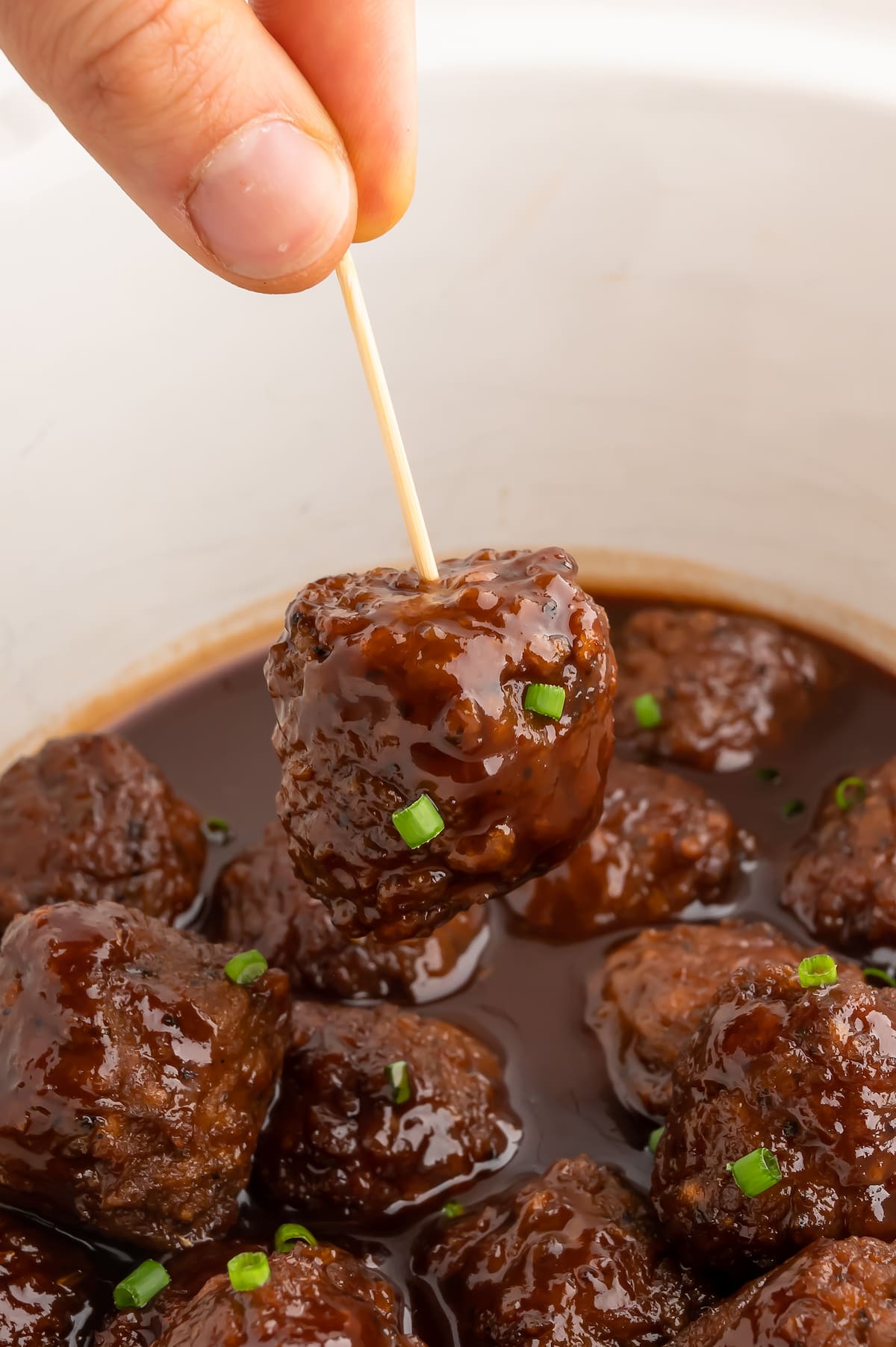 What To Serve With Vegan Meatballs
Most people enjoy these meatballs right out of the crockpot because they just can't wait to try a delicious little bite. Here are a few more civilized, though much less fun, ways of serving this vegan barbecue meatball recipe:
Stick It Up!: Use decorative wooden toothpicks to pierce each plant-based bbq meatball and arrange on a pretty plate or platter.
Cute Carrying Cups: Fill a mug, mini mason jar, or reusable cup with a few meatballs, extra sauce, and a piece of bread. Pass around for satisfying snacks or late-meal appetizers. Don't forget the forks!
Calling All Carbs: Make a DIY meatball sub bar, complete with several different types of breads, buns, rolls, and pita. Let each person grab the type they like and scoop in their own meatballs. Leave some extra sauce, vegan parmesan, and nutritional yeast nearby.
Invest In Vegetables: Sure, you can always bring bread into the equation, but how about fresh veggies like carrot sticks, ribs of celery, romaine hearts, and bell pepper slices? Something crisp and neutral pairs beautifully with the softer texture of the savory meatballs.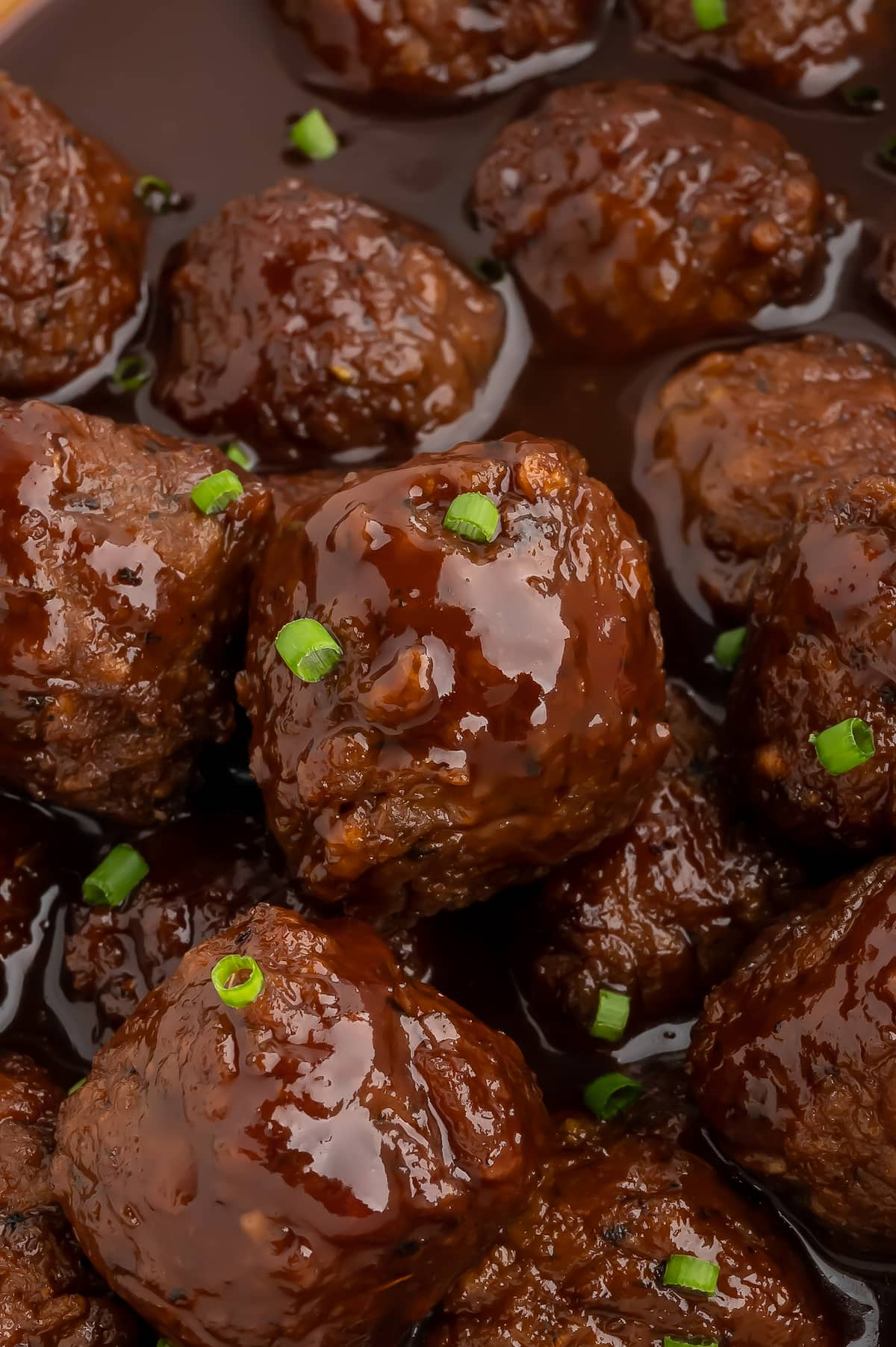 More Slow Cooker Vegan Recipes to Try
25 vegan meatballs, your choice
1 cup grape jelly
½ cup barbecue sauce, homemade or store bought
½ cup ketchup
Mix together grape jelly, barbecue sauce, and ketchup together.

Add the meatballs to the slow cooker. Pour sauce over the meatballs and mix well.

Cook on low for 6 hours or on high for 3 hours. Turn setting to warm until ready to serve.
Serving Suggestion:  Delicious on their own plated up with little wooden forks or toothpicks, but you can also serve them with mashed potatoes, rice, crudities, or with small loaves of bread, split open. 
Calories: 73kcal | Carbohydrates: 2g | Protein: 3g | Fat: 1g | Saturated Fat: 0.2g | Polyunsaturated Fat: 0.5g | Monounsaturated Fat: 0.2g | Sodium: 78mg | Potassium: 36mg | Fiber: 1g | Sugar: 0.2g | Calcium: 8mg | Iron: 0.3mg
Vegan BBQ Meatballs photos by Amanda McGillicuddy for World of Vegan, all rights reserved.