Meatballs have existed from the beginning of written history in every culinary tradition across the globe. The simple combination of protein, aromatic herbs, and sautéed vegetables speaks to cravings that transcend cultural boundaries. Italians get credit for one of the most widely beloved versions around, especially when they come with a homey tomato sauce and al dente pasta to soak it all in.
These vegan meatballs are an innovative take that's every bit as comforting and even more accessible, bringing everyone to the table. They are loaded with veggies and nutrition, and a fun addition to spaghetti with pasta sauce, other vegan pasta dishes, or you could even use them to make plant-based meatball subs. The only problem is that there might not be any leftovers afterward!
These veggie meatballs come from the phenomenal plant-based cookbook How to Go Plant-Based by Ella Mills. They're perfect for dinner, protein-packed, and kid-friendly.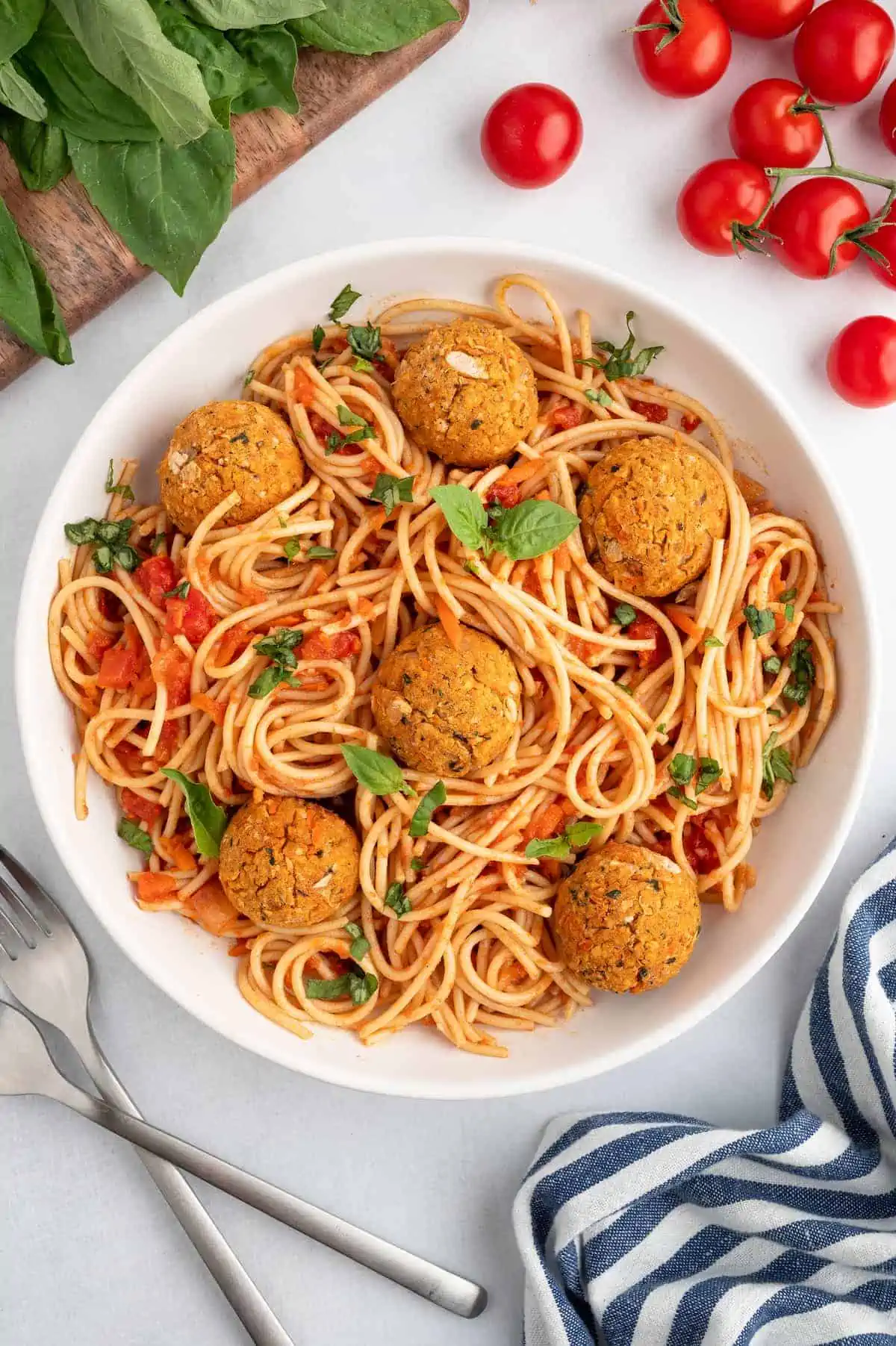 Why You'll Love These Vegan Meatballs
How to Serve Meatless Meatballs
When you don't feel like noodling around, there's a whole world of possibilities beyond pasta! These veggie meatballs are also prime candidates for using in many other meals.
Key Ingredients
Dried mushrooms
Dried mushrooms have a much more intense savory flavor than fresh, and less water to ensure a denser, meatier texture for the finished dish. Shiitake, porcini, king trumpet, and chantarelle are most common; you can use any you'd prefer.
Cannellini beans
Any white bean will do, such as navy beans or great northern beans, too. One can is equal to about 1 ½ cups of beans, drained.
Nutritional yeast
Cheesy, buttery, and all things umami, nutritional yeast is like vegan cat nip! It's indispensable in this dish as a natural plant-based alternative to dairy.
Tamari
Soy sauce or coconut aminos are excellent alternatives based on what you have access to but mind the sodium levels particularly for the youngsters. Select a low-sodium variety or omit it entirely if needed.
Breadcrumbs
This recipe calls for fresh breadcrumbs which are simply finely crumbled bread. Choose a gluten-free option if wheat intolerance or Celiac disease is a concern.
How to Make These Veggie Balls
This recipe is made with dehydrated mushrooms, which are fantastic because they are pantry shelf-stable, and even more flavorful than fresh mushroom. But they need to be rehydrated! Rehydrate the mushrooms in a cup of boiling water. Most dried mushrooms take around 20-30 minutes to rehydrate.
Meanwhile, begin preheating the oven and lightly grease a sheet pan; set aside.
Next, cook the onion and carrot in a medium saucepan with the oil until softened. You may need to add a splash of water if the vegetables begin to stick.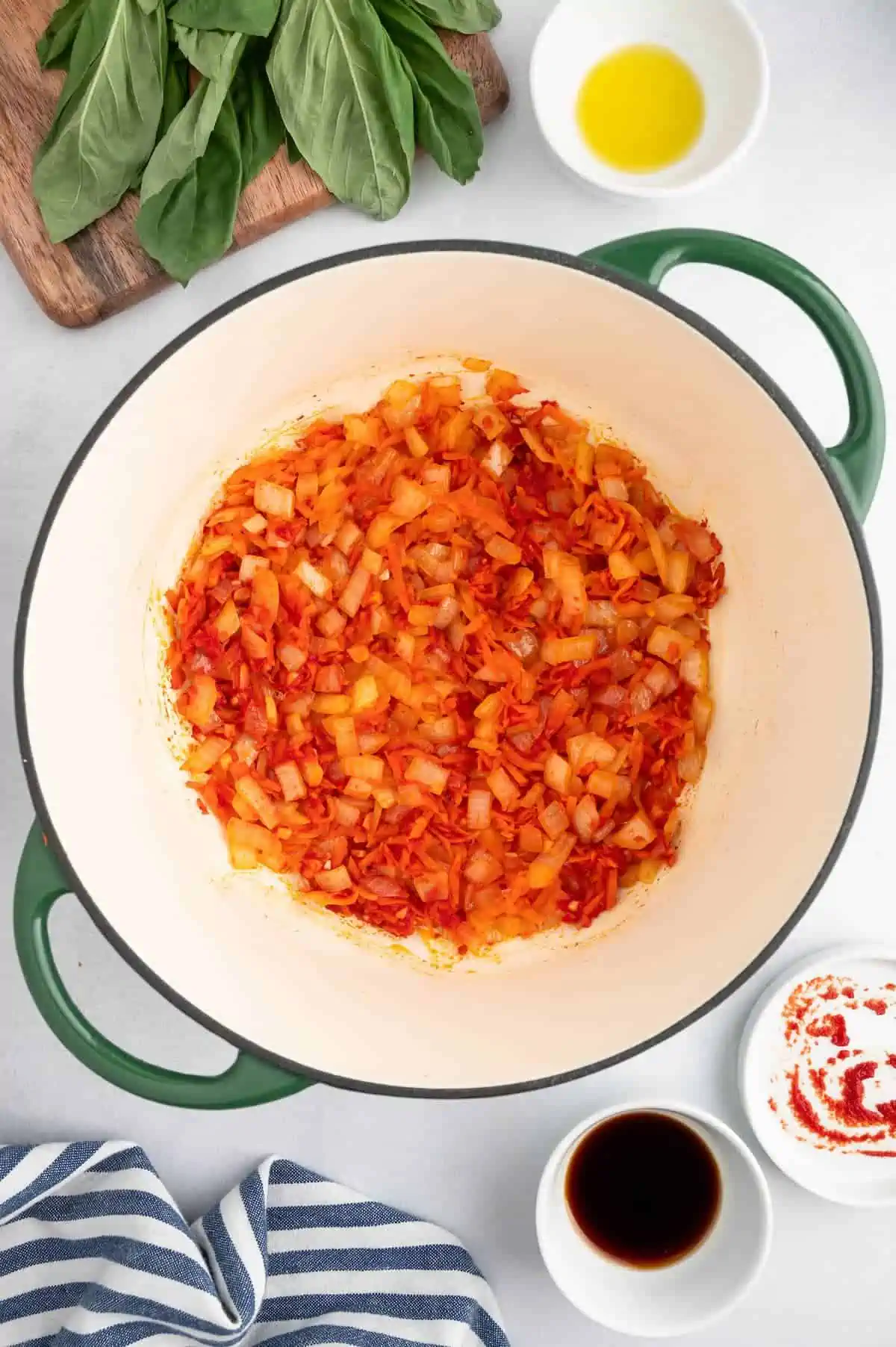 Add the garlic and cook for a minute longer, then stir in the tomato paste and remove from the heat.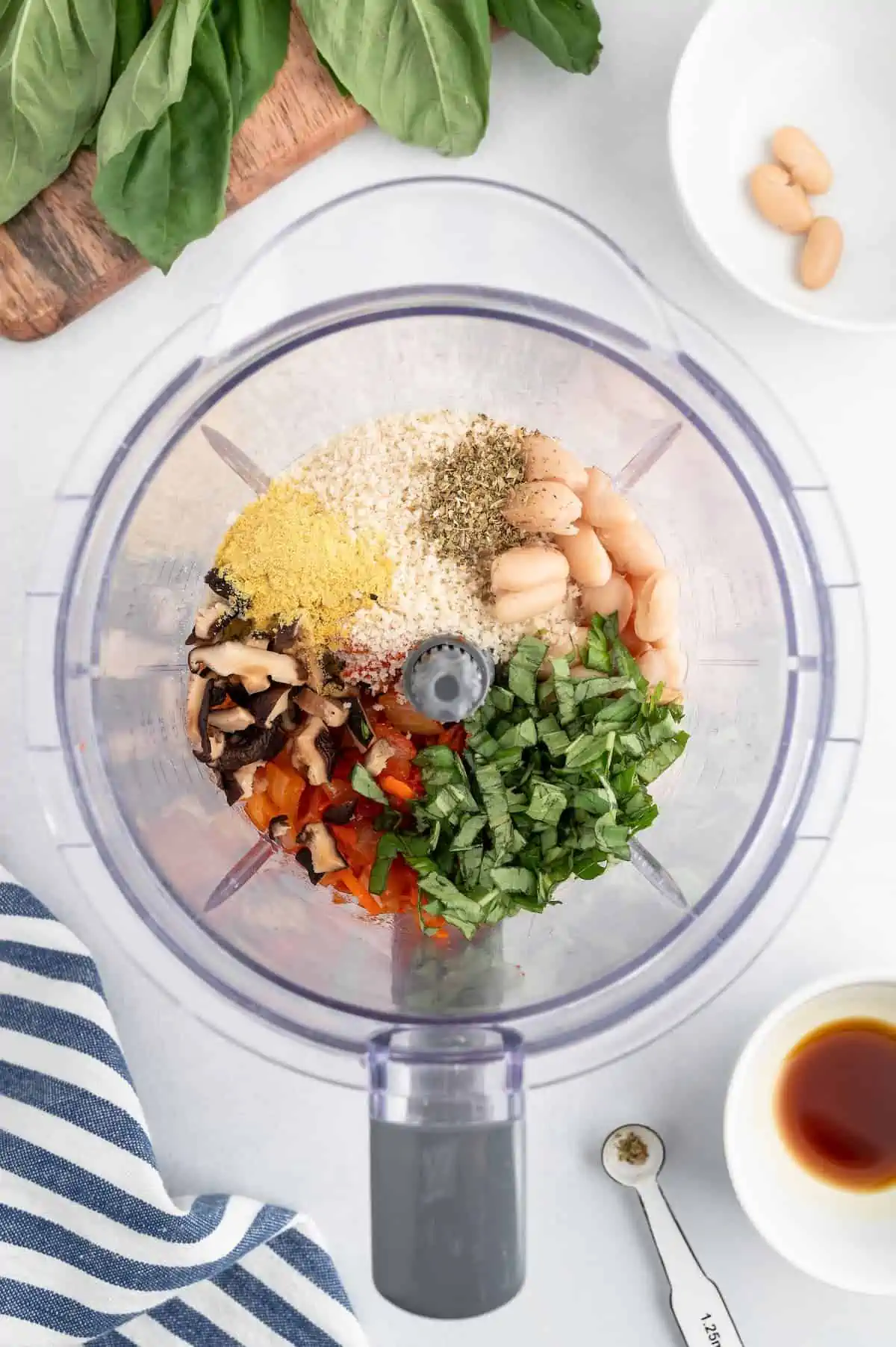 Drain the soaked mushrooms and chop them roughly before tossing them into the food processor along with half the cooked vegetables.
Add the beans, basil, nutritional yeast, oregano, tamari, and breadcrumbs, and puree into a thick paste.
Divide the mixture into roughly 16 equal pieces and roll into smooth balls. If you'd like to make smaller vegan meatballs, feel free! The beauty of making your own veggie meatballs from scratch is that you have total control. They just won't need quite as much time to bake if you make them smaller, so keep a close eye!
Place your veggie meatballs on your prepared sheet pan, equally spaced, and bake for 18 to 20 minutes. When finished, they should be golden brown all over and firm to the touch.
Tips for Success
More Italian Dinners To Try
⅛ oz dried mushrooms
2 tablespoons olive oil, plus a little extra for baking
1 small onion, peeled, halved and finely chopped
1 small carrot, peeled and coarsely grated
2 large garlic cloves, peeled and crushed
2 tablespoons tomato paste
1 14-ounce can cannellini beans, drained and rinsed
small handful of basil leaves, coarsely chopped (plus extra to serve)
1 ½ tablespoons nutritional yeast
¼ teaspoon dried oregano
2 teaspoons tamari
1 cup fresh breadcrumbs
Put the mushrooms into a cup, cover with boiling water, and set aside to rehydrate.

Heat the oil in a large saucepan. Add the onion and carrot and cook over medium-low heat for 8 to 10 minutes, until softened. Stir the mixture occasionally and add a splash of water if it looks like it might stick on the bottom of the pan.

Once the vegetables are soft, add the garlic and cook for 1 minute, then stir in the tomato paste and remove from the heat.

Preheat the oven to 350°F and lightly oil a cookie sheet.

Drain the mushrooms and coarsely chop. Blend in a food processor with the cooked vegetables, the beans, basil, nutritional yeast, oregano, tamari, and breadcrumbs to create a thick paste.

Using wet hands, roll the paste into 16-18 balls, about golf ball size. Transfer to the oiled cookie sheet and bake for 18 to 20 minutes, until golden and firm at the edges. Larger balls may need a few extra minutes to bake fully.
Tip for Toddlers – Tamari is high in salt, so omit it for toddlers.
Can't find tamari? Opt for soy sauce or liquid aminos.
Fresh breadcrumbs are simply finely crumbled bread. They are light and moist compared to dry breadcrumbs.
Serving suggestion – Serve up these veggie meatballs over a big bowl of pasta with tomato sauce or spicy Arrabbiata sauce!
Calories: 311kcal | Carbohydrates: 49g | Protein: 15g | Fat: 9g | Saturated Fat: 2g | Polyunsaturated Fat: 1g | Monounsaturated Fat: 6g | Sodium: 663mg | Potassium: 672mg | Fiber: 13g | Sugar: 4g | Vitamin A: 2323IU | Vitamin C: 4mg | Calcium: 457mg | Iron: 17mg
About The Cookbook Author
These veggie "meatballs" are just one of over hundred amazing, family-friendly recipes from the cookbook How to Go Plant-Based by Ella Mills, founder of Deliciously Ella. She has created this beautiful cookbook specifically for making it clear and easy to adopt a plant-based lifestyle and debunk common myths surrounding the lifestyle.
This cookbook also doubles as a practical guide for eating plant-based, with insight from Ella's own journey. She also tackles frequently asked questions sourced from her large social media following. With this cookbook you'll be in good hands with helpful tips and easy recipes made from familiar ingredients!
This veggie "meatball" recipe is from the cookbook How to Go Plant-Based by Ella Mills. Photos by Amanda McGillicuddy, for World of Vegan, all rights reserved. Article written with support from Hannah Kaminsky and edited by Rachel Lessenden.