Dessert-lovers will agree, the best part of making a full pie is getting to eat the leftovers for breakfast the next day. Now you don't have to turn on the oven or deal with finicky pastry to get that same sweet satisfaction! Apple pie overnight oats give you the luscious taste of baked apples, infused with warm cinnamon spice, all in a healthy, hearty package.
Ease into a cozy morning with a bowlful of apple pie oatmeal. Unlike a conventional slice of pie, you don't have to worry about a sugar rush or subsequent crash derailing your day. For a smart and gratifying choice, you can't beat this make-ahead meal.
What Makes This Best Recipe For Apple Overnight Oats?
No-cook: Don't even think of touching that stove! Just stir and let soak while you sleep, and the oats themselves will do all the work for you.
Grab-and-go convenience: If you tend to sleep through your alarm and end up skipping breakfast, this is a great solution you can take with you. Re-usable glass jars give you the flexibility of enjoying a delicious breakfast anywhere!
Minimal added sugar: All it takes is a tiny spoonful of brown sugar or maple syrup to satisfy a voracious sweet tooth, without spiking blood sugar. You can reduce that down to nothing if you substitute a drop or two of liquid stevia or monkfruit extract instead.
High in fiber: There are 8 grams of fiber in 1 cup of rolled oats, which helps keep you full and satisfied all morning. That's key in helping reduce cholesterol, improve heart health, and maintain a healthy weight.
Gluten-free: Oats are naturally gluten-free, which means this is a safe breakfast that everyone can enjoy. Just make sure your oats are certified in case of severe allergies, to ensure there's no risk of cross contamination in the manufacturing process.
Optional Toppings For Apple Pie Overnight Oats
The finishing touches are what really put this breakfast over the top to rival any decadent dessert. Try a variety of crunchy, creamy, sweet, and salty options to get a little bite of everything in each spoonful. Here are my favorites:
Warm baked apples
Maple syrup
Additional ground cinnamon
Chopped nuts
Easy Flavor Variations
If it makes a great pie, it can make for great overnight oats, too. Your best bets for fresh produce are found in the summer months, but frozen is an excellent option all year round. Diced or chopped fruits are ideal for a balance of decadent and nutrition, such as:
Pears
Peaches
Apricots
Plums
Cherries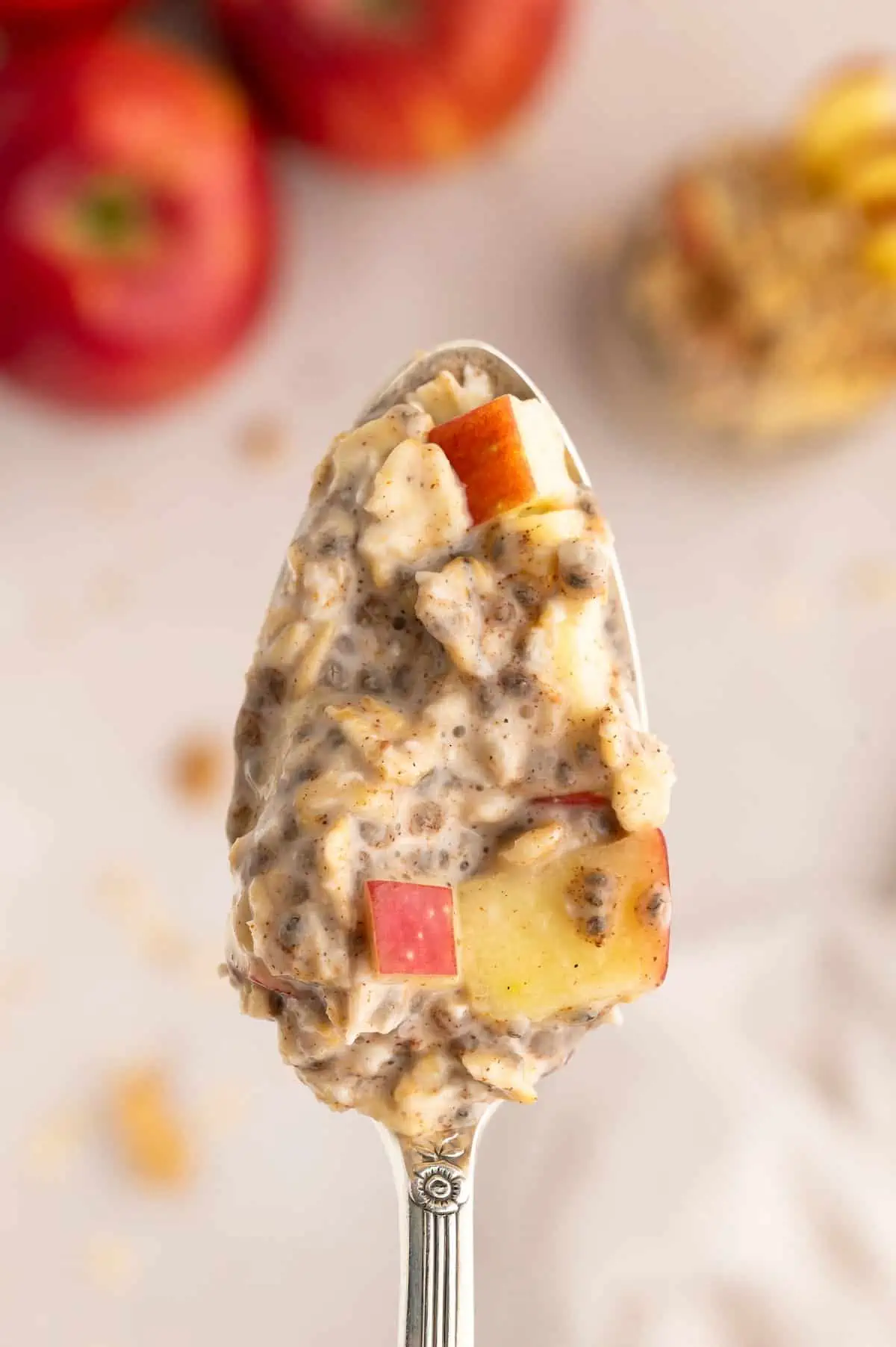 How To Make These Apple Pie Overnight Oats
Making overnight oats is so easy!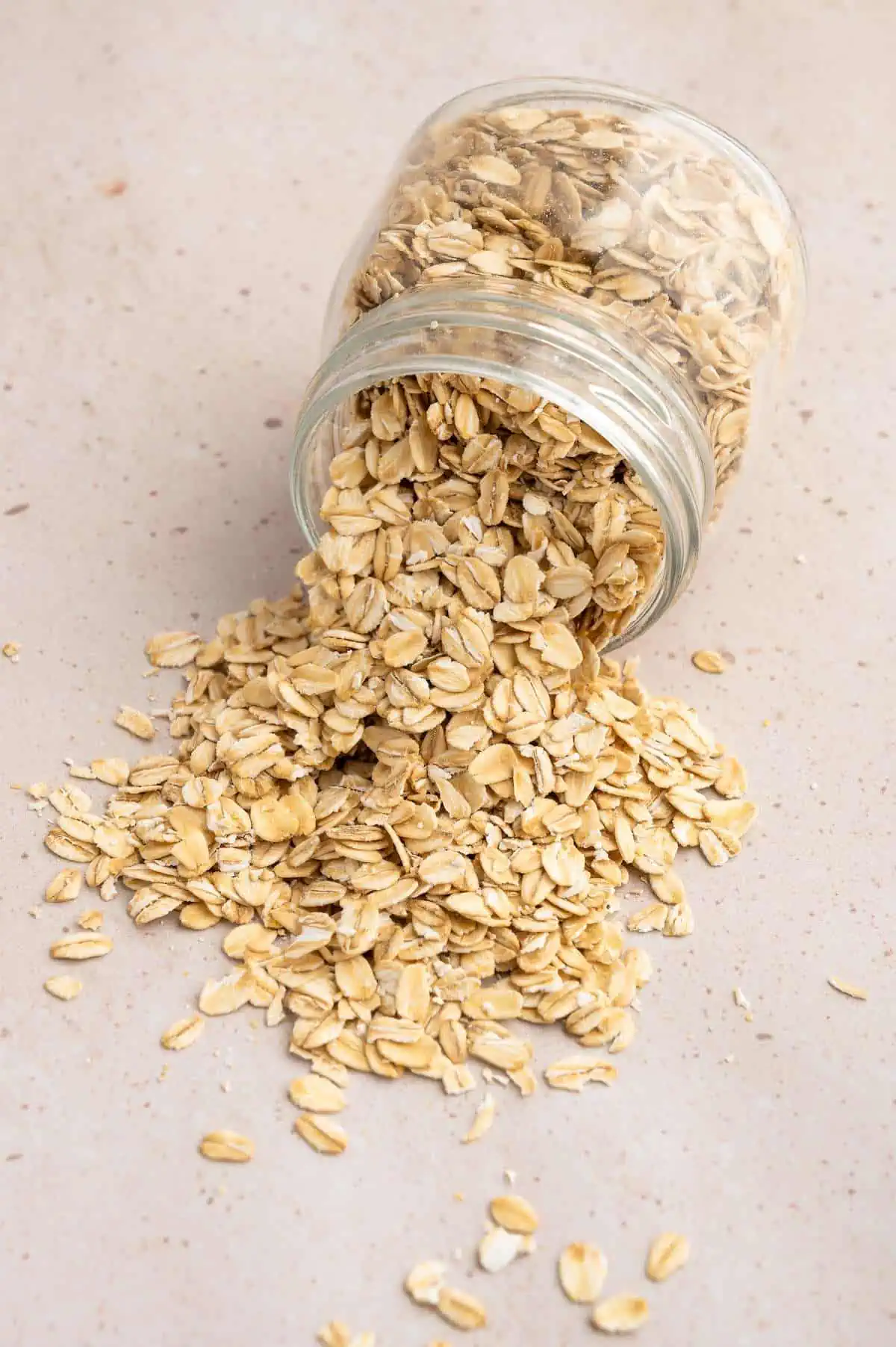 Start with one cup of rolled oats. In a container of your choice, add the oats, chia seeds (if you'd like) (optional), spices, brown sugar, plant-based milk, and half of the diced apple. Mix well and add the remaining apple to the top. Overnight, the oats will become thick and creamy! To serve, top with granola or chopped nuts, and enjoy.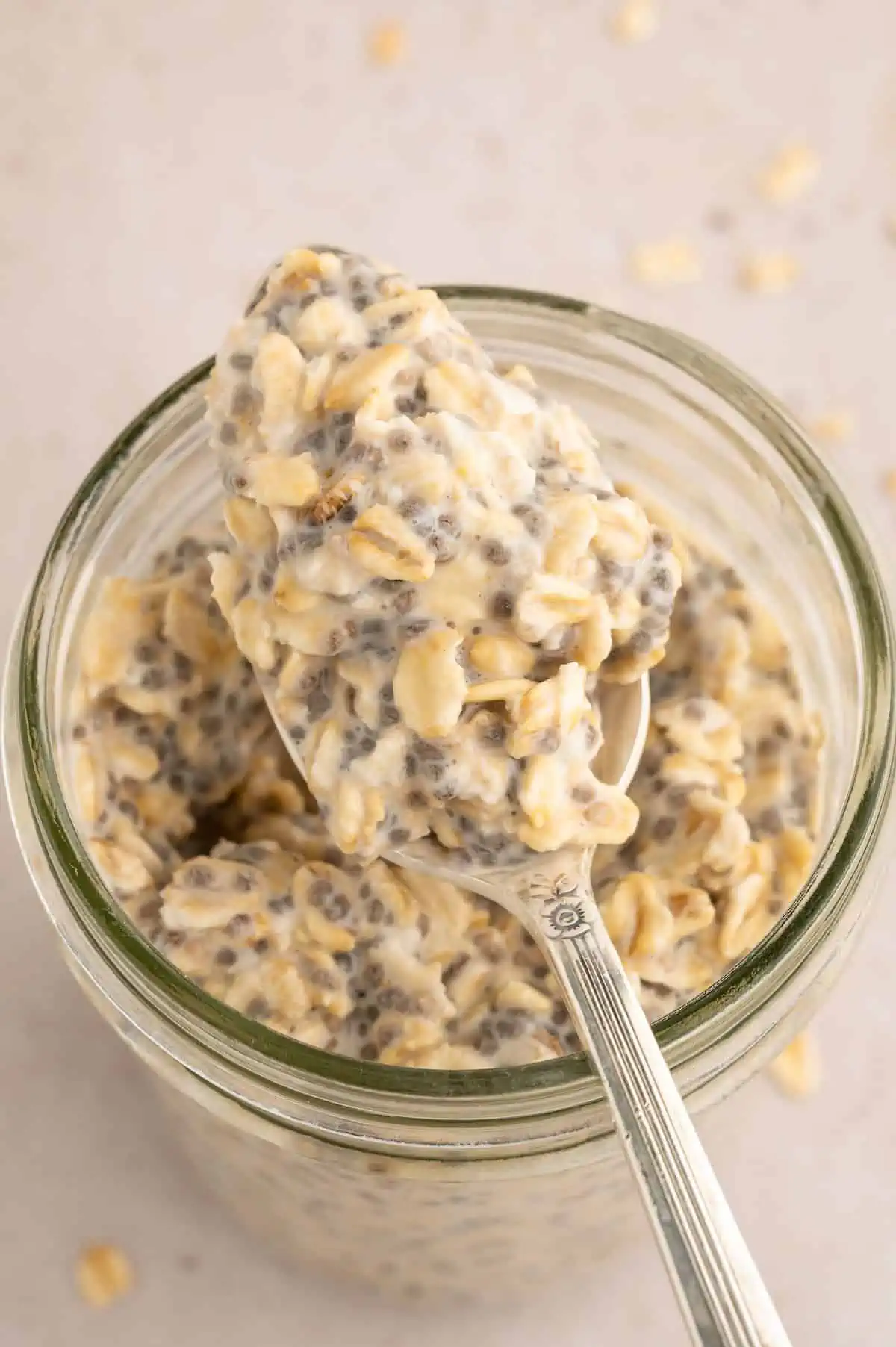 FAQs
Can I make a big batch of overnight oats at once?
Yes!  Maximize your time in the kitchen and prep a full week of breakfasts at once. This formula can be scaled up infinitely and stored in separate, airtight containers for up to 5 days in the fridge. You can effortlessly feed yourself or a whole hungry family this way.
Can apple cinnamon overnight oats be frozen?
If you're concerned about long term storage, you can pop your jars of prepped overnight oats into the freezer, no problem! Just make sure there's at least ½-inch of space left at the top of the jar, to allow the oats to expand slightly as the liquid freezes. When you're ready to eat, let thaw in the fridge for 24 hours, or at room temperature for 4 to 6 hours. Alternately, you can pop it into a saucepan and heat it up for instant warm apple oatmeal.
What else can I add to my overnight oats for extra nutrition?
For a few simple upgrades, consider incorporating one, two, or all of the following superfoods:
 
·        1 to 2 tablespoons plant-based protein powder, for extra protein
·        ¼ cup vegan yogurt, for probiotics
·        1 to 2 teaspoons ground flaxseeds, for healthy fats and fiber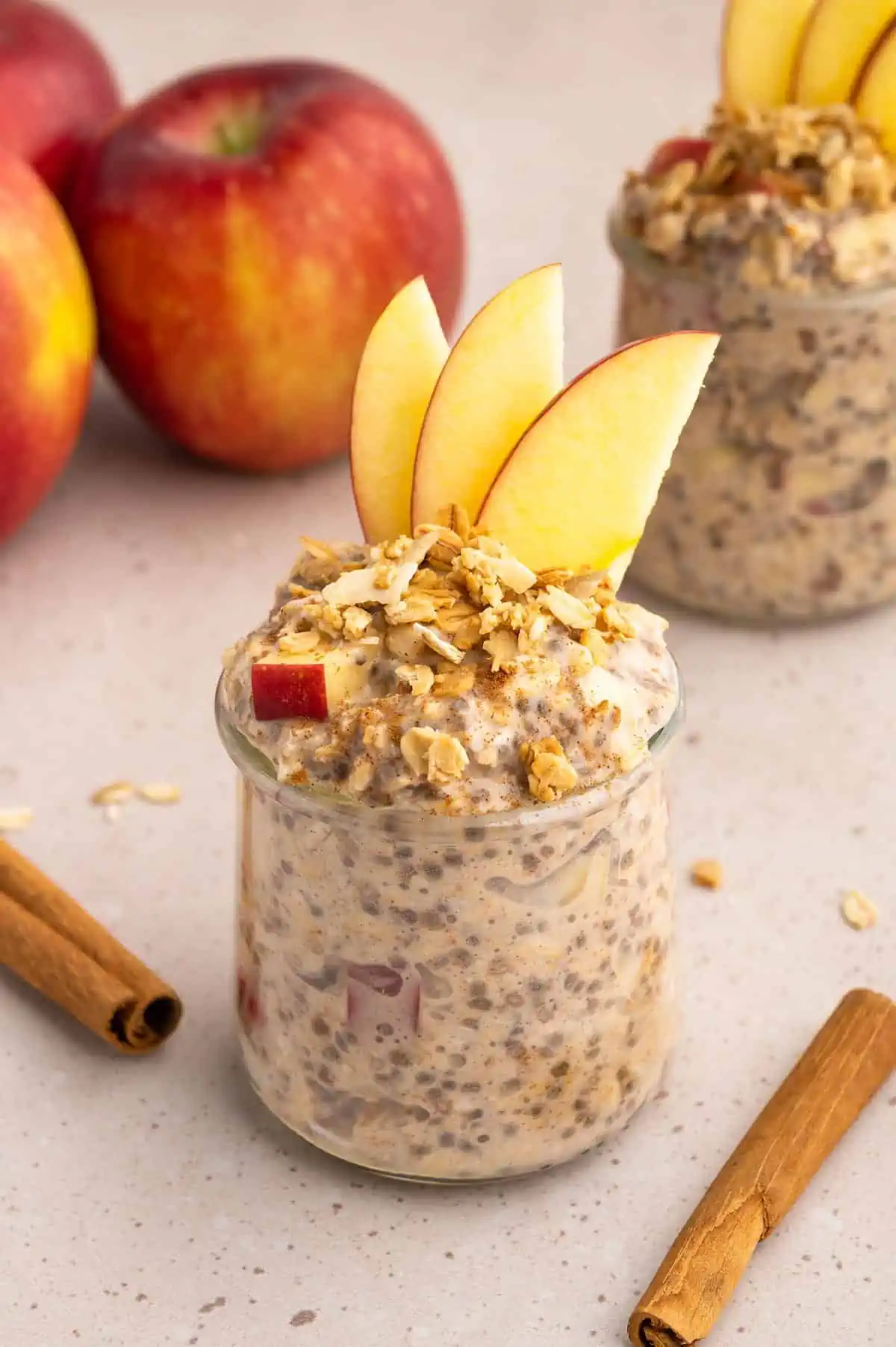 More Oat Recipes You'll Love
If you're a fan of overnight oats then you'll love Strawberries and Cream Overnight Oats and Peanut Butter and Jelly Overnight Oats.
Want something warm? Baked Pumpkin Oatmeal and Baked Oatmeal with Berries are just as easy as overnight oats, but instead of chilling in the fridge, you immediately pop them in the oven to bake!
1 cup rolled oats
1 tablespoon chia seeds, optional
1 teaspoon ground cinnamon
¼ teaspoon nutmeg
1 tablespoon brown sugar, or maple syrup
1 cup plant-based milk, any type
½ cup apple, diced (reserve half of the diced apple for topping
1 handful of vegan granola or chopped nuts
Optional toppings: Warm baked apples with maple syrup and a shake of cinnamon
In a container, glass, or mason jar, add the rolled oats, chia seeds (optional), cinnamon, nutmeg, brown sugar, plant-based milk, and half of the diced apple and mix well. Top with remaining apple.

Cover and refrigerate overnight (or for 3+ hours).

Remove from fridge, top with granola or chopped nuts, and enjoy.
Calories: 492kcal | Carbohydrates: 83g | Protein: 14g | Fat: 13g | Saturated Fat: 2g | Polyunsaturated Fat: 6g | Monounsaturated Fat: 4g | Trans Fat: 0.02g | Sodium: 336mg | Potassium: 441mg | Fiber: 16g | Sugar: 19g | Vitamin A: 47IU | Vitamin C: 3mg | Calcium: 453mg | Iron: 5mg
Photos by Amanda McGillicuddy for World of Vegan.