Craving a dreamy and dairy-free crème brûlée? This ridiculously tasty eggless crème brûlée will have your taste buds dancing on sunshine.
Crowned with a glossy, crisp crust of caramelized sugar that shatters upon impact, this creamy vegan crème brûlée is a show-stopping dessert that's deceptively easy to make. It's the perfect ending to dinner party, date night, elegant brunch, or any day where a special treat is in order.
This recipe comes from The Two Spoons Cookbook by Hannah Sunderani. Inspired by the food, culture, and burgeoning plant-based scene in France, Hannah created her own plant-based versions of the classic culinary staples. Now you can have your flaky, butter croissants, and make them vegan, too! You'll find a wealth of ideas for adding French flare into your everyday meals, snacks, and desserts. Given the extensive French tradition of preparing gourmet sweets, this crème brûlée is a fool-proof place to start.
Why You'll Love This Recipe
No-bake: In the heat of summer, you can keep your oven off with this simple stove-top preparation.
10 minutes active prep: Most of the time spent on this recipe is just waiting for the custard to cool. You can quickly whip up the base and throw it in the fridge during a busy day.
Allergen-friendly: Gluten-free, dairy-free, soy-free, grain-free, eggless, and oil-free, this is a treat that everyone can enjoy!
Playing with fire: Let's be honest, it's just flat out fun to break out the kitchen torch and work with straight firepower like that. Be sure to have an extinguisher handy at all times!
Key Ingredients
Full-fat coconut milk: Naturally full of healthy omega-3s, these good fats are what create a decadent base without adding any extra oils.
Arrowroot powder: This thickener comes from a tropical tuber (aka, root) and is great for thickening a wide variety of foods, like sauces, gravies, soups, and pie fillings. Used in greater quantities, it can set up solidly, as seen in this custard recipe. You can use it as a substitute for cornstarch or potato starch, too.
Nutritional yeast: Best known for making rich vegan cheese and buttery sauces, nutritional yeast can also add incredibly nuance into desserts when used sparingly. In this case, it gives a little hint of the classic eggy flavor that custard is known for.
Agar agar: Typically used as a plant-based alternative to gelatin, agar comes from seaweed and is found in various forms. It's most easy to use when finely powdered since it can then be swapped 1:1 for gelatin. It isn't quite as elastic as the animal proteins, however, so the results will be somewhat different in texture when making treats like gummies or "Jell-o".
What Is Crème Brûlée?
Think of crème brûlée as a grown up pudding cup. Most of the dessert is a lightly sweetened custard, but it's the caramelized sugar on top that creates its most defining characteristic. It sets to a candy-like texture that cracks when you plunge in a spoon, creating a crave-worthy contrast between crunchy and creamy textures. The slightly brunt edge of the sugar adds complexity to the taste, while contributing just enough added sweetness to balance everything out.
Crème Brûlée is closely related to flan and crème caramel, which typically have the layer of caramelized sugar baked into the bottom, so it turns into more of a liquid caramel sauce when turned out of the dish. It's also known as burned cream, burnt cream, Trinity cream, or Cambridge burnt cream, depending on who you ask around the world.
The earliest known recipe for crème brûlée was recorded in the 1691 French cookbook Le Cuisinier Royal et Bourgeois by chef François Massialot. It was slightly different from our modern understanding of the dish, since it used a ready-made disk of caramelized sugar placed on top of the custard, rather than caramelizing the sugar directly within the dish. Shortly thereafter, both Spain and England created similar version which they claim were the "first" of their kind, but France is clearly the winner of this race.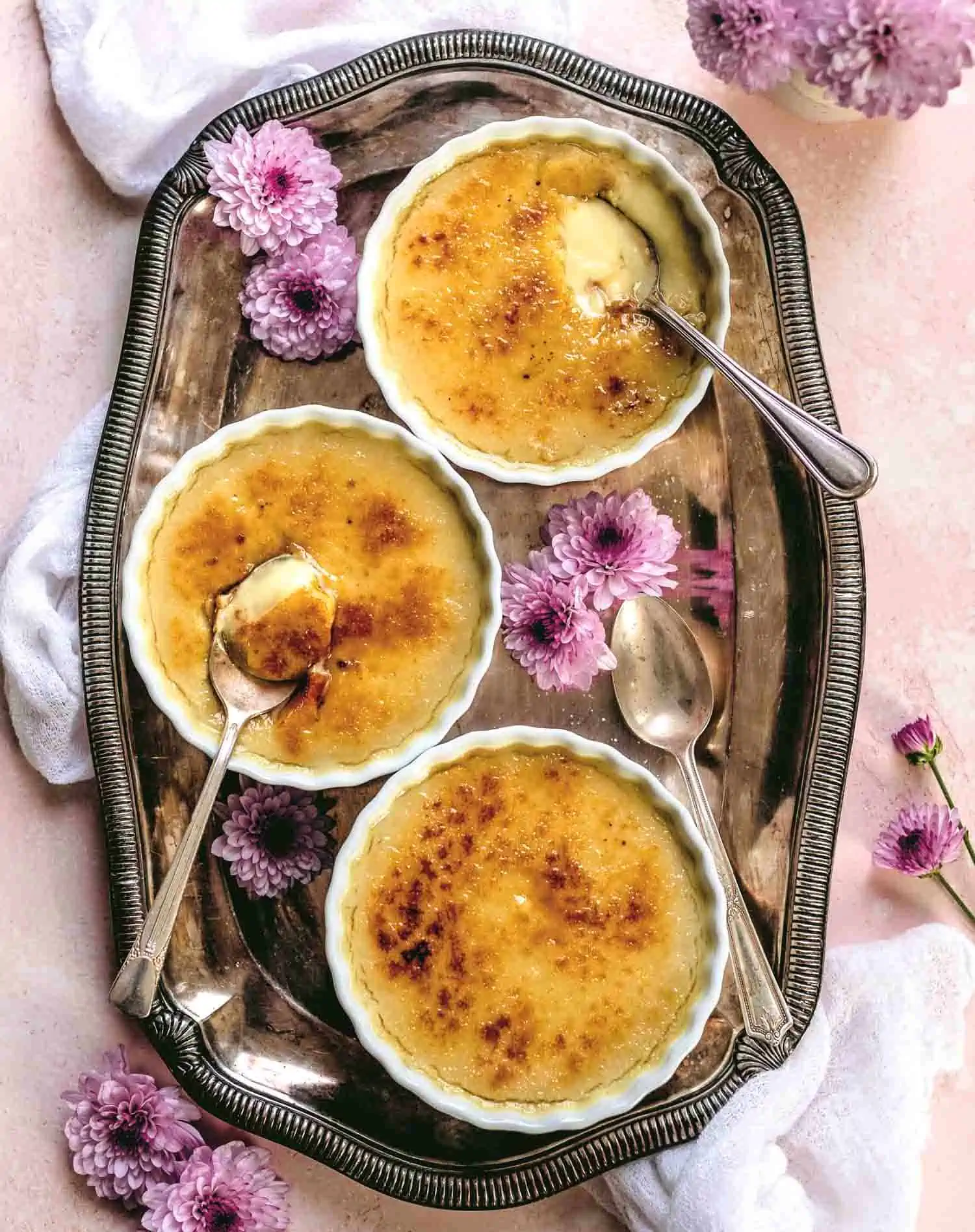 Make-Ahead Tips
The real beauty of crème brûlée is how easy it is to make in advance. In fact, it's better when it can sit in the fridge for longer to make sure it's fully set.
Set the custard cups on a small tray or sheet pan to move them more easily, without splashing.
The crème brûlée must be completely cooled before refrigerating to prevent condensation. Allow the cups to cool on the counter until they reach room temperature.
Cover the custard cups with plastic wrap rather than reusable wrap, because it won't stick to the custard if it touches.
Chill for at least 1 ½-2 hours, and up to 24 hours. Keep refrigerated until ready to serve.
Sprinkle with sugar and brûlée the tops just before serving. If the custard sits with the caramelized sugar on top, it will eventually soften and become more of a caramel sauce instead.
How To Make Crème Brûlée Without A Torch
If you don't have a miniature flame thrower handy, don't sweat it. You can still make amazing crème brûlée by using your broiler.
Arrange your oven racks as close to the top as possible and set the broiler to high.
After sprinkling the tops with sugar, place the ramekins under the broiler and cook until the sugar bubbles and caramelizes. It may take anywhere from 2-6 minutes, depending on your oven.
Always keep a close eye on the process. If your broiler doesn't cook evenly, you may need to rotate the cups halfway through. Use a potholder to handle the ramekins safely.
1 14-ounce can full-fat coconut milk, 400 ml
⅓ cup unsweetened almond milk
zest of 1 lemon
3 tablespoons pure maple syrup
2 tablespoons arrowroot powder
1 tablespoon pure vanilla extract
2 teaspoons nutritional yeast
¾ teaspoon agar agar
Pinch fine sea salt
Pinch ground turmeric, for coloring (optional)
2 to 3 tablespoons organic cane sugar
In a high-speed blender, combine the coconut milk, almond milk, lemon zest, maple syrup, arrowroot powder, vanilla, nutritional yeast, agar agar, salt, and turmeric (if using). Blend on medium-low speed until smooth and combined.

Pour the custard into a medium saucepan. Heat over medium-high heat, stirring often with a spatula, until the mixture has thickened slightly to a custard consistency (just before it reaches boiling) andthere is a bit of resistance, 7 to 10 minutes.

Divide the custard evenly among three 6-ounce ramekins or four 4-ounce ramekins, filling them three-quarters full.Let cool completely, uncovered, at room temperature for 1½ to 2 hours. Cover eachramekin with plastic wrap and chill in the refrigerator for 3 to 4 hours or overnight.

When ready to serve, lightly sprinkle the tops with a thin layer of sugar. Using a kitchen torch, caramelize the sugar until it turns deep golden brown. (It is helpful to hold the torch far enough back so that the tip of the flame melts the sugar.) Serve immediately.
The crème brûlée must be completely cooled before refrigerating, as condensation can affect its texture. You can cool the crème brûlée uncovered in the refrigerator for a few hours, then cover in plastic wrap once you are certain it is completely cool.
For covering the crème brûlée, I prefer plastic wrap rather than reusable wrap because it does not stick to the custard if it touches. If using reusable wrap, ensure there is enough space so the wrap does not touch the custard.
A kitchen torch achieves the best crackly caramel topping, but if you do not have one, you can use the broiler. Place an oven rack in the highest position and set the oven to broil. Lightly sprinkle the top of each crème brûlée with a thin layer of sugar. Place on a baking sheet, transfer to the oven with the door ajar, and broil until the sugar is golden brown and bubbling, 3 to 5 minutes. (This may melt the crème brûlée's interior slightly. You can refrigerate for 30 to 45 minutes to firm up before serving.)
The crème brûlée can be made up to 24 hours in advance. Keep refrigerated, covered with plastic wrap, until ready to serve. Sprinkle with sugar and brûlée the top just before serving.
Calories: 94kcal | Carbohydrates: 21g | Protein: 1g | Fat: 0.4g | Saturated Fat: 0.05g | Polyunsaturated Fat: 0.1g | Monounsaturated Fat: 0.1g | Sodium: 29mg | Potassium: 60mg | Fiber: 0.5g | Sugar: 15g | Vitamin C: 0.003mg | Calcium: 44mg | Iron: 0.1mg
About the Author
Hannah Sunderani is the creator of the popular blog Two Spoons and the Two Spoons App. She started her blog to share plant-based recipes that everyone to enjoy, vegan or not. Living in France changed her view on sustainability, flavor pairings, culinary techniques, shopping local, and pretty much everything else related to food.
She's applied those inspirations to her work online and now in print, through her newest release of The Two Spoons Cookbook. These classic vegan French recipes keep everyone in mind, from newbie cooks to vegan skeptics and vegan foodies.
More Vegan French Recipes To Try
This vegan crème brûlée recipe was excerpted from The Two Spoons Cookbook by Hannah Sunderani© 2022 Hannah Sunderani. Photography by Hannah Sunderani. Published by Penguin, an imprint of Penguin Canada, a division of Penguin Random House Canada Limited. Reproduced by arrangement with the Publisher. Special thanks to Sarah Hudson and Nicol Nawrath for recipe testing. All rights reserved. Please note that this article may contain affiliate links which supports our work at World of Vegan.