Are there any Krispy Kreme vegan donuts or options? That's an easy question to answer with a really sad response. Although they have a staggering 1,400 doughnut shops worldwide, not a single shop offers a vegan-friendly donut outside of the UK. This vegan Krispy Kreme guide might have the slimmest pickings yet.
While we don't expect big name bakeries to offer only vegan donuts overnight (wouldn't that be wonderful, though?), we think it's pretty reasonable to expect at least one option in the offering. Even a simple dairy-free cake donut would do! But nope.
If you've got a hunger for delicious donut holes or sweet, frosted doughnuts we hope you are a patient plant-based person. The wait might be longer than you think. At least at this location.
Does Krispy Kreme Have Vegan Donuts?
No, Krispy Kreme does not have any vegan donut options in the United States, or anywhere outside of the United Kingdom.
But perhaps that will change soon, because in 2021 Krispy Kreme finally launched their first-ever vegan-friendly donut, a traditional glazed, in the UK. And then, the following year, in 2022, they launched three more vegan Krispy Kreme flavors for a limited time in the UK. These included: Caramel Chocolate Delight, Fudge Brownie Bliss, and Apple Custard Crumble. The world went wild.
We hope that vegan donuts will soon become a worldwide and permanent fixture on the menu, but that's not the case as of now.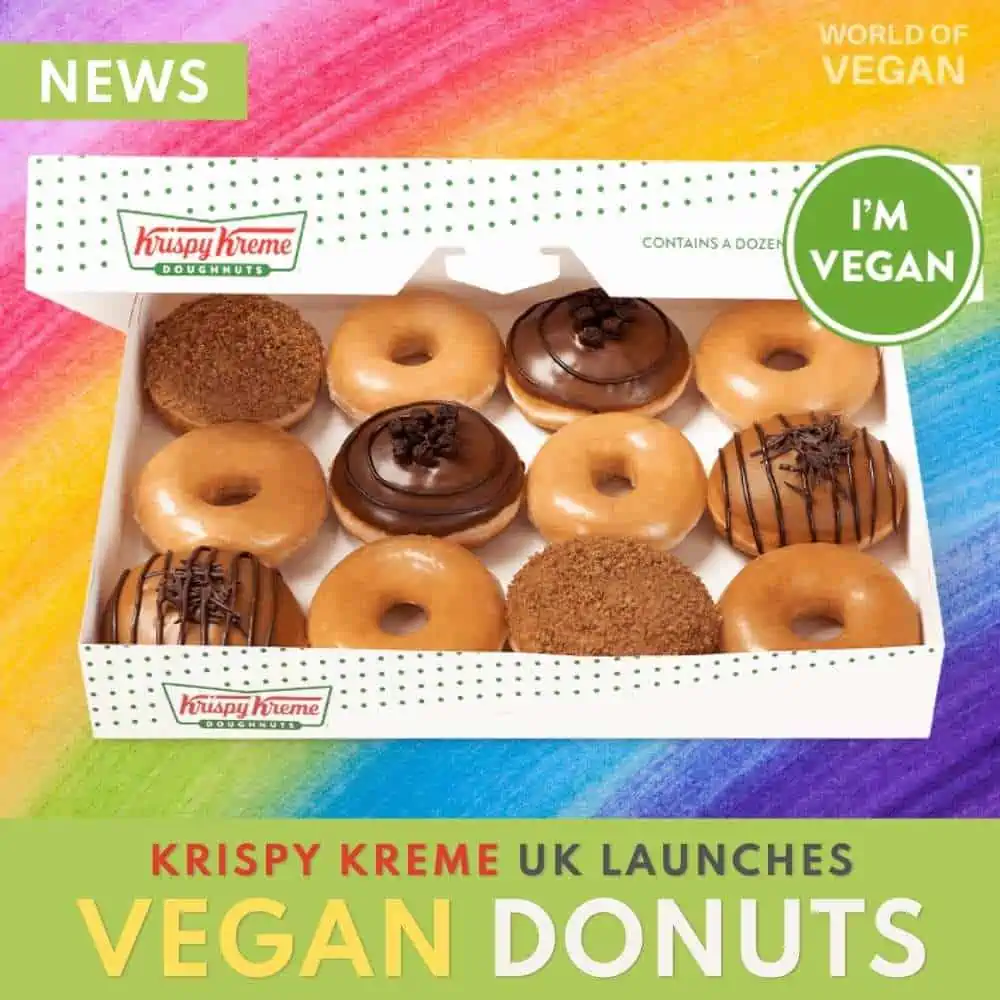 With almost 50 flavors and varieties of donuts and donut holes to choose from, it's frustrating to find out that none of them are fit for us to eat. With a heavy heart we have to say that the number of vegan donuts at Krispy Kreme is zero, zilch, nada. It might be time to call the cooks at Krispy Kreme and tell them of our vegan donut cravings. Are you in?
But, if you can't avoid a visit, here's what we suggest:
Bring Your Own Donut – Ugh….why???? (See below for DIY delight donut recipes.)
Order a Beverage – You may want to order two. Or three.
Well, that's about it, friends. We're amazed that this fast food restaurant has even less options than Dunkin' Donuts!
Krispy Kreme Vegan Options in the US
Other than in the United Kingdom, the single vegan option is a beverage. True, you can get a hot coffee, a sweet, fruity cooler, or possibly a fountain soda––but what we wouldn't do for an actual donut! (Cartwheels? Climbing Mt. Everest? Holding our breath?)
Vegan-Friendly Beverages:
Chillers – Lemonade and Strawberry
Coffee – Bold 1937, Classic, and Classic Decaf only (with no milk added)
Soda – Some locations also offer hot tea and sodas
Helpful Hints When Ordering Vegan at Krispy Kreme
Browse the Krispy Kreme menu before ordering. You can also print out the menu here.
If ordering Krispy Kreme Doughnuts online or through a delivery service, make sure you clearly specify any substitutions you would like. If you're worried that your request may not be honored (or seen by the server at Krispy Kreme), it might be a better idea to go there directly to order.
Check out their Allergen and Nutrition Information to make sure that you are purchasing a vegan-friendly item. You can access this information by choosing the menu item you are interested in and then clicking on the Nutritional and Allergen Info button in red. The menu items offered at Krispy Kreme don't seem to change very often, but you may want to double check before you visit.
Be careful when new and exciting seasonal products are offered at Krispy Kreme Doughnuts. Double-check the allergens and ingredients to make sure the item is vegan before purchasing.
NOT Vegan at Krispy Kreme
To simplify matters, all of the items at this donut shop (outside of the UK) are not vegan, except for some of the beverages.
Awesome Vegan Donut Shops in the U.S.
While Krispy Kreme clearly hasn't stepped up to the plate, dozens of other donut shops have! All around the world entirely vegan donut shops are coming to live, and existing donut shops are bringing vegan donuts to the menu. Here are a just a few awesome vegan donut shop options!
100% Vegan Donut Shops
Popular Donut Shops With Vegan Options
Ronald's Doughnuts in Los Vegas, Nevada
Make Your Own Homemade Vegan Donuts
Don't get discouraged by the disappointing, missing-donut menu at Krispy Kreme. If you have time (or you love baking like we do), give a go at making your own sweet, doughy treats. You won't regret it!
And, if you're downright drooling for some desserts and can't be bothered to make your own, have them delivered! Our vegan bakery guide is just what you need to satisfy your sweet tooth.
FAQs About Vegan Options
Can you get Krispy Kreme dairy free donuts at any locations?
If you're in the UK, then you're in luck! They have a dairy-free original glazed donut, plus three limited edition flavors as well. Most of the UK Krispy Kreme locations also offer oat or soy milk for coffee, tea, and espresso.
Are Krispy Kreme donuts vegan?
Sorry to say that they offer no vegan donuts on their menu outside of the UK.
I'm a huge donut lover. Are there any jobs at Krispy Kreme?
We're not sure about that, but they have an entire page listing career opportunities. If you're a donut-loving vegan, maybe you can find a way to convince the big boss that we're in desperate need of Krispy Kreme vegan donuts!
What kind of oil does Krispy Kreme use?
According to Krispy Kreme's website they use soybean and palm oil (not lard) in the making of their donuts. You can find more information about the sustainability of the palm oil here.
Historic Vegan Moments in Krispy Kreme History
2021 – First vegan-friendly donut, a traditional glazed, launched in the UK.
2022 – Three more vegan Krispy Kreme flavors were added to the UK menu (limited time only), including Caramel Chocolate Delight, Fudge Brownie Bliss, and Apple Custard Crumble.
Fascinating Facts About Krispy Kreme Doughnuts
This donut shop was founded by Vernon Rudolph in 1937 – it's 85 years old!
The original glazed doughnut is still the most popular.
120 degrees is the exact temperature of the glaze when it hits the doughnut.
No one (but a select few) know the super secret doughnut recipe, originally created by a New Orleans French chef.
One lucky person gets one free dozen doughnuts every week for a year if he or she is the very first person to enter a brand-new location.
Are Krispy Kreme Donuts Vegetarian?
Actually, all of their original doughnuts are vegetarian since they do not contain meat, but they do include dairy and egg ingredients.
Kosher Krispy Kreme Menu Items
The answer to this question seems to vary by country and also by location. In the UK, the donuts are not certified Kosher, though they are in the US. It's best to call ahead to the specific shop you wish to visit and ask.
"All of our doughnuts are ingredient Kosher. Our mix plant in Winston-Salem, NC where the mix is made is certified Kosher. In addition, some of our stores, but not all, have been certified Kosher. Please contact your local shop for the most up-to date information." – From the Nutritional Information page on the Krispy Kreme website.
Is Krispy Kreme Halal?
Again, this issue seems to vary by country and location, as well. In the US, they state that all of their core range doughnuts are Halal Certified. For those living in India, the situation seems to be the same. In any case, the best approach would be to call ahead to the location you want to visit and find out for sure.
Creating a Kinder and More Accessible Krispy Kreme Vegan Donut Experience
Even though Krispy Kreme have not yet added many dairy-free alternatives and absolutely zero vegan donuts to their menu, we can still wish with all our might. Since there are so few vegan-friendly bakeries to choose from, let's hope that they get their act together and add some options soon. Imagine all of the appetizing alternatives they could include – like at least one dairy-free donut, creamy plant-based smoothies (a coffee Krispy Kreme flavor would be our choice!) , or even a single vegan cookie or dessert. In the meantime, we can always write to, call, or contact the managers of any location to make our requests.
What would be your most wished for menu items on a Krispy Kreme donuts vegan menu? Let us know on Facebook, Twitter, and Instagram!
Have you found any other Krispy Kreme options to be veganizable? Did you find something amazing that we missed? Let us know by tagging #worldofvegan and sharing your favorite vegan-at-krispy-kreme creations with all of us!
How To Order Vegan Dessert and Coffee at Other Fast Food Chains:
This article is not sponsored and we are in no way affiliated with Krispy Kreme Doughnuts. At the time of this article, the menu items mentioned above are vegan. Since restaurants constantly update their menus and add or take away items, please keep this in mind when ordering your food. There may be new items that are vegan at Krispy Kreme and not listed or items listed here as vegan, which are no longer vegan. Take care to double-check.
This vegan Krispy Kreme donuts guide was written by Gina House and edited by Michelle Cehn. Please note that this article may contain affiliate links which means shopping through them really helps to support World of Vegan!