Get ready to adorn your holiday table with our delicious vegetarian stuffed acorn squash recipe. It's a fantastic choice for Thanksgiving and holiday gatherings! Star-shaped acorn squash is the perfect vehicle for a vibrant kale filling, infused with a luscious drizzle of rich tahini, creamy bursts of roasted chickpeas, and dazzling jewels of pomegranate seeds. This showstopper is visually stunning and delightfully simple to create. It's sure to leave your dinner guests in awe.
And here's the exciting part: this recipe isn't just visually striking; it's also a breeze to prepare. So, gear up to impress your loved ones without breaking a sweat. With our vegetarian stuffed acorn squash, you're all set for a fun and easy recipe ideal for the holidays and beyond!
Why This Veggie Stuffed Acorn Squash Recipe Is So Awesome
Add some color to your holiday table with this easy vegetarian stuffed acorn squash. This recipe is a culinary masterpiece that won't have you toiling away in the kitchen. With non-fussy instructions and easy-to-find ingredients, it's a breeze to prepare. This dish looks like a million bucks but is almost effortless in its preparation.
Not only is our stuffed acorn squash visually stunning, but it's also a nutritional powerhouse. It's packed with nutrient-dense kale, roasted chickpeas for a plant-based protein punch, and vibrant pomegranate seeds loaded with antioxidants. This dish offers a playful fusion of flavors that satisfies your taste buds while nourishing your body.
This chickpea and kale stuffed acorn squash also captures the essence of the season! Acorn squash is at its prime in the fall, making it an ideal choice for Thanksgiving and holiday feasts. Featuring deep greens of kale, earthy hues of chickpeas, and vibrant red pomegranate seeds, this dish adds a touch of seasonal charm to your table. It not only tastes like the holidays but also embodies the spirit of the season in every bite.
Once you learn how to cook acorn squash (it's so easy!), you'll also love that this dish is:
vegan
vegetarian
easy-to-make
uses wholesome, whole food ingredients
nut-free
gluten-free
soy-free
… and perfect for the holidays!
Essential Ingredients
Acorn Squash: These star-shaped winter squashes not only serve as the perfect vessel for our stuffed recipe but also bring a subtle sweetness and a lovely, tender texture that complements the savory and bold flavors of the filling.
Olive Oil: A drizzle of high-quality olive oil enhances the richness of this dish, adding a touch of fruity notes and promoting even roasting, making the acorn squashes and chickpeas perfectly crispy.
Kale: This leafy green powerhouse is not only nutritious but also adds a satisfying texture and earthy flavor to the filling. Massaging the kale with other ingredients tenderizes it, creating a harmonious blend.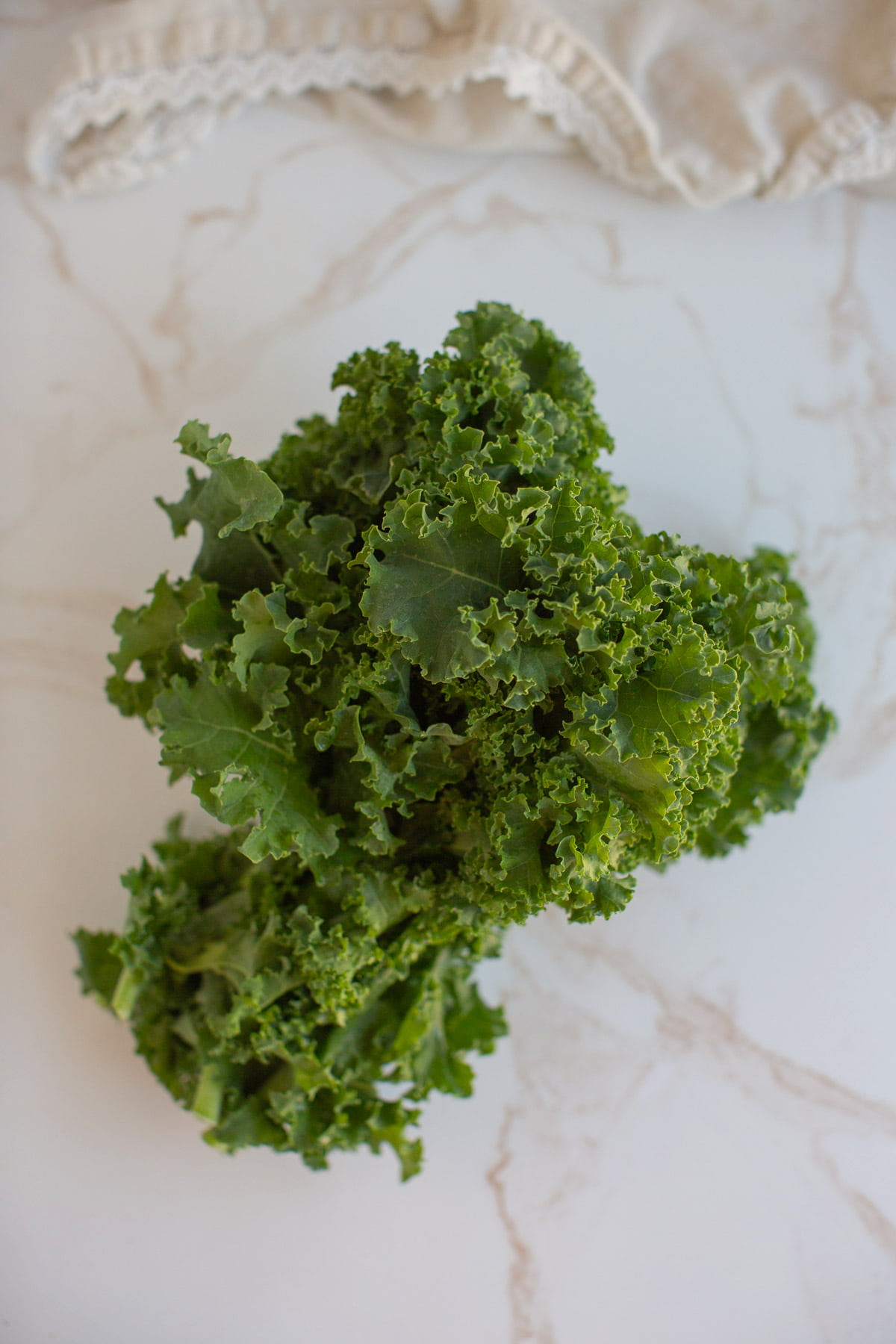 Apple Cider Vinegar: The acidic zing of apple cider vinegar cuts through the richness of the tahini, balancing the flavors and providing a subtle tang that brightens the dish.
Tahini: Creamy and nutty tahini is a key player in the filling, infusing it with velvety goodness and a depth of flavor. It complements the other ingredients, creating a luscious and satisfying filling.
Pomegranate Seeds: These ruby-red seeds add a burst of freshness and a delightful pop of color to the dish, making it visually appealing while providing a sweet-tart contrast to the savory components.
Chickpeas: Roasted chickpeas provide a satisfying crunch and a dose of plant-based protein, elevating the dish's nutritional value and adding a delightful texture to the filling.
Smoked Paprika: The smoky, earthy notes of smoked paprika contribute a unique depth of flavor to the filling, infusing it with a subtle smokiness that complements the sweetness of the squash.
Garlic Powder: A touch of garlic powder enhances the savory profile of the filling, adding depth and aroma without the need for minced garlic.
Cayenne Powder: For those who crave a bit of heat, the optional addition of cayenne here offers a spicy kick, balancing the sweetness and richness of the dish.
How To Make This Veggie Stuffed Acorn Squash
This stuffed acorn squash can be pulled together following these simple steps! Start by preheating your oven to 400 degrees F.
Prep Your Acorn Squash
Here's how to cut acorn squash: use a sharp chef's knife to halve each acorn squash width-wise horizontally across the middle. Trim the pointed bottom for stability on a flat surface. Utilize a spoon to scoop out and discard the seeds or reserve them for making roasted acorn squash seeds.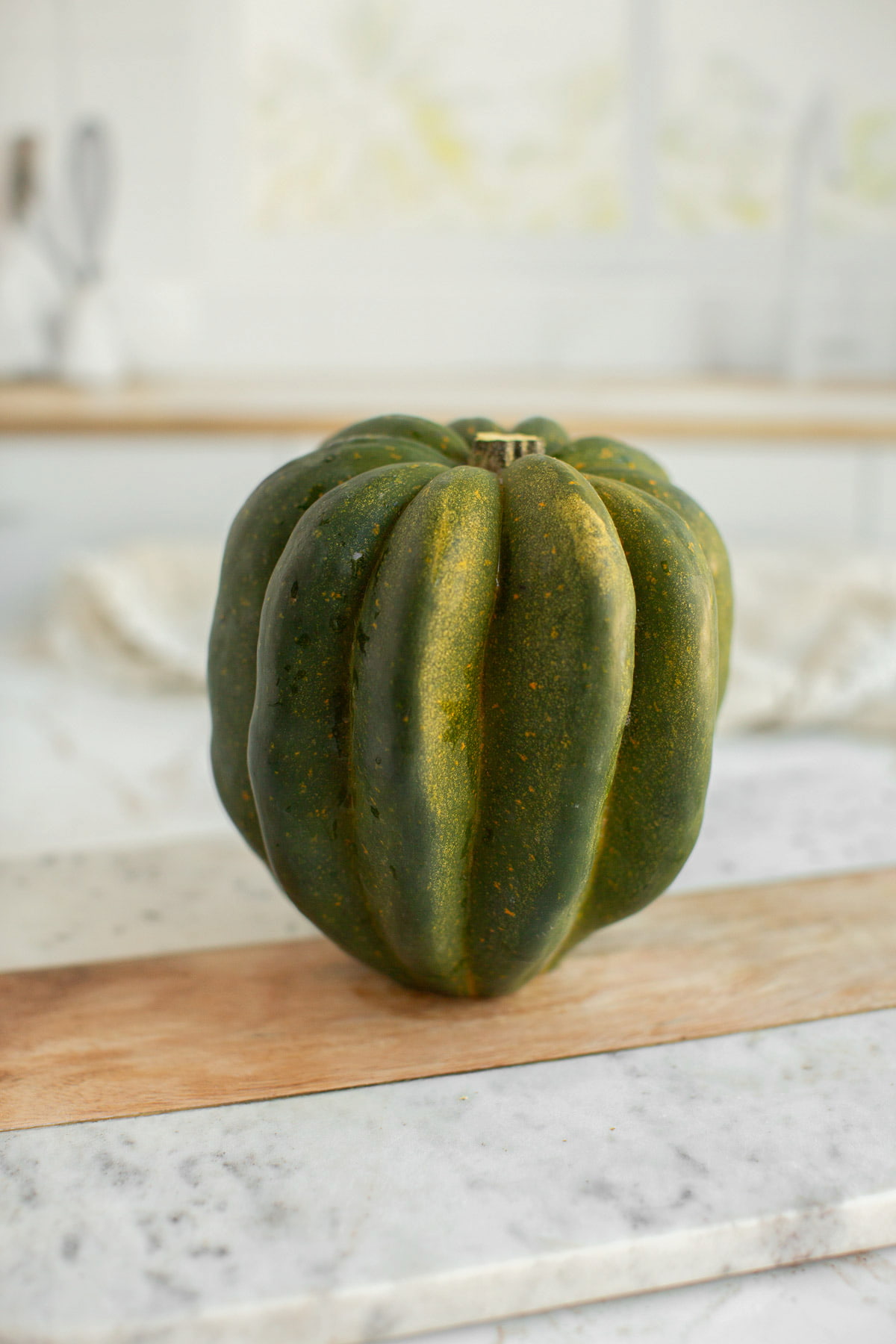 How To Cook Acorn Squash
Position the halved acorn squash on a baking sheet lined with parchment paper or lightly oiled. Drizzle olive oil over the exposed interior of the squash, using your hands to evenly distribute the oil across the flesh.
Sprinkle salt and pepper uniformly. Invert the squash, placing it face down on the baking sheet, and bake for 30-40 minutes, adjusting based on squash size. It's ready when the squash is thoroughly baked with a golden-brown hue on the surface touching the pan.
Make Your Roasted Chickpeas
In a small bowl, combine chickpeas with oil, smoked paprika, garlic powder, cayenne (if desired), salt, and pepper. Ensure thorough mixing, then spread the mixture evenly on a lined baking sheet.
Bake at 400 degrees F for 15 minutes, stir, and roast for an additional 15 minutes or until achieving a crispy, golden texture. Set aside to cool before serving.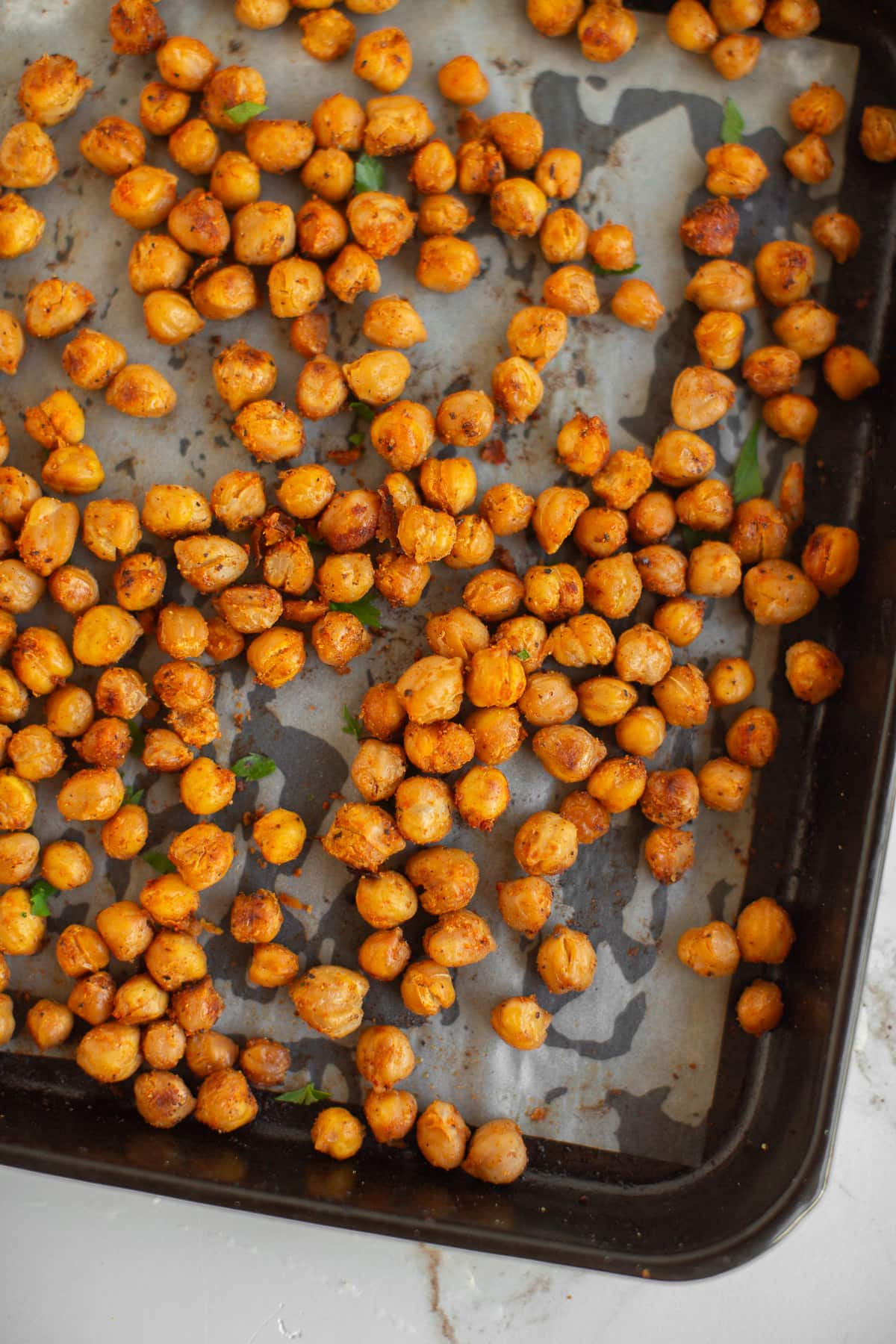 Prep And Massage Your Kale
Detach the stems from the kale leaves and finely chop the kale into bite-sized pieces. Transfer the chopped kale to a spacious bowl, adding the olive oil, salt, and apple cider vinegar.
Massage the kale to soften it up, creating a glossy, more translucent appearance. Add half of the tahini and mix well. Add the cooled roasted chickpeas and pomegranate seeds and mix.
Fill Your Acorn Squash
Flip the acorn squash so the flesh side is facing up, and fill it with the kale salad, dividing the kale evenly into all six acorn squash pockets. Top with a drizzle of tahini and serve.
Acorn Squash Filling Variations
The beauty of stuffed acorn squash is the ability to add a variety of delicious fillings to it! Feel free to add any or all of these components: a grain, vegetable, fruit, an optional vegan protein, and a simple dressing to drizzle over it! Here are some great combinations:
Spinach and Cranberry Quinoa: Create a filling with cooked quinoa and spinach, and mix in dried cranberries. Drizzle the stuffed squash with a simple vinaigrette made of olive oil, balsamic vinegar, and a touch of maple syrup for a balanced combination of textures and flavors.
Vegan Sausage, Apple, and Farro: Sauté vegan sausage with diced apples and cooked farro to craft a savory-sweet filling. Finish with a drizzle of olive oil and a sprinkle of fresh thyme to add a seasonal feel.
Tempeh and Pomegranate Bulgur: Combine crumbled and baked balsamic tempeh with cooked bulgur, and pomegranate seeds for a protein-rich and visually stunning stuffing. Drizzle with fresh lemon juice and a bit of tahini for a refreshing zing.
Chickpea and Apricot Wild Rice: Create a hearty stuffing by combining chickpeas, dried apricots, and cooked wild rice. Finish it with a drizzle of lemon juice and a touch of agave nectar to enhance the sweet and savory notes.
Sage and Walnut Quinoa: Combine quinoa cooked in broth and mix in fresh sage and chopped walnuts for a flavorful filling. A light drizzle of olive oil provides a nice finishing touch.
Roasted Brussels Sprouts and Wild Rice: Try this vegan stuffed acorn squash variation that combines wild rice with dried cranberries, pepitas, and roasted Brussels sprouts. It's perfectly seasoned and drizzled with a citrusy tahini dressing.
Lentil and Fig Barley: Combine cooked lentils and barley with diced figs for a hearty and slightly sweet stuffing. Drizzle with a bit of extra virgin olive oil and a sprinkle of black pepper for a fruity pop.
Chickpea and Persimmon Farro: Combine chickpeas, diced persimmons, and cooked farro for an unexpected blend of textures and sweet notes. Drizzle with a simple lemon-tahini sauce made by whisking lemon juice and tahini until smooth.
FAQs
Is acorn squash good for you?
Acorn squash is undeniably good for you, especially for vegans. It's a nutrient powerhouse, rich in essential vitamins like A, C, and B vitamins, along with minerals such as potassium and magnesium. These nutrients support overall health, immune function, and heart health.

Acorn squash is also packed with dietary fiber, aiding in digestion and providing a feeling of fullness. Being naturally low in calories, it's a fantastic addition to a vegan diet, helping maintain a healthy weight. Plus, it's a versatile ingredient, allowing for a wide range of delicious and nutritious meal options for vegans.
What does acorn squash taste like?
Acorn squash boasts a delightful flavor that is slightly sweet and nutty, making it a popular choice among vegans and vegetarians. The flesh is tender and mildly earthy, with a natural sweetness that intensifies as it roasts. It's a versatile ingredient that pairs well with both savory and sweet flavors, lending itself perfectly to a variety of vegan dishes.

Whether roasted and stuffed with vegan fillings or used in soups, curries, or casseroles, acorn squash provides a warm, comforting, and slightly sweet undertone to your vegan culinary creations, making it a beloved addition to vegan cuisine.
More Vegan Thanksgiving And Holiday Side Dishes You'll Love
Roasted Acorn Squash
3 acorn squashes, large
1 tablespoon olive oil, or your favorite vegetable oil
1 sprinkle salt
1 sprinkle pepper
Massaged Kale Filling
1 bunch kale, large, washed and dried
1 tablespoon olive oil
1½ tablespoons apple cider vinegar
1 teaspoon salt
½ cup tahini, divided
½ cup pomegranate seeds
Roasted Chickpeas
1 can chickpeas, drained and rinsed
½ tablespoon vegetable oil
½ teaspoon smoked paprika
½ teaspoon garlic powder
¼ teaspoon cayenne, optional, if you like it spicy
salt and pepper, to taste
Preheat oven to 400 degrees F.

Using a sharp chef's knife, cut each acorn squash in half. Then slice off the pointy bottom so it can sit flat. Scoop out the seeds with a spoon and discard (or save to make roasted acorn squash seeds).

Place acorn squash on a lined or oiled baking sheet and drizzle olive oil over the exposed interior of the squash. Use your hands to spread the oil evenly around the exposed acorn squash flesh. Sprinkle evenly with salt and pepper. Flip the squash face down on the baking sheet and bake for 30-40 minutes (depending on the size of your acorn squash). You'll know it's done when the squash is baked though and has some golden brown on the surface that's touching the pan.

Prepare roasted chickpeas: Pour chickpeas into a small bowl and add the oil, smoked paprika, garlic powder, cayenne (if using), salt, and pepper. Mix well, spread on a lined baking sheet, and bake at 400 degrees F for 15 minutes. Mix and roast again for another 15 minutes, or until crispy and golden. Set aside and allow to cool.

Prepare the kale filling: Remove the stems from the kale leaves and chop kale into small bite-sized pieces. Place chopped kale in a large bowl and add 1 tablespoon of olive oil, salt, and apple cider vinegar. Massage vigorously with your hands until the kale softens and turns glossy and more translucent in color. Add ¼ cup of tahini and mix well. Add the cooled roasted chickpeas and pomegranate seeds and mix.

Flip the acorn squash so the flesh side is facing up, and fill with the kale salad, dividing the kale evenly into all six acorn squash pockets. Top with a drizzle of tahini and serve.
Calories: 278kcal | Carbohydrates: 31g | Protein: 6g | Fat: 17g | Saturated Fat: 2g | Polyunsaturated Fat: 6g | Monounsaturated Fat: 8g | Trans Fat: 0.01g | Sodium: 478mg | Potassium: 961mg | Fiber: 6g | Sugar: 2g | Vitamin A: 3087IU | Vitamin C: 46mg | Calcium: 158mg | Iron: 3mg