Is there anything better than a quick lunch recipe that leaves you feeling energized and ready to carry on with your day? These rainbow spring rolls are one of those real gems! Slice some veggies, roll them up in rice paper and dip them in your favorite sauce.
The best part? You get to choose your favorite fillings!
It's hard not to get it right, but if you need a simple equation for making spring rolls then remember this: crunchy, salty and creamy. Grab some rice paper spring roll wrappers, pile on the crunchy and fresh veggies, and make sure you have a creamy and salty sauce (like this peanut dipping sauce below). That's it!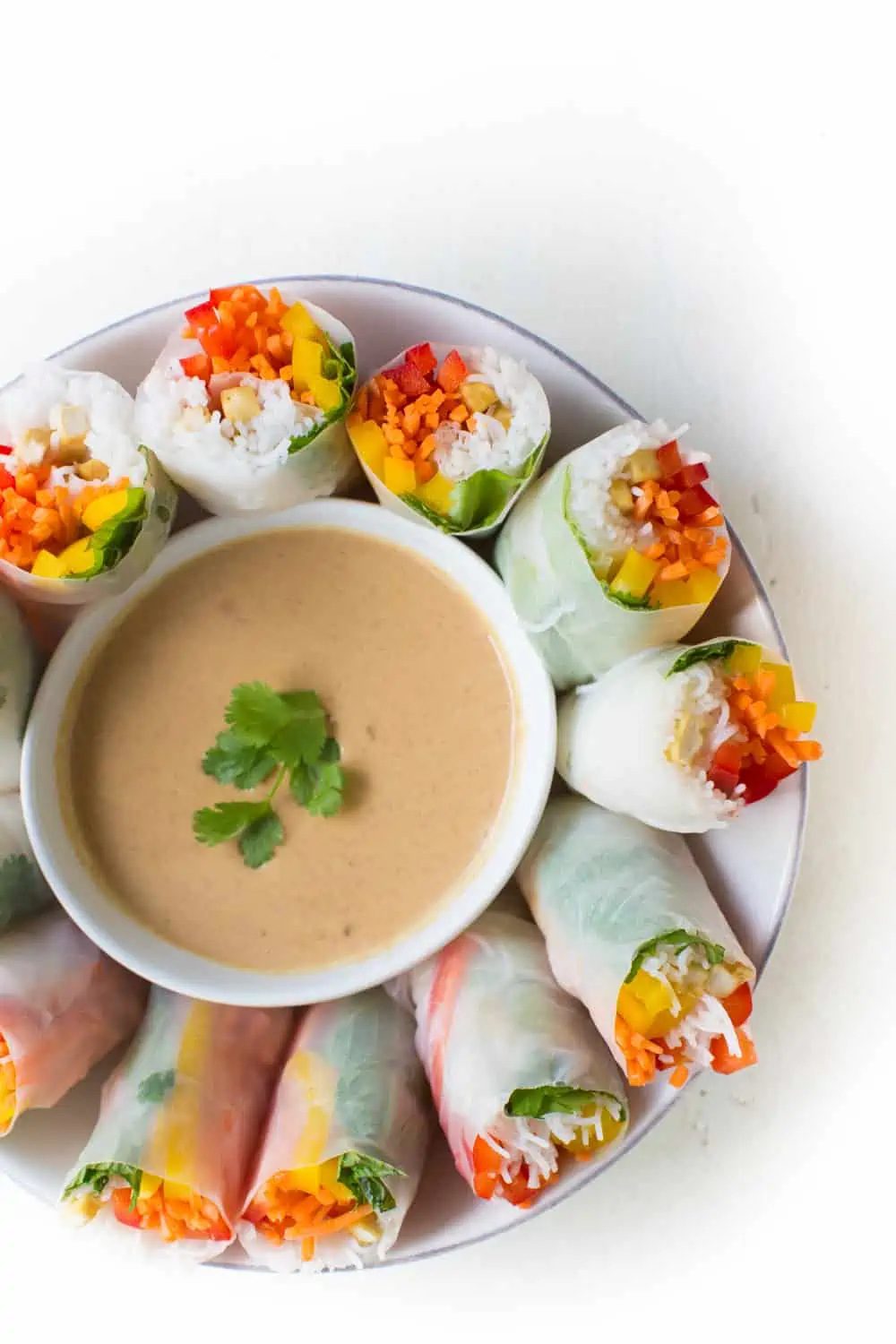 Rice Paper: Let's Get Rollin'
Are you a bit intimidated about the prospect of rolling rice papers? Ok, they look very thin and delicate, but they are a lot more resistant than you think! Just make sure to dip the rice paper in a dish of water for a few seconds to make it slightly wet and wait for them to soften before starting to roll the spring rolls. You'll see how elastic they become.
But, what are they really made off? The ingredients in most rice papers are rice flour (duh!), tapioca flour, salt, and water. So simple, right? Lucky for us, the tapioca makes them glutinous and rollable. These little wraps are so versatile and can be filled with whatever you want.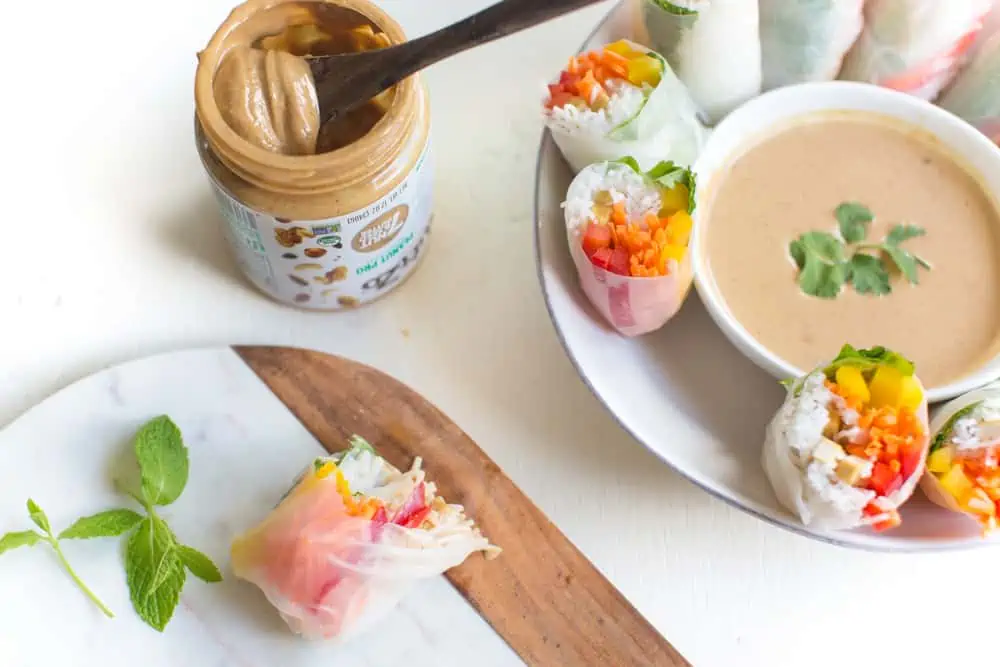 It's All About the Sauce!
This peanut butter dipping sauce is amazing! You can use any peanut butter you'd like (or any nut/seed butter in general). But if you want the healthiest peanut sauce around, I highly recommend NuttZo's Peanut Pro Smooth nut butter. This nut butter is exceptionally creamy plus it's got a twist that makes it extra-healthy.
NuttZo's peanut butter is made with peanuts, of course. But it's also blended with cashews, almonds, brazil nuts, flax seeds, sunflower seeds, hazelnuts, and Celtic sea salt! That's where NuttZo is different. The founder of NuttZo, Danielle, realized that each different type of nut and seed contains its own array of powerful vitamins and minerals. And by blending them together, you get more varied nutrition in each delicious bite. So that's what she did with NuttZo!
When you're picking a nut butter, also keep in mind that not all nut butters are made equal. Some of them contain unnecessary (and unhealthy) things like palm oil and sugar, which hide the delicious taste and undermine the nutritional value of the nuts.
So the nutty flavor of the butter, the salty soy sauce, and the sweetness of the sugar make this sauce beyond tasty! In this case, we used the Nuttzo Peanut Pro Butter, but you could also use their Paleo Power Fuel one. Pick your favorite!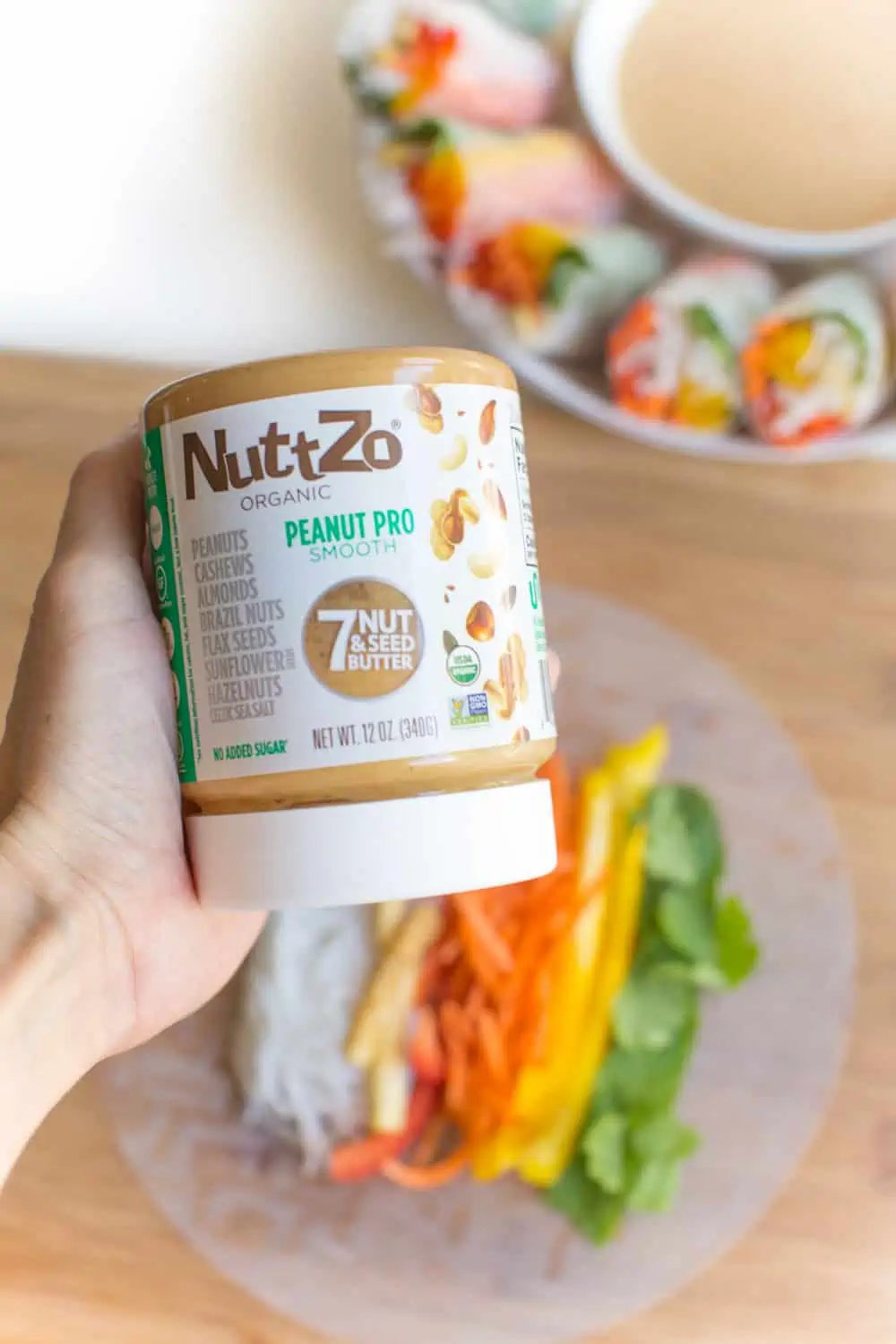 A Perfect Spring and Summer Recipe
Sure, you can enjoy these in the heart of winter or on a crisp fall day. But they're the best when the sun starts showing his face more often, you start peeling off those layers of clothes, and cravings for fresh, crisp foods surface. These rainbow spring rolls are perfect for those warm spring and summer days!
It's no surprise our bodies gravitate towards heavier and warmer foods like chilies, curries, and soups during the autumn/winter time and start asking for more raw foods during the spring and summer time. All those raw veggies give us the vibrant nutrients and hydration we need in those active outdoorsy days.
Rainbow Spring Rolls Go to School!
All parents struggle to decide what on earth will we send our kids for school lunch, right? It's a 5-day-a-week decision and preparation process, and it can get tricky. There are so many days a week you can make them sandwiches!
Thankfully this is one of those recipes that fit the school lunch profile perfectly. No need to heat it up, it's full of healthy veggies, and it's quick to prepare. Every parent's dream!
Wanna make it even cooler? Send some spring rolls in a bento-style school lunch box! A glass or metal container will avoid the use of plastic and will keep the food even fresher. You can place some baking paper on the bottom to prevent the spring rolls from getting soggy and put the dipping sauce in a small dressing jar or tiny container. It doesn't get more eco-friendly than this!
So what kid-approved rainbow fillings would be ideal to fill these spring rolls with?
Spring Roll Filling Options:
Red (red bell pepper, beets)
Orange (carrots, steamed sweet potato)
Yellow (yellow bell pepper)
Green (cucumbers, avocado, cilantro, mint, lettuce, zucchini zoodles)
Purple (purple cabbage)
White (thin rice vermicelli noodles, tofu, bean sprouts, white mushrooms, rice)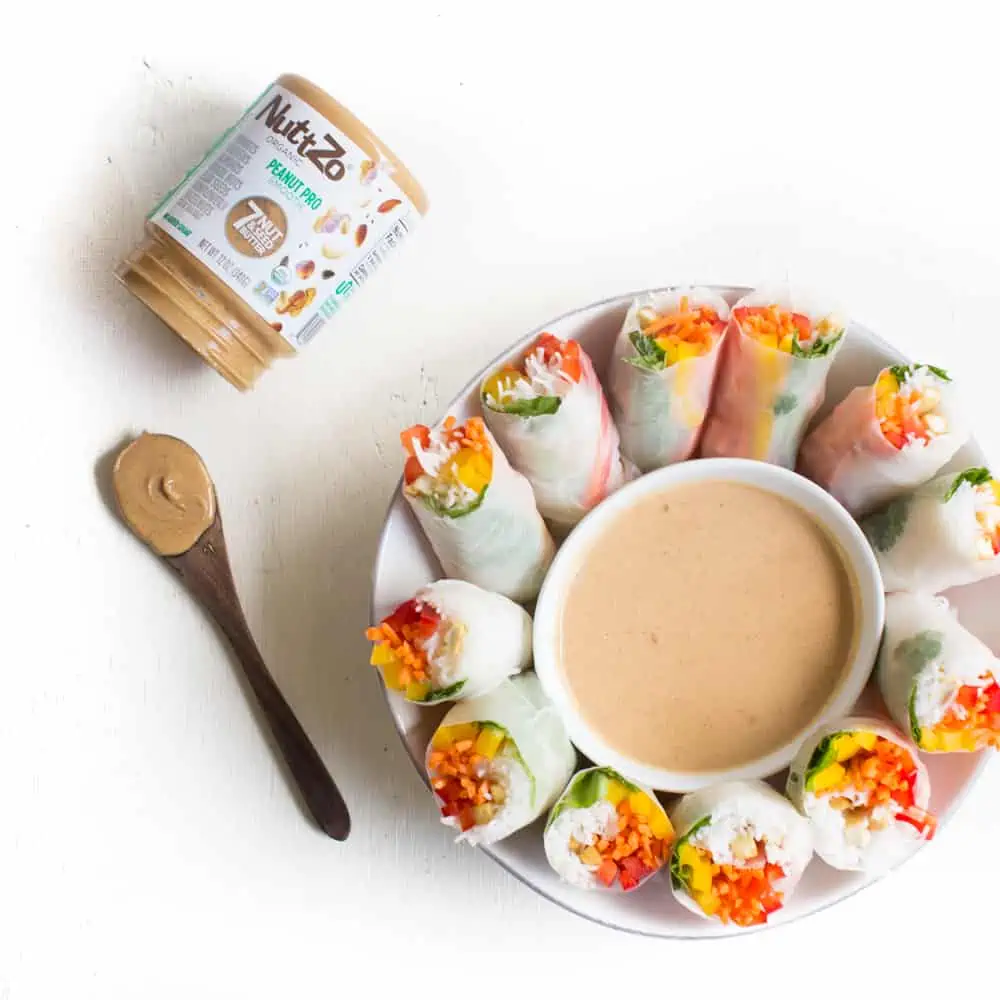 Work-approved Lunch!
Just as these make a perfect school lunch, they are an equally fantastic work lunch idea. You can cut and slice the veggies the night before while you cook the vermicelli noodles. Make the sauce and put in the fridge until the next morning. Roll them up before heading out the door, and you're set!
Eating healthy food in front of others is contagious. As soon as your colleagues start noticing your colorful lunches, they will begin enquiring about your way of eating. Before you know it, they will be asking you for recipes and tips. Isn't that great to spread health and compassion? And you can replicate this everywhere you go! College, work trips, you name it! Leading by example is the way forward.
More Quick Vegan Lunch Ideas
2 ounces vermicelli noodles, ¼ standard package
5 pieces rice paper
½ red bell pepper, sliced lengthwise
1 cup shredded carrots
½ yellow bell pepper, sliced lengthwise
⅓ cup fresh mint leaves
⅓ cup fresh cilantro leaves
¼ block extra-firm tofu, sliced into long thin strips and baked, optional
Cook vermicelli noodles according to package instructions. Drain and rinse under cold water to prevent sticking. Place cooked noodles in a bowl of cold water until ready to use.

If including baked tofu, use ¼ block of extra firm tofu and cut into strips (like super-skinny french fries). You can use the tofu fresh, or bake it to get a crispy finish. If you'd like to bake the tofu, preheat oven to 400 degrees and place tofu strips on a non-stick baking sheet tossed with vegetable oil. Bake for 8 minutes, flip, and bake for an additional 5 minutes or until you achieve your desired crispiness.

Prepare your veggies and clear a clean, flat work surface (such as a large cutting board or smooth countertop).

Fill a large bowl or plate with warm water and bring it to your spring roll assembly area. Dip each piece of rice paper into the warm water for approximately 4 seconds to soften and place it onto your work surface. Don't leave it in the water too long or it will tear easily. It will continue to soften out of the water over time.

Assemble the fillings in the center of the rice paper (as pictured), lined up in order by color. For instance: vermicelli noodles, tofu, red bell pepper slices, shredded carrots, yellow bell pepper slices, mint leaves, and cilantro. Leave at least 1.5 inches on all four sides for wrapping.

To wrap the spring roll, fold the sides over the fillings. Then, starting from the vermicelli noodle end, use both hands to fold the rice paper over the noodles and begin to tightly roll the rice paper and fillings into a tube-shaped spring roll.

Slice each roll in half using a sharp knife, serve with

our peanut dipping sauce

, and enjoy immediately!
The rice paper will dry out and get hard over time, so these are best enjoyed fresh, within a few hours of preparing them. If you will be storing them for a longer period in the fridge, wrap the rolls tightly in plastic wrap so the rolls don't dry out.
Calories: 93kcal | Carbohydrates: 19g | Protein: 3g | Fat: 1g | Saturated Fat: 0.1g | Polyunsaturated Fat: 0.4g | Monounsaturated Fat: 0.1g | Sodium: 73mg | Potassium: 237mg | Fiber: 2g | Sugar: 2g | Vitamin A: 6091IU | Vitamin C: 50mg | Calcium: 34mg | Iron: 1mg
This recipe was generously supported by our friends at NuttZo, makers of insanely creamy, nutritious, and delicious nut butter! Recipe and photos by Michelle Cehn, copyright of World of Vegan™, all rights reserved. Please note that this article contains affiliate links. Many thanks to NuttZo for supporting our work at World of Vegan!