We're excited to kick off our annual Plant-Based Meal Plan Challenge on January 5th! Join us for one week, two weeks, or a full month. You'll save money, build health habits, and perfect the art of vegan meal planning.
The new year is right around the corner, and with it comes a fresh opportunity to start new and kickstart the year with healthier eating habits. Many are resolving to try plant-based living for the first time for Veganuary while others are simply committing to eat more whole foods. Either way, we're here to support you and show that healthy vegan eating is not only doable, but it doesn't need to be expensive. In fact, eating a healthy whole-foods based diet can be one of the most affordable ways to eat! 
Many of the Cheapest Foods Are Vegan!
Think about it: rice, beans, lentils, potatoes, bananas, carrots, kale—these are some of the most affordable foods out there. And when prepared well, flavored with nutrient-packed spices and cooked to perfection, they can be incredibly satisfying. Plus, when you fuel your body with healthy foods, you'll feel better and prevent costly medical bills down the road!
That's why we (Michelle and Toni) created one-week meal plans that show how to hack the supermarket so that you can get an entire week's worth of food for a grocery bill as low as $25 (that's just $1.20 per meal).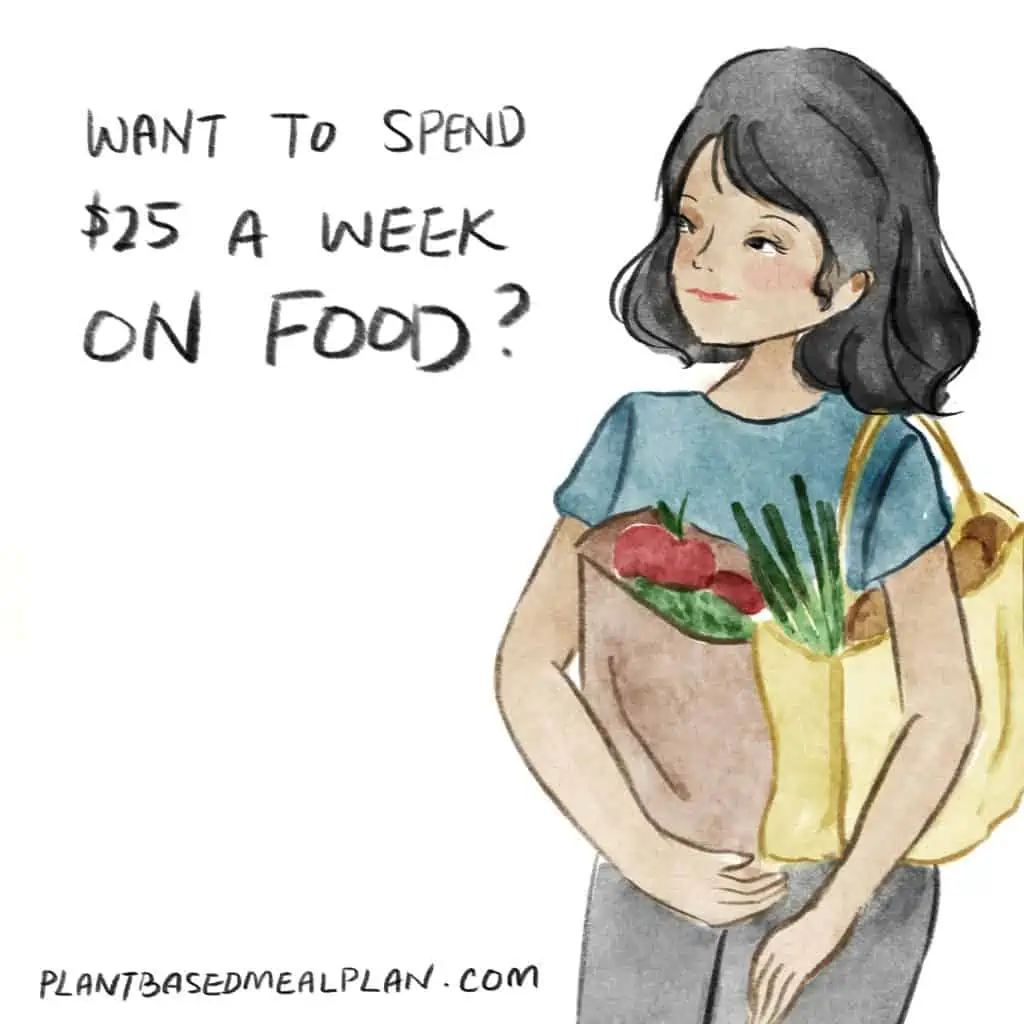 Join the Plant-Bases Meal Planning Challenge!
You can follow our meal plans any time you'd like, of course, for the New Year we're hosting a special Plant-Based on a Budget Meal Plan Challenge starting on January 5th, to give you a designated opportunity to focus on healthful, home-cooked, budget-friendly vegan eating with support, community, and tools to succeed.
We'll be by your side (virtually) throughout your vegan meal planning adventure, providing a lot of support through our Facebook group exclusive to our meal planning family. If you're looking to build healthier habits in the new year, join us!
How Can I Join The Vegan Meal Plan Challenge?
1. Decide whether you'd like to join the party for 1 week, 2 weeks, 3 weeks, or one month, and get the meal plan(s) at: plantbasedmealplan.com
2. Mark your calendar for January 5th—that's when we're starting!
3. Use your new meal plans and shopping lists to prepare, and get ready to start cooking on the 5th!
4. Join the community! Once you purchase your meal plan(s), you'll receive an invitation to join our Facebook support group, where you can ask questions, share photos, and find community among hundreds of others.
Can't start on January 5th? Don't worry! You can get the meal plans and jump in whenever you're ready. But if you can start on the 5th, we'll all be be cooking the same meals on the same says, which is really fun!
So…what are you waiting for? Ask a friend to join this journey with you, and get your meal plans.
P.S. Need more motivation? See what just 7 days of plant-based eating using our meal plans did for this man's health in our 15-minute mini-documentary.
Vegan Meal Ideas