Keeping your teeth clean, fresh, and free of disease is a top priority. Preventing tooth decay and expensive dental bills is a very important form of self-care, and the best way you can avoid both is to keep up with your everyday dental hygiene routine. This vegan and cruelty-free toothpaste guide is the foundation for fighting cavities and getting your gums in tip top shape.
If you're ready to make firm friends with floss, clean in-between after eating your greens, and savor slow, no-rush brush sessions, we can get started!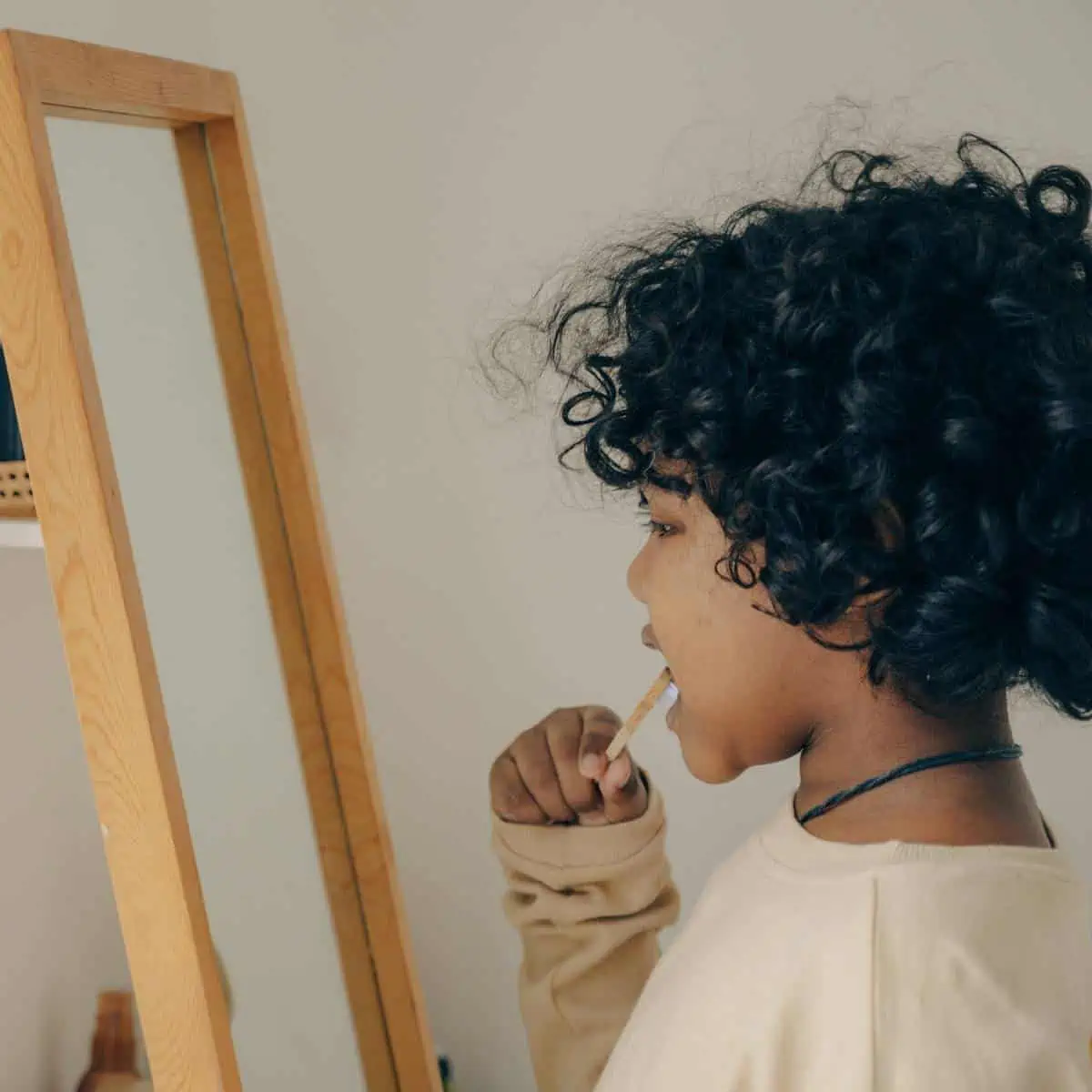 What to Consider When Buying Toothpaste
It can be a little terrifying to come upon a huge wall of toothpaste options and not know where to start. You can easily become overwhelmed and finally give in by buying the first tube that catches your eye. To avoid that feeling of frustration, take a quick look at this list and write down the top 1-3 things that are important to you. Here are some factors to think about.
Is The Toothpaste Cruelty-free and Vegan?
Cruelty-free means that the product was produced without the use of animal testing or experimentation (also known as vivisection) at any time. Vegan means that the products were made without any ingredients that come from an animal, including animal derivatives (such as honey and beeswax) and coloring agents or dyes (which can be made from crushed beetles).
Fluoride Vs. Fluoride-Free Toothpaste
Do you want your toothpaste to include fluoride or would you like to avoid it? These helpful videos by Dr. Greger of NutritionFacts.org may be worth watching.
Does it Contain Baking Soda?
As we mentioned above, baking soda has it's positive and negative qualities. If you're sensitive to baking soda on your body, you're probably also sensitive in your mouth because the tissues are thinner and more easily irritated. Make the best choice for your own needs.
Sodium Laurel Sulfate (SLS)
A powerful cleanser and detergent, this ingredient is one of the top mouth irritants. It's generally used to create the "foamy" bubbles you feel while brushing, but it's not necessary for a good clean. Many people have uncomfortable reactions to SLS, such as canker sores, peeling tissues, dry mouth, bad breath, and sometimes bleeding of the gums.
Eco-Friendliness Factor
Is the low or no-waste packaging important to you? Would you rather have a recyclable or compostable product? Now that there are more options on the market, you can choose tablets in a glass jar, paper pouch, or recyclable metal tube instead of the traditional plastic tube. It's totally up to you.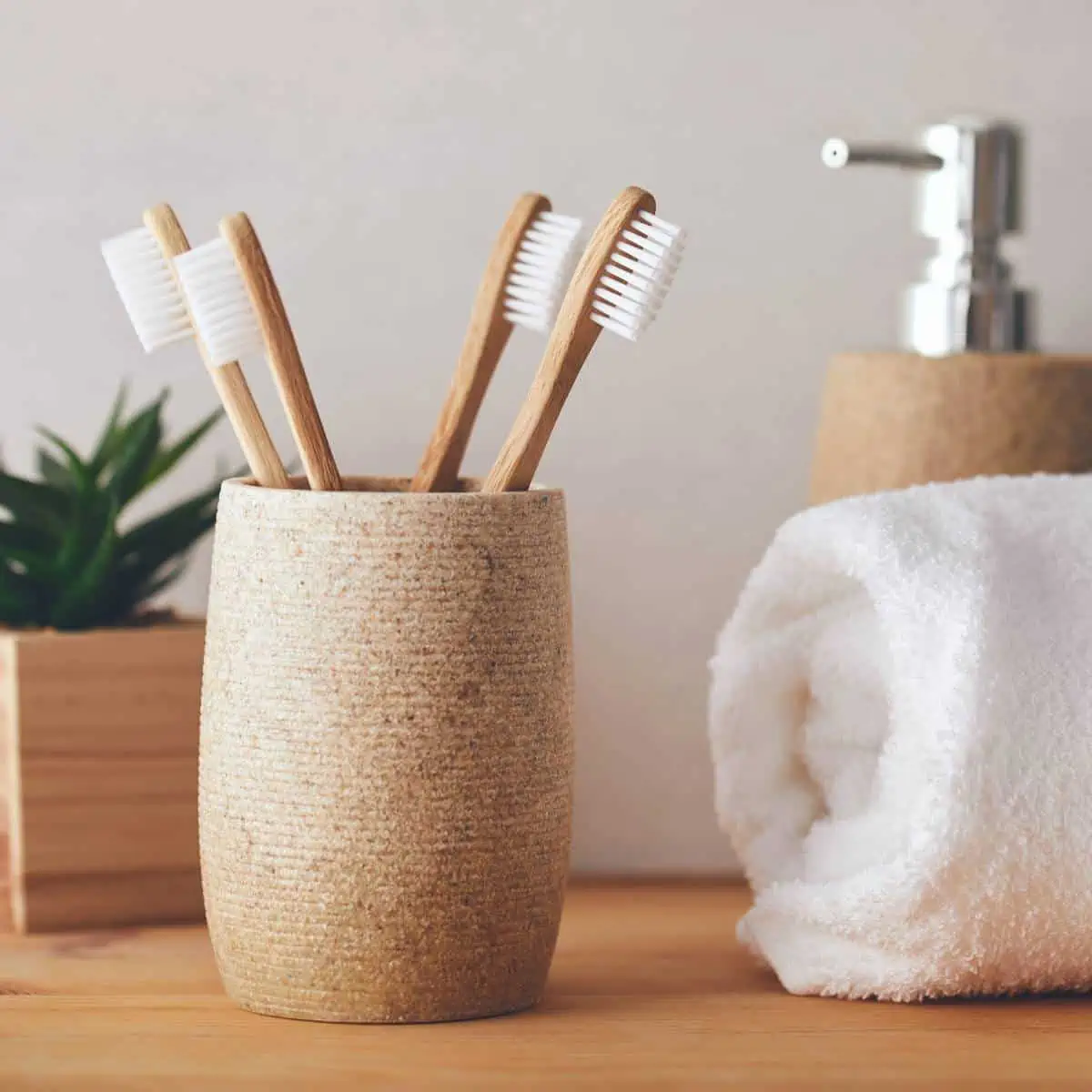 Is Toothpaste Vegan?
For the most part, toothpaste is inherently vegan-friendly. But, beware! There are some a number of dubious dental substances that can sneak into the mix. In order for a toothpaste to tempting enough to try, keep clear of the following ingredients.
Bee Products – In many all-natural toothpaste and oral care lines, there are a number of ingredients that are derived from bees such as honey, propolis, bee pollen, and beeswax. For vegans, these products are a no-go because they still exploit animals.
Colors and Flavorings – Occasionally, the artificial colors in toothpaste can be sourced from animals (especially red dyes, which are usually created from crushed insects). Finally, sometimes vague mentions of "natural flavoring" or added colors can come from animal products. If you want to be sure, you can contact the manufacturer to find the source of these ingredients.
Glycerin – Unless the company specifically labels their glycerin as vegetable-based, it's sometimes very difficult to discover if the source is of animal or vegetable origin. You can always contact the company to get more information, but you might want to assume it's animal-based unless you can confirm otherwise.
If you include toothbrushes under this category, you'll also want to watch out for animal hair bristles. This is becoming less and less common (thank goodness!), but many companies create "natural" toothbrushes using stiff hair from animals, like wild boar. Eek!
To get a refresher on animal-derived ingredients, check out this article by PETA.
How to Find Vegan Toothpaste
The best way to find vegan toothpaste out in the wild (without this tooth-rific guide) is to check for the leaping bunny (certified cruelty-free) and/or PETA bunny (certified cruelty-free and vegan) symbols on the outside of the packaging. That's the quickest and easiest way to grab your next teeth-cleaning tube or pearly-whites container.
Another obvious option is to take a good, long look at the ingredients. Many dental hygiene brands will clearly state whether they are cruelty-free or vegan because it's a super helpful selling point at the moment. That way, you might also discover other ingredients that you may want to avoid (like baking soda, SLS, or fluoride) or wish to include (such as xylitol, a yummy flavor, or calcium carbonate).
It's also easier to find vegan toothpaste if you visit a natural health food store or grocery store where you know they offer many vegan-friendly products such as Whole Foods, Target, Trader Joe's, or Costco. Some stores like this sell their own brand which can be vegan-friendly and cruelty-free, as well as a much better price.
Why is Baking Soda in Toothpaste?
Baking soda is considered a mild, inexpensive abrasive for teeth. This extra scrubbing action has been said to take off the harmful biofilm that causes plaque and excess bacteria. It's also been used to help whiten and brighten the surface of the teeth and as a fluoride alternative.
The downsides to using baking soda (both alone or in toothpaste) is its unpleasant taste and the fact that it may damage your tooth enamel if used too often or too vigorously. If you're sensitive to abrasives (even natural ones), baking soda may cause the tissues of your mouth and gums to become inflamed.
It might be worth looking into, in order to see if baking soda is a good fit for you or an ingredient you may want to avoid.
100% Vegan & Cruelty-Free Toothpaste Brands
Not sure where to start? No fear, friends! Here is a curated list of the current vegan and cruelty-free toothpaste brands. There are many great choices for your choppers and even more new products coming out every year.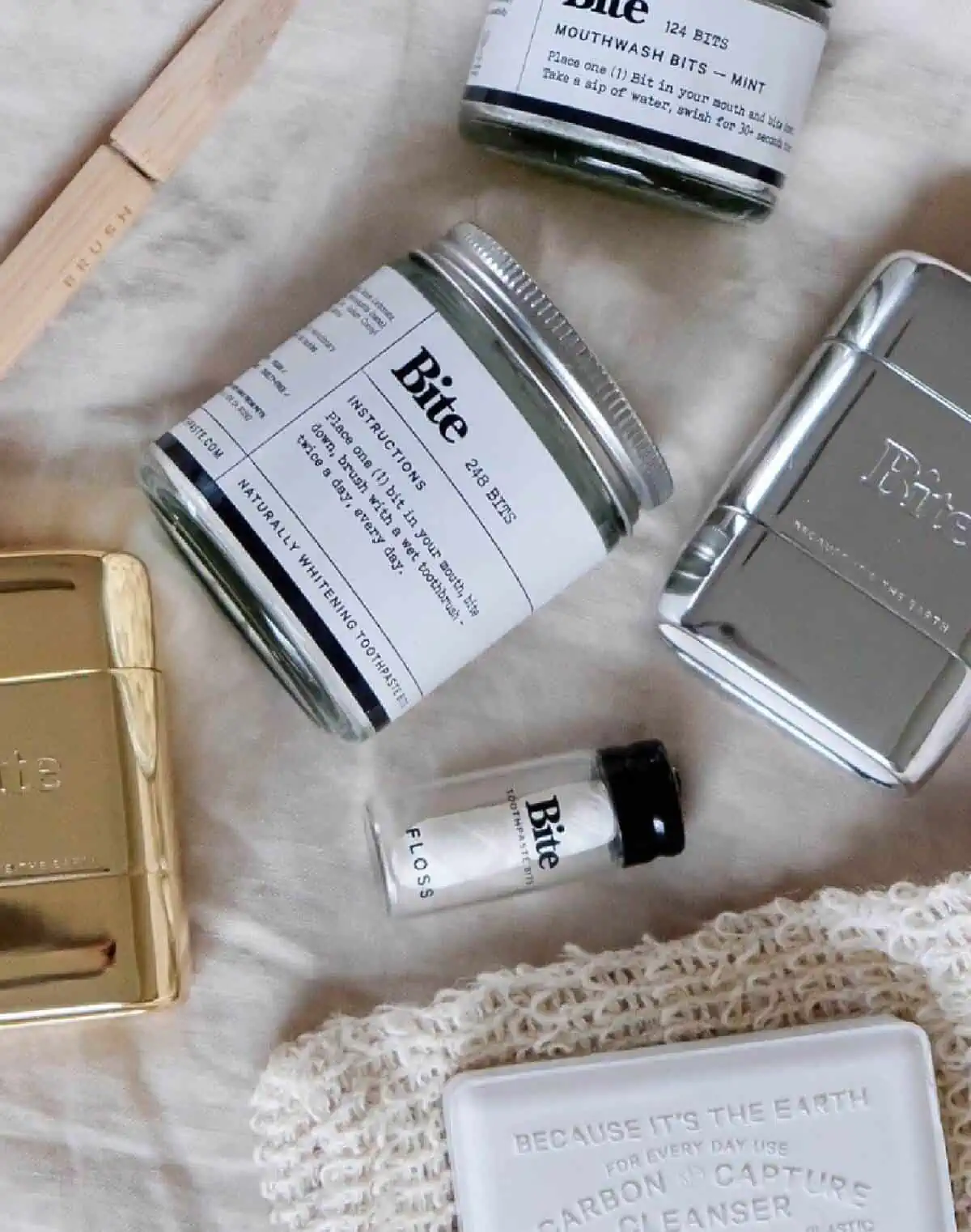 Cruelty-Free Toothpaste Brands With Some Vegan Options
While not all of these brands have fully vegan products, they do sell easily accessible, affordable, and vegan-friendly alternatives. Give these a go!
Mouthwash That's Cruelty-Free and Vegan
Sometimes you just need a swish! A fresh-feeling mouth in the morning (or at night) is a wonderful way to start the day.
Using mouthwash can also assist in removing small particles of food and harmful bacteria from between your teeth and around your gums. The ingredients in mouthwash can help to reduce plaque and gingivitis, as well as clear away acids from the surface of your teeth. Your mouth will will adore a refreshing rinse!
Vegan Floss
The perfect complement to brushing! Many dentists tell us that, in some cases, flossing might be even more important than brushing. But, doing both is always the best choice. In the past, most flosses were made with beeswax. Luckily, there are more and more choices for vegan-friendly floss on the market today – yay! For the best brands of plant-based floss, make sure to check out our Vegan Floss guide.
NOTE: Tom's of Maine anti-plaque floss and Desert Essence floss both contains beeswax, so they are not vegan-friendly.
Vegan Toothpaste Deep-Dive
Looking for the best vegan and cruelty-free toothpaste brands? Here is a closer look at a few popular brands. This list includes eco-friendly, family-friendly, and budget-friendly options.
An Ayruvedic-based toothpaste brand that relies on the effectiveness of neem, peelu, and other herbal ingredients. This formula is gentle, but powerful. Fluoride-free, GMO-free, alcohol-free, and without any artificial sweeteners. Available in five different flavors, plus travel sizes and an eco-friendly jar option.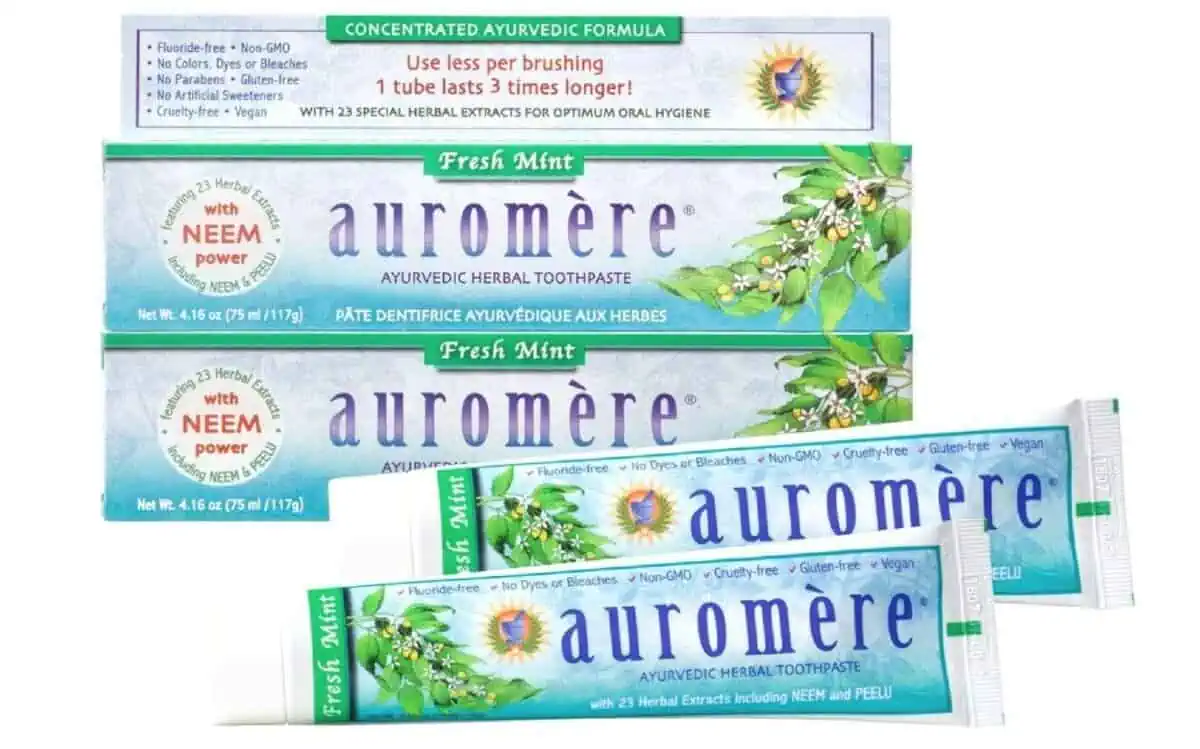 This non-toxic, safe-for-the-environment company offers fluoride-free, sulfate-free, and gluten-free toothpaste options with seven types and flavors, including two award-winning kids' toothpastes (Strawberry and Berrylicious). They also include Tooth Whitening, Anti-Plaque, Sensitivity Relief, and Healthy Gums kits in their oral care line.
A Certified B-Corp, eco-friendly company that sells organic tooth paste, tooth tablets, and tooth powder, as well as mouthwash tablets, toothbrushes, and tongue brushes. All of their product packaging is recyclable or compostable and the ingredients are 99% natural.
An easy-to-find brand, Hello's dental care products are free of gluten, triclosan, parabens, dyes, microbeads, and artificial sweeteners/flavors. Their toothpaste and mouthwash is affordable and family-friendly. Hello offers both fluoride and fluoride-free options, as well as on-the-go travel tabs and kid-friendly flavors.
Award-winning toothpaste tablets that are 100% plastic-free. Their toothpaste tabs are non-GMO with clean ingredients, SLS-free, fluoride-free, and non-chalky. Huppy uses nano-hydroxyapatite, instead of fluoride, to remineralize the enamel of your teeth. Eco-friendly and refillable.
This family-friendly brand has fluoride-free options for everyone! Besides the eight fruity and fun organic flavors, their toothpaste is SLS-free, BPA-free, and free of artificial flavors and colors. Jack N' Jill also has a flavorless choice and is easily available online and in stores like Amazon, Target, and Walmart.
Developed by dentists, Risewell's products are 100% safe, natural, and formulated with hydroxyapatite, a mineral fluoride alternative. Their line is sulfate-free, SLS-free, paraben-free, gluten-free, and made without artificial colors, flavors, or preservatives. They even have a Cake Batter flavor for the kids!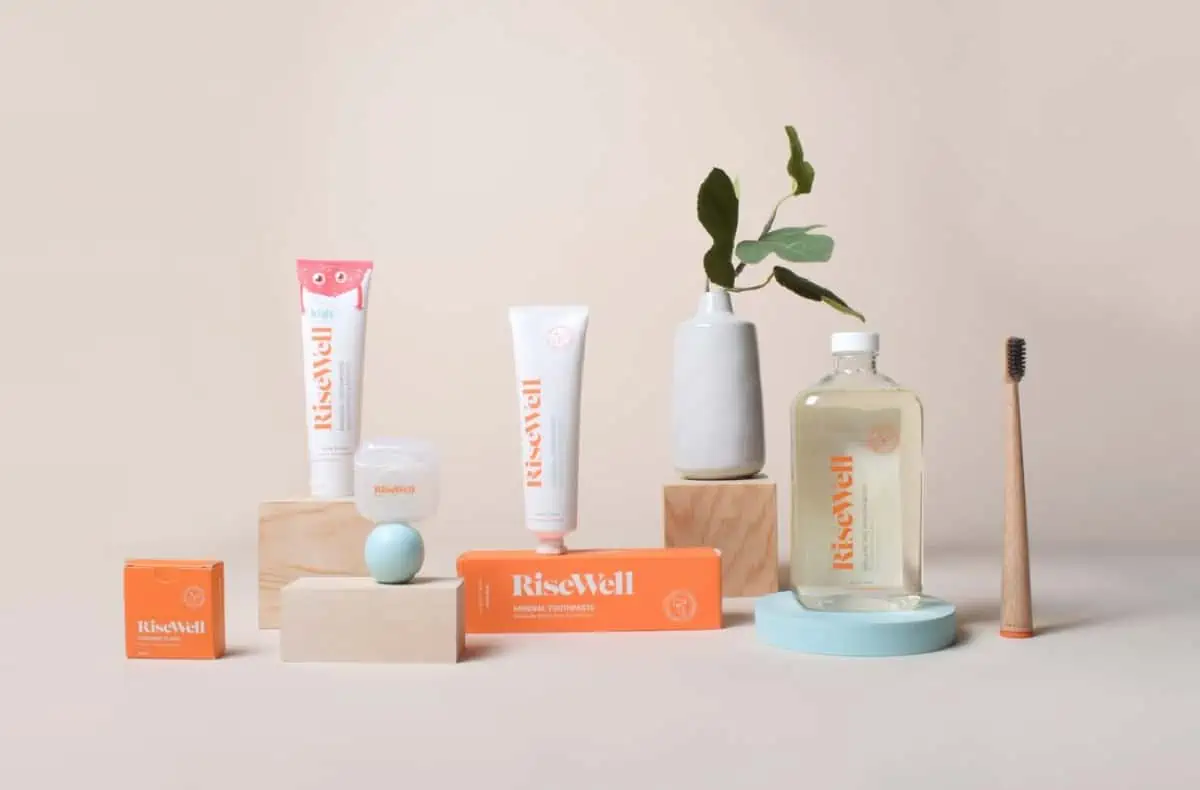 Vegan Toothpaste FAQs
Is Crest cruelty-free and vegan?
Crest is NOT cruelty-free. They allow all of their products to be tested on animals. Though some of their dental products might be free of animal by-products, they are not considered vegan-friendly.
Does Crest test on animals?
Yes, they do. Their parent company, Proctor & Gamble, is also not cruelty-free and regularly approves testing on animals.
Is Colgate cruelty free and vegan?
Yes and no. Though the majority of Colgate's dental line is vegan-friendly, they are not a cruelty-free company. You can read more about Colgate's vegan oral care products here.
Does Colgate test on animals?
Yes, they do still test on animals, since they allow their toothpaste and products to be sold on Mainland China.
Let's Talk About Tabs and Textured Powders
If you're eager to be more eco-friendly and wondering how you can reduce your plastic waste, these options deserve careful consideration. Both tablets and powders conserve space, are terrific to travel with, and (if you're lucky) come in compostable or recyclable packaging. Totally worth a try!
Alternatives to Toothpaste – Natural Options
While mainstream, dentist-approved are the safest and possibly best option for cleaning teeth, there are a number of tried-and-true, natural alternatives that have been used for decades or even longer. Here are the most popular and most effective of the bunch.
What About Coconut Oil for Teeth?
Coconut oil used for teeth cleaning (also referred to as oil pulling) is another natural option, though you may want to read and watch this series by Dr. Michael Greger, to learn the pros and cons before committing.
Instead of coconut-oil pulling, you may wish to consider adding Dr. Tung's Oil Pulling concentrate to a sesame or sunflower base and using along with their stainless steel tongue cleaner. This tongue cleaner removes harmful bacteria and debris from the tongue, creating much fresher breath overall. Between the two, they can "…strengthen teeth and gums, help with mouth dryness and other oral conditions."
What is Bentonite Toothpaste?
Bentonite is an absorbent, calcium-based clay that is said to extract heavy metals and toxins from around your teeth and gums. Many also claim that this earthy clay is good for remineralizing your teeth. Although there is a natural lead content to bentonite clay, it is not even close to dangerous levels in toothpaste. Especially since you won't be ingesting it. A popular, FDA-approved brand of bentonite toothpaste is Redmond Earthpaste, which is vegan, cruelty-free, and gluten-free.
Best Vegan Baby Toothpaste Brands
Adult teeth aren't the only pearly whites we're passionate about. Baby's first teeth might be even more important for a firm foundation in dental health. Here's a list of the most popular vegan/vegan-friendly and cruelty-free brands at the moment:
Take care of your teeth and gums and you'll be glad you did. May the floss be with you, Friends!
Discover More Vegan Health and Beauty
If you are captivated by the latest vegan makeup trends, you'll love our Best Vegan Makeup Brands guide. We share the most up-to-date cruelty-free and vegan brands on the market today. Yay! Taking care of your skin is also super important, so make sure to check out these Vegan Skincare and Vegan Sunscreen guides, which can help to keep your skin supple and soft without any animal products or experimentation.
Your hair will never have a dull moment if you consult this Cruelty-Free & Vegan Shampoo & Conditioner directory. We guarantee you'll find at least one new product to promptly pop into your shower routine. Also think about keeping your lips plump and beautiful by adding animal-free Luscious Vegan Lip Balm Brands to your life.
Searching for even more ways to update your bathroom routine? Our Best Vegan Deodorants line up is an excellent resource if you're considering replacing your current deodorant. Or, if you enjoy DIY projects, you'll have tons of fun creating your own vegan deodorant paste. Please feel free to share your favorites in the comments below. We're always excited to try new vegan beauty and skincare products!