Needs a colorful pick-me-up? This recipe is for you. This highlighter-pink dragonfruit smoothie bowl is guaranteed to brighten your day, the natural way.
An especially simple recipe, this pitaya bowl is made with just 5 ingredients—pitaya, banana, mangoes, cashews, and water—and it looks just as beautiful as it tastes.
Where Can I Find Pitaya?
Pitaya (also known as dragonfruit) is cultivated in tropical regions but today you can find it at many mainstream grocery stores. There are multiple types of dragonfruit—one has white flesh, and the other has the hot pink flesh we're looking for (called "red pitaya").
Several brands (like Pitaya Plus and Pitaya Foods) now sell frozen pitaya in the freezer aisle of supermarkets. I've seen it sold as convenient smoothie packets (frozen blended pink pitaya with no other added ingredients), as frozen chunks, and even as a freeze-dried powder (which is fun to add to oatmeal, frosting and anything else you want to color pink).
Without further ado, Let's go!
Servings 1 large bowl (or 2 small bowls)
7 ounces (or two 100-gram packets of Pitaya Plus smoothie packs) )
1 frozen ripe banana, broken into chunks
1 fresh ripe banana, broken into chunks
½ cup frozen mango
¼ cup raw cashews
¼ cup water
Your favorite toppings
In a food processor (or high-powered blender with a tamper) add all ingredients and blend until smooth.

Decorate with your favorite toppings and enjoy immediately.
Some of my favorite toppings include: shredded coconut, goji berries, cacao nibs, fresh berries, sliced fruit, chopped nuts, and nut butters.
Calories: 557kcal | Carbohydrates: 94g | Protein: 9g | Fat: 18g | Saturated Fat: 3g | Polyunsaturated Fat: 3g | Monounsaturated Fat: 8g | Sodium: 129mg | Potassium: 1196mg | Fiber: 11g | Sugar: 58g | Vitamin A: 1044IU | Vitamin C: 51mg | Calcium: 35mg | Iron: 6mg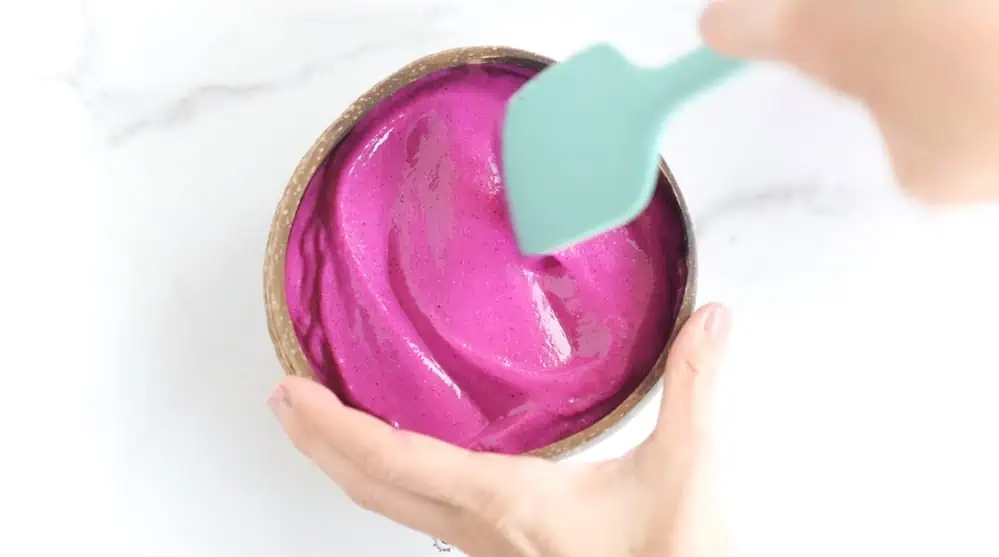 Have Fun With Toppings!
Smoothie bowls are notoriously fun to spruce up with toppings. You can add dried fruit for some added chewiness, chopped nuts and cacao nibs for crunch, and fresh berries for little burst of flavor.
Here are some of our favorite add-ons:
Golden Berries (like tart raisins)
Fresh Berries
Sliced Fruit
Nut Butter
Let's Decorate!
If you want to get really creative with your dragonfruit bowl, and make it extra-Instagram-worthy, add some cut-out shapes or letters. You can send a message with your smoothie bowl using these mini alphabet cookie cutters, or turn smoothie-making into play time for the kiddos with these adorable mini shapes. 
Simply slice any sturdy fruit into thin slices and use your mini cookie cutters! Apples and fresh pitaya work great, as do persimmons.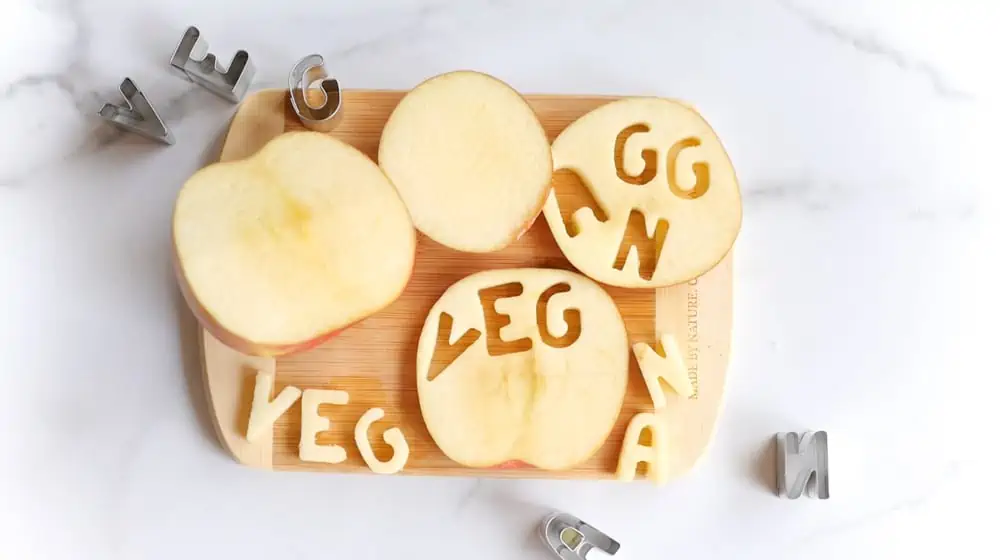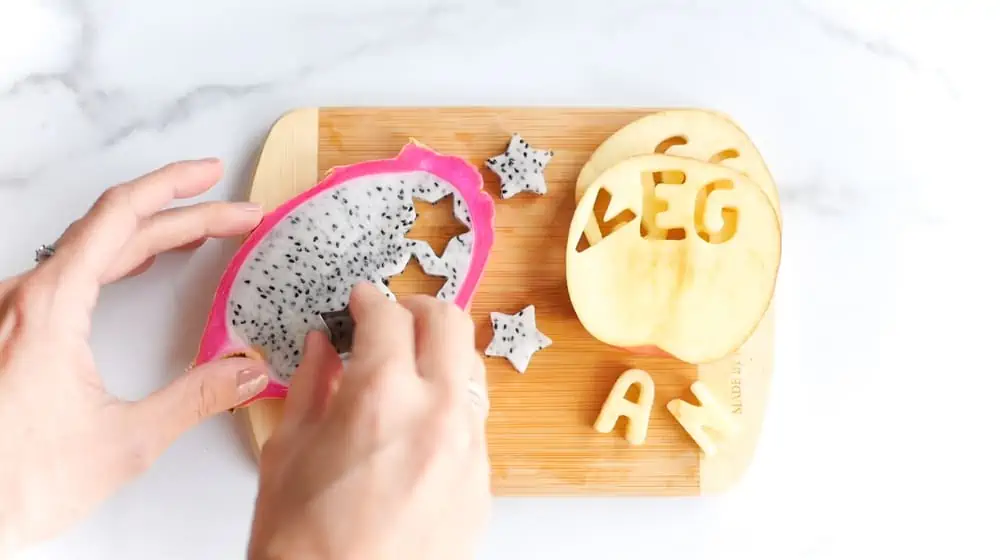 We Eat With Our Eyes First
We eat with our eyes first. Think that's a load of vegan baloney? Or just a trendy saying inspired by the age of Instagram-worthy food decorated to perfection? No, friends. This aphorism is not only supported by a growing body of cognitive science research, but the origin of the phrase goes way back. The saying "we eat first with our eyes" dates back to the 1st century.
Think about it. Someone hands you a smoothie that's poop brown. It's filled with delicious strawberries, blueberries, bananas, mangoes, and spinach, but it looks like actual crap-in-a-jar. No matter how good it tastes, it's hard to get past the unpleasant sludgy look of it, and that ruins the experience a bit.
That's why you learn in Smoothie Making 101 never to combine contrasting colored fruits (and/or veggies)!
Stick reds and yellows in one smoothie, and blues and greens and purples in another, and you'll get gorgeous fruit shakes that looks delightful. But throw spinach in your strawberry smoothie and you're heading straight to Brownville.
Beautiful Food Tastes Better!
Sometimes you get lucky enough to have extra-special ingredients to play with. Like frozen pitaya that carries with it a stunning hot pink hue!
When you're working with pink dragonfruit, it's even more important to use the right color combinations to get a magical looking result that you (and your kiddos, and your friends) can't wait to dive into. There's nothing more disappointing than throwing your prized pitaya into a blender and losing the color completely.
That's the inspiration behind this bowl—to create a smoothie bowl that's drop-dead gorgeous and also so flavorful, creamy, and delish that you'll be licking the bowl to make sure not a drop is wasted. I hope you give it a try and love it as much as I do!
Fancy More Colorful Vegan Recipes?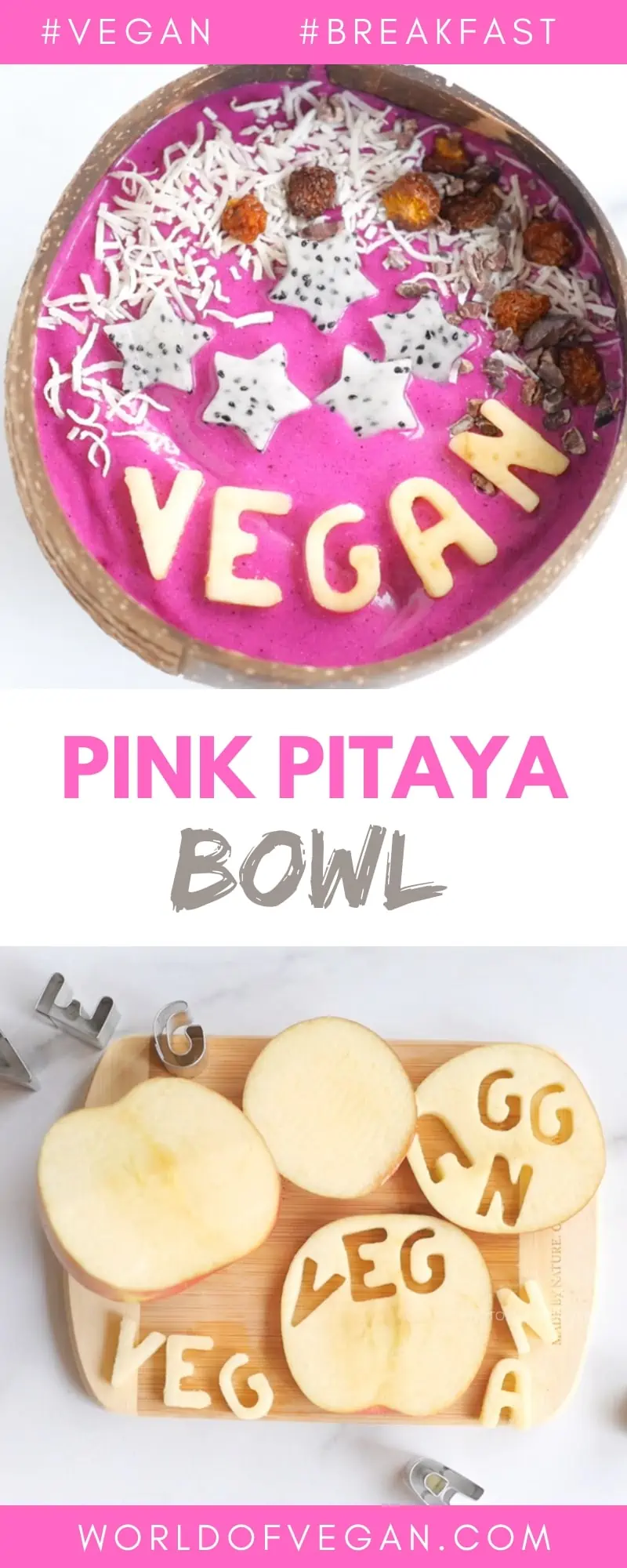 Dragonfruit smoothie bowl recipe and photos by Michelle Cehn, copyright of World of Vegan™, all rights reserved. Please note that this article contains affiliate links that support our work at World of Vegan!