Welcome to our vegan guide to TGI Friday's! In this article you'll find everything that's vegan, vegetarian, plant-based, and dairy-free on the menu at this popular American restaurant. From the Beyond Burger to the vegan fries, chips and salsa to the steamed broccoli, you can certainly enjoy a basic meal as a vegan at TGI Friday's.
When the end of a rough week rolls around, you might be dying for a delightful distraction by having dinner out instead of in. Sometimes stress can cause the very thought of deciding what to make for a meal more than you can bear. With that in mind, our guide to the TGI Fridays vegan options will certainly lend a helping hand.
While TGI Fridays is not known for its fresh and healthy food options, we're relieved to reveal that they do have menu items for non-meat eaters. If you don't mind just bearing with the basics, you'll be fine. A vegan-friendly burger, fries, and a drink are more than some fast food restaurants feature.
There's even a pasta and veggies variation for those who would rather forgo the fried foods. Not a super impressive option, but it's still a serious cause for consideration—especially if you're a plain pasta lover.
If you're invested in the TGI Fridays vibes, keep reading!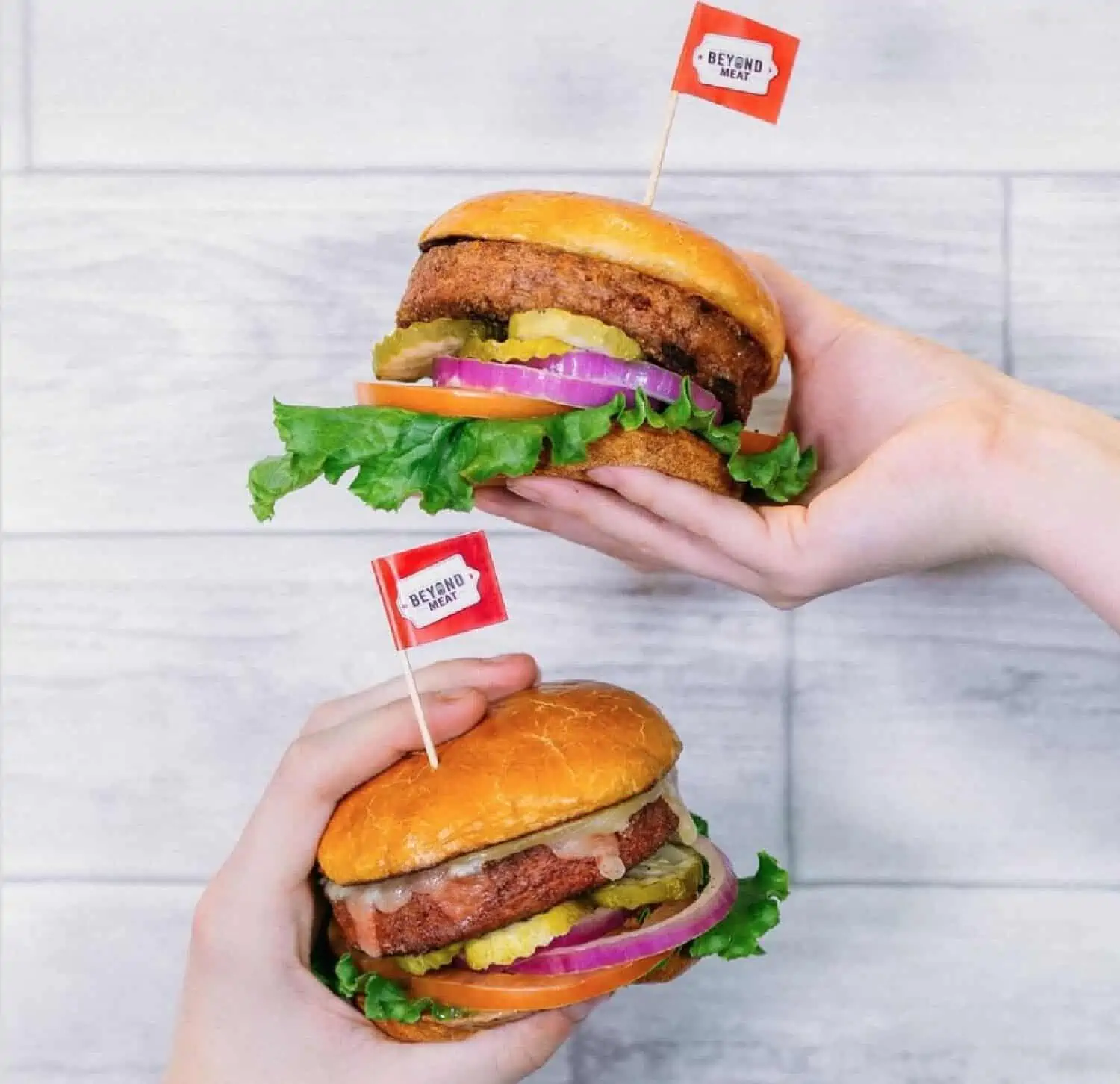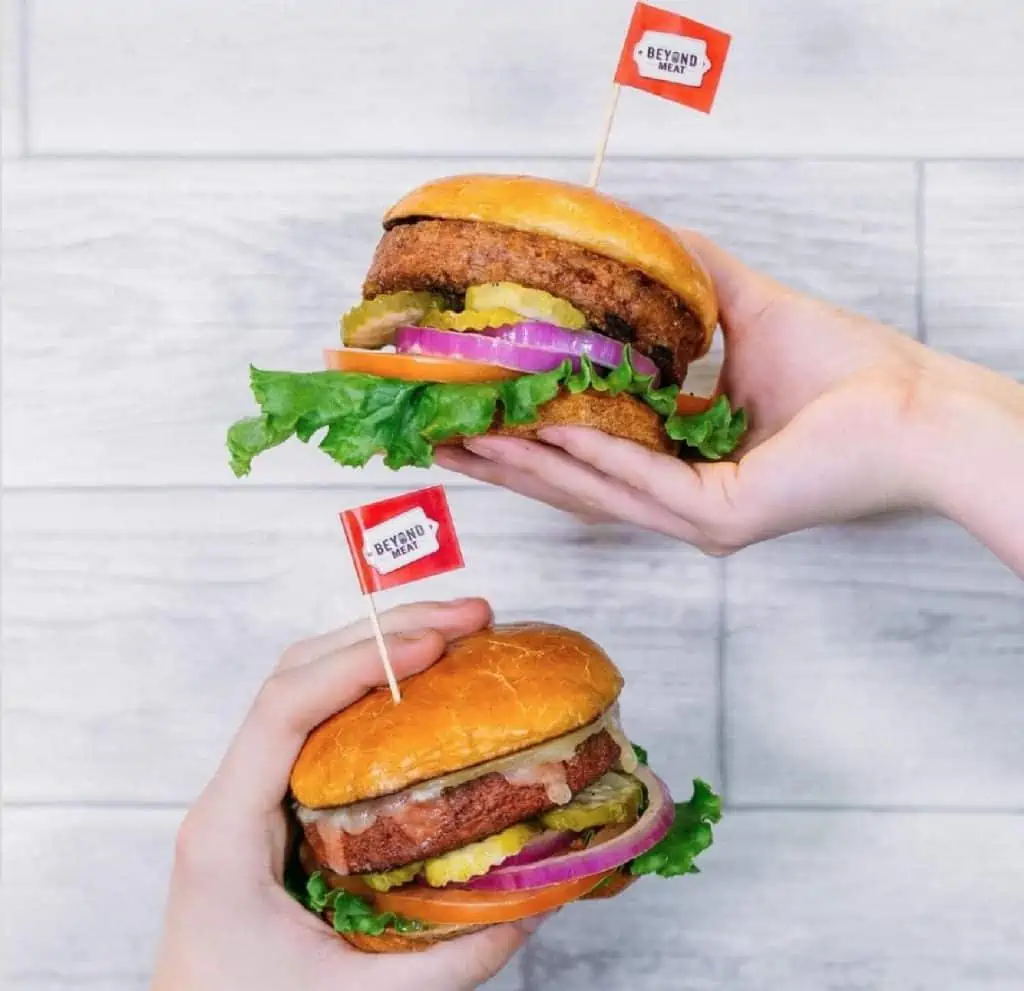 There aren't a lot of options at this end-of-the-week eatery. Though this fact that makes it easier to grab your grub, it's such a shame to have so few selections at a sit-down restaurant. But at least you can pick up a TGI Friday's veggie burger with some simple swaps! Here's what we suggest:
Buy a Beyond Meat Burger (no cheese or sauce) and add a bun (or just lettuce)
Fill it out with fries
Find out if they have fresh fruit available
Choose a cooling drink
OR
Ask for an appetizer (chips and salsa)
Plead for pasta with marinara sauce
Bulk it up with steamed broccoli
Sweeten the deal with a slushie or strawberry lemonade.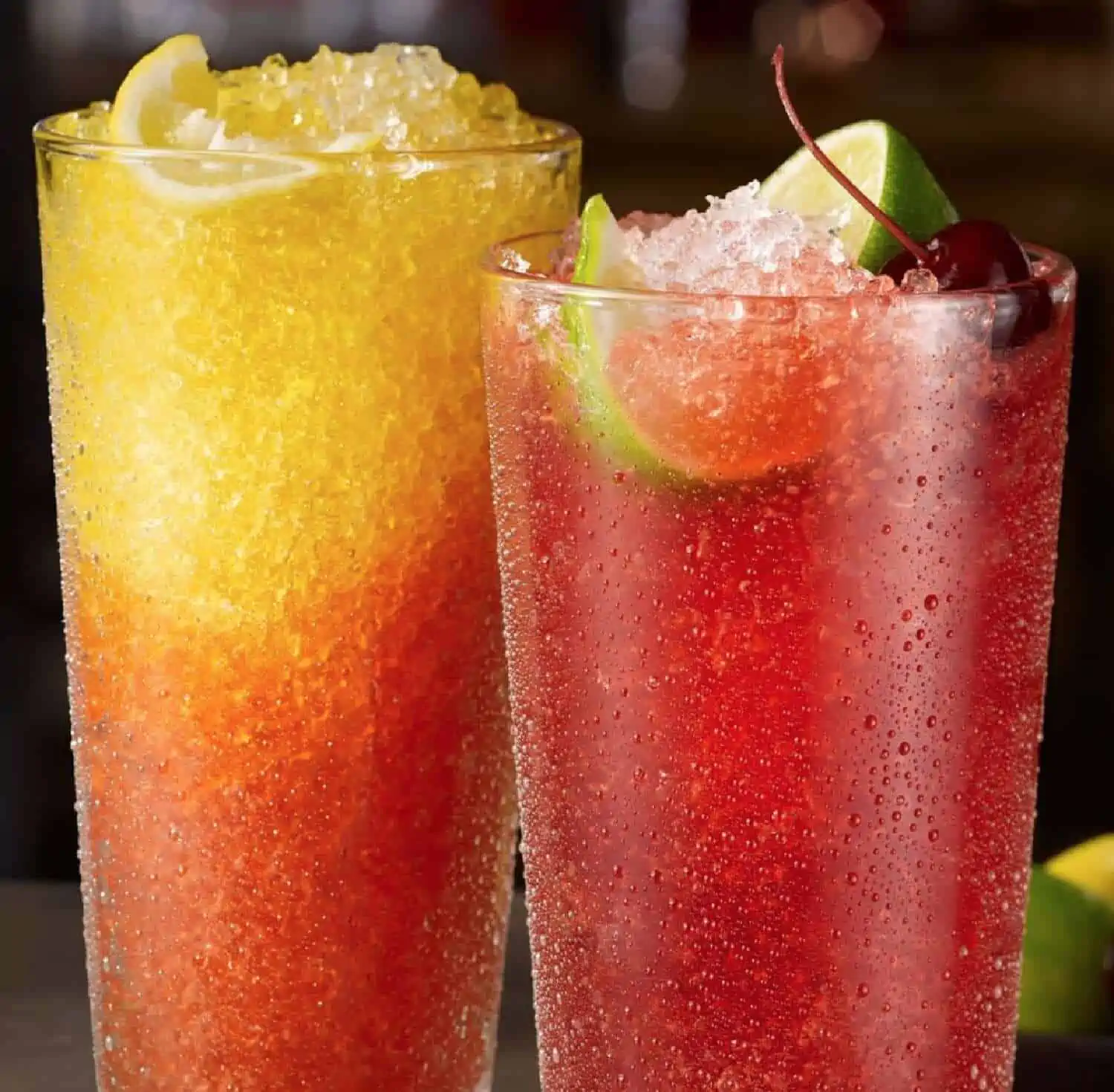 Or any combination of the two. It's totally up to you.
What's Vegan at TGI Friday's?
Entrees:
Beyond Meat Patty (vegan if you ask for no cheese or sauce)
Pasta with Marinara Sauce (on the kids' menu section)
Vegan Buns:
Regular or Challah bun
Green Style (just lettuce)
Appetizers:
Sides:
Fries
Steamed Broccoli (not the lemon-butter version)
Dressings and Condiments:
Avocado (if available)
Ketchup
Mustard
Sesame Citrus Salad Dressing
Note: Both the avocado and salad dressing might not be available at all locations. Don't forget to ask the server before ordering.
Dessert:
Fresh Fruit (not always offered on the menu)
Vegan-Friendly TGI Fridays Drinks:
Coca-Cola Fountain Drinks
Dasani
Gold Peak Iced Teas
Fruit-Flavored Teas
Perrier
Signature Fruit Slushies
Strawberry Lemonade and Regular Lemonade
Note: They also offer vegan alcoholic beverages at most locations. Check Barnivore.com to make sure the option you're choosing is vegan-friendly.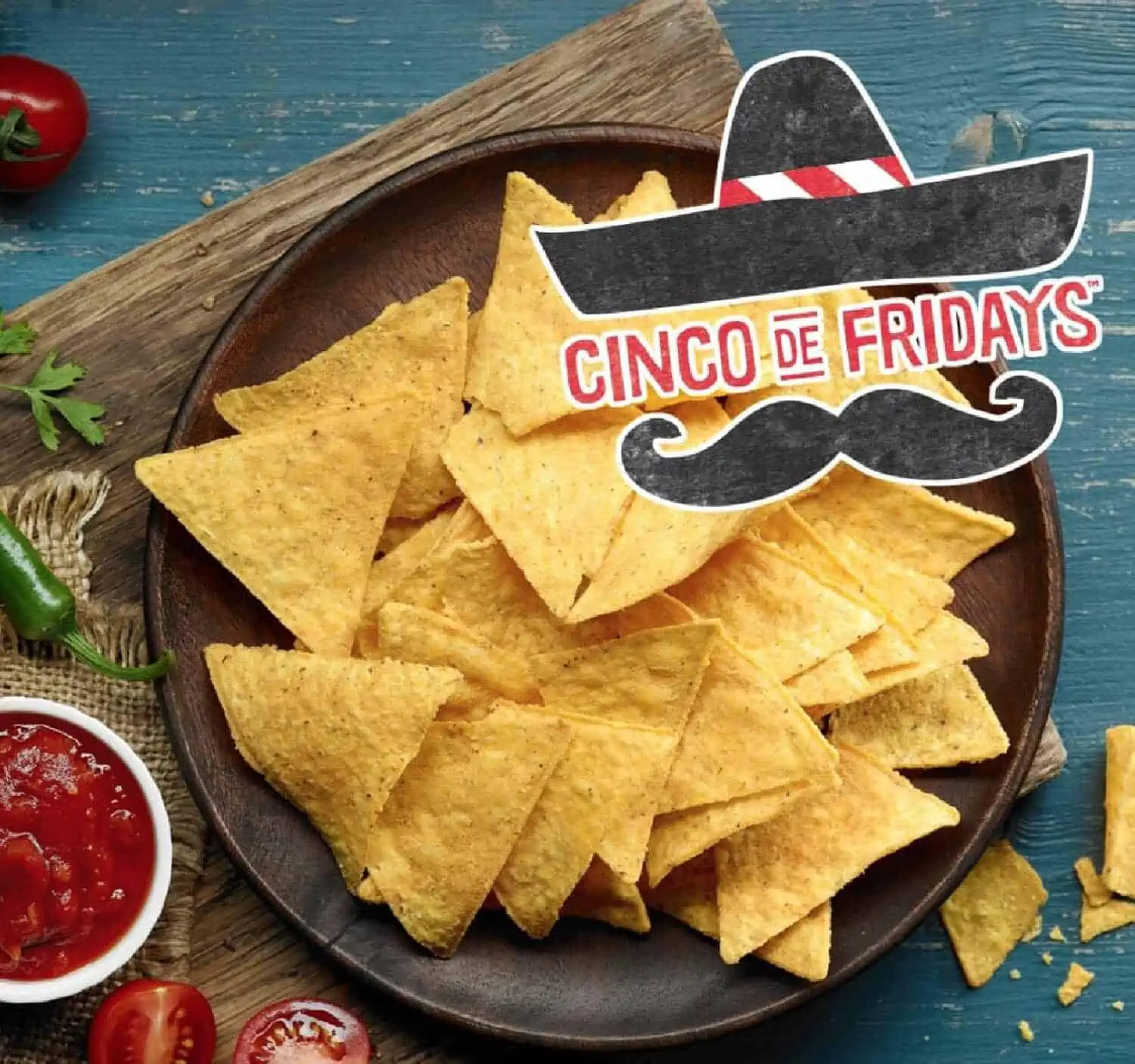 NOT Vegan at TGI Friday's:
Breadsticks (spread with butter)
Coleslaw (made with eggs)
Desserts (all contain eggs and milk)
Gluten-Free Bun (contains eggs)
Jasmine Rice (made with butter)
Most Salad Dressings (contain milk, eggs, or cheese)
Onion Rings (made with milk and eggs in the batter)
NOTE: The chips and fries are both made in the same frying oil as the animal products. If you don't feel comfortable with this, you might want to skip on these items.
House Side Salad (ask for no cheese, croutons, or breadstick)
Warm Pretzels (ask for no bacon, butter, or cheese)
Historic Moments in TGI Friday's Vegan History
2018 – The TGI Friday's vegan burger comes to life when the Beyond Meat Burger is launched on all menus in the US.
Helpful Hints When Ordering Vegan at TGI Friday's
Browse the TGI Fridays menu before ordering.
If ordering TGI Fridays online or through a delivery service, make sure you clearly specify any substitutions you would like. Especially concerning meat and butter. If you're worried that your request may not be honored (or seen by the server at TGI Fridays), it might be a better idea to go there directly to order.
Check out their Nutritional Information and Allergen Menu PDFs to make sure that you are purchasing a vegan-friendly item. The menu items offered at TGI Fridays do change and the informational charts seem to be updated regularly.
Looking for the TGI Friday's gluten-free menu? This Allergen Menu will help you find the best gluten-free options.
Be careful when new and exciting seasonal products are offered at TGI Fridays. Double-check the allergens and ingredients to make sure the item is vegan before purchasing.
Bring your own dessert (we have lots of vegan dessert recipes for you to try!)
Fun Facts about TGI Fridays
The restaurant started in New York City in 1965 so that more single women and men could meet and mingle over meals.
In its first year, they made one million dollars!
Almost every location has a rowing scull (to represent teamwork) and a propeller (to signify going forward) for success.
TGI Fridays was portrayed in the movie "Cocktail" with Tom Cruise.
Alan Shepard, the first American in space, attended the grand opening of TGI Fridays Houston Galleria on July 25th, 1973.
The restaurant was the first to offer fun, non-alcoholic drinks in 1984, in order to celebrate the Summer Olympics and the participants who could not drink alcohol at the time of training.
Creating a Kinder and More Accessible TGI Fridays
We fancy that TGI Fridays will quickly step up with more plant-based options since there is so much competition from other burger restaurants. Adding another vegan burger, a full-sized salad with vegan-friendly dressing, and more than three sides would certainly be nice. In the meantime, we can always write to, call, or contact the managers of any location to make our requests.
What are your favorite items to order at TGI Fridays as a vegan? Let us know on Facebook, Twitter, and Instagram!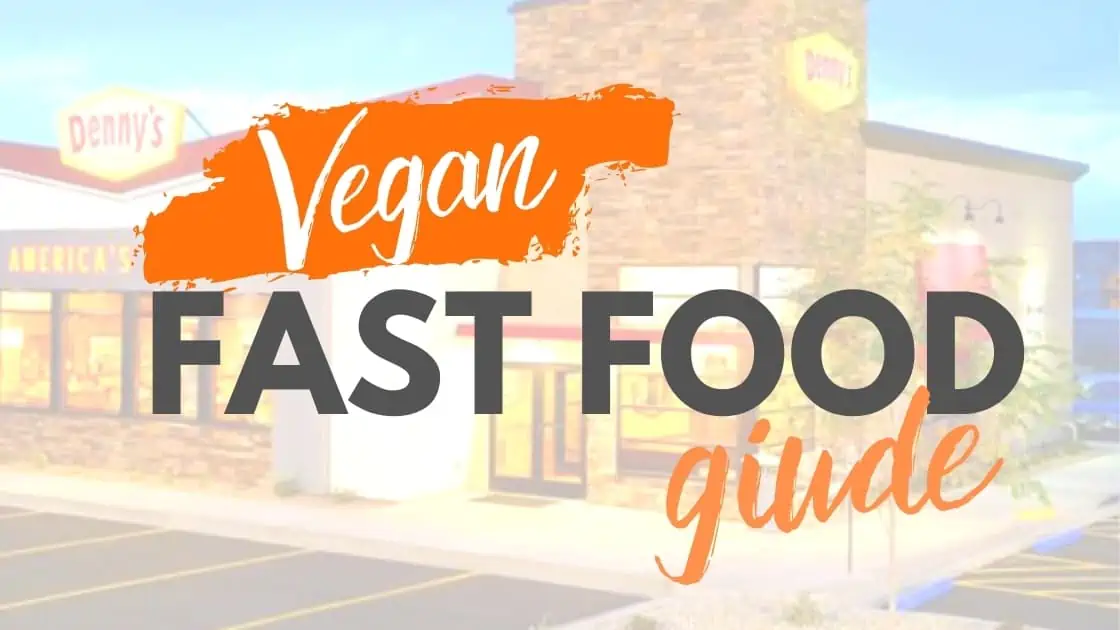 How to Order Vegan at Other Fast Food Chains:
We have a whole list of vegan fast food guides to help you find the best options at each location. Take a quick peek if you're in need of a on-the-go vegan meal on a road trip or with fast food-loving friends!
Have you found any other options to be veganizable? Did you find something amazing that we missed? Let us know by tagging #worldofvegan and sharing your favorite vegan-at-TGI-Fridays creations with all of us!
This TGIF vegan article is not sponsored and we are in no way affiliated with TGI Fridays. At the time of this article, the foods mentioned above are vegan. Since restaurants constantly update their menus and add or take away items, please keep this in mind when ordering your food. There may be new items that are vegan at TGI Fridays and not listed or items listed here as vegan, which are no longer vegan. Take care to double-check.
This guide to navigating the TGI Fridays vegan menu was written by Gina House and edited by Michelle Cehn and Amanda Meth. Please note that this article may contain affiliate links which means shopping through them really helps to support World of Vegan!