You once had to arm yourself with information (and maybe even a few apples!) before heading out to eat a vegan meal at Applebee's. But no longer. With an easy-to-veganize Impossible Burger on the menu and plenty of vegan sides, you can get your fill, along with your brews and booze, while dining with your non-vegan friends or family.
Ready to navigate the menu? This guide will show you exactly what you can order that's vegan at Applebee's.
Quick Ordering Guide for Vegans
Although plant-based meal options seem to be few and far between, we can try and get creative when it comes to vegan menu choices. Make the most out of eating vegan at Applebee's by planning ahead and having an idea of what you're in the mood to munch on. Here are a few veganized meal combinations you can order:
Impossible Burger: Veganize their Impossible burger by asking for no cheese. The brioche bun is vegan, along with all the other fixings!
Simple Salad: Choose a Salad Bowl with no cheese, croutons, or breadstick. Pick a vegan dressing (listed below). Add either fries or red-skinned potatoes for a more filling meal.
You Can't Beat a Bowl: Irresist-A-Bowl (Southwest) without the meat, and with a vegan-friendly dressing. This is filling and tasty on its own, but diners can also request extra veggies, bean & corn salsa, and guacamole. The Chimichurri sauce is vegan—yay!
Serve up the Sides: Baked potato (or two!) with no butter or an order of red skin potatoes along with a house salad (no cheese or croutons, add a vegan dressing) and some steamed broccoli, grilled onions, and a side of guacamole.
Our list of vegan options below will help to sort through the selections and give you a fairly decent dining experience.
Applebee's Vegan Appetizers:
Brew Pub Pretzels (without beer cheese dip or honey mustard — add marinara or guacamole instead!)
Chips & Salsa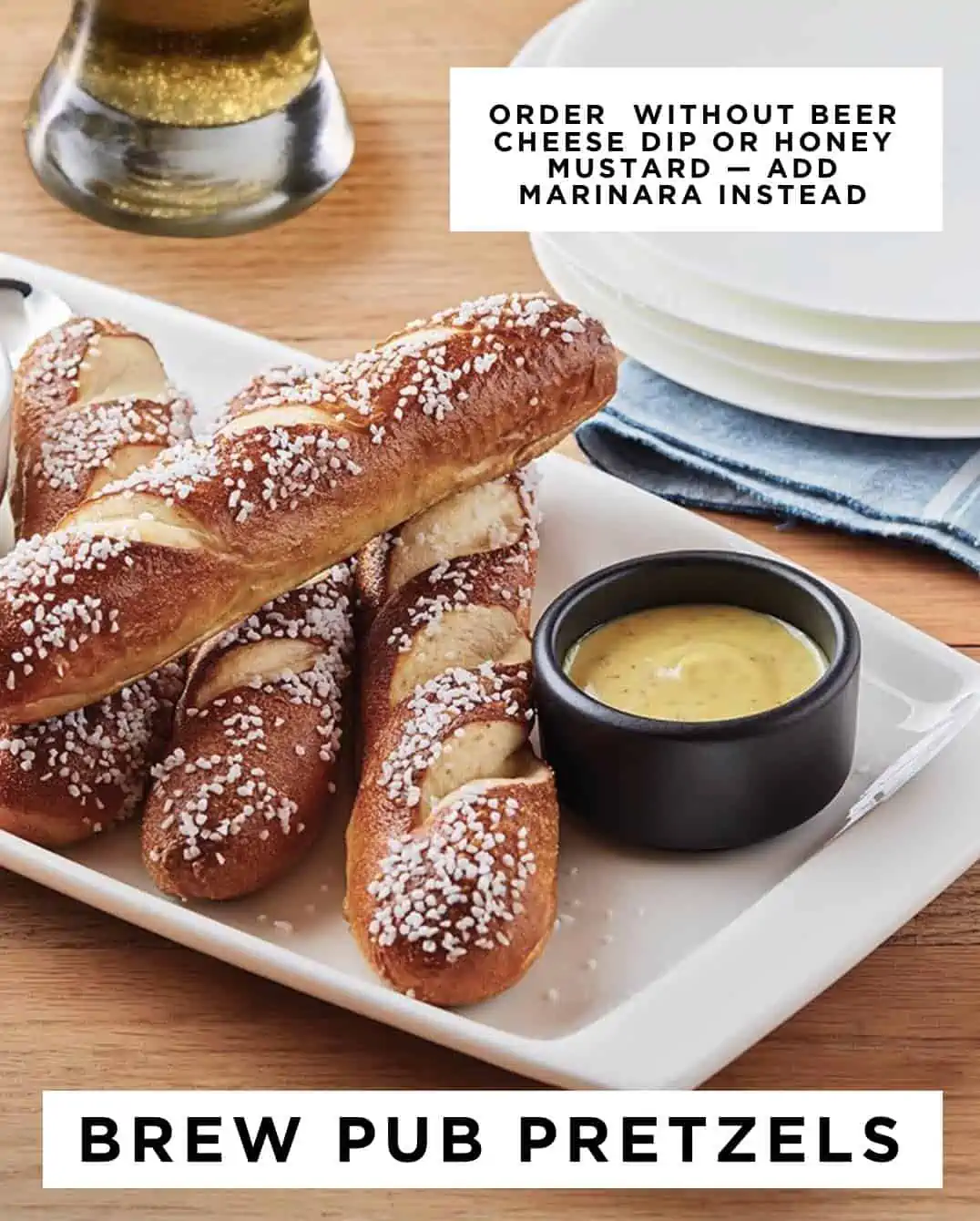 Vegan Burger:
Impossible Burger – with brioche bun (or lettuce cup), no cheese.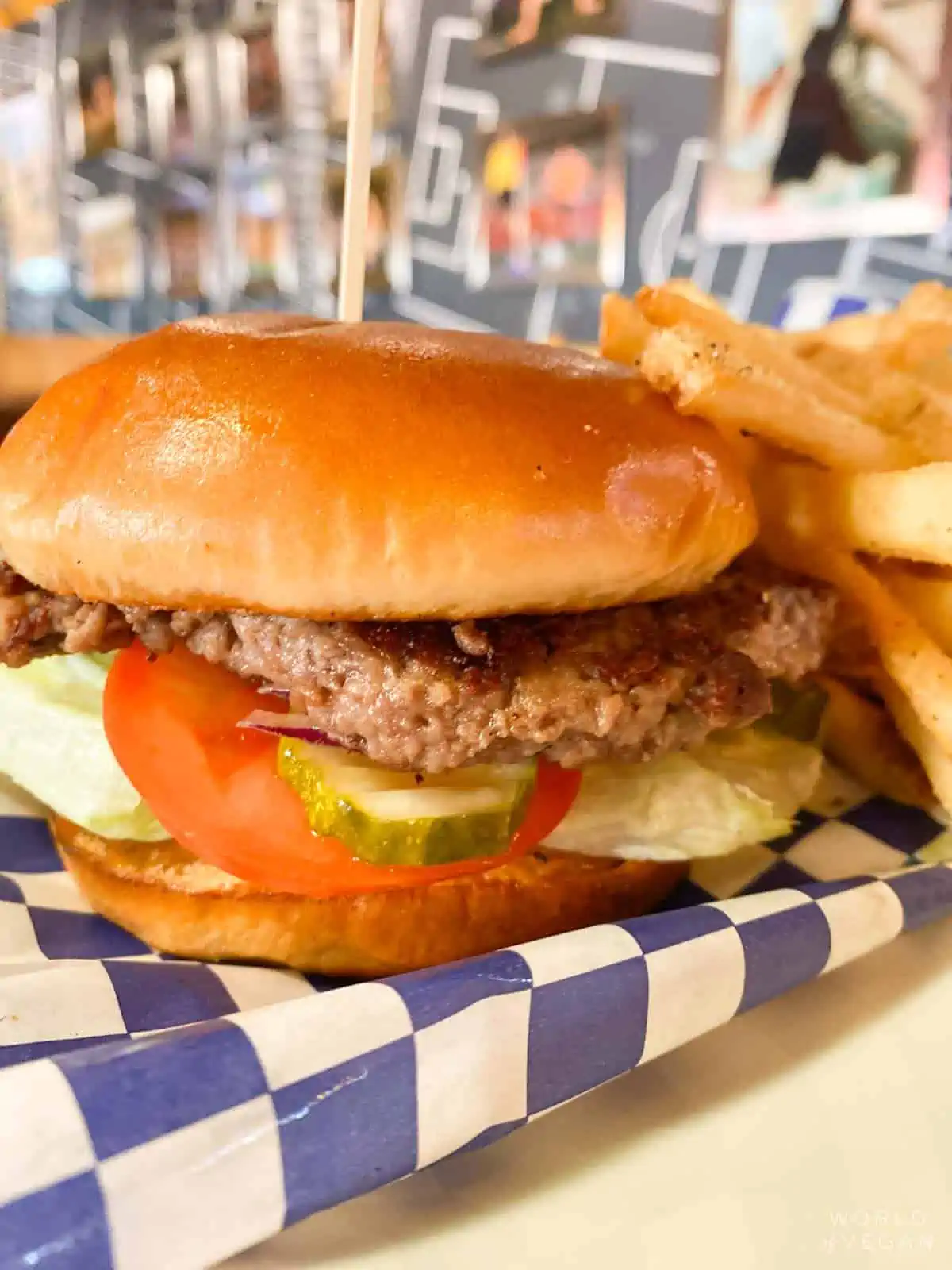 Vegan Salads:
House Salad (with no cheese or croutons, add vegan-friendly dressing)
Strawberry Balsamic Chicken Salad (no chicken or breadstick)
Plant-Based Bowls:
Southwest Irresist-a-Bowl (with no meat, add a vegan-friendly dressing)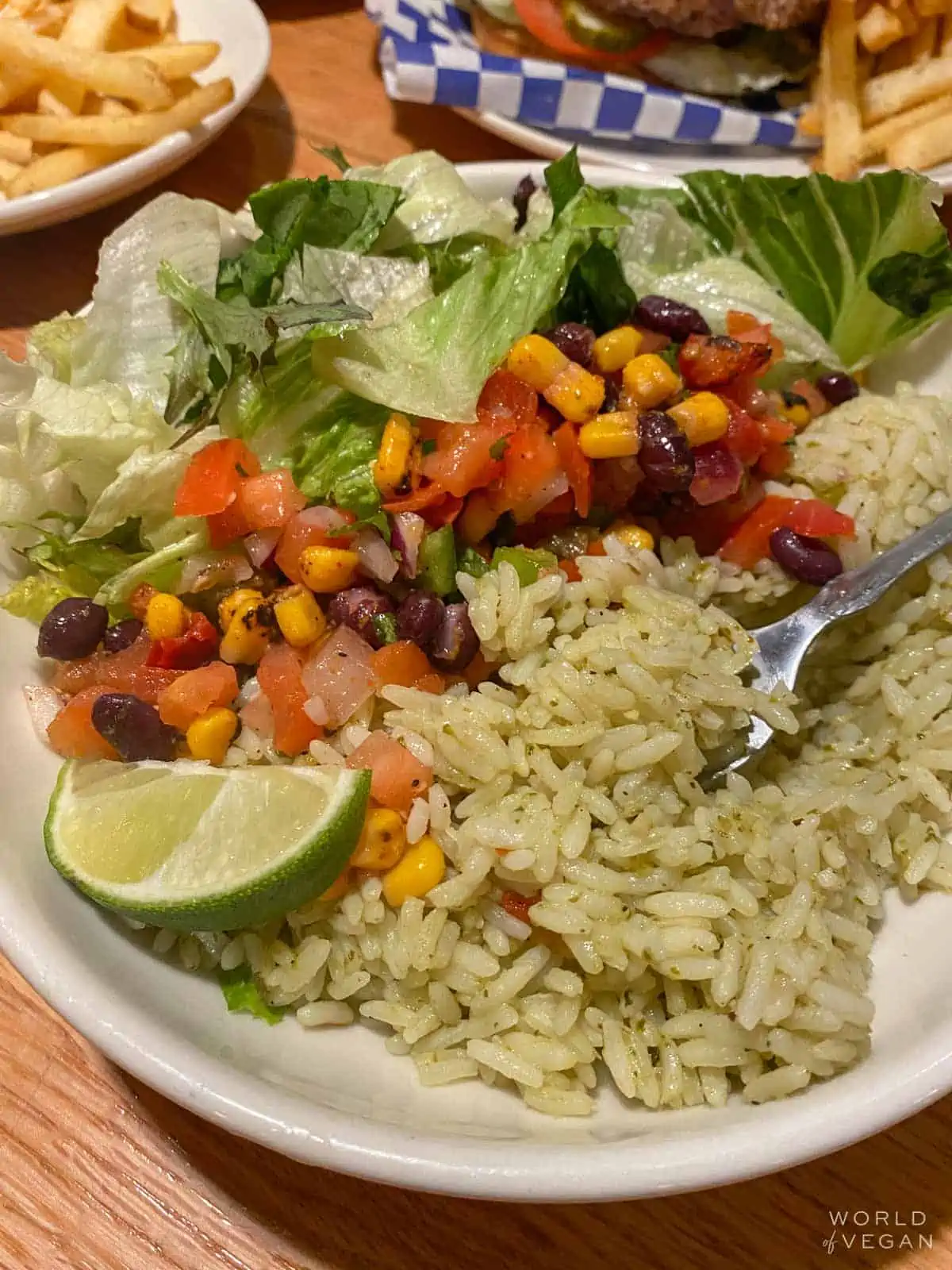 Sides:
Applesauce
Baked Potato (ask for no butter or sour cream)
Chips & Salsa
Crispy Red Potatoes
Fries Basket
Waffle Fries
Grilled Onions
Guacamole
Steamed Broccoli (ask for no butter to be cooked with or added to the broccoli)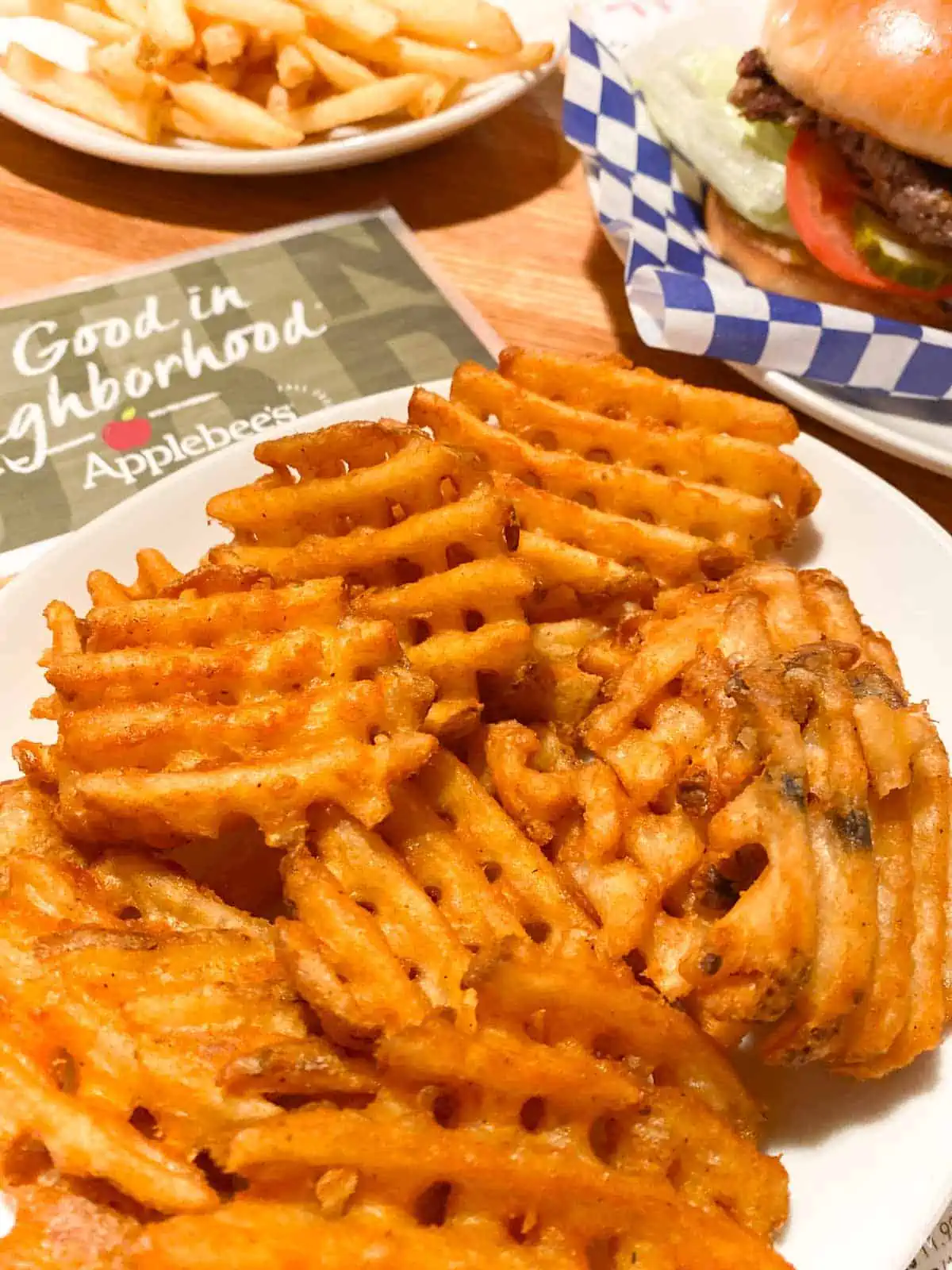 Dairy-Free Sauces & Dressings:
Fat-Free Italian Dressing
Lemon Olive Oil Vinaigrette
Balsamic Glaze
Black Bean Corn Salsa
Champagne Vinaigrette
Chimichurri Sauce
Chunky Red Pepper Relish
Pico de Gallo
Salsa
Sweet & Spicy Sauce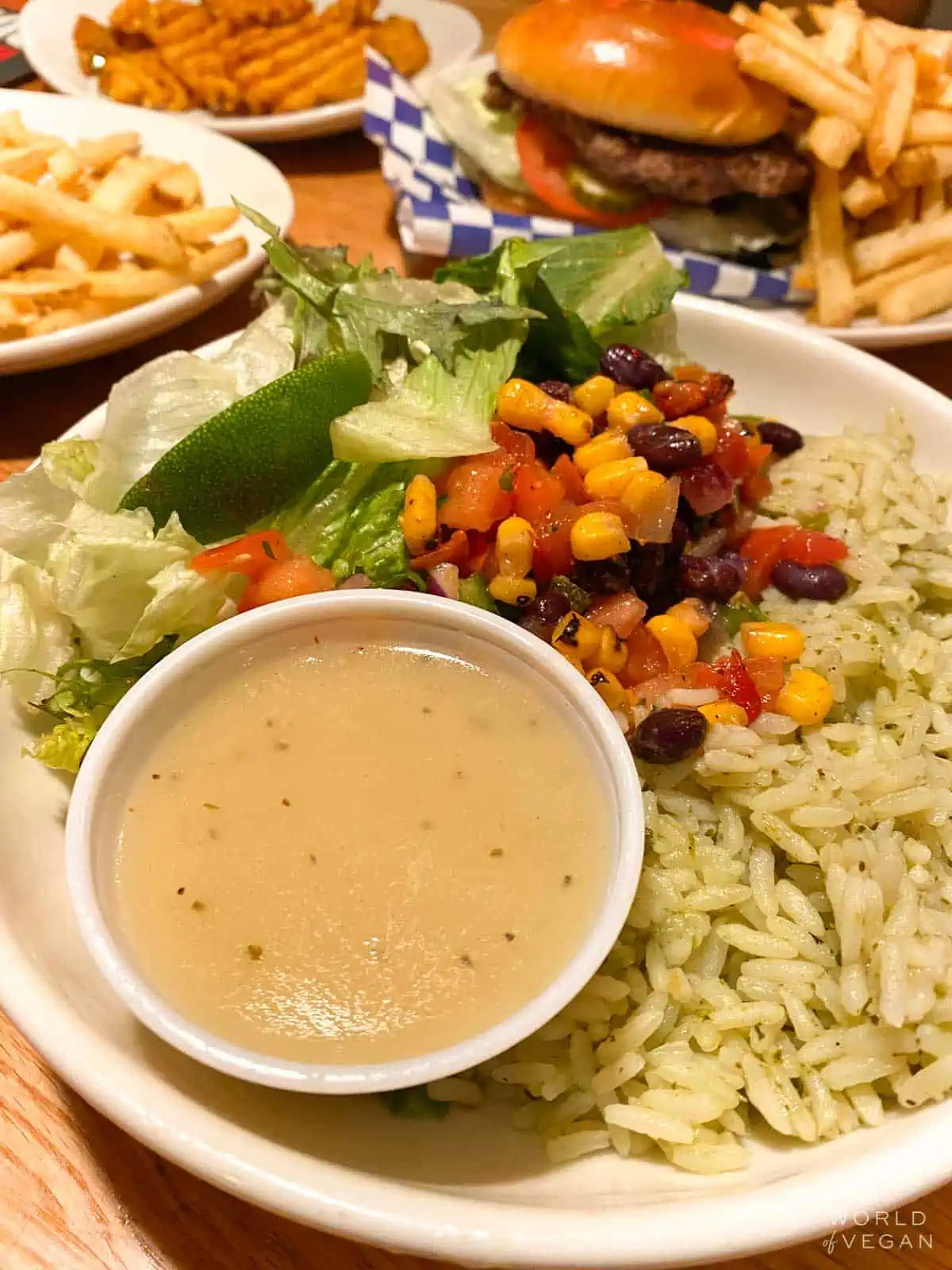 Vegan Beverages:
Assorted Fountain Drinks
Hot Coffee or Tea
Hot, Flavored, and Iced Tea
Flavored Lemonades
Frozen Lemonades (subject to availability)
Fruit Smoothies (Mango, Wildberry, Strawberry Banana)
Juice (Apple, Grape, Orange/Tangerine)
Lemonade and Iced Tea Quenchers
Bottled Water/Perrier Sparkling Water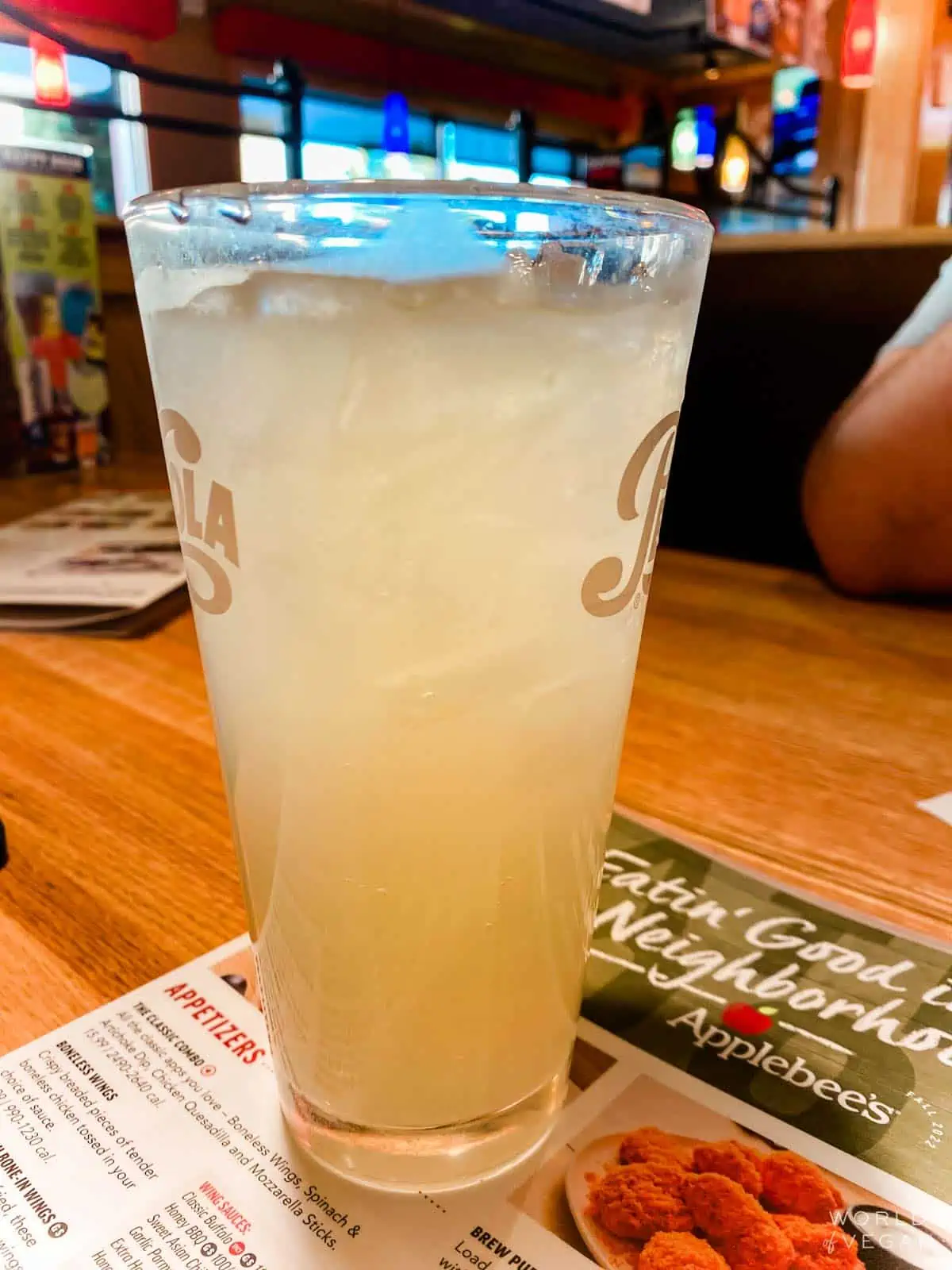 NOTE: Applebee's also offers a large assortment of alcoholic beverages, but the options differ from one location to the next and also from state to state. Though some of the mainstream beer and wine brands are vegan (like Bud, Coors, Heineken, etc.), there are some varieties that are not vegan-friendly within that brand. Please double-check your options on Barnivore.com–the vegan beer, wine, and liquor guide.
Breadsticks (pre-made with butter)
Onion Rings (milk derivatives in the batter)
Toasted Brioche Bun (made with both milk and eggs)
Helpful Hints When Ordering Vegan at Applebee's
Browse the Applebee's website before ordering and check out their own vegan menu guide!
If ordering Applebee's through an online delivery service, make sure you clearly specify any substitutions you would like, especially concerning eggs or cheese. If you're worried that your request may be overlooked, it might be a better idea to call or go there directly to order.
Download the Applebee's Allergen Guide to make sure that you are purchasing a vegan-friendly item. The products offered at Applebee's may change, even though the PDFs seem to be updated regularly.
Applebee's locations offer different items. We highly suggest that you check the Applebee's website and choose the specific restaurant you're planning to visit before you go there. While researching the menu, I found items in one state that were not available in another state, or even in different towns within the same state.
Finally, Some Fun Facts About Applebee's
The original name for the restaurant was taken from the phone book listing of "Appleby" and chosen over two other possible names, "Cinnamon's" and "Pepper's."
Applebee's used to have a drug store theme and was named, "T.J. Applebe's RX for Edibles and Elixirs."
The first restaurant location was in Atlanta, Georgia.
IHOP and Applebee's are sibling locations, both owned by Dine Brands Global.
The tallest Applebee's building is three stories tall and located in NYC.
Applebee's tested the Impossible burger in select locations in 2021, and in 2022 brought it on the menu permanently!
Want More Vegan Options at Applebee's?
Let them know! Your voice matters. Write to them, message them on social media, talk to the manager of your local branch. Trust us, they are listening, and the more they hear it, the faster they will evolve.
We hope that the Applebee's philosophy of "Good food, good people" continues to inspire the chain to expand their plant-based offerings.
How to Order Vegan at Other Restaurant Chains
You can see our entire list of vegan restaurant guides here.
Have you found any other options to be veganizable? Did you find something amazing that we missed? Let us know by tagging #worldofvegan and sharing your favorite vegan-at-Applebees creations with all of us!
This article is not sponsored and we are in no way affiliated with Applebee's. At the time of this article, the foods mentioned above are vegan. Since restaurants constantly update their menus and add or take away items, please keep this in mind when ordering your food. There may be new items that are vegan and not listed or items listed here as vegan, which are no longer vegan. Take care to double-check.