Planning a visit to the Cheesecake Factory? We've listed everything vegan on the menu, as well as how to order breakfast, lunch, dinner and, more importantly, dessert. Keep in mind that although there are more options when it comes to eating vegan at one of the 200+ worldwide locations of the Cheesecake Factory, the modifications are a bit over the top. We cover everything you need to know and what to look out for when ordering. Scroll down for our list of all the Cheesecake Factory vegan and vegetarian food items.
It's a refreshing change to note that there are at least three vegan-friendly options for breakfast, lunch, and dinner. But, if you ask anyone who's on their way to the Cheesecake Factory, the biggest reason for visiting is for the dessert. Sadly, there's nothing but disappointment there if you're a vegan.
Does Cheesecake Factory Serve Vegan Cheesecake?
Sure, you can have guacamole with chips, pasta with sauce, and even an Impossible Burger with fries. But, you can find those options at most popular chain restaurants nowadays, right? What we were really hoping to find was a dairy-free cheesecake.
As of publishing time, there are no plant-based, vegan cheesecake options to speak of. You let us down, Cheesecake Factory! If you're still motivated to chow down without any decadent cheesecake, keep reading and browse our cheat sheet for what to order and which foods to avoid.
Keep scrolling to find more food suggestions, friends!
There are so many items on this menu that it feels overwhelming to even imagine what could be vegan. Luckily, we did a lot of research to find out exactly which foods are vegan and which can be made vegan-friendly. If the server is at the table waiting for your order and you're searching for some easy answers, here's a quick cheat sheet to consult before delving further. This is what to do:
Appetizer – Chips and Guacamole, Thai Lettuce Wraps with Avocado, or Factory Tacos (no sour cream or cheese)
Main Meal – Impossible Burger, Vegan Cobb Salad, or Pasta Pomodoro (no parm cheese)
Sides – Fries, veggie sides (request no butter), or tossed/little house salad (choose a vinaigrette dressing)
Dessert – Strawberries (ask for no whipped cream)
Beverage – Lemonade, Coca-Cola products, water, or frozen fruit smoothies (all four flavors are vegan-friendly)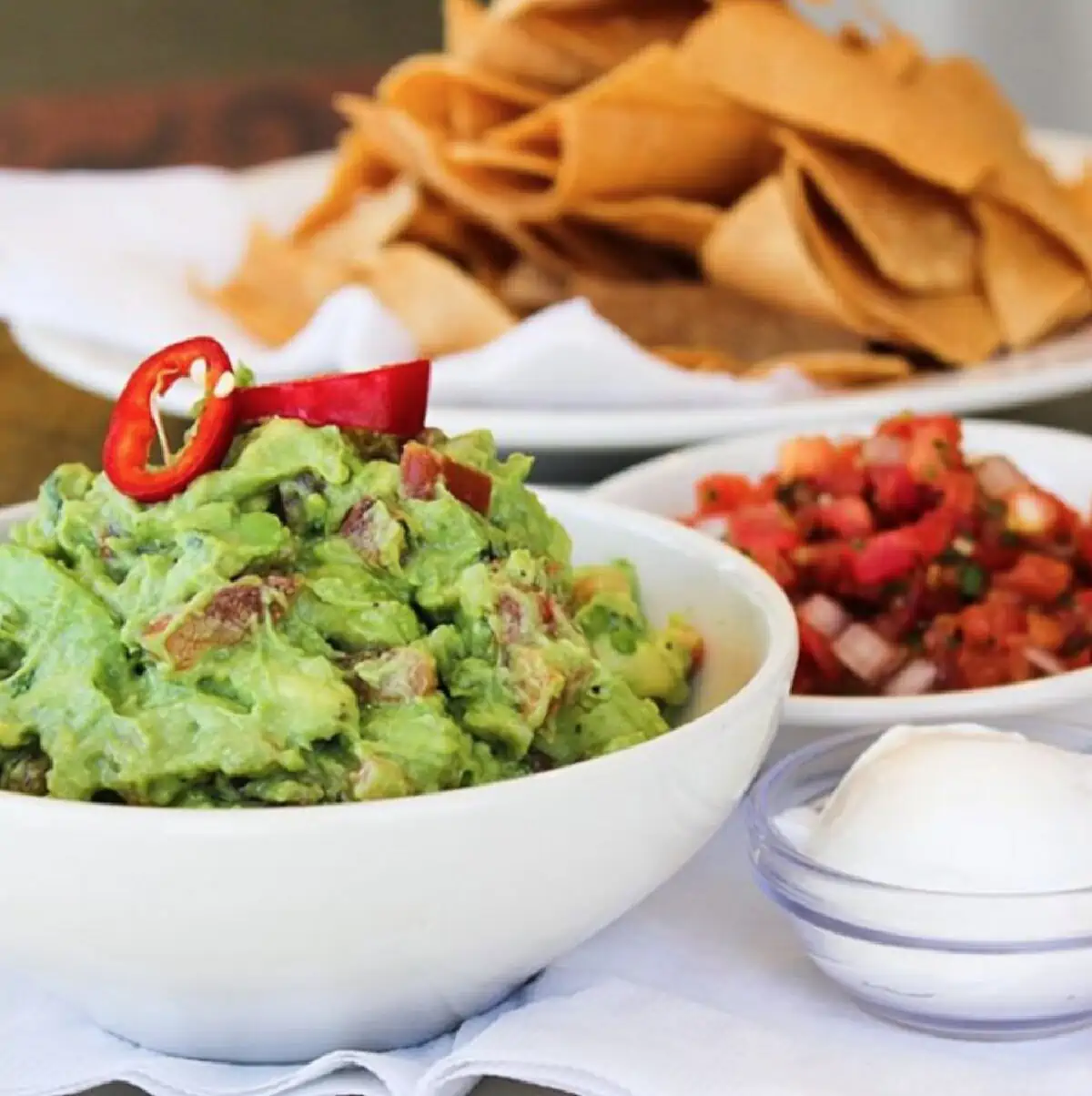 Visiting for breakfast? Here's what to order:
Apple or Orange Juice
Avocado Toast (on white toast, sourdough, or wheat baguette only)
Fresh Strawberries (ask for no whipped cream)
Frozen Fruit Smoothie (strawberry, peach, tropical, or mango)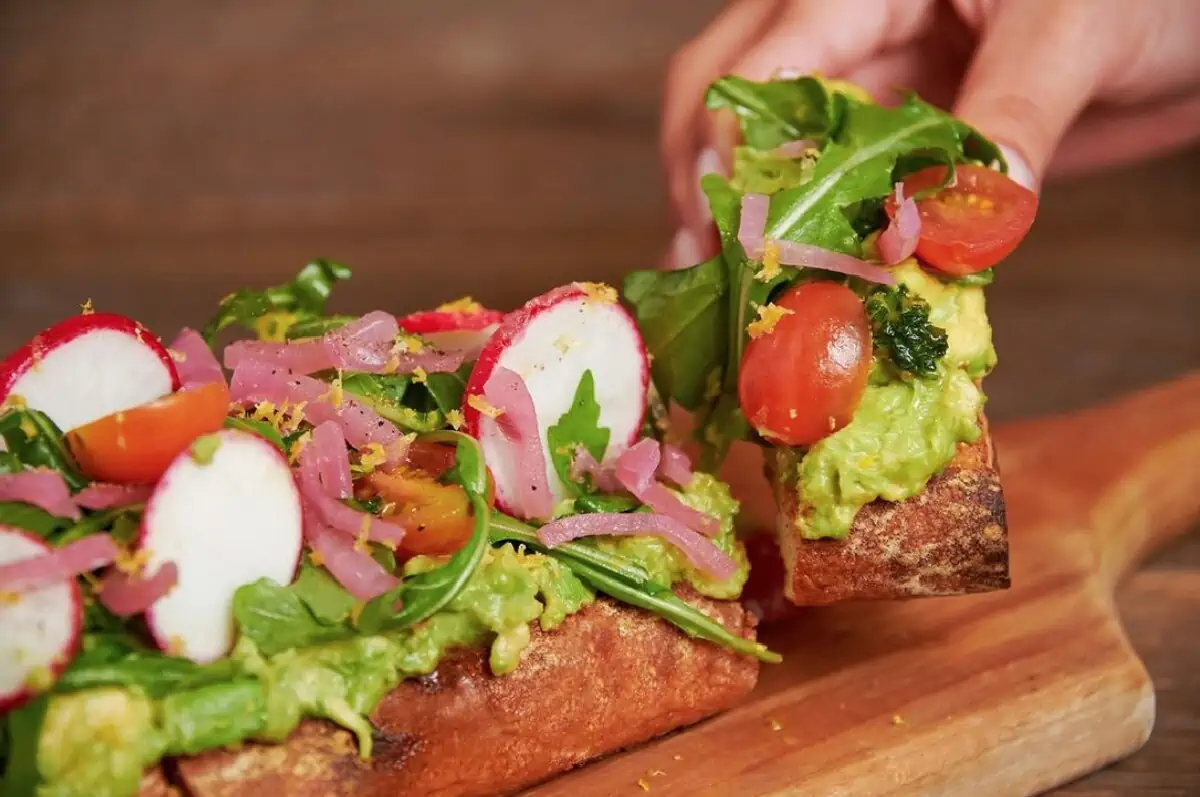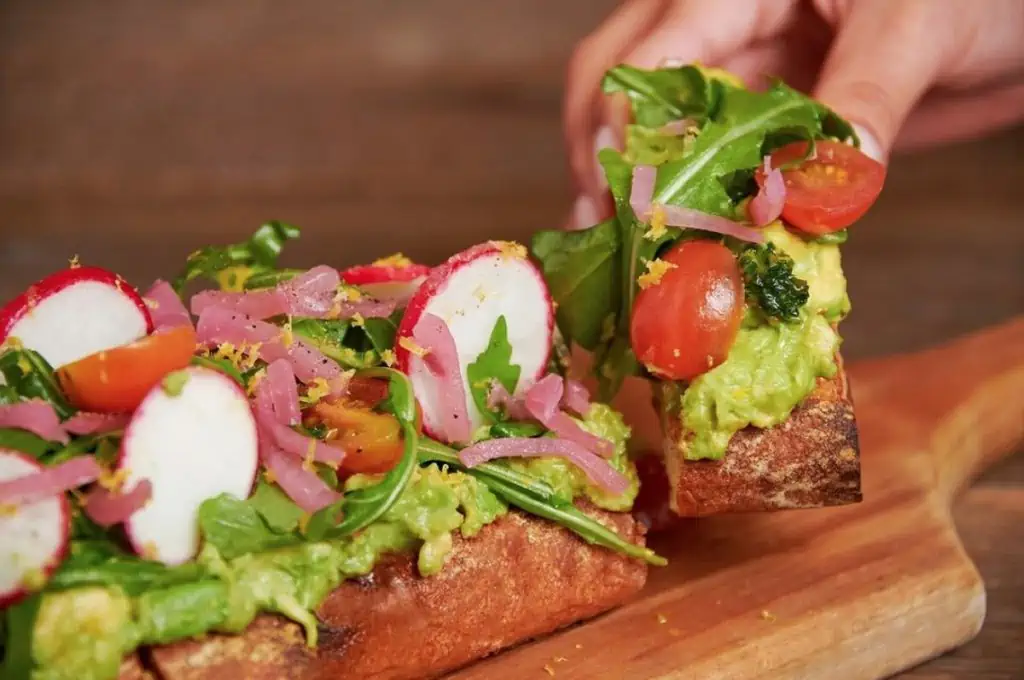 Vegan Options at Cheesecake Factory
Listed below are all of the specific meals, foods, and variations that you can order at this time. Many of the options depend on location. Calling ahead to double-check is a good idea.
Appetizers
Factory Nachos (Hold the sour cream and cheese.)
Fire-Roasted Fresh Artichoke (Request no garlic dip and ask for oil instead of butter.)
Fried Zucchini Strips (Ask for no parmesan cheese or ranch dressing.)
Little House or Tossed Green Salad (Choose a vegan-friendly dressing.)
Thai Lettuce Wraps with Avocado (Avocado, carrots, bean sprouts, curry noodles, and lettuce leaves with three different dips – peanut, sweet red chili, and tamarind-cashew.)
Salads, Flatbread Pizzas & Lunch
Flatbread Pizza – Choose any flatbread pizza and request no cheese or meat.
Vegan Cobb Salad – Lettuce, avocado, grilled asparagus, roasted beets, green beans, tomato, cucumber, carrot, quinoa, farro, almonds, and pepitas with a house vinaigrette.
Specialties & Pasta
Cauliflower Tacos – Corn tacos with fried cauliflower, avocado, onion, garlic, chipotle sauce, and pepitas. Served with rice and beans. (Ask for no cheese on the beans.)
Evelyn's Favorite Pasta – Pasta with broccoli, tomato, zucchini, eggplant, olives, peppers, onion, garlic, and fresh herbs. (Ask for no parmesan cheese, lemon sauce, or basil oil and swap for a vegan-friendly dressing.)
Pasta Pomodoro (Pasta with marinara sauce, cherry tomatoes, and fresh basil.)
Glamburgers
Impossible Burger (Includes vegan cheese and the special sauce is a vegan Thousand Island.)
Pasta with Marinara Sauce (Request no parmesan cheese.)
Strawberries (Ask for no whipped cream.)
SkinnyLicious
Beet and Avocado Salad (Request no honey-yogurt sauce.)
Grilled Artichoke (Order without aioli.)
Skinny Impossible Burger (Ask for no mayo.)
Little House or Tossed Green Salad (Order with vegan-friendly dressing and no croutons.)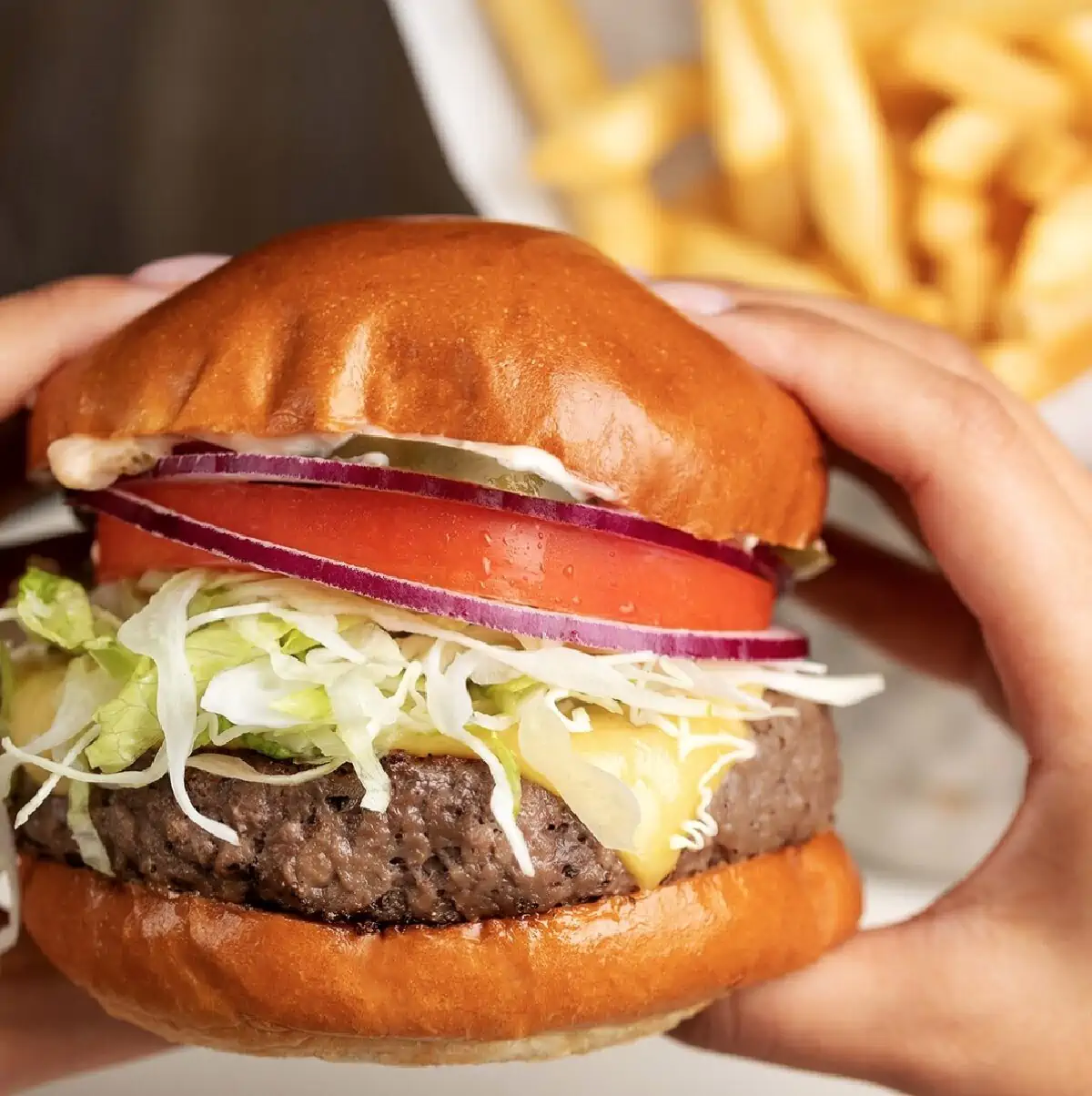 Sides
Thankfully, you can create an almost-full meal just using sides. Choose a variety of veggies along with a baguette, favorite type of fries, or preferred rice option for greater satiety. Full of fiber, nutrients, and (hopefully) flavor! Remember to order these veggies with no butter.
Avocado
Broccoli
Corn
French Fries
Green Beans
Grilled Asparagus
Sauteed Spinach
Sliced Tomatoes
Sourdough Baguette
Steamed Rice (Brown or White)
Sweet Potato Fries
Wheat Baguette (Not the wheat toast)
White Toast
Note: Keep in mind that Cheesecake Factory cooks its fries in the same oil as animal-based foods. It's a personal choice whether or not you feel comfortable with that.
Desserts
The burning question that everyone asks is if the Cheesecake Factory has vegan cheesecake. And, as we mentioned above, the answer is….nope, not yet. We know that Daiya has a really lovely dairy-free (plus soy-free and gluten-free!) cheesecake, we're hoping that the CF will consider making this a menu option at some point. Or, even coming up with their own version. Wouldn't that be a dream?
Fresh Strawberries (Order without whipped cream)
Dressings
French Mustard (This option is gluten-free.)
Ketchup
Vinaigrette (Balsamic/House, Lemon, Shallot, Red Wine, Skinny Mustard, and Thai Peanut)
Drinks
Apple Juice
Coca Cola Beverages
Fiji Bottled Water
Frozen Smoothies (Strawberry, Tropical, Peach, and Iced Mango are all safe to order.)
Hot Coffee, Tea, or Espresso (served without milk or whipped cream)
Lemonades
Orange Juice
San Pellegrino Mineral Water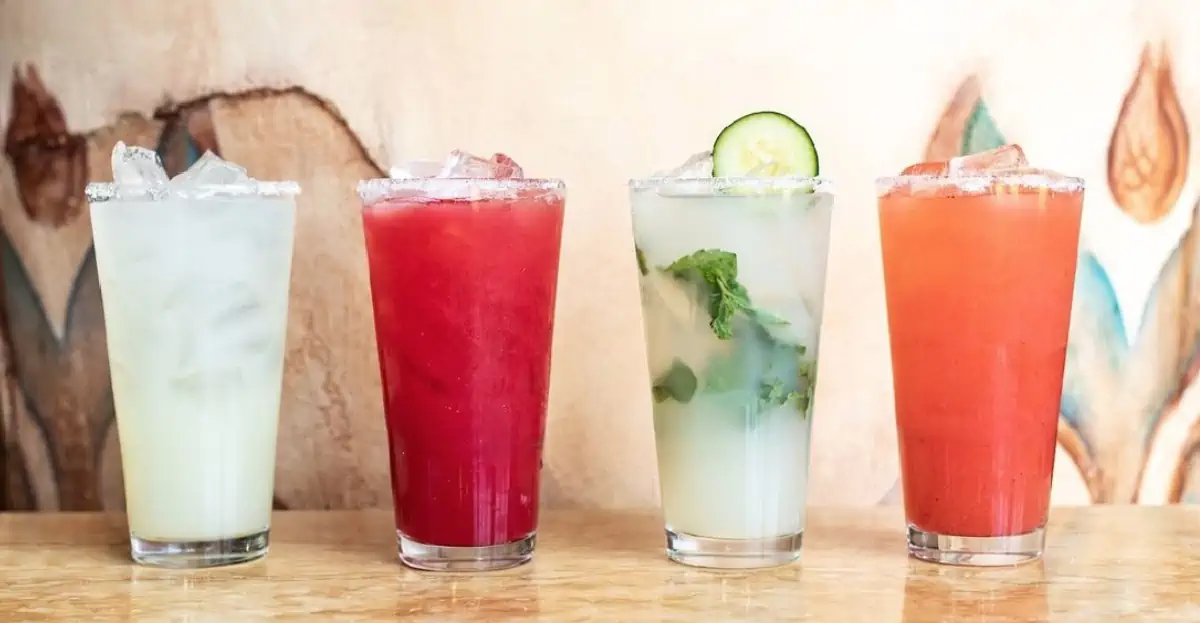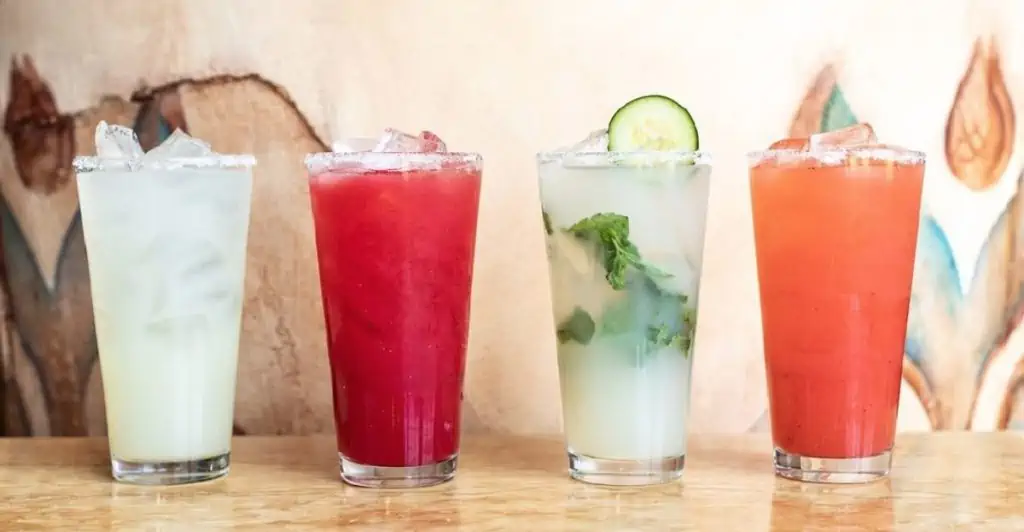 NOTE: The Cheesecake Factory also offers a large assortment of alcoholic beverages, but the options differ from one location to the next and also from state to state. Though some of the mainstream beer and wine brands are vegan (like Bud, Coors, Heineken, etc.), there are some varieties that are not vegan-friendly within that brand. Please double-check your options on Barnivore.com–the vegan beer, wine, and liquor guide.
Is Anything Gluten-Free at the Cheesecake Factory?
Here is a list of options if you're sensitive or allergic to gluten. It's a good idea to speak to the server before ordering, just in case. Here are your vegan, gluten-free choices:
French Fries
Fresh Strawberries
Guacamole and Corn Tortilla Chips
Little House and Tossed Salad (Ask for the French Mustard Dressing and no croutons.)
Pasta (Request gluten-free option, but make sure it doesn't contain eggs.)
Steamed Rice (Brown or White)
Sweet Potato Fries
Vegetable Sides (Including edamame, if available.)
More Plant-Based and Veganized Options
These are foods that sometimes vary by location. Some of these meals are not specifically listed on the Cheesecake Factory online menu, but they made be included on the in-person restaurant menu itself. It doesn't hurt to ask to see if any of these can be modified to make your dining experience more delicious (and animal-free).
Avocado Toast (Make sure to request no butter.)
California Guacamole Salad – Guacamole, greens, cherry tomatoes, corn, black beans, onion, radish, tortilla strips, cilantro, and a spicy avocado dressing. (Ask for no feta cheese.)
Edamame – Steamed in whole pods.
Greek Salad – Lettuce, tomato, cucumber, olives, red onion, and house vinaigrette. (Request no feta cheese.)
Guacamole and Chips (Ask for no sour cream.)
Pretzel Bites (Ask for no cheese dip on the side and request that they are not dipped in butter before baking.)
Santa Fe Salad – Corn, black beans, tortilla strips, tomato, and romaine with a spicy peanut vinaigrette. (Swap out chicken for sauteed mushrooms and ask for no cheese.)
Thai Chicken Salad – Lettuce, carrots, rice noodles, cucumbers, bean sprouts, cilantro, peanuts, sesame seeds, and Thai vinaigrette. (Request no chicken.)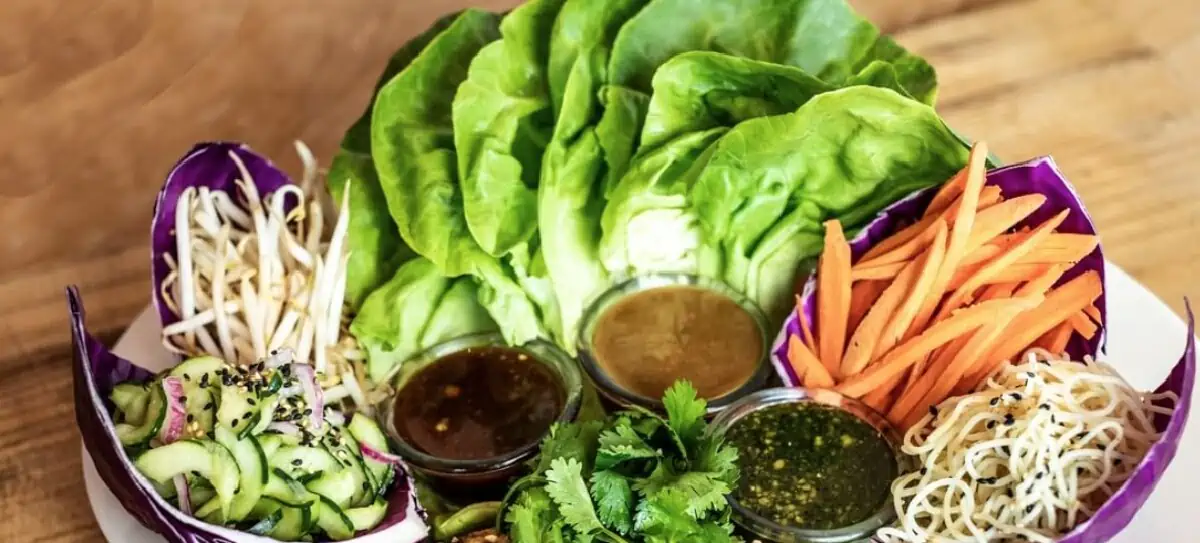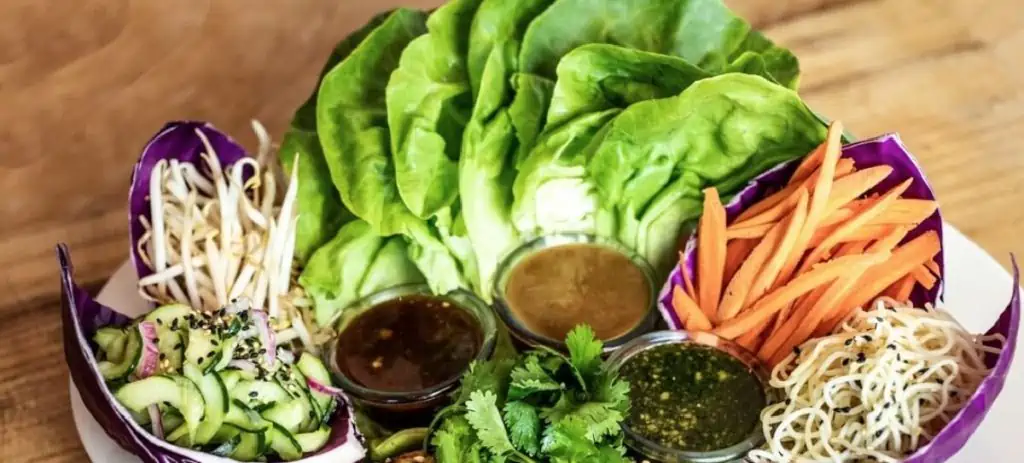 What's Vegan at Cheesecake Factory?
Is there a Cheesecake Factory veggie burger option?
It used to be. Recently, it started adding heavy cream and garlic aioli to the ingredients list, so it is no longer vegan. Very disappointing.
Are there Cheesecake Factory dairy-free items on the menu?
Although there aren't any dairy-free alternatives, such as vegan sour cream, cheese, or milk, there are foods that contain no dairy. These include strawberries, salads, veggies, beans, rice, fries, pasta with marinara, chips and guacamole, some salad dressings, many beverages, and the Impossible Burger. Make sure to check out our lists above!
Is Cheesecake Factory bread vegan?
The sourdough bread, brioche bun, wheat baguette (not wheat toast), and white toast are vegan-friendly. The bagels list eggs in the ingredients, so they're not an option.
Can you tell me if there is a vegan cobb salad at Cheesecake Factory?
The Cheesecake Factory Cobb Salad is the second most popular question about this popular restaurant. (The first, of course, is if the Cheesecake factory offers vegan cheesecake.) But, yes, the Cobb Salad is fully vegan!
Is the Cheesecake Factory Korean Cauliflower appetizer vegan?
From all of the information we've researched, there seem to be contradictory answers. Some emails from Cheesecake Factory have said that there are no eggs, dairy, or honey in the making of this dish, while others say that the pieces of cauliflower are dipped in egg before frying and honey is added to make the sauce sweeter. To be on the safe side, it may be worth giving a pass.
When you check out the Cheesecake Factory's Nutrition Information page, make sure to also visit the allergen information page to make sure that you are purchasing a vegan-friendly item. You'll be able to see calories and nutrients, but no ingredients, which is a bummer. The menu items offered at the Cheesecake Factory don't seem to change very often, but you may want to double-check before you visit.
Browse the Cheesecake Factory menu before ordering.
If ordering food from the Cheesecake Factory online or through a delivery service, make sure you clearly specify any substitutions you would like. If you're worried that your request may not be honored (or seen by the server at Cheesecake Factory), it might be a better idea to go there directly to order.
Be careful when new and exciting seasonal products are offered at the Cheesecake Factory. Double-check the allergens and ingredients to make sure the item is vegan before purchasing.
NOT Vegan at Cheesecake Factory
Avocado Eggrolls – The egg roll wrappers are made using eggs and milk.
Bagels – They contain eggs, so are not vegan.
Breakfast and Brunch – Unfortunately, there are currently no tofu or egg substitute options for egg-based dishes.
Cheesecakes – At the moment, all of the cheesecakes and regular cakes contain eggs and dairy.
Hot Drinks – All of the hot drinks include dairy milk are not vegan. The only exception is the plain hot coffee, tea, and espresso.
Korean Fried Cauliflower – May be dipped in egg before frying and the sauce probably contains honey, but it depends on the location.
Milkshakes – Sadly, all contain dairy milk, so they are not vegan-friendly.
Sandwiches – All of this restaurant's sandwiches contain meat as the main ingredient, along with dairy cheese and non-vegan mayo/aioli.
Soups – It's so disappointing that all of the daily soups either contain animal broth, meat, or dairy.
Historic Vegan Moments in Cheesecake Factory History
Early 2016 – A Vegan Cobb Salad is included on the menu.
July 2018 – Impossible Burger added to menu, but is not entirely vegan.
September 2019 – Impossible Burger option is made fully vegan.
March 2020 – Cheesecake Factory adds Impossible Meat to create a Pasta Bolognese and Meat-Free Taco Salad, but only for a limited time.
Fascinating Facts About Cheesecake Factory
There are 250+ items on the menu and it seems they are all made from scratch.
To be considered a "best customer", you may have to visit more than 10 times per week!
Cheesecake Factory has at least three different Asian Fusion restaurants under its belt: Grand Luxe Cafe, RockSugar Southeast Asian Kitchen, and Social Monk Asian Kitchen.
The menu has been changed twice a year for 40 years. The owner, David Overton, says that it keeps people interested and the long menu gets people talking. And staying!
Creating a Kinder and More Accessible Vegan Cheesecake Factory Experience
Although Cheesecake Factory has included a couple of plant-based burger and salad options to the menu, we feel like it can definitely do better. How about vegan cheese options for their flatbread pizzas, pasta, and salads? We're hopeful that the plan for a vegan cheesecake will come to pass. Wouldn't that be wonderful? Since there are more and more vegan-friendly menu items on the fast food front, we have high hopes that Cheesecake Factory will soon come up with dairy-free milkshakes, plant-based milk options, and more vegan main meals. Wouldn't it be incredible if the Cheesecake Factory agreed to have a fully vegan section on their menu? In the meantime, we can always write to, call, or contact the managers of any location to make our requests.
Share your preferred plant-based desserts and main dishes wishlist for a vegan Cheesecake Factory menu. Let us know on Facebook, Twitter, and Instagram!
Have you found any other vegan options at Cheesecake Factory? Did you find something amazing that we missed? Let us know by tagging #worldofvegan and sharing your favorite vegan-at-cheesecake-factory creations with all of us!
How To Order Vegan Dinner and Dessert at Other Fast Food Chains
This article is not sponsored and we are in no way affiliated with the Cheesecake Factory. At the time of this article, the menu items mentioned above are vegan. Since restaurants constantly update their menus and add or take away items, please keep this in mind when ordering your food. There may be new Cheesecake Factory vegan options that are not listed or items listed here as vegan, which are no longer vegan. Take care to double-check.