This guide to ordering vegan at Chili's will help you navigate the menu to find the best vegetarian, dairy-free, plant-based options. Are the fries at Chili's vegan? Yes! Does Chili's have a vegan burger? Nope. Read on for more!
When you're mad about margaritas and Mexican-inspired fare, you're bound to find yourself meeting friends at Chili's restaurant. It's hard to resist their upbeat and unique burger and taco temptations. But, really, what can you eat that's vegan at chili's?
At first glance, you'll easily be able to dismiss the desserts, bow out of the animal-based burgers, say no-way to the steaks, and quit the quesadillas. Now what? After all of the obvious, unhealthy choices are given the heave-ho, is there anything plant-based on the menu to munch?
Does Chili's offer a vegan-friendly burger? How about the fries? Are they doused with dairy, too? Is this another situation where sides are superior? Keep reading, friends, and let us share the down-and-dirty details with you. 
How to Navigate the Menu at Chili's Restaurant
It was really disappointing to discover that there are no vegan-friendly entree options at this Mexican-inspired fast food grill. No veggie burger, no sandwiches, and no pasta dishes to boot. Even the fajitas have dairy in them! What the heck? But, all is not lost. If you're looking to eat vegan or vegetarian at Chili's for a meal, here's what we suggest:
Start With A Salad – An awesome way to stimulate your appetite and add lots of vitamins, nutrients, and substance to your meal. Just be careful to choose a vegan-friendly dressing and always ask for no cheese or croutons.
Fill Up With Fiber – Use as many of the savory sides as you can to create the perfect protein-packed plate. Either add them to a tortilla or sprinkle onto tostada chips. Remember the rice, bulk up with beans, and bring on the broccoli for added benefits. Just try not to fill up only on fries.
Choose Chips & Salsa With Care – While this is the obvious choice for making your meal more filling, think of them more as a side than the main course for a healthier option.
Look For Libations – If water isn't quite quenching your thirst, you can always grab a fountain drink, lemonade, juice, or coffee/tea for refreshment. Alcoholic beverages are also on the menu.
Don't Forget The Fruit – Since there aren't any desserts free of dairy or eggs on the menu, consider finishing your meal with fruit. Choose from either pineapple or mandarin orange slices for a final sweet snack.
What's Vegan at Chili's?
Vegan Appetizers:
Bottomless Tostada Chips and Salsa
Fresh Guacamole and Chips
Fried Pickles (hold the ranch dressing)
French Fries (woo!)
Plant-Based Salads:
Caribbean Salad (ask for no shrimp or chicken and swap the dressing)
House Salad (with no cheese or croutons and add a veg-friendly dressing)
Vegetarian Sides:
Avocado Slices
Black Beans
Corn on the Cob (ask for no butter)
French Fries
Mexican Rice
Pickles (Classic or Garlic Dill)
Roasted Asparagus
Steamed Broccoli
Tortillas (both corn and flour)
Dressings and Condiments:
BBQ Sauce
Citrus Balsamic Vinaigrette
Fresh Guacamole
House Barbecue Sauce
Pico de Gallo
Salsa
Dairy-Free Desserts Options:
Pineapple (kid's menu)
Mandarin Oranges (kid's menu)
Note: Both of these are found on the kids' menu, but should be available to anyone who orders them.
Vegan-Friendly Drinks:
Arnold Palmer
Coca-Cola Products (Coke, Sprite, IBC Root Beer, etc.)
Coffee
Dasani Water
Juices (apple, cranberry, orange, pineapple)
Minute Maid Lemonades
Tea
Note: They also offer vegan alcoholic beverages to-go at most locations. Check Barnivore.com to make sure the option you're choosing is vegan-friendly.
What's NOT Vegan at Chili's:
Black bean & Veggie Fajitas contain milk, so they are not vegan-friendly.
Roasted Street Corn also contains dairy.
Veggie Burger is made with both eggs and dairy, so it is vegetarian, but not vegan.
NOTE: Keep in mind that all of the fried foods at Chili's are cooked in the same fryer as animal-based foods. You may want to skip the fries and pickles if you don't feel comfortable with this process.
Which Chili's Menu Items Can Be Veganized?
Besides the salads (which you can make vegan by eliminating any meat, dressing, croutons, and cheese), there aren't any ready-made dishes that can be transformed into vegan-friendly fare. Sadly, there aren't even any soups that are vegetarian, never mind vegan. Ugh!
For now, we'll have to be satisfied with creating our own plantiful plates of tortillas (or tostada chips) piled high with beans, rice, guacamole, salsa, veggies, and salad. Doesn't sound too bad, but it could be much better.
Historic Moments in Chili's Vegan History
This is a section we've started including in all our fast food guides because every month exciting vegan menu options are added at popular fast food restaurants. Sadly, Chili's hasn't done anything notable for their vegan customers—yet (as of 2022)!
Nothing yet (except perhaps creating a vegan-friendly menu pdf), but we hope they'll make up for their lack of plant-based progress very soon!
Helpful Hints When Ordering Vegan at Chili's
Browse the Chili's menu before ordering.
If ordering Chili's online or through a delivery service, make sure you clearly specify any substitutions you would like. Especially concerning meat and butter. If you're worried that your request may not be honored (or seen by the server at Chili's), it might be a better idea to go there directly to order.
Check out their Nutrition and Allergen/Vegetarian/Vegan Matrix PDFs to make sure that you are purchasing a vegan-friendly item. The menu items offered at Chili's do change and the informational charts seem to be updated regularly.
Looking for the Chili's gluten-free menu? This Allergen Menu will help you find the best gluten-free options.
Be careful when new and exciting seasonal products are offered at Chili's. Double-check the allergens and ingredients to make sure the item is vegan before purchasing.
Bring your own dessert (or take a peek at our own delicious vegan dessert recipes!)
Fun Facts about Chili's
The first Chili's location was actually a converted postal station in Dallas, TX.
Chilis' restaurant sells 135,000 gallons of margaritas per year! (That's 13 swimming pools' worth of liquid! Whoa.)
There is always one painting hanging upside down on the wall at each dining location. (Have you noticed that?)
Their recipe for chili has not changed since the 1970s.
Creating a Kinder and More Accessible Chili's Restaurant
We can only hope that Chili's will start feeling the pressure to offer more plant-based options since there is much more competition coming to light from other dine-in restaurant chains. Adding a single plant-based burger, a veggie-full fajita option, or even a super simple sandwich would be welcomed. In the meantime, we can always write to, call, or contact the managers of any location to make our requests.
What are your favorite items to order at Chili's as a vegan? Let us know on Facebook, Twitter, and Instagram!
Have you found any other options to be veganizable? Did you find something amazing that we missed? Let us know by tagging #worldofvegan and sharing your favorite vegan-at-Chilis creations with all of us!
How to Order Vegan at Other Fast Food Chains:
We have a huge list of vegan fast food guides to help you find the best (and most satisfying) options at each restaurant location. You'll find helpful hints and meal suggestions for when you're craving some tasty take-out or a quick, on-the-go vegan meal.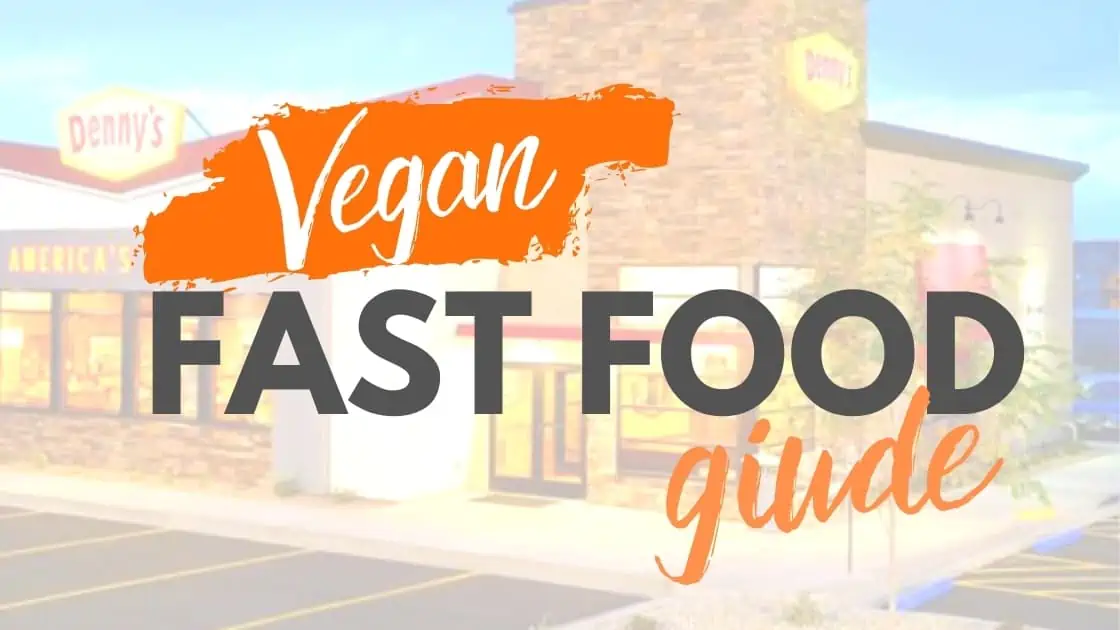 This Chili's vegan article is not sponsored and we are in no way affiliated with Chili's Restaurant. At the time of this article, the foods mentioned above are vegan. Since restaurants constantly update their menus and add or take away items, please keep this in mind when ordering your food. There may be new items that are vegan at Chili's and not listed or items listed here as vegan, which are no longer vegan. Take care to double-check.
This guide to navigating the Chili's vegan menu was written by Gina House and edited by Michelle Cehn. Please note that this article may contain affiliate links which means shopping through them really helps to support World of Vegan!
Quick FAQs About Ordering Vegan at Chili's
Are the fries at Chili's vegan?
Yes, the Chili's fries are vegan!
Is the veggie burger at Chili's vegan?
No, unfortunately the Chili's veggie burger contains both eggs and dairy. It is suitable for vegetarians, but not an option for vegans.
Can you get vegan soup at Chili's?
Unfortunately there are no vegan soup options at Chili's. We hope that changes one day!
Is Chili's Guacamole Vegan?
Yes! Chili's guacamole is dairy-free and 100% vegan, a great option for plant-based eaters visiting the restaurant.