A generous bowlful of creamy vegan polenta is second to none when you're craving to a cozy hot breakfast on a chilly morning. Imagine if risotto was made with cornmeal to create a buttery, cheesy, savory custard, and you'd start to get the idea. Southern-Style Polenta and Greens from PlantPure Comfort Food by Kim Campbell combines American and Italian tradition for the best of both worlds.
The real beauty of this mushroom polenta is its versatility. Once you learn the simple tricks to cook it perfectly every time, there's no end to the flavorful possibilities. Consider this an introduction to your new love.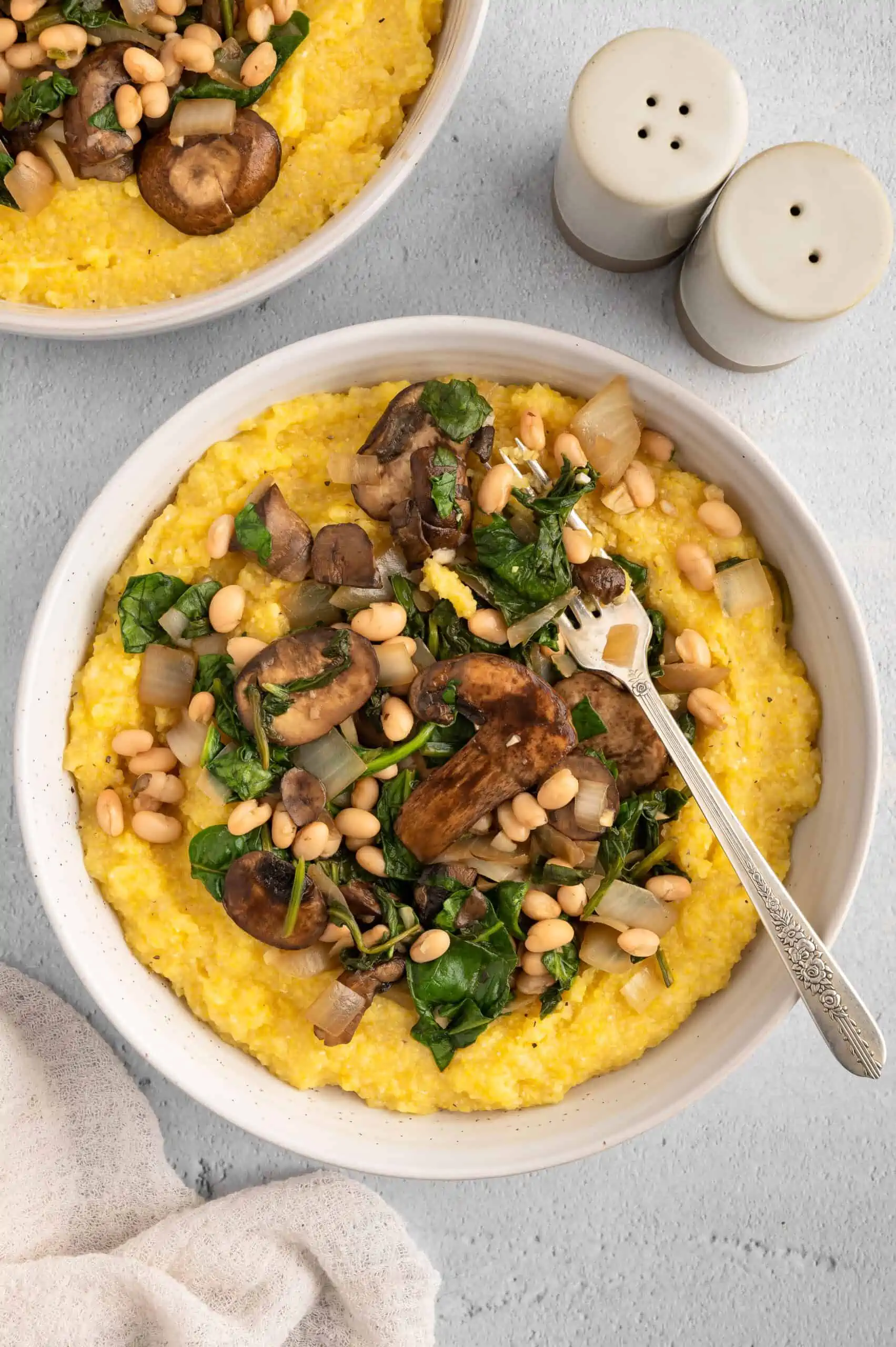 Why You'll Love This Recipe
The incredibly comforting, savory flavors speak for themselves, but that's just one reason why you'll want to keep this recipe in your regular rotation.
Delicious any time of day. Switch things up with a savory breakfast bowl! This combination of protein and fiber will give you energy to face your day head-on. It's just as appealing and revitalizing for lunch or dinner, too!
Affordable, simple ingredients. The key components are all pantry staples, and any fresh additions are highly flexible.
Veggie-full and adaptable. Consider this your opportunity to clear out the vegetable crisper and use up anything you have in the fridge! See the key ingredients below for more specific suggestions.
Ready in a flash. Forget to set a meal plan or need a quick, hearty dish on the fly? This whole recipe can be made in well under an hour, and most of that time is inactive.
Key Ingredients
Instant polenta: Consider this the quick-cooking version of traditional polenta. It's been steamed and dried to par-cook it, cutting prep time down to minutes whereas the conventional approach would take at least an hour.
Nutritional yeast: Inherently buttery and cheesy without a drop of dairy, these golden yellow flakes are your secret ingredient to crush cravings.
Garlic and onion powder: It's easier to incorporate these dried powders into your polenta for an instant flavor boost. Raw, whole garlic and onions would be very harsh and create a lumpy texture.
Mushrooms: All mushrooms are welcome at this polenta party! Common button and cremini mushrooms are as worthy as fanciful shiitake, oyster, trumpet, enoki, maitake, and more. Switch things up with a blend to incorporate all new textures and tastes.
Tamari: Harmonizing with the natural umami of the mushrooms, tamari adds greater depth and body to any dish. You can substitute soy sauce or liquid aminos depending on what you have on hand.
Balsamic vinegar: Cut through the richness and balance out the dish with a zippy splash of vinegar. Red wine vinegar or apple cider vinegar would be great substitutes.
Navy beans: Don't forget the legume love! White beans are a great neutral staple that pair beautifully with any ingredients, but don't let that limit your creativity. Chickpeas, black beans, lima beans, and even edamame are some other excellent choices.
Spinach: Eat your greens with ease on in this crowd-pleasing entrée. Any tender, mild greens work here as well, such as arugula, kale, chard, or collards.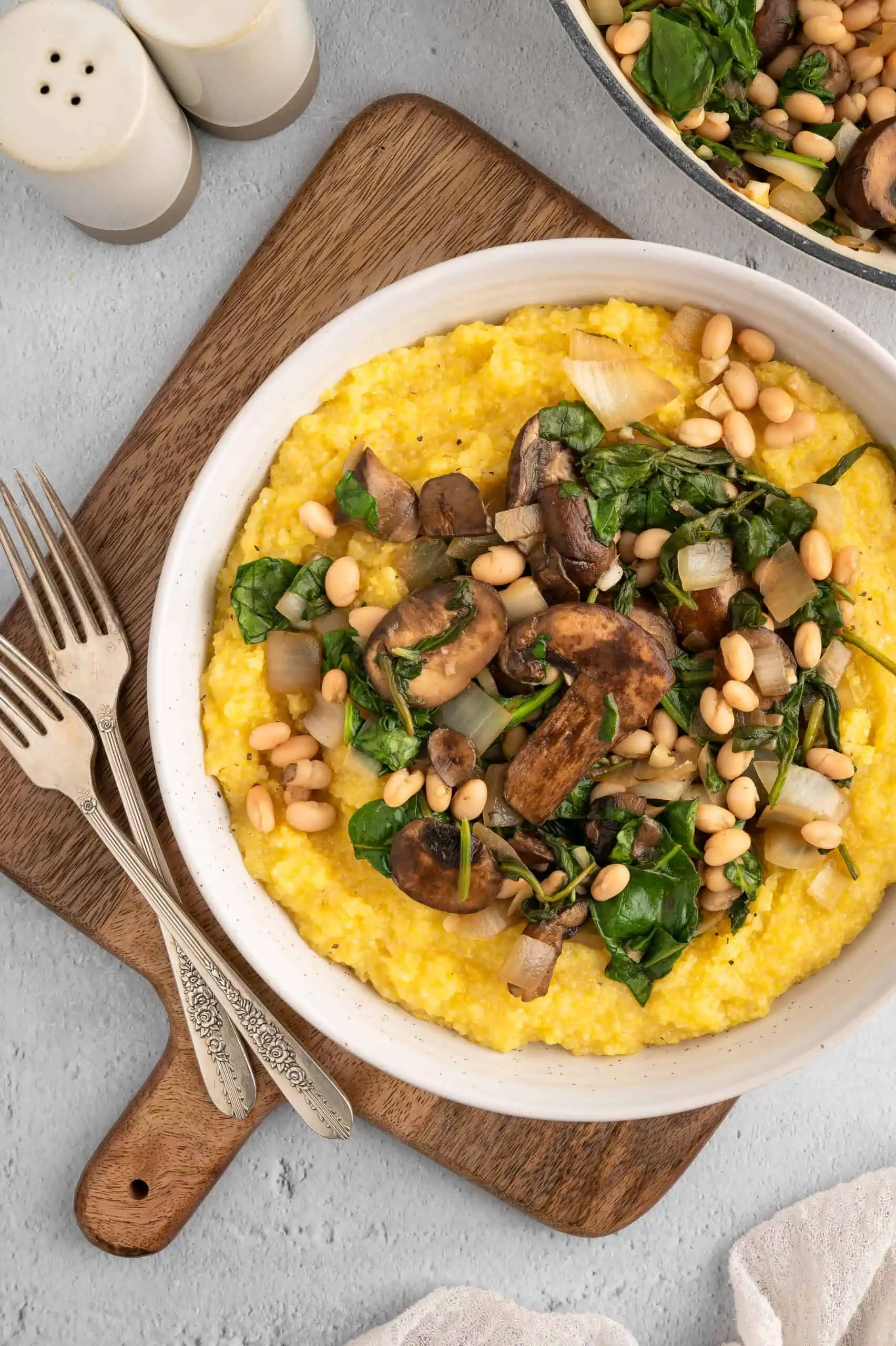 What Is Polenta?
Polenta is a porridge made from finely ground yellow cornmeal which is typically prepared as a savory dish but can also be sweet. It hails from northern Italy where it's often topped with more substantial protein and vegetables to complete the meal.
If served hot, straight off the stove, it has a creamy, custard-like consistency, whereas if it's allowed to cool, it will set and be firm enough to slice. Leftovers are fantastic pan-fried, deep fried, baked, or grilled.
Grits vs Polenta
Grits are essentially the southern answer to the same query, creating a boil corn pudding as an affordable, savory staple. The difference is that grits are typically made using white dent corn (or hominy) whereas polenta is made from finely ground yellow sweet corn. They taste and look subtly different, but in a pinch, can be swapped interchangeably at a 1:1 ratio.
How To Make Polenta
You'll be hooked after making your first pot of polenta. It's so easy, quick, and satisfying, you'll wonder how you lived without to begin with!
Step 1: Bring the water to a rapid boil in a medium pot over high heat. Reduce the heat to medium-high and slowly sprinkle in the polenta and dry seasonings a little bit at a time, whisking continuously. It's critical to go slow and keep stirring to prevent lump from forming.
Step 2: Further reduce the heat to low and switch over to a wide spatula. Continue stirring the polenta for a few more minutes to avoid any clumps.
Step 3: Cover and simmer for 15 to 20 minutes, stirring occasionally. Be sure to scrape the bottom and sides of the pan with your spatula to prevent it from sticking and burning.
If the polenta is too thick by the end of the cooking time, add a bit more water until it reaches your desired consistency.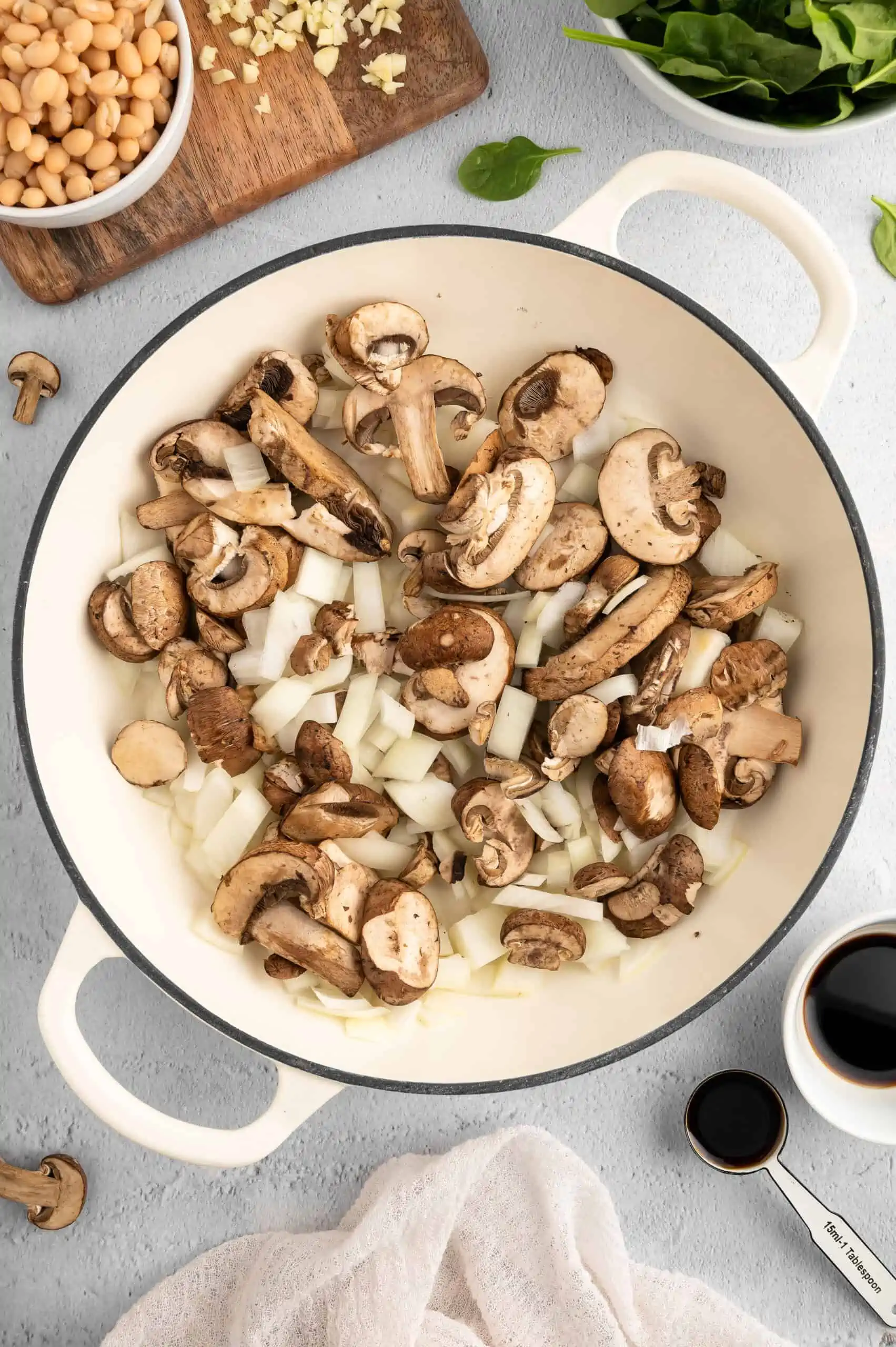 Step 4: Meanwhile, add the onion and mushrooms to a skillet over medium heat and sauté until mushrooms release most of their moisture. If sticking occurs, add a small splash of water to deglaze the pan.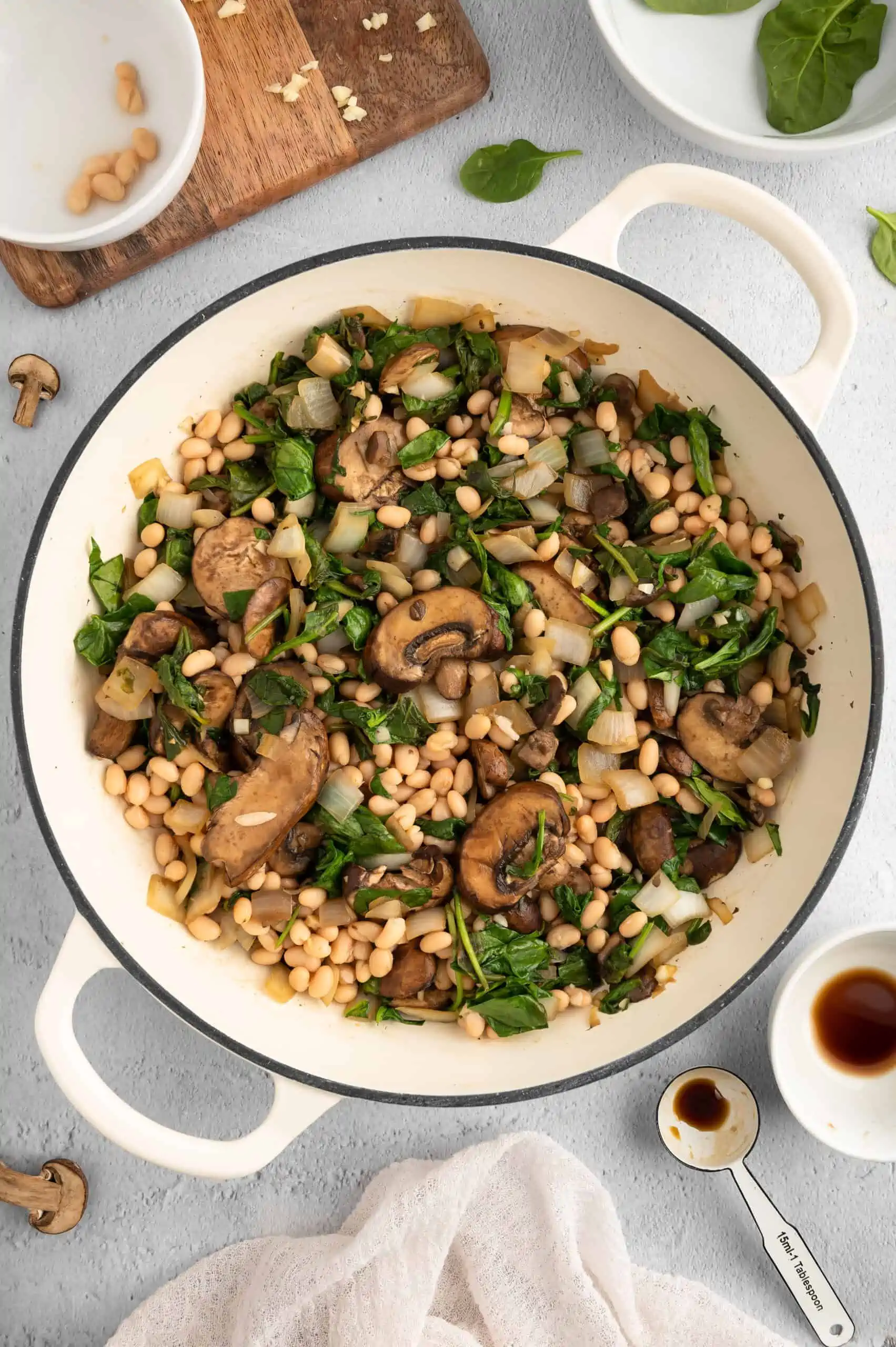 Step 5: Add the garlic, tamari, vinegar, beans, and spinach and cook for 1–2 minutes or until the spinach is thoroughly wilted.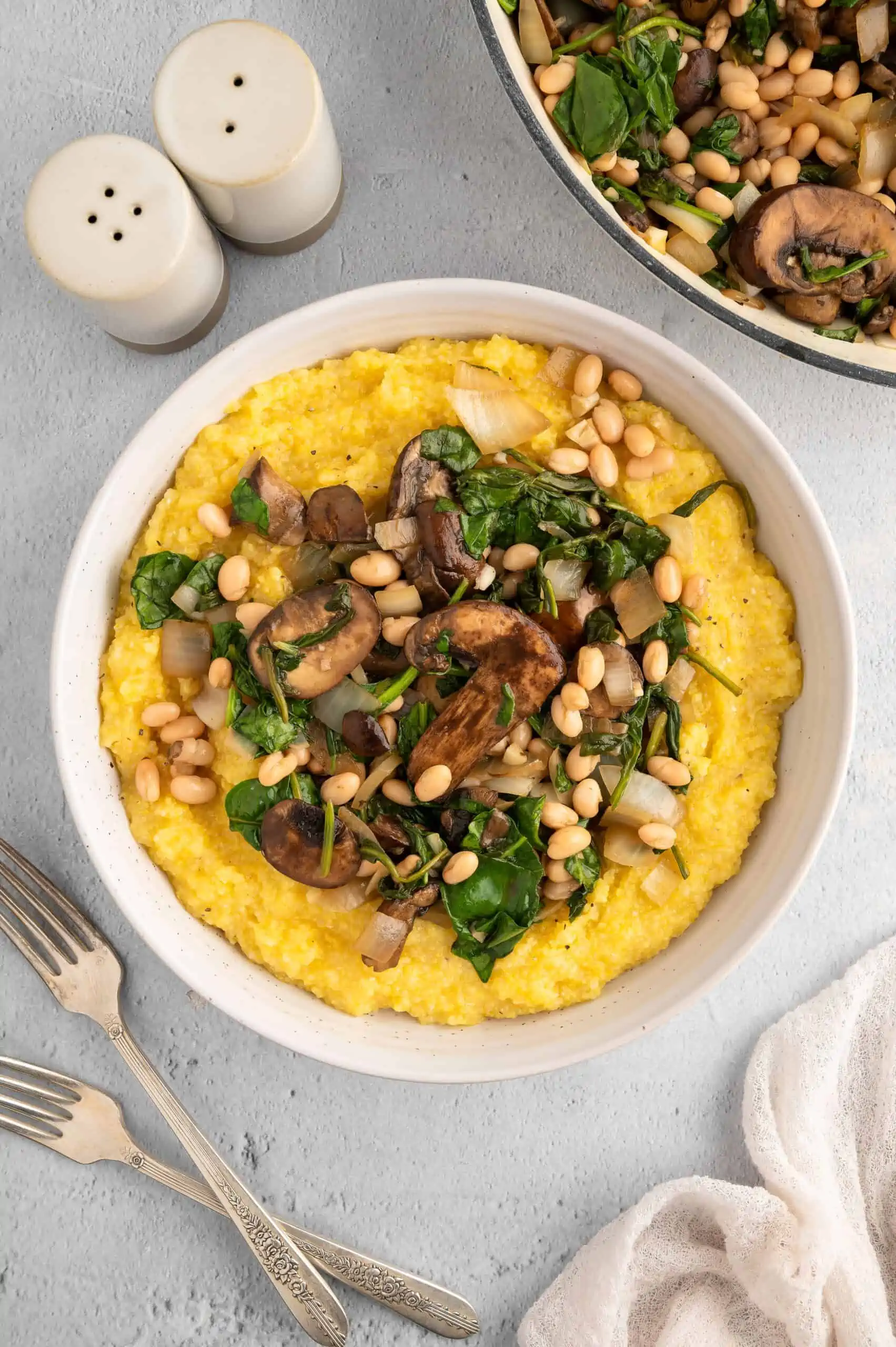 Step 6: Serve the polenta topped with the spinach and mushroom mixture.
FAQs
Is polenta vegan friendly?
Traditionally, polenta is frequently enriched with butter, cream, and/or cheese to make it particularly decadent. While the dry staple itself is always plant-based, assume that any prepared versions contain dairy products unless explicitly labeled otherwise.
Is polenta gluten-free?
Yes, polenta is gluten-free! It contains no wheat ingredients, but some manufacturers process it on shared equipment, which means that cross-contamination can be an issue. If you have a severe allergy or intolerance, look for packages that are specifically certified gluten-free.
Is polenta healthy?
Absolutely! Polenta is a veritable superfood, full of vital complex carbohydrates, fiber, vitamins, minerals, and antioxidants. It's a smart alternative to other starches such as white pasta, rice, or potatoes.
More Cozy Vegan Breakfast Recipes
For the polenta:
3½ cups water
1 cup instant polenta, (such as Bob's Red Mill)
1 tablespoon nutritional yeast flakes
1 teaspoon garlic powder
1 teaspoon onion powder
½ teaspoon sea salt, or to taste
¼ teaspoon black pepper
For the veggies:
1 medium onion, diced
8 ounces mushroom, (any type) sliced
4 cloves garlic, minced
1 tablespoon low-sodium tamari
1 tablespoon balsamic vinegar
1 15-ounce can white navy beans, drained and rinsed
5 ounces spinach, roughly chopped
For the polenta:
In a medium pot, bring the water to a boil over high heat. Reduce the heat to medium-high and slowly stir in the polenta, nutritional yeast, garlic powder, onion powder, salt, and pepper, whisking continuously. If you add the polenta too quickly, lumps will form.

Reduce the heat to low and continue stirring the polenta for 1–2 minutes to avoid lumps. Cover and simmer for 15–20 minutes, stirring occasionally. If the polenta is too thick, add a bit more water and stir.
For the veggies:
Meanwhile, in a medium skillet, sauté the onion and mushrooms over medium heat. (The mushrooms have a good amount of moisture, so you shouldn't need to add water to prevent sticking. However, if sticking and burning occur, add a small amount of water to deglaze the pan.)

Add the garlic, tamari, vinegar, beans, and spinach and cook for 1–2 minutes or until the spinach is thoroughly wilted.

Serve the polenta topped with the spinach and mushroom mixture.
You can replace the spinach with other greens, such as kale, broccoli, or collards. Sometimes I like to top this dish with shredded carrots for added color and nutrients. Make this your own recipe and change up the veggies for what's in season or whatever you have on hand.
Calories: 202kcal | Carbohydrates: 41g | Protein: 8g | Fat: 1g | Saturated Fat: 0.1g | Polyunsaturated Fat: 0.4g | Monounsaturated Fat: 0.1g | Sodium: 587mg | Potassium: 553mg | Fiber: 3g | Sugar: 3g | Vitamin A: 3409IU | Vitamin C: 14mg | Calcium: 61mg | Iron: 2mg
About The Author
Kim Campbell puts classic, family-friendly favorites back on the table with more nutritious and delicious recipes than ever. As the Director of Culinary Education and Development at PlantPure, her whole foods, plant-based approach combines her love for cooking, background teaching in elementary and middle schools, and formal education in Nutrition and Child Development. She's also the author of the PlantPure Nation and the PlantPure Kitchen cookbooks, with over 250 original recipes to her name.
Thank you to our recipe tester Jessica Sabbagh!
This vegan polenta recipe is excerpted from PlantPure Comfort Food. Copyright © 2022 by Kim Campbell. Reprinted with permission from BenBella Books. Article written with support from Hannah Kaminsky and edited by Rachel Lessenden. Photos by Amanda McGillicuddy for World of Vegan, all rights reserved.