It makes sense to associate pasta and noodles with plant-based foods. At restaurants like this, though, it's more what's put on the noodles than the noodles themselves. With the new release of Impossible Panko Chicken and a very veganizable menu, Noodles & Company has become a vegan's pasta paradise.
Ordering from the Noodles and Company menu is easy when you use our handy ordering guide below. We've included photos of most of the dishes so you can see exactly what you'll be getting!
Just weave around the un-eatables and venture far out for the vegetables. Mixing and matching, swapping and substituting is the game for eating grub at this grill. Are you ready for an oodley-noodley adventure? Let's go!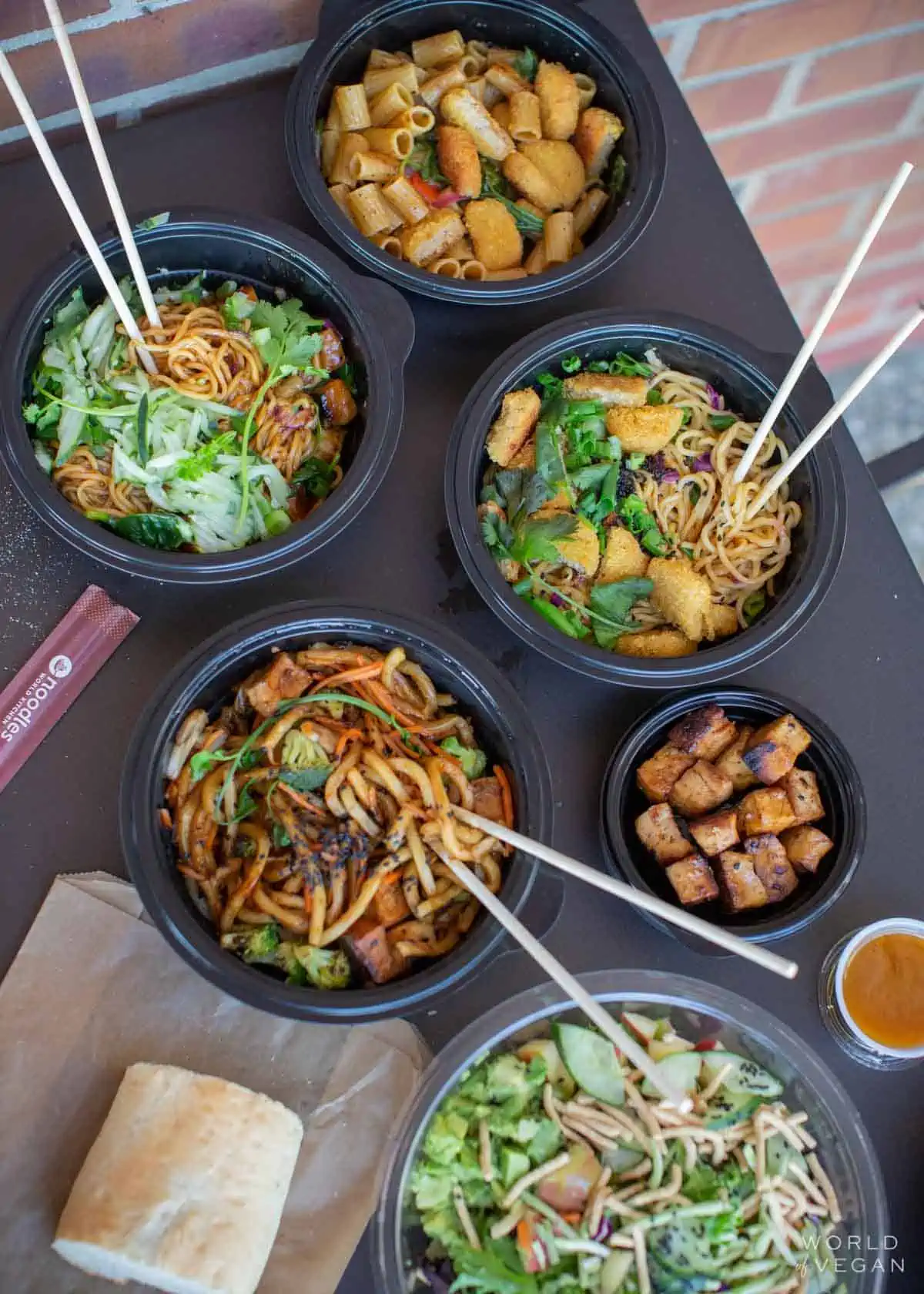 Vegan Main Meals at Noodles & Company
One of the beauties of the menu at this pasta-centric fast food joint is that most of their star dishes can be made vegan with some simple substitutions! And even more exciting, Noodles & Company introduced Impossible Panko Chicken to the menu in 2022 which can be easily added to any dish!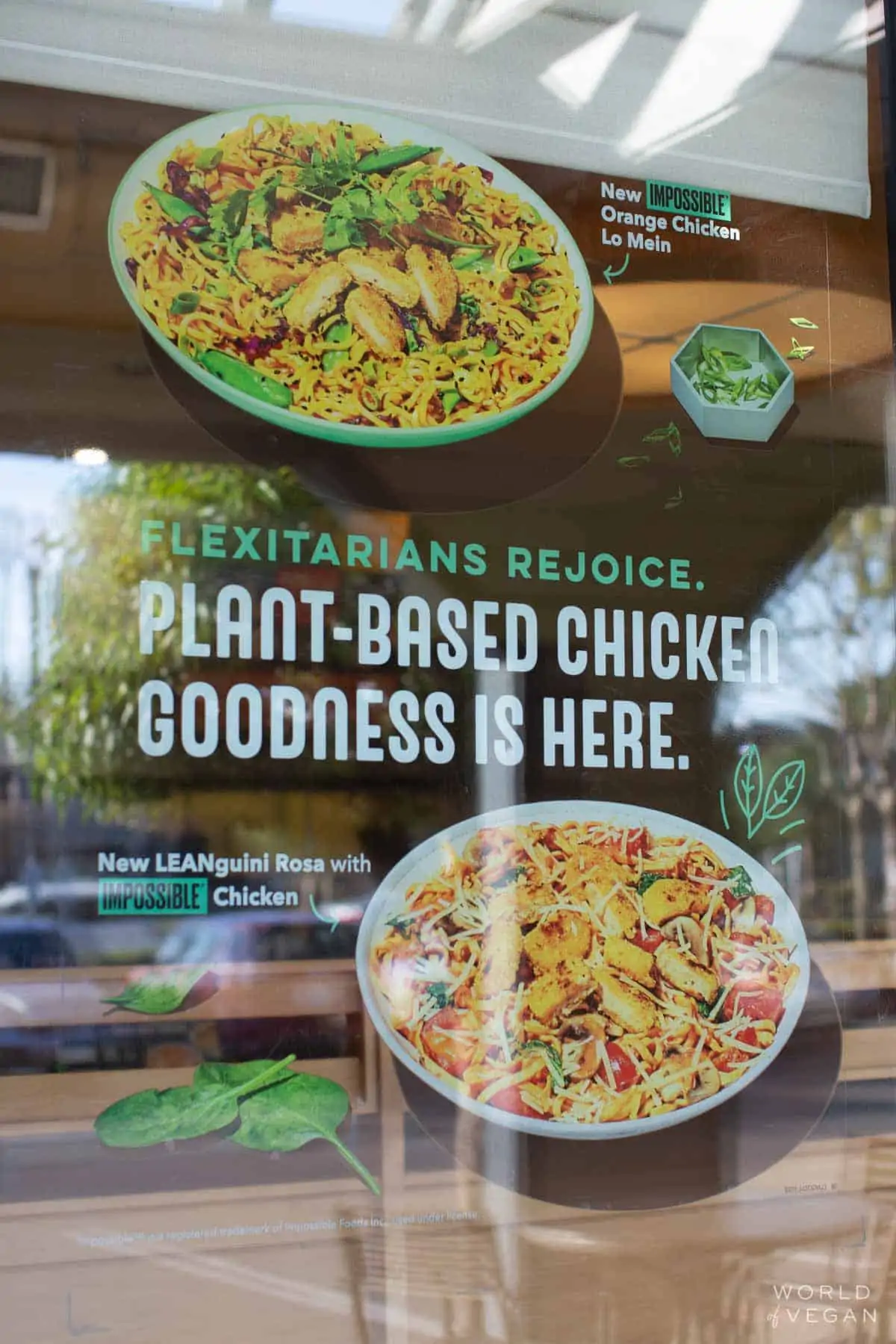 There is so much on the menu it can be overwhelming, especially if you're hungry, but just follow our lead and you'll be devouring your lunch in no time.
Since most of the menu items at this restaurant contain either dairy-rich sauces or animal products, we have clearly outlined how to order each dish vegan. Here are the best noodle dishes you can order with a few tweaks:
Japanese Pan Noodles – 100% Vegan!
Impossible Orange Chicken Lo Mein – 100% vegan!
Spicy Korean Noodles – Swap the marinated meat for tofu of Impossible Chicken.
Spaghetti & Meatballs – Ask for marinara sauce with no cheese and no meatballs.
Grilled Orange Chicken Lo Mein – Leave out the chicken and replace with Impossible Chicken or tofu.
Cauliflower Rigatoni Fresca – Order without cheese and shrimp, and add Impossible Chicken.
If you can only try one dish, we recommend the Spicy Korean Noodles (follow the ordering instructions below). It's the most flavorful dish of all, and a crowd favorite.
Top 7 Vegan Dishes to Order for a Tasty & Filling Meal
Japanese Pan Noodles (100% Vegan!)
Add tofu or Impossible Chicken (optional)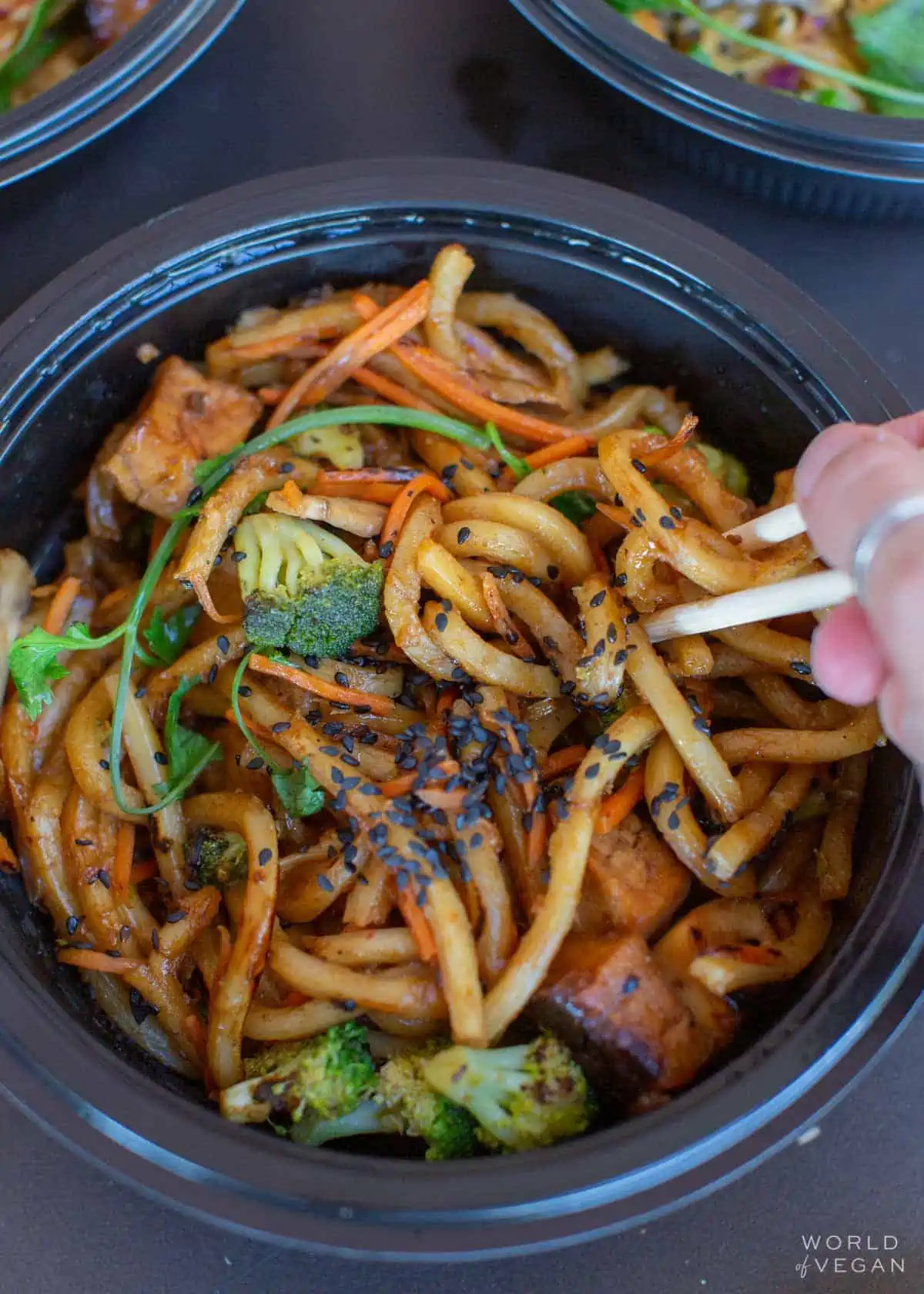 Impossible Orange Chicken Lo Mein (100% Vegan)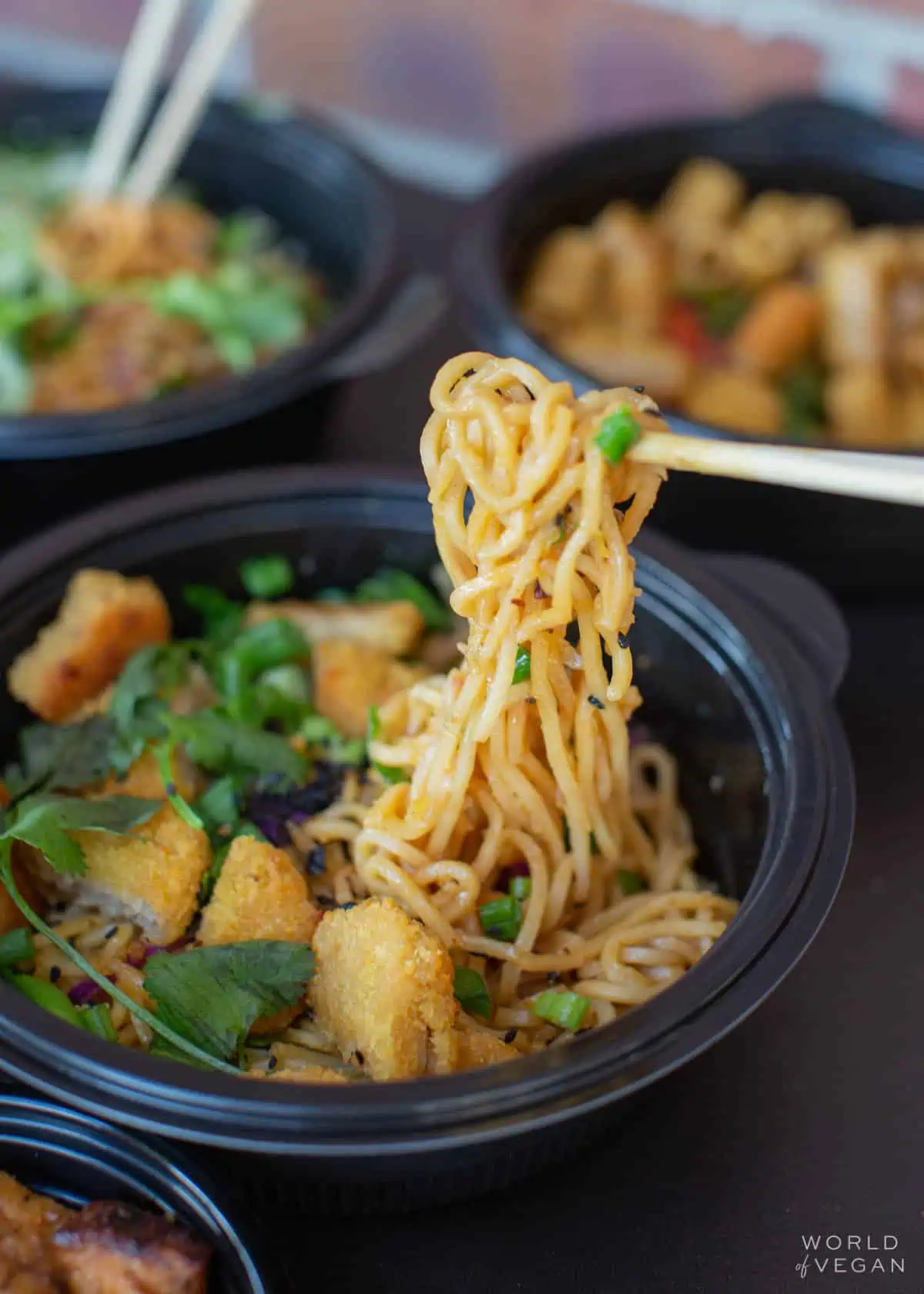 Spicy Korean Beef Noodles
How to make it vegan:
No Beef
Sub Impossible Chicken or Tofu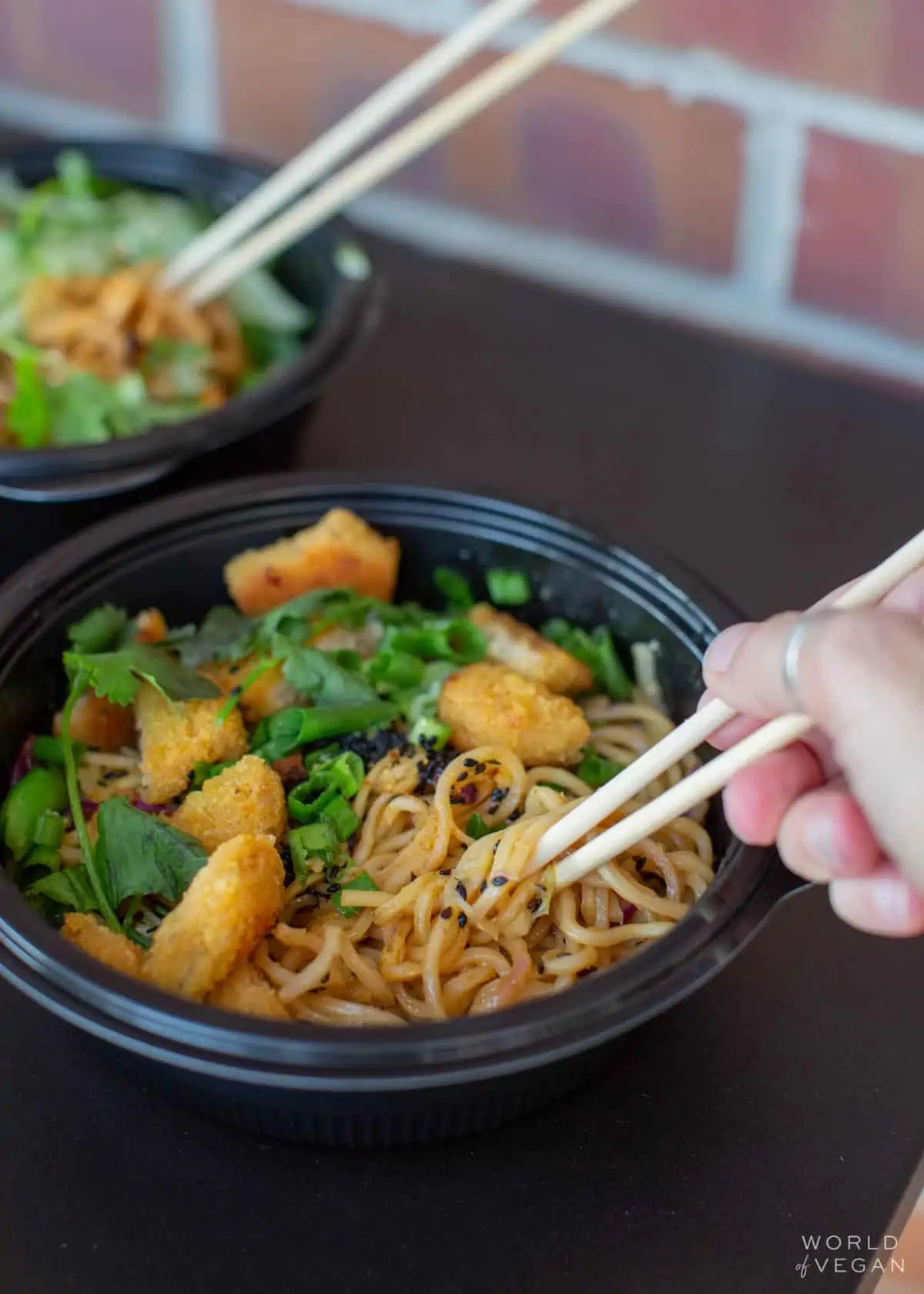 Zucchini Rosa with Chicken
How to make it vegan:
No Chicken
No Cream Sauce
No Parmesan Cheese
Sub Marinara Sauce
Sub Impossible Chicken (or tofu, but it has an Asian-style seasoning)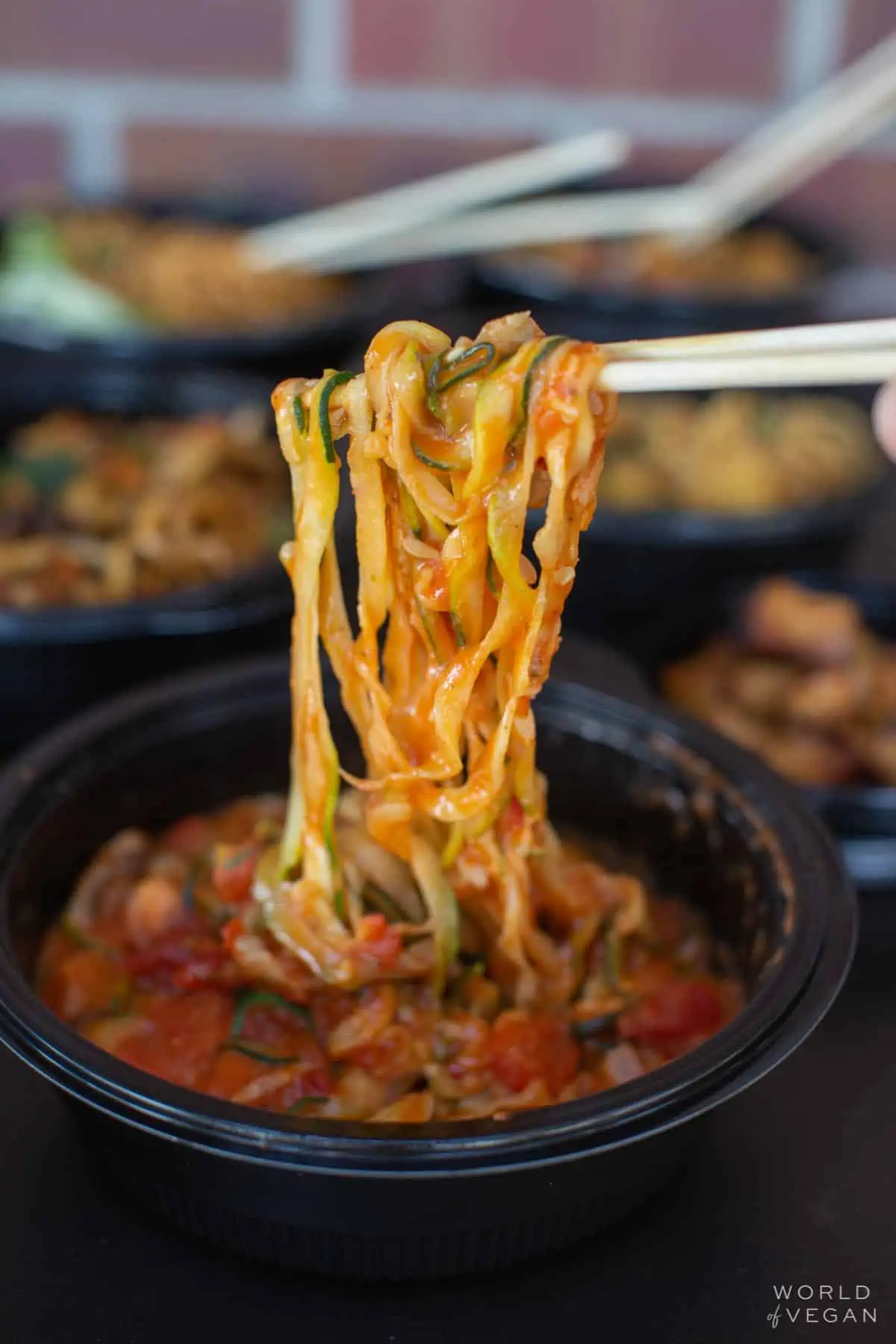 Cauliflower Rigatoni Fresca with Shrimp
How to make it vegan:
No Shrimp
No Parmesan Cheese
Sub Impossible Chicken
Spaghetti & Meatballs
How to make it vegan:
No Meatballs
No Parmesan Cheese
Sub Impossible Chicken
Penne Rosa
How to make it vegan:
No Light Cream
No Parmesan Cheese
Sub Marinara Sauce
Add Impossible Chicken
Vegan Salad Options at Noodles & Company
Get your greens in with a vegan salad — you have one easy-to-order option, as well as others that take some adjusting. You can add tofu or Impossible chicken to any salad to make it extra filling and add in a generous dose of protein!
Asian Apple Citrus Salad
How to make it vegan:
No Chicken
Sub Tofu or Impossible Chicken
The following salads can be made vegan with significant substitutions. Unfortunately the only vegan salad dressing at Noodles & Company is this Citrus Dressing (used in the salad above).
Grilled Chicken Caesar – The most difficult of the lot. You can only get the greens and kale lettuce blend with citrus dressing. No caesar dressing, no croutons, no cheese, no chicken.
Mexican Street Corn Salad – No chicken, no feta cheese, no cheese dressing, and no tortilla strips (they have dairy in them). Select the citrus or balsamic vinaigrette dressing instead and add tofu.
The Med Salad – No chicken, no feta cheese, and no dressing. Ask for the citrus or balsamic vinaigrette dressing instead and add tofu.
Which Noodles Are Vegan at Noodles and Company?
Except for a few noodles (such as the egg noodle and tortellini), the rest are accidentally vegan. So, my friends, there are oodles of noodles to nosh on. Which one is your favorite?
Cauliflower Rigatoni
Cavatappi
Elbow
Lo Mein
Penne
Pipette
Spaghetti
Rice
Udon
Zucchini
Note: The Pipette pasta is made with corn, so it's a good choice for anyone who is gluten-sensitive.
Vegan Sides
This is a surprisingly short list, if you don't count the veggies and toppings.
Baguette
Applesauce
Apple Slices
Oyster Crackers (our personal favorite)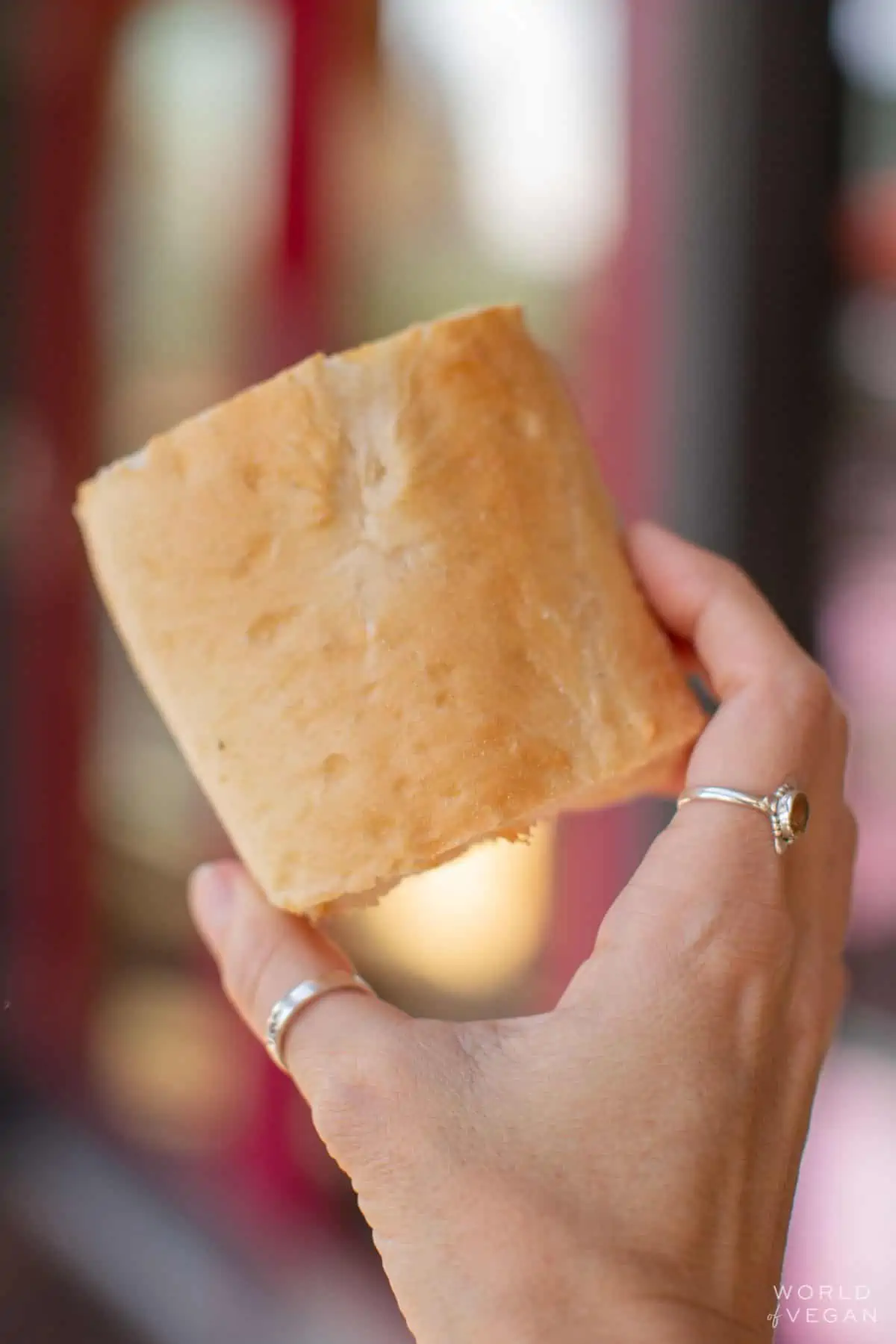 Veggie Options
We love that you can choose from so many vegetables, either raw or cooked. Make sure to include all the ones you adore so that your lunch or dinner will be extra appetizing and surely more satisfying.
Avocado
Broccoli
Cabbage
Carrot
Cilantro
Corn, roasted
Cucumber, sliced or diced
Green Onion
Kalamata Olives
Lettuce
Mushrooms, raw white or roasted
Red Onion
Seasoned Tofu
Spinach
Snap Peas
Zucchini, roasted
Tasty Toppings
Add a little pizzaz to your dish with any of these pleasant tasting picks.
Asian Seasoning
Black Sesame Seeds
Crispy Jalapeños (yup!)
Italian Seasoning
Peanuts
Pepper
Red Pepper Flakes
Salt
Smoulder From Boulder
Vegan Dressing and Sauces
Although most of the dishes themselves are not vegan, there are a number of savory sauces to choose from that can add more flavor to your meal.
Balsamic Vinaigrette
BBQ Sauce
Buffalo Sauce
Citrus Dressing
Fresca Sauce
Japanese Pan Sauce
Korean BBQ Sauce
Marinara Sauce
Orange Sauce
Potsticker Sauce
Soy Sauce
Sriracha
Vegetable Broth
Are the Noodles and Company Kids Meals Vegan-Friendly?
The food choices for kids' meals are pretty sad. Here's what they can order, but we can almost guarantee they'll be hungry later. You can always double the order, but another option is to buy a side order of salad or other noodle dish to satisfy.
Main Meal – Spaghetti & Meatballs with no meatballs or cheese.
Sides – Choose two sides—either broccoli, apple slices, or applesauce.
Beverage – Only choices are orange juice or possibly a water bottle.
Beverages
Nothing new here, just the usual.
Izzy Sparkling Sodas
Coca-Cola fountain drinks
Fresh Brewed Iced Tea
Minute Maid Lemonades
Orange Juice
NOT Vegan At Noodles & Co.
All Classic Noodle Dishes (all contain meat and also a milk or cheese-based sauce)
World Famous Macs (all contain dairy cheese and/or animal products)
Flatbread (contains milk)
Garlic Croutons (contains milk additives)
Pad Thai Sauce (has fish sauce as an ingredient)
Potstickers (made with chicken, but the potsticker sauce is vegan-friendly)
Here's what we suggest:
Know Your Noodles – Noodles are key. Choose from the list below, but they're all vegan-friendly except the egg noodles and tortellini (which contain egg and/or cheese).
Designate a Dressing (or Select a Sauce) – Although there are only two dressings for salads, there are many sauces that fit the bill. Go wild and choose a few!
Say "Yes" to a Salad – If you're really wanting to be full of food, add one of the veganized salad options to go with your noodles. Or, get a salad and add all the veggies. Oh, yeah!
Volumize With Veggies – With so many vegetable toppings, you just have to include a huge variety. Are we right?
Fill Up With Fruit or Satisfy With Starch – For "dessert", select sliced apples or applesauce. If you want a little starchy snack, buy the baguette.
FAQs About Vegan Options
Are there any vegan desserts at Noodles and Company?
This one is a disappointment, but not a surprise. Both of the cookies and the rice crispy all contain dairy.
Is Noodles and Company Pad Thai vegan?
That's a no go for this noodle dish. The Pad Thai sauce that they use contains fish sauce, which is not vegan-friendly. At small chain or local Thai restaurants, they sometimes can leave out the fish sauce, but for larger restaurants like this, the sauce usually comes pre-made.
Are any of the soups at Noodles and Company vegan?
Sorry to say that none of them are plant-based. The Tomato Bisque contains dairy and the Chicken Noodle has, of course, chicken and chicken broth. We'd love to see a vegetable soup or a bean chili added to the menu!
Does Noodles and Company have any vegan appetizers?
None of the appetizers (or shareables, as they call them) are vegan. They all contain either dairy and/or meat.
Helpful Hints When Ordering Vegan at Noodles & Co.
If ordering Noodles & Co. online or through a delivery service, make sure you clearly specify any substitutions you would like. If you're worried that your request may not be honored (or seen by the server at Noodles and Company), it might be a better idea to go there directly to order.
Check out their Nutritional and Allergen and Ingredient Information pages to make sure that you are purchasing a vegan-friendly item. The menu items offered at Noodles & Company don't seem to change very often, but you may want to double check before you visit.
Be careful when new and exciting seasonal products are offered at Noodles and Company. Double-check the allergens and ingredients to make sure the item is vegan before purchasing.
Historic Vegan Moments in Noodles and Company History
None yet! Let's keep hoping they'll start to add a plant-based protein other than tofu.
Fascinating Facts About Noodles and Company
Miso Soup and Spicy Cold Peanut Noodle Salad used to be on the menu, but are sadly no longer offered.
Founder Aaron Kennedy worked at Pepsi Cola Company and Oscar Meyer before starting this own business.
There's no tipping allowed at this restaurant.
At some of the Canada locations, they have a breakfast menu.
Aaron Kennedy founded Noodles & Co. in 1995 after being inspired by all of the NYC Thai noodle shops.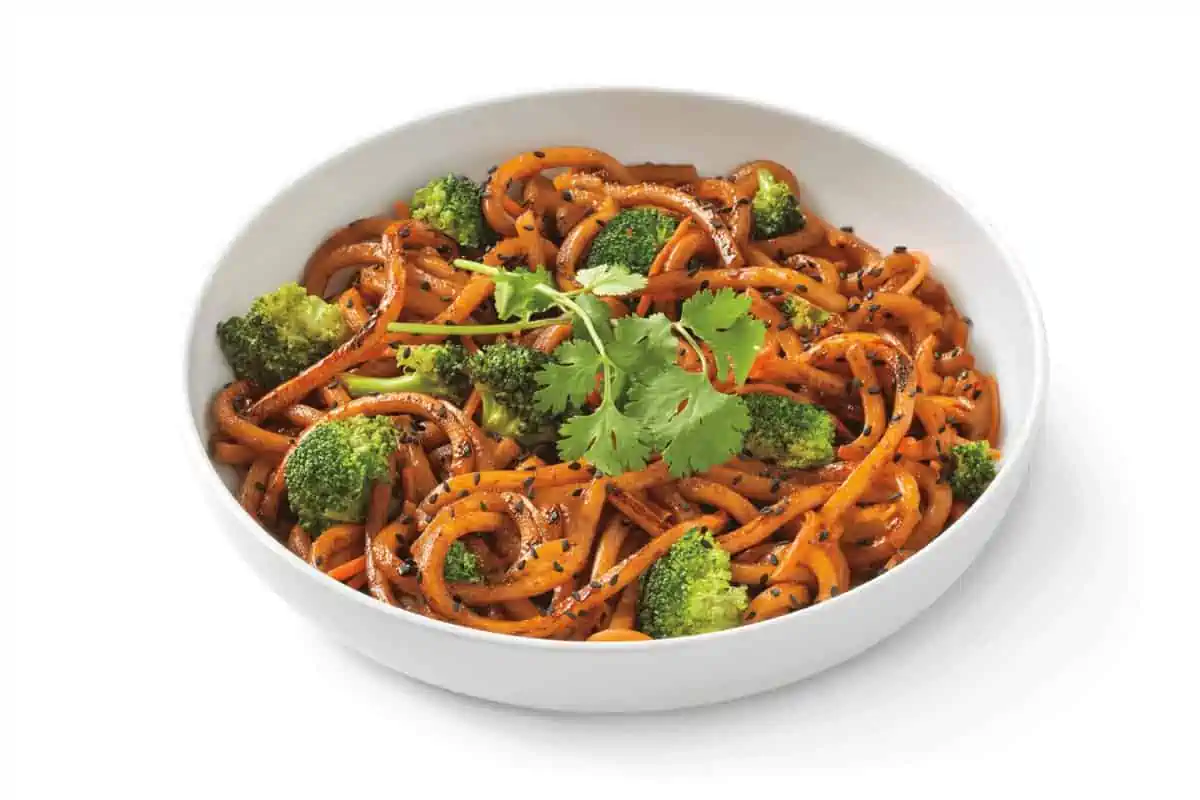 Creating a Kinder and More Accessible Noodles & Company Vegan Experience
Even though Noodles and Company have not yet added any plant-based protein alternatives to their menu, we can still live and dream. Since there are so few vegan-friendly pasta places to choose from, let's hope that they get their act together and add some options soon. Imagine all of the appetizing alternatives they could include – like vegan meatballs, dairy-free cheese, or even a plant-based pad thai. In the meantime, we can always write to, call, or contact the managers of any location to make our requests.
What are your favorite items on the Noodles & Company vegan menu? Let us know on Facebook, Twitter, and Instagram!
Have you found any other Noodles & Company options to be veganizable? Did you find something amazing that we missed? Let us know by tagging #worldofvegan and sharing your favorite vegan-at-noodles-and-company creations with all of us!
This article is not sponsored and we are in no way affiliated with Noodles & Company. At the time of this article, the menu items mentioned above are vegan. Since restaurants constantly update their menus and add or take away items, please keep this in mind when ordering your food. There may be new items that are vegan at Noodles & Company and not listed or items listed here as vegan, which are no longer vegan. Take care to double-check.