Keeping your toes cozy, warm, and protected is a high priority. How will you perform your daily duties and have fun frolicking with cold, chapped, or cramped feet? It's impossible. Finding the perfect pair of vegan slippers is surely the answer.
Whether your style of slippers come in the form of booties, ballets, slides, or clogs, they should be comfortable and cruelty-free. In this guide, you'll discover a whole new world of animal-free foot coverings and where to find the best brands.
If you're ready to put your plant-based foot forward, let's go slipper shopping!
What Are Vegan Slippers?
Vegan slippers are a type of footwear made without any animal products or byproducts. They are an ethical and sustainable alternative to traditional slippers. There's no reason to have any part of an animal under or around our feet.
There are many fun, practical, and snug styles of vegan slippers available, from cozy and fluffy indoor slippers to more durable outdoor options. A few brands offer eco-friendly options using sustainable and biodegradable materials, like cotton rope, hemp, or natural rubber.
Materials Used in Cruelty-Free Slippers
Vegan-friendly slippers can be made of either synthetic and natural materials in their construction (or both!), such as: organic cotton, recycled rubber, and microfiber, among others. These materials are known for their durability, comfort, and ability to mimic the look and feel of animal-based materials without causing harm to animals. We're so lucky to have other options!
Why Choose Vegan Slippers?
That's a good question! There are several reasons why vegan slippers are a smarter choice. Here is a short list to start out with:
Ethical: Not wanting to support using animal products in any way.
Hypoallergenic: A great option for anyone allergic to animal hair or fur (such as wool).
Synthetic: Many synthetic materials feel soft and silky to the skin and are preferable to rougher textures.
Less Expensive: The leather and fur industry are labor-intensive (as well as inherently cruel), so the finished materials are much higher in cost. Natural and man-made materials are much less expensive to produce.
Durability: Many manufactured materials have more staying power because they are created to be more resistant to heat, liquids, and scrapes.
If you take a peek in the shoe department, there are more and more brands choosing to offer leather and fur-free options. Overall, vegan slippers provide a comfortable and ethical option for those looking to make more sustainable choices in their daily lives.
Best Brands for Vegan Slippers
While countless brands offer vegan slipper options, we always love to shine the brightest light on fully-vegan brands. Here are a few to peruse! You can easily find them online, take a peek, and find the pair that perfectly matches your style and personality.
PAWJ (100% Vegan Brand)
PAWJ is a fully-vegan brand that prides itself on creating luxurious, high-quality, and comfortable footwear options, including vegan shoes, vegan boots, and slippers. Their dedication to using only the best materials ensures that every pair of PAWJ slippers is soft, cozy, and stylish. PAWJ's faux suede and faux shearling slippers are perfect for those who want the look and feel of traditional shearling slippers without causing harm to animals.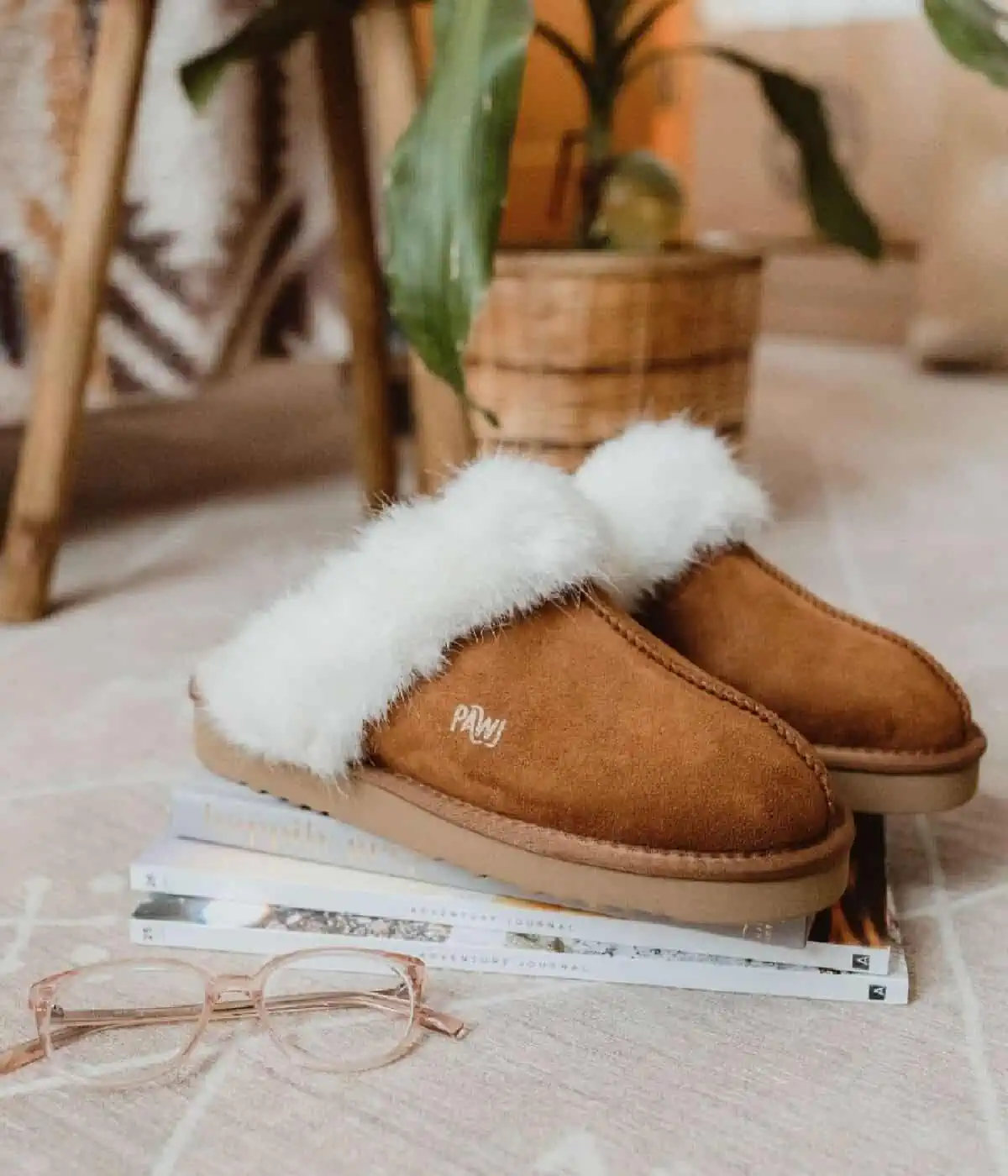 COFACE
COFACE specializes in comfortable and durable footwear, including slippers. Their slipper options feature a plush memory foam bottom lining for added comfort and are highly rated and widely loved!
Freewaters
Freewaters offers a range of eco-friendly footwear options, including slippers. You can easily search "vegan" on their site and see all of the animal-friendly products marked with a green "Vegan" label. Their slipper options feature a unique combination of faux wool and faux fur with foam padding for added comfort.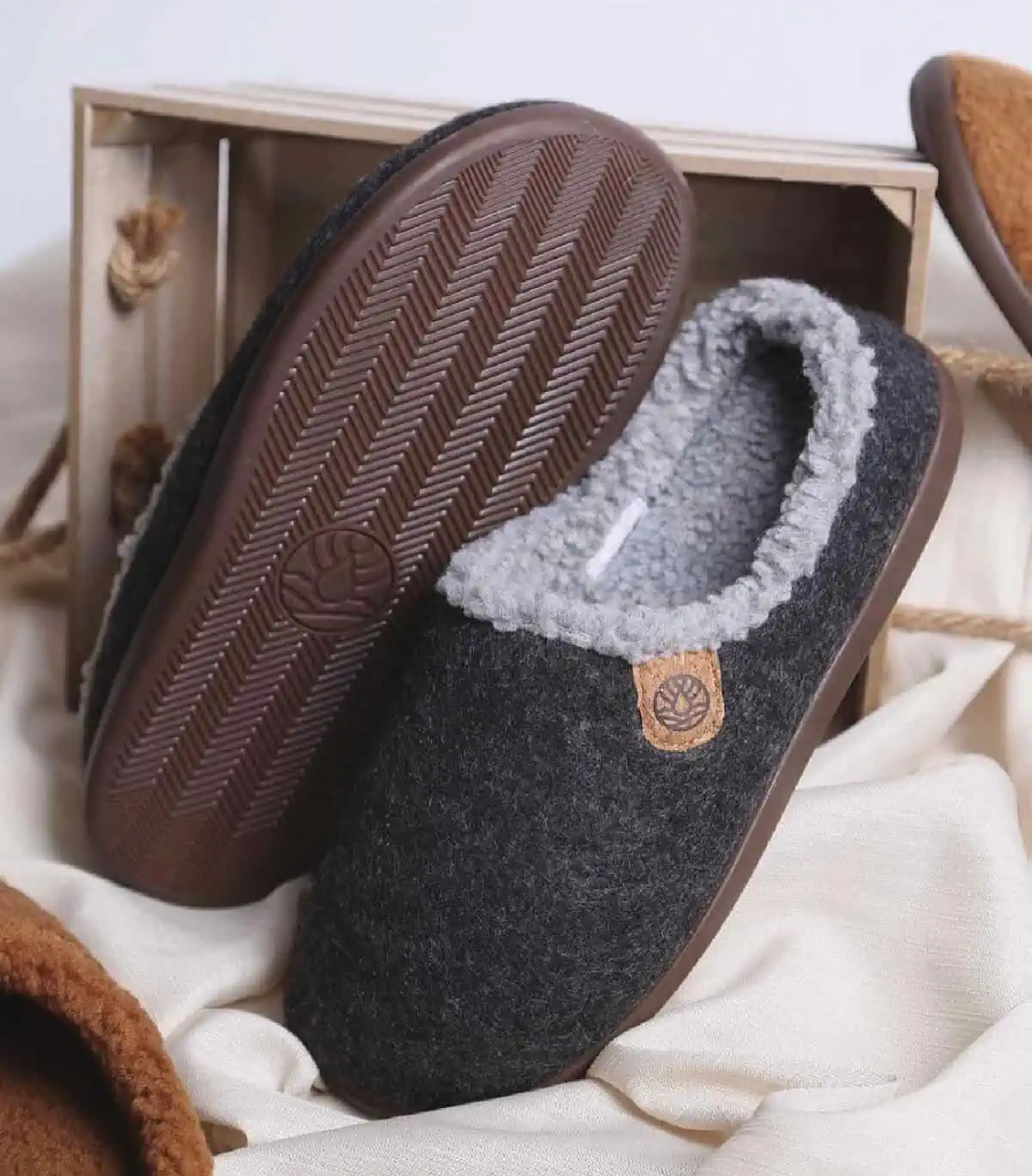 BearPaw
BearPaw offers a variety of cozy footwear options, including slippers. BearPaw does also carry leather and suede, but they proudly and prominently label their vegan line of boots and slippers. Their popular Loki slippers feature a traditional faux-fur edged design that's both stylish and comfortable!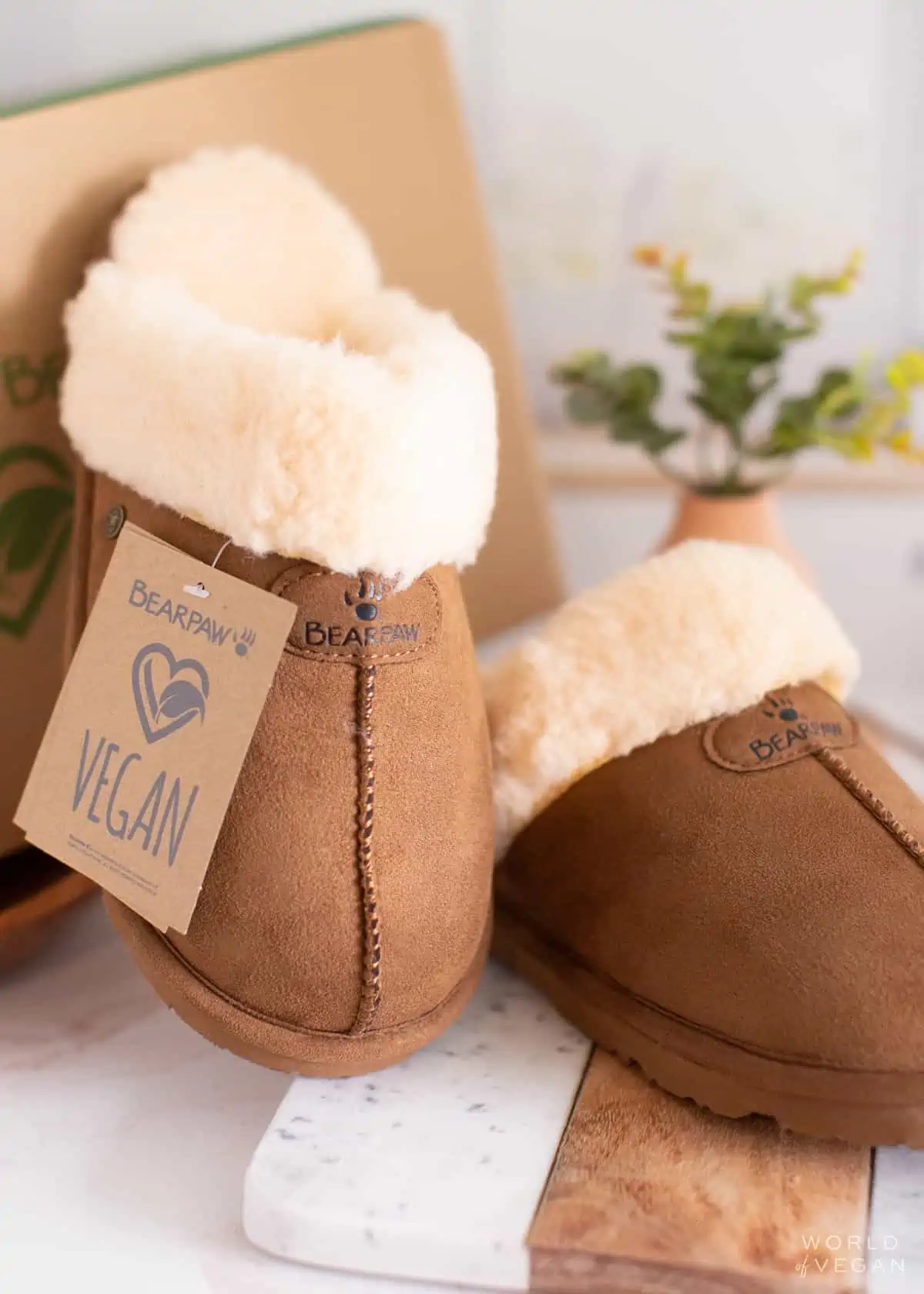 Illude
Illude specializes in stylish and comfortable footwear, including moccasin-style slippers. Their vegan moccasin slippers feature a rubber sole and luxurious footbed for added support.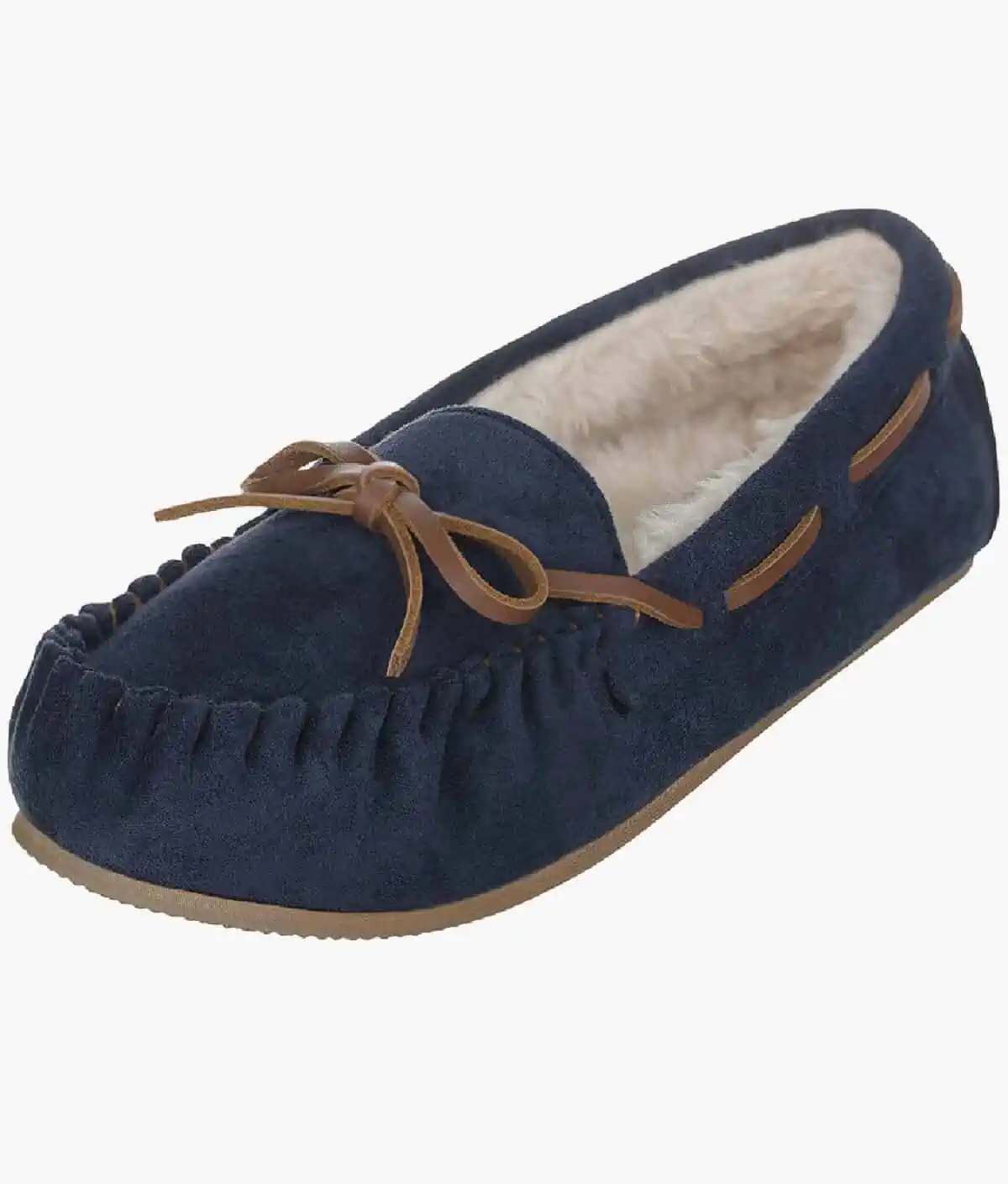 New Denber
NewDenber's memory foam slippers are fuzzy and cozy, but feature a sturdy rubber bottom and high quality synthetic suede upper for stability.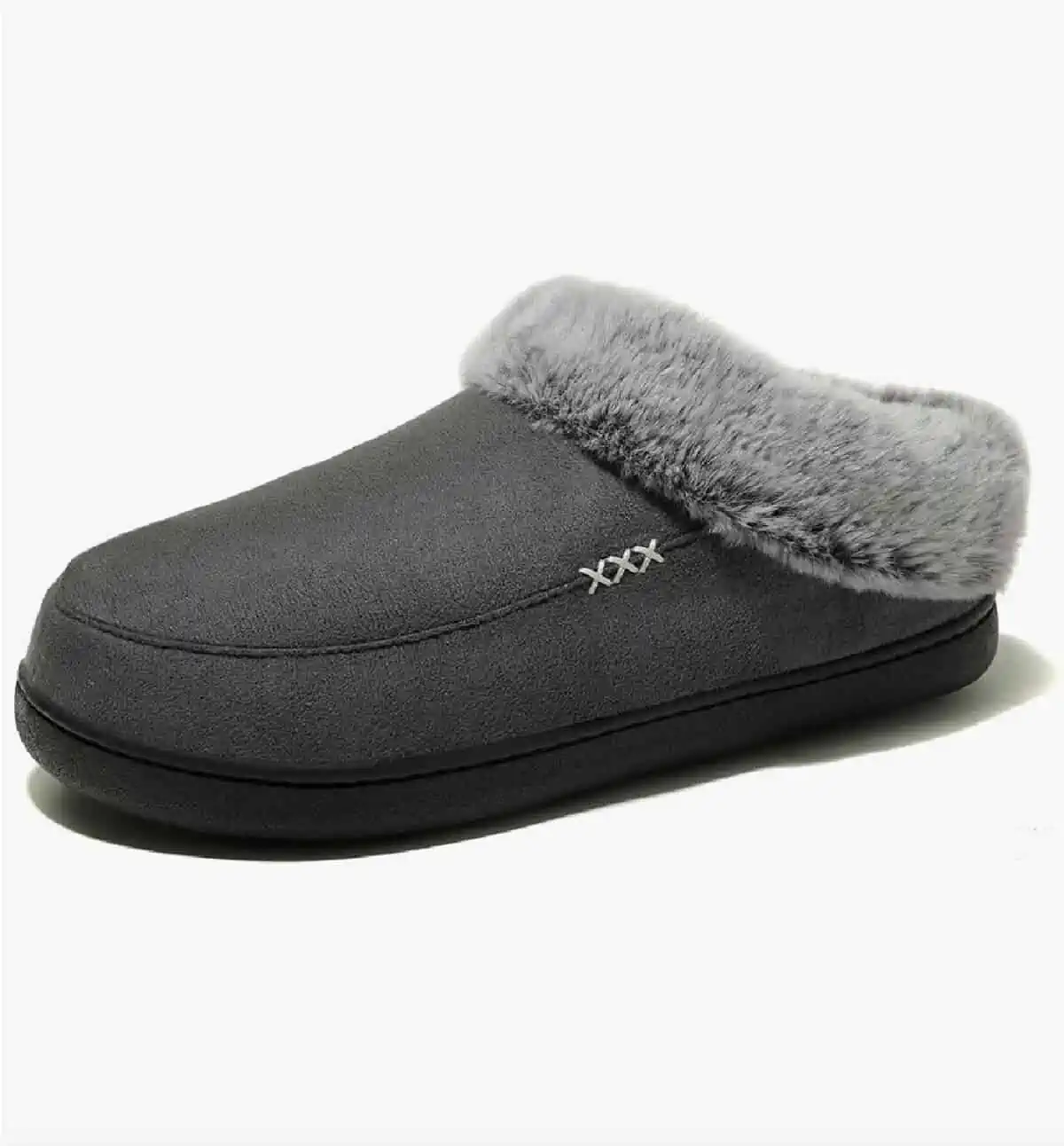 RockDove
RockDove offers a range of comfortable and stylish footwear options, including sherpa fleece slippers. Their slipper options feature a microfiber lining and a rubber sole for added comfort and stability.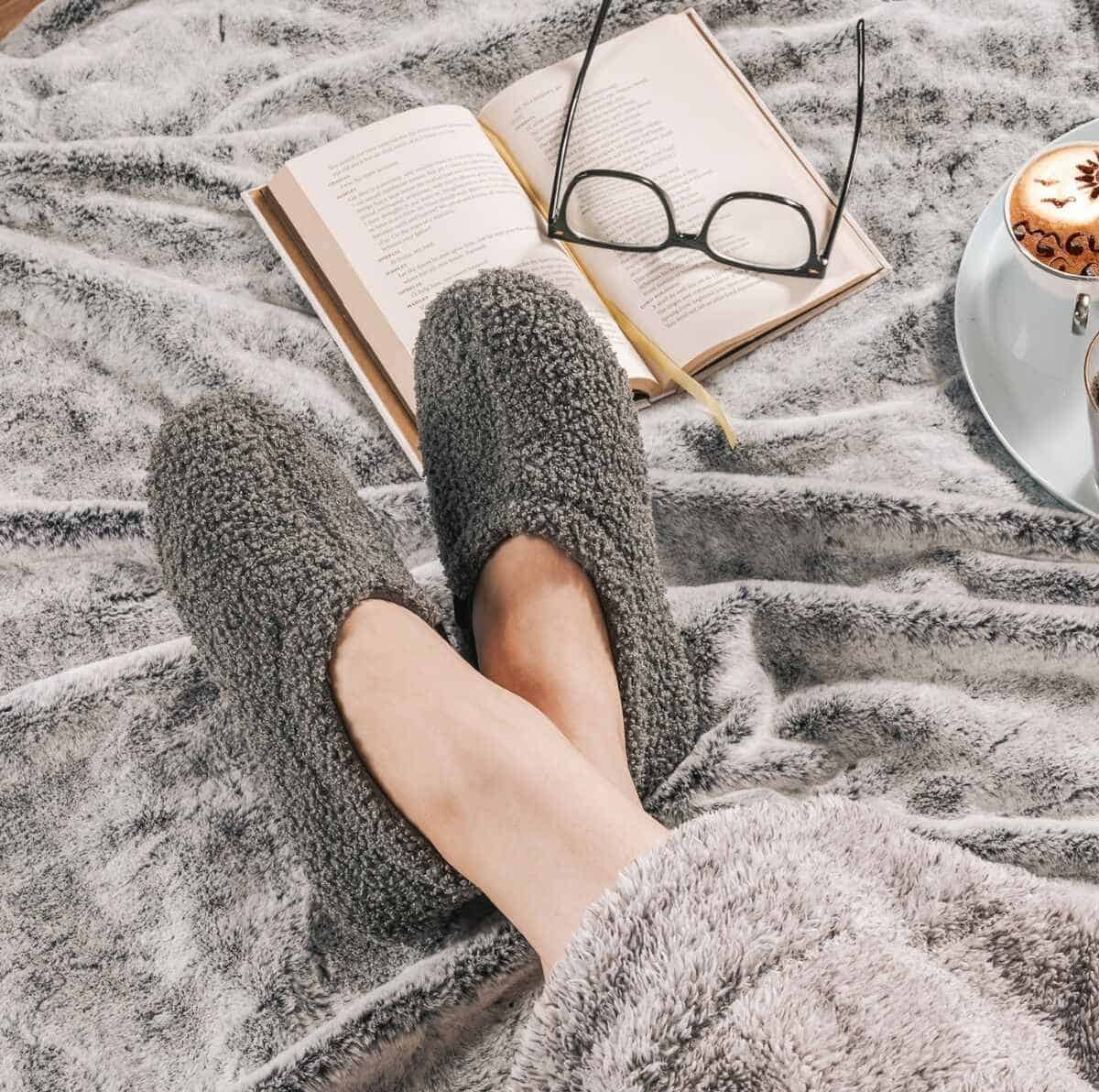 T.U.K.
T.U.K. specializes in fun and unique footwear options, including animal-inspired slippers. Their slipper options are made from man-made materials and provide a comfortable fit for lounging around the house.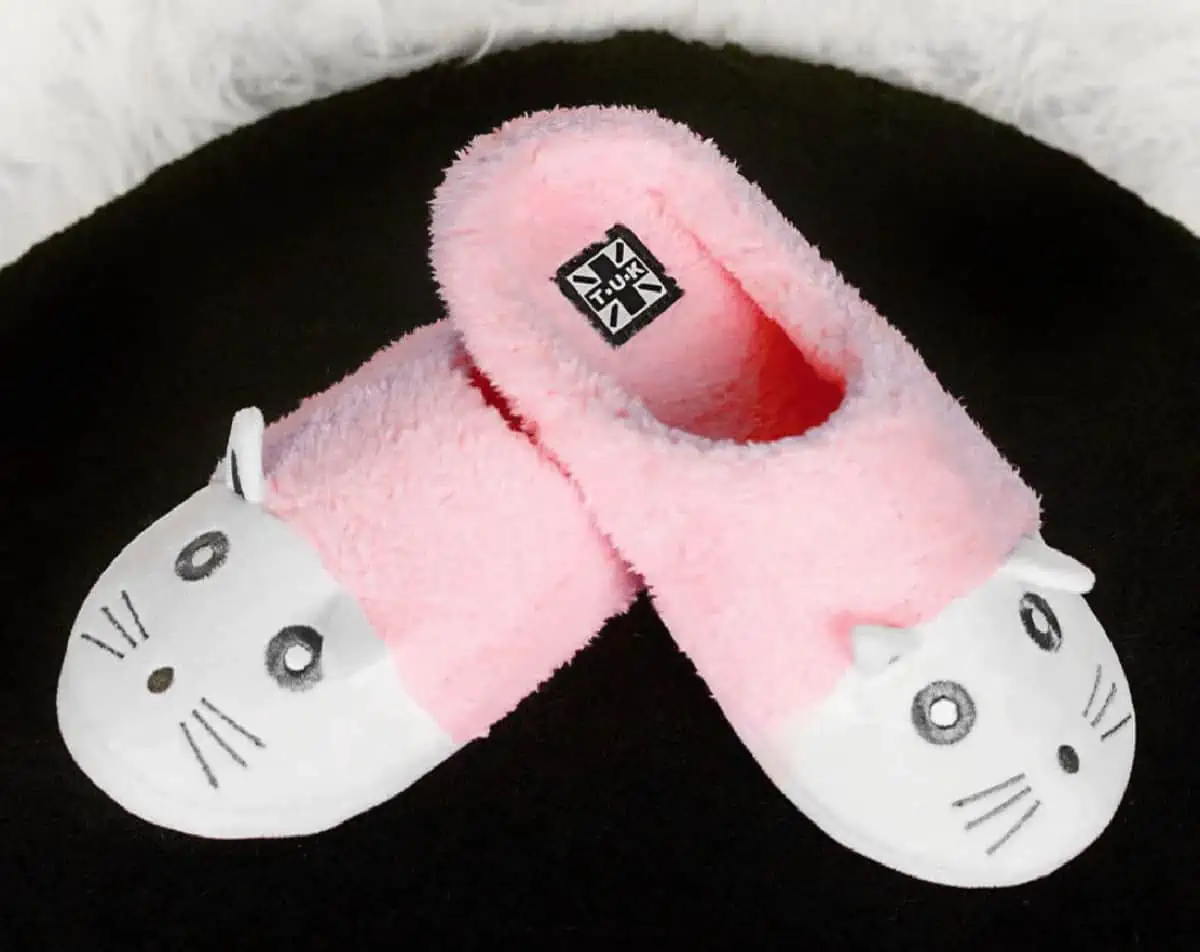 NOIZE (100% Vegan Brand)
NOIZE is a high-fashion vegan clothing brand with many footwear options, including slip-on slippers. The brand's motto is "Cool Without the Cruel," which we're all about! The Noize slipper options are made from recycled soda bottles and feature a durable rubber bottom.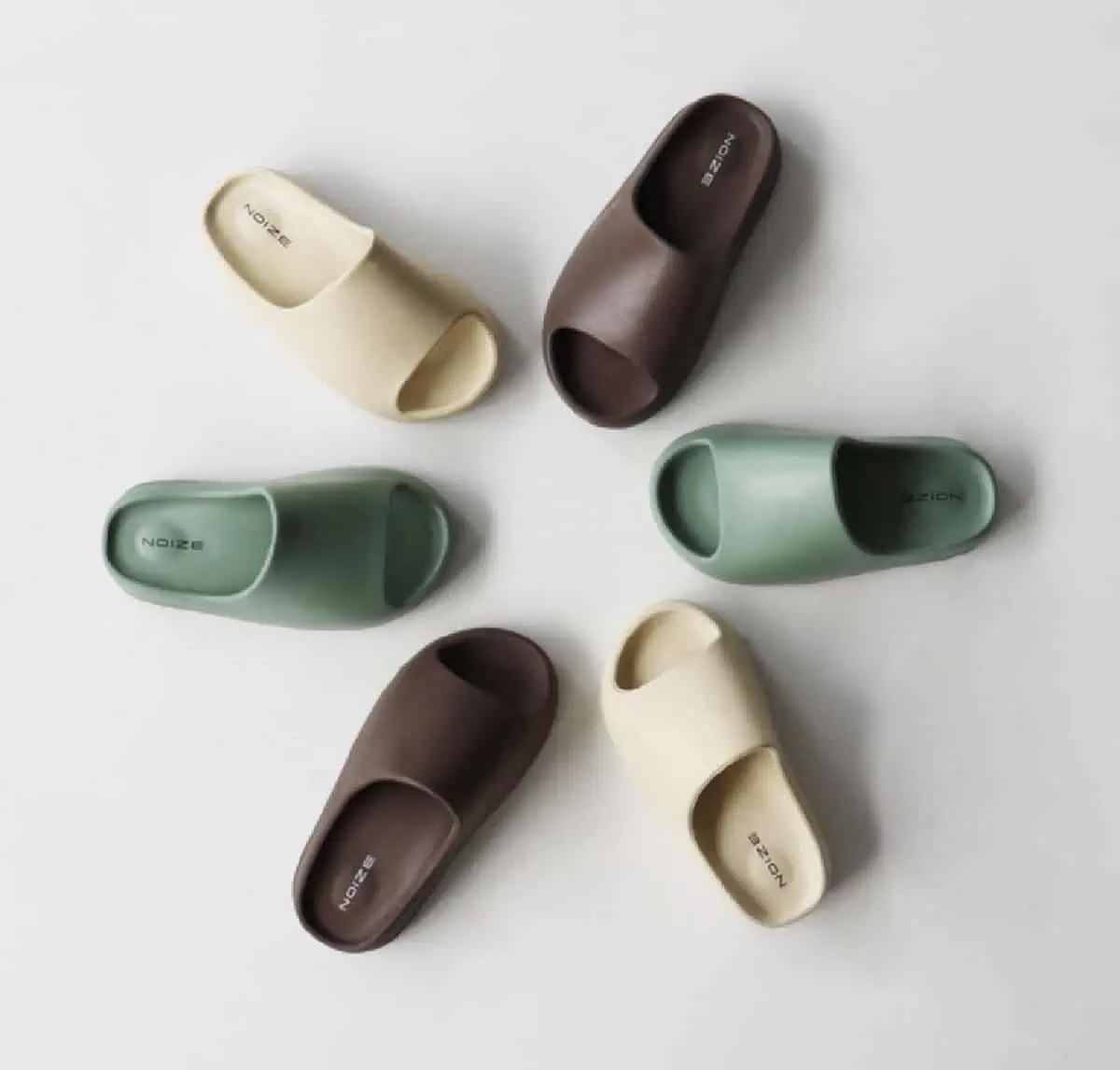 Nordic State of Mind (100% Vegan Brand)
Nordic State of Mind offers a range of comfortable and durable footwear options that are handmade, vegan, and socially responsible. They are best known for their adjustable rope slippers that feature a nomadic style and a strong construction for added support.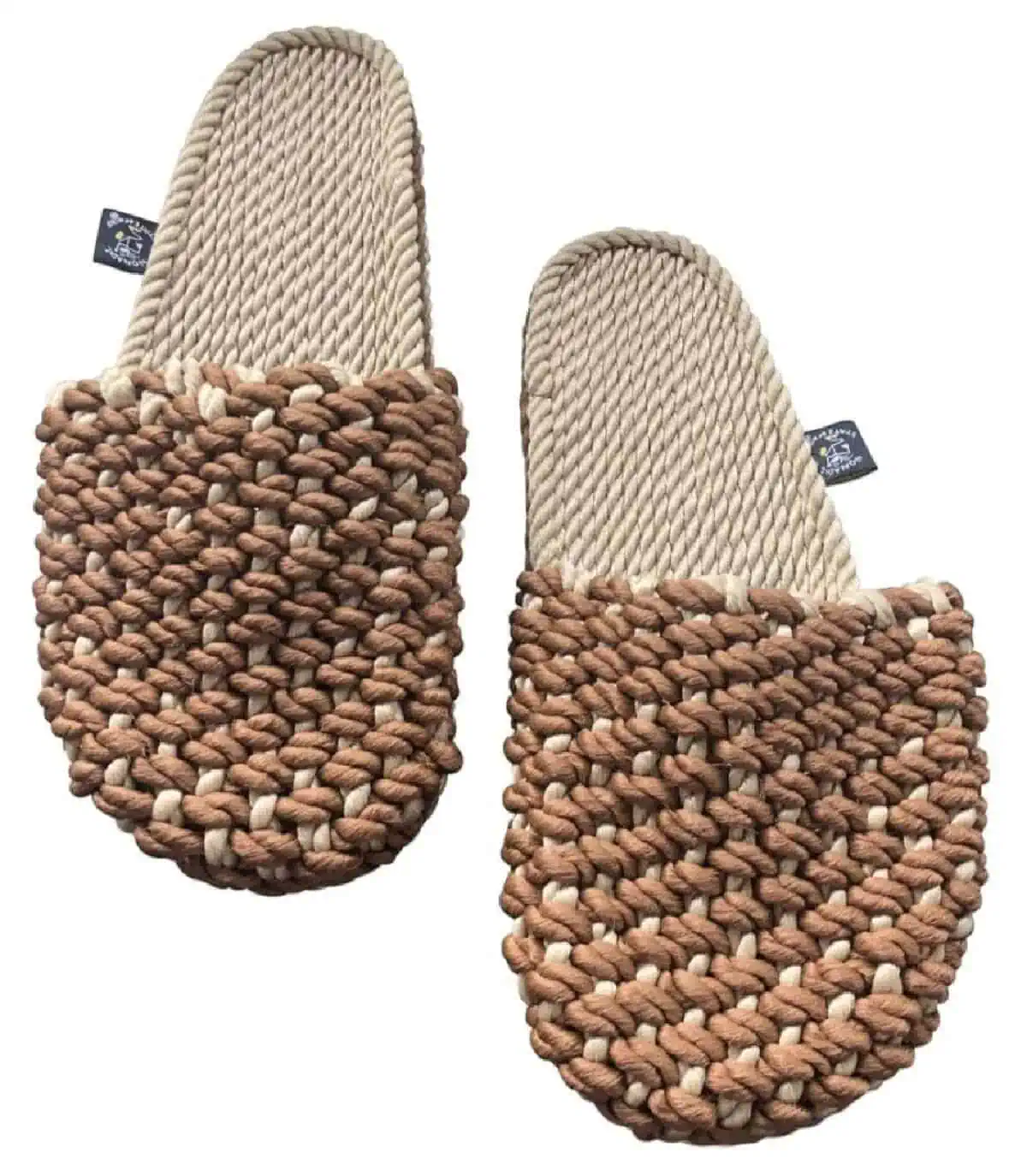 The above brands offer a wide range of vegan slippers, making them a great choice for consumers who are looking for comfortable, stylish, and environmentally-friendly footwear options.
Many mainstream stores now offer vegan slippers as shoppers become more aware of ethical and sustainable alternatives. Here are some examples of popular stores that often sell animal-free slippers:
H&M has a range of polyester and faux fur slippers using synthetic materials.
Nordstrom has a selection of vegan-friendly slippers from various brands; including Sorel, TOMS, and Bearfoot Dreams.
Target sells microfiber and recycled polyester slippers from brands such as Muk Luks, Isotoner, and Dearfoams.
Zappos has a wide selection of cruelty-free slippers from various brands; including Freewaters, Journee Collection, and Naot.
These are just a few examples of brands that offer vegan slippers. It's important to note that many other footwear brands also offer vegan options, so it's always a good idea to check the materials used in the product before making a purchase.
Are Ugg Slippers Vegan-Friendly?
Classic UGG boots and slippers are still not vegan. Fortunately, there are more and more slip-on, Ugg-style boot brands coming out on the market every day that are not only adorable but vegan-friendly, too! Make sure to peruse our Vegan Uggs Guide for durable, weather-resistant, plush, and wonderfully warm options.
There's no need to purchase slippers constructed from animal skins and furs when you can easily choose fabulously fun styles that are completely cruelty-free. Materials such as natural rubber, canvas, cotton, hemp, cork, recycled water bottles, and microfiber are not only soft and sensibly practical, but also much better for the planet.
More Vegan Lifestyle Resources
We hope this guide will help you to find the most cushy and comfortable pair of slippers to protect your pretty feet. If you have a favorite brand of vegan house slippers, men's vegan slippers, or vegan slippers for women, please share them in the comments below!