Once you've got the vegan food thing down, you may start looking at other parts of your life that could use some ethical alignment. There's…
…and of course vegan body care products (like deodorant that's animal-friendly and made without harsh chemicals)!
The last thing any of us wants to do it walk through the world with an unpleasant stank wafting around us. So today we're sharing the best cruelty-free and vegan deodorant brands on the market.
Finding the a plant-based and cruelty-free deodorant is simple, since there are now dozens of brands to choose from. However, today there are so many ethical and sustainable deodorant brands that you may feel overwhelmed by which to choose. We've included a list of brands below, but if you need a little more guidance as you search for your perfect match, be sure to explore our deodorant deep-dive section.
Deodorant vs. Antiperspirant
There is an important distinction between deodorants and antiperspirants, even though they are usually both lumped under the label "deodorant."
What is Deodorant
Deodorant eliminates odor. It won't stop you from sweating, but it will stop you from smelling.
It's not sweat itself that carries an unpleasant underarm odor — the "ripe" smell comes from bacteria that grows and flourishes in moist, warm environments (like our sweaty underarms). Deodorants work by creating an environment where bacterial can't survive and grow, thus neutralizing the smell.
Baking soda, a common food-safe ingredient added to natural deodorants, is just one example of a bacteria-halting ingredient that really works to combat odor. Many deodorants also include essential oils or other scents to add a pleasant aroma to your pits, or to help cover up any smells that might be creeping through your defenses.
Most natural, cruelty-free, and vegan deodorants are deodorants—not antiperspirants. They will prevent smell, not sweat.
What is Antiperspirant?
Antiperspirants block sweat, and keep us feeling nice and dry. But how? Aluminum is typically used to block our sweat pores and prevent that moist armpit feeling. Aluminum salt is actually the only ingredient deemed by the FDA to be both safe and effective at blocking sweat. How does it work? Aluminum salt forms an impermanent plug over your sweat glands, preventing most sweat from leaving the glands.
But are antiperspirants really safe and healthy for us? That is up for debate. Sweat-blocking sounds fantastic in theory, but our bodies are designed to sweat. And sweating serves lots of important functions for our bodies. While it may be inconvenient at times to have soggy pits or to feel a little glossy in the heart of summer, it's completely natural. If you want to err on the side of caution, you can simply steer clear of aluminum.
Whether you decide to block the sweat completely, or wear your sweat with pride and just eliminate the stink, is a completely personal decision. Either way you go, more power to you!
Give Yourself An Armpit Detox
If you're switching from a generic brand of deodorant with antiperspirant properties, there will likely be a "detox period" during which it will seem like your new natural deodorant just isn't working. Don't give up yet! This is completely normal. Expect to give your precious pits a few months to acclimate to their newfound freedom. They can finally breathe and sweat freely, perhaps for the first time in decades. Don't give up—the adjustment period is well worth it!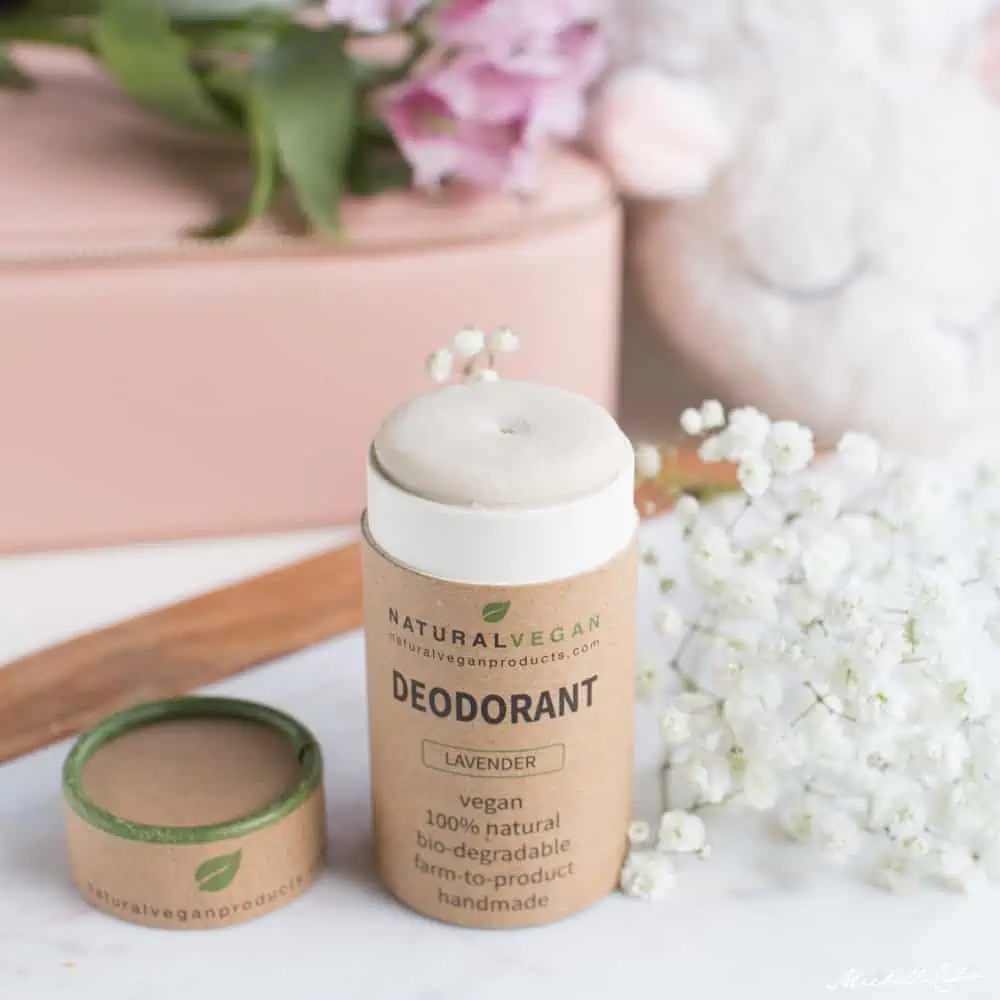 My Vegan Deodorant Journey
I've been vegan for more than a decade-and-a-half now, but it took me many years to really get the vegan deodorant thing down. It can be challenging because what works for one person may not work for another. Some of the natural deodorant options out there simply don't work for everyone. We each have a unique body chemistry so finding a vegan deodorant that works for you may take some trial and error.
That said—I've tried a lot of vegan deodorants. I've also talked to friends, fellow bloggers, and we at World of Vegan have contacted the companies to get a sense of which products we feel the most confident recommending to others. We hope this guide will make your new deodorant journey a little bit easier.
Vegan Deodorant Brands
The following deodorants are both vegan (made without animal products) and cruelty-free (not tested on animals). Many of these brands also offer deodorants that are aluminum-free, baking-soda-free, plastic-free, biodegradable, all natural, and gluten-free.
Best Eco-Friendly, Plastic-Free, Zero Waste Deodorants
The following deodorants are not only vegan and cruelty-free, but they're also zero waste, meaning they're specifically crafted to minimize single-use plastic and waste.
Many of these are packaged in cardboard tubes that are fully compostable (such as Coconut Matter and Habitat Botanicals). Some are packaged in glass jars (like Booda Organics), and still others have innovative reuse systems with refillable deodorant canisters (like Wild).
If you are passionate about protecting our planet or trying to lead a zero-waste lifestyle, these will be the best vegan deodorant picks for you!
Best Baking Soda Free Deodorants
Some people have sensitivities to baking soda. If this is you, look for baking-soda-free options, since baking soda is a common ingredient in natural deodorants due to it's ability to neutralize odors.
Make Your Own Homemade Deodorant
If you want to get really crafty, you can even make your own DIY vegan deodorant. Try this recipe from the book The Compassionate Chick's Guide to DIY Beauty.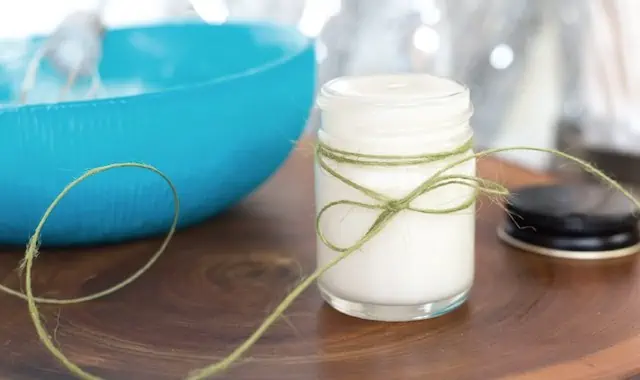 Vegan Deodorant Deep Dive
Set the right mood in the morning when you put on your deodorant with Coconut Matter's MOOD All-Natural Deodorants! They are a fantastic zero-waste option for healthy, happy, compassionate pits. These sweet pastel colored deodorant tubes are made from cardboard and are fully home-compostable (you can even bury them in the dirt when you're done with them). And the deodorant itself is 100% natural, kid-safe, baking soda free, cruelty-free, and vegan.
It comes in five scents (including an unscented option) that are created using natural essential oils to keep you smelling fresh all day long! My favorite scent is their Bliss, which is a delicate fusion of lemongrass, frankincense, and lime. It may sound a bit unusual for a deodorant, but don't knock it until you try it. It definitely lifts my mood in the mornings, and it actually works!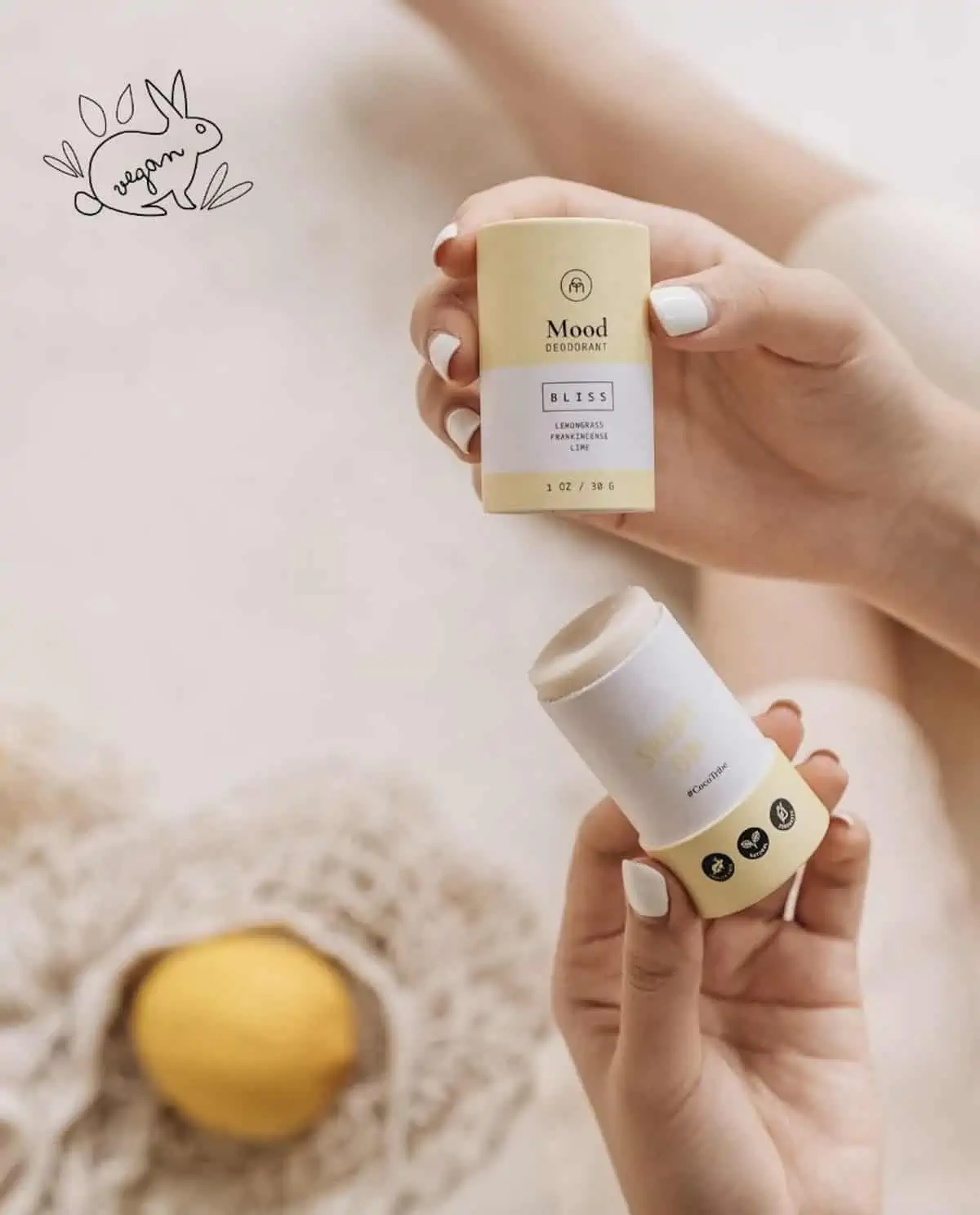 The MOOD deodorant tubes are beautifully designed with an eco-modern vibe, and they are small enough to drop into your bag and take to work, events, and pack for travel.
But how does it work? First, let's talk application. The texture of the MOOD deodorants is one of my favorites out there. It's silky soft and smooth and applies easily to pits, unlike many paper tube deodorants that are rough on the skin and have to be warmed up before they can be applied. These all-natural deodorants are made with a blend of 16 plants and minerals that help get rid of odor-causing bacteria, soak up sweat, and promote healthy skin.
Here are a few of the key ingredients and what they each do:

What does 'pong' mean, you might ask? It's Australian slang for 'a bad smell!' So as the name suggests, they do exactly what it says on the tin! Founded in 2018, the Australian influence is from one of the co-founders of No Pong, who teamed up with a Canadian partner to take the Australian sustainable deodorant market by storm. They now also have a dedicated manufacturing operation in Canada serving the North American market.
Their plastic-free deodorant is cruelty-free, all-natural, and promises to keep you fresh for up to 12 hours. Plus, it comes with a B.O. Free guarantee! That's right, they'll refund your first purchase if you're not satisfied with it's 'pong removing' results.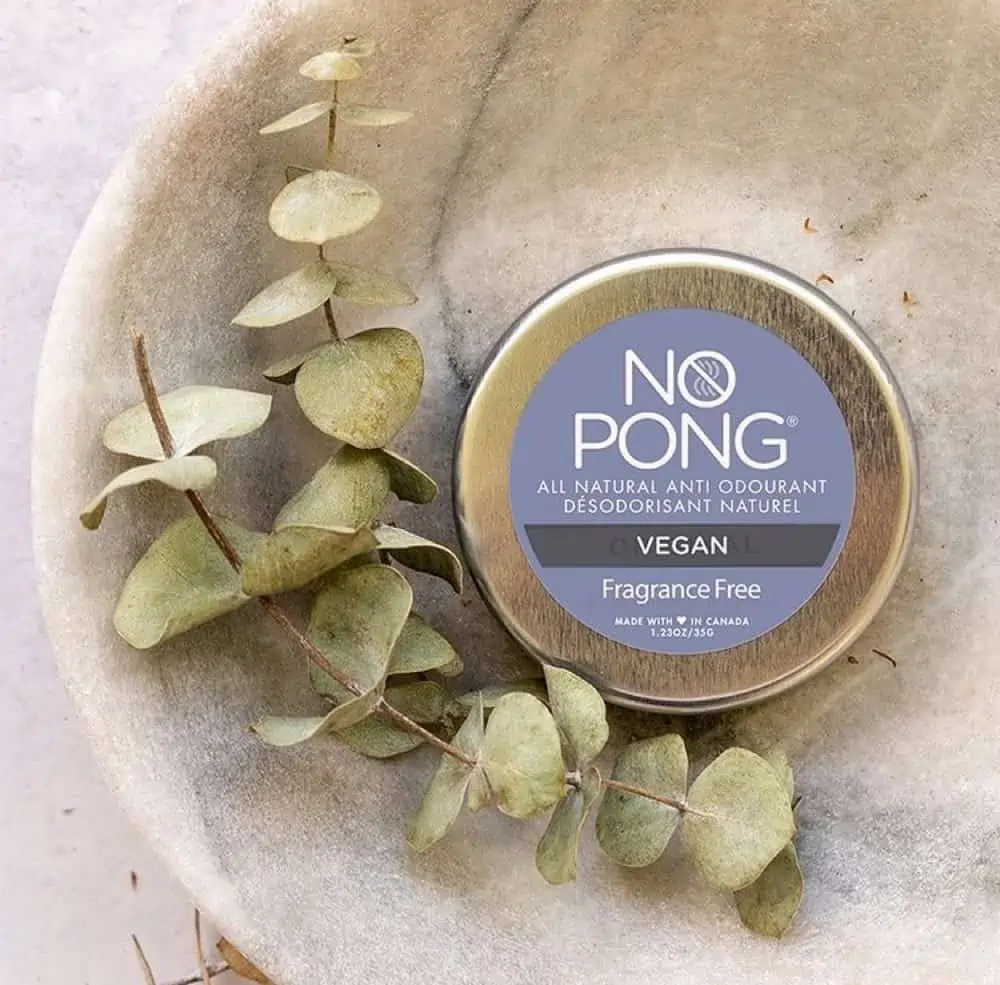 Holy moly. I just recently discovered this deodorant and I'm in love. It's quickly becoming my favorite. I've been wearing it nonstop—and not just on days when I'm lounging around at home. I've been turning to this when I'm on-the-go around lots of people and want to feel confident that I'm not gonna stink.
So, if you've been looking for a cruelty-free deodorant and you don't want to leave a distinctly unpleasant waft of odor behind you, give this one a try. The "Sweet Amber" scent is my favorite!
Note: Zion Health also has mini-sized deodorants (pictured below) which are super helpful for travel or tossing in your purse in case you ever need it!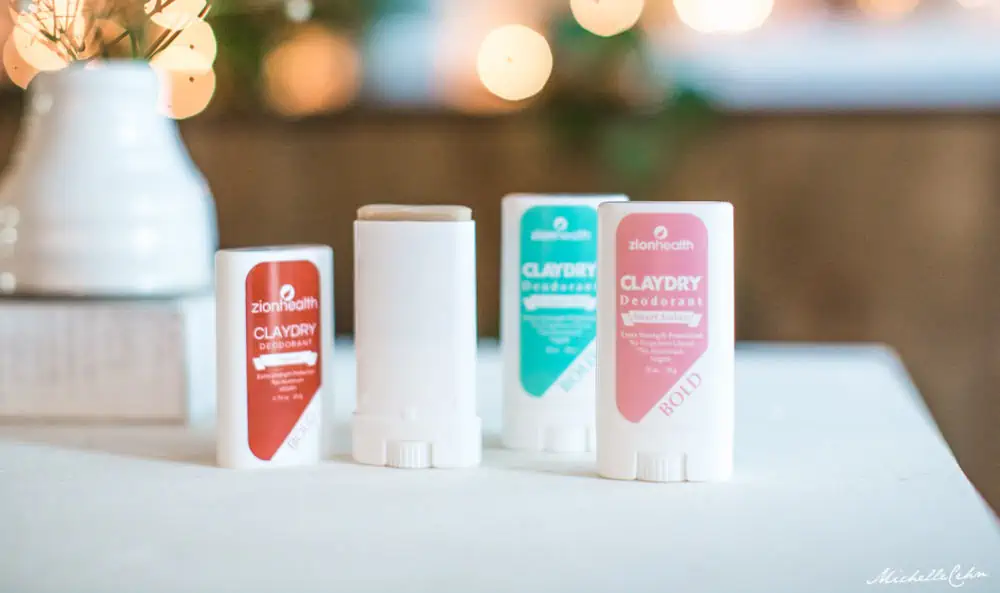 While not zero-waste, Each & Every deodorants offer a silky smooth application and baking soda free formula. It's easy to apply, works great, and is a perfect option for those with baking soda sensitivities! We've heard from many World of Vegan readers who have tried Each & Every deodorants and love them. They have an array of beautiful scents, including Rose & Vanilla and Lavender & Lemon.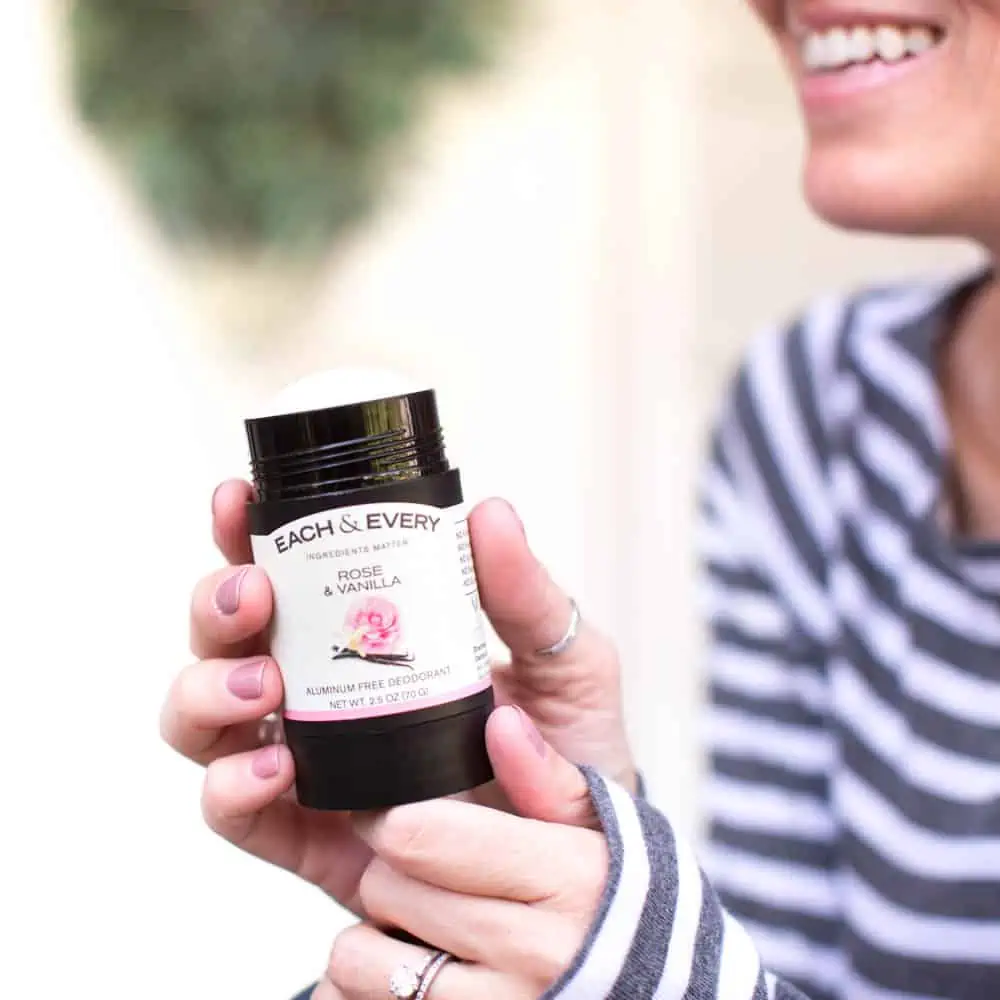 I've been focusing on the ladies, but what men's vegan deodorant? This deodorant gets points because it's one of my hubby's favorites. My hubby is vegan and loves animals, but honestly, I was pretty sure he would reject vegan deodorants and stick with his long-loved 'Old Spice.' I got him a tube from Herban Cowboy so he could just give it a try, and now he always asks me to get him more! YES! A win for him (it's way healthier than pore-clogging antiperspirants), for me (it smells divine!), and for animals (who don't have to die).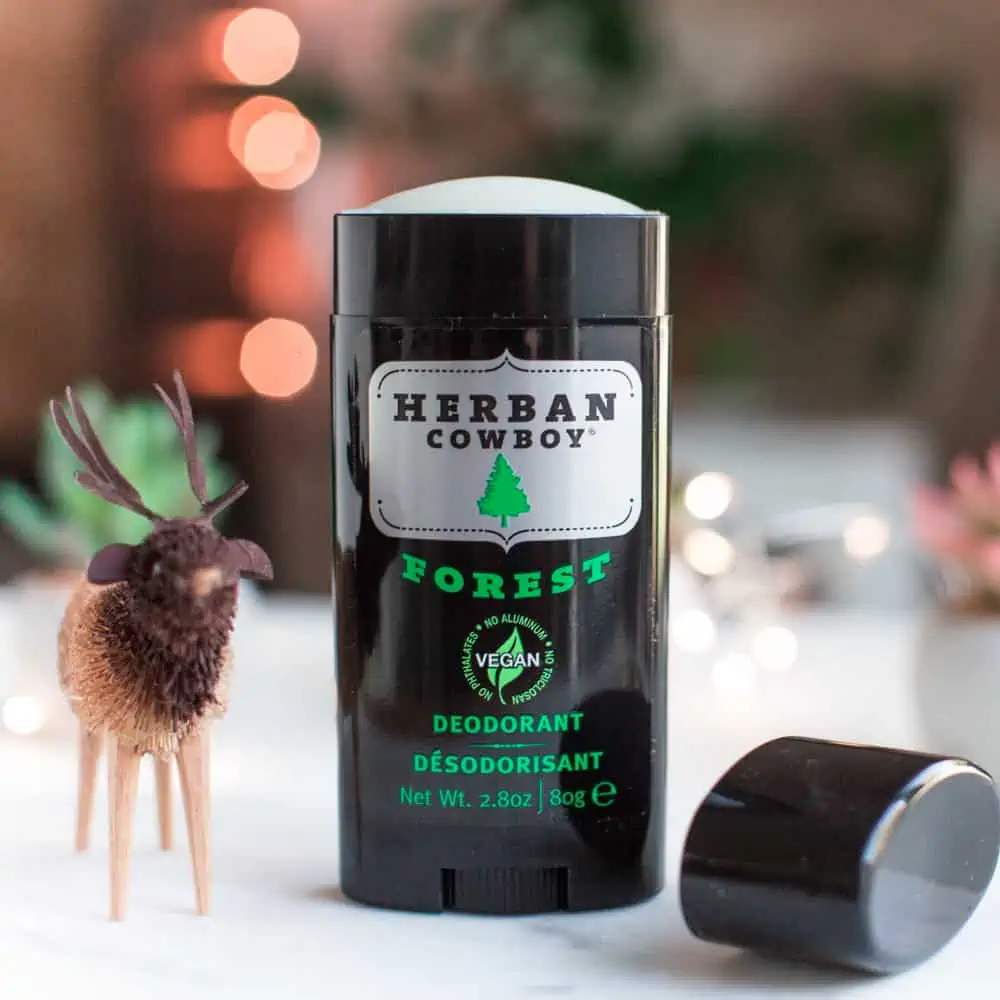 This was my first vegan deodorant love. It's the first vegan deodorant I found that I felt really worked. At the time it was sold at Sephora, and it's now sold at shops like Anthropologie, Natural Foods Stores, and on Amazon, so it's widely available.
The downside: It's pricey. We're talkin' $12+ for a tube. But you guys. If you can afford it, it's worth the investment. I personally love the Vanilla Grapefruit scent—it smells so good.
Note: Lavanila also sells miniature versions of these deodorants, so if you find these for significantly less money, it's probably the mini version.
One day my friend Toni and I were at Sprouts sniffing all the cruelty-free deodorants we could find (yes—we are that crazy). That's how we stumbled upon this gem. This vegan deodorant from Nubian Heritage smells amazing, glides on oh-so-easily, and works great (for me and Toni, at least).
This is a recent favorite of mine, and it's what I'm wearing right now! In fact, for the past month, this has been my go-to. It's a little lower on this list simply because it's different from the 'norm.' It's a cream deodorant served up in a pot, and to apply it you scoop a little amount on your finger and rub it in to clean pitties. Unlike many of the other deodorants in a jar out there, it's super soft, not at all greasy, and really easy to rub in. The best part? It smells like white chocolate! I'm actually excited to put this on in the morning.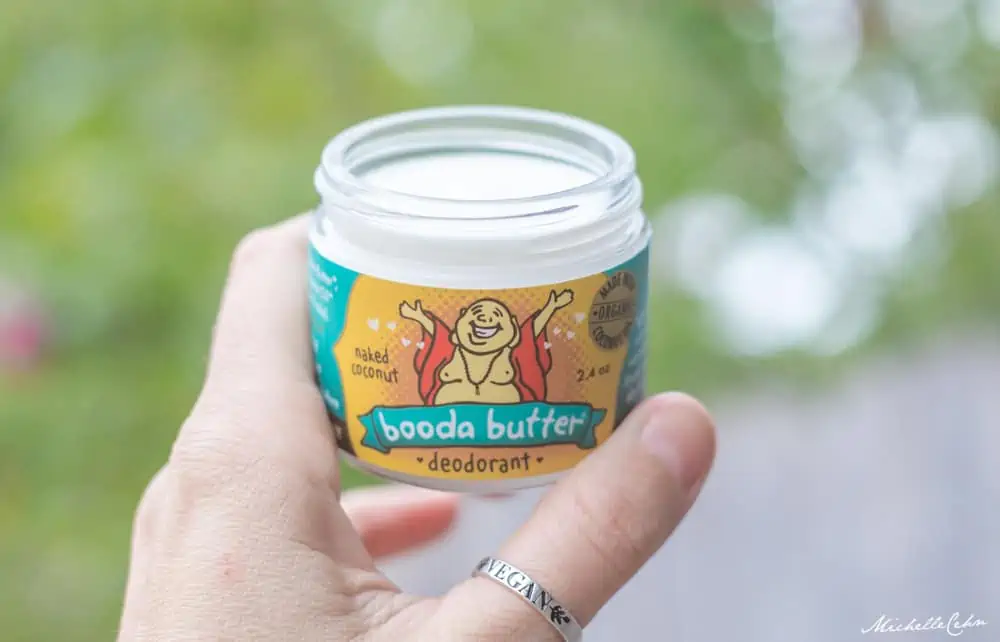 This round-up wouldn't be complete without a shout-out to Schmidt's. They are one of the most recognized vegan deodorant brands out there and they are innovating like crazy. When they first launched several years back, they only sold deodorant in little pots. Today, they have a whole range of traditional stick deodorants and they're even branching out to offer soaps and beyond.
Schmidt's deodorants have always worked quite well for me, and the only downside is that the application isn't quite as smooth as the other options listed here. The sticks are a little gritty and get a bit messy over time, and the pots are on the harder side so it's less elegant to scoop out the product and rub it into your skin. That said, I still use Schmidt's regularly and love them because they are so natural and smell great!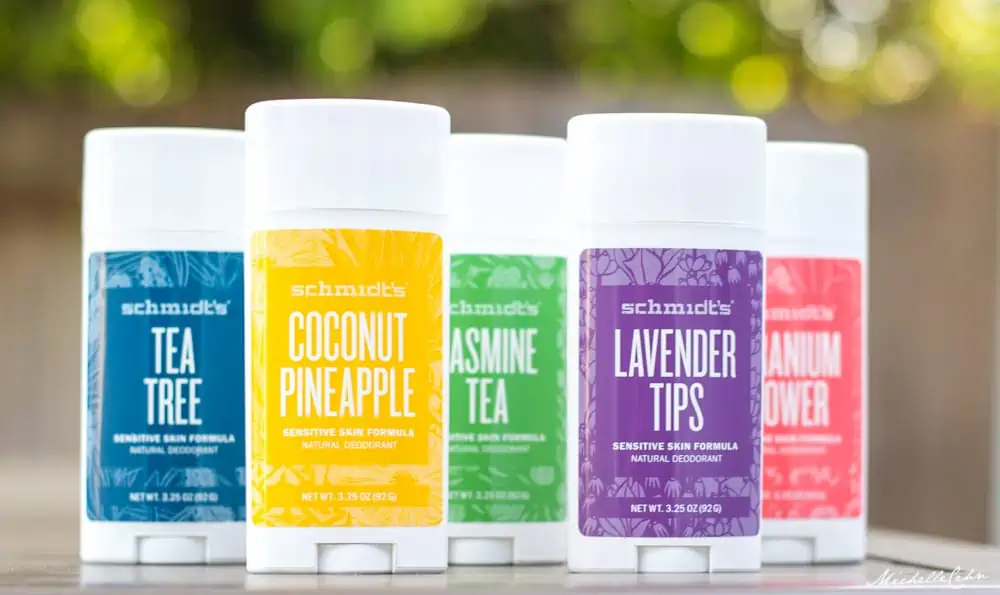 I was introduced to this deodorant by my birthmother who sent it to me as a gift. Hopefully not because I was stinky, but rather because she loved it so much 😉
I have to give a shout out to Crystal for being different, and one of the first natural deodorants on the market, dating back to the 1980s. The concept behind this deodorant is that it's basically a big hunk of natural mineral salts that prevent bacteria (which is what makes us stink) from growing. You simply wet the crystal and rub it on your pitties. It doesn't stop you from sweating, but it does keep bacteria at bay! Plus, it's affordable and lasts seemingly forever.
Shop Consciously
We can make this world a kinder place simply by giving our everyday product choices a little more TLC. I hope this article helps you do just that with your deodorant!
Did We Miss Your Favorite Vegan Deodorant?
Let us know what brand and scent you love in the comments below—we continually update this guide as we discover new brands we love!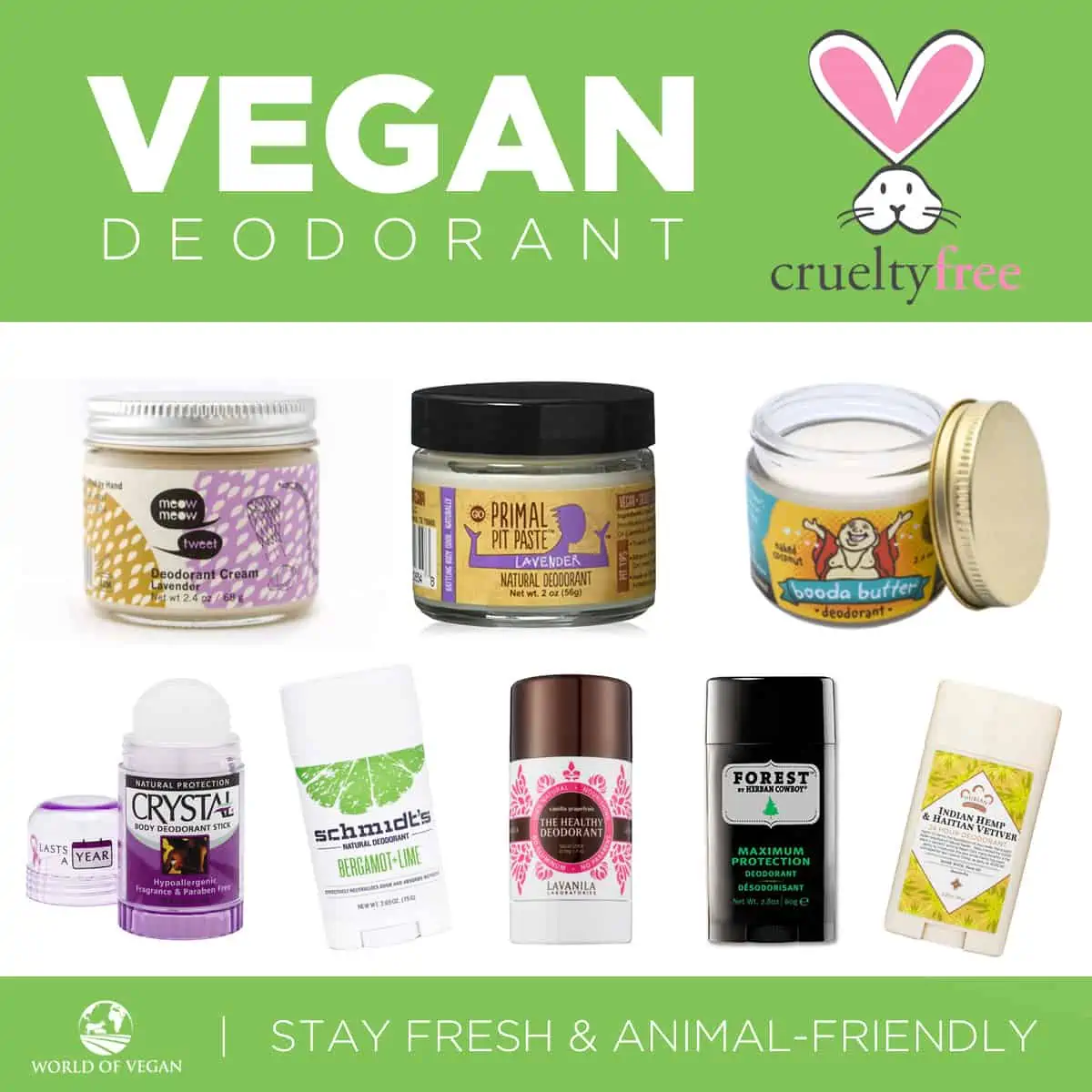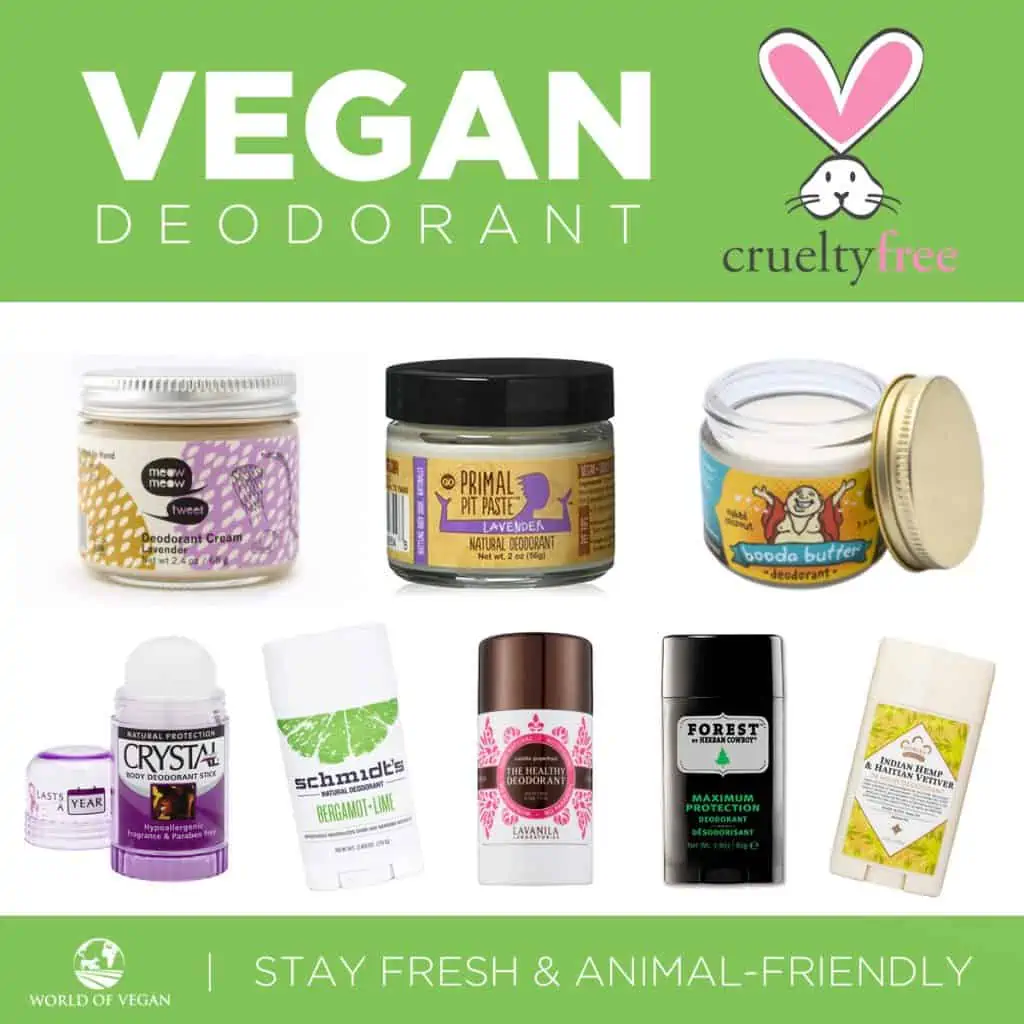 More Vegan Body Care & Beauty Guides