Did you know that there are more Subway shops around the world than any other restaurant chain? With more than 44,000 locations in 110 countries, Subway is the largest restaurant chain in the world. That's a lot of sandwiches. The big question is––are there any vegan options for us?
Like it or not, there will probably come a time when you land at a Subway, and when that moment comes, we're here to help you navigate the menu and figure out what you can get that's vegan. While it's not the best place to get a smashing, vegan-friendly sandwich, there are a few lunch variations if you're famished. Especially if you love veggies.
Mull over the menu options below and find out which bread and filling tickles your fancy. Comment below with your favorite combos!
How Easy Is It to Order Vegan at Subway?
On the bright side: the widespread availability of Subways around the US and the world guarantees that you won't starve—you'll be able to find a vegan meal with little fuss.
The downside: as of now, they don't have great vegan options and Subway's vegan sandwiches are often described as: "meh." Passable in a pinch.
Sadly, there aren't any widely available plant-based cheeses at Subway (yet). This means you're working with breads, a possible veggie patty, fresh veggies, sides, dressings, and chips to compile a workable meal.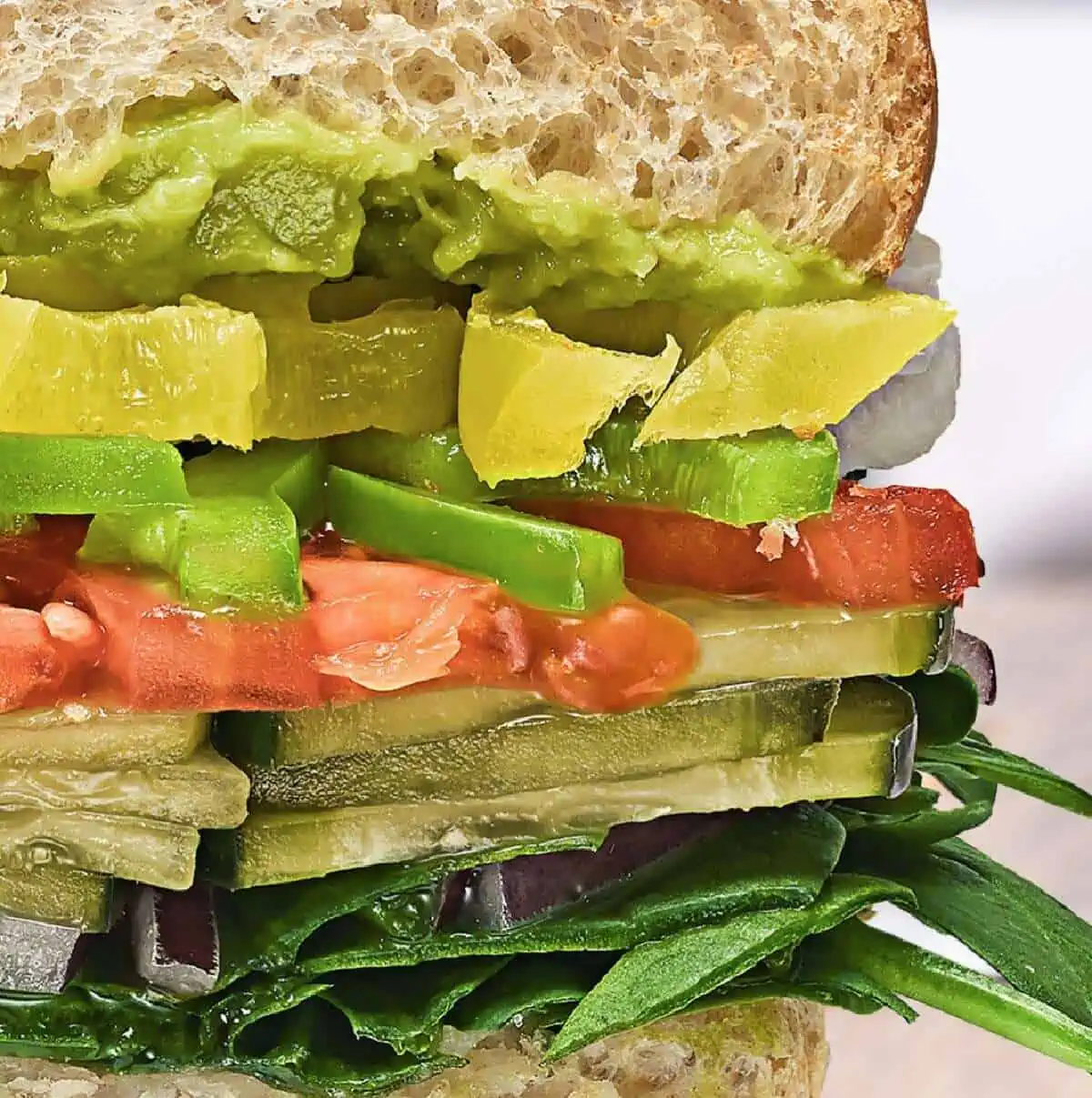 Anyone who has been vegan for a decade or more is used to this—this is how it used to be everywhere. But today it's a bit of a shock to find a sandwich shop that doesn't even have fresh avocado or hummus.
And God forbid they're out of guacamole on the day you visit—that's when any hope of a satisfying sub dwindles to dust.
Which Subway Breads are Vegan?
Also unfortunate is that many of Subway's breads are not vegan. Some of the specialty breads include ingredients such as milk, eggs, cheese, or even honey. Luckily, there are still many breads to choose from that are vegan, and some of these are rather exciting!
These breads are also vegan at Subway: Artisan Italian, Artisan Flatbread, Hearty Multigrain, Sourdough, Plain Wrap, Spinach Wrap, and Tomato Basil Wrap. We outline all the vegan bread options below.
Is The Subway Veggie Patty Vegan?
The Subway Veggie Patty is once again vegan-friendly––yay! In the past, this patty included milk and eggs in the ingredients. But, luckily, their recently updated July 2022 ingredients list shows that these animal products have been taken out. Woo!
What's in the Veggie Patty? The components of this patty include: carrots, onions, green beans, oat bran, expeller pressed canola oil, zucchini, soybeans, peas, broccoli, corn, soy flour, spinach, red bell peppers, arrowroot powder, garlic, corn starch, corn meal, salt, methyl cellulose, parsley, and black pepper. So, if you're gluten-free, this might be a good option for you, too.
So…How Do You Order Vegan at Subway?
So don't lose hope, dear reader. With a little creativity, you can absolutely make these options work! There are a number of "eat fresh" favorites to choose from that are flavorful and satisfying. Listed below are all of the vegan options that we found on Subway's online menu.
In this video we show what a vegan order at Subway looks like. Take a peek!
Vegan Breads at Subway
Artisan Flatbread
Hearty Multigrain
Italian (white)
Plain Wrap
Sourdough
Spinach Wrap
Tomato Basil Wrap
Salad
Sauces
BBQ
Buffalo (has butter flavor, but not actual butter)
Ketchup
Mustard
Oil Blend
Red Wine Vinegar
Spicy Brown Mustard
Sweet Onion Teriyaki Sauce
Seasonings
Black Pepper
Oregano
Salt & Pepper
Sub Spice
Snacks
Musselman's Apple Sauce
Lay's Chips (Classic, Baked Plain, Barbeque, Salt & Vinegar, Lightly Salted, Kettle Original, Kettle
Cracked Pepper & Sea Salt, Limon)
Sun Chips (Original only)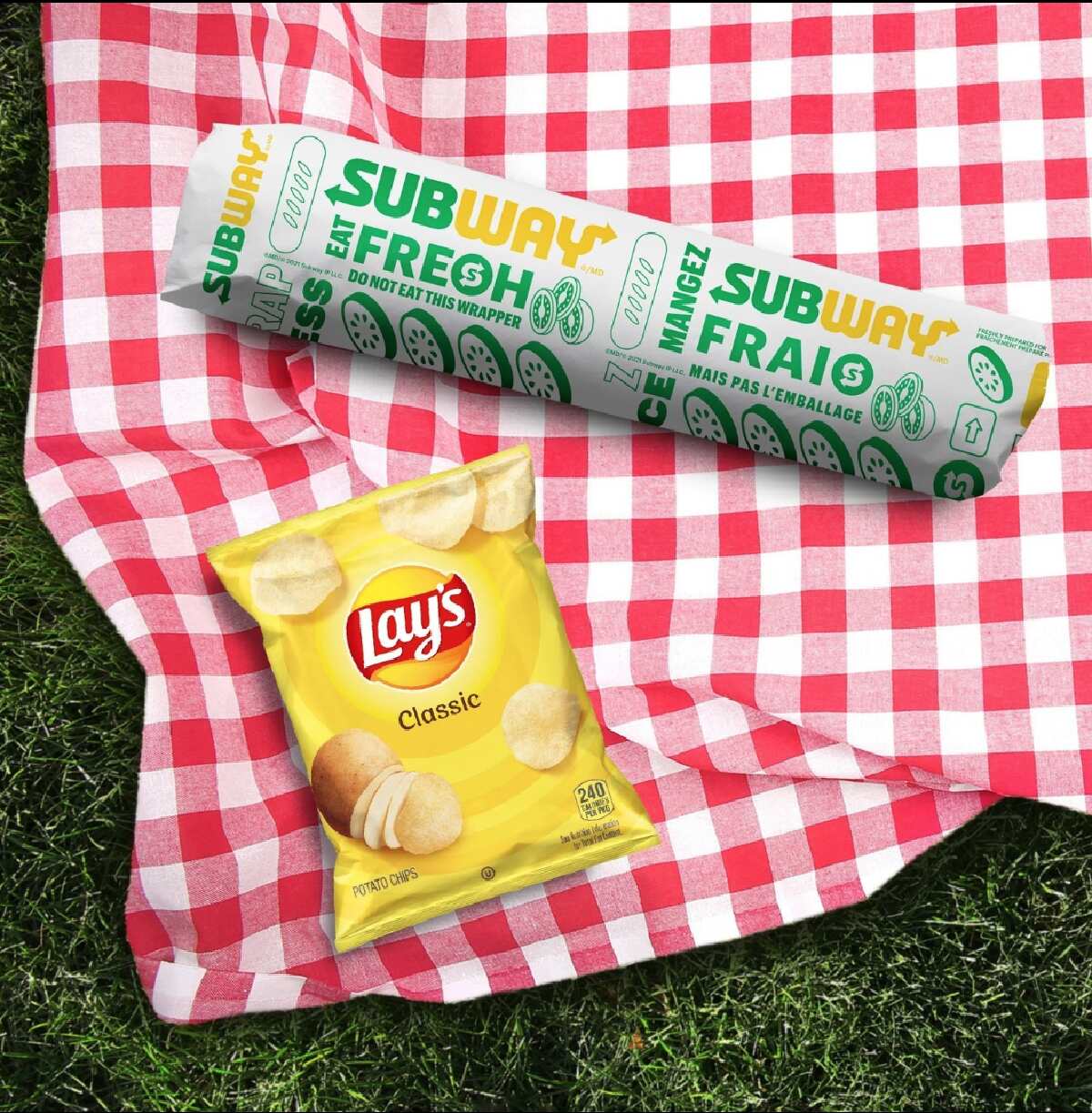 Plant-Based Soups at Subway
Sadly, there used to be both a Black Bean and Mediterranean Vegetable soup option on the menu, but neither are included on the menu at the present moment. It might be worth checking at your local Subway to see if they still offer these savory soups.
Specialty Subs & Wraps
Veggie Delite
Veggie Patty (recently made vegan-friendly!)
Subway Veggies
Avocado
Banana Peppers
Black Olives
Cucumbers
Green Peppers
Jalapenos
Lettuce (iceberg)
Pickles
Red Onion
Spinach
Tomato
Beverages
Coca Cola Fountain Sodas
Hot Coffee
Freshly Brewed Iced Tea
Honest Kids Juice Drinks
Simply Drinks (apple/orange/lemonade)
Gatorade
Bottled Water
Vitamin Water
Hubert's Lemonade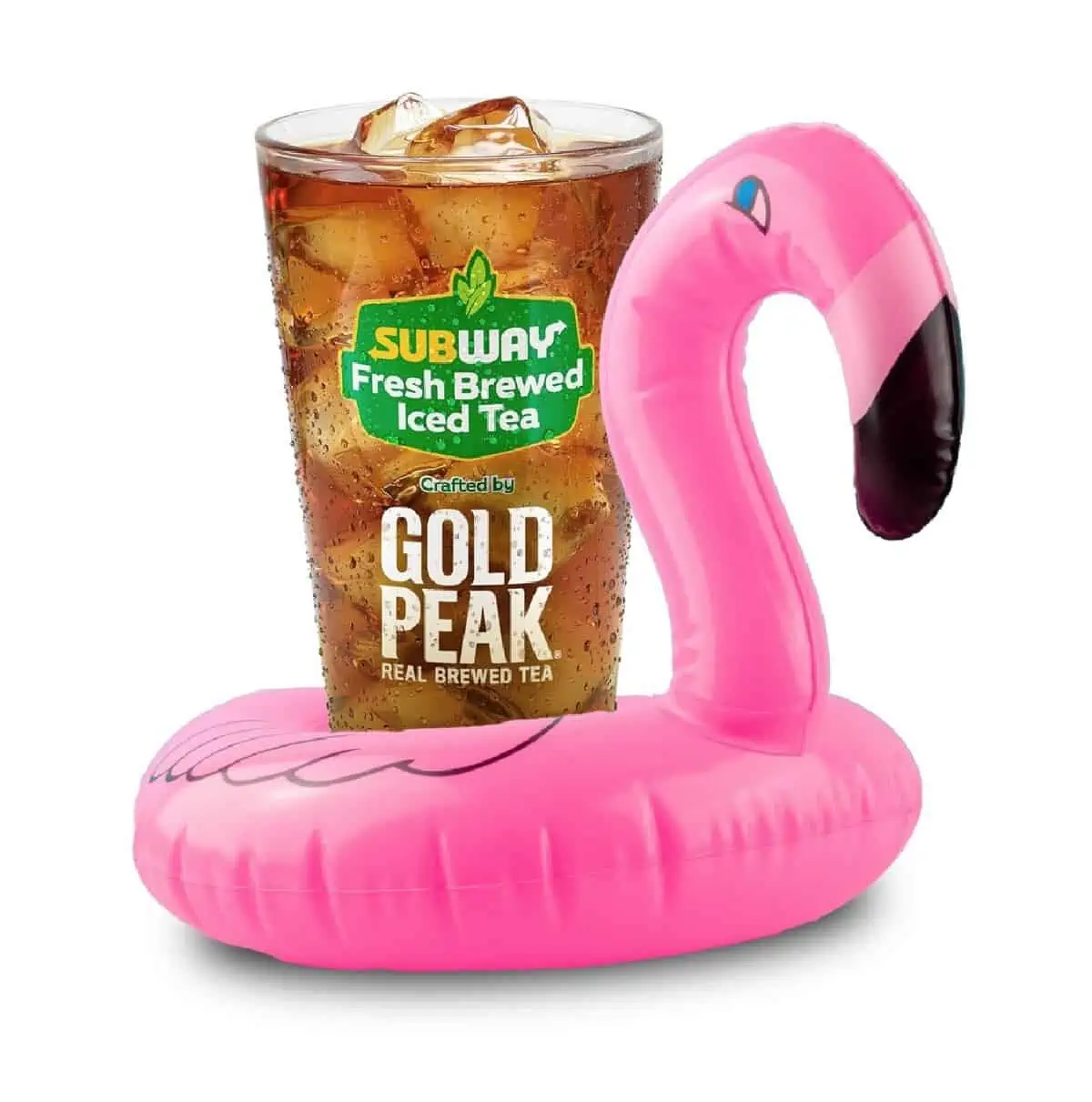 Vegan Subway Meal Ideas
When it comes to making a meal at Subway, it's pretty simple using the list of vegan options above. You can design your own sandwich, wrap, or salad, and feel free to go rogue with the ingredients available (you don't need to stick to pre-set subs listed on their menu).
Don't be afraid to ask for guacamole on your salad, an extra Veggie Patty, or grab a bag of chips and add them to your sandwich. That sort of creativity is key to creating a satisfying meal.
Vegetarian Lunch & Dinner Ideas
Large Veggie Delite or Veggie Patty (wrap or sub) with extra veggies of your choice, add a variety of sauces, beverage, and crispy chips.
A Veggie Delite salad with extra veggies, beverage, side of bread (toasted), and applesauce. Request a Veggie Patty on the side so you can crumble it up and add it to the top of your salad.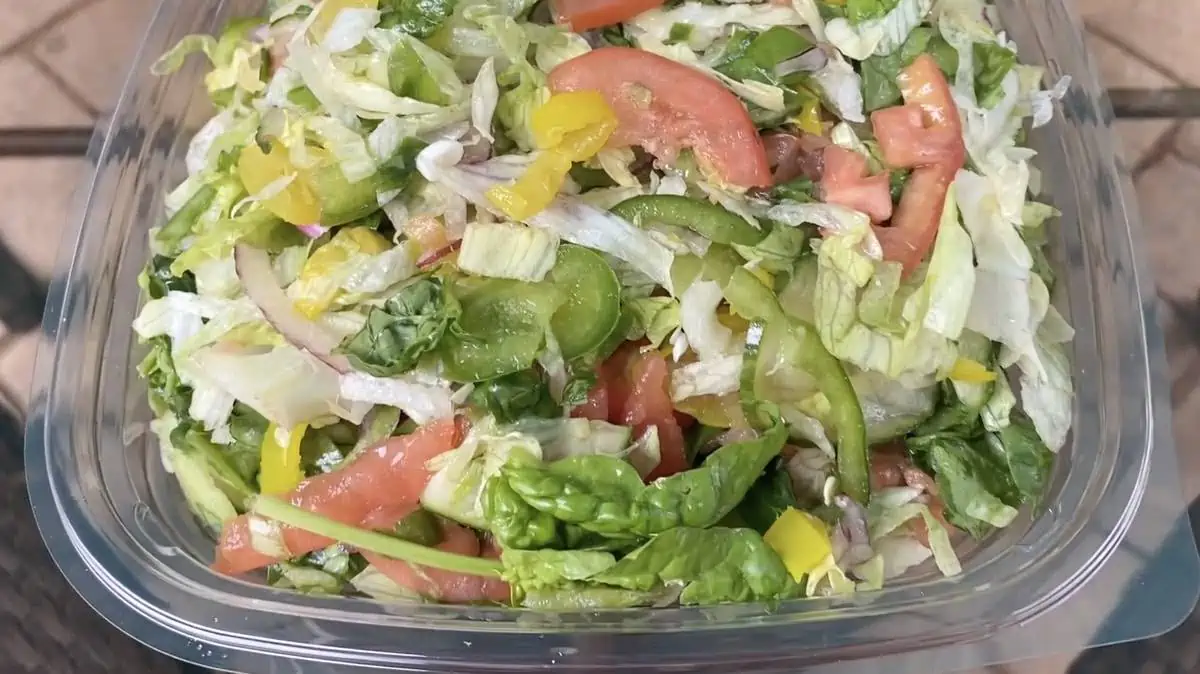 Sure, it's unlikely you'll race home after devouring your footlong sando to give Subway 5 stars on Yelp. But you can easily satisfy your hunger with some of these tasty options. Whether you're on a long road trip, stranded at a hotel in the middle of nowhere, or just need a quick-fix option to fill you up at lunchtime, Subway has your back.
Gluten-Free Vegan Options at Subway
If you are gluten intolerant, your choices are much more limited. Only the salad option is suitable for you. Unfortunately, their gluten-free bread contains eggs (and is therefore not vegan). Currently, the Veggie Patty does not include gluten (only soy) so you may want to add that to your salad option for a more satiating meal.
Subway's Master Ingredients List
Please note that new items may be added and ingredients can change over time! If you want to check in on the vegan status of any item at Subway, you can find their downloadable Nutrition Data Table, Allergy and Ingredient and Ingredient Guide PDFs that include all of the information needed to figure out what is vegan and what is not.
Ask Subway for Better Vegan Options
While the current sub-options at Subway are currently subpar here in the US, there are many signs that they may be evolving to offer better options in the near future. Subway has been toying with the idea of adding vegan meat to their menu for years, and Subway's Brazil locations even rolled out an Italian sub with vegan meat and cheese in early 2020. If they start rolling these sorts of options out at all their locations, it will be a true game-changer.
So remember—your voice matters. Keep asking when you visit and let the company know you'd like more vegan options. Use word of mouth, call, email, and message the brand on social media. The more people who request veggie alternatives, the sooner they'll add those items to their menu.
Historic Vegan Moments in Subway History
2012 – The Malibu Vegan Patty (a spicy patty made with brown rice and oats) was given a chance in North America and may still be available at a few US and Canadian locations.
2019 – Subway tries out the Beyond Meat Meatball Sub for a limited time in both the US and Canada. It has been discontinued, but we hope it will be back again.
2020 – The Beyond Meat Meatball Sub becomes a permanent menu item in the UK.
Fascinating Facts About Subway
The smell of a Subway shop always has a certain "caramelized" scent. This is probably due to the homemade frozen dough on the counter thawing before baking.
Subway serves 5300 subs and sandwiches every minute! Whoa!
Subway breads used to contain an ingredient used in the making of yoga mats (azodicarbonamid), but, thankfully, it was taken out in the middle of 2014.
This sandwich chain was started by a seventeen year old boy, Fred DeLuca, with only $1000. The money was borrowed from a long-time family friend, Peter Buck.
In Las Vegas in 2015, Subway broke the Guinness World's Record for the most people making sandwiches at one time with 1481 people.
Fast Food Chains With More Vegan Options
If you're looking for a fast-food establishment that has more on the menu for vegans, check out these popular burger, taco, and sandwich spots.
Vegan-Friendly Fast Food Restaurants
Here are some up-and-coming vegetarian, vegan, and very-vegan-friendly fast-food chains that offer fantastic options, including mouth-watering veggie burgers, golden fries and scrumptious shakes!
How to Order Vegan at Other Popular Chains
Have you found any other options to be veganizable? Did you find something amazing that we missed? Let us know by tagging #worldofvegan and sharing your favorite vegan creations at Subway with all of us!
Disclaimer: At the time of this Subway article (last updated in December 2022), the foods mentioned above are vegan. Since restaurants constantly update their menus and add or take away items, please keep this in mind when ordering your food. There may be new items that are vegan and not listed or items listed here as vegan, which are no longer vegan. Take care to double-check.