Wondering what you can order that's vegan at Domino's Pizza? This guide outlines everything on the menu that's plant based! From the crusts and toppings, to the sauces, dips, pasta, and sandwich. There are a lot of options, they're just all cheese-less and meat-less since Domino's doesn't currently offer vegan cheese or vegan meat.
Have you ever been hanging out with friends when they decide to go grab pizza at a notoriously not-vegan-friendly pizzeria? I've been there. Or, even worse…have you ever called your local pizza chain to order a veganized pizza only to hear a long silence on the other side of the phone, followed by…
"No cheese?!?!"
As much as we strive to eat healthy and wholesome meals, sometimes you've gotta order something fast and convenient. You know, those times when life gets busy, or you're traveling without access to fresh food, or you find yourself on a late-night pizza excursion with friends.
For any number of reasons, you may find yourself at Domino's one day wondering what the heck you can order that's vegan. And sista', when that day comes, we've got your back.
What's Vegan at Domino's Pizza?
It may seem like your choices are limited simply because there aren't any labeled vegan options, but fret not! There's actually quite a lot you can find on the menu that's vegan at Domino's.
Domino's currently has just one vegan-compliant pizza crust (and no vegan meats or cheeses), but they've got lots of sauces and toppings. We've laid them out for your below. And to take it one step further, Michelle Cehn, Toni Okamoto and Vince Lia, filmed a video taking us through the steps of ordering the best of vegan at Domino's.
Spoiler alert! It's not just about eliminating non-vegan ingredients from the menu classics. That would be really boring food! You have to double up on the "accidentally vegan" ones. Their chunky robust tomato sauce, yummy jalapeños, and garlic dipping sauce make any vegan version of their pizzas better.
Vegan Crusts
Vegan Sauces
Robust Inspired Tomato Sauce
Garlic Dipping Sauce
Barbecue Sauce
Hot Buffalo Sauce
Italian Dipping Sauce
Vegan Pizza Toppings
Make sure you double check for updated information from the restaurant since they can change their recipes without notice!
With more than 5,000 stores across the U.S alone, it's likely you may have one near you. So… the next time your friends want to go casual and grab lunch at this pizza chain you'll be readily prepared to be the "easy going vegan friend."
How to Order a Vegan Pizza at Dominos
Sample order: Medium pizza with thin crust, extra sauce (robust inspired tomato sauce), banana peppers, green peppers, onion, spinach, black olives, jalapeno peppers, roasted peppers, and diced tomatoes.Add a side of garlic sauce, marinara, or barbecue sauce for dipping and extra flavor.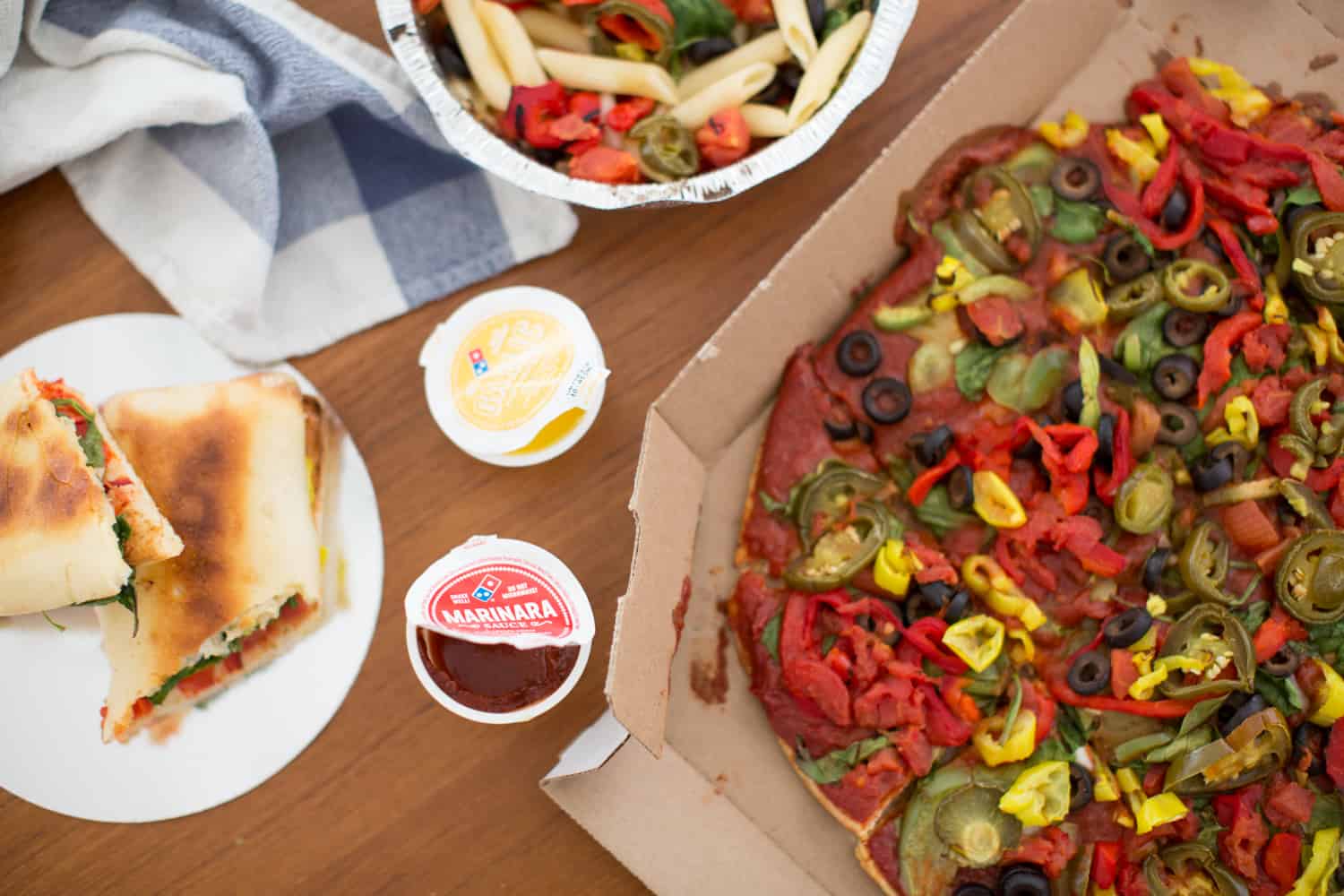 How to Order Vegan Pasta from Dominos
Sample order: Pasta served in a dish with no sauce, and with onions, roasted red peppers, spinach, diced tomatoes, black olives, green peppers, and jalapeno peppers. Add a side of garlic sauce or marinara for dipping and extra flavor.

How to Order Vegan Sandwich at Dominos
Sample order: Mediterranean veggie sandwich with no cheese. Add a side of garlic sauce, marinara, or barbecue sauce for dipping and extra flavor.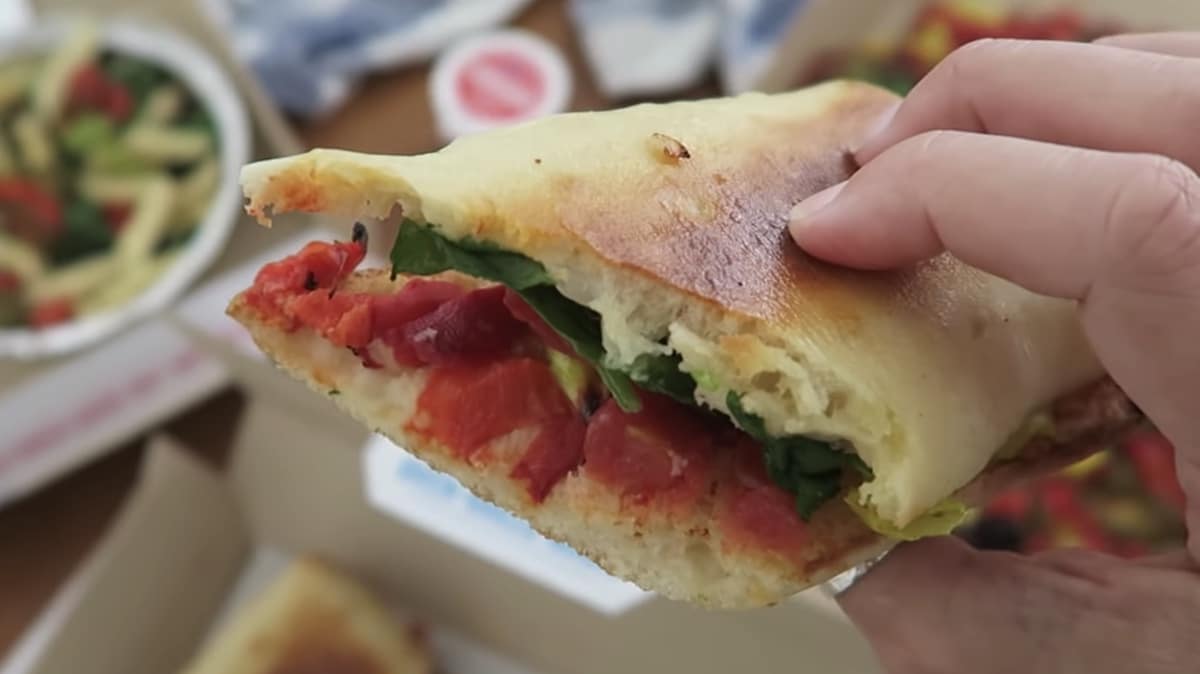 Other Vegan-Friendly Pizza Chains
All this said, when you have the option to go to a vegan-friendly pizzeria, do it! While Domino's can save you from starving for a meal or two, it's never going to knock your socks off. Lucky for you, there are hundreds (maybe even thousands) of vegan-friendly pizza parlors opening up across the globe with incredible vegan options—we're takin' vegan cheese, meats, creative sauces, and more.
Here are some growing pizza chains that offer vegan meats and/or cheeses:
Amici's East Coast Pizzeria
Mellow Mushroom
MOD Pizza
Pie Five
Pieology
Pizza Fire
Pizza Rev
Uncle Maddio's Pizza
Even Disneyland now has vegan cheese pizza!
How to Order Vegan At Other Chains
Want to get some guidance on how to order vegan at other fast food places? Check these out!
Have you found any other options to be veganizable? Did you find a winner? Let us know by tagging #worldofvegan and sharing your vegan-at-Dominos creations with all of us!