Have you ever been hanging out with friends when they decide to go grab pizza at a notoriously not-vegan-friendly pizzeria? We've been there. Or, even worse…have you ever called your local pizza chain to order a veganized pizza only to hear a long silence on the other side of the phone, followed by…
"No cheese?!?!"
As much as we strive to eat healthy and wholesome meals, sometimes we just gotta order something fast and convenient. You know, those times when life gets busy, or you're traveling without access to fresh food, or you find yourself on a late-night pizza excursion with friends.
For any number of reasons, you may find yourself at Domino's one day wondering what the heck you can order that's vegan. And friends, when that day comes, we've got your back.
Is the Thin Crust Vegan at Dominos?
There's been some speculation about the only pizza crust option at Domino's. The ingredient in question is the l-cysteine amino acid that is used for conditioning the dough. This amino acid is generally extracted from animals (or even human hair), but it can also be plant-based through a process of fermentation using plant starch.
Although there's been no reply to our amino acid question on Instagram, we're hoping that they can give us a solid response soon. Until then, it's up to you to decide. In the overall scheme of things, this non-essential amino acid is not actively harming animals and it's really a very minute ingredient. Literally a molecule.
If that's not something you feel comfortable with, you can choose the pasta dish with lots of veggies as a safer option. Otherwise, feel free (without guilt) to choose the thin crust pizza crust. We'll keep you updated!
What's Vegan at Domino's Pizza?
It may seem like your choices are limited simply because there aren't any labeled vegan options, but there's no need to worry! There's actually quite a lot you can find on the menu that's vegan at Domino's, if you count the crust as acceptable.
As we mentioned above, Domino's currently has just one "possibly vegan" pizza crust (and no vegan meats or cheeses in the US), but they've got lots of sauces and toppings. We've laid them out for your below. And to take it one step further, Michelle Cehn, Toni Okamoto and Vince Lia, filmed a video taking us through the steps of ordering the best of vegan at Domino's.
Spoiler alert! It's not just about eliminating non-vegan ingredients from the menu classics. That would be really boring food! You have to double up on the "accidentally vegan" ones. Their chunky robust tomato sauce, yummy jalapeños, and garlic dipping sauce make any vegan version of their pizzas better.
Vegan Crusts
Note: The Brooklyn, Handmade Pan, Hand Tossed, and Gluten-Free crusts all contain a milk by-product or honey, so they are not vegan. The Thin Crust is also made with a possibly animal-based amino acid in the dough conditioning, but is not confirmed (see above.)
Salads
Garden Salad (ask for no cheese or croutons)
Vegan Sauces
Barbecue Dipping Sauce (not the Honey BBQ Sauce)
Garlic Dipping Sauce
Hot Buffalo Wing Sauce
Italian Dipping Sauce
Marinara Dipping Sauce (not the Marinara Pizza Sauce)
Robust Inspired Tomato Sauce
Sweet Mango Habanero (both dipping and regular sauce)
Note: The Mild Buffalo Wing Sauce contains milk, so make sure to choose the hot version instead.
Vegetable Toppings
Baby Carrots
Baby Spinach
Banana Peppers
Canned Tomatoes
Diced Tomatoes
Garlic
Green Bell Peppers
Green Chili Peppers
Hamburger Dill Chips
Jalapeno Peppers
Mushrooms
Olives (both black and green)
Onions
Parsley
Pepperoncini
Pineapple
Roasted Red Peppers
More Vegan Pizza Toppings
Butter-Flavored Oil (Phase Oil)
Cinnamon Sugar
Cornmeal
Creole Seasoning
Crushed Red Pepper
Garlic and Herb Spices
Oregano Blend Shake On
Note: The Breadstick Seasoning is not vegan-friendly because milk is listed in the ingredients.
Vegan Dressings
Ken's Golden Italian
Ken's Light Balsamic with Olive Oil
Kraft Catalina
Marzetti Balsamic
Marzetti Golden Italian
Beverages
Coca Cola Fountain Drinks
Dasani Water Bottle
Make sure you double check for updated information from the restaurant since they can change their recipes without notice!
With more than 6,500 locations across the U.S alone, it's likely you may have one near you. So… the next time your friends want to go casual and grab lunch at this pizza chain you'll be readily prepared to be the "easy going vegan friend."
How to Order a Vegan Pizza at Dominos
Sample Pizza Order: Medium pizza with thin crust, extra sauce (robust inspired tomato sauce), banana peppers, green peppers, onion, spinach, black olives, jalapeno peppers, roasted peppers, and diced tomatoes. Add a side of garlic sauce, marinara, or barbecue dipping sauce for dipping and extra flavor.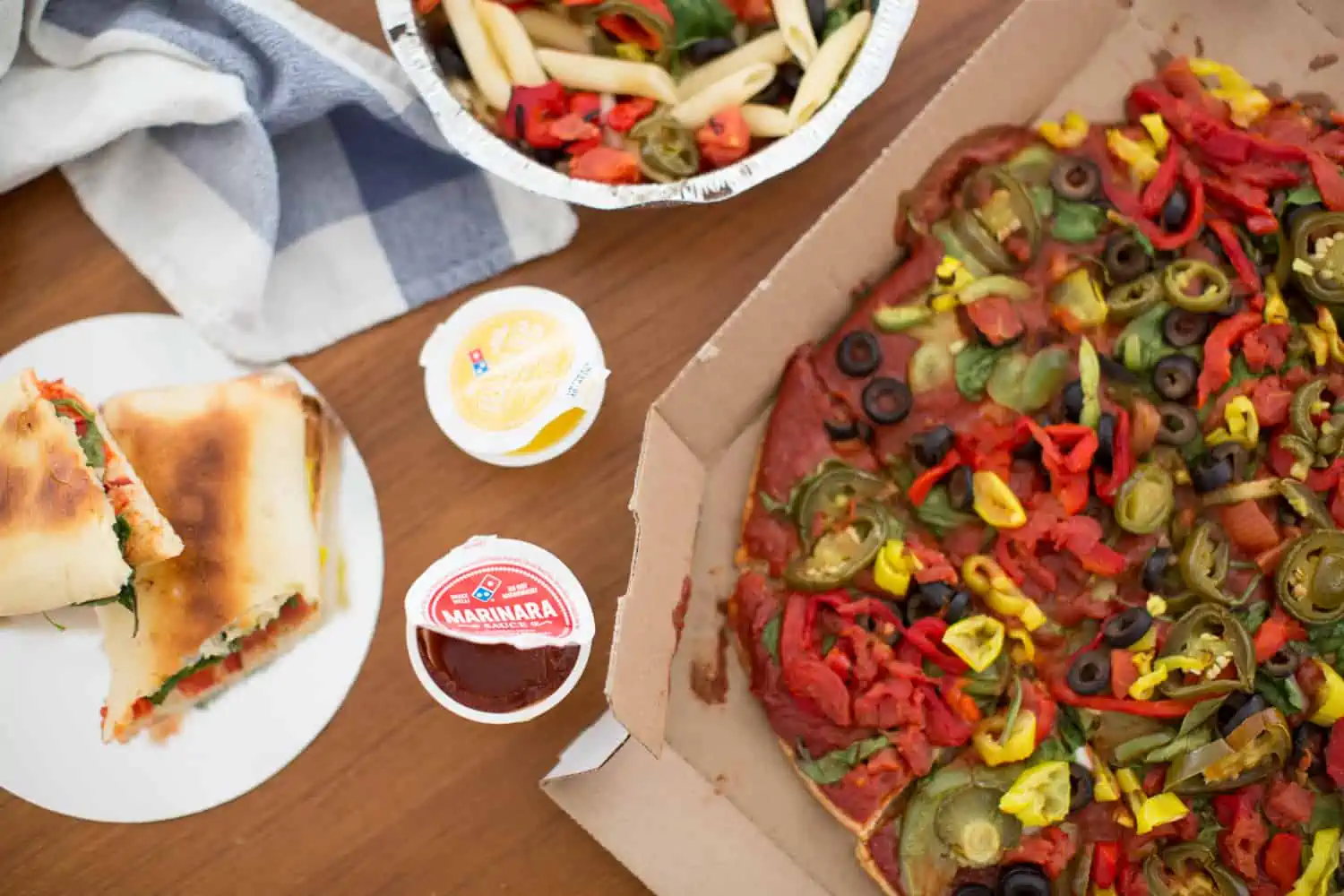 How to Order Vegan Pasta from Dominos
Sample Pasta Order: Choose the Build Your Own Pasta meal with no sauce, and with onions, roasted red peppers, spinach, diced tomatoes, black olives, green peppers, and jalapeno peppers. Add a side of garlic sauce or marinara dipping sauce (not the pizza sauce) for extra flavor.

How to Order Vegan Sandwich at Dominos
Sample Sandwich Order: Mediterranean veggie sandwich with no cheese. Make sure to choose the sandwich/artisan bread, which is vegan-friendly. Add a side of garlic sauce, marinara, or barbecue dipping sauce for extra flavor.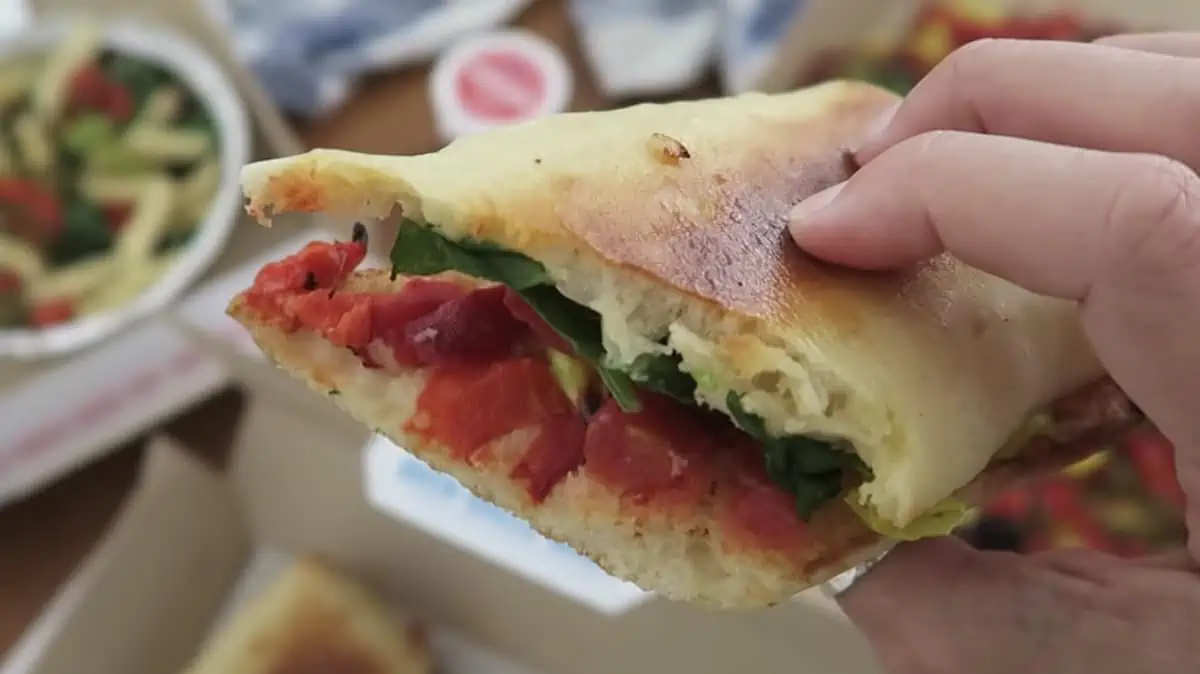 Vegan Domino's Pizza Q&A
Is the gluten-free crust vegan at Domino's?
We're sorry to say that it's not vegan. Usually, gluten-free foods contain eggs. But, in this case, the pizza crust is free of eggs, but includes honey as an ingredient.
Are any of the breads or twists vegan at Domino's?
Unfortunately, none of them are vegan-friendly. They all include milk in their ingredient lists.
I love the garlic oil at Domino's Pizza. Is it vegan-friendly?
Nope. The garlic oil blend contains parmesan cheese. Instead, try the garlic and herb seasonings to get a similar flavor.
Which pizza sauces are vegan at Domino's?
Only the Robust Inspired Tomato Sauce is vegan-friendly. The rest contain milk ingredients, including the Hearty Marinara Sauce, which is disappointing and somewhat misleading.
Are the croutons vegan-friendly at Domino's Pizza?
The croutons are not vegan. They contain a milk ingredient, so you'll need to ask for food without them.
Can I order a bread bowl at Domino's and fill it with veggies and sauce?
No, the bread bowls are made with milk ingredients so they would not be vegan. If the bread bowl was dairy-free, this would be a great option.
Helpful Tips When Ordering Vegan at Domino's Pizza
Browse the Domino's Pizza online menu before placing an order.
Check out the Domino's Pizza Nutrition, Allergen and Ingredients guides to make sure you are purchasing a vegan-friendly food item. The menu items offered at Domino's Pizza may change, even though the website seem to be updated regularly.
Some Domino's Pizza locations may offer different items. We highly suggest that you check the website and choose the specific restaurant you're planning to visit before you go there.
If ordering Domino's Pizza vegan through an online delivery service, make sure you clearly specify any substitutions you would like, especially concerning meat or dairy. If you're worried that your request may be overlooked then it might be a better idea to call or go there directly to order.
Historic Vegan Moments in Domino's Pizza History
2013 – Domino's Israel location adds a soy cheese pizza option to the menu.
2019 – The Australian locations added seven vegan pizzas to their menus (Hawaiian, Ham and Cheese, Supreme, Pepperoni, Beef & Onion, Beef Loaded Burger, and Beef Taco Fiesta) using Follow Your Heart dairy-free cheese and soy-based beef crumbles.
2020 – Another awesome addition to 700 of Australia Domino's Pizza franchises––a partnership with Impossible Burger. They launched three more plant-based beef pizzas: Impossible Supreme, Impossible Godfather, Impossible Firebreather, and Impossible Cheeseburger. In the UK, 1200 locations added a vegan pepperoni pizza to their menus.
Coming Soon? – In 2020, the Domino's CEO revealed that they were tentatively testing out plant-based sausage crumbles. We'll have to wait and see…
Fun Facts About Domino's Pizza
Domino's is available in 85 countries.
This popular pizza place used to be called "DomiNick's" in 1960 until a one of its pizza drivers, Jim Kennedy, came up with the name "Domino's" in 1965.
Until the late 1990s, Domino's only offered delivery or take out pizza (in two sizes only) along with only cola as a drink option.
The three dots on the domino logo represent their three original restaurants.
India has the world's largest number of Domino restaurants – 1,126 and may be more soon!
Other Vegan-Friendly Pizza Chains
All this said, when you have the option to go to a vegan-friendly pizzeria, do it! While Domino's can save you from starving for a meal or two, it's never going to knock your socks off. Lucky for you, there are hundreds (maybe even thousands) of vegan-friendly pizza parlors opening up across the globe with incredible vegan options—we're takin' vegan cheese, meats, creative sauces, and more.
Here are some growing pizza chains that offer vegan meats and/or cheeses:
Amici's East Coast Pizzeria
Mellow Mushroom
MOD Pizza
Pie Five
Pieology
Pizza Fire
Pizza Rev
Uncle Maddio's Pizza
Even Disneyland now has vegan cheese pizza!
Creating a Kinder and More Accessible Domino's Pizza Vegan Experience
Although Domino's is known for not being very vegan-friendly, we don't want to give up hope that they will change their mind and make vegan cheese a menu item. There are so many more vegan-friendly pizza places popping up all over the country (and the world!), so we're going to keep our fingers crossed that Domino's Pizza will become a part of it all. We're dreaming of the day when appealing alternatives might be added to their meat-heavy menu – like dairy-free cheese, plant-based meats, and sweet, decadent vegan desserts. Until then, we can always write to, call, or contact the managers of any location to make our requests.
How to Order Vegan At Other Chains
Want to get some guidance on how to order vegan at other fast food places? Check these out!
If you love desserts as well as pizza, make sure to visit California Pizza Kitchen. For lovers of Italy and a more upscale atmosphere, choose Olive Garden. When on-the-go and possibly out shopping, Papa Murphy's is a great choice.
Taco Bell is always around, so it's nice to have this as a back-up plan. We love Papa John's is a brilliant choice if you are addicted to breadsticks and adore dipping sauce. You can always count on Starbucks to be right around the corner. Although it's not ideal for a meal, you can still grab a delicious drink (hot or cold) and a satisfying snack.
Have you found any other options to be veganizable? Did you find a winner? Let us know by tagging #worldofvegan and sharing your vegan-at-Dominos creations with all of us!