When you're craving something cool, fresh, and flavorful, a veggie-filled salad might come to mind. But, have you ever considered a dish that is more geared towards grains? You'll find this vegan tabbouleh salad a fun foray into the world of Mediterranean cuisine.
Don't feel afraid if you haven't tried this delightful dish before with its exotic taste and interesting texture. You may be surprised at how much you enjoy this enticing recipe on an everyday basis. In other words, you're really going to love it, especially in the warmer months when served with glorious garden tomatoes, a little bit of lemon juice, and hints of mint.
So, what are you waiting for? Let's put some vegan tabbouleh salad on the table!
Please Tell Us About Tabbouleh
You might be wondering, what exactly is tabbouleh? Fist let's start with the pronunciation of tabbouleh, since it's often mispronounced. The correct tabbouleh pronunciation is tuh-BOO-lee (which is why it's sometimes misspelled as "tabouli"). But what is tabbouleh?
Tabbouleh is a salad created with cracked wheat (bulgar), tomatoes, olive oil, lemon, salt, and pepper. Herbs like parsley, mint, and onion are also added for extra flavor. A traditional dish that's very popular in the Arab nations and also occasionally served with pomegranate seeds instead of tomatoes.
This vegan Tabbouleh salad is filled with many healthy and nutrient-rich ingredients such as: healthy fats from olive oil, complex carbohydrates from the cracked wheat, lycopene from the tomatoes, vitamin C from the lemon juice, and antioxidants from parsley and onion. Plus, it's loaded with lots of fantastic fiber and flavor.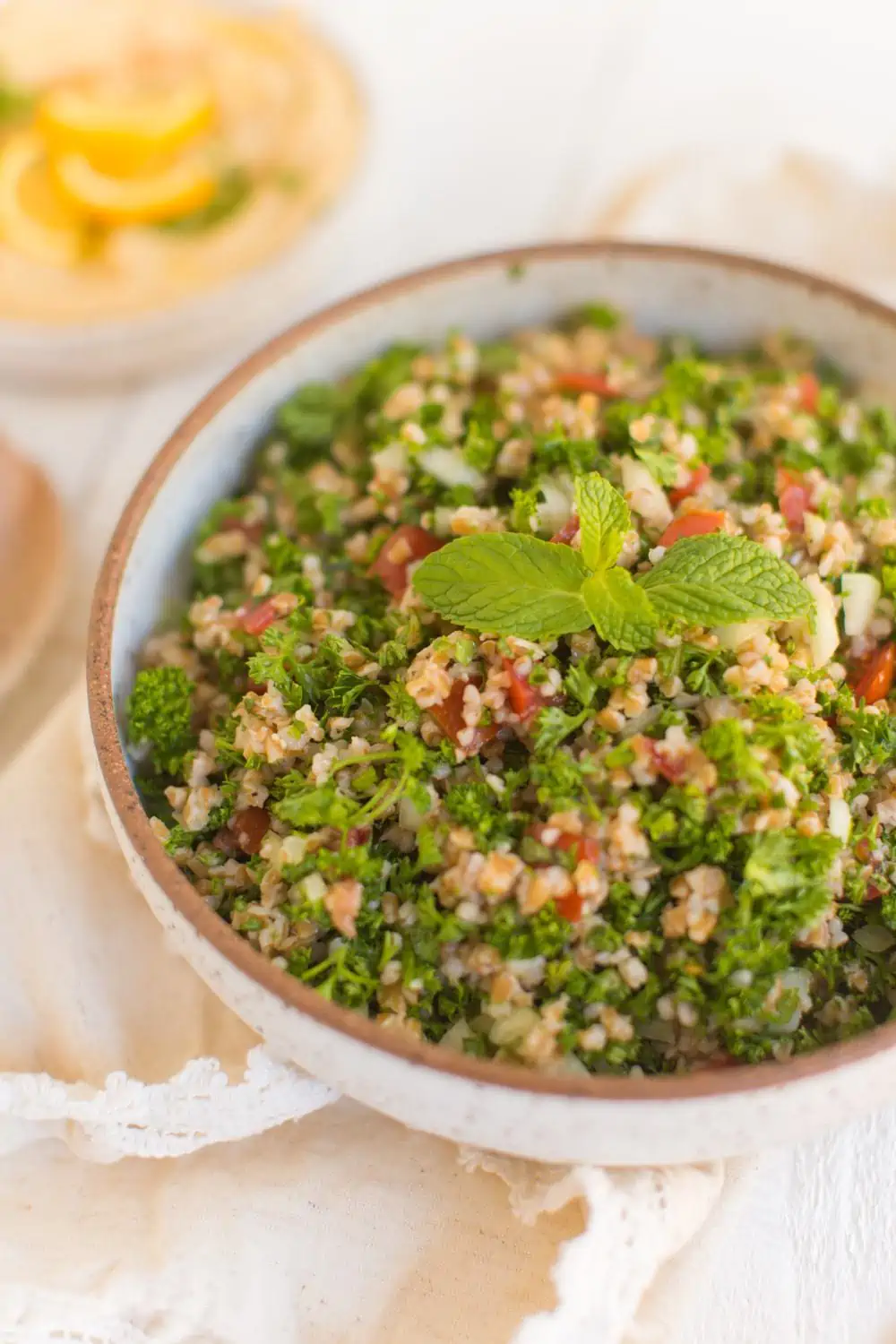 How to Serve Up Your Vegan Tabbouleh Salad
This refreshing salad is so incredible on its own that you may not want to do anything different. But, in case you have extras and want to mix things up, here are several suggestions to creating a delightful new dish out of the leftovers.
Make It More Mexican-Inspired – Add corn kernels, black beans, red or orange bell pepper (or a hot pepper), and swap the parsley for cilantro. Serve with crispy homemade corn tortilla chips and fresh salsa.
A Hummus Bowl Hug – Start with a large, shallow bowl and fill the center with a large portion of hummus. Use your leftover tabbouleh to completely circle the hummus like the sun. Use wedges of pita bread (with the points facing out) to use as rays of the sun. Sprinkle with toasted black sesame seeds and a bit of smoked paprika.
Sweet & Savory Smashup – Mix any remaining salad with a pinch or two of cinnamon and a half a cup each of sweet berries (blueberries would work well!) and diced red apples. Offer fresh (or dried) dates or figs on the side.
Potato Pockets – Cut a pita bread in half (or use whichever bread you like) and fill each side with a slice or two of avocado, a scoop of hummus, this vegan tabbouleh salad, and baked sweet potato fries. Pop in a few leaves of romaine lettuce and off you go!
What Else Can I Add to Tabbouleh?
Though this recipe has specific elements that give it a traditional essence, there are a few variations you could consider. Feel free to experiment with one or more of the ingredients listed below. They will add another lovely layer to your super fresh grain salad.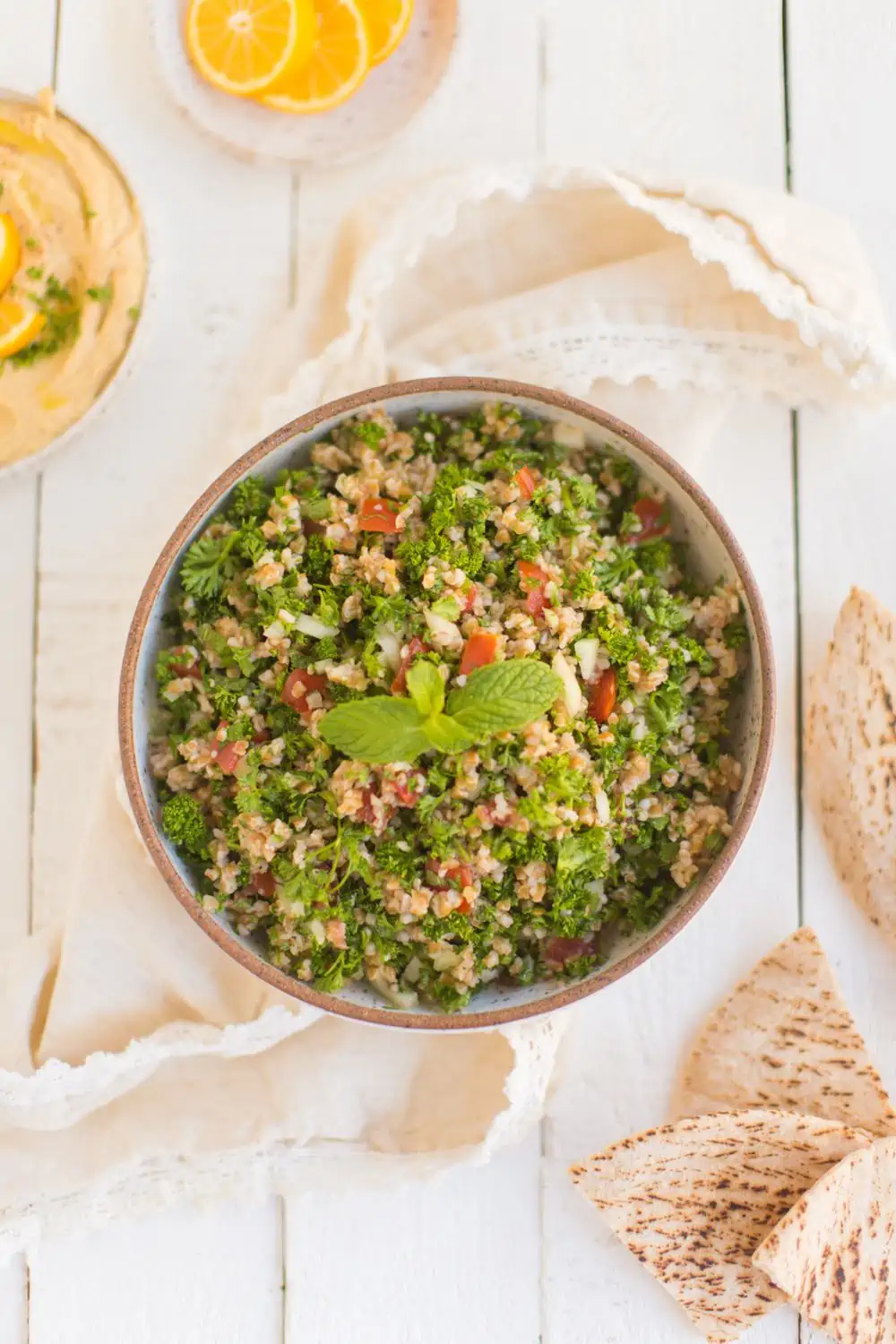 Equipment You'll Need
1 cup bulgur, cracked wheat
1 large bunch curly parsley, finely chopped
¼ cup mint, finely chopped
2 medium-sized tomatoes, diced
¼ cup onion, very finely diced
¼ cup fresh lemon juice
¼ cup extra virgin olive oil
½ teaspoon salt
¼ teaspoon pepper
Cook bulgar according to package directions. Allow cooked bulgar to cool on the stove (and it may absorb more water during this time too). Once cool, drain any remaining water, transfer to a large bowl, and refrigerate until chilled before proceeding to the next step.

Remove the bowl of bulgar from the fridge, fluff with spoon, and add the parsley, mint, tomatoes, and onion and mix well.

In a small ramekin, add the lemon juice, olive oil, salt, and pepper and whisk together. Add this mixture to the main bowl and mix until fully incorporated.

Store in a covered container in the refrigerator for up to 4 days.
Tabbouleh tends to get better once it has had some time to marinate, so this is a great dish to prep ahead of time and keep in the fridge!
Calories: 177kcal | Carbohydrates: 22g | Protein: 4g | Fat: 10g | Saturated Fat: 1g | Polyunsaturated Fat: 1g | Monounsaturated Fat: 7g | Sodium: 206mg | Potassium: 278mg | Fiber: 5g | Sugar: 2g | Vitamin A: 1225IU | Vitamin C: 23mg | Calcium: 33mg | Iron: 1mg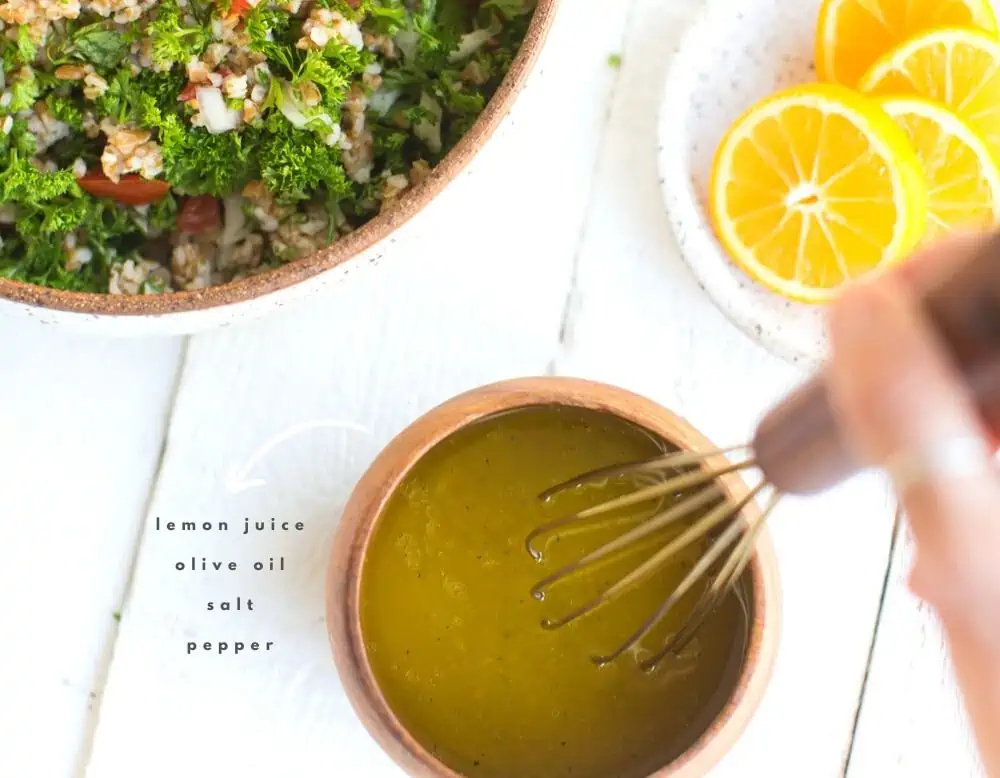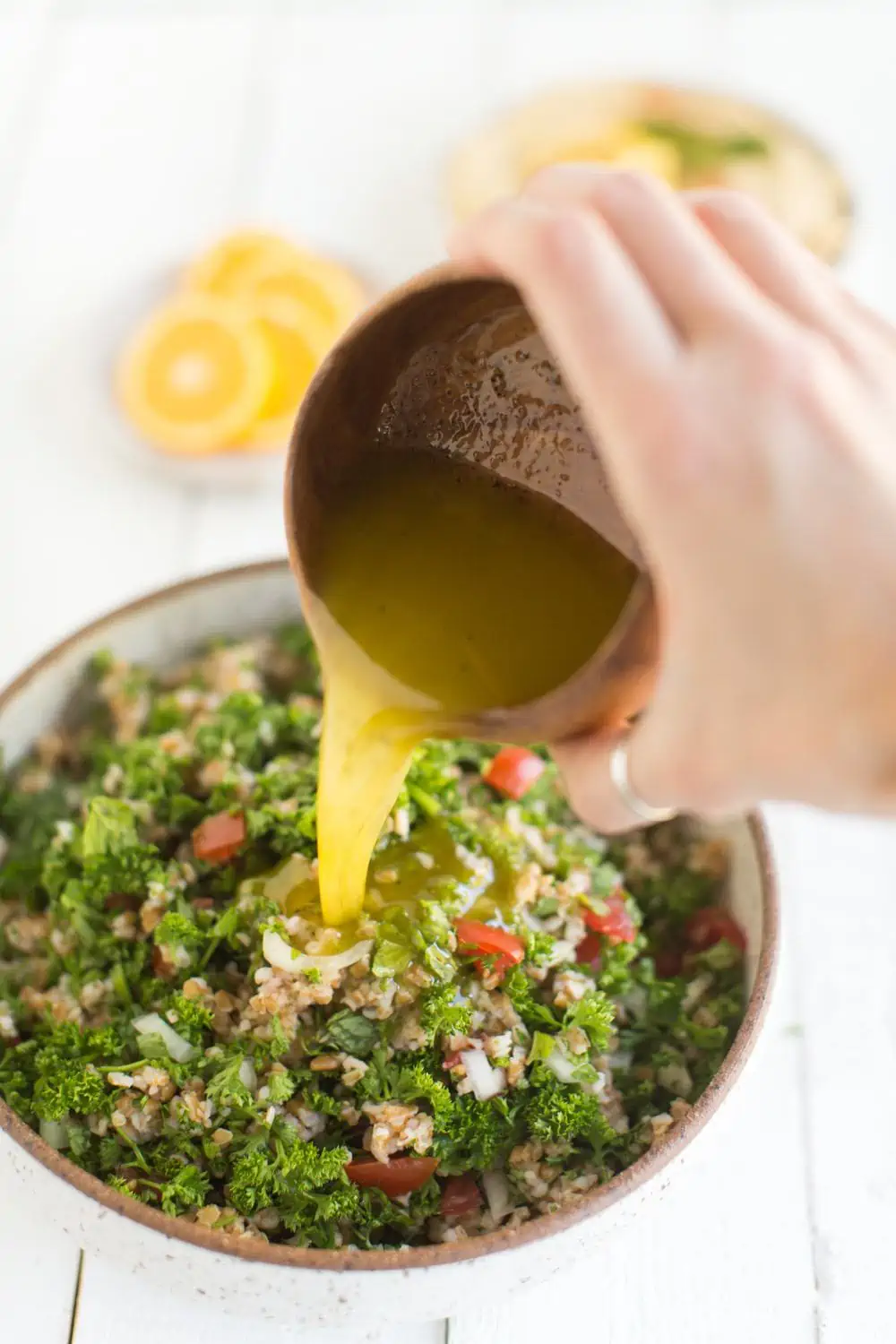 How to Cook Bulgar
Bulgar is as easy to cook as pasta. In a medium pot, add 1 cup of dry bulgar and 2 cups of water. Place over medium heat and bring to a boil. Once boiling, turn the heat to low, cover, and allow to cook for 12 minutes. Remove from heat, fluff with a fork, and allow to cool. If there is excess water, drain it into the sink and fluff again. The bulgar will continue to absorb a bit of water as it cools.
Simple Storage
You can easily store you leftover vegan tabbouleh salad in a covered container in the fridge for up to four days. Because this salad tastes even better once it has time to marinate, this is the perfect recipe to make ahead of time. It tastes even better the next day!
You can also freeze any tabbouleh that you don't think you'll be eating up right away. Just make sure that it's sealed well and in a freezer-safe container. It should keep for up to three months frozen. To reheat, simply take out the night before and let defrost in the fridge and heat in a skillet over medium until desired temperature. You can also microwave your tabbouleh for a minute or two, or to your liking.
More Middle Eastern-Inspired Recipes to Try:
Vegan Tabbouleh Salad Recipe and vegan food photography by Michelle Cehn, copyright of World of Vegan™, all rights reserved. Article written by Gina House and edited by Amanda Meth. Please note that this article may contain affiliate links which helps support our work at World of Vegan.