Have you heard the news? For decades it has been nearly impossible to order anything vegan at Wienerschnitzel. But this notoriously vegan-unfriendly fast food joint just became the first national chain to offer Field Roast's vegan stadium hot dogs! They're finally available at ALL locations and we're so hot-dog happy!
Way to go, Wienerschnitzel! We've been waiting way too long and have been hankering for some vegan hot dogs. Though we find it pretty frustrating to order vegan at Wienerschnitzel, we do give you kudos for your latest conquest.
The plant-based possibilities for fast food frankfurters are low-to-no, so this is an awesome addition to the Land of Vegan Alternatives. And, for that, we thank you. We're excited for more and hope that this is only the first in a loooong line of vegan-friendly meals!
You may be wondering, "What will they offer next for the vegan community"? I vote for wholeheartedly for an Impossible Burger, Chao cheese, or french fries (not fried in lard). How about you?
Which Wieners Are Safe to Order at Wienerschnitzel?
This hot dog haven welcomes three new items to their menu—the "meat-less and flavor-ful" Veggie Dogs packed with plant-based pea protein. Choose from the three aptly named options:
Backyard Veggie Dog – American cheese, pickle spear, tomato, ketchup, and mustard (order without cheese)
Barbeque Veggie Dog – BBQ sauce, pickle spear, and onions
Chicago Veggie Dog – Pickle spear, sport pepper, onions, mustard, relish, and celery salt
We're excited to announce that, in January 2022, Wienerschnitzel made these delicious veggie dogs available to all of its 327 U.S. locations across 10 states. Woo-hoo to you, Wienerschnitzel! Double-check the Wienerschnitzel location list for more details.
Four Cheers for Field Roast!
Isn't it fantastic that Wienershcnitzel is using Field Roast's Signature Stadium Dogs for their full-time frankfurters? Not only do the Veggie Dogs look incredibly delicious, they're also:
Vegan-certified and non-GMO
No nitrates or added nitrates
Skinless
Naturally smoked in a real smokehouse with maple hardwood chips, not just a liquid smoke flavoring
Use a process of steam and dry cooking to create the perfect outside texture
Made using plant-based pea protein, brown rice, and fava beans
Same amount of protein as a traditional hot dog
Less sodium than a traditional hot dog
Whether or not there's a location near you that will offer these downright delectable veggie dogs, you can rest assured that Field Roast will sell their new product in stores soon. Perfect timing for the upcoming baseball and grilling season!
Vegan Options at Wienerschnitzel
These are the only options that are vegan-friendly at the this time and not all of them are available at all locations––in particular; the coffee, tea, and orange juice.
Vegan Beverages:
Coffee
Tea
Orange Juice
Lemonades
Pepsi Products
Vegan Hot Dogs:
Backyard Veggie Dog (ask for no cheese)
Barbeque Veggie Dog
Chicago Veggie Dog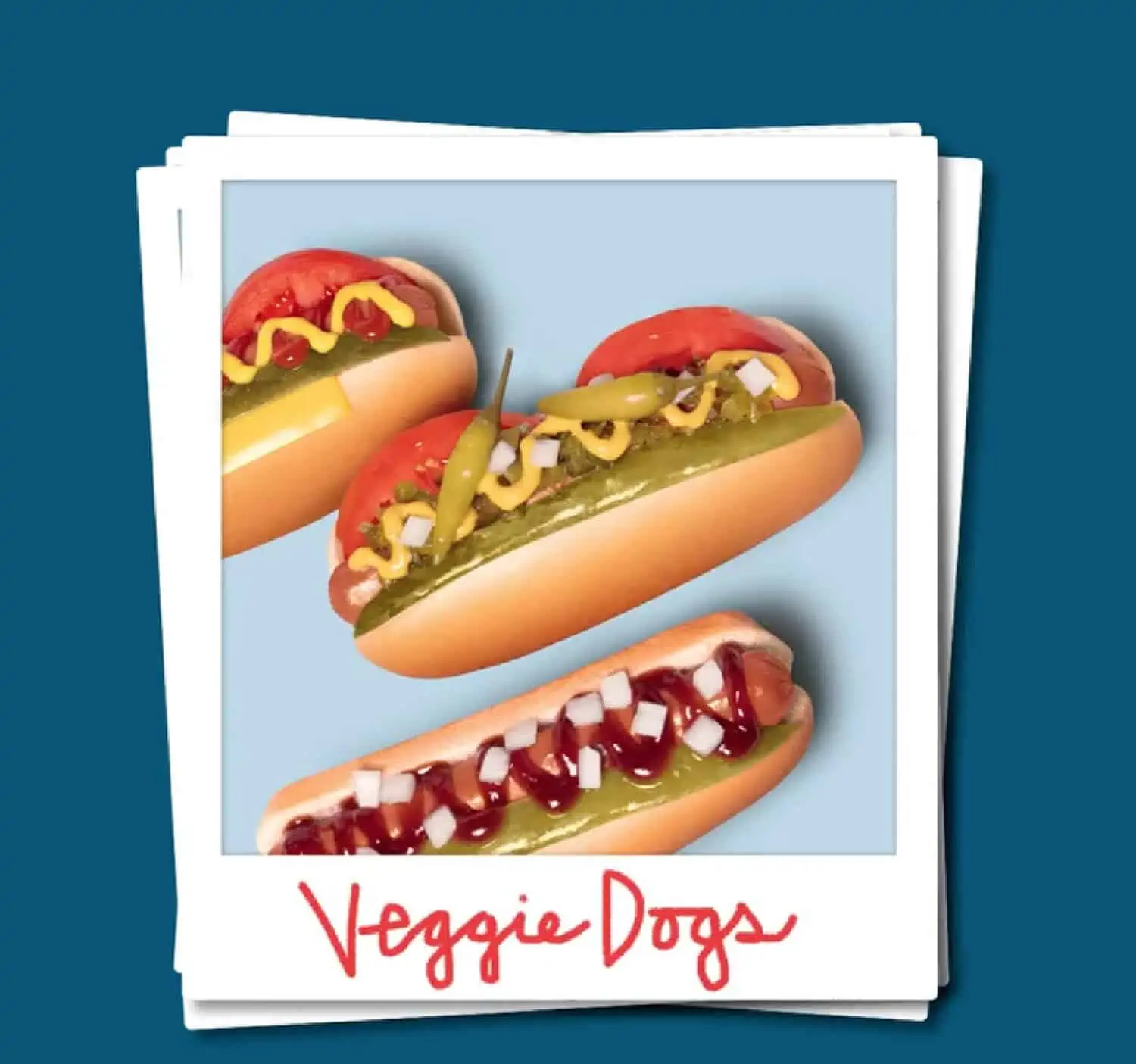 Vegan Buns:
Hot dog Buns
Hamburger Buns
Pretzel Buns
Remember to ask for your bun of choice with no butter.
NOT Vegan at Wienerschnitzel
Sadly, most of the menu items are not vegan-friendly and they include:
Hash Brown Po'Taters (fried in animal-based lard)
Fries (fried in animal-based lard)
All Tastee Freez desserts
Jalapeño Poppers
All breakfast items
Burgers, hot dogs, sandwiches, or anything with egg and/or cheese
This is very disappointing indeed! Oh, Wienerschnitzel…why no fries????
Substitution Ideas
While it's not so easy to order vegan at Wienerschnitzel, there are a few things that you can do to make the meal more manageable.
Choose Your Own Cheese – If you don't mind carrying a slice (or two) of plant-based cheese when you travel, this is creative way to add a little more calories.
Possibly a Polish Sandwich – Ask for the Polish sandwich to be made with one of their new veggie dogs and remember to hold the cheese (or bring your own).
Lunchbox as Your Last Resort – You may know ahead of time if you'll be visiting this fast food restaurant and you'll be able to plan accordingly. Pack a small lunchbox or cooler with fresh fruit, crunchy veggies, a superhero salad, nuts, and even some warm and gooey chocolate chip cookies.
Let's hope that vegan burgers, vegan cheese, and dairy-free ice cream shakes are on the way. Though, it looks as if there might be light at the end of the tunnel on the dairy-free cheese front and they may be thinking of a similar partnership with Chao Creamery, the sister company to Field Roast. We must raise our voices for french fries (and let them know that we're hankering for hash browns) that are not fried using lard! At least, that way, we'd have a satisfying starch to go with our food.
Helpful Hints When Ordering Vegan at Wienerschnitzel
Browse the Wienerschnitzel website before ordering.
Download the Wienerschnitzel Nutrition Information Guide to make sure you are purchasing a vegan-friendly item. The products offered at Wienerschnitzel may change, even though the PDF seems to be updated regularly.
Wienerschnitzel locations offer different items. We highly suggest that you check the website and choose the specific restaurant you're planning to visit before you go there. While researching the menu, I found that item availability varied from state to state and town to town. Additionally, some options are only available in California, New Mexico, and Texas (lucky them)!
If ordering Wienerschnitzel through an online delivery service, make sure you clearly specify any substitutions you would like, especially concerning eggs or cheese. If you're worried that your request may be overlooked then it might be a better idea to call or go there directly to order.
Historic Vegan Moments in Wienerschnitzel History
June 2021 – Partnered with the Los Angeles Dodgers to create a vegan-friendly Plant-Based Dodger Dog. (Available at select concession stands at Dodger Stadium during home games.)
January 2022 – All 327 locations are now offering Field Roast Veggie Dogs!
Fun Facts About Wienerschnitzel
A family-owned business founded in 1961 by John Galardi in Southern California. Besides being best-known for their burgers and hot dogs, they also offer Tastee Freez dairy desserts (including shakes, cones, sundaes, and splits) that are similar to the ones at Dairy Queen.
World's largest hot dog chain.
They sell more than 120 MILLION hot dogs per year!
Famous for their secret recipe chili that customers love to have smothered over their hot dogs.
Want More Vegan Options at Wienerschnitzel?
Let them know! Your voice matters. Request a vegan cheese or a plant-based burger option to go with their delicious Veggie hot dogs. Write them, message them on social media, talk to the manager of your local branch. Trust us, they are listening, and the more they hear it, the faster they'll evolve.
How to Order Vegan at Other Chains
Be sure to visit our vegan fast food guide for a complete list of fast food restaurants that offer vegan options and how to navigate the menu at each.
Have you found any other options to be veganizable? Did you find something amazing that we missed? Let us know by tagging #worldofvegan and sharing your favorite vegan-at-Wienerschnitzel creations with all of us!
This article is not sponsored and we are in no way affiliated with Wienerschnitzel. At the time of this article, the foods mentioned above are vegan. Since restaurants constantly update their menus and add or take away items, please keep this in mind when ordering your food. There may be new items that are vegan and not listed or items listed here as vegan, which are no longer vegan. Take care to double-check.
This guide to ordering vegan at Wienerschnitzel was written by Gina House and edited by Amanda Meth. Content copyright World of Vegan, all rights reserved. This article may include affiliate links when available and shopping through these links supports World of Vegan.