Starburst and their inexplicably juicy candies and chews gained enormous popularity worldwide. Whether you're getting ready to celebrate a vegan Halloween, assemble a vegan Easter basket, or just looking for your favorite candies you can get for movie night, every vegan is bound to ask the question: are Starbursts vegan?
It's a little more complicated than a simple "yes" or "no." Let us explain.
In this article, you will find out…
if classic Starburst candies are vegan
do they contain gelatin?
the differences between Starburst Ingredients in the US vs. the UK
are other Starburst products vegan (Starburst Airs, Starburst Gummies, Starburst Swirlers, etc.)?
a list of certified vegan brands that make Starburst alternatives and other great vegan candy options
Let's begin!
So…Are Starbursts Vegan Friendly?
Starburst candies and chews made in the United States are sadly not vegan. They contain animal-derived products including gelatin, which is sourced from animal bones and skin, and confectioner's glaze, made from the secretions of lac beetles.
Interestingly, in other regions, including the United Kingdom, Starburst fruit chews are made without gelatin. While this is a big win for animals and vegetarians, they may contain other problematic ingredients. Read on though, because a few varieties of Starbursts in the UK are widely considered vegan!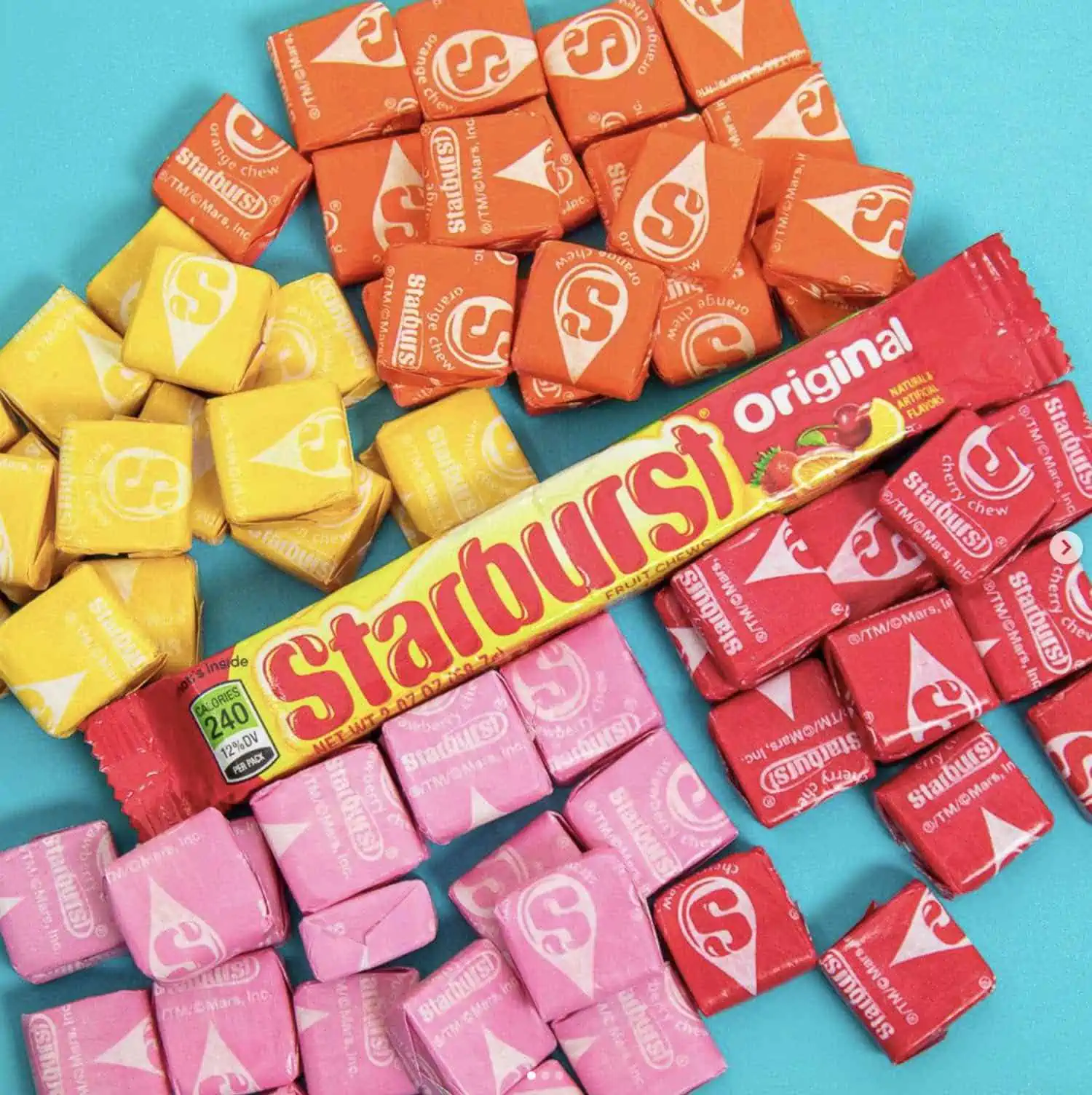 Starbursts Ingredients
So, what ingredients do Starburst candies include, and which of those ingredients are not vegan?
Let's take a closer look at the Starburst Original Fruit Chews Candy ingredients list:
Sugar, Corn Syrup, Hydrogenated palm kernel oil, Citric Acid, Tapioca Dextrin, Gelatin (not vegan), Apple Juice From Concentrate, Modified Corn Starch, Natural And Artificial Flavors, Red 40, Yellow 5, Yellow 6, Blue 1.
The Starburst Ingredients that are NOT vegan include:
Gelatin – Gelatin is a protein obtained by boiling animal skin, tendons, bones, and ligaments with water. It is often obtained from cows and pigs.
Confectioner's glaze – Candy makers often use the name confectioner's glaze for 'shellac,' which is purified lac resin derived from insects. The confectioner's glaze gives candies their shiny, smooth coating. You can also see it under the name – E904.
These ingredients are up for debate:
Sugar – In the commercial food industry, white sugar gets its color from a refining process that often involves bone char. Luckily, raw, unrefined, and organic sugar isn't filtered through bone char, so it is typically suitable for vegans. Regardless, at World of Vegan we consider sugar vegan because it does not contain animal products, but some vegans admirably choose only vegan-certified sugar!
Flavors – Manufacturers do not specify the source of natural or artificial flavors, so it is difficult to know where it comes from. While it isn't for sure, there is a possibility that some flavorings are derived from animal sources.
Other Common Animal Products Found in Candies
Some other common ingredients in candies that are derived from animal products to keep in mind when reading labels include:
Milk, Milk Fat, Condensed Milk, or Powdered milk – Often added to make the candies creamy.
Honey – To sweeten candies.
Carmine or Natural Red 4 – Carmine produces a bright red pigment used as a dyeing agent in candy production, food, cosmetics, textiles, and more. It's derived from harvesting, drying, and crushing thousands of female cochineal bugs.
E120 – A red coloring that is obtained from the cochineal beetle.
E901 – Beeswax; it is used as a glazing agent, used to wax fruit, candies, chocolate, ice cream, snack food, etc.
E542 – Food additive number for bone phosphate produced from grinding animal bones.
Do All Starburst Products Have Gelatin?
In the United States, Starburst Minis are the only Starburst candies that contain no gelatin. Instead, they contain pectin, usually derived from vegetable/fruit sources. So, if they are gelatin-free, that brings us to the question—are the mini Starburst vegan?
Are Starburst Minis Vegan?
Unfortunately, no. Starburst Minies contain a confectioner's glaze. Because of this and possibly more non-vegan ingredients, the Starburst Minis are not considered vegan. Here are the Starburst Mini Ingredients:
Sugar, Corn Syrup, Palm Oil, Citric Acid, Sodium Citrate, Pectin, Apple Juice From Concentrate, Mono- And Diglycerides, Confectioner's Glaze (not vegan), Natural And Artificial Flavors, Yellow 6, Red 40, Yellow 5, Blue 1, Carnauba Wax.
Are Starburst Gummies Vegan?
No. Here are the Starburst Gummies Ingredients:
Corn Syrup, Sugar, Modified Corn Starch, Water, Gelatin (not vegan), Fumaric Acid, Lactic Acid, Citric Acid, Calcium Lactate, Natural And Artificial Flavors, Red 40, Yellow 5, Blue 1.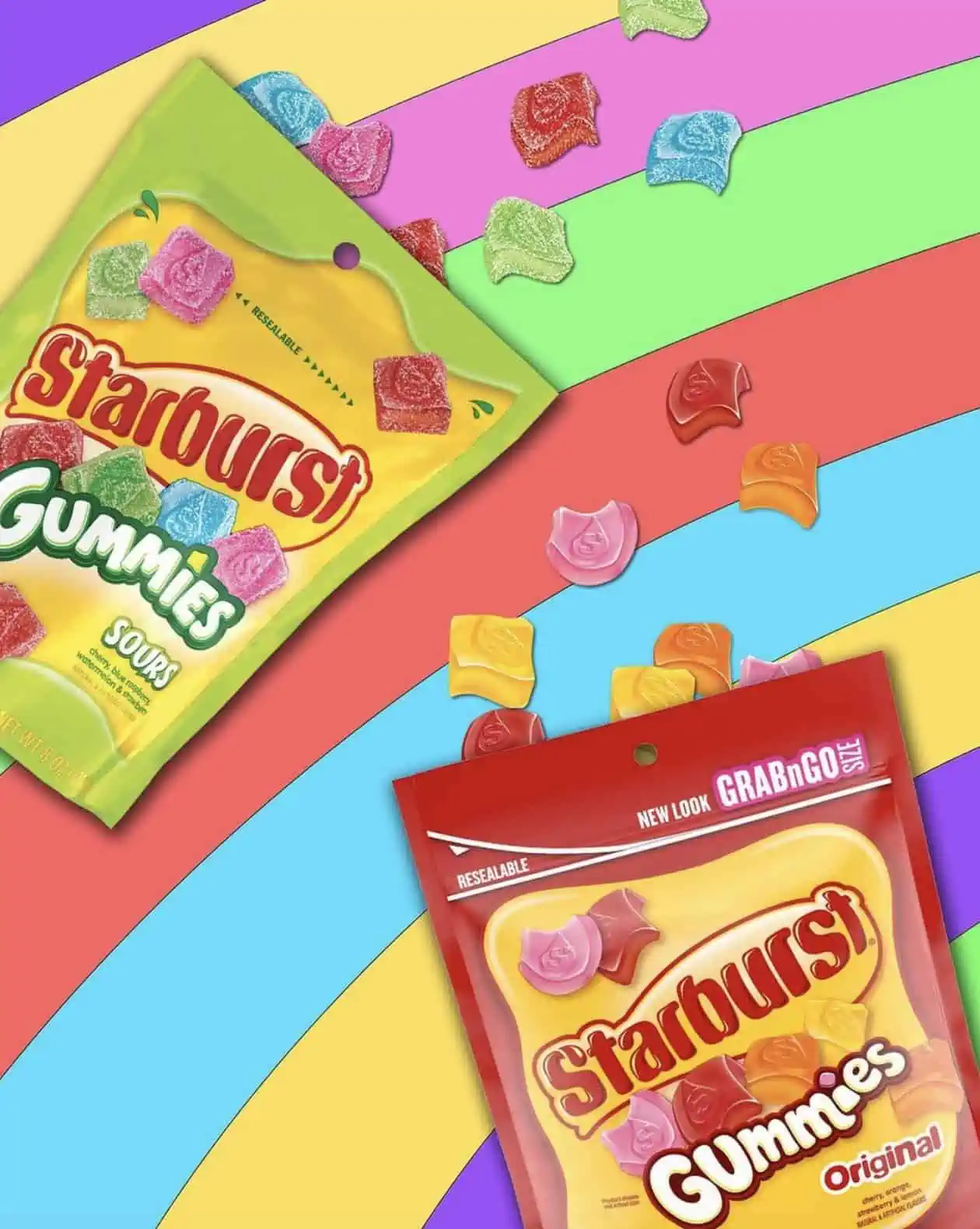 Are Starburst Candies tn the UK Made With the Same Ingredients?
Interestingly, some of the Starburst candies in the UK contain NO gelatin and NO confectioner's glaze. Also, specific UK versions don't include any artificial colors or flavors.
FaveREDs Starburst (Fruit Chews) and Very Berry Starburst in the UK can be considered vegan-friendly, even though it is hard to be 100% certain due to the limited information.
Vegan-Friendly Starburst Alternatives
To be on the safer side, you can avoid Starburst candies altogether, and try delicious, 100% vegan-friendly candies and chews. You can choose any of the following Starburst alternatives:
The sustainable & vegan brother of Starburst! YumEarth's chewy candies are colored with natural fruit and vegetable juices, contain NO high fructose corn syrup or artificial dyes, and are certified organic. YumEarth also has small chewy candy bites.
These "chewie fruities" are perfect plant-based dupes for Starbursts. They look almost identical, and taste very similar too. But they're made with cleaner more natural ingredients, and they're vegan!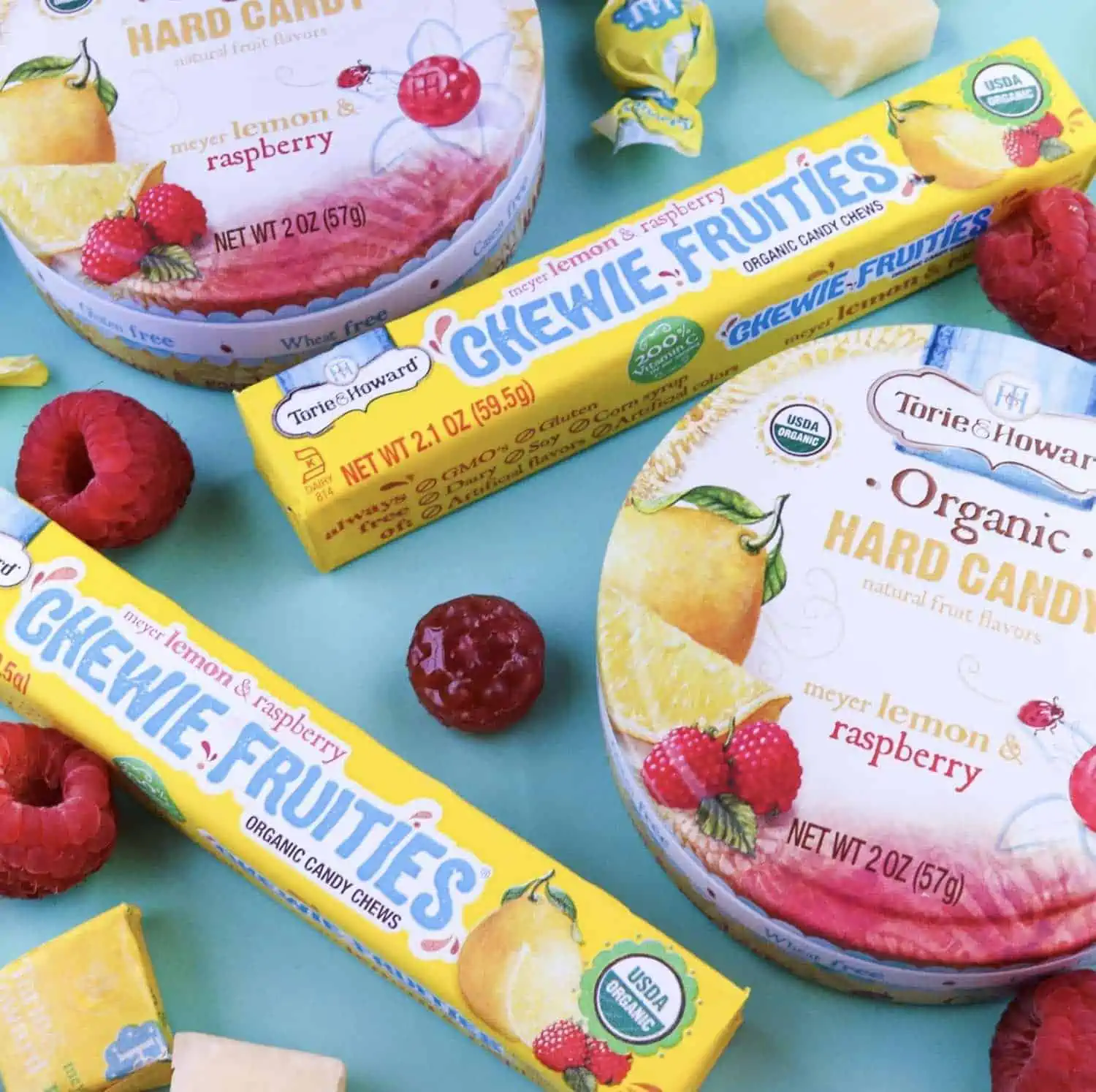 Another replica of Starbursts made vegan! Lovely Co. candies are organic as well, so they're a total win if you're looking for a higher caliber version of your childhood favorite candy.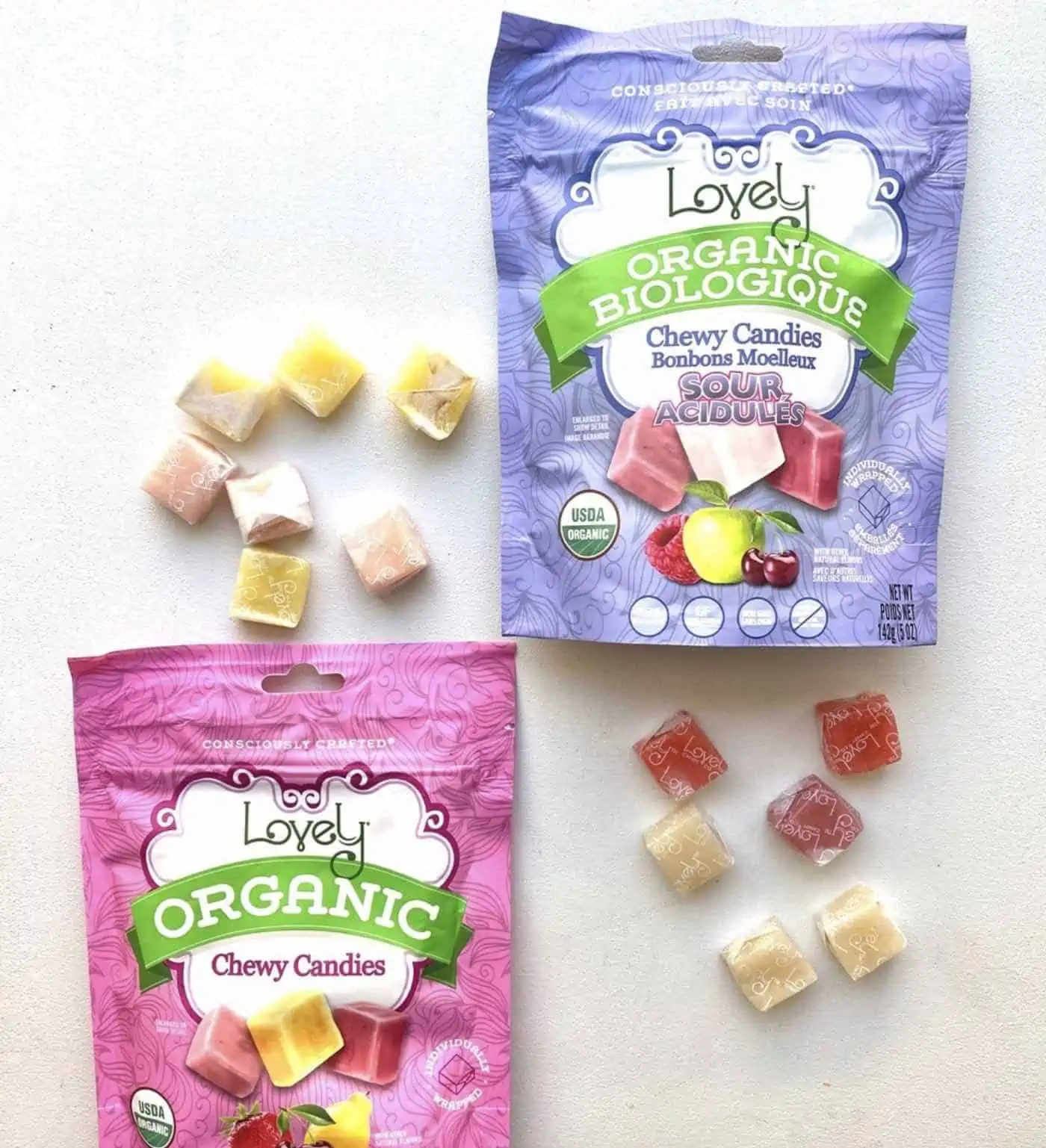 Candy Kittens are soft, chewy, and certified vegan candies. They contain only natural flavors and colors and are palm-oil-free and carnauba wax-free, which most other candies contain.
You can choose between four flavors: Tropical Mango, Blueberry Bliss, Sour Watermelon, and Wild Strawberry.
5. Smart Sweets (Monk Fruit Sweetened)
These candies are almost healthy. Smart Sweets are naturally flavored, and you can choose from their four different candies, including Sweet Fish, Peach Rings, Sour Blast Buddies, and Sourmelon Bites.
Smart Sweets are sweetened with high-quality, natural sweeteners, monk fruit, and allulose and have 92% less sugar than similar products.
Surf Sweets are candies free of the top 10 allergens made with no synthetic colors and flavored with only organic vegetables and fruits.
Another remarkable aspect is that they are members of 1% for the Planet, which allows them to give back and support environmental causes.
It's always exciting to find gummy candy that has been around forever and just so happens to be gelatin-free and vegan! Swedish Fish are one of those gems. Check out our "Are Swedish Fish Vegan" guide to learn more.
Another old-school gummy candy that we can drop in vegan Easter baskets, Christmas stockings, and Halloween pumpkins! Sour Patch Kids have long been vegan (according to most vegans). Read our "Are Sour Patch Kids Vegan?" article to get the full scoop.
Jolly Rancher is another plant-based option for hard and fruity candies with many flavors, including watermelon, green apple, cherry, grape, and blue raspberry. They also have a sugar-free & aspartame-free version.
Less healthy but undeniably yummy, it appears that Skittles are dairy and egg-free, so they are completely vegan-friendly! In addition, they have various fruity flavors, including lemon, grape, orange, strawberry, etc. Check out our "Are Skittles Vegan?" Guide for more information!
Another fantastic healthy candy option is the goods from Natierra. They have a variety of freeze-dried fruits, like strawberries, mango, and banana, covered in organic dark chocolate.
Cocomels are the perfect option for caramel lovers (and chocolate candy lovers). These dairy-free, 100% plant-based candies are made with coconut milk caramel and covered in rich dark chocolate. 
The coconut milk caramels are mindfully crafted, using simple ingredients, free from gluten and high-fructose syrups.
DIY Homemade Starbursts
Did Starbursts used to be your favorite candies? You can always try to make your own vegan version at home!
By making Starbursts from scratch, you'll be able to avoid all controversial ingredients and make them even a little bit healthier. This recipe, for example, contains just coconut butter, coconut oil, maple syrup, and freeze-dried strawberries. While she adds gelatin in the end, you can easily substitute it with agar-agar, which is a vegan alternative to gelatin and is extracted from seaweed.
Here's the Takeaway on Vegan Starbursts
To sum up, if you live in the US, Starburst products aren't vegan. However, if you are based in the UK and do not mind consuming generic sugar—you can still eat Starburst candies!
If you want to stay on the safe side, you can avoid Starburst candies altogether and choose one of the many other options for vegan-friendly candies and chews.
Would you like Starburst to go vegan? You can help by contacting Starburst online and through their social media channels and asking them to please release vegan-friendly Starbursts for all their animal-friendly fans!
More Vegan Candy Guides
We hope you found this guide to vegan Starbursts helpful. Please note that brands and ingredients do change over time, so always check the ingredient label and contact the company directly with questions.
This guide was written with support from Creative Compass. They are a vegan-founded marketing agency working to helping vegan and animal-friendly brands and nonprofits make an impact. Photos by Michelle Cehn and graphics made using Canva unless otherwise credited. If we missed any of your questions, please let us know in the comments below. This article may contain affiliate links that support our work at World of Vegan. Thank you!