Tired of having the same old boring bowl of cereal for breakfast? Then you've got to try these vegan crumpets! Fluffy, warm, satisfying, and simple to make, you'll love how tasty this classic English recipe is. Serve with some of your favorite vegan butter and enjoy!
Sometimes all we need to start the day is a comforting mouthful of something delicious. That's where these vegan crumpets come in! While traditionally made with butter and sometimes milk, these plant-based crumpets are free from any animal products. Fluffy, warm, and an excellent vehicle for your favorite fruit spread, all you need are a few ingredients and a little bit of time til you're on your way to vegan crumpet goodness.
This delicious vegan crumpet recipe comes from the BOSH! On a Budget cookbook by bestselling authors Henry Firth and Ian Theasby. Made from ingredients like flour, yeast, vegetable oil, and baking soda, this vegan crumpet recipe is super low maintenance and quick to come together.
What Are Crumpets?
Originating in Wales around the 1700's, a crumpet is a small griddle bread that is usually served for breakfast or with afternoon tea. Made with an unsweetened batter, crumpets can be enjoyed with savory spreads such as vegan butter or eaten with sweeter foods such as jams and syrups. They can be thought of as a sort of cross between a pancake and an English muffin except less sweet! Since they are traditionally made with either milk or water, some crumpets are vegan by default, although we vote that it's always more delicious to make them using dairy-free milk! Back in the day, they would be baked on an iron plate over a stove but these days you can simply make them on a pan.
Are There Any Vegan Crumpet Brands?
Not about to make time to make your own crumpets from scratch? I get it, you're busy! Check out these vegan store-bought crumpet options instead.
Warburton's (crumpet brand in the UK — their crumpets are vegan!)
Kingsmill "Toaster Crumpets" (these are marked as suitable for vegetarians and vegans on their website — not note that many of their other crumpet varieties are not.)
Crumpets by Merna (this Australian-based crumpet brand has some clearly-labeled vegan options)
Trader Joe's British Style Crumpets (these are vegan!)
Why Should I Make This Vegan Crumpet Recipe?
If the idea of biting into a freshly made little British bread isn't enough to motivate you to get into the kitchen, we've got even more reasons for you to try this amazing vegan crumpet recipe! Not only does it come together quite easily but you can enjoy your vegan crumpets in a variety of delicious ways.
Easy to Make – If you're generally shy about making any type of bread, then this vegan crumpet recipe is perfect! All it takes is a little work on the stovetop, and a few minutes. You don't even need to turn on your oven!
Visually Appealing – There's no denying that crumpets are plain cute! With their golden brown underbelly and interesting landscape, you'll love how photogenic this vegan recipe is!
No More Boring Breakfasts – We get it, sometimes all you want to do is enjoy a quick bowl of cereal for breakfast. While we are huge fans of easy breakfasts here at World of Vegan, it's nice to switch things up every once in a while.
What Should I Eat With This Vegan Crumpet Recipe?
Wondering how to best enjoy your vegan crumpets? Whether you're eating them for breakfast or enjoying a simple snack, there are plenty of ways to eat these tasty little breads.
Fresh Fruit – However you want to slice it, fresh fruit goes deliciously alongside these vegan crumpets beautifully and deliciously!
Tofu Scramble – You can't go wrong with serving up a tasty tofu scramble to pile onto your crumpet! Short on time? Pour some JUST Egg into a pan and call it a day (or morning)!
Sweet or Savory Spread – Sliced avocado, vegan cheese, and fresh fruit compotes are all excellent choices for taking your dairy-free crumpets to the next level. Want to keep things real simple? Just spread on your favorite vegan butter!
Vegan Crumpet FAQs
Got questions about plant-based crumpets? We have answers!
Why are crumpets not vegan?
While some crumpets may be vegan by default, many recipes call for milk and/or butter which makes them not vegan.
Do crumpets have egg in them?
Most crumpets are not made with egg.
How do you make vegan crumpets?
You can easily make crumpets vegan by replacing the butter and milk with dairy-free versions!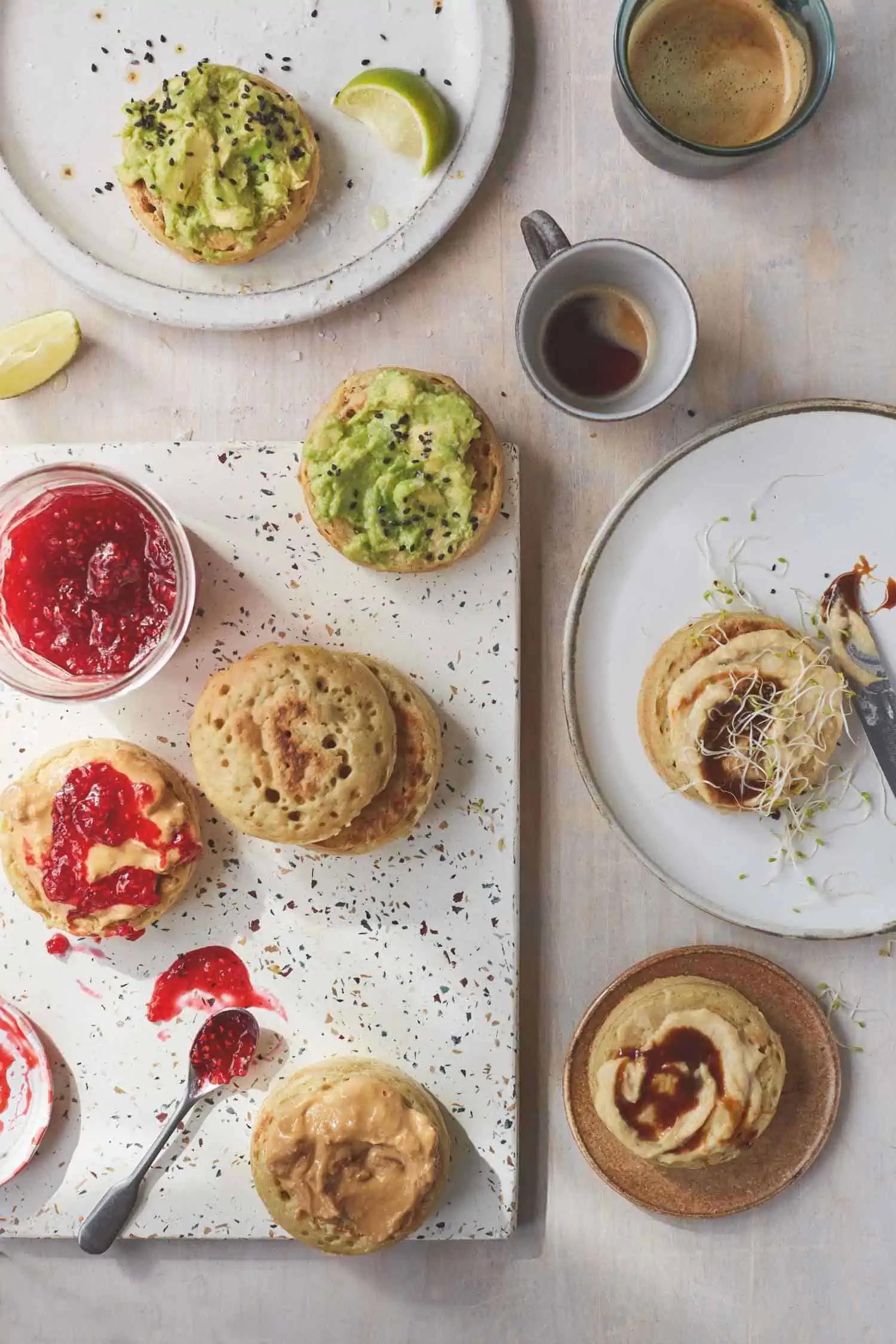 1¾ cups strong white bread flour
2 ¼-ounce sachets fast-action dry yeast
½ teaspoon superfine sugar
½ teaspoon baking soda
1¼ cups warm water
6 tablespoons vegetable or sunflower oil, for frying
1 any crumpet topping of your choice
To Cook The Crumpets:
Put the skillet over medium-low heat and brush it with oil.

Pour the oil for frying into a shallow bowl.

Dip your molds into the bowl and brush around them with oil, then place them in the pan.

Add enough batter to each mold to come about halfway up the sides (about ½ inch deep if using a can), being careful not to overfill them as the crumpets will rise a lot. Cook for 5 minutes, until the bubbles that appear on the top have burst. If you're using a can, carefully release the crumpet by running a knife around the inside edge of the can, being careful not to burn your hands as the metal will be hot.

Flip over the crumpets to cook the other sides for another minute.

Transfer the cooked crumpets to a board, sliding them out of the molds, if using.

Repeat as necessary until you have made 8 crumpets.
Store any leftover crumpets in a sealed container and toast before eating.
Calories: 191kcal | Carbohydrates: 20g | Protein: 3g | Fat: 11g | Saturated Fat: 2g | Polyunsaturated Fat: 6g | Monounsaturated Fat: 2g | Trans Fat: 0.1g | Sodium: 71mg | Potassium: 30mg | Fiber: 1g | Sugar: 0.3g | Vitamin A: 1IU | Vitamin C: 0.001mg | Calcium: 5mg | Iron: 0.3mg
Have a chance to try this tasty vegan crumpet recipe? Let us know what you think by leaving a comment and rating below! Be sure to follow along on Pinterest, Instagram and Facebook for even more vegan recipe inspiration.
More Tasty Vegan Breakfast Foods
This vegan crumpet recipe was excerpted from BOSH! on a Budget by Henry Firth and Ian Theasby. Reprinted with permission of HarperCollins, 2022. Photography by Sara Kidd. Many thanks to Kim Comeau and Jessica Sabbagh for recipe testing. This article may include affiliate links when available and shopping through these links supports World of Vegan.