The path to eating more consciously almost always leads to living more consciously in general. And part of that is aligning all the stuff we buy—clothing and accessories, makeup and body care products, cleaning products, etc.—with our values. Today we're taking you on a vegan handbag adventure to help you find a compassionate and ethical vegan purse, satchel, briefcase, backpack, duffel, clutch, or any kind of bag you need to carry your belongings.
Benefits of Owning a Vegan Handbag
Owning a vegan handbag has many benefits beyond just being cruelty-free! Many vegan bags are made from sustainable materials which means they have less of an environmental impact than traditional leather bags.
Additionally, many vegan bags are stylish yet affordable so you don't have to break the bank in order to look good! Owning a vegan bag is an easy way to show your commitment to animal rights without having to sacrifice style or quality.
How to Shop for Vegan Purses & Bags
Ready to give your leather handbag a cruelty-free upgrade? You have a few options.
Shop from vegan brands. Yes, these do tend to be a bit more expensive, but it is a great way to vote with your money and support the kind of companies you want to exist in the world.
Look for "accidentally vegan" synthetic handbags at mainstream stores like Target or Walmart.
Buy secondhand. This is the most eco-conscious option of all, and a great way to save money! You can find secondhand shops both online (like ThredUp, Poshmark, and Tradesy) and in person at your neighborhood thrift stores or local Goodwill.
100% Vegan Handbag Brands
There are dozens of vegan handbag brands sprouting up with kind and fashionable options for the conscious consumer. What a time to be alive! Here are the most notable brands that we've explored and love.
These companies carry a variety of vegan leather bags, cloths bags, luxury designer bags, more casual bags, vegan tote bags, vegan crossbody bags, vegan messenger bags, satchels, wallets, briefcases, laptop bags, and more. Whatever style you're looking for, you can absolutely find it vegan!

Vegan Handbag Materials
If not leather or suede, what is a vegan purse made from? There's an exciting array of materials used to make vegan bags—from simple cotton to vegan leather to eco-leathers like mushroom leather or even pineapple leather! Here are a few of the most common materials to look for:
Apple Leather
Bamboo
Cork
Cotton
Hemp
Leaf Leather
Mycelium leather
Nylon
Pineapple leather
Polyester
Recycled Plastic
Vegan suede
Rubber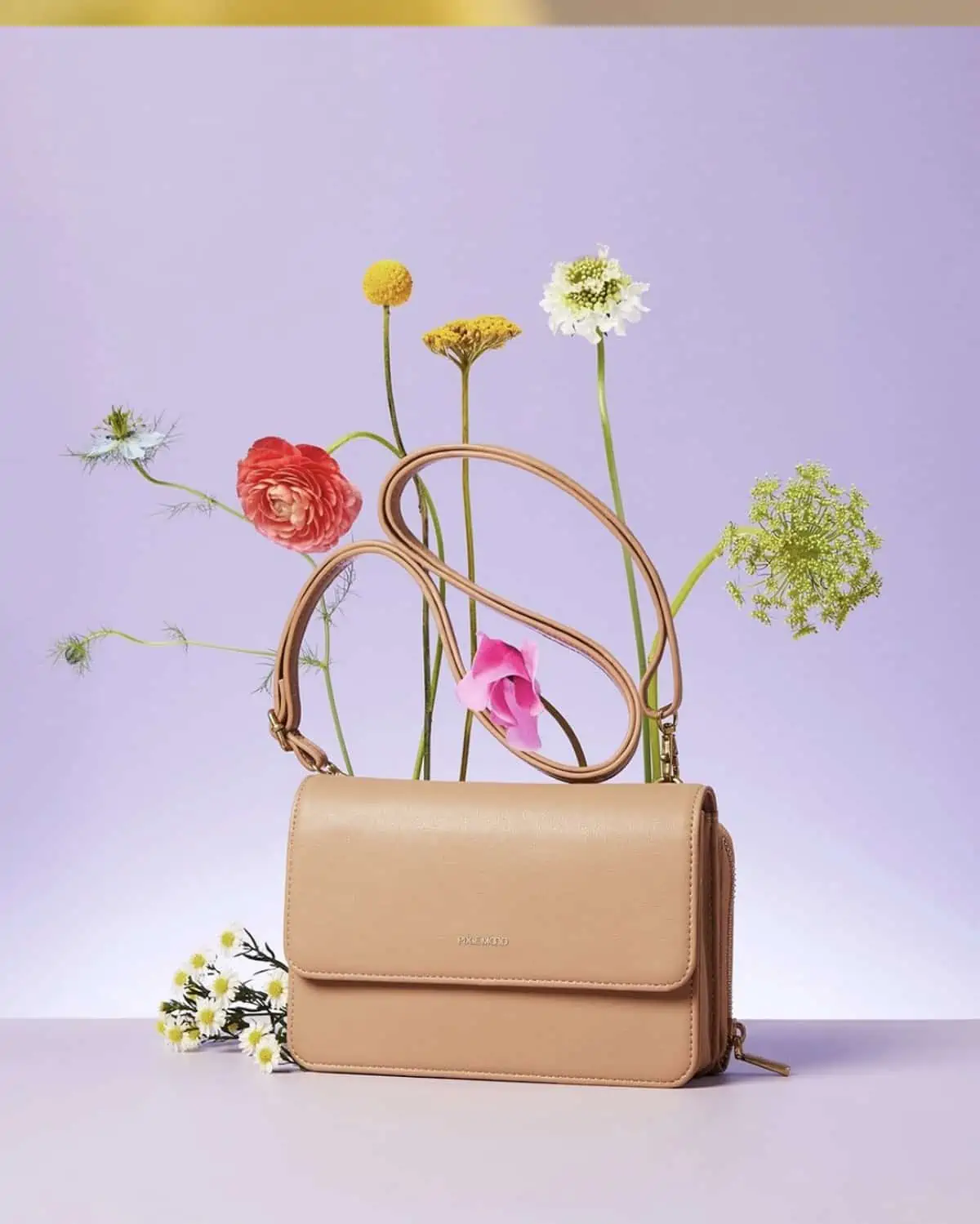 How Can I Find An "Accidentally Vegan" Handbag?
Finding your perfect vegan purse can be easier than ever. When you browse for "accidentally vegan" handbags, you'll find the most luck at big stores that carry lower-cost items (since non-leather bags are generally much more affordable than leather). Look for these labels:
All man-made material
All synthetic materials
Also make sure the bag doesn't have a leather symbol.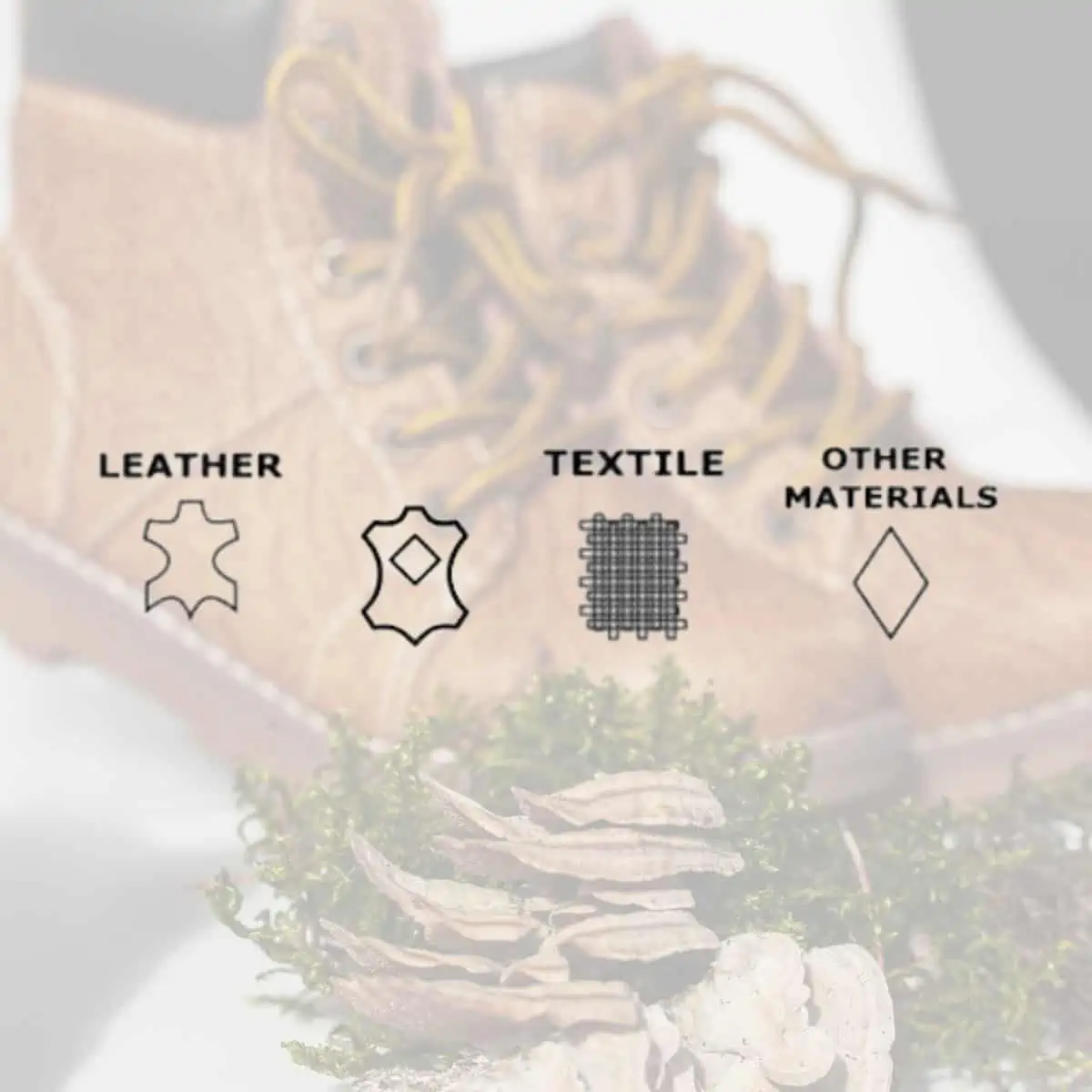 Tips For Finding Affordable Vegan Handbags
Finding affordable vegan handbags is easier than you may think! With a little bit of creativity and some savvy shopping, you can find the perfect vegan handbag without breaking the bank.
Shop around for deals. It might seem obvious, but make sure to shop around. Look for sales and discounts at stores that specialize in vegan products. Many vegan brands offer discounts throughout the year so keep an eye out! Sometimes brands will send out special discounts just for their email subscribers so if you have an eye for a particular brand, make sure you're on their list! Also, check out online retailers like Etsy and eBay for great deals on vegan handbags. Who knows? You might even find a designer bag at a fraction of the cost!
Consider buying second-hand or vintage bags. Many thrift stores and consignment shops have a wide selection of gently used bags that are much more affordable than buying new. You can also find great deals on vintage bags online or at flea markets and garage sales. Plus, it's always fun to hunt for hidden gems!
Seek out synthetic. Look for bags made from synthetic materials such as nylon and polyester which are often much more affordable than animal-based materials. They're not only a great option if you're looking for an affordable vegan handbag, but they also come in all sorts of fun colors and patterns!
Get creative with your search! Try searching for "vegan handbags" on sites like Pinterest or Instagram to get some inspiration for unique styles that may not be available in mainstream stores. You may even find some DIY tutorials that will help you create your own custom bag. You might just end up with a one-of-a-kind masterpiece!
Support small businesses. If you don't have the skills to make your own but still want something truly unique, consider supporting a small business and buying a handmade vegan bag. You can find these on Etsy or at local craft fairs and vegan festivals.
How To Care For Vegan Handbags
Caring for your vegan handbag is a breeze! To keep it looking its best, store your vegan handbag in a cool, dry place away from direct sunlight to prevent fading or discoloration. Avoid getting it wet—instead, use a damp cloth to wipe away any dirt or dust. No need for harsh chemicals or abrasive cleaners as they can damage the material.
For vegan leather bags, you can simply use a leather conditioner to keep it looking its finest for years to come! For canvas vegan handbags, spot-clean any stains with a damp cloth and mild soap. To do this, mix a small amount of soap with warm water. Dip a clean cloth into the soapy water and gently dab at the stain, completely saturating it. Then use a dry cloth to lift the stain up—no scrubbing necessary! Allow your vegan handbag to air dry before using it again and you'll be ready to rock your stylish accessory!
What Should I Do With My Old Leather Bags?
Great question! First, note that there is not one single "right" answer to this question—if and how you get rid of your leather goods is up to you. Here are a few options:
Use your non-vegan items until they're totally worn out, and commit to buying vegan items going forward.
Donate your leather items to a homeless shelter where they can be given at no-cost to someone who can't afford to buy these items.
Give or sell them to a secondhand shop (there are even online thrift store like ThredUp) so that someone else can use them until they're worn out (which may prevent them from buying new leather).
Pass them on to a friend who you know will get use out of them.
We don't recommend throwing your non-vegan items away. The damage is already done, the animal was already killed, and resources went into producing this product. To discard it is wasteful. Consider this excerpt from our Vegan Belts Guide:
While it may not "feel good" to wear or use items that aren't aligned with your ethics, the reality is we can't go back in time and un-buy items we've purchased. If you just throw them away, that animal died in vain. There are people in need who can't afford clothing, and to throw away something that's in usable condition is needlessly wasteful. Accept the imperfection of the situation and just commit to making more conscious buying choices going forward!
If you're still unsure about how you would like to handle the animal products you purchased before you went vegan, listen to our Vegan Clothing & Fashion episode of the Plant-Powered People Podcast.
What's In My Vegan Purse?
In this video, World of Vegan writer Gina House shares what she carries in her vegan purse!
More Vegan Living Guides