As you've probably experienced, it can be pretty hard to find entirely vegan hiking boots. Synthetic boots are relatively easy to come by, but finding out whether the glue is animal based or not can be tricky-especially when the brands themselves don't really know.
So to make it easier, I've whittled my ultimate list of vegan hiking boots to my top five choices. These five boots have performed the best in testing and are firm favorites of vegan and non-vegan hikers alike!
1. Evolution Mid GTX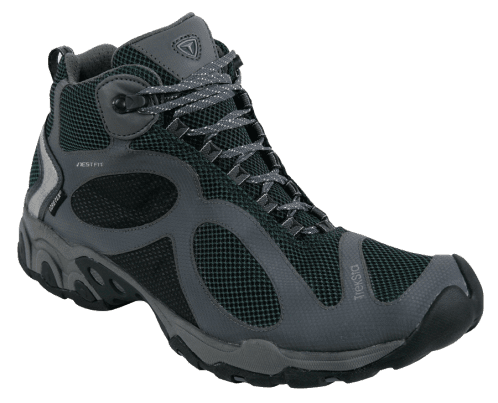 First up is the Evolution Mid GTX from US brand Treksta. Treksta has an entire vegan section of their website which makes it easy to search for their leather-free styles. This is a really lightweight but supportive boot that suitable for four season hiking. It's got a synthetic upper, with a GORE-TEX waterproof and breathable membrane, which offers great protection in all weather conditions.
What I find particularly impressive about these vegan hiking boots is the outsole. It's got a low-profile tread that not only prevents the boot from picking up and carrying mud, but offers impressive traction. That's due to the micro-glass infused rubber filaments Treksta put into these soles and coined IceLock. This enables the boot to grip to the ground, even across ice patches and wet rock.
One thing to note is that the boots can run a little small. They feature a NestFit, which means the boot's interior is designed to cradle your feet, accounting for every contour. This does make them very comfortable, if you've got the right size, but can be a little tight on a wider foot.
2. Irox GTX MID
Next up is the Irox GTX MID from German brand Lowa. This is the male version of the female-specific Lowa Lyxa GTX Mid, and both have extremely similar features. The lightweight boot weighs around 1200g per pair and combines designs elements of a heavy alpine boot and an approach shoe. This makes it ideal for many types of terrain, while its waterproof GORE-TEX membrane layer also makes these boots suitable for wet weather. The boot is really robust and offers a large amount of support and stability around the sole and ankle, which is much needed for hiking in alpine terrain.
The breathability of the boot is what I think makes these vegan hiking boots stand out. The uppers allow your foot to breathe without letting in moisture, and they dry really quickly. It's a top choice for spring and summer mountain hiking.
3. Capra Venture Mid
The Merrell Capra Venture Mid is another high-performance synthetic boot, suitable for almost any trail. The GORE-TEX Surround construction provides great waterproofing and breathability, while its midsole and air cushion in the heel makes these boots really comfortable. It's also got a grippy Vibram outsole which is really durable and provides great stability over wet and dry surfaces.
One thing to note is that these boots aren't super warm. That's ideal for most hikes and conditions, as you don't want your feet to overheat but if you're looking for a specific winter boot you may want to wear thicker socks or look for a different shoe.
4. Trango TRK GTX
Next up is one of the offerings from Italian brand La Sportiva. The brand is known for its mountaineering boots and like the rest of the Trango range, Trango TRK GTX is aimed at climbers. The fit, like the rest of the climbing range, is slimmer in the forefoot, with excellent heel hold. The Vibram Mulaz sole is sturdy and grippy, but still provides a good amount of flexibility for scrambling. It features a water-repellent and anti-abrasion synthetic upper with a GORE-TEX Performance Comfort membrane which increases the boots breathability and waterproof-ness, while the 3D Flexed ankle joint provides support and allows greater control over the rough terrain. A great warm weather walking boot for moderate climbs and scrambles.
5. Terrain Pro Waterproof Hiker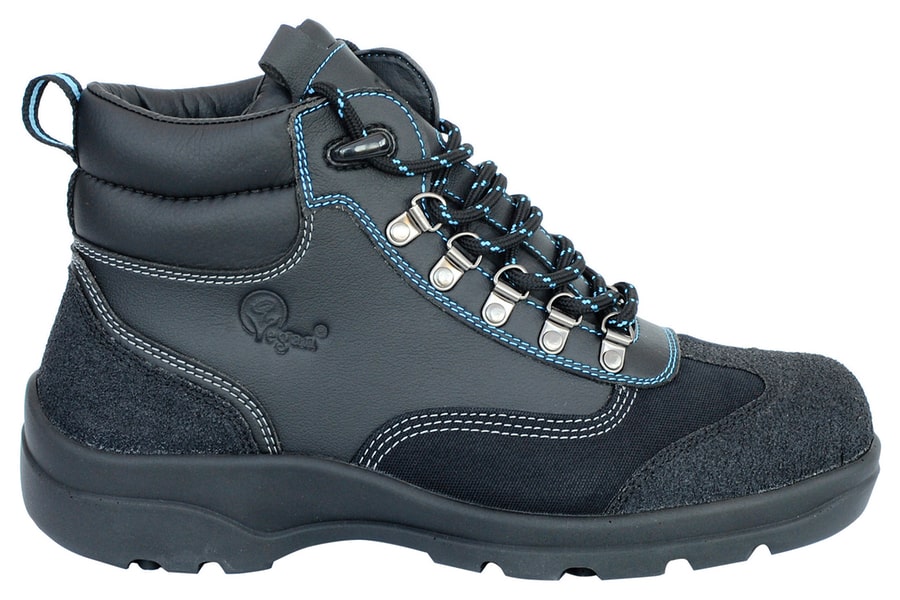 Finally is the Eco Vegan Shoes Terrain Pro Waterproof Hiker. This hiking boot comes from a brand which is entirely vegan and focuses solely on making sustainable footwear, which is a big plus. The Hiker is a lightweight but sturdy boot that provides enough flexibility for clambering over tricky terrains. Despite its lack of GORE-TEX it still offers a good level of waterproofing and features a breathable microfiber upper, and a 'leather-like' body developed by Swiss brand Schoeller AB. On top of this, the boots feature replaceable Eco-Ortholite insoles for improved hygiene, comfort and support. While the outsole isn't Vibram, it's still durable and provides a good level of support during lengthy day hikes.
For the latest news on vegan outdoor gear, follow Jess Gray on www.veganadventurist.com