Choosing to eat vegan is a powerful way to help animals, our planet, and our own health. But the vegan lifestyle is based on a philosophy of minimizing harm, and that can span far beyond the food we put on our plates!
To lead a holistically compassionate lifestyle, you'll also want to examine the ingredients in your personal care products, cleaning products, and even clothing and shoes, as animal products can sneak into all of these. A little bit of attention and research can ensure that there are no animal-derived ingredients in the products you purchase. After all, we vote with our dollars!
Speaking of vegan shoes, who doesn't love a nice pair of boots? They're so versatile. No matter what your style or the occasion, you can find a pair of boots to wear. Rainy weather, throw on a pair of rain boots. Want to look tough? Just grab some combat boots. Athletes about to climb a mountain can throw on a pair of hiking boots, and fashionistas can pair some booties or thigh high boots with the cutest outfit.
Many designer boots, as well as boots found in everyday stores, are either made from leather or may contain animal glue or other materials. But don't worry, dear friend. You do not have to sacrifice your style to live an ethically aligned life. There are plenty of vegan boot options out there for every occasion!
What makes a boot a vegan boot?
Shoes can be made from a whole variety of manmade materials (like vinyl), natural materials (like cotton), animal skins (like leather or suede), and animal-derived materials (like certain shoe glues). Here are the four main elements of boots that you'll need to pay attention to as you search for the best vegan boots.
Shoe Glue
The only material that you'll find consistently in mostly all shoes is: adhesive.
Adhesive is used to glue soles to shoes and accessories, labels, patches, etc. onto shoes. There are plenty of adhesives that are simply man-made glues, and because these adhesives are cheaper to make, it is very common for shoe companies to use these vegan friendly adhesives.
However, some glues and other adhesives do contain bugs, or various animal proteins extracted from bones, tendons, and skin. While now an uncommon practice, animal-based adhesives do still exist. 
Soles and Insoles
Soles, insoles, as well as the actual shoe portion can be made from materials such as cotton, various plastics, rubber, wool, fur, silk, suede, and leather. Wool, various animal fur (angora is a fancy word for rabbit fur), silk, and leather (and suede which is a form of leather) are not vegan ingredients, as they are made or taken from sheep and cows, and other animals. If that sounds "a little extreme" — take a look at this article about why wool isn't vegan.
Pigments and Dyes
Finally, certain pigments used to dye fabrics used to make various parts of shoes can be animal-derived. For instance, some red pigment, called carmine, comes from the blood of a bug called a cochineal louse. Bone black pigment is made by charring animal bones and can make black and gray pigment. Sepia is a dark brown pigment that comes from cuttlefish ink. 
A vegan shoe or boot does not use any of the above (or any we may have missed) animal derived ingredients.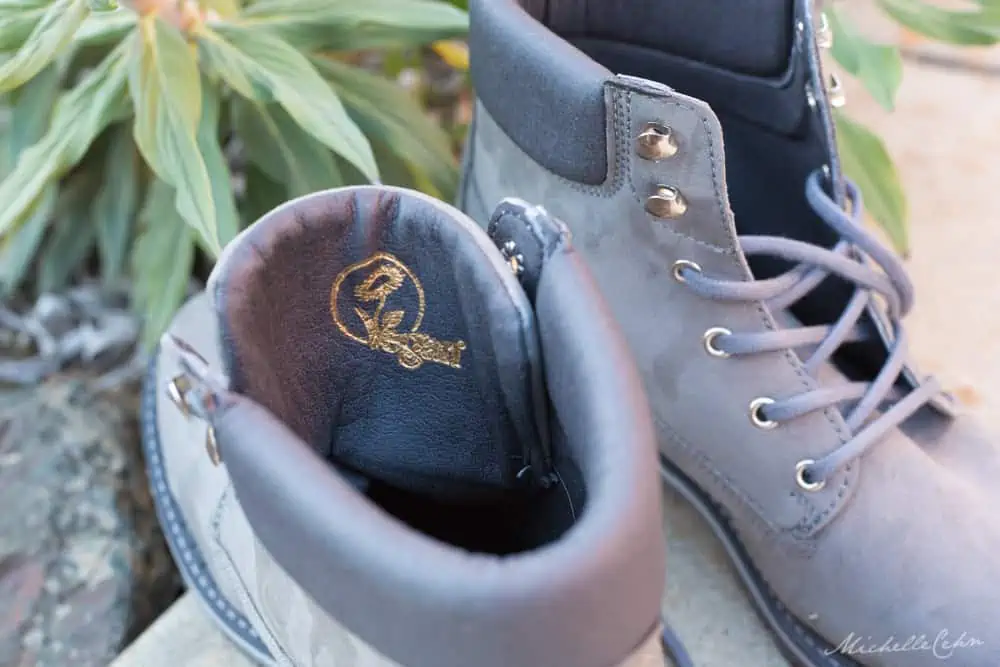 What about faux leather?
You can absolutely still enjoy leather boots in an animal-friendly — simply choose faux leather!
100% PU Leather is a great vegan alternative to real animal leather. However, PU leather not marked 100%, as well as materials marked "bonded leather" can be made from pieces of leather glued together and then covered with a coating of polyurethane. Visiting company websites is very helpful when dealing with an unknown brand, to determine if the faux leather used is 100% vegan.
Luckily, many shoes will be clearly labeled with an "All Manmade Materials" label indicating that they are made without leather. And even better than that, vegan shoe companies are sprouting up all around the world bringing beautiful 100% vegan shoes to the scene. You can find a list of these vegan boot brands below!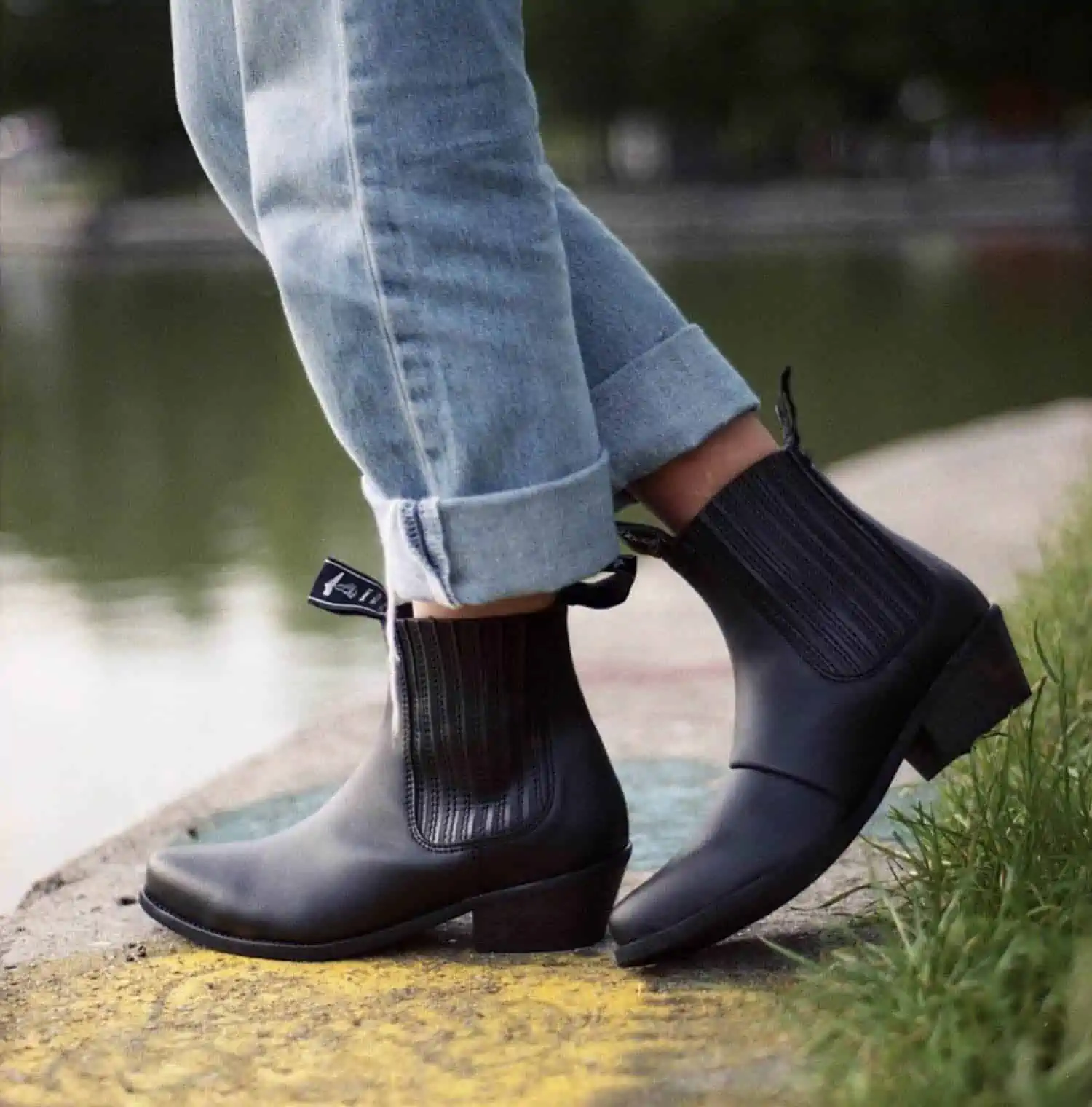 What about faux fur?
Most faux fur is just that – fake! And in this case, fake is so much more beautiful than the real thing. Leave the fur to the animals it belongs to, and choose manmade furry materials instead.
Companies manufacture faux fur from blends of acrylic and other synthetic materials.
It's worth noting, however, that there have been some instances where companies were mislabeling real fur as faux fur, leading to all kinds of accidental ethical mishaps. Companies have also used things like dog hair and hair from small rodents mixed in (or entirely) to make the items look and feel more "realistic."
For this reason, you might want to look a little deeper than the label if you are committed to boycotting fur entirely. Thankfully, many companies are specifically labeling their faux fur as "vegan" or "vegan faux fur." 
Where To Find Vegan Boots
Many large chain retailers like Target, DSW, Ross, Marshalls, Nordstrom, Macys, Walmart, Payless, Zappos, Free People, etc. carry boots that can be vegan, if they don't include any animal materials or glues.
There are also well-known shoe brands that make a selection of vegan friendly boots, including Dr. Martens and Clarks. However, if you want to shop with ease, check out one of the many entirely vegan brands listed below.
100% Vegan Boot Brands
Here are some amazing, fully vegan shoe brands that make boots! If you have the budget, we encourage you to support these companies rather than shopping from big box stores that generally produce their shoes less conscientiously and sustainably. Many of the brands below have sustainability initiatives and some even support nonprofits with every purchase!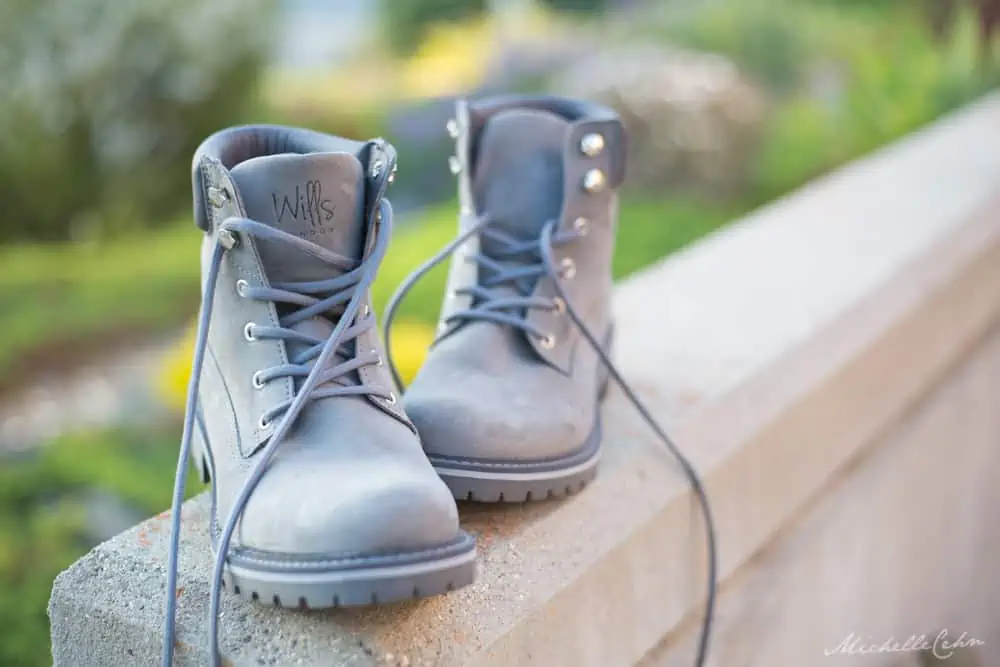 Vegan Dr. Marten's Boots
If you're a Doc Marten's fan, you'll be delighted to know that you can absolutely get vegan Dr. Marten's boots! They have an entire line of vegan footware, including platform boots, lace up boots, oxford shoes, and more. Their most popular designs include:
Felix Lace Up Boots
Felix Slip-On Chelsea Boots
Jadon Max Platform Boots (in shiny black and matte white)
Vegan Lace Up Boots (in red, metallic emboss, and blue gloss)
Vegan Uggs
Nothing is ugglier than boots that took the life of a sweet, innocent animal. Can we all agree on that? Whether or not you jumped on the Ugg trend when it swept across the world in the early 2000s, one thing is for sure. Uggs are a whole lot cozier when you know you're not stepping into someone else's skin.
Lucky for all the Uggs lovers out there, there are countless vegan Uggs boots to choose from. These options don't come from the Ugg brand itself (please don't support them!) but from vegan-friendly brands that have created very similar designs using far more ethical materials.
One of the most popular brands that carries Vegan Uggs is Bearpaw. They have a whole line of vegan-labeled Ugg-style boots, but note that they also carry sheepskin suede. You can also occasionally find very affordable vegan Ugg boots at stores like Target and Payless.
Vegan Hiking Boots
Whether you're ready to scale mountains or just kick back by the river, vegan hiking boots will come in handy! Check out our guide to the best vegan hiking boots to see some great options. You can also explore the brands above, like Astral, which carries both men's and women's vegan hiking boots to choose from!
Vegan Cowboy Boots
If you have $500 to drop on cowboy boots, Kat Mendenhall has the top-of-the-line, gorgeous authentic Western cowboy boots made vegan. She has been crafting vegan cowboy boots for more than a decade, way before other brands jumped on the vegan cowboy boot wagon. Back when it was impossible to find other vegan cowboy boots, Texan vegans were saving their pennies for years to be able to invest in a pair. Lucky for country music fans who didn't just win the lottery, today you can find "accidentally vegan" — or even intentionally vegan — cowboy boots from many mainstream retailers for as little as $50.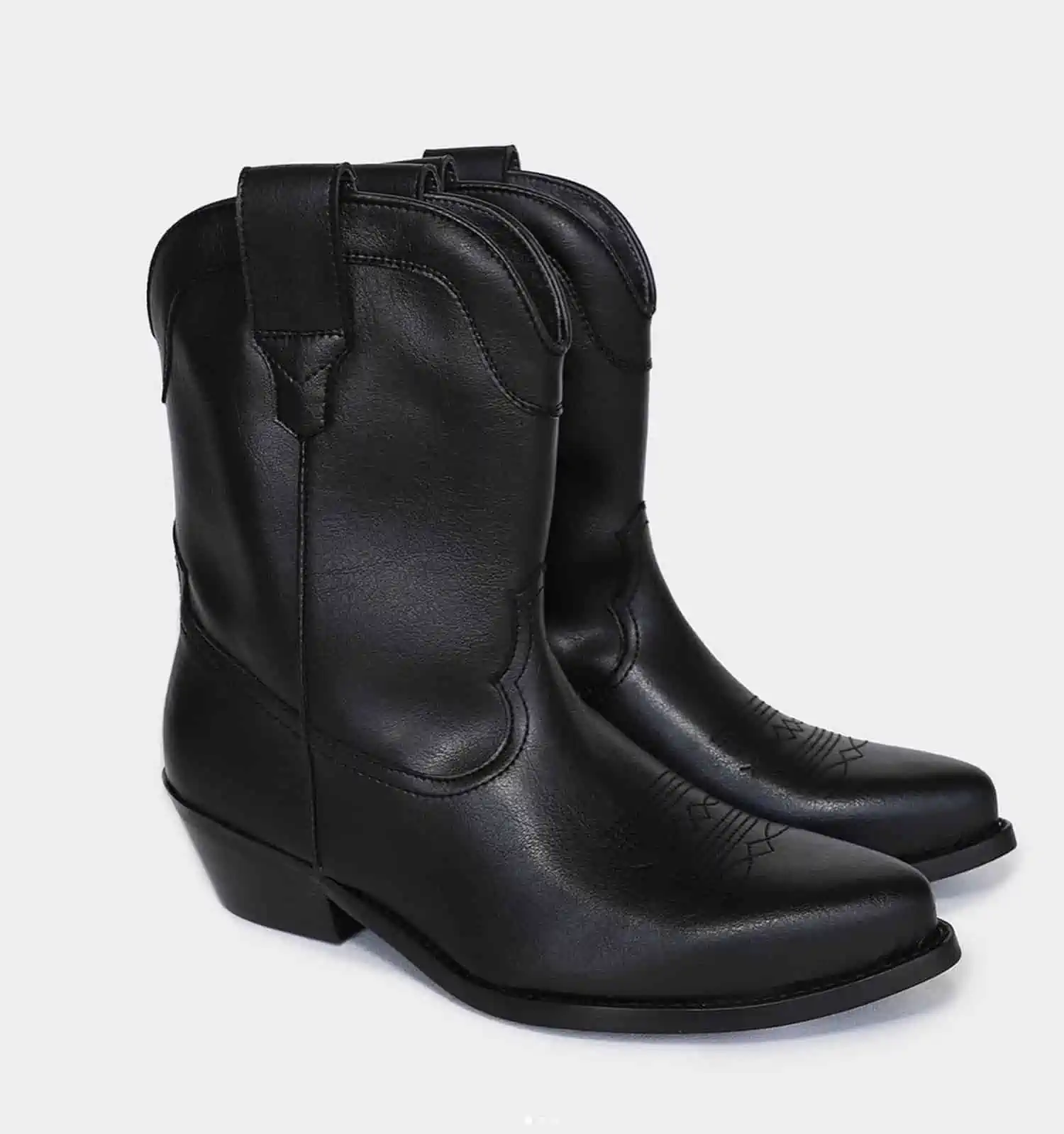 Are Vegan Boots Low Quality?
Just because boots are made without leather, wool, animal dyes, silk, and animal glues does not mean you have to sacrifice the quality of your boots. Many top designers are leaning toward cruelty-free practices and vegan materials. Stella McCartney, Jill Milan, and Matt & Nat are all fully vegan designers, to name just a few.
Designers are not only vowing to eliminate fur, but many are also now saying that they will be phasing out animal skin as well.
But you do get what you pay for. If you shop in the Walmart or Payless shoe section, you can find some great accidentally vegan boots. But they may not last as long as a higher-quality vegan boot brand that is made to last; not just to sell off the shelves.
That said, if you don't have a designer-sized pocketbook, you can certainly find great looking off-brand or everyday-brand vegan boots.
The secret to making your vegan boots last a long time is the same as with leather boots. Many vegan leather materials and other fabrics require the same cleaning, conditioning and care that real leather requires to make them last. As long as you properly clean, care for, and store your vegan boots, they should last you a long time! I have a pair of boots from Wills Vegan Shoes that is nearly 10 years old and is still going strong.
Are vegan boots worse for the environment?
While it can be argued that the process and materials used to manufacture vegan boots and shoes puts a strain on natural resources and the environment, animal agriculture has been proven to be the leading cause of global warming and biggest strain on natural resources like land and water, as well as on food availability. Connecting those dots simply means that using animals for clothing is worse for the environment than manufacturing faux versions.
Overall, vegan boots are just as comfortable and stylish, can be found for any occasion, activity, or job, as well as budget. They are kinder to animals, generally more affordable, and better for the environment.
More Vegan Clothing & Lifestyle Guides
This guide to vegan boots was written with support from Sam Tucker from Creative Compass, a vegan marketing agency dedicated to helping vegan brands and organizations make a bigger impact. This article is not sponsored by any of the brands mentioned. Photos by Michelle Cehn, Canva, and sourced from the brands Instagram channels (as credited). This article may contain affiliate links, and shopping through these links supports our work at World of Vegan. Thank you!