When a tropical getaway is out of the question, the next best thing is a tall glass of tropical citrus-y carrot juice! Sweet, tangy, crisp, and refreshing, each sip is a little taste of paradise that you can enjoy right from the comfort of your own home.
It's made with four simple ingredients: carrots, oranges, a whole pineapple, and lemon. These flavors dance together to create a highlighter orange mocktail, and the color alone is sure to brighten your day! This nutrition-infused drink has a bright flavor profile that everyone—from young kids to aging grandmas—will love. Cocktail umbrellas are optional, but always a nice touch!
Make it in advance so you can have sunshine in a bottle even when you're on the go.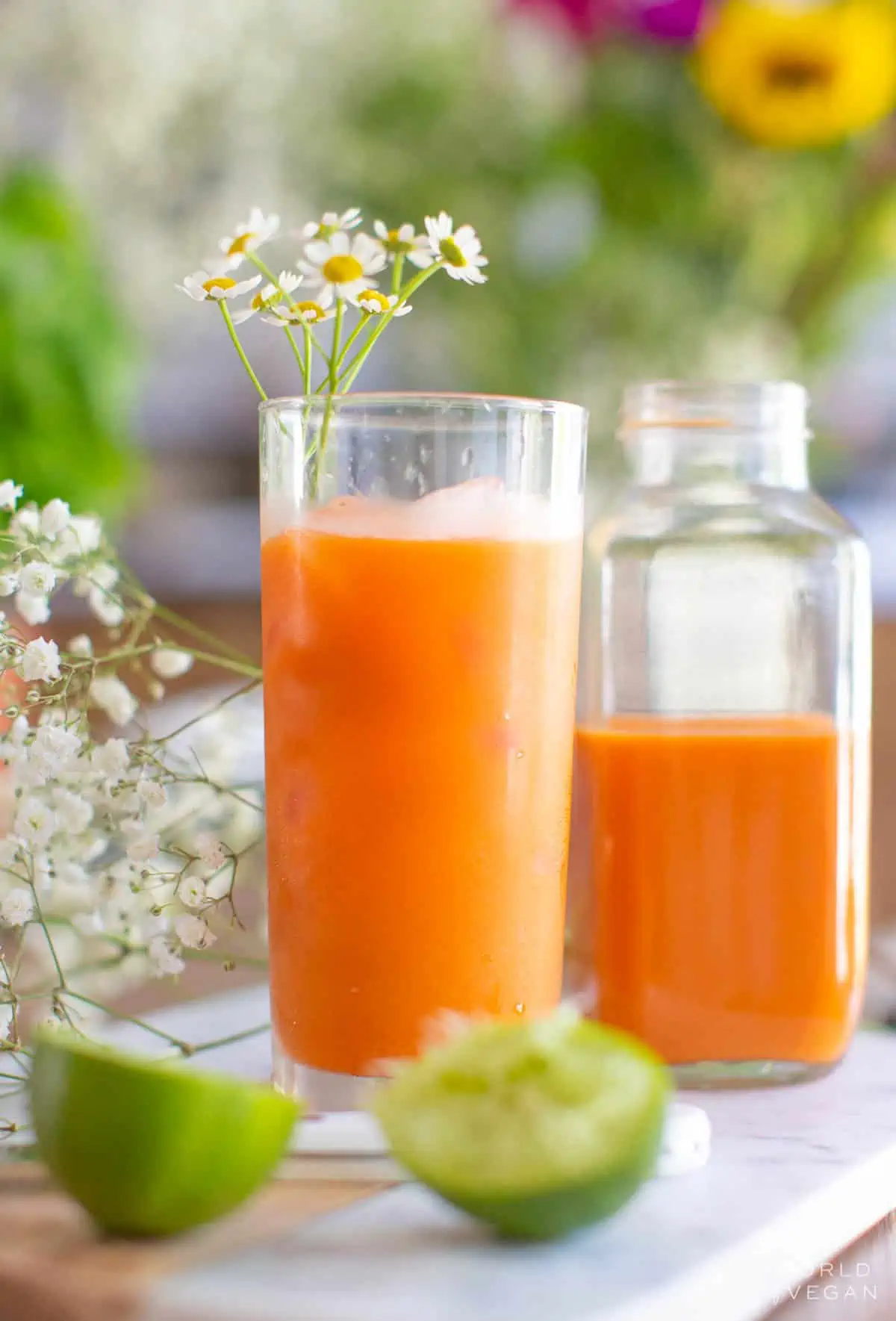 Why You'll Love This Recipe
No added sugar. Store bought juices taste great, but most of the time that's because they're loaded with extra sugar, which adds up quickly in terms of carbs and calories. Stick to only whole, fresh ingredients to skip the sugar rush and subsequent crash.
Flexible and forgiving. End up a bit short on oranges? Find an extra carrot or two languishing in the vegetable crisper? It's all good! Even if you stray from the original ratios, you really can't mess it up.
Only 4 ingredients. Consider this juicing 101. Anyone can easily find these simple, affordable staples can get started right away.
Happy hour, any hour. Add in a splash of sparkling water to have a healthy mocktail whenever you want to indulge. Or if you want to get extra-spicy, turn add a splash of vodka or another vegan alcohol and make it a compassionate cocktail!
Key Ingredients And Their Nutritional Assets
Everyone knows that fresh fruits and veggies are essential for a healthy diet, but exactly what does each of them contribute here? Aside from great taste, here's a brief overview of what this ensemble for a tropical carrot juice has to offer:
Carrots: Long touted as an asset for improving eyesight and lowering cholesterol, carrots are rich in beta carotene, Vitamin C, and potassium.
Oranges: Kickstart your immune system with 130% of your RDA (Recommended Dietary Allowance) of Vitamin C in every orange! You'll also get a healthy dose ofpotassium and folate, aiding in muscle function and brain health, respectively.
Pineapple: Aside from the usual suspects (yes, more Vitamin C) pineapple is unique as the only known food source of bromelain, a combination of enzymes that digest protein. That makes it easier to absorb the nutrients in the food you're eating.
Lemons: In addition to our favorite C vitamin, lemons are a good source of citric acid and iron. That means they're helpful in preventing anemia and kidney stones.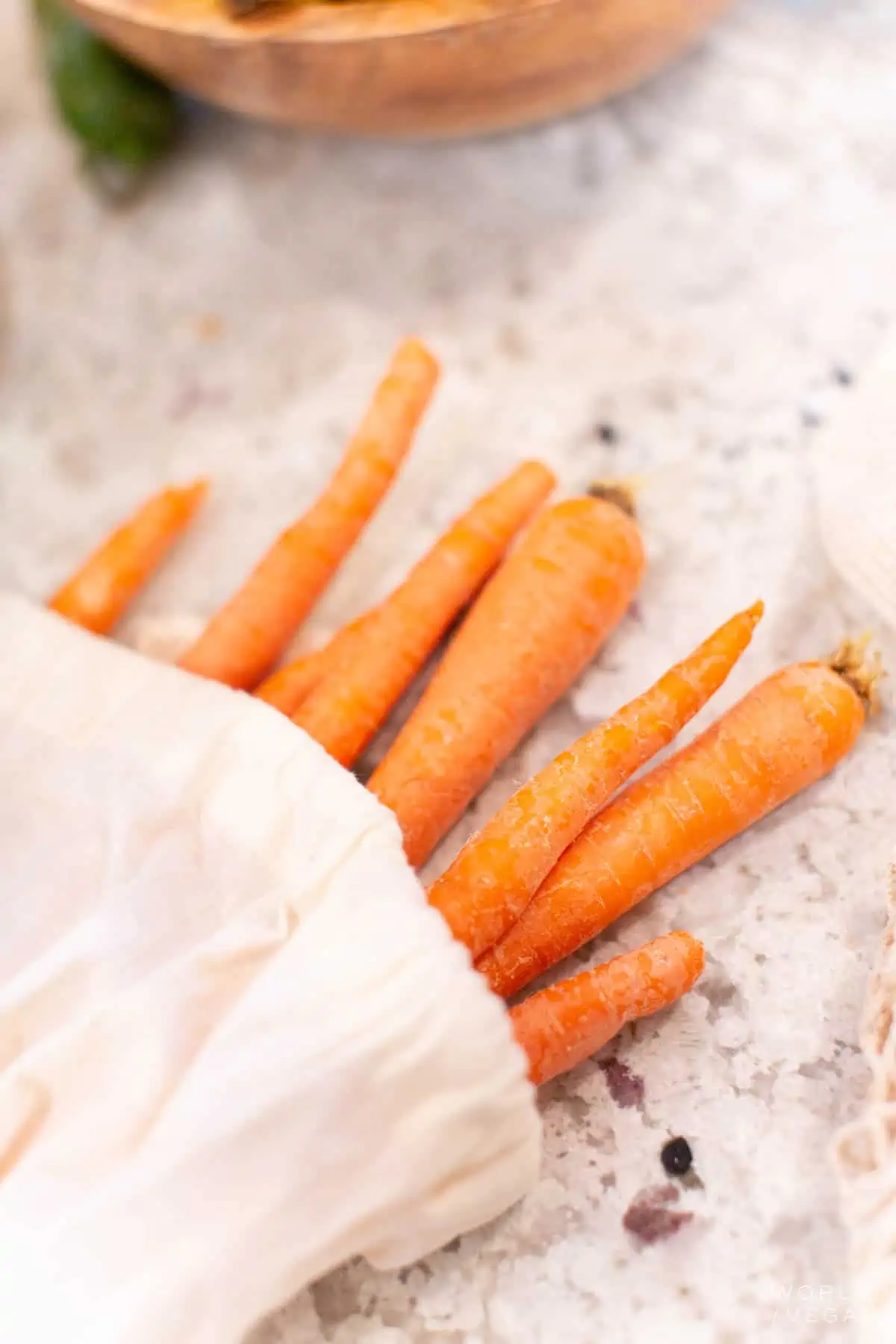 Benefits Of Juicing
Anyone that struggles to get enough fresh fruits or vegetables in their daily diet knows just how helpful juicing can be to meet that goal. Condense huge piles of produce into manageable, sippable drinks in mere minutes so you can reap all the nutritional benefits.
It's like an instant infusion of all the vitamins and minerals your body craves, even if picky palates disagree. Even if you hate spinach, it's a breeze to get your RDA when it's mixed with sweet fruits.
Boost your immune system with a mega dose of Vitamin C, which is especially abundant in citrus and many fresh vegetables.
Cut down junk food and white sugar cravings with the natural sugars in whole fruits. A glass of fresh juice beats a slice of cake in the nutritional department any day.
Reenergize without using caffeine as a crutch. If you're struggling come midday, juicing is even more effective as a pick-me-up than whole fruits or vegetables, since you body doesn't have to work as hard to digest it.
Stay hydrated! Few people drink enough plain water, but add in a bit of flavor and fun, and you'll up your intake with no trouble.
What Are The Best Juicers To Buy?
Commercial juice presses carry price tags equivalent to high-end sports cars, but don't think you're disqualified from this race right off the bat. Home juicing technology has come a long way in recent years.
You could easily spend hundreds of dollars on a top-of-the-line machine, but there are plenty of affordable entry models available that are fully equipped to meet your juicing needs. There are three main types of juicers to consider.
Centrifugal Juicer: A centrifugal juicer uses small teeth to grind up produce on a rapidly spinning basket and forces it through a fine mesh screen, separating the pulp from the juice. This method is very fast but can produce a very foamy juice and a lot of wet pulp. These machines are best suited for juicing hard fruits and vegetables, rather than soft leafy greens which are more likely to get spit out without being processed. They also tend to be the most affordable type of juicer.
Masticating Juicer: As the name suggests, masticating juicers work like a human's mouth in a chewing motion, using sharp metal teeth called augers to chop up the food and then press the juice out of it. This type of juicer takes longer to produce juice, but it preserves more nutrients because it doesn't get as hot during processing. That's why they're also known as "cold-press" juicers. These are especially great options for anyone that wants to double down on their greens.
Triturating Juicer: Also known as a twin auger juicer, a triturating juicer uses two rotating gears to crush produce into very fine particles. The gears then push the most juice out of the food bits, leaving behind very dry pulp and high-quality juice. This juicer is great for hearty vegetables and leafy greens, but it can also get a lot of juice from soft fruits, too. It's the best of all worlds, but it comes at a price.
FAQs
Can I still make this recipe without a juicer?
No juicer? No problem! Simply combine all the ingredients in your blender and puree until completely smooth. You may need to add an extra splash of water to keep everything moving. Strain through a nut milk bag or fine mesh sieve. Compost or discard the pulp and enjoy your glass of fresh juice!
Can I prep fresh juice in advance?
It's a great idea to stock up on this invigorating fruit infusion for a busy week ahead. Simply store your fresh juice in airtight bottles or jars in the fridge for 3 to 5 days. Shake well before enjoying.
Can I freeze fresh juice?
You sure can! Pour it into ice cube trays and freeze solid, then store the cubes in zip top bags. Pop the cubes into glass jars and let them thaw in the fridge overnight, or at room temperature for 1 to 2 hours when you want to enjoy.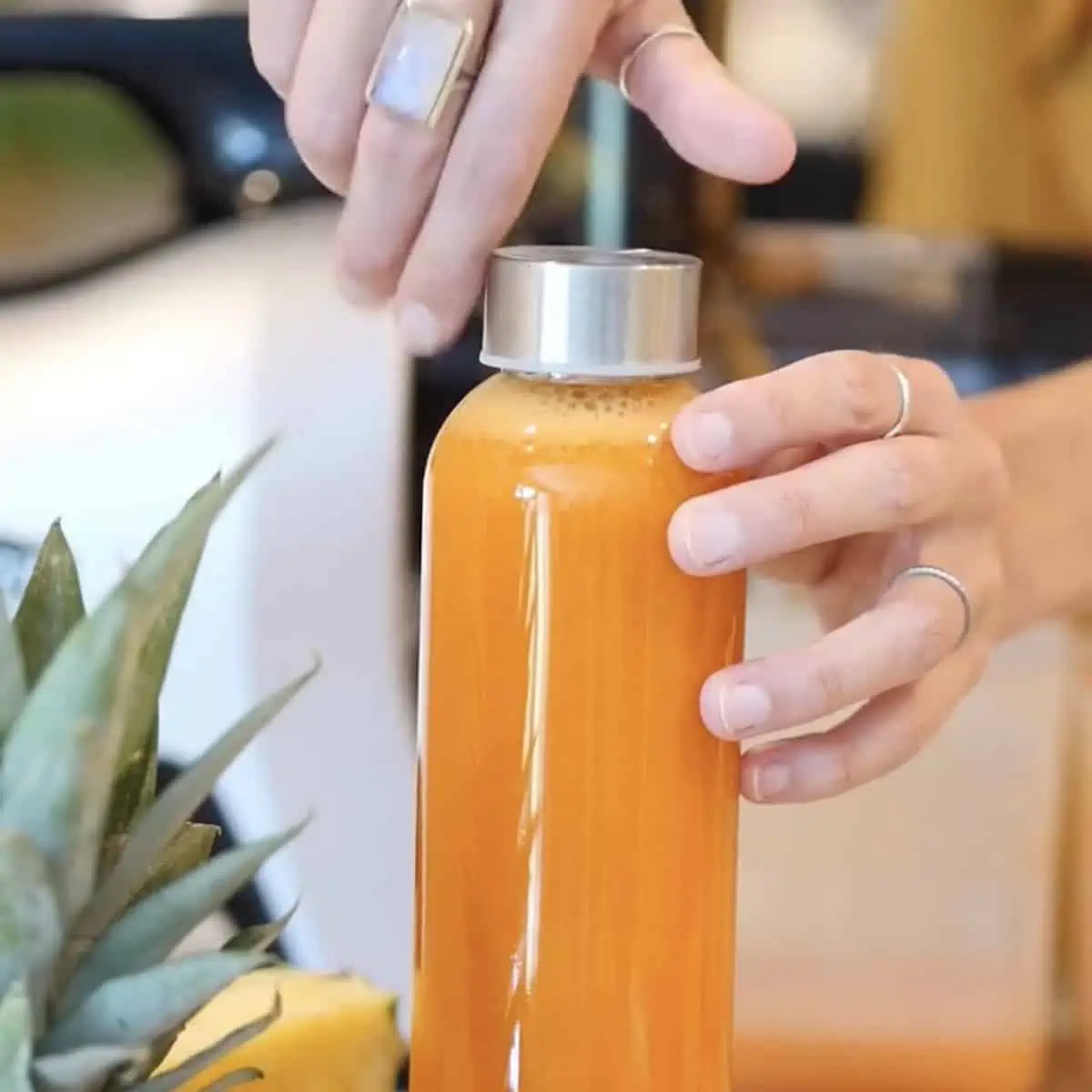 More Fresh Juice Recipes To Try
1 Juicer

1 Cutting Board

1 Chef's Knife

1 Compost Bin

1 Lemon Squeezer

1 Pitcher
8 carrots, washed
3 oranges, peeled and roughly chopped
1 pineapple, chopped into spears, with outside skin removed
2 lemons, or limes
Following your juicer's instructions, juice the carrots, orange, and pineapple. If using a masticating juicer, alternate the ingredients to keep things moving through. Pour juice into a pitcher.

Using a Lemon squeezer, press the lemon juice into the pitcher, taking care to remove the seeds. Discard the peel. Stir juice to mix together evenly.

If enjoying fresh, pour into ice filled glassed and enjoy! If preparing a batch of juice for the week, pour into small mason jars, secure with lids, and store in the fridge for 3-5 days.
Calories: 225kcal | Carbohydrates: 58g | Protein: 4g | Fat: 1g | Saturated Fat: 0.1g | Polyunsaturated Fat: 0.3g | Monounsaturated Fat: 0.1g | Sodium: 88mg | Potassium: 889mg | Fiber: 10g | Sugar: 39g | Vitamin A: 20745IU | Vitamin C: 196mg | Calcium: 123mg | Iron: 1mg