It's impossible to go anywhere in Paris without stumbling across another aromatic sheet pan of freshly baked croissants, beckoning from open bakery windows. Such an obvious choice seems inevitable—but wait! What are croissants made of in the first place? Are croissants vegan? Here's everything you need to know about these delectable French pastries including recipes and the best brands to try.
Pastry chefs train their whole lives to perfect the impossible array of golden, shattering crispiness in each coiled croissant masterpiece. This laminated dough has a lot in common with puff pastry, rising to even greater heights with a more tender interior thanks to the addition of yeast. Decadent, rich, yet dangerously easy to eat, skillfully made croissants are true edible works of art.
Are Croissants Vegan?
The short answer is: they can be! But croissants aren't traditionally (or typically) vegan.
The French love affair with butter is no secret. The cuisine is practically synonymous with it, churning out more dairy-rich baked goods, pan sauces, and beyond than any other western country.
Unfortunately, that also means that conventional croissants are not vegan. They can contain anywhere between 35 to 55% butter by weight—outranking all other components with ease. Especially in their homeland, any croissant that isn't specifically, clearly marked as vegan will not be.
Happily, that's not the end of the story!
The remaining ingredients are standard staples for any sort of bread: flour, water, yeast, salt, and a touch of sugar. Now that there's an abundance of options for plant-based butter, it's a snap to convert even the most antiquated croissant recipes to make them completely dairy-free. A growing number of independent bakeries across the globe are now making vegan croissants on demand.
Types of Croissants
Like any popular pastry, there are as many variations on croissants as there are days of the year. Here are the most common types of croissants you'll find:
Croissant au burre (classic croissants): The essential, savory approach that's anything but basic, these are the iconic crescent moons with no added flavorings or fillings. They're perfect for dressing up into sandwiches or dipping into hot coffee.
Pain au chocolat (chocolate croissants): Everything's better with a bit of chocolate. Wrap croissant dough around a baton of dark chocolate and you'll agree, too. These are typically straight rectangles to accommodate that bar of solid cacao, which melts into a delightfully gooey interior.
Croissant aux almandines (almond croissants): Swap out the chocolate for marzipan or sweetened almond pasta for a nutty twist on the theme. These are often topped with sliced almonds before being dusted with confectioner's sugar for easy identification.
Pain aux raisins (raisin croissants): Not everyone's a fan of raisins, but for those who are, this fruity variant is a must-have. Rolled into flat spirals, they're sometimes called "snail bread" in reference to their nautilus shape.
Cronuts: A modern innovation by chef Dominique Ansel, it's a hybrid croissant-doughnut that takes the iconic layered dough and deep fries it. Though many copycats quickly sprang up to capitalize on the concept, the term "cronut" is copyrighted by the original baker himself.
Store-Bought Vegan Croissants
When croissant cravings strike and a vegan bakery is nowhere to be found, don't panic. There are more options waiting for you at the store than you may think!
Whole Foods Market Vegan Croissants
These are baked in-store every day, giving you the very freshest option available in mainstream markets. If you get lucky, occasionally you can find the unbaked dough in the freezer section to defrost and cook at will.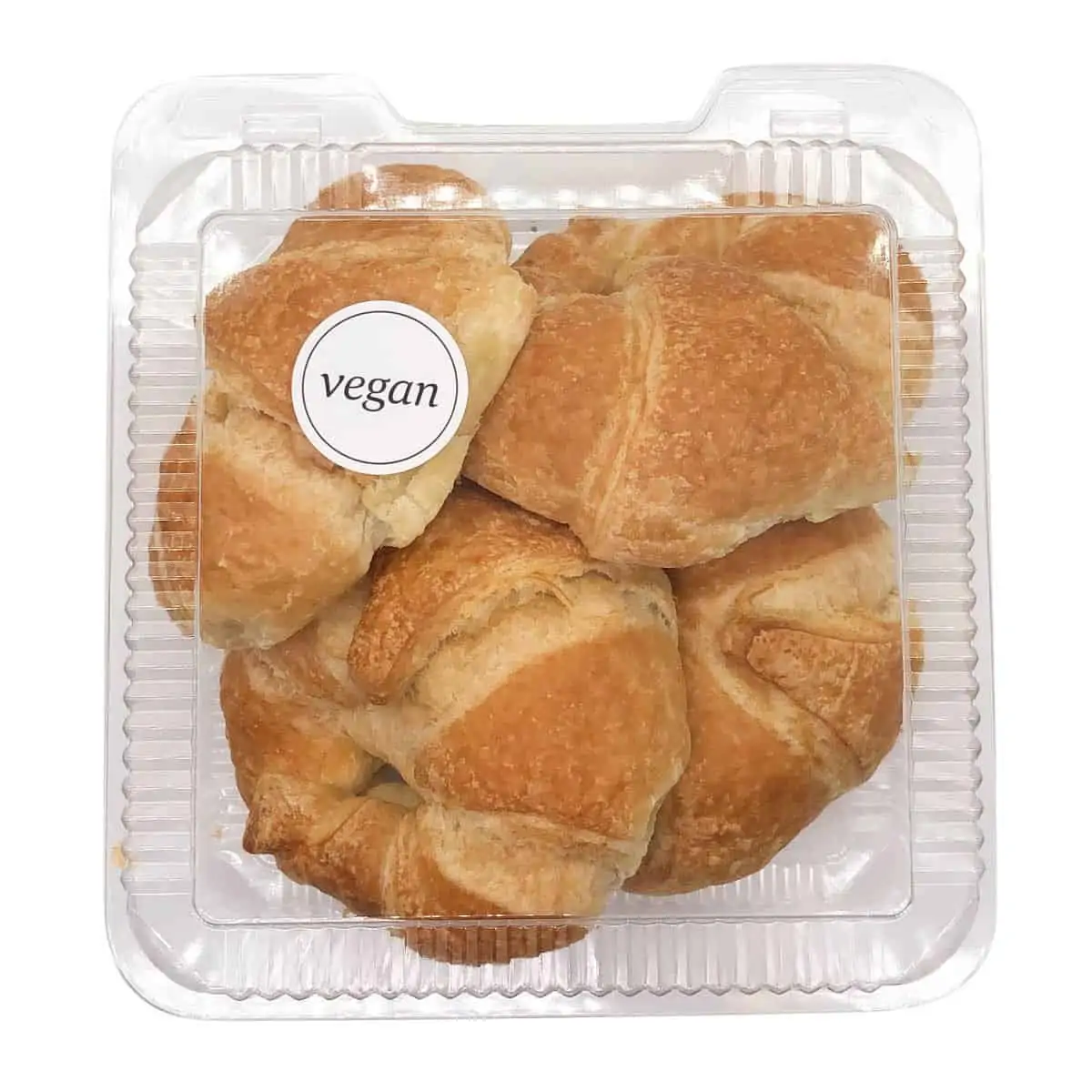 La Boulangerie Vegan Croissant Toast
This takes on an unconventional form as a sliced loaf of bread, complete with all the flaky layers you crave. It's the perfect foundation for building decadent avocado toast or custard-like French toast, too.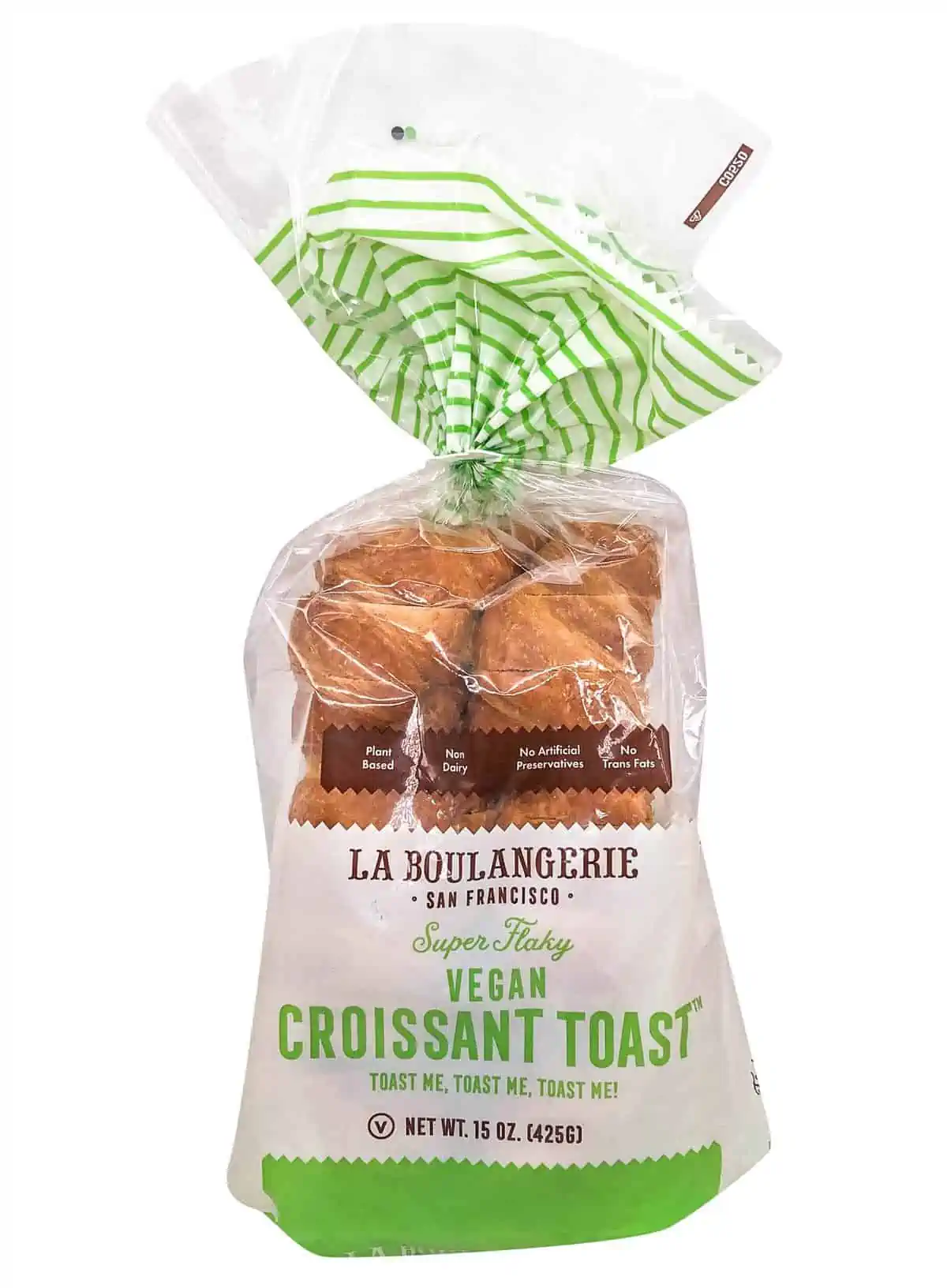 Immaculate Baking All Natural Crescent Rolls
More like moon-shaped layered biscuits than true croissants, they don't come close to a flaky bakery-style pastry, but they can absolutely work in a pinch. Find them in the refrigerated section near the dairy alternatives, packaged in a convenient little tube.
Pillsbury Original Crescent Rolls
Long a favorite "accidentally vegan" product, these refrigerated tubes of crescent roll pastry dough can be easily found at grocery stores nationwide. Though thicker and fluffier than the genuine article, it's a reliable staple that makes a great base for other recipes as well. Pillsbury Crescent Rolls are used to make vegan "Pigs in a Blanket" and our Halloween Mummy Dogs.
Vegan Croissants at Local Bakeries
Whether you're in the United States or meandering the streets of Paris, there are hundreds of bakeries all around the world that make vegan croissants. And they are getting easier to find all the time! You can even find croissants at online vegan bakeries that can ship to your door.
Here are just a few fantastic bakeries that carry vegan croissants: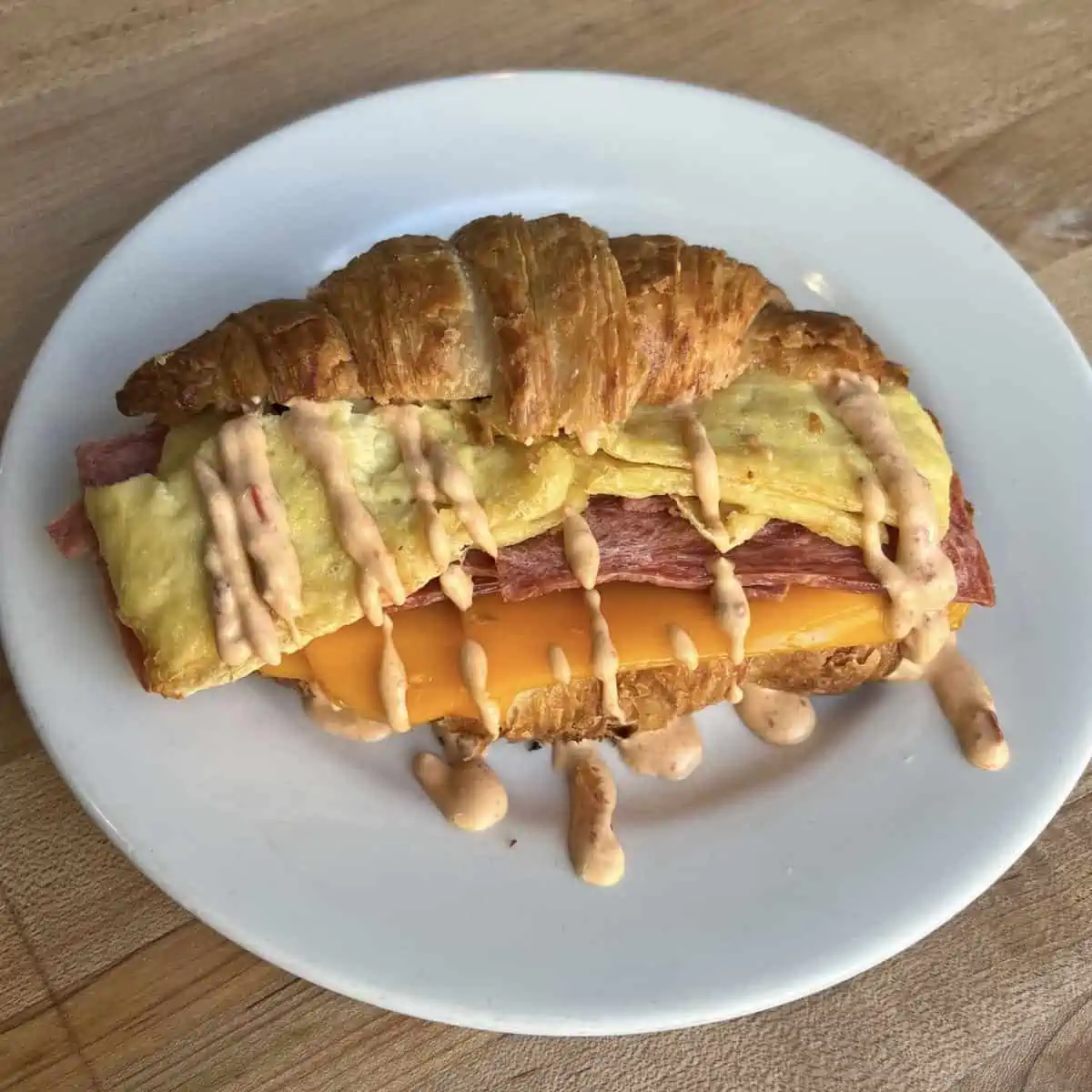 How To Make Vegan Croissants At Home
Technique is everything when it comes to making croissants. It starts with two separate components, the dough itself and the "butter" block, which get folded together again and again, rolled thinner and thinner to form that matrix of gossamer, flaky layers. This is what defines a laminated pastry and is essential for making perfect croissants.
If this is your first attempt, don't be daunted. Here are some tips to make it much smoother rolling:
Use vegan butter that's sold as a solid block, not a spread in a tub. Spreadable butter has much more water blended in, which will throw off the delicate balance for this recipe.
Take your time and plan plenty of breaks. It's not a particularly difficult process, but it is time-consuming. Go slow and know that you can always stash it in the freezer at any time for up to 6 months if you need to, until you're ready to keep going.
Chill out. Keep everything, from the dough to the kitchen counter, as cold as possible. We don't want the vegan butter to melt until it hits the oven, so we can't let it get too warm before then. This is the secret to making the ideal structure and texture.
Every turn counts. Don't forget how many folds you've finished halfway through the action. Keep a tally on paper or on your phone, especially if you're multitasking along the way.
Vegan Croissant Recipes