Hot, crispy French fries are the ultimate fast food indulgence and everyday comfort food. But Crispy Tofu Fries made in the air fryer manage to improve on perfection. More than merely satisfying a craving, this is a snack that pulls its weight in the nutrition department, too. Say goodbye to greasy gut bombs and hello to clean plant-based protein!
Traditionally, the humble spud is transformed through a bath in bubbling hot oil, coming out impeccably golden and utterly irresistible every time. It's the only reliable vegan staple on some road trips, earning it a place of honor for weary vegan travelers across the world. Take matters into your own hands back at home by updating the outdated recipe with a modern overhaul.
If you adore these Air Fryer Tofu Fries, make sure to check out these tasty Grilled Tofu Kebabs!
Why You'll Love This Air Fryer Tofu Fries Recipe
High protein. Every serving of tofu fries comes with 10 grams of complete plant protein. That's better than many granola bars on the market!
Low or no oil. If you're watching your fat intake, you don't have to give up the sensation of deep-fried foods when you have an air fryer in the kitchen. All it takes is one teaspoon of toasted sesame oil to contribute a similar sensation of richness, which can be omitted if desired.
Family-friendly. Kids of all ages (including so-called adults) will love this savory treat! Even tofu-haters will clean their plates without a second thought, which makes it the ultimate "happy meal" in my book.
Quick and easy. It's tough to make smart choices when you're tired and hungry. Eliminate the struggle and get this recipe on the table in 30 minutes or less.
Key Ingredients
Tofu – Extra-firm or super-firm would be ideal to make fries that stand up to air frying without falling apart. These are usually sold in vacuum-sealed packages in the produce department. We used the extra-firm tofu from Hodo Foods, which worked perfectly!
Seasonings – Salt, black pepper, red pepper flakes, and garlic powder are my go-to meal starters, but don't let those suggestions hold you back. Adjust the amounts to taste and check out the section below on more creative ideas when you want to spice things up.
Toasted sesame oil – This flavorful savory oil is a vegan pantry staple in our opinion, right next to olive oil and vegetable oil. Nutty and rich, a little bit of toasted sesame oil goes a long way. Spread across four generous servings, it's a literal drop in the bucket compared to the full vat of oil that's typically used for conventional deep frying. Don't have sesame oil on hand? Swap it out for Canola oil or your favorite vegetable oil.
Cornstarch – If you have an air fryer, cornstarch will become your best friend. Cornstarch is the secret to getting super crispy edges on tofu, whether you're pan-frying, baking, air-frying, or deep frying. You can substitute an equal amount of potato starch or tapioca starch if you'd prefer.
Nutritional yeast – Butter, cheesy, and undeniably umami, nutritional yeast simply makes everything taste better!
How To Cut Tofu Into Tofu Fries
The average block of tofu may not immediately look like thin shoestring fries waiting to happen, but it's very simple to slice out perfect matchsticks in minutes.
First, slice the tofu into long rectangular strips approximately 1cm wide. You should have 7 to 8 long strips, depending on the shape of your tofu.
Next, cut the tofu slab in half so you have two equivalent rectangles that look like two decks of playing cards.
Finally, slice each rectangle into two or three fry-sized strips (depending on the size and shape of your block of tofu) approximately 1cm wide.
Voila, you have tofu fries! Now separate and season.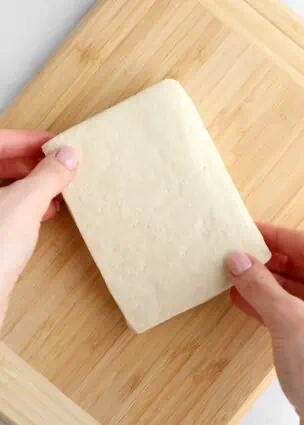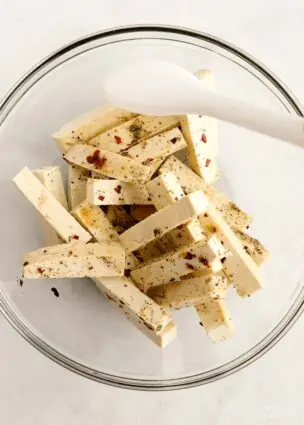 Ideas For Creative Spices And Simple Substitutions
Just like standard fries, there's nothing wrong with a simple sprinkle of salt to finish the batch, but the potential for further customization is endless. A little creativity and a well-stocked spice rack will take your tofu to the next level.
Cajun tofu fries: Add 1 to 2 tablespoons of Cajun seasoning, depending on how spicy you'd like your fries, and cook for a few extra minutes to enhance the "blackened" effect.
Garlic tofu fries: Add 1 tablespoon of minced garlic in the last 4 minutes of cooking. Top with minced fresh parsley and a sprinkle of vegan Parmesan, if desired.
Truffled tofu fries: Top the finished fries with truffle-infused salt or a light drizzle of truffle oil right before serving.
Masala tofu fries: Add 1 tablespoon masala powder or madras curry powder and finish with a squeeze of lime juice and minced fresh cilantro.
Hot vegan honey tofu fries: Toss the finished fries with 1 tablespoon vegan honey, agave, or maple syrup and 1 to 2 teaspoons of your favorite hot sauce.
Herbed tofu fries: Add 2 teaspoons of Italian seasoning or herbs de Provence before cooking. Toss with minced fresh parsley, dill, and/or scallions right before serving.
Cornmeal-crusted tofu fries: Replace the nutritional yeast with coarsely ground yellow cornmeal for an extra crunchy coating.
Peanut-crusted tofu fries: Replace the nutritional yeast with powdered peanut butter. Add 1 teaspoon lime zest and ½ teaspoon ground ginger to make it taste like satay!
Tips For Success
Don't be afraid to dive right in the moment that hunger calls! This is an easy technique that anyone can master on the first try. Here are a few tips to keep in mind to make the process even more enjoyable and effortless.
Line the air fryer basket with aluminum foil. This helps prevent crumbs from falling through the bottom and allows for instant cleanup. Just toss it when you're done cooking!
If using firm tofu, take a few minutes to press it for a better texture. Super firm has a perfectly dense interior for this recipe, but medium firm tofu is a bit softer. While it still works brilliantly straight out of the package, you'll get a more satisfying bite if you can extract some of the excess water.
Blot tofu dry before seasoning. Moisture is the enemy of crispy food, so you'll get better results if you take the time to wrap the block of tofu in paper towels or a clean kitchen towel to remove any water still on the surface.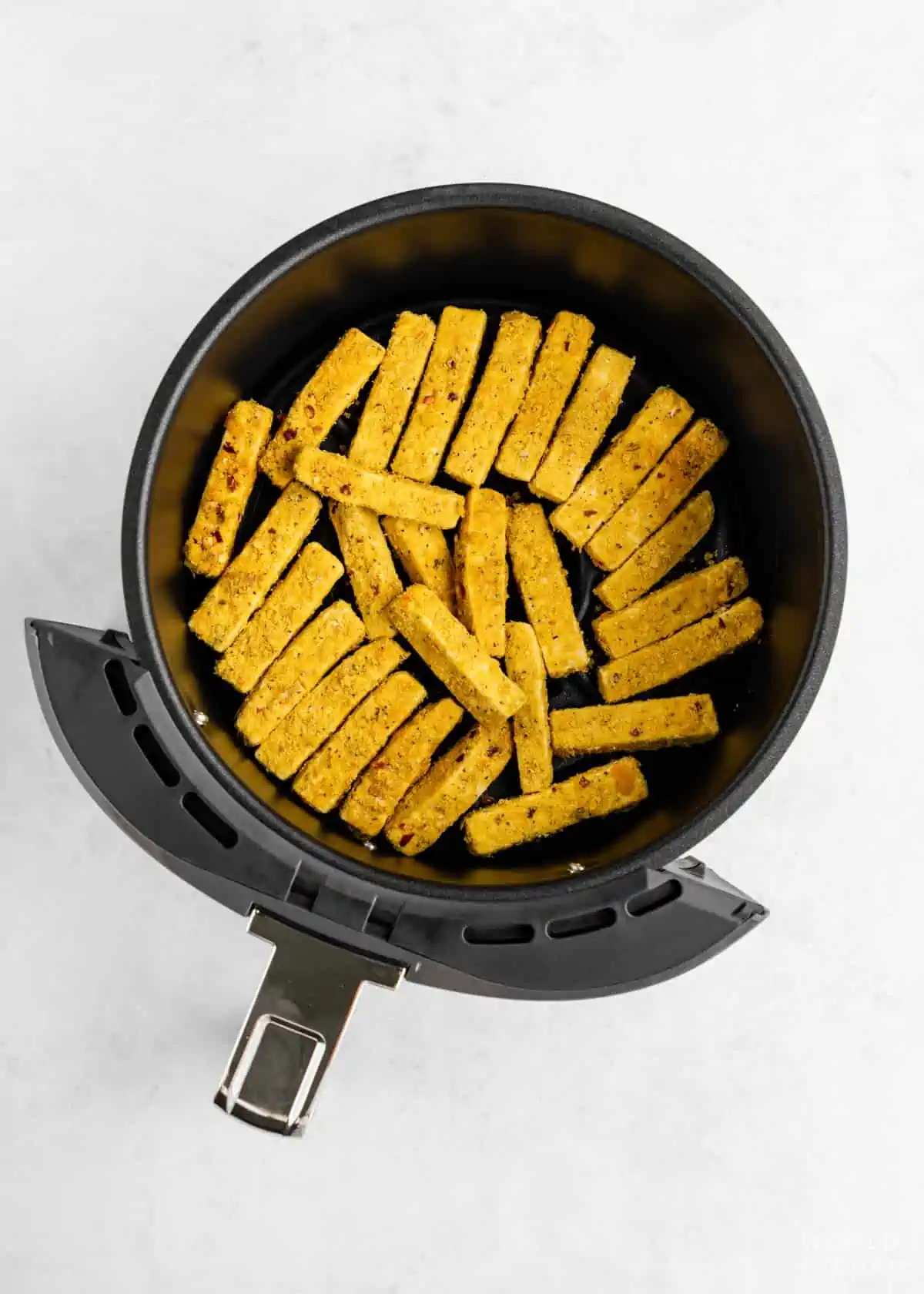 Dips & Sauces for Your Tofu Fries
Half the fun of eating fries is having a complimentary side to dunk and dip to your heart's content! Any sauce or condiment you like is fair game here, but here are my top picks:
Vegan Ranch
BBQ sauce
Ketchup & Mustard
Sriracha (or your favorite hot sauce)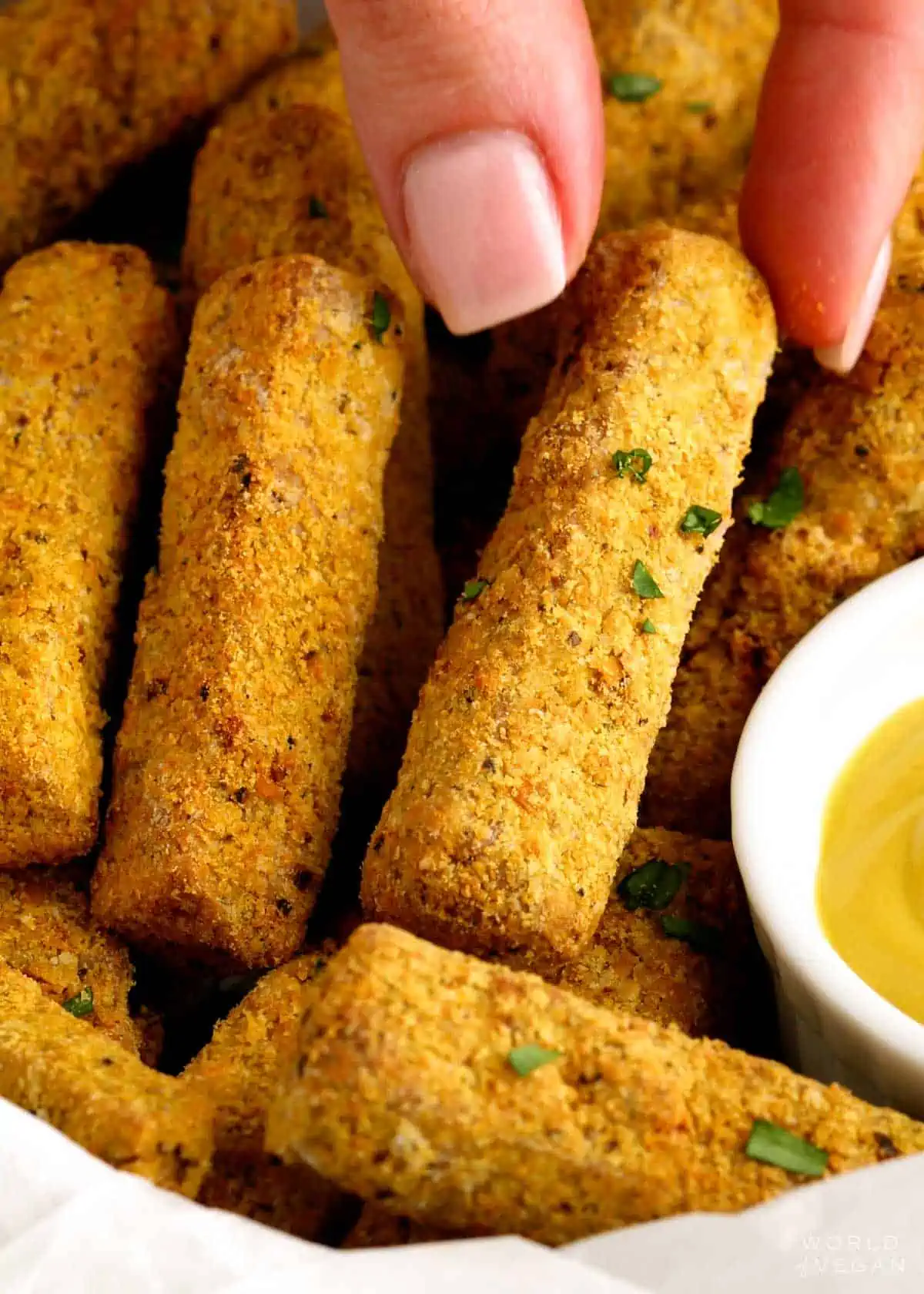 FAQs About Tofu Fries
Can I make tofu fries in the oven?
Yes! If you don't have an air fryer, you can bake these tofu fries in a standard oven at 425 degrees for 25 to 28 minutes, flipping them halfway through.
How long do leftover tofu fries keep?
Although these air fryer tofu fries are best enjoyed right away, hot out of the air fryer, you can store leftovers in an airtight container in the fridge for up to 5 days. To reheat, crisp them back up in the air fryer for 5 to 10 minutes.
Is there a soy-free alternative for making tofu fries?
Tofu is of course pure soy, but there are some innovative options for those with allergies. Burmese tofu made from chickpeas is a great option that you can make at home, and there's also pumpkin seed curd available in some specialty health food stores too.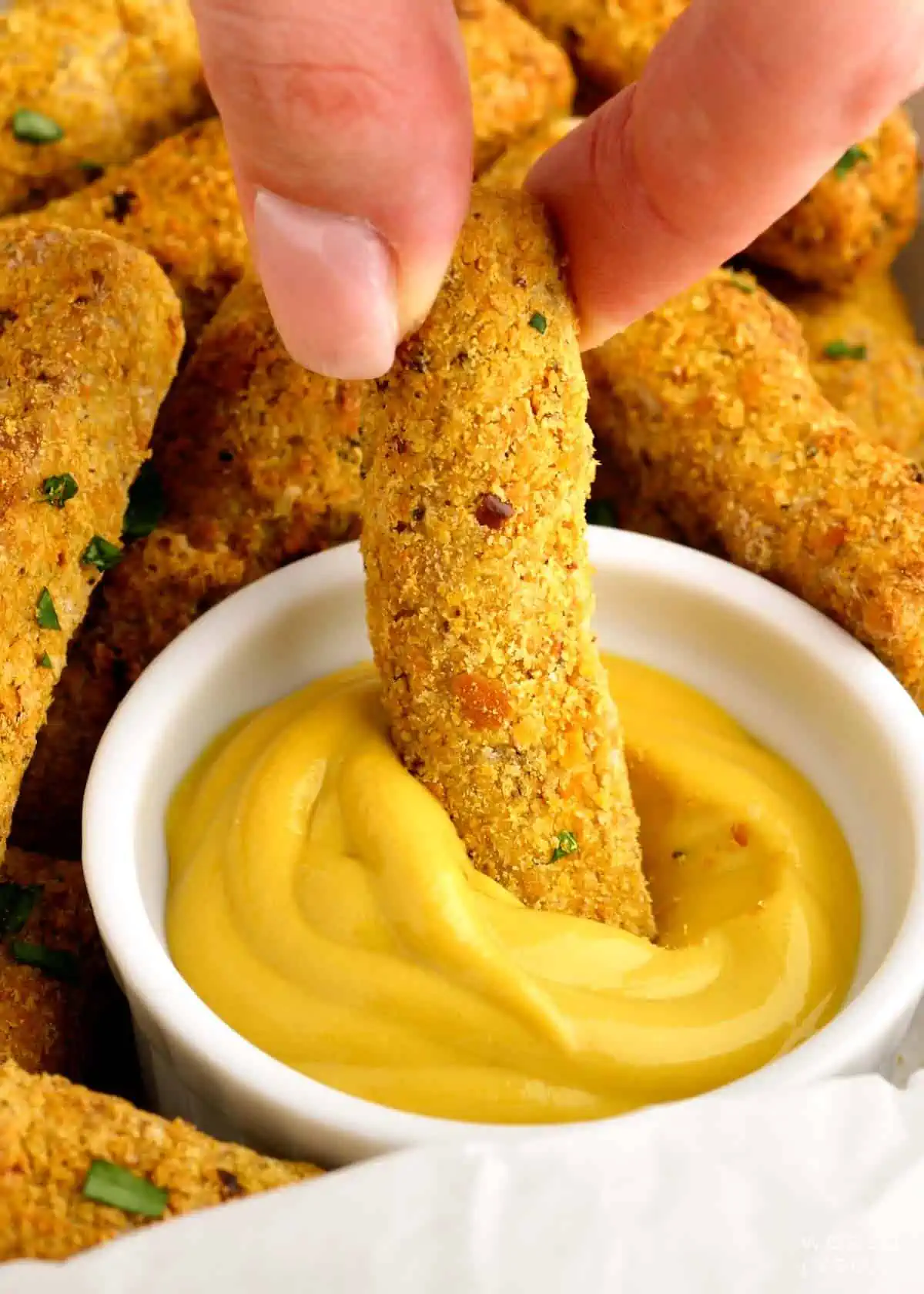 More Vegan Air Fryer Recipes To Try
If you're hungry for more plant-based air fryer recipes, we have a whole collection that have been tried-and-tested and are well loved. Here are just a few of our favorites. They are all vegetarian, egg-free, and dairy-free as well!
1 block tofu, super-firm or extra-firm (the kind in a vacuum-sealed package)
½ teaspoon salt
½ teaspoon black pepper
½ teaspoon red pepper flakes
½ teaspoon garlic powder
1 teaspoon toasted sesame oil
2 tablespoons corn starch
¼ cup nutritional yeast
Open and drain the block of super-firm (or extra-firm) tofu and pat dry with a towel. Using a sharp knife, slice into fry shapes (see video for instructions). Place tofu fries in a mixing bowl.

Sprinkle on the salt, pepper, red pepper flakes, garlic powder, and toasted sesame oil and mix until evenly coated.

Add corn starch and mix until evenly coated.

Add nutritional yeast and gently mix until all tofu is fully and evenly coated. It's okay if there are some loose nutritional yeast flakes at the bottom of the bowl.

In an air fryer basket, spread tofu fries evenly in a single layer (not touching) and cook for 20 minutes at 390° F, pausing to shake the fries twice during this time. Note: every air fryer is a little different—some require preheating, others don't—so keep a close eye to get your perfect fry.

Serve with your favorite dipping sauce and enjoy!
These air fryer tofu fries are best enjoyed fresh, soon after making them. If you have leftovers, store in an air-tight container and reheat in the air fryer again when you're ready to enjoy them! 
Calories: 120kcal | Carbohydrates: 8g | Protein: 10g | Fat: 6g | Saturated Fat: 1g | Polyunsaturated Fat: 3g | Monounsaturated Fat: 2g | Sodium: 299mg | Potassium: 68mg | Fiber: 2g | Sugar: 0.3g | Vitamin A: 75IU | Vitamin C: 0.01mg | Calcium: 126mg | Iron: 1mg
Recipe by Michelle Cehn and food photos by Kaylie Grace. Happy air frying!