What could be more joyful than these lovely lemon vegan Easter cupcakes with Chick Peeps inspired lemon buttercream frosting? Look at their cute, chubby faces! If you ever need a reason to smile on a not-quite-sunny spring day, you've only got to make a batch of these little beauties.
How do they get their sweet, bright color? No need to worry. You don't need any artificial dyes or strange and scary ingredients. It's turmeric! This anti-inflammatory spice from the ginger family creates the most magical color while also adding to your day's dose of antioxidants.
Once you get your cupcakes in the oven, you'll have plenty of time to figure out the frosting. It seems more complicated than it really is. Once you get the frosting made and placed into the piping bag, you'll have your perfect peeps prepared.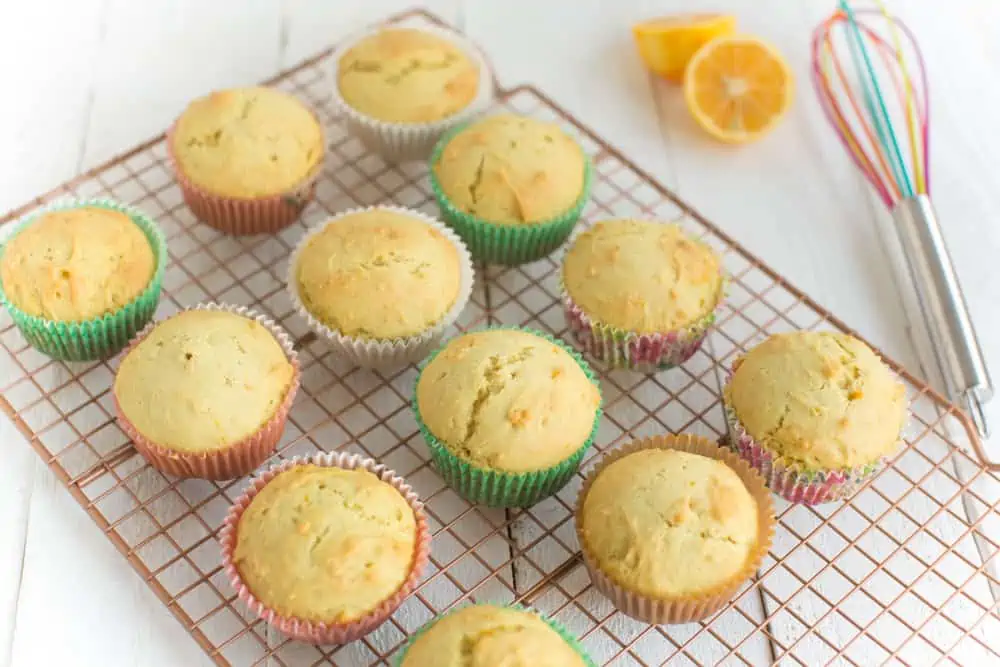 Equipment You'll Need for These Easter Cupcakes
View this post on Instagram
How to Frost Your Vegan Easter Cupcakes
Whether you're an old pro at piping or a complete and utter newbie, this video is really helpful as a refresher. Even if you don't have a piping bag or any accessories, you can easily make your own. Check out this video on how to make a piping pouch using a gallon Ziploc bag.
Once you have your frosting ready to go, only a few concentrated circles are needed. Using your widest tip, hold your piping bag perpendicular to the cupcake. Start at the outer edge of the cupcake and, moving clockwise, fill the circumference with a thick layer of frosting. Release the pressure and fill in the center of the circle smoothly.
For the last layer, use the same circular motions on the cupcake, but start from the inner middle of the frosting area. Form a small mound to create the peep "head" and end with a tiny peak, if possible. Your lemon cupcakes with vegan Chick Peeps frosting are almost done!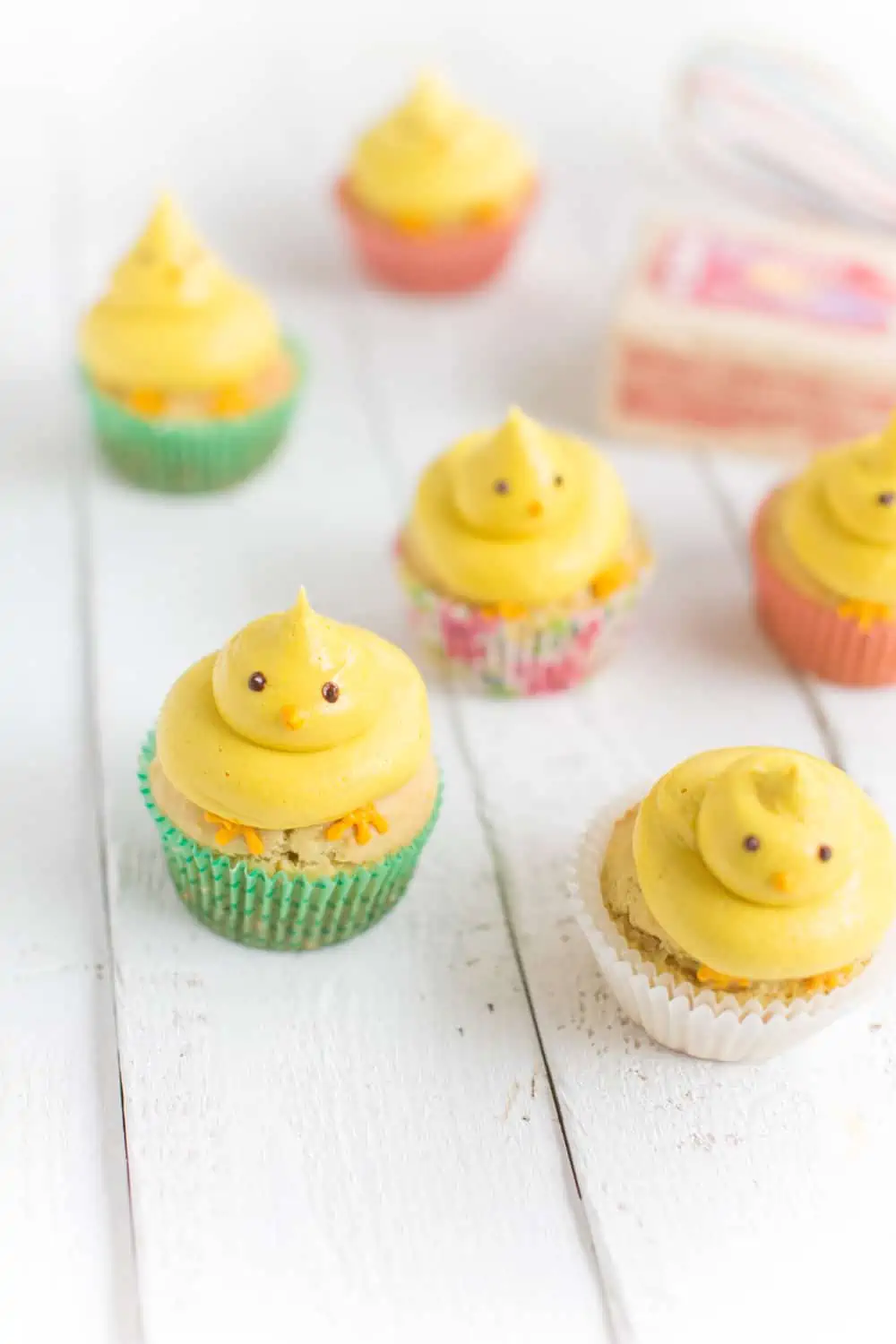 How to Serve Up Your Sweet Chick Cupcakes
Because our lemon cupcakes with vegan Chick Peeps frosting are so adorable on their own, it's hard to imagine that you would want to add anything else. But, if you love to be creative, you can come up with endless variations of this lovely dessert.
Change the Color
Changing the color of the frosting can turn the Chick Peeps into any character you wish. Use red for Elmo or blue for Cookie Monster. Use green for goblins or orange for pumpkins. If you're looking to be silly, you can even use brown for…well, you know! Anything is possible!
Reform the Flavor
If you're not a huge fan of lemon, use a flavor you do like. You can make vanilla, chocolate, or even mint cupcakes (or frosting). If you're eliminating the lemon juice in either recipe, make sure to replace it with either water or a plant-based milk for the same amount, as well as adding a little bit of extract in your favorite flavor.
Alter the Accessories
It doesn't need to be Easter to savor these sweet little cupcakes. You can add other delightful decorations and transform the Chick Peeps into any symbol of celebration. If you place super thin pretzel sticks into the sides of white frosting, you can make snowmen or, with the same color, use chocolate chips to make scary eyes for ghosts. Infinite possibilities await!
Double Decker
Have you ever tried adding frosting to the middle instead of to the top of your cupcake? Although it doesn't look as cute, it makes them much easier to eat and store. When completely cool, cut the top off of the cupcake and fill with frosting. Add the top and press down gently. You could even add more frosting to the top, if you're a huge fan.
Serve Them With These Deviled Potatoes!
If you want to go all-out on vegan Easter foods for the perfect Easter brunch, whip up a batch of these vegan deviled eggs made from potatoes! They're delicious, fun, and easy to make.
How to Store These Vegan Lemon Buttercream Cupcakes
First of all, make sure that your vegan Easter cupcakes with lemon buttercream frosting are completely cool before storing. After taking them out of the oven, allow them to rest on a wire rack for at least an hour. If you store them while they're still warm, the tops will become slightly soggy and sticky.
Whether frosted or unfrosted, your cupcakes will stay fresh for 3-4 days if kept at room temperature in an airtight container. If the weather is very warm and humid, or you find your frosting melting, you can place the container in the fridge.
If you wish to freeze your vegan cupcakes for future use, you must also wrap each individual cupcake in plastic wrap before placing into a sealed container. Luckily, they'll stay fresh for about 3 months. To defrost, simply take them out of the container, take off the plastic, and let them come to room temperature before serving. (FYI, if your cupcakes are frosted, allow them to freeze uncovered for an hour first before following the steps above. That way, your frosting won't be smashed when wrapping in plastic.)
This article about storing cupcakes is super helpful!
More Delicious Vegan Cakes to Bake
CUPCAKES
1 cup soy milk, any type will work
1 tablespoon lemon zest
1 tablespoon lemon juice
¾ cup granulated sugar
⅓ cup vegan butter, melted
2 cups all-purpose flour
1 teaspoon baking soda
½ teaspoon salt
FROSTING
½ cup vegan butter
3 cups powdered sugar
½ teaspoon pure vanilla extract
5 teaspoons pure lemon juice
½ teaspoon turmeric, spice
DECORATIVE CHICKPEEP TOPPINGS
1 tablespoon lemon zest, for topping
1 tablespoon vegan chocolate chips, melted (for the chick's eyes)
2 tablespoons of the frosting you just made mixed with extra turmeric to make it orange and use for the chick's beak and feet
Vegan Lemon Cupcakes:
Preheat the oven to 350 degrees and line a cupcake tin with 12 cupcake liners.

In a small bowl, add the soy milk, lemon zest, and 1 tablespoon of lemon juice and mix well.

Allow to rest for 5 minutes. This creates a vegan buttermilk alternative.

In a large bowl, add the melted vegan butter and sugar and mix until smooth.

Add the soy milk mixture and stir to combine.

In another bowl, sift together the flour, baking soda, and salt.

Add the wet mixture to the dry mixture and gently stir with a spoon just until combined.

Using a spoon, divide the batter evenly into 12 cupcake tins.

Bake for about 25 minutes at 350 degrees until a toothpick inserted in the center of the cupcake comes out clean.

Remove from the oven and allow to cool fully before frosting.
Vegan-Lemon Turmeric Frosting:
In a large bowl add the vegan butter and, using a hand mixer, whip until soft.

Add the powdered sugar a little bit at a time to prevent spilling as you blend it with the butter using the hand mixer.

Add the vanilla extract, lemon juice, and turmeric and whip until you have fluffy frosting. If the frosting is too thick, add a splash of plant-based milk one teaspoon at a time. If the frosting is too thin, add more powdered sugar ¼ cup at a time.
This frosting will be softer when warm, and will firm up when refrigerated.
Calories: 254kcal | Carbohydrates: 63g | Protein: 3g | Fat: 13g | Saturated Fat: 3g | Polyunsaturated Fat: 4g | Monounsaturated Fat: 6g | Trans Fat: 2g | Sodium: 295mg | Potassium: 60mg | Fiber: 1g | Sugar: 14g | Vitamin A: 78IU | Vitamin C: 4mg | Calcium: 37mg | Iron: 1mg
Vegan Easter Cupcakes with Lemon Buttercream Frosting recipe and photos by Michelle Cehn for World of Vegan. Copyright of World of Vegan™, all rights reserved. Article written by Gina House and edited by Amanda Meth.