Before you reach for that carton of eggs, a package of peeps, or the cute little bunny at the pet shop, consider this. Every conventional egg subjects a hen to 24 hours of misery, most likely in a battery cage. Peeps are made with animal skin and bones (gelatin), yuck! And most rabbits given as Easter gifts wind up neglected and unwanted when the novelty wears off.
But don't worry, it's easy to celebrate Easter without any ethical compromise or personal sacrifice! Plus, this holiday is a great opportunity to teach your kids about the importance of living with kindness in all aspects of life. Here are cruelty-free options for your Easter celebrations.
Vegan Easter Eggs (For Painting)
Instead of painting chicken eggs, look for more creative ethical alternatives.
Like…baking a batch of egg-shaped vegan sugar cookies and decorating those with frosting made from Earth Balance butter!
Or…cutting out paper shaped like eggs and coloring them with markers. You can hang them on the fridge and save them for years to come.
If you can get your paws on some wooden eggs or even ceramic eggs, those are also fun to paint, and again will last forever.
Heck, you can even paint an avocado—just think of it as a dinosaur egg! Or, if you can't be bothered painting, just cover it in some foil and boom—the ultimate vegan Easter egg. The next generation of chocolate eggs has been born.
View this post on Instagram
Vegan Chocolate Bunnies
There are now several online chocolate shops that offer a selection of vegan Easter-themed goodies, like vegan chocolate Easter bunnies and foil-wrapped chocolate eggs. Sjaaks is one of my favorites. Others include Amanda's Own, No Whey Chocolate, Divvies, and Lake Champlain. Just make sure to double check that items are vegan, as some companies that make vegan chocolates also offer products that aren't vegan.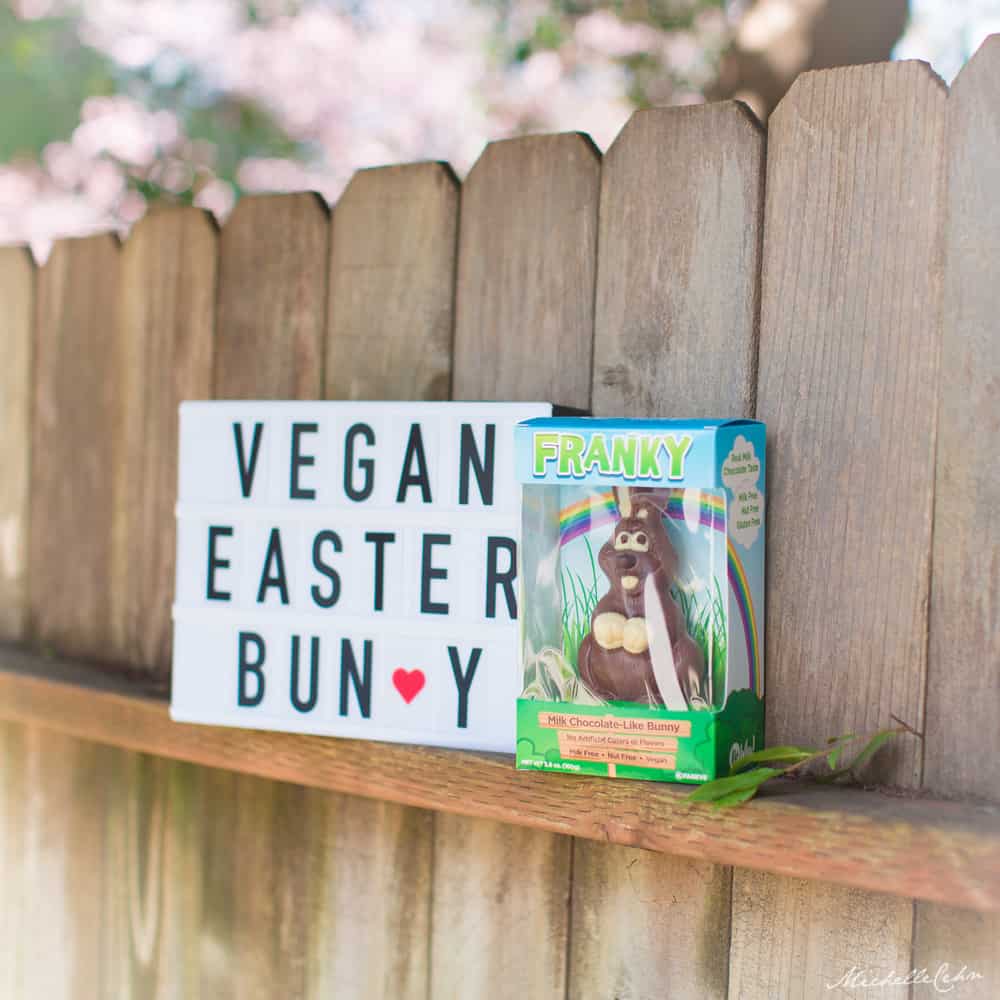 Vegan Cream Filled Chocolate Eggs
If you're a lover of the ooey-gooey cream-filled Cadbury eggs, you're in luck. Several companies have started to replicate this using all vegan ingredients. Obsessive Confection Disorder, Vegan Treats, No Whey Chocolate, Timeless Coffee (all vegan cafe and bakery in Oakland and Berkeley, Califonia), and Moo Free make these, and they are awesome.
You can also find foil-wrapped vegan chocolate eggs at Amanda's Own and beyond.
Vegan Easter Baskets
Looking for a complete-package easter basket that you can send in the mail to someone? The Lucky Bunny basket from Vegan Treats is the way to go. You need to order these in advance and before they sell out each year, but they are hands-down the most epic and delicious Easter baskets around.
Vegan Easter Sunday Brunch
You can find tons of recipes online for delicious Easter Sunday brunch recipes that are meat, dairy, and egg-free! A few of our favorites are this vegan frittata recipe, these deviled potatoes, and this delicious vegan cake.
Live Rabbits
If you have made a thoughtful and long-term decision to welcome a bunny into your home, that's wonderful! But please be sure to adopt.
There are tons of shelters that have bunnies who would love to become your new best friend and computer cord muncher. You can find many resources at the House Rabbit Society.
Also, keep in mind rabbits live up to 12 years, and the estimated cost of caring for a rabbit over that time is between $3,000 and $4,000 dollars. If that doesn't fit in your budget, then visit an animal sanctuary or head to your local animal shelter to volunteer and play with bunnies instead. Volunteering is far more rewarding with no expense or obligation.
I hope this guide will help you celebrate a compassionate vegan Easter for years to come!