I have no doubt you will love these vegan strawberry shortcakes! Layered strawberries, fluffy coconut cream, and spongy shortcakes can make your dessert dreams come true.
These sweet strawberry shortcakes from The Ultimate Vegan Cookbook are so pretty and delicious they are worthy of a London tea party. Served in a flowery fancy dish on a spotless white embroidered table cloth…can you see it?
Delightful!
But honestly, Wouldn't these be perfect for a dinner party with friends? Or even better, a beautiful sunny summer picnic. Just bring along the cream, strawberries, and shortcakes separately and assemble just before serving. I'm already planning this in my head!
Are you a bit scared of how much work these beauties require? Are you imagining you'll spend hours in the kitchen and end up regretting it? Don't you worry. I promise this recipe is easy-peasy to make, and your friends will be blown away. Guaranteed!
2 cups all-purpose flour
3 teaspoons baking powder
4 tablespoons sugar, divided
½ teaspoon salt
¼ teaspoon ground cardamom
1 cup unsweetened plant-based milk
1 tablespoon coconut oil, melted
2 teaspoons pure vanilla extract, divided
1 pound strawberries, sliced
1 14-ounce can chilled full-fat coconut milk
To prepare, preheat the oven to 350°F (177°C). Line a baking sheet with parchment paper or lightly grease the pan (with vegan butter or vegetable oil). Put your stand mixer bowl in the freezer.

In a medium bowl, whisk the flour, baking powder, 2 tablespoons of sugar, sea salt and cardamom until combined. Add the almond milk, coconut oil, and vanilla, and stir until well combined. The dough will be thick and sticky.

Divide the dough into 6 pieces and drop them onto the cookie sheet. Bake for 30 minutes, or until they are a light golden brown remove them from the oven and let them cool.

In a medium bowl, stir the strawberries and 1 tablespoon of sugar together until combined. Let it stand for 30 minutes so the strawberries can macerate. 

Take your mixing bowl out of the freezer and add the solid part of the coconut milk, 1 tablespoon of sugar and the vanilla, and mix with the whisk attachment on the highest speed until the coconut milk becomes thick like whipped cream. This could take several minutes depending on your mixer. Be patient.

Slice the shortcake in half and spread some of the coconut cream on the bottom. Add a layer of strawberries, a dollop of cream on the strawberries, the top of the shortbread over the berries and cream, and add one more dollop of coconut cream.
Calories: 249kcal | Carbohydrates: 48g | Protein: 6g | Fat: 4g | Saturated Fat: 2g | Polyunsaturated Fat: 1g | Monounsaturated Fat: 0.4g | Sodium: 427mg | Potassium: 220mg | Fiber: 3g | Sugar: 13g | Vitamin A: 164IU | Vitamin C: 47mg | Calcium: 192mg | Iron: 3mg
Do I Need a Standing Mixer?
Nope! Not at all. While a stand mixer (like this one) is handy to have when you bake often, we know they are crazy expensive. Like…who has the budget for that?! For the rest of us, we can just as easily use a hand mixer (like this one). You can even go old-school and whisk it by hand—but to get the whipped creamy supper whipped and frothy and airy, you'll ideally want an electric mixer of some sort.
I used to mix all my baked good by hand with a whisk, but let me tell you—getting an electric hand mixer was a total game changer. They are relatively inexpensive, can last decades, and you can even find them at thrift stores if you want to save more money (and do something nice for the planet).
Strawberry Shortcakes: Miniature Version?
Can you imagine cute little strawberry shortcakes?! I would totally make these for a birthday party and set them up in a tray on small paper dishes for people to serve themselves. This recipe makes 6 cakes, but if you venture into doing the miniature version, it will make many more. You can even change the strawberries for plump little raspberries, so they fit better in the miniature sizes. Or if you want to give them a bit more texture, you could add some grated coconut to the cream after fluffing it. So many possible variations of the same recipe and all so yummy and pretty!
With Mother's Day around the corner, a sweet and easy recipe like these strawberry shortcakes comes in handy. You could make it for a Mother's Day fancy homemade brunch or an afternoon tea party! Surprise her with a yummy dessert! She'll love it!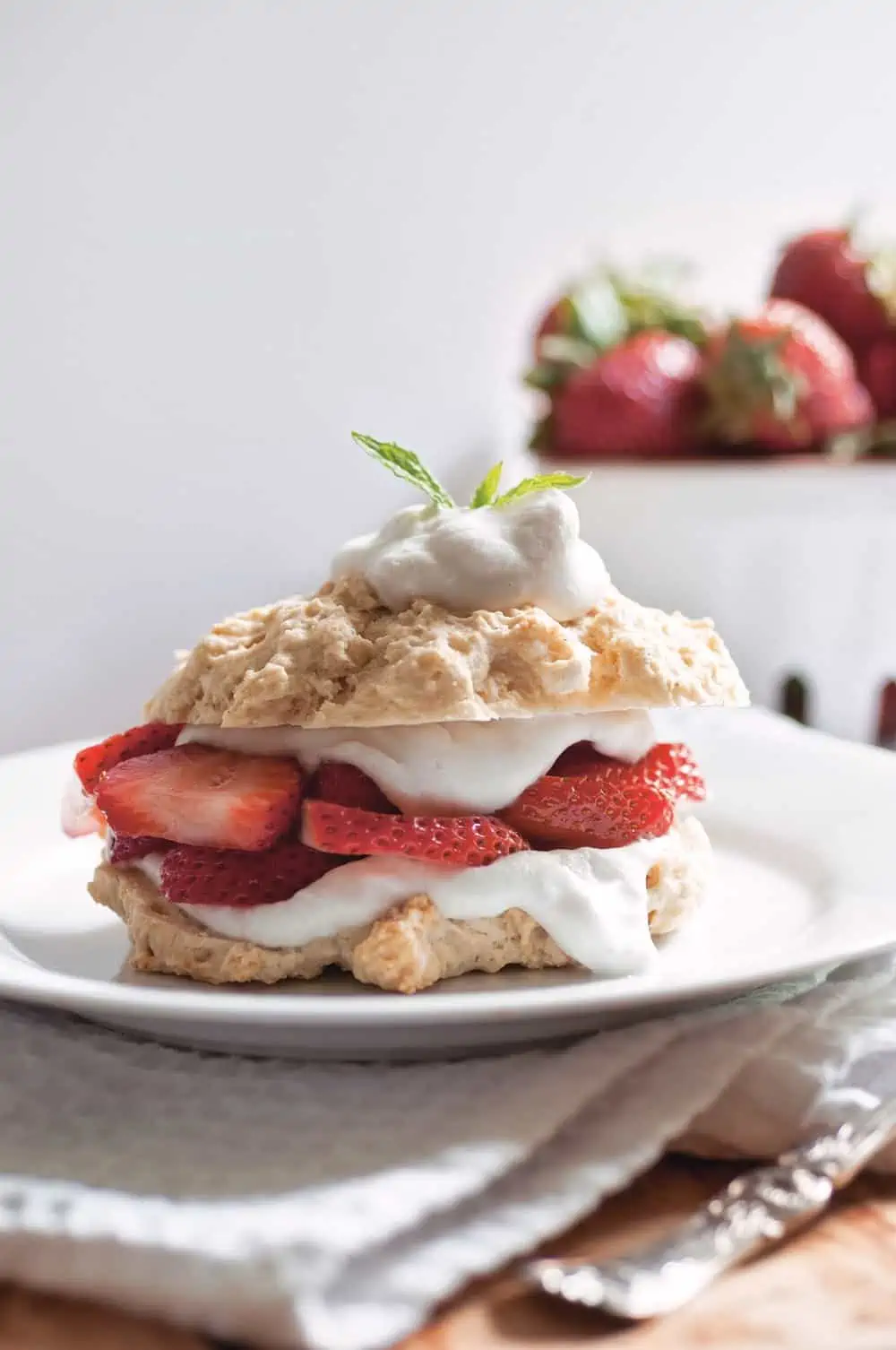 The Glorious Berry Season!
Summer is my favorite season. Isn't it everyone's favorite season? The sun and warmth play a massive part in this, but another reason why I crave summer is fruit! All the fragrant peaches, the juicy watermelons and, my favorites, all the sweet berries! Oh, those berries make everything better.
Raspberries, blackberries, strawberries and all the other lesser-known berries out there are all in full bloom and, the best part, on sale. Heaven! But don't think you have to wait for the fresh ones to arrive to enjoy their deliciousness, we are so spoiled with countless frozen berries year round and at super convenient prices. So take your pick and enjoy these beautiful fruits.
If you have a hard time finding any fresh berries to prepare this recipe or they are slightly out of your budget, then thaw some frozen ones, add the sugar and let them sit a bit until they get glossy (a bit like syrup). I promise the cake will turn out delicious!
Antioxidant Superstars
Have you heard the rumors? Berries are full of antioxidants and have many other super powerful cool features. These fruits are not only delicious but also low in sugar which makes them ideal to avoid sugar spikes in the blood. But if you want to read more about the superpowers of berries, check out this article from Dr. Michael Greger.
About the Cookbook
If you are always on the hunt for the most awesome vegan cookbooks out there, you will love this one! It's full of mouth-watering recipes and gorgeous photos to drool over. The Ultimate Vegan Cookbook might end up in your collection of all time favorites.
The creator of this book is a collective of virtuous cooks who share their passion for experimenting with vegan foods. Emily von Euw, Kathy Hester, Amber St. Peter, Marie Reginato, Celine Steen, Linda Meyer, and Alex Meyer all made this lengthy cookbook one to remember. A little hint: if you're sweet treat-obsessed like me you'll keep some of these recipes on rotation.
More Delicious Desserts:
Reprinted with permission from The Ultimate Vegan Cookbook by Linda Meyer & Alex Meyer, Page Street Publishing Co. 2018. Photo credit: Linda Meyer & Alex Meyer. Please note that this article contains affiliate links which means shopping through them helps keep the lights on here at World of Vegan.