Do you have a stake in your vegan steak? Considered the ultimate meaty entrée by many, it's hard to imitate this thick, primal cut. Seared hard and caramelized on the outside while left rare, if not raw, on the inside, conventional cooks will all agree that alternatives are clear imposters that simply can't measure up… Until now. The world of plant-based steaks is rapidly evolving to include more accurate, affordable, and accessible options every day.
What Is Steak? What's Wrong With Conventional Steaks?
Defined broadly as substantial cut of prime meat that's served as a complete slab, not diced, ground, or otherwise sliced, it comes at a high price. It's already considered a high-end luxury item, easily costing more than most people would spend on a week of groceries, making it unsustainable from a financial perspective.
Beyond that, it's a nutritional nightmare. Studies have shown that eating red meat (namely beef) can increase the risk of type 2 diabetes, coronary heart disease, stroke, and certain cancers, especially colon cancer. Serving it rare is also an open invitation for bacteria like E. coli or Salmonella, which need higher cooking temperatures to be rendered harmless.
Let's not forget about the animals that give their lives for a single, largely wasteful meal. Cattle raised for steaks have limited utility beyond their most prized muscle tissue, with leftovers often being processed as animal feed. Livestock farming has some of the greatest negative impact on the environment of any industry to date, and this approach is at the very pinnacle of that problem.
Upcoming Plant Steak Technology
The future for meatless steaks is bright. We've long had convincing plant-based alternatives to other beefy foods like burgers and ground meat, and demand for more is through the roof. Many of these ventures are still in development, using the latest breakthroughs in food science to create a better steak.
3-D Printing: The ultimate dream of science nerds and foodies everywhere is coming true: It may really be possible to print out dinner on demand. This innovative approach essentially photocopies the unique structure found in the juiciest, most tender steaks, using primarily soy and wheat protein. Redefine Meats, based in Israel, has created cruelty-free tenderloins, striploins, beef flanks, and more using this method. Their efforts are slowly entering into high-end restaurants around the world. With any luck, they'll make a splash in the US soon, too.
Fungus forward: For anyone that believes steaks are cultivated, not raised, there are strong roots to back that assertion up. Many meatless steaks are now being developed from mycelium, better known as the root system of mushrooms. This groundbreaking foundation provides a convincing texture, mouthwatering umami flavor, and nutritional benefits that balance out the indulgence. Meati Foods is working to scale up rapidly with an eye of entering retail markets by late 2023.
Cultured meat: Also called cultivated, in vitro, or lab-grown meat, this is the most controversial recipe for building a better steak. What many ethical vegans see as problematic is the fact that it must always start with genuine animal cells, growing and multiplying from there to create more steaks that a whole heard could produce, without killing any additional creatures. It may not be strictly vegan but should be seen as a win for moving away from conventional animal agriculture. Many companies, such as JUST, Upside Foods, and Wild Earth are working in this field on everything from cellular wagyu to cat food.
Store-Bought Vegan Steaks
While many of these tempting proteins are still a tease, there are a growing number of products available for purchase already. Next time you want to splurge on a fancy meal, here are the show-stopping proteins that will be the star of the show.
So realistic that many longtime vegans thought their social media handles were hacked when the first photos were released, this is the real deal. By layering soy protein into linear fibers, the startup makes vegan filet mignon steaks that look, cook, and taste like a well-marbled prime cut. They're still only available online in limited batches, but by all accounts, worth waiting for.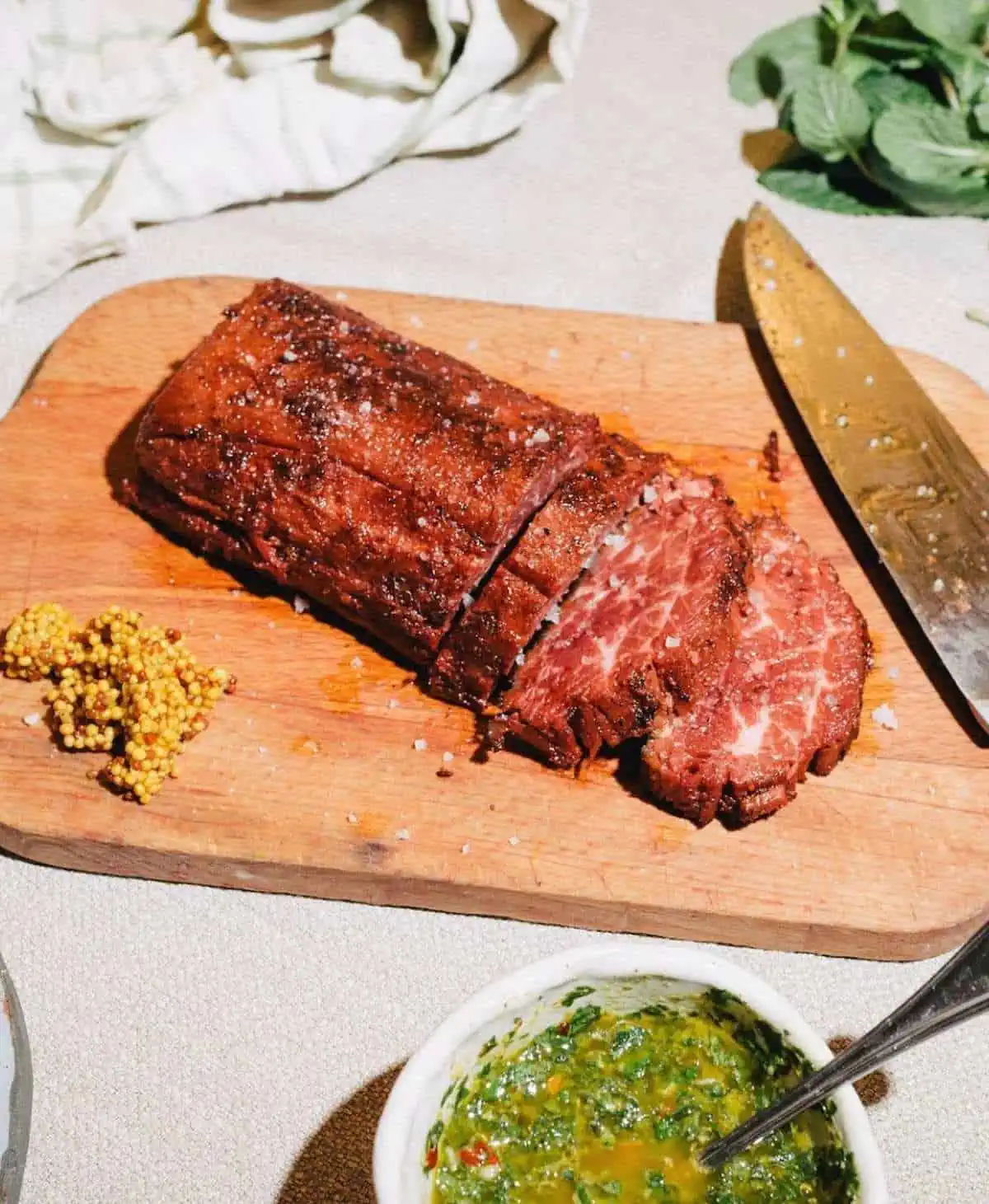 Better known in the US for their plant-based meatballs, burgers, and tofu, this UK company is offering more inventive fair in the UK. Though some would describe them more as vegan Salisbury steak, their whole-cut pea protein-based steak presents a more affordable entry point into the world of large-scale meatless proteins.
Everyone knows about their groundbreaking "bleeding" vegan burgers and matching meatless grounds, but that's only the beginning. Steak tips are the latest product now available in Walmart, Kroger, and many other mainstream grocery stores offering a little bite of everyday luxury for the conscious consumer. While these aren't a full slab of meat for a complete steakhouse experience, no one will complain once they get a taste.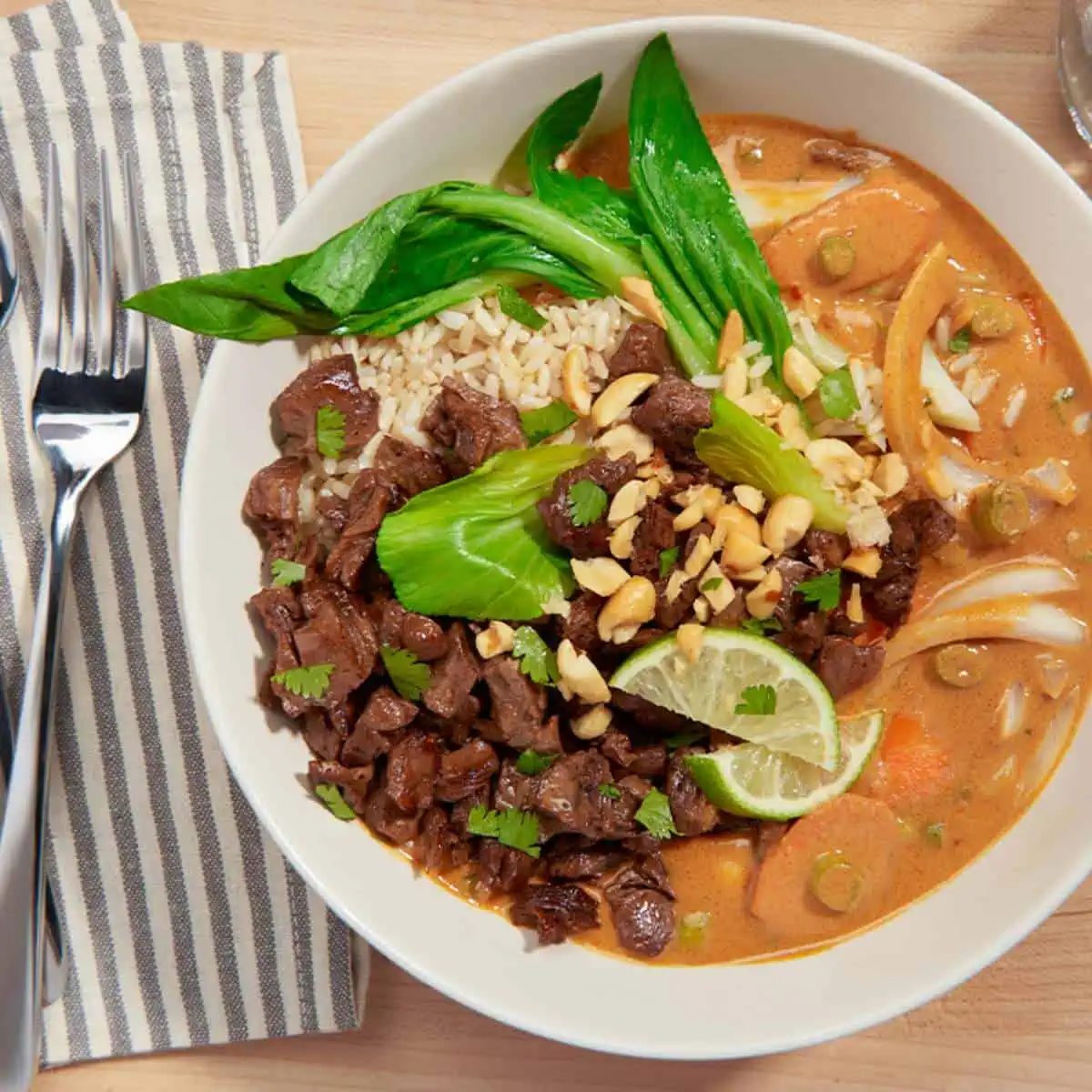 Vegan Steak Recipes
If it's critical to keep protein at the center of the plate, you're in luck: Most of these recipes rival or even exceed the protein content of conventional beef steaks. For vegetable-lovers, whole food eaters, or cooks simply looking for a fun way to dress up the latest farmers market haul, it's also a snap to make large cuts of your favorite produce picks just like any other steak. There's truly something here for everyone to satisfy their meaty cravings.
Talk about instant gratification: These steaks can be made from scratch in an hour or less, from start to finish. They're endlessly versatile too, perfect for baking, grilling, sautéing, and more!
Vegan seitan steak is made with vital wheat gluten for a tender yet chewy texture. It sears beautifully to create a lightly charred exterior while remaining delicately pink inside.
There's nothing cauliflower can't do, proven by these impossibly savory cauliflower steaks. It's effortless to toss them into the oven and pull out a dazzling side or main to compliment any meal.
Mushrooms have the umami game on lock, so why not cut out the middleman and slice into a thick oyster mushroom steak? Serve them up izakaya-style with sticky, sweet, and savory teriyaki sauce.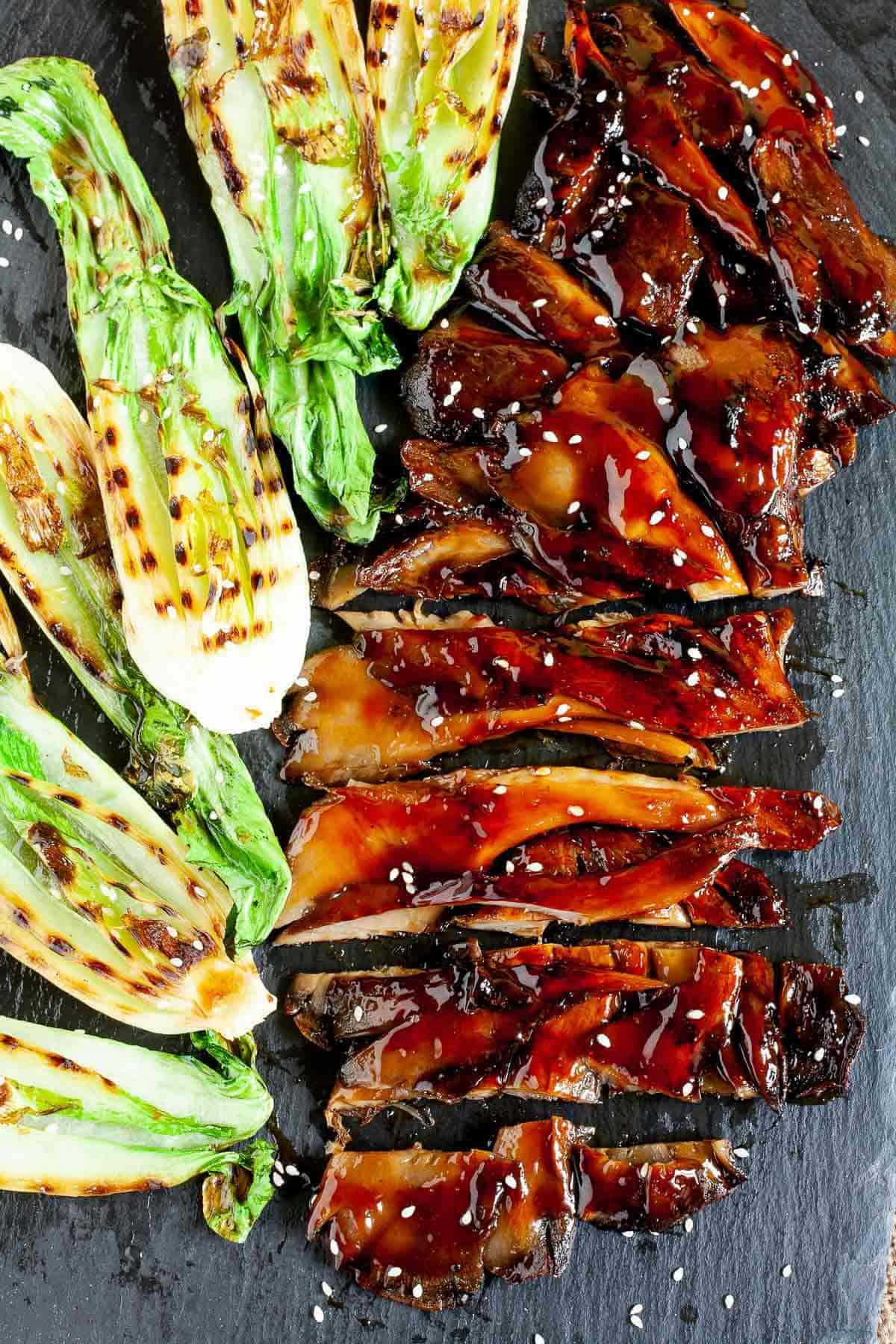 Often described as the other, OTHER white meat, tofu lives up to the name when transformed into chewy blackened tofu steaks! All it takes is a soy sauce-based marinade with aromatic herbs and spice to create a meaty masterpiece, perfect for searing on the grill.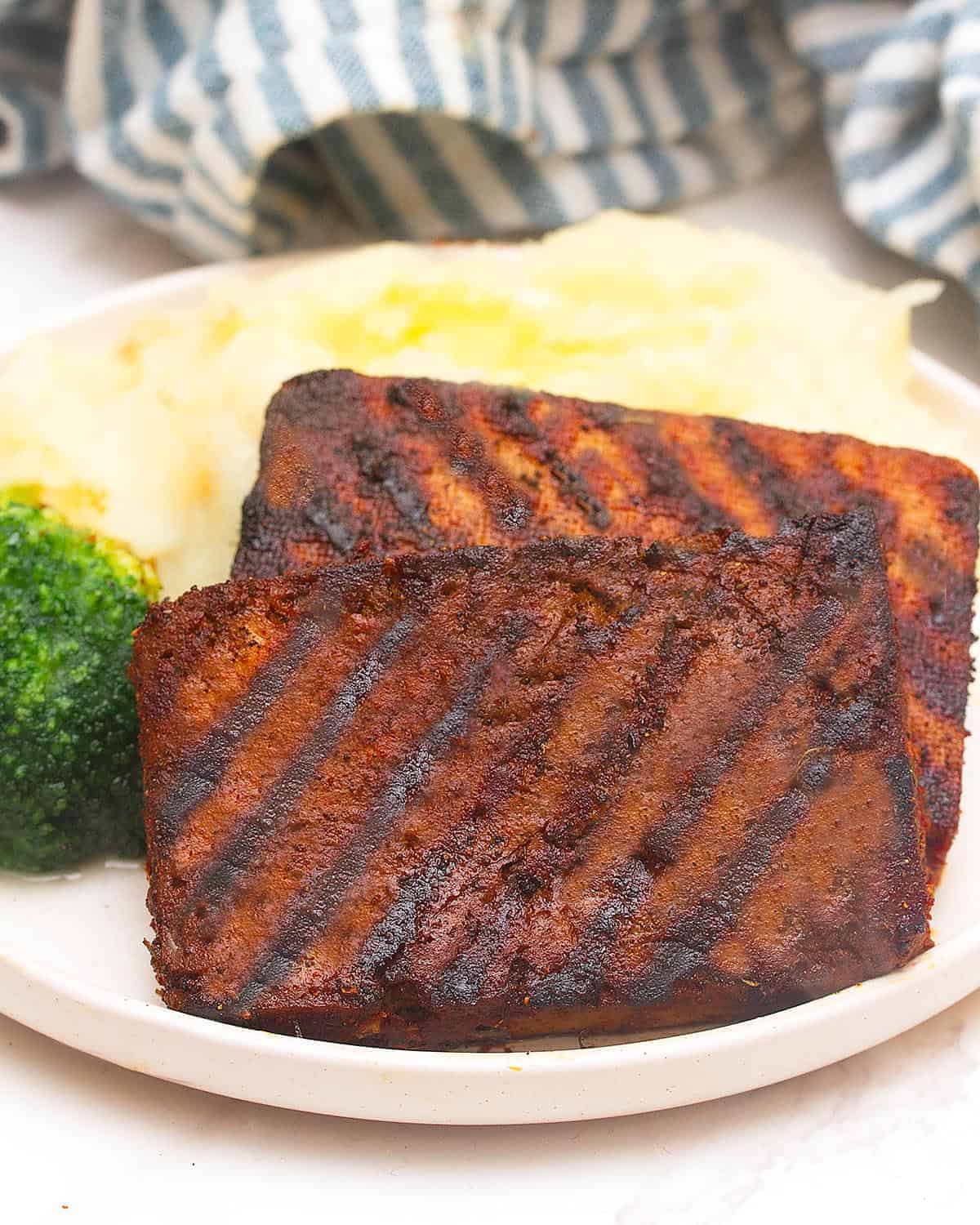 Traditional Mexican carne asada is typically made with skirt steak, but TVP makes a stunningly convincing stand-in. Infused with a smokey, citrusy marinade, even picky eaters will happily go back for seconds.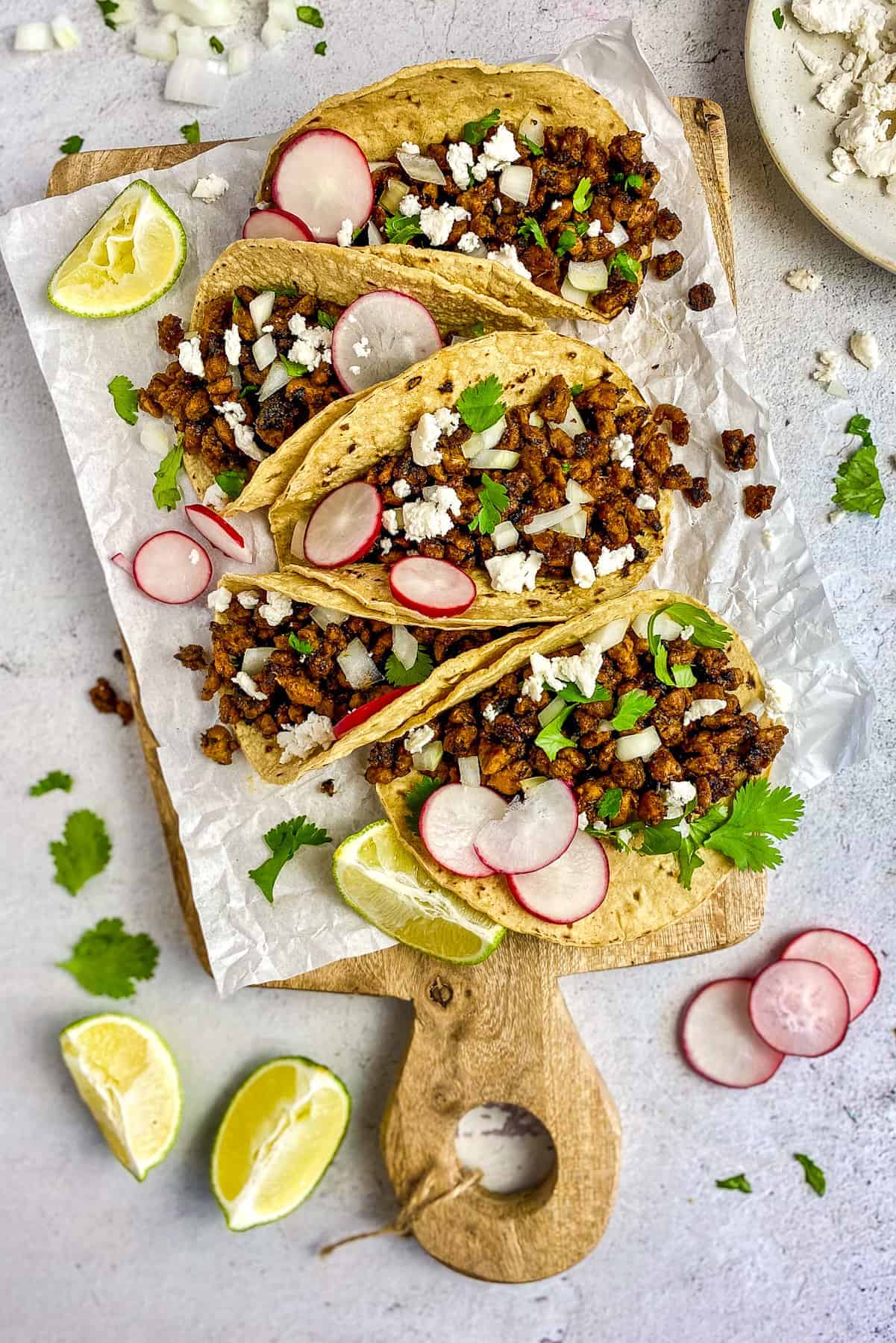 Wit or witout is the only question when you have a mega-meaty cheesesteak piled high with… Shredded oyster mushrooms?! You bet! For the record, this vegan cheese steak uses melted vegan provolone, rather than questionable cheez wiz in a can.
Even if you're not much for cabbage, trust me on this: Cabbage steaks will have you eating it by the pound. Something about those caramelized outer leaves and tender interior creates an irresistible taste sensation.
Meltingly tender, BBQ-glazed eggplant steaks are positively luscious rounds of meatless delight that disappear as soon as they come off the grill. On top of that irresistible taste, you won't believe they're also gluten-free, keto, and paleo-friendly, for a healthy indulgence that everyone can enjoy.
Two ingredients are all that stands between you and a dinner that deserves a standing ovation. Seriously! Portobello mushrooms soak in classic steak sauce to pair with all your favorite steakhouse sides. You'll never be able to go back to fancy, labor-intensive mock meats after learning this crazy cooking shortcut.