Are you in the mood for some Middle-Eastern food? Awesome! Because we have this new fantastic tofu tabbouleh recipe for you. It comes from the Vegan for Everybody cookbook brought to you by America's Test Kitchen—meaning this recipe has been tested again and again to create vegan tabbouleh perfection. It's fresh and protein packed with all those characteristic Middle-Eastern flavors you love.
This recipe is such a refreshing one to make. It may be different from all the mac and cheese and burger recipes you would usually go for, but just as delicious. It's full of fresh and healthy ingredients, so you'll probably feel light and energized after eating it!
But wait a minute, what is tabbouleh again?
What is Tabbouleh?
Tabbouleh is a traditional Middle-Eastern (also Mediterranean) dish usually prepared with bulgur, finely chopped tomatoes, parsley, onions, and mint. The dressing has some lemon juice, olive oil, and pepper. The cool thing is this version has a twist and adds crumbled tofu to make it a more complete and protein-rich dish.
Ok, don't be turned off by the sight of tofu. I get it. Tofu has quite the reputation of being tasteless, but I promise you this recipe will be everything but bland. The garlic and the scallions make it super flavorful, the bulgur and tofu give it a nice texture, and the extra virgin olive oil brings all the amazing flavors together.
Back to Basics
This tofu tabbouleh is super simple and easy to make. No complicated recipes to follow or long hours of simmering. Only pure and basic fuss-free ingredients. Isn't that your favorite kind of meal?
OK if we want to get picky, there's one "must" for this recipe to be successful. Make sure you use the freshest ingredients. Sweet ripe tomatoes, crispy fresh parsley and mint, and, of course, a delicious olive oil.
3 tomatoes, cored and cut into ½-inch pieces
Salt and pepper
½ cup medium-grind bulgur, rinsed
¼ cup lemon juice, 2 lemons
14 ounces extra-firm tofu, cut into 2-inch pieces
¼ cup extra-virgin olive oil
3 garlic cloves, minced
⅛ teaspoon cayenne pepper
1½ cups minced fresh parsley
½ cup minced fresh mint
2 scallions, sliced thin
Toss tomatoes with ¼ teaspoon salt in fine-mesh strainer set over a bowl and let drain, tossing occasionally, for 30 minutes; reserve 2 tablespoons drained tomato juice. Toss bulgur with 2 tablespoons lemon juice and reserved tomato juice in a bowl and let sit until grains begin to soften, 30 to 40 minutes.

Meanwhile, spread tofu on a paper towel–lined baking sheet and let drain for 20 minutes. Gently press dry with paper towels and season with salt and pepper. Pulse tofu in food processor until coarsely chopped, 3 to 4 pulses. Line baking sheet with clean paper towels. Spread processed tofu over prepared sheet and press gently with paper towels to dry.

Heat 2 teaspoons oil in 12-inch nonstick skillet over medium-high heat until shimmering. Add tofu and cook, stirring occasionally, until tofu is lightly browned, 10 to 12 minutes. (Tofu should start to sizzle after about 1½ minutes; adjust heat as needed.) Push tofu to sides of skillet. Add 1 teaspoon oil and garlic to center and cook, mashing garlic into the skillet, until fragrant, about 1 minute. Stir mixture into tofu. Transfer to a bowl and let cool for 10 minutes.

Whisk remaining 2 tablespoons lemon juice, remaining 3 tablespoons oil, cayenne, and ½ teaspoon salt together in large bowl. Add drained tomatoes, soaked bulgur, cooled tofu, parsley, mint, and scallions and toss to combine. Cover and let sit until bulgur is tender, about 1 hour. Toss to recombine and season with salt and pepper to taste before serving.
When shopping, don't confuse bulgur with cracked wheat, which has a much longer cooking time and will not work in this recipe. You can substitute firm tofu for the extra-firm in this recipe.
Serving: 6g | Calories: 181kcal | Carbohydrates: 16g | Protein: 8g | Fat: 11g | Saturated Fat: 2g | Polyunsaturated Fat: 2g | Monounsaturated Fat: 7g | Sodium: 57mg | Potassium: 428mg | Fiber: 4g | Sugar: 3g | Vitamin A: 1994IU | Vitamin C: 35mg | Calcium: 67mg | Iron: 3mg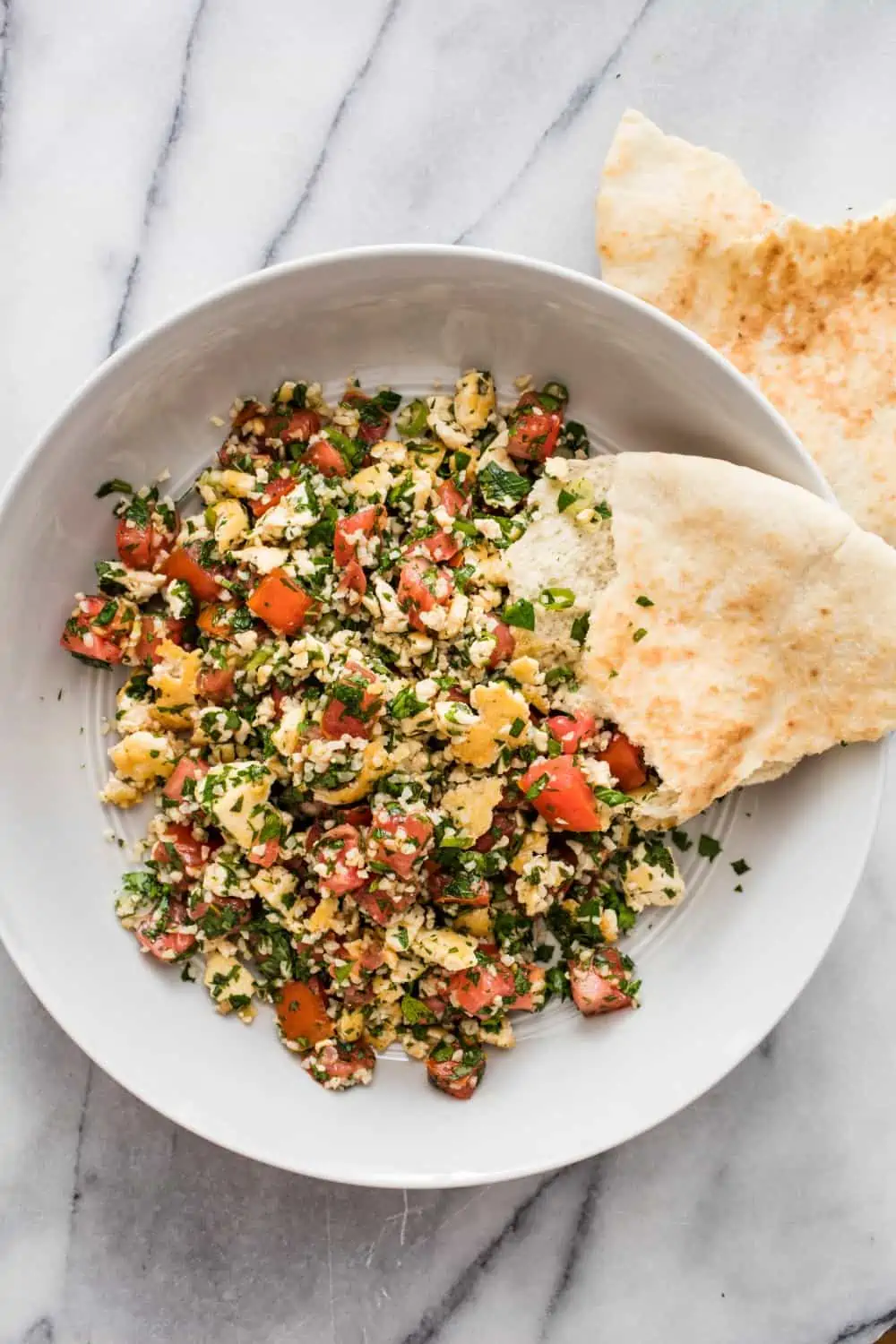 So…How Is Tabbouleh Made?
Tabbouleh made from bulgur wheat, tomatoes, lemon, and heaps of fresh herbs is often served as meze. But with just a little help, tabbouleh can have main-dish potential.
Enter tofu.
A surprising addition, garlicky, savory, sautéed tofu can transform this classic side into a summery meal.
Tabbouleh Tips from America's Test Kitchen:
Rather than using large cubes of tofu, we pulsed it in the food processor to create a texture similar to that of the bulgur. The extra surface area meant it could absorb more flavor from the dressing, too.

We started by salting our tomatoes to rid them of excess liquid, and we used their juice (rather than water) to soak the bulgur. Meanwhile, we sautéed our tofu with a hefty dose of toasted garlic. As the tofu cooled, we made a lemony dressing and then tossed everything with liberal amounts of parsley, mint, and scallions and let the whole thing sit for about an hour to let the flavors mingle.
Be Picky With Your Oil!
I think the star of this tofu tabbouleh is the olive oil and since not all oils are made equal, you might want to know which ones are your best choice. So what does "extra virgin" entail? It basically means the oil inside the bottle is made from pure cold-pressed olives; it's that very first drip, the one that naturally has the most flavor. When you try a good quality olive oil, you can really tell the difference with the generic ones you buy at the store.
In Spain or Italy, olive oil has so much flavor and character! If you find an original brand that comes straight from the Mediterranean go for it and you'll be amazed! Will be the best match for this tofu tabbouleh!
No Bulgur, No Problem!
Bulgur might not be super easy to find if you don't have an organic or specialty shop nearby, but that's no excuse not to try this yummy salad! Couscous will work just fine! It's so similar to bulgur and even easier to prepare! You just pour one and a half cups of boiling water for every cup of couscous you want to cook in a bowl and cover the bowl with cling film (or if I am out I use a big enough dish upside down!) Let it sit for 10 minutes and then fluff with a fork. Voila! Easy to find, cheaper and quicker!
The Food Processor Dilemma.
This tofu tabbouleh recipe calls for crumbling the tofu in a food processor with short pulses to get that grainy texture, but you don't really need a processor to achieve this consistency! If you want to do it manually, then make sure that you drain your tofu as much as possible. Get rid of all the water and then crumble it with your fingers until you have tiny pieces of tofu to sautee in the pan.
By the way, food processors are great and relatively inexpensive compared to some fancy blenders. And if you consider getting one you'll be happy to know that you can even make banana soft serve in it! Find a great affordable model here!
Inside The Cookbook
Vegan for Everybody is not your typical solo chef cookbook venture. This is a book created by America's Test Kitchen, known for its TV Shows, magazines, and cooking school, which are widely viewed by more than 4 million viewers a week. America's Test Kitchen brand was created by a large group of chefs from Boston, Massachusetts and they're known for extensively testing all their recipes to create recipe perfection.
This book includes great step by step tutorials of many valuable vegan basics and more than 200 delicious recipes that will make your mouth water and have you coming back for more.
More Tofu Recipes
Are you tempted to try more tofu-based recipes? Don't miss these!