Can we talk about lashes? We all want beautiful, lush lashes, but finding a vegan mascara that's a perfect fit can be a bit tricky. Whether you're looking for a formula that's lengthening, strengthening, voluminizing, or waterproof, I think we can all agree that we'll happily pass on formulas that clump, flake, smudge, and/or contain animal products.
Lucky for us, it's a great time to be vegan and have the most amazing lashes! New options are coming out almost every day and I bet you can tell that we're super excited. Even old-school, mainstream brands that have never before been cruelty-free or offered any vegan versions are getting with the times––isn't that terrific?
What is a good vegan mascara? Keep reading to find the most fabu-lash choices to enhance your pretty eyes.
What Makes Mascara Vegan?
You may be surprised to hear that mascara is typically not vegan. Mascaras may not be vegan because formulas often contain ingredients made from animals. Ugh! Here are is a list of commonly used mascara ingredients that are not vegan-friendly. Be careful when buying mascara and keep an eye out for these animal-derived additives.
Animal Ingredients Found in Some Mascaras:
Beeswax – Beeswax is created by bees, which makes it not vegan, just like honey. It's often added to mascara add a smooth texture and thickness to the formula.
Collagen – Collagen is a protein made from the tissues of animals. This animal collagen ingredient is not vegan, but collagen can also be created from plant-based sources.
Guanine – Derived from fish scales.
Lanolin – Lanolin is made from sheep's wool and is primarily used for its ability to moisturize.
Panthenol – This lubricating ingredient is derived from meat and honey, both of which are not vegan-friendly.
Shellac – Shellac is made from crushing the outer layer of insects.
Lastly, mascara is vegan only when there are absolutely no animal ingredients or animal-derived ingredients involved in the product.
What Makes Mascara Cruelty-Free?
It may sound bizarre, but a product labeled cruelty-free is not necessarily vegan, and a vegan product is not necessarily cruelty-free. What's the difference? Vegan refers to the ingredients in the product (if there are zero animal ingredients, it's considered vegan). Cruelty-free, on the other hand, refers to the animal testing status. If the product wasn't tested on animals, it's considered cruelty-free!
Now it's important to not that the cruelty-free status can get a little more complicated when we consider parent companies, and if products are sold in China where animal testing is required by law. This is a personal decision each person can make,
Are you okay with a product that was not tested on animals if the brand is owned by a parent company that does test on animals? Some vegan are, others are not. Are you okay with a brand that starts to sell in China and at that point their products are tested for the Chinese markets? That is yet another consideration for companies that grow and expand abroad. Some companies decide not to sell in China specifically because they want to remind fully cruelty-free, which is a pretty cool move that we love to support.
What Are You Looking For in a Mascara?
Before you even start browsing the beauty counter, think long and hard about your lashes. In what way do you want to make them different or better than ever? Are you looking for:
Affordable and Accessible – Brands that you can find almost anywhere with any budget.
Natural – Closest to your everyday eye, but a bit more pronounced.
Tubular – Teaming up with new technology for easy eye enhancement removal.
Volume – A look with lots and lots of lashes and pizazz.
Waterproof – Wishing to laugh or cry without care.
Natural Mascara Vegan Brands
If you're searching for a more natural, less-sensational lash look, these are the brands to shop for. These mascaras are perfect for everyday wear or when you want your own lashes enhanced just a little.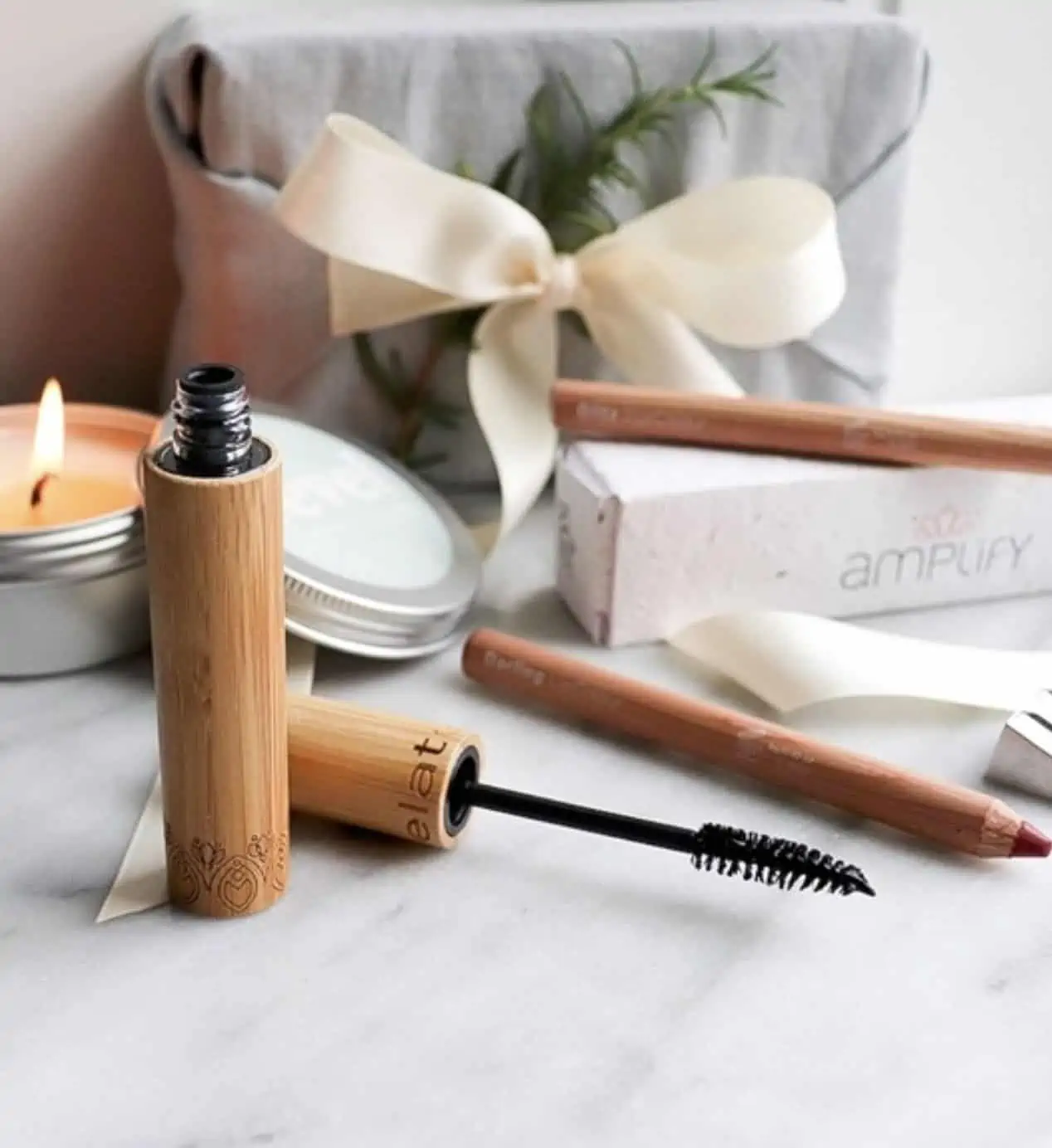 Vegan Waterproof Mascara
What would we do without waterproof mascara? You don't want wedding eyes that weep black streaks or beautiful beach days ruined by seawater. But, don't worry, all is well! Cruelty-free mascara companies are coming to the rescue with some of the best formulas packed with vitamins and the very best staying power. Woo! Here are brands we can trust with our tears:
Best Cruelty Free Drugstore Mascara
Don't you just love having an easy-to-find mascara at your local drugstore or all-in-one store like Target? They are more accessible, less expensive, and more easily returned if they have weird aftereffects, like rashes or other eye sensitivities. These brands are tried and true favorites:
More Cruelty-Free & Vegan Mascara Brands for Volume
Still searching for a specific mascara specialty? Browse through these brands that carry cruelty-free vegan mascara options. Don't forget to check the ingredients as some brands have both vegan and non-vegan options.
Vegan Tubing Mascara Options
Tubing mascara is a fun option for those who hate the chore of cleaning off waterproof mascara. Although it's not waterproof per se, the formulas stay put until washed off with warm water. Nowadays, the tubular technology is incredible and gives you just the right amount of eye emphasis by forming tiny water-resistant "tubes" around each lash. Here are a few popular brands that stand out:
Vegan Cruelty Free Mascara Q&A
If you have any other questions on your mind about mascara, feel free to ask us questions in the comments at the end of the article. We're happy to help!
Is There Vegan Mascara at Ulta?
You bet! Ulta has a great search engine when it comes to narrowing down your needs. If you choose mascara, vegan, and then cruelty-free, you'll get an entire page of helpful suggestions. Here are just a few that stand out to us:
Is it Possible to Find a Tarte Vegan Mascara?
Definitely! Tarte's Big Ego has a false lash effect in classic black. You can find it both on the Tarte website and in many beauty shops.
Which Maybelline Mascara is Vegan?
We hate to break it to you, but even though Maybelline's "Green Edition" mascara contains no animal-based ingredients, it's not cruelty-free. Both this company and their parent company, L'Oreal, still test on animals.
Find Your Favorite Mascara With Vegan Beauty Subscription Boxes
If you're new to the land of vegan mascara, and aren't sure which brand to try, check out our guide to vegan subscription boxes! These can be a fantastic way to explore and discover new vegan and cruelty-free brands without having to pay full price for any of the products. Once you've found the brands you love, then you can cancel your beauty box subscription and invest in the products you love long-term! A few of our favorites include:
Above all, it's important to keep both our lashes luscious and also stay clear of animal cruelty. Similarly, we want to support brands that go out of their way to bring us vegan-friendly make up options. Don't you agree? Meanwhile, we can always give our voices to beauty brands and beg for better products that are easy on the environment, as well as our eyes.
What's your favorite cruelty-free and vegan mascara? Let us know in the comments below!
More Vegan Beauty & Fashion Guides
This best vegan cruelty free mascara article was written by Gina House, Sunny Subramanian from Vegan Beauty Review and edited by Michelle Cehn. Please note that this article may contain affiliate links which supports our work at World of Vegan.