We've searched high and low for a vegan shampoo bars that are eco-friendly and also make your hair happy. It was a tough tangle, but hair we are (pun intended) with some super suggestions that will make your lovely locks (and weary wallet) twist and shout!
Not interested in protecting the planet and choosing plastic-free shampoo bars? You'll find our vegan shampoo guide helpful in finding more traditional shampoo options.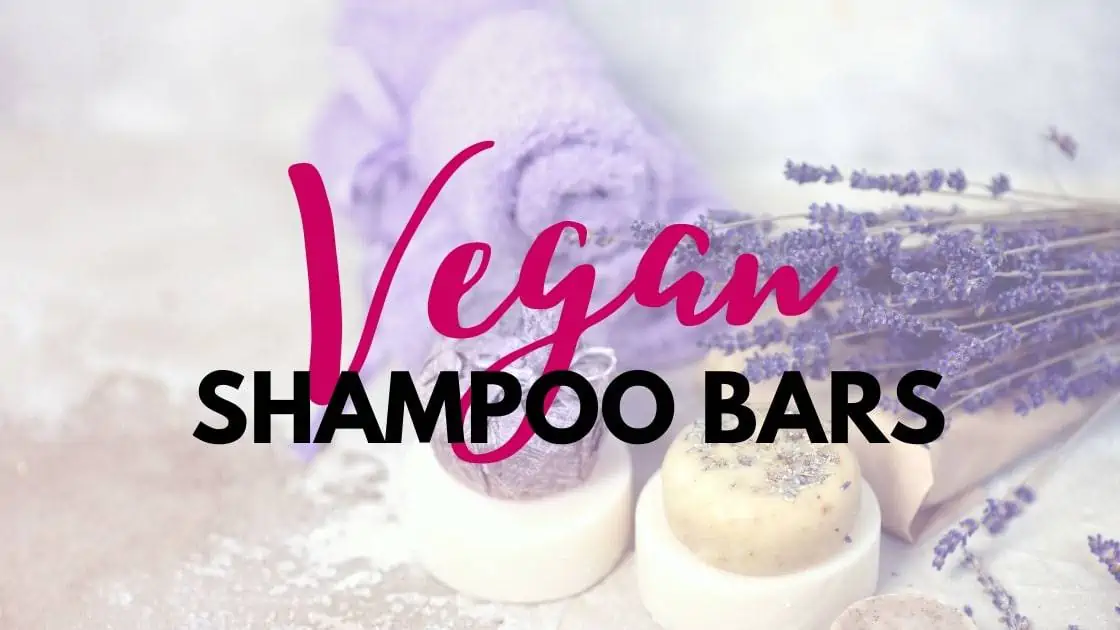 Types of Shampoo Bars
First of all, have you ever wondered what shampoo bars are actually made of and why they're different from everyday soap? We did! We had no idea that there are 3 clear-cut categories of vegan shampoo bars:
Saponified – created with the most natural and simplest of ingredients that allow your hair to be cleansed and lightly conditioned at the same time. Their main ingredient is usually a rich and luxurious cold-pressed oil—like olive, coconut, castor, or jojoba oil. Extra ingredients might be included for scent (a fragrance or essential oil), for added cleansing power (chalky clays), or for promoting gorgeous growth or sensational shine (herbs, infusions, vitamins, and minerals). On the flip side, using saponified shampoo bars may require an occasional apple cider vinegar rinse to discourage build-up or tackiness.
Glycerin Based – these terrific, transparent bars typically use vegetable glycerin (although some do not and may contain animal glycerin, so make sure to check) to very gently clean hair. This tender type leaves very little residue but also has very little lather. Glycerin-based shampoos might not give you the amount of cleansing capability (or "oomph"!) that you desire. Sadly, they also mysteriously melt away when not stored properly and should be kept in a secure soap dish away from pools of water.
Solid Surfactant – you'll receive the most sudsy satisfaction when using bars containing a surfactant. Although sodium lauryl sulfate is a detergent in the most common commercial liquid shampoos, the concentration of this high powered cleanser is much lower in solid bars of shampoo. The decided downside to this class of splendid shampoo is over-stripping. Over-stripped hair can become very dry and brittle over time and may require the use of a creamy conditioner bar after each sudsing.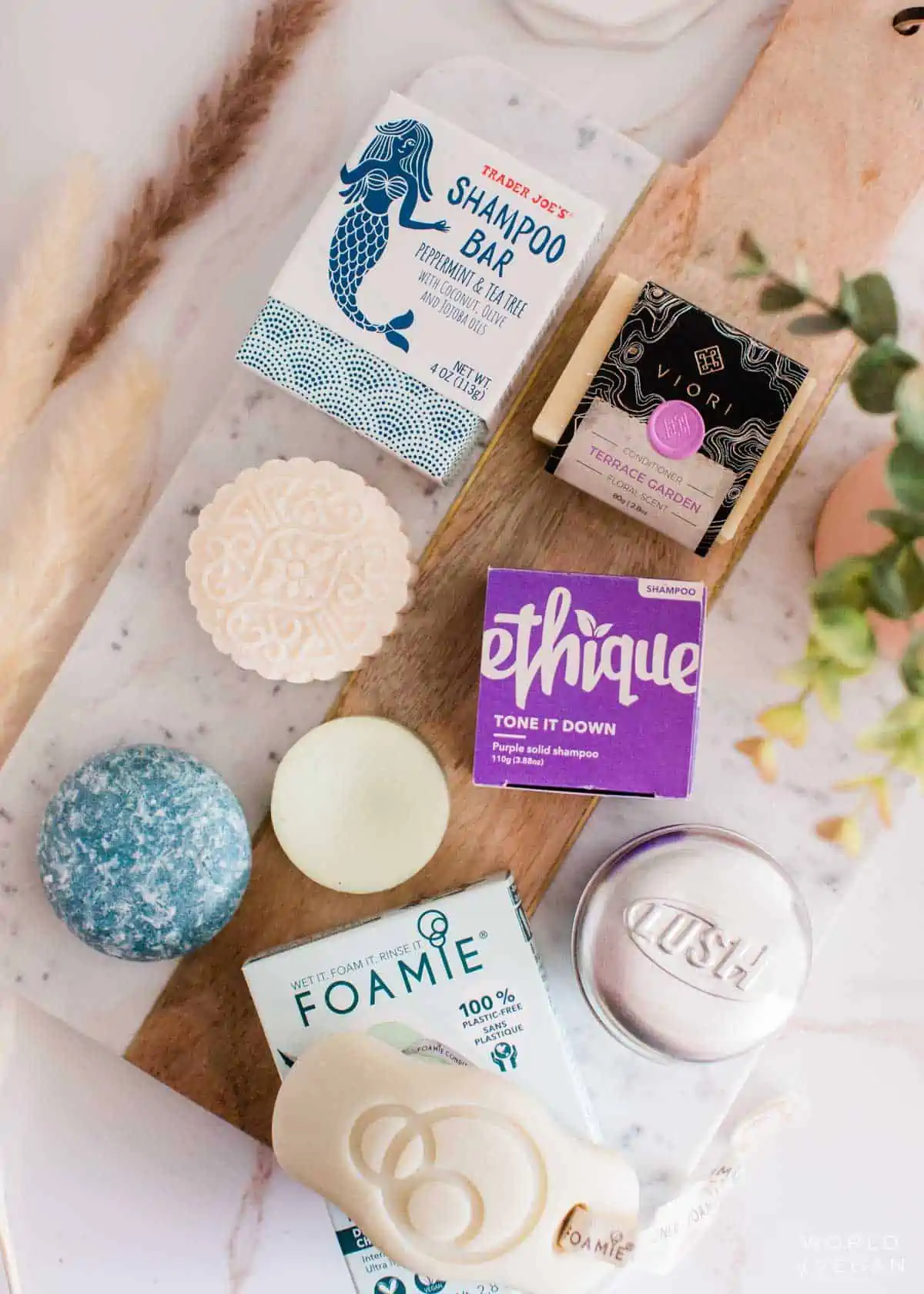 Shampoo Bars vs Regular Soap
The only real difference between shampoo bars and normal, everyday bars of soap you use on your body is the balance of the type and amount of oils or butters in the bar. Some bars use more cleansing power in their formula because of the slightly higher amount of oil on the scalp/hair that it has to remove, while others are higher in nourishing oils (like castor oil) and butters to increase the hair's ability to retain moisture and increase softness. A beautiful balance of the two creates a bar that is beneficial for both hair and body.
Essential Elements for Basic Bars
The best solid shampoo bars should check off these four basic boxes:
Eco Friendly – limited and recyclable packaging, very little or no plastic and also contribute the least amount of damage to the environment.
Long-Lasting – the bar should last as long (or longer) than a regular plastic bottle of shampoo.
Ease of Use/Portability – no strange instructions or complicated containers to bring along with you into the shower or on a trip.
Healthy Hair Ingredients – hair doesn't need a lot of crazy chemicals to be clean. Simple, nourishing ingredients can do wonders for your hair without stripping your terrific tresses.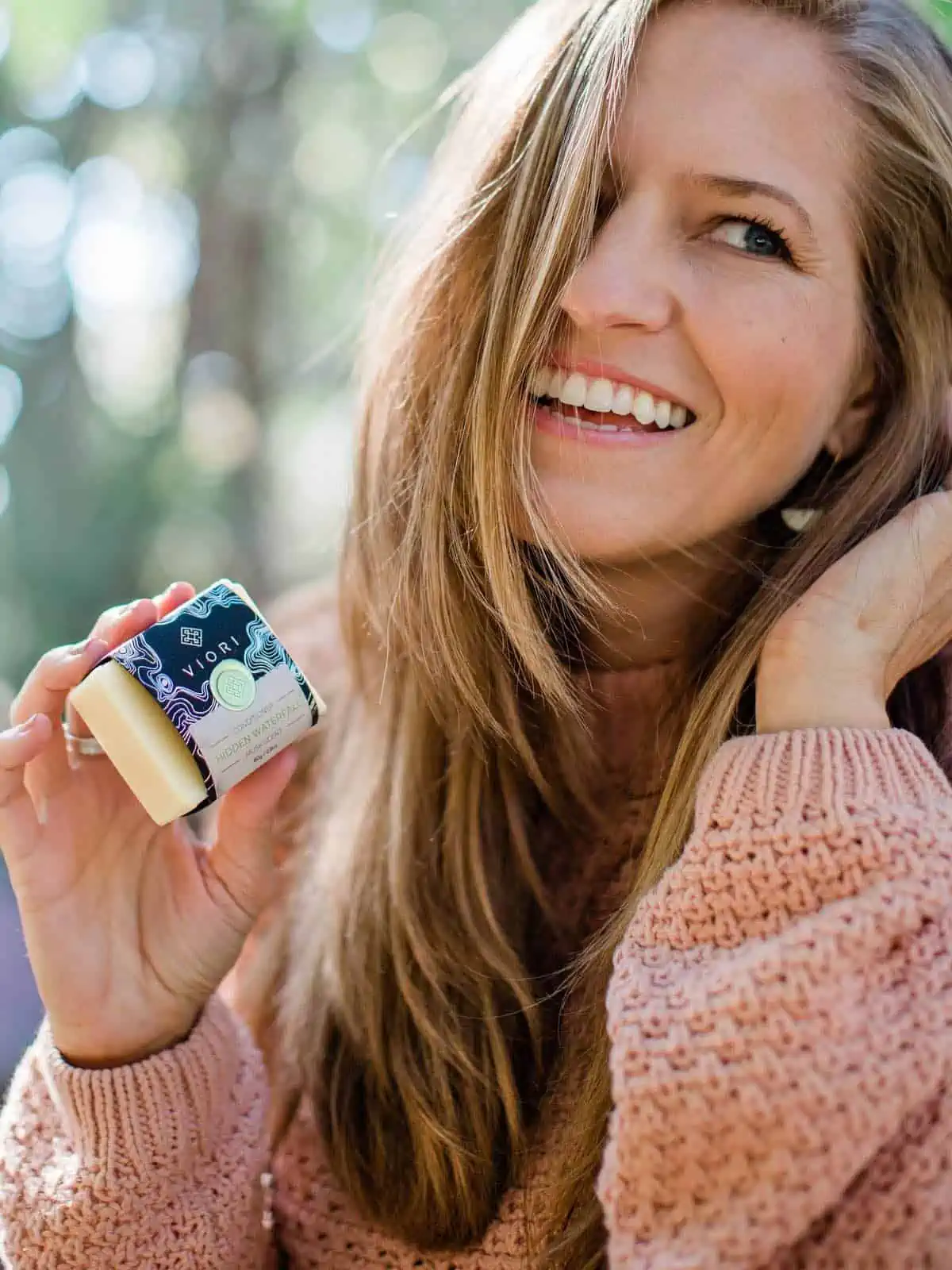 Mastering the Shampoo Bar Method
Your next question might be, "What do I do now? How do I use this thing?"
So simple, my fellow solid shampooers! There are only two required rules—hair saturation and rinse, rinse, rinse!
Make sure that your hair is completely saturated with water. Next, either rub the shampoo bar between your hands to get a lush lather and run your hand all over your hair (concentrating on the scalp) OR directly rub the bar onto your hair wherever it needs the most cleansing. Lastly, use your fingertips to gently rub all over your head, including at the base of your neck and behind your ears.
The trick to ravishing results is to rinse your hair as much as possible using lukewarm or cool water. When you use hot water, it not only dries out your hair, but can also leave your strands looking dim and dull.
(Every So Often) Use an apple cider vinegar clarifying rinse whenever you feel your hair might be losing its luster or seems limp and lifeless. Add 1 tbsp. of apple cider vinegar to 8 oz of filtered water. When hair is not in the stream of water, pour liberally over your hair and rub the mixture in thoroughly. Don't worry, the scent will soon dissipate once your hair is dry.
(Optional) Apply a conditioner bar (rubbing mainly on the middle to bottom of your hair, particularly the ends) and let sit for a minute or two before rinsing out. Wrap hair in a hair-drying towel (or cotton t-shirt) to absorb excess water and help it dry.
After extended experiments with many bars of solid shampoo, we found 5 that truly sparkled among the rest. Since we all have drastically different hair types, styles, and textures, we're sharing our favorite brands and why we love them. Then you can choose which formula is best for your own heavenly hair personality. All brands listed below are vegan and cruelty-free.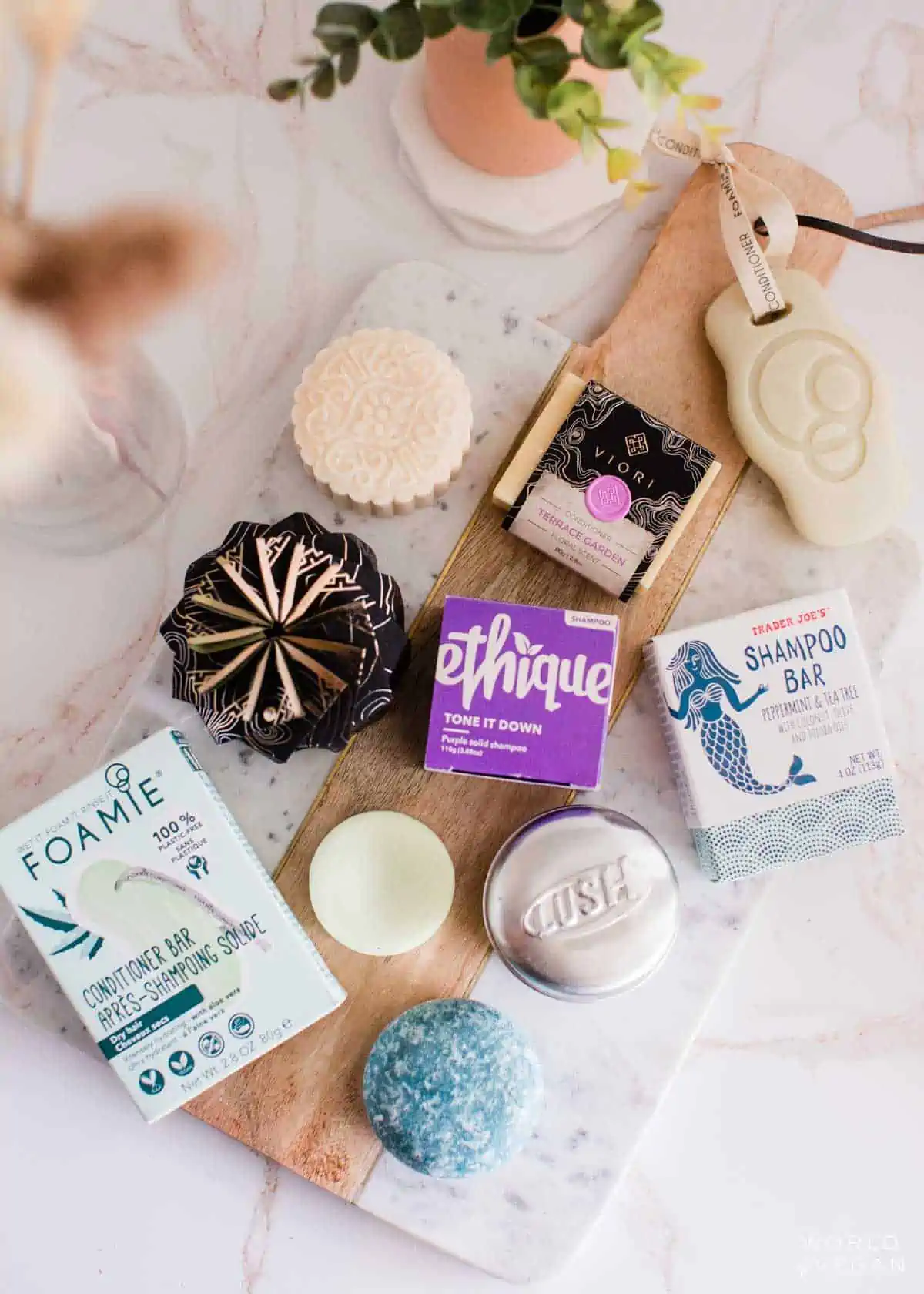 Vegan Solid Shampoo Bar Brands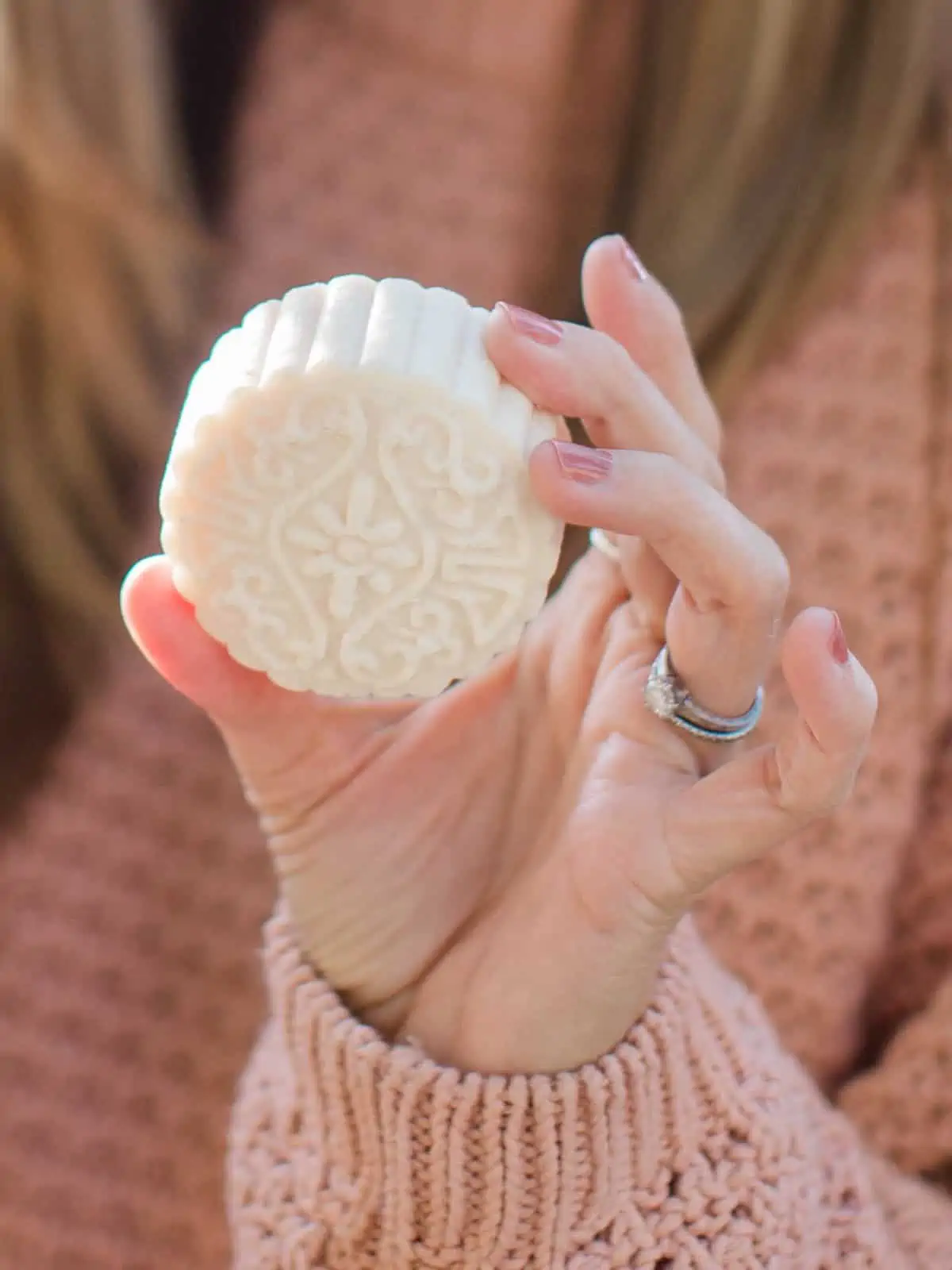 How do Shampoo Bars Work? (Video)
Deep Dive Into A Few Favorite Vegan Shampoo Bars
This brand is a top pick because of their pricing transparency, sustainability, and charitable partnerships. I was incredibly impressed with the way my hair felt after using these bars. Their fully compostable soap containers made from bamboo and cornstarch are the bomb! They hold multiple bars at the same time with a delightful drainage area on the bottom. Ethique's samplers and trial packs are just perfect for choosing the bar that's right for you. I received the delicate heart-shaped Hair Sampler as a gift and I was surprised at which bars worked best for my hair. My favorites are the Pinkalicious and the Frizz Wrangler. I'm also enormously addicted to their conditioner bar, the Wonderbar, which smells like the creamiest, most delicious chocolate dessert (at least to me).
Pros: Eco-friendly packaging, simple and sustainable ingredients, works really well, no palm oil, offers mini samplers, long lasting, bamboo soap trays, easily available on Amazon, and has a sizable selection of soaps for a variety of hair needs (including shampoo and shave bars, bars for babies, and unscented bars for those with sensitive skin).
Cons: Low on lather and is pricer than the others, which are generally in the $10 range.
EcoRoots is a Colorado-based small business that focuses on minimalism and sustainable plastic-free hair and body care products. We love that this company supports small businesses and that all of their products are vegan & cruelty-free. They offer a variety of shampoo and conditioner bars (including unscented) as well as a super handy soap saver bag for leftover shampoo bar scraps. The Moroccan Oil Zero Waste shampoo bar that I tried has the most beautiful exotic scent with an undertone of vanilla that is just amazing. I've been using this bar every single day for at least 5 months and it's still going strong. The bar hasn't crumbled apart in pieces and the scent is just as lovely as day one. I love how it makes my hair look and feel—a true winner!
Pros: Eco-friendly packaging, plastic-free shipping, natural and organic ingredients, palm oil-free, silicone-free and paraben-free, holds together well, long lasting.
Cons: Your favorite scent may sell out quickly and they're a little slower to restock than other companies.
A Dayton Beach based Etsy shop that I stumbled upon and has brought my hair such joy! I love to support small businesses, especially if the sellers are devoted to crafting small batches of stunning shampoo bars without pushing plastic or animal cruelty. This shop offers an option of shipping your soap naked or with a biodegradable bag. They also feature at least ten different shampoo bars for various hair types, as well as accessories such as peach wood combs, soap bags, serums, sets, and samplers. My absolute favorite soap is the Orange Lavender (such an enchanting, lovely citrus-y scent) and the Rose Hemp (slightly floral, woodsy and wonderful).
Pros: Small business, small batches, ships without plastic, detergent-free, palm oil-free, no synthetic ingredients, long lasting, cruelty-free and dye-free. Multiple shampoo bar options and scents to satisfy the pickiest shampoo shopper.
Cons: These bars are a little bit bigger than the others, so you may have to cut one in half if you have smaller hands to hold the bar comfortably.
A Cult Favorite! Lush has been doing wonderful things for the world for many years. They were one of the very first companies to offer packaging-free shampoo bars and 99% of their bars are vegan. All their fantastically fragranced products are cruelty-free, ethically made, and they offer both shampoo, conditioner, and a blend of both on their website. Lush's tins are perfect for storing your solid shampoo bars at home and while traveling. I've tried at least half of the bars and my favorites have been Seanik, Jason & the Argan Oil and Jumping Juniper. Using them in the shower always brings a smile to my face and I love to give them as gifts, too!
Pros: Package-free, delightful scents, many options for multiple hair types, super suds factor, high cleansing power, and easy to buy online via the Lush website or in Lush stores.
Cons: No fragrance-free option, the bars begin to fall apart halfway through, and some find the shampoo bars to be either too drying or leave their hair a little too oily. Finding the best bar suited to you might take some trial and error.
We love that this Chicago-based store is a one-stop shop for package-free items! The founder, Carley Pulford, is dedicated to offering products that are free of unnecessary packaging, minimizing single use waste and providing safer alternatives for the people and the planet. I love their full line of bath and body products (including shampoo & conditioner bars, green sandalwood comb, soap dishes and other bathroom essentials) and I can't wait to try out some of their eco-friendly kitchen alternatives. I used their citrus shampoo bar (which has a wonderful lemongrass fragrance) for at least a week (still going strong!) and I was really impressed. It reminds me of the LUSH shampoo bars, but only bigger, less expensive and keeps its shape much longer. I'm anxious to try the lavender scent next time, along with one of their creamy, hydrating conditioner bars. You're sure to be delighted by this earth-friendly shampoo bar.
Pros: Fully compostable, three lovely scents (rosemary, citrus, and lavender), package-free, perfect suds level, handy shape for holding, and makes hair feel super silky and soft.
Cons: If your scalp or hair are sensitive to mild detergents, this may irritate or dry your hair out a little. No fragrance-free option.
I've brought this with me many times when I've been camping and it's super easy for the entire family to use. The brand also offers a travel kit and a sampler selection so you can choose which formulas work best for your hair. I've always enjoyed both the invigorating Jojoba and Peppermint and gentle-but-effective Moisturizing Formula bars.
Pros: Simple ingredients, GMO-free, long-lasting, and no palm oil or detergents. Only uses essential oils for scent. An easy-to-find shampoo bar (even at Whole Foods!) that is a great size, has many options for hair types, and can also be used on the body.
Cons: Can be a little too drying and may leave hair lifeless without a regular conditioner or hair rinse. Not a load of suds coming from this shampoo bar, but a slight amount that would satisfy some.
We hope we've unraveled some shampoo bar mysteries and inspired your interest to try them out. We would love to know which ones are your favorites, if not listed here. Happy, healthy hair, everyone!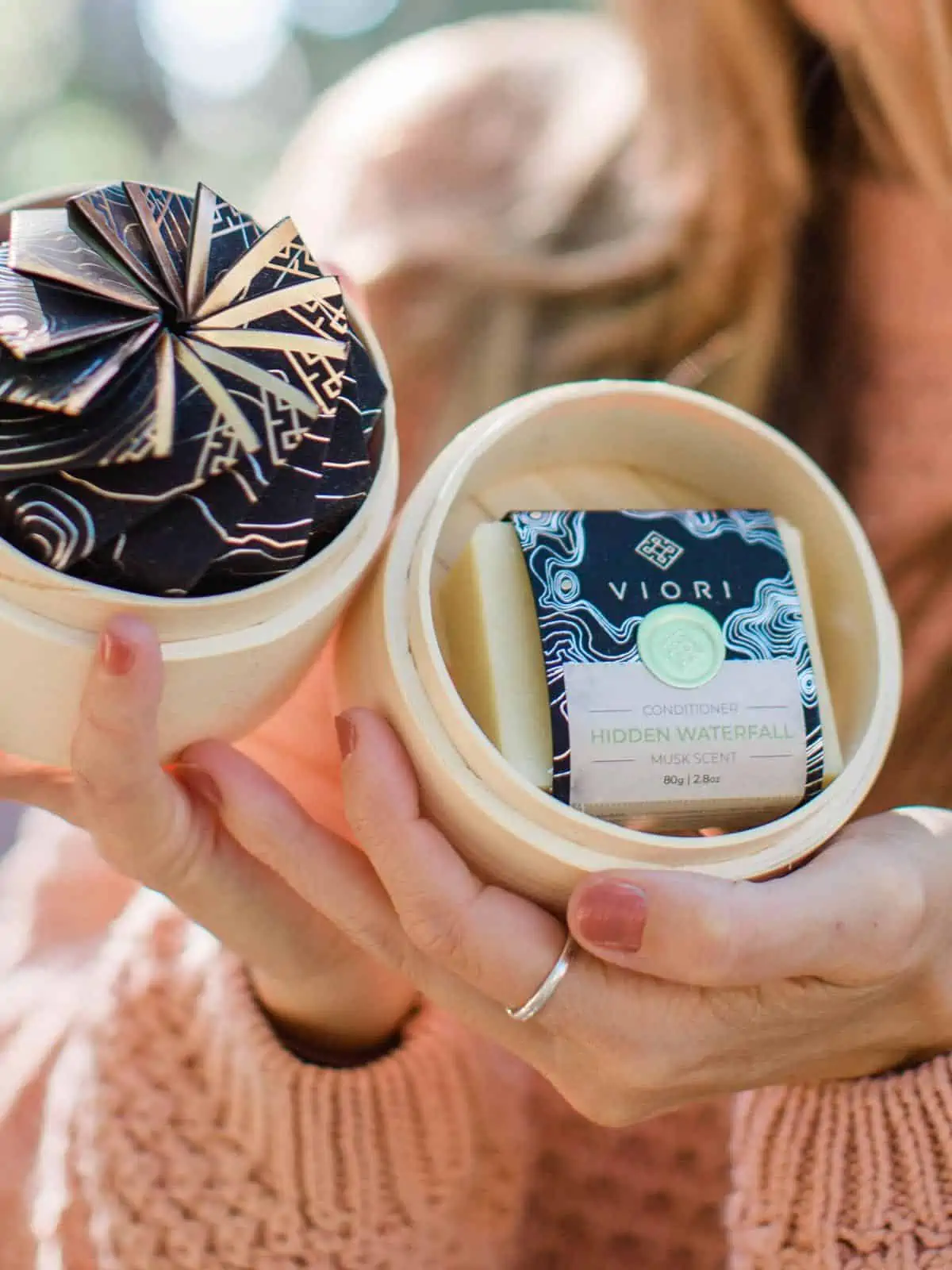 More Eco-Living Resources
Photos from Canva.com. This Guide to Vegan Shampoo Bars is not sponsored by any of the brands or companies mentioned, and we only share products and companies we sincerely adore. This article includes affiliate links when available, and shopping through these links supports World of Vegan.