Few plants can match the versatility, beauty, and sheer tenacity of the blue agave. Otherwise known as agave azul in Spanish, this majestic cactus thrives in desert climates where even the heartiest of weeds would wither.
Named for its eye-catching blue-green leaves that unfurl in spiraling rosettes from a low base, agave has been instrumental in Mexican culture, economy, and Aztec history. While most Americans recognize agave as a liquid sweetener sold in health food stores, there's so much more to this spiky succulent than meets the eye.
A Brief History Of Blue Agave Plants
As much a sacred symbol of Ancient Aztec religion as it is an agricultural staple, the agave plant has been revered for centuries, as far back as 1000 BCE. Mayahuel, the personification of the plant, was the Aztec goddess of fertility, long life, dance, and nourishment. Separately, in Greek mythology, Agave was the goddess of desire and follower of Dionysus, the father of revelry and inebriation.
You might be able to guess that the intoxicating properties of agave were discovered early on. Pulque, fermented agave sap, played a crucial role in religious ceremonies and rituals. This milky, viscous drink was the precursor to mezcal, the first distilled spirit produced from the plant in the 1500s.
Blue Agave Syrup
Bakers and dessert-lovers cherish this ancient plant for a much sweeter reason. Better known in the US as agave nectar, it's often enjoyed as a natural alternative to honey, although it's thinner in consistency, more like maple syrup. There are four common varieties:
Light agave nectar has a very mild flavor and pale color. It's ideal for using in desserts with delicate flavors, candy making to replace light corn syrup, and beverages.
Raw agave nectar also has a fairly neutral taste. What sets it apart from simply light agave is that it's produced at temperatures below 118°F which is thought to protect the natural enzymes.
Amber agave nectar has a subtle caramel flavor and golden color. These nuances make it a great addition to both sweet and savory dishes.
Dark agave nectar has darker toasted flavor with floral notes, adding a distinctive flavor wherever it's used. It's excellent as a topping for pancakes and waffles.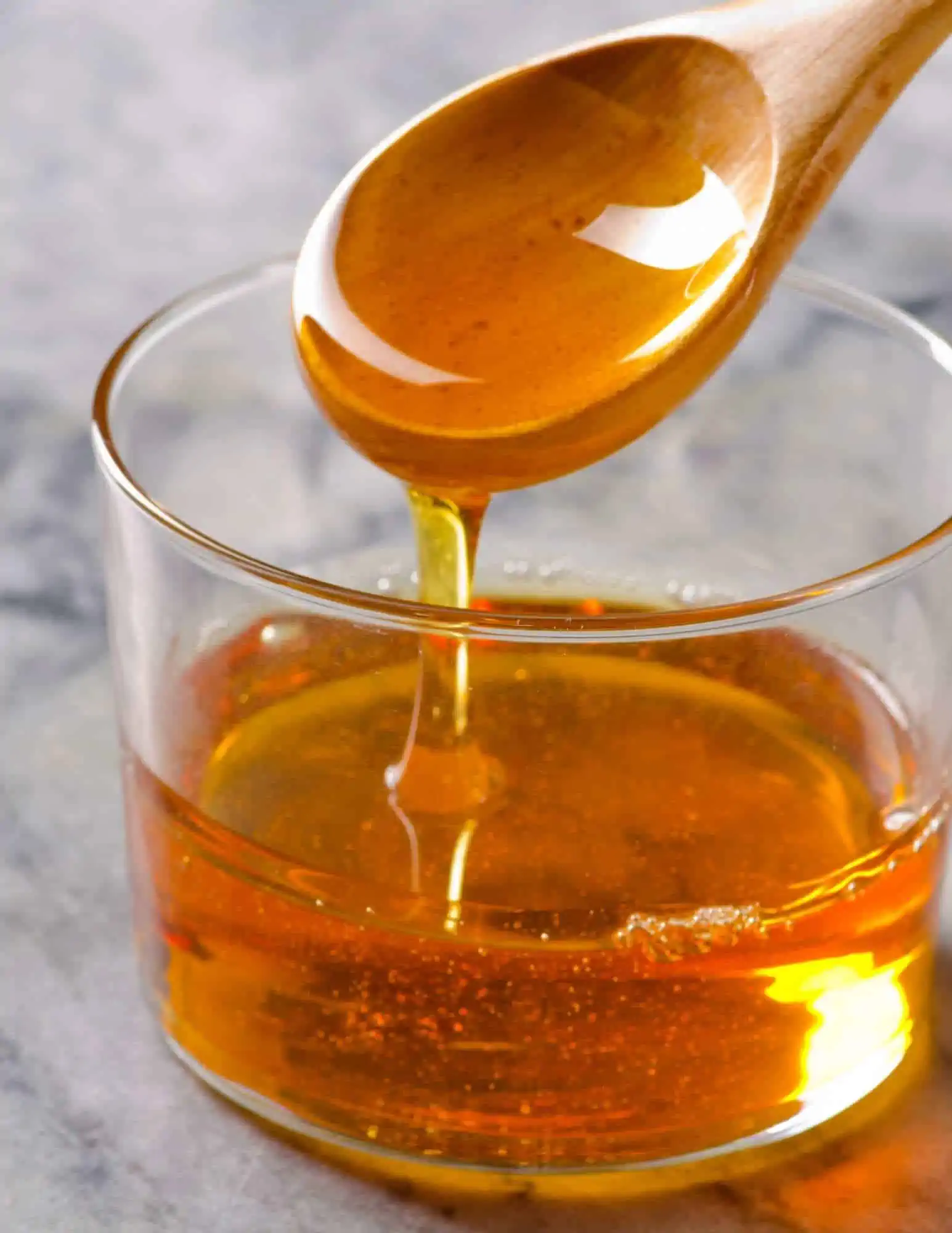 Nutritional Benefits Of Agave Syrup
Agave is touted as a low-glycemic sweetener, which means it won't spike blood sugar the same way that refined white sugar does. Moreover, agave is 1.5 times sweeter than sugar so you can use less of it to get the same satisfying taste. While it's no liquid multivitamin, agave does naturally contain a small amount of iron, calcium, potassium, and magnesium.
Blue Agave Tequila
Blue agave can also go by the name agave tequilana, if that's any indication how important this distilled spirit is. Tequila made from 100% blue agave are the highest quality, since they have no other ingredients added other than the agave plant itself.
To make tequila, the bulk of the plant, called the piña, is crushed and juiced before being fermented in barrels. The fermentation process converts the sugars into alcohol, which is then distilled twice. After being bottled, all tequila is aged for at least 14 to 21 days. Silver or blanco tequila is aged for the least amount of time. Beyond that, the quality (and price) increases accordingly.
Three Types of Aged Tequila
Reposado: Aged for 2 to 12 months
Aejo: Aged for 1 – 3 years
Extra aejo: Aged for more than 3 years
Is Tequila Vegan?
Yes! All tequila is 100% vegan, so you can belly up to the bar and enjoy your frosty margaritas with peace of mind. It's entirely plant-based and never filtered or refined using animal products. Even if it doesn't specifically say it on the bottle, pure tequila is a smart spirit to stock the bar with for a compassionate, conscious consumer.
Other Uses For Blue Agave Fiber
Agave sap is used primarily for making foods and beverages, but the entire plant is useful in making a wide range of natural products. Agave fibers can be used to produce:
Clothing
Footwear
Building materials
Paper goods
Blue Agave Restaurants
Is there a Blue Agave restaurant in your hometown or vacation destination? It turns out there are dozens of eateries across the nation that share the same name but have no relation to one another. Your mileage may vary when it comes to finding vegan options across the diverse and ever-changing menus. Here are a few of the most popular establishments that call themselves "agave":
Menu items marked with a "V" denote vegetarian or can be made as such but bear in mind that these dishes may still contain dairy or eggs.
There are no vegan items as written on the menu, but most of the salads could be made vegan by removing the cheese and meat.
Blue Agave Grill, Denver, CO and Fort Collins, CO
Gluten-free and vegan-friendly options are clearly marked, mixed in throughout this extensive all-day menu. Tofu-Walnut Enchiladas and the Plant-Based Smothered Burrito are entrees not to be missed!
Seafood is the primary focus here, so unfortunately, your best bets are sticking with the guacamole and roasted vegetable salad.
Plant-based eaters, rejoice! There's a whole separate vegan section on the menu, including flautas, tacos, burritos, fajitas, and more!
Although the "V's" on this menu indicate vegetarian, many can be modified to become vegan. The Veggie Burrito, made with seasonal vegetables, cactus salad, and mushrooms, already fits the bill!
Veggie options are woven throughout each section, so keep an eye out as you read though, and always ask for no dairy, to be safe.
The pickings look pretty slim here. Veggie enchiladas, vegetable fajitas, or a California wrap, minus cheese and sour cream, are about the full extent of your choices as a vegan eater.
How To Order Vegan At Mexican Restaurants
There are a few good rules of thumb to follow when seeking plant-based options in mainstream Mexican restaurants.
First things first, always ask questions! Things that seem innocent like beans or rice could easily contain lard (animal fat) or chicken stock. The same goes for flour tortillas, while corn tortillas are often a safer choice.
Always specify no cheese, no sour cream, and no crema, even if they aren't listed on the dishes you chose. Sometimes they're added without being specifically mentioned in the description.
Start your meal with chips and salsa or guacamole for a fun snack that everyone can enjoy. As a bonus, this is often discounted at happy hour because of course, it goes great with ice cold cerveza (beer.)
Vegetable fajitas are typically made of sautéed onions and peppers, sometimes with sliced mushrooms added for an umami boost. They come with tortillas to wrap up your own perfect bites. Most restaurants will be happy to simply omit the meat if it's not listed as an option.
Tacos are endlessly versatile, so you can easily request one made with beans, potatoes, nopales (cactus,) and avocado, at least. Check what other vegetables are listed on the menu to see what's possible.
Burritos offer that same flexibility; at the very least, you can almost always get one stuffed with beans, rice, and salsa.